Category: hardware
02/05/12 12:10 - ID#56028
The imodela 3D home mill
I want this 3d home mill so bad. I think having one could get me to love 3d modeling again. The thing thar got me disinterested was the output format being always video or images. To be able to bring the creations to live would make the art much more fun. Imagine how awesome a slightly larger and sturdier one if these could be for home restoration projects.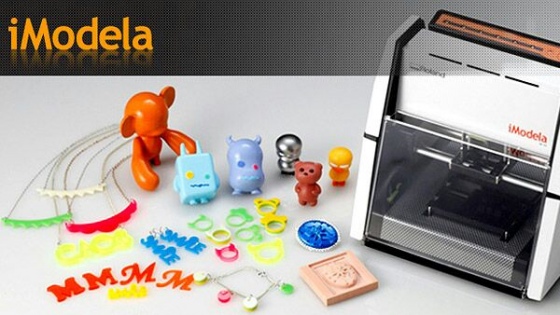 Permalink: The_imodela_3D_home_mill.html
Words: 72
Last Modified: 02/05/12 12:10
Category: hardware
03/19/11 06:42 - ID#53872
Windows 7 EEE tablet
I don't normally promote anything windows but I think this might be exactly what
(e:tinypliny)
is looking for


Permalink: Windows_7_EEE_tablet.html
Words: 47
Last Modified: 03/19/11 06:44
Category: hardware
01/21/11 11:55 - ID#53465
Repairing the imac


Permalink: Repairing_the_imac.html
Words: 20
Last Modified: 01/21/11 11:55
Category: hardware
12/31/10 05:12 - ID#53366
Nexus 1 froyo 2.2 vs rooted nook with 2.1 eclair speed
The rooted nook color is so much easier to use than my phone because of the screensize that it appears to me to be faster, yet according to the quadrant benchmark it is in fact slower, although faster than a non 2.2 Nexus One.
Games like angry birds seem snappy as can be. I guess for the stuff I do with it speed doesn't matter and if I could trade some speed for battery life it seems perfectly worth it and typing on it is fantastic. This is definitely the perfect size for me.
I signed up for a dev account today. I am so curious how you are supposed to distribute apps considering there is no normal android market yet. The official specs are in this
::READ PDF::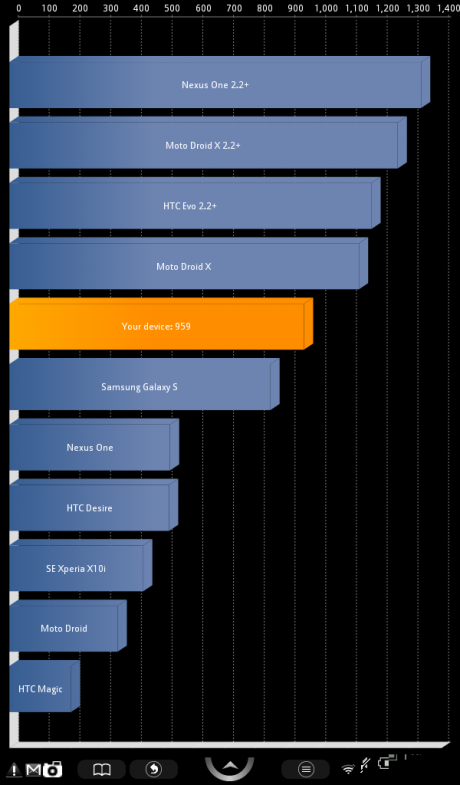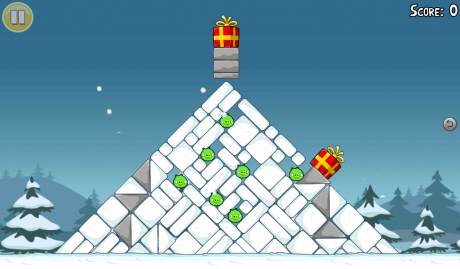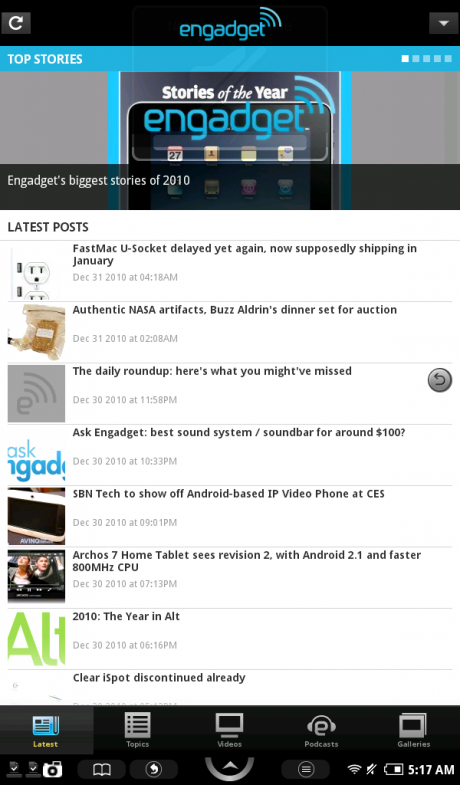 Permalink: Nexus_1_froyo_2_2_vs_rooted_nook_with_2_1_eclair_speed.html
Words: 143
Last Modified: 01/01/11 11:33
Category: hardware
12/31/10 03:18 - ID#53363
My rooted nook
After playing around a bit I have real android running on my nook with the gingerbread keyboard that spell corrects, the marketplace and the kindle app along with the estrip app. Surprisingly most of the apps I tried work fine at tablet size. I guess it really just depends on the app developers decisions for sizing the interface. Stupidly, I have not gotten good at the screen capture app which requires you to hit volume down as part of it. I keep doing it in the wrong order.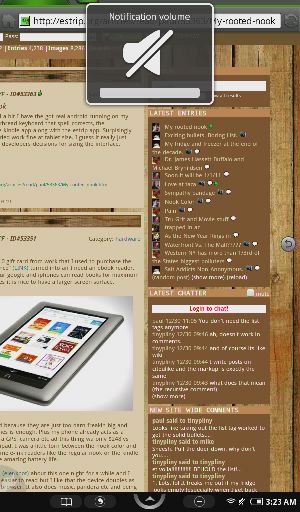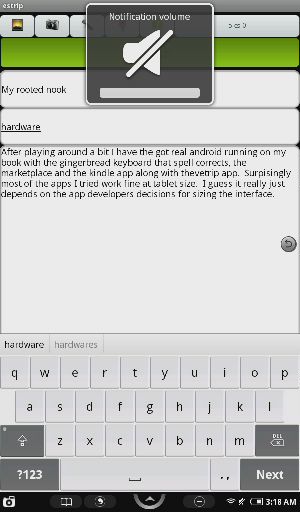 Permalink: My_rooted_nook.html
Words: 90
Last Modified: 12/31/10 03:29
Category: hardware
12/29/10 06:54 - ID#53351
Nook Color
What started as a $10 gift card from work that I used to purchase the "Grep pocket reference"

turned into an I need an ebook reader. While its nice that our google and iphones can read books for maximum portabilty. Sometimes it is nice to have a larger screen surface.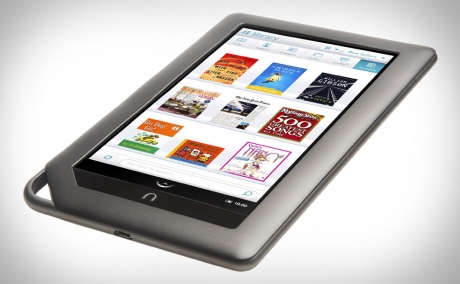 I didn't want an ipad because they are just too darn freakin big and heavy. For me 7 inches is enough. Plus my phone already acts as a mobile hotspot, has a GPS, camera etc ad this thing wa only $248 vs $400-$600 with the ipad. I was a little torn between the nook color and the older monochrome e-ink readers like the regular nook or the kindle that have much mire amazing battery life.
In fact I argued with
(e:enknot)
about this one night for a while and I still feel like e-ink is easier to read but I like that the device doubles as a larger screen web browser. It also does music, pandora etc and being that it is actually android based I should be able to get the kindle app on here as well at some point.
Supposedly it works with the epub books from the library. I found it interesting that books really get checked out from the library meaning that so ebook
(e:terry)
wanted was checked out by someone else therefore not available.
I wrote a whole surebert suite for publishing ebooks in epub format. That will soon allow me to release a new feature for estrip were you can download your entire journal as one big ebook for safe keeping. The format is quite interesting. It is basically a zip file with a manifest anda bunch of related media and xhtml files.
So typing on this size screen is perfect? I can almost type a fast as if this were a real keyboard.
Oh one last thing is that magazines are freakin cheap like $1-$2/month but I couldn't find the linux magazines I wanted yet.


Permalink: Nook_Color.html
Words: 348
Last Modified: 12/29/10 07:53
Category: hardware
03/16/07 10:12 - ID#38487
Reminders of a friend lost to asia
I think about
(e:jesse)
a lot. I don't know exactly what about him made me think about him but lots of little things remind me of him.
This product for example

. It looks like something I think he would design even the advertisement. Look at the etching on the connectors.
Also I bought the nokia n800

internet device. I have wanted one forever. Not because I don't have 15 other obile ways to connect to the net on the go but because this one runs linux and they give you the developent kit. Also it has the opera browser and flash 8.
Here is a pic from the net, I will put up my own pics when it arrives.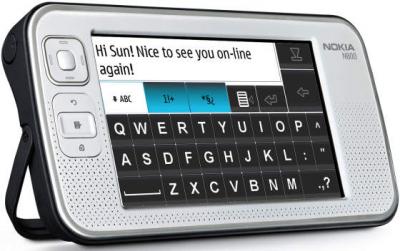 Permalink: Reminders_of_a_friend_lost_to_asia.html
Words: 132
Category: hardware
01/04/07 09:33 - ID#37540
My Head Mounted Camera
My head mounted camera that
(e:naturephoto)
's suggested when we were chatting one night. It seems pretty awesome.
The package reports that it can be used up to 3 meters underwater and has some people scuba diving with it. It takes a standard memory card and uses standard usb and has a tv hookup. It is the epitomy of standard., I cannot wait to see what version of movie it makes. The package reports it record at 640x480 at 30fps.
It is weird to have a camera without a viewfinder but it rocks that you can attach it to your body and that it costs only ~$120.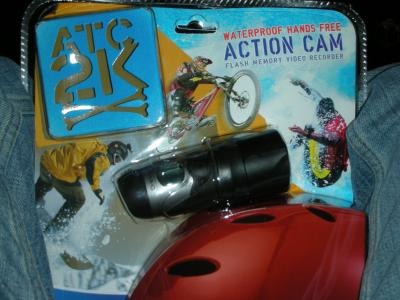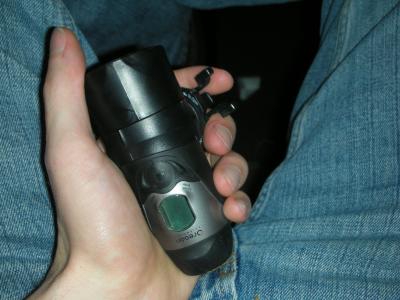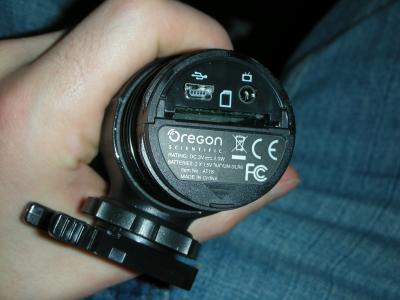 What is silicone grease and why don't I want to eat it?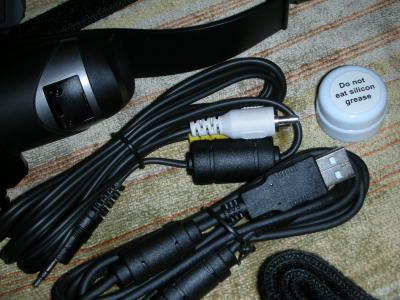 Here is a video from it. It is about 800k which is quite tiny. I makes standard compliant avi files that works in both windows media player and quicktime. The camera simply mounts as an external drive just like a usb jump drive with all the videos on it - without a driver or install disk! I think that is a miracle. However, the videos look really bad in low light as is expected for $100.


Permalink: My_Head_Mounted_Camera.html
Words: 203
Category: hardware
12/01/06 11:36 - ID#32836
Videos From Today
My new camera is pretty sweet. It even remixes your pictures and videos into emotionally driven slide shows with music and everything. Kind of cuts out the middle man. I love programs that can do stuff like that. Ate at Palm Tree on Allen. Their curry goat is insanely delicious but you seriously have to be careful of bone fragment. I can't imagine how sharp the knife is that they use to hack the bones into splinters and cubes.
Afterwards,
(e:enknot)
came over and we shot the shit for a while waiting for
(e:lilho)
and
(e:tina)
to come over.
Once they got there
(e:lilho)
and
(e:enknot)
argued about the prospects nick being in tony's band.
Just imagine sarah being this loud and excited for three hours.
Tina spilled coke on my rug and Sarah vacuumed it up with the green machine that we got for our housewarming from my cousins Jennifer and Scott. No, not that kind of coke.
The green machine worked so well, and
(e:lilho)
worked it also. There is a video here so you can see for yourself.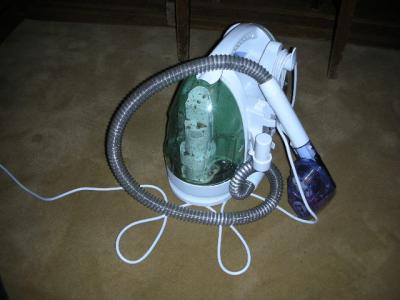 Then they gave
(e:enknot)
a ride home.
Terry being cute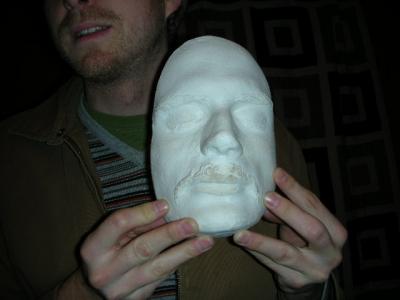 Wow my journal is way more fun with video.


Permalink: Videos_From_Today.html
Words: 223
Category: hardware
10/29/06 10:00 - ID#32795
A new Camera
I bought this camcorder today. I am totally dissatisfied with the propriety nature of the video codec. It is like a DIVX movie but is some propriety samsung SEDG format. In order to use it I need to open the file with a hex edited, change instances of SEDG to DIVX and then run it through ffmpeg to turn it into flash video. Needless to say, it suffers along the way a bit which makes me question its usefulness. The camera itself rocks. It is so fast and responsive, it is tiny, has an external lense for head mounted recording and is an MP3 player, voice recorder, and and video cam. Too bad it's so proprietary. I really think that kind of crap needs to just end. I will probably return it.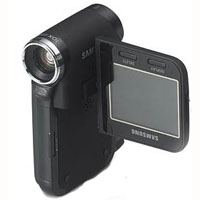 It really ends up being no better than my cell phone.


Permalink: A_new_Camera.html
Words: 146
<-- Earlier Entries