Category: stress
07/13/08 07:20 - ID#45008
Things that stress me out
This tree humping my house. It is my neighbor's tree and the reason I never do anything about it is because I feel bad having them cut such a big ole beautiful tree. On the other hand it is fucking up my roof.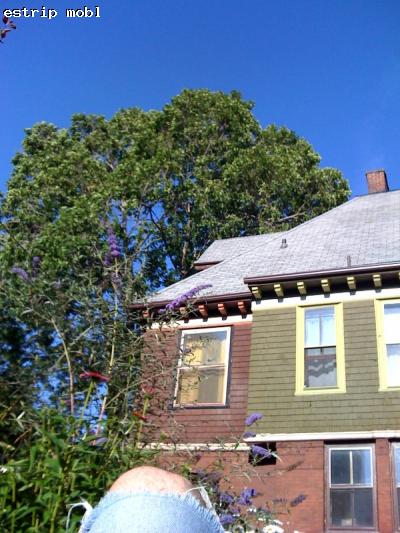 Permalink: Things_that_stress_me_out.html
Words: 48
Category: stress
12/05/06 12:19 - ID#32843
The most stressful day
I seriously had the most stressful day today. It seems like everything is out of control for the moment. Then we had and oh so fun screaming match at the house when I got home from work at 10:30PM. That's always a fun way to cap off the day.
I decided to finally brave the cold and walk home at 10:30 because I was hungry. I didn't go get lunch because the rest of my team was going to McDonalds for lunch and I haven't eaten there since 1994. I like to keep it that way. Not to say that I will not eat the occasional fast food meal but McDonalds is never going to be part of my menu.
On the web design front I finished surebert 2.09 which is even better than before. I want so bad to integrate it into the new estrip. It would make the site much better but I really don't have time for that right now.
I would do anything to have a week of programming time to work on estrip. I have like 10,000 ideas and re-factoring jobs I want to do. Sometimes, I miss being a student/proferssor for that reason but most of the time I don't so I am not going to dwell on that.
There was an article in the Buffalo News about the salaries of all the hospital CEOs. I know this is my boss's boss's boss so I probably shouldn't even comment on this, but I am surprised that Dr. Hohn, the CEO of Roswell gets paid $644,000/year plus benefits. It's just way higher than I expected. Apparently, he, like many other CEOs in the area helped make the hospital profitable and so that makes him worth so much. He oversaw it's transition from a state organization to a public benefit corporation
(WIKIPEDIA - Public benefit corporation)
.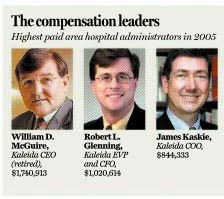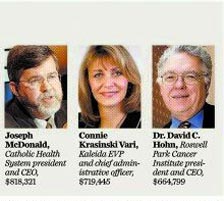 Quote from the Buffalo News
Roswell is unique in the area because it's not a community hospital. Although it serves cancer patients from a broad geographic region, its other missions are medical research and education, and it gets significant funding from grants, especially from the government.

Founded in 1898, Roswell employs 2,700, including 227 doctors and scientists. But with only 101 beds, it handles less than 5,000 admissions and 153,000 outpatient visits in a year. However, it has about $89 million in grants and contracts, with 522 research projects.

It's one of 39 national comprehensive cancer centers designated by the National Cancer Institute. And it's one of only 10 of the 39 that are separate from a university. So when setting compensation, the board and a consulting firm look at seven hospitals that are most similar to Roswell, including Memorial Sloan Kettering in New York and the Dana Farber Cancer Center in Boston.

"Ultimately, supply and demand drives compensation. There's no way to get around that," said Richard D. Paris, Roswell vice president of human resources. "Ultimately, you get what you pay for."

Hohn, an experienced surgeon and current chairman of the National Comprehensive Cancer Network, has led the hospital for about a decade since being recruited here from M.D. Anderson Cancer Center in Houston. In that time, he's overseen the hospital's conversion from a state entity into a public benefit corporation.

Yet his pay, as well as that of three other top Roswell executives, is actually less than that of three-fourths of the seven comparable cancer centers, and right at the midpoint for all cancer centers and teaching hospitals, Paris said.


Permalink: The_most_stressful_day.html
Words: 573
Category: stress
08/02/06 10:14 - ID#32713
Non Stop Stress Makes Headaches
When I frist started at Roswell I loved my life. I literally had no worries and I loved my job, now I hate my life but I still love my job. I actually look forward to going to my job to avoid all the other problems and enjoy the air conditioning. The big problem is that this week the problems are so vast and complicated that they are making me have to use personal time, meaning I don't get to de-stress programming as much and have to suffer in the freakin' heat.

There is tenant drama, thesis drama, dcotor drama, vacation drama, lawyer drama, seller drama, and moving drama plus the related allergy drama.

The heat would be one thing if I could just enjoy it, but this week I have a feeling it will be lots of time in the car and lots of time arguing and making life altering decisions, plus trying to bust out the final draft of my thesis.

I would just take the whole week off but I already took the 16th to the 23rd off for vacation in the adirondacks. The thesis stuff need to officially be done by the 25th which is now the 15th for me! Which leaves me no time between work and the house.

I also terrified of the house situation. Like what if I can't live in it till September because of alegeries. Where am I gonna go?

Last night we actually made it to Bennett Beach at around 8:00PM. I would say it was a perfect time to go. Not too many people and the water was warm even as the sun was going down. The waves were great too for once. I think I might make it and after work event again.



Permalink: Non_Stop_Stress_Makes_Headaches.html
Words: 295
Category: stress
04/18/06 10:59 - ID#32571
Bad Day
The car is broken at some engine level. I am praying for a timing belt level problem, unfortunately, the coolant light is on too. So it is probably something more sinsiter. One time driving around the country
(e:terry)
and I lost a car when it overheated. The fan belt ripped off the car at 90mph and by the time we slowed down on the highway, everything was on fire and smoking. No one got hurt but we lost our car and got stuck in an Amish resort town for two weeks and the car never moved again. They would go their to get cured at some natural healer guys hotel where we also stayed. I probably wrote about this before. We had to hitchhike out.
Anyways, so no car. I also have to deal with the paint at my tenants house or they are going to revoke the insurance, at least so the letter says. I did the stupidest thing. Last fall I scraped the paint on the front-top of the house but then it got to cold to paint so it looked like crap on the section I scraped. Yes, it was so dumb, I know but I am still learning about the whole land owning thing. That need to be dealt with today as well.
Then there is the thesis that is due in two weeks and still is not edited. Maybe I will work on it. Maybe.
(e:shawnr)
finished his. Good for him.
Honestly, I would rather just be at work programming right now.
Yesterday we at at fat bobs. Yummy fried cat fish.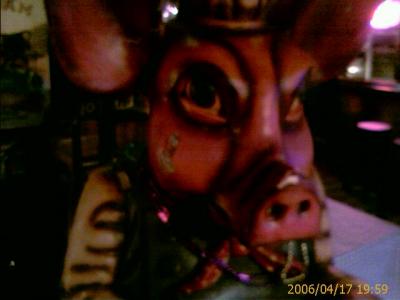 Permalink: Bad_Day.html
Words: 271
<-- Earlier Entries