Category: architecture
10/04/15 08:45 - ID#60251
Pittsburgh Architecture
The building in Pittsburgh are so much more impressive than ours. It's amazing how much later that city developed and how much nicer it is. I guess they have the natural advtange of so much rock everywhere in the hills. Just about everything was brick or stone. And not just run of the mills square brick but complex, intricate patterns of brickwork.
I really think I could live there.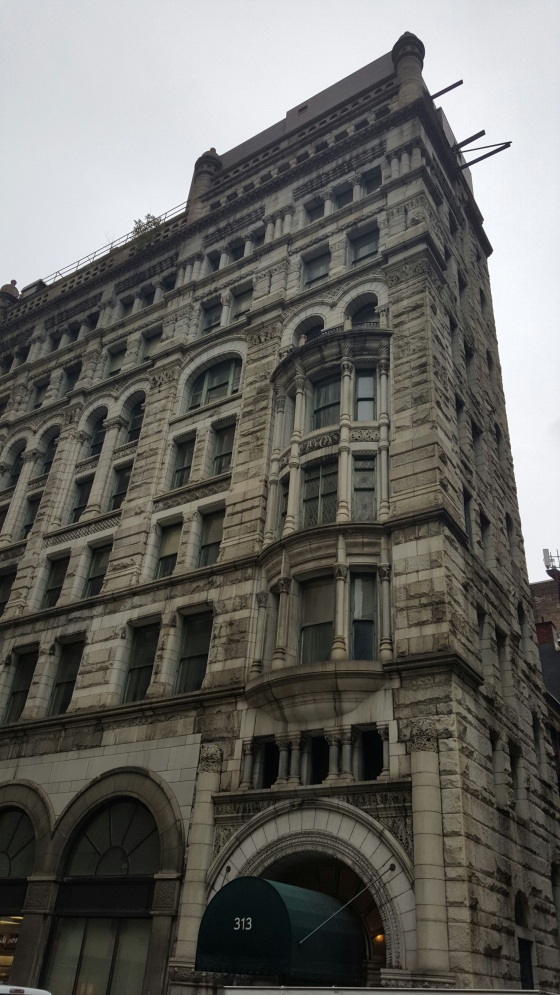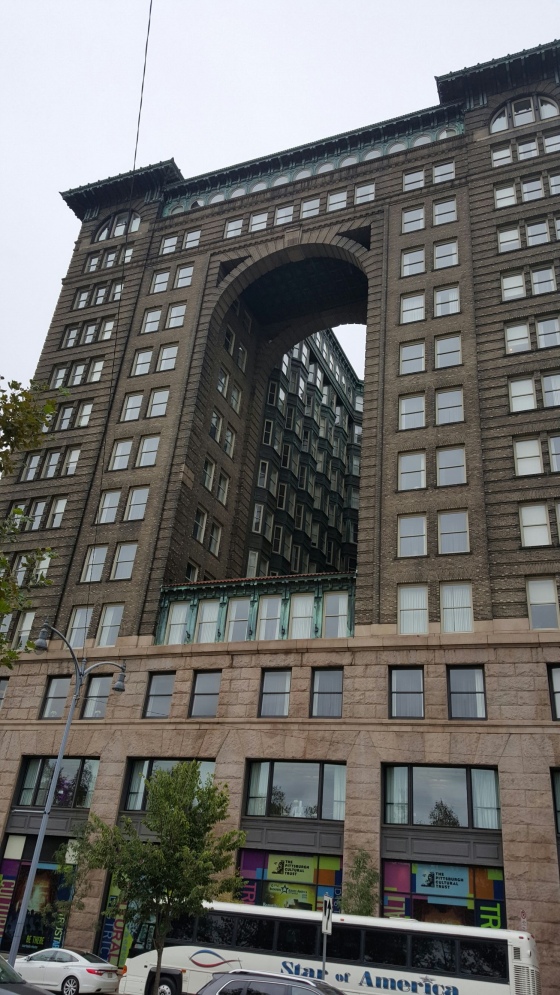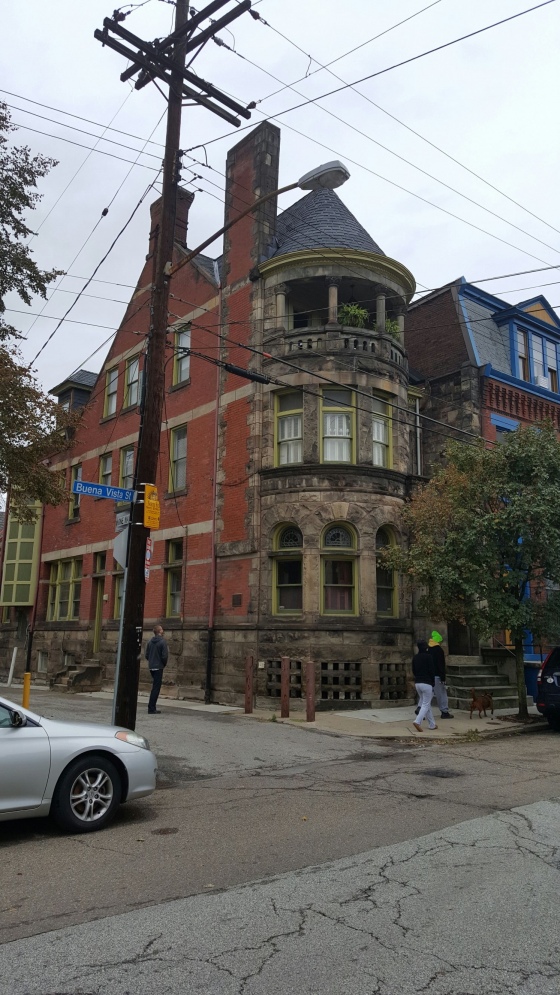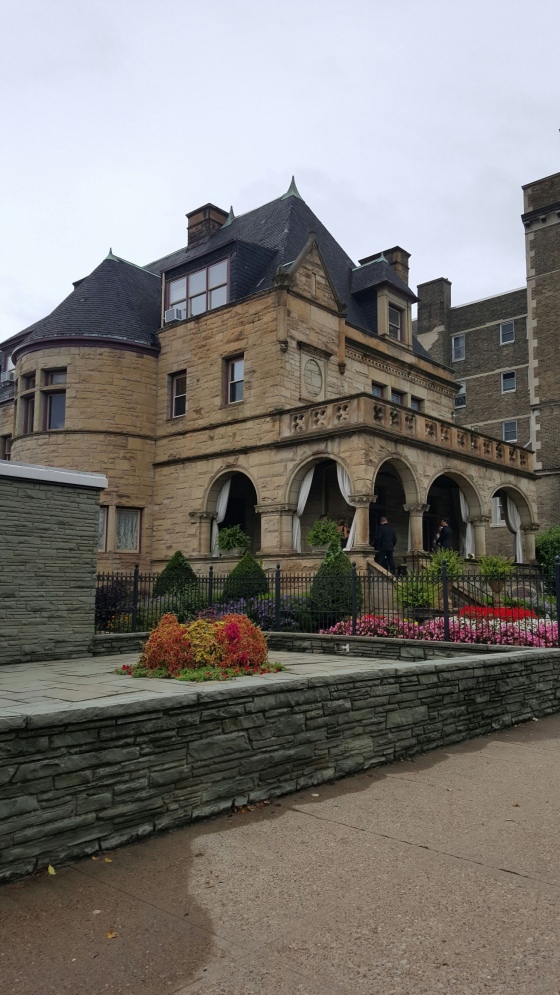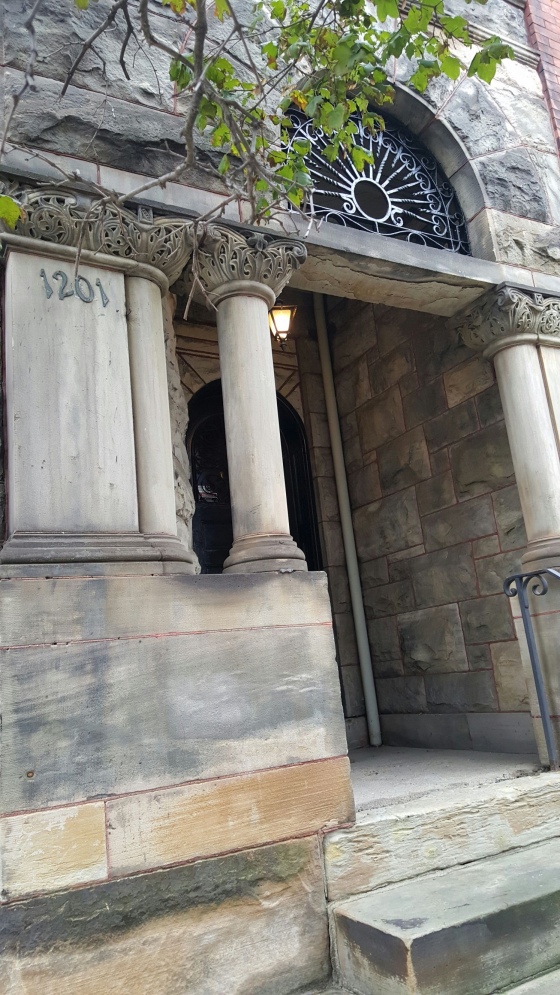 Permalink: Pittsburgh_Architecture.html
Words: 74
Last Modified: 10/04/15 08:54
Category: architecture
08/03/12 02:38 - ID#56655
918 Main st, Buffalo, NY
Looks like they are finally cleaning up the collapsing building on main street. Its amazing how long it took them to start working on this. I really thought it was going to collapse into the street. I wonder what will become of the building.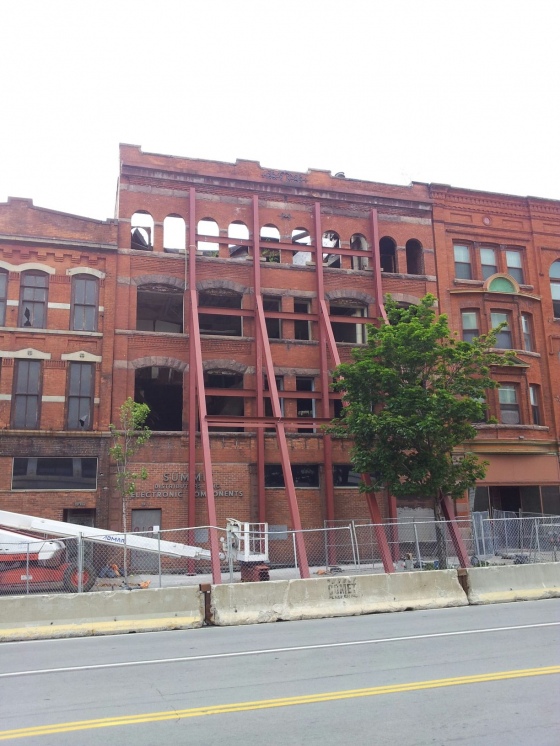 Permalink: 918_Main_st_Buffalo_NY.html
Words: 45
Last Modified: 08/03/12 05:51
Category: architecture
10/17/11 01:17 - ID#55325
Prospect Hill Neighborhood Home Tour/Peace Bridge Toxicity
The Prospect Hill Neighborhood home tour

today was quite interesting. To be honest, I knew almost nothing about the neighborhood before today. It is located directly next to the Peace Bridge. You probably see it everytime you go to Canada. It has been and is in serious danger of demolition via eminent domain because the government wanted to expand the Peace Bridge truck plaza to be like 5 football fields big.
Its kind of sad how the Peace Bridge Authority has purchased properties along Busti and just let them decay. The whole neighborhood was kind of decaying because for years no one knew what the fate of their houses would be. I mean who wants to invest in home improvment like roofs, paint, etc when you don't know if your home is going to be demolished any day now.
The really interesting part was learning about the major health effects from idoling diesel trucks on the bridge, even at its current size. Apparently, studies show the air is toxic. The one woman we visited was just recovering from breast cancer, she said she was one of 9 out 15 women on her block that had breast cancer and they blame the epidemic on the toxicity. Apparently, all of her kids had asthma too. Here is a PDF with findings and info about the situation

I also ripped the PDF here
::READ PDF::
While on the tour we also joined Preservation Buffalo Niagara

as a family and bought ticket for the upcoming Lincoln Parkway tour this week. Family membership is $50. The tickets for the tour were so expensive ($45/per) but I figure it is a once in a lifetime chance to see the fanciest houses in the entire city and the money is going to the preservation group.
Well, here are some pictures. I couldn't believe I took 129 of them. It was hard to decide which to post.
These are examples of the boarded up houses owned by the Peace Bridge Authority.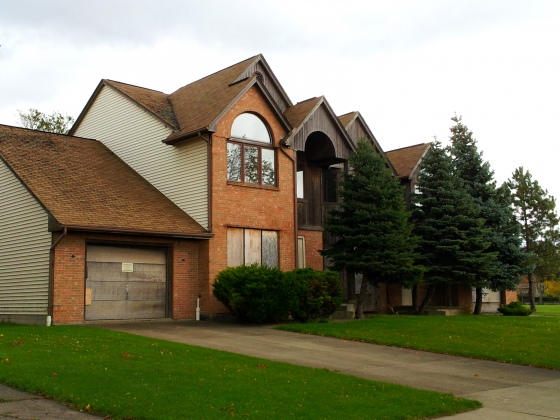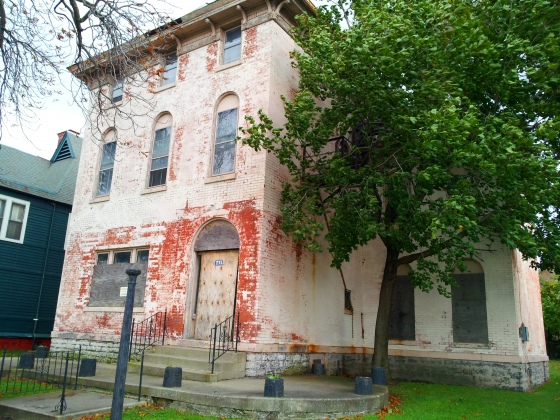 While there were a lot of awesome houses with really intersting and amazing woodwork, one of my favorite was the home of local artist Julian Montague

I really enjoyed both the house and his very interesting graphic design.
The blond colored wood was so nice looking and the windows were amazing though the house needed a lot of work. It made me really appreciate how well the people that lived in our house throughout its lifetime, really took care of it.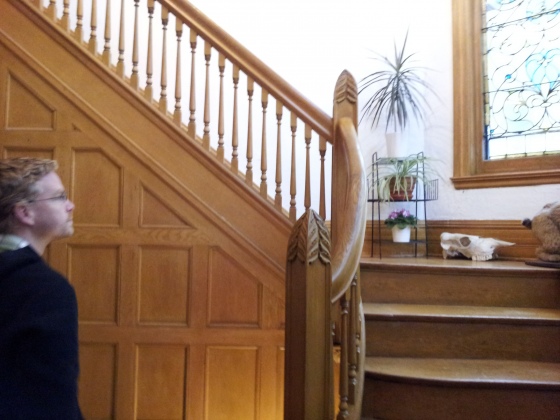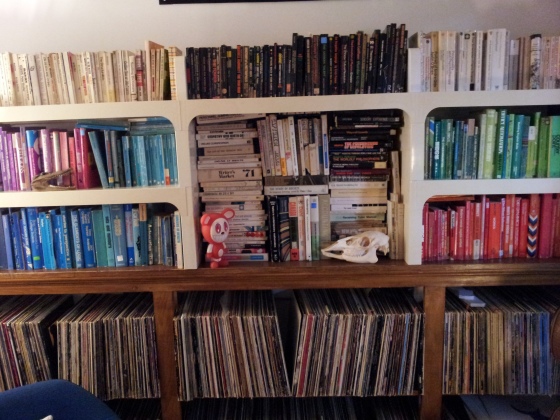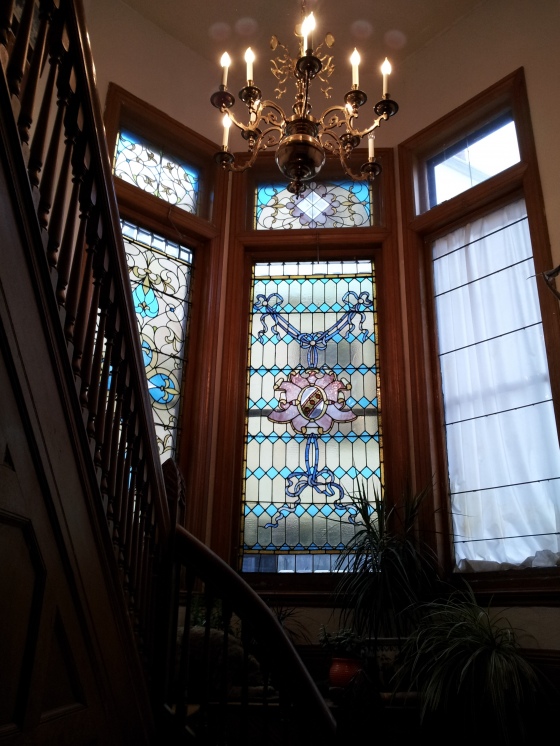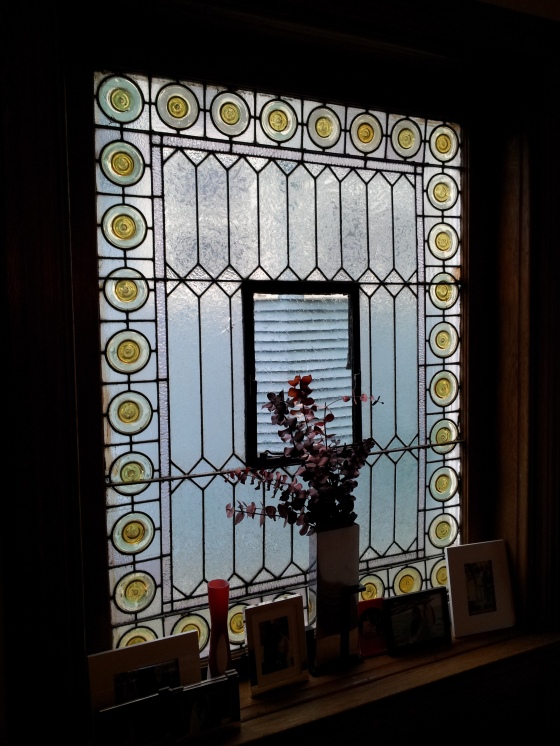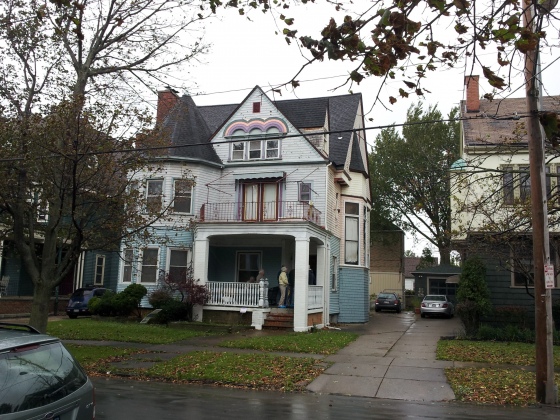 Another interesting find was this. A women was excavating a wall in her home and found a beautiful pocket door with a brick wall behind it. On the other side, a previous owner had building a modern 70s swank lounge room. Its so weird to see it that way. I would have to knock the brick down althought I kind of like the look of that room on the other side.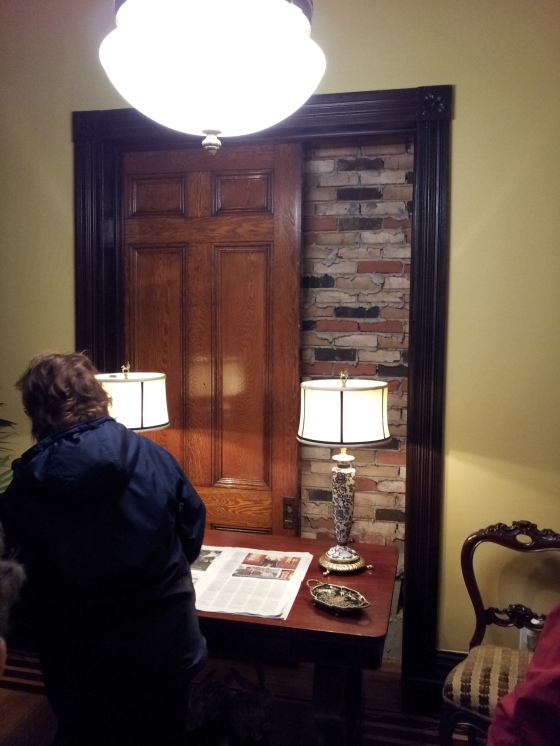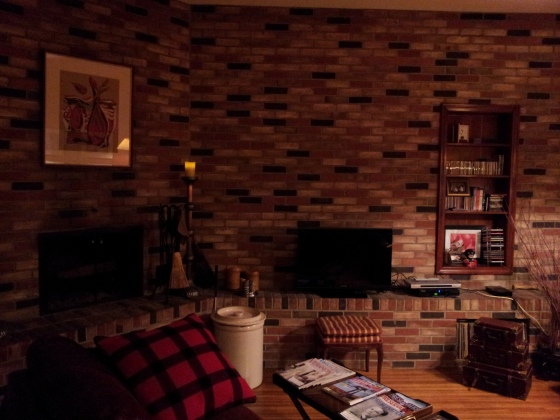 One of my favorite parts was the stairwell of this house. Theo outside did not match the inside at all to me. I mean I like the outside but I would not have expected the inside it had. The stairwell was one of the nicest I have seen. I wish my stairs wraped around like that.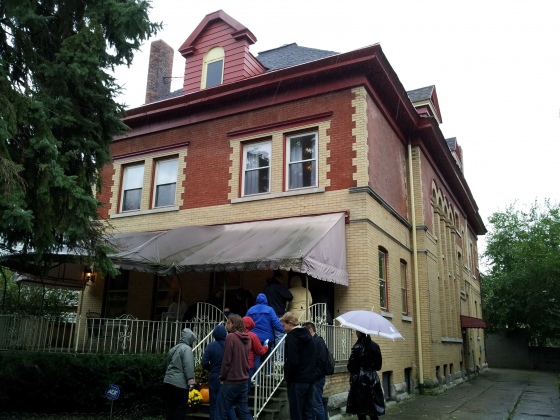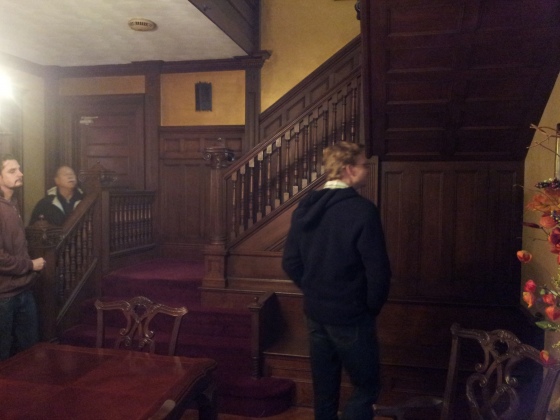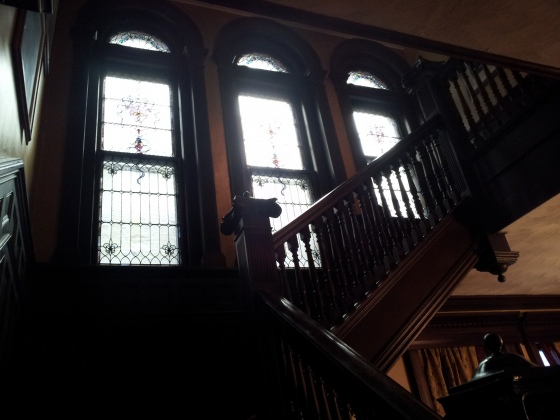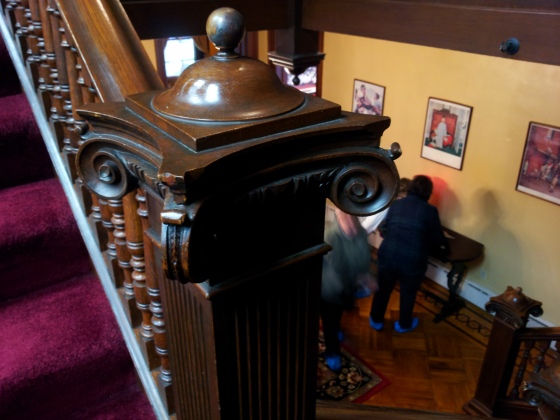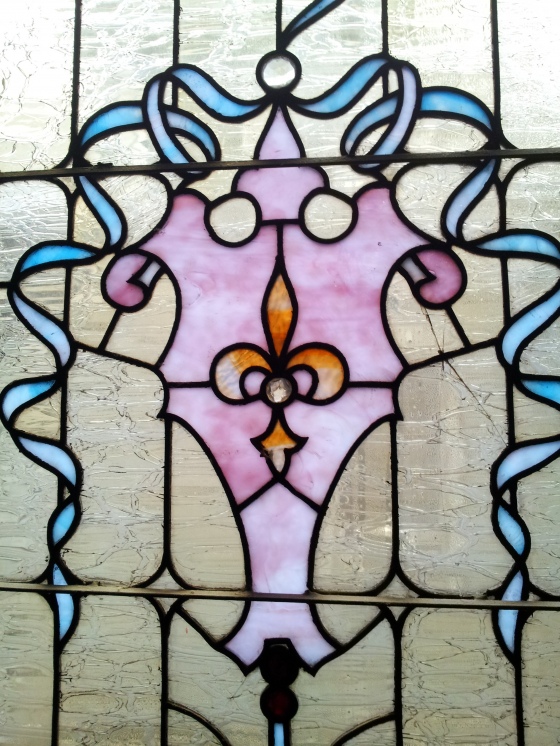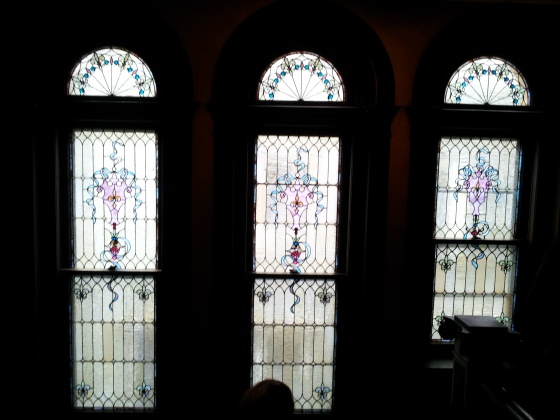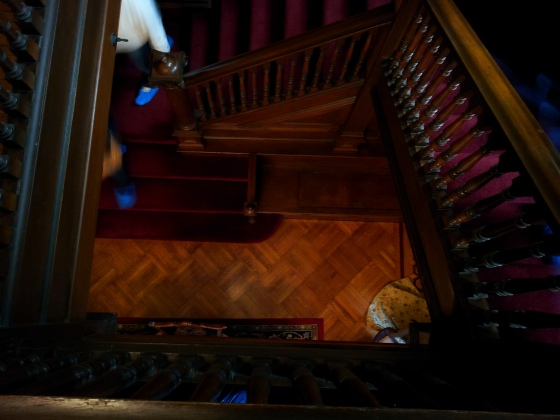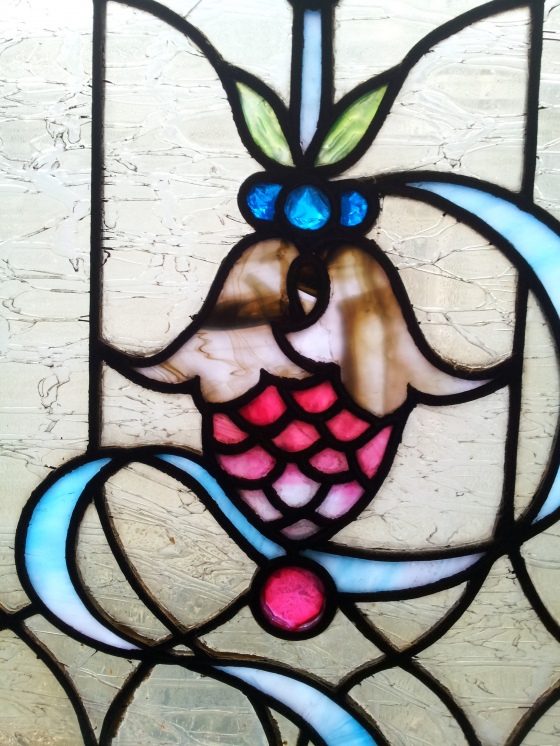 The last house we saw was the gigantic mansion originally owned by one of the Jewett's. The house looked so amazing, especially the leaded glass on the front door, but the amount of work it required actually made me feel sick and I don't even own it. Almost all of the original woodwork had been painted over and the main staircase and much of the original design had been removed or remudled beyond recognition. I don't evny the people who live there and are trying to restore it.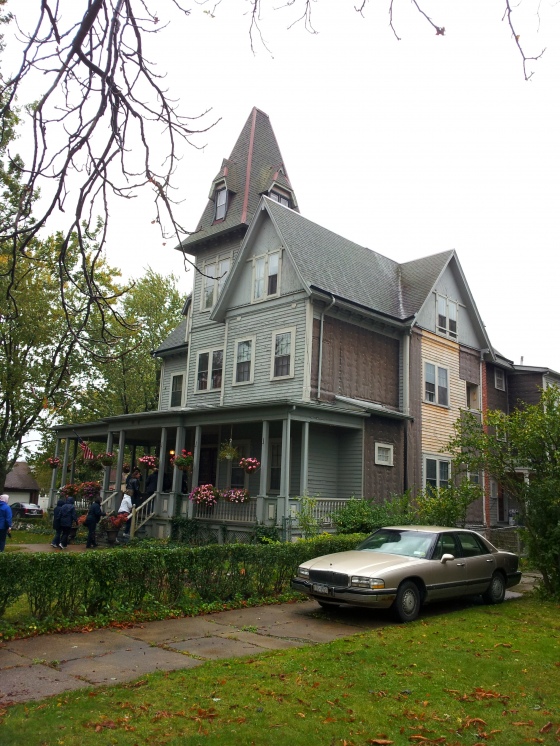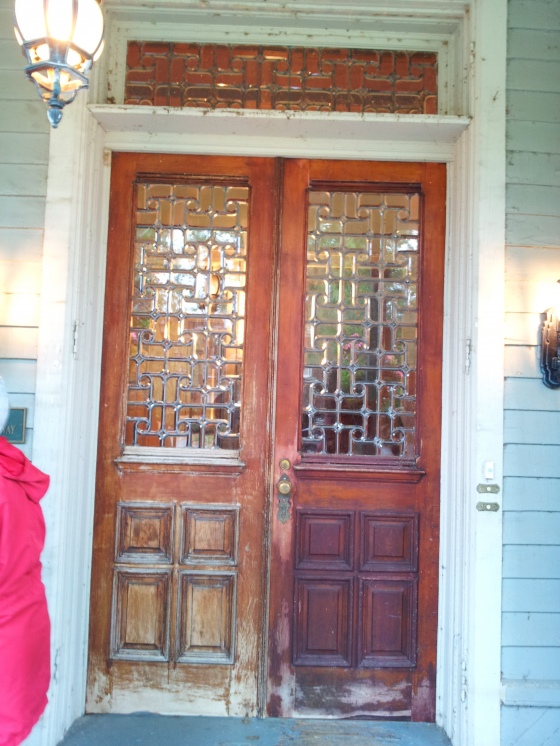 Permalink: Prospect_Hill_Neighborhood_Home_Tour_Peace_Bridge_Toxicity.html
Words: 668
Last Modified: 10/17/11 01:17
Category: architecture
04/20/11 01:09 - ID#54103
Remuddled or Original
I am sure this place looked much nicer when it was red brick. The thing I wonder most is, what was up with the front entrance. Clearly the top stone appears fancy but then the inner brickwork which narrows the passage is so ugly. What's the deal?
a. Simply a remudle added onblater to support it?
b. It just looked better in red brick?
c. It never looked good?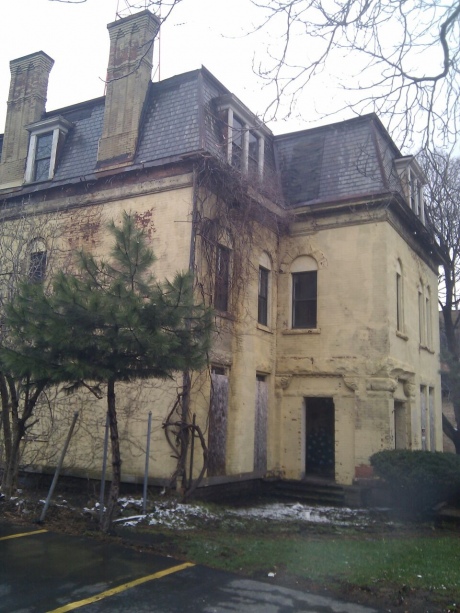 Permalink: Remuddled_or_Original.html
Words: 71
Last Modified: 12/20/13 04:00
Category: architecture
03/16/11 03:30 - ID#53849
Lime Green New Phoenix Theater
I first notice this lime green building on Johnson Park from the top of City Hall. It really stands out in the overhead view if the west side. When we got down the stairs we walked over to check it out. Its located at 95 Johnson Park in Buffalo, NY.
I like the bright green a lot. besidrs bright orange it is my favorite color. That being said I am not as big a fan of the accent green, especially on the door.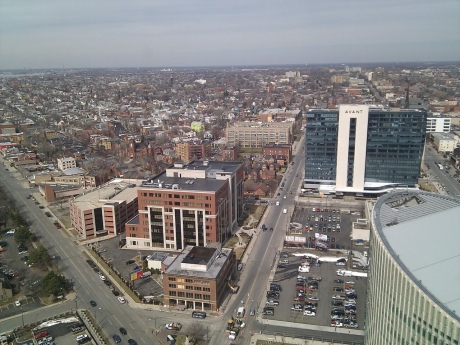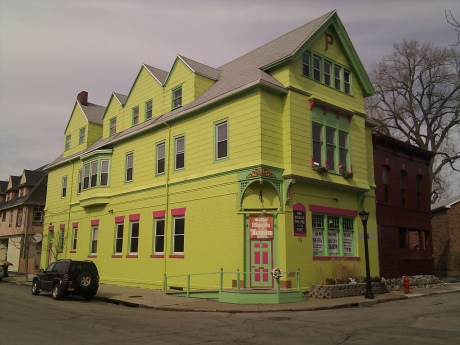 Permalink: Lime_Green_New_Phoenix_Theater.html
Words: 86
Last Modified: 03/16/11 03:30
Category: architecture
03/16/11 03:24 - ID#53848
Pink houses in Buffalo, NY


Permalink: Pink_houses_in_Buffalo_NY.html
Words: 30
Last Modified: 03/16/11 03:24
Category: architecture
03/16/11 01:54 - ID#53845
The blue house at 55 Cottage street
The blue house near
(e:Heidi)
's is awesome. Its about the size of my house. Maybe even a little bigger.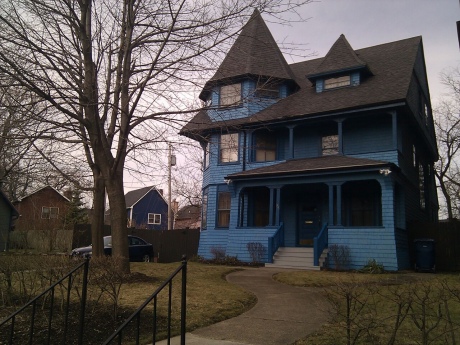 While it is large itself, it will always be so overshadowed by the massive house next to it.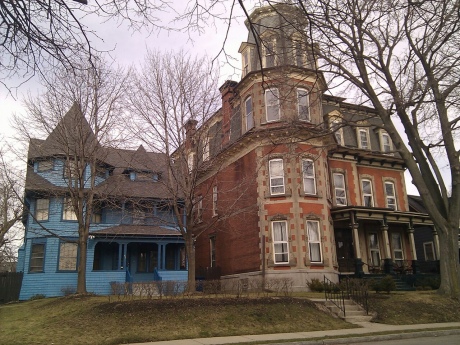 The large house next door is the Coatsworth House. It is one of the largest homes in the city. The owner, Thomas Coatsworth, had it built for his bride electra 1869 according to

(e:matthew)
says there were other large homes of this style that used to be on Delaware but were knocked down to make way for the knox mansion, red cross, etc and later for modern buildings. Too bad because this style is pretty awesome.
According to that article it also says, Thomas Coatsworth built that blue house for his daughter in 1899.
It also says he had a giant retreat on grand island. Wonder what that looks like today.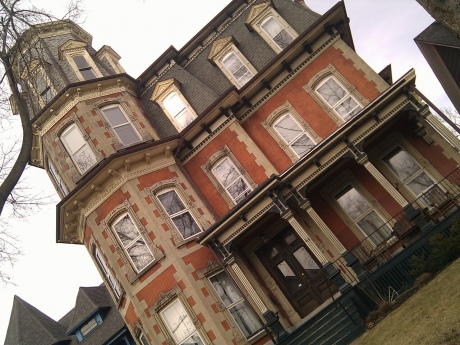 Permalink: The_blue_house_at_55_Cottage_street.html
Words: 161
Last Modified: 03/16/11 02:05
Category: architecture
02/12/11 05:42 - ID#53596
terracotta patio surface
(e:Mike)
and I were walking around downtown and I saw this building with a terracotta patio
It is exactly what I want to do with our front porch surface. I am tired of peeling, scraping and painting concrete. The process looks easy enough too seeing as I already have a perfectly flat concrete surface to work with.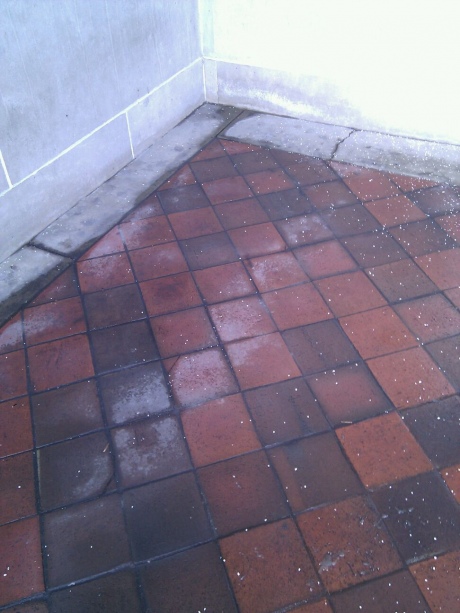 Permalink: terracotta_patio_surface.html
Words: 60
Last Modified: 02/12/11 05:42
<-- Earlier Entries