Category: mobile
01/23/08 09:07 - 17ºF - ID#43004

wegmans has free wifi now
how great is that. makes shopping with the not phone great. and they have a page for recipes and shopping tips, sales etv. go wegman's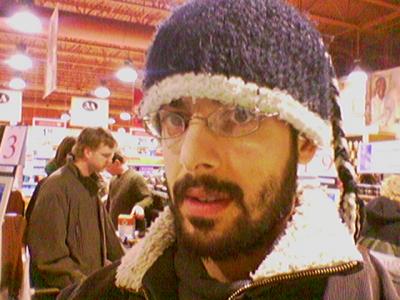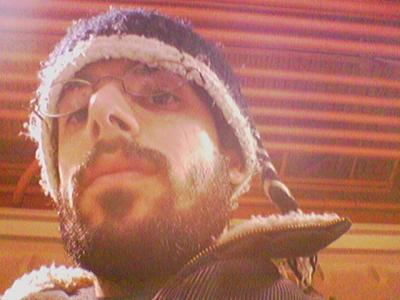 Permalink: wegmans_has_free_wifi_now.html
Words: 27
Location: Buffalo, NY
Category: food
01/23/08 03:05 - 21ºF - ID#43002

clif bars - no wheat
Who woould have thiught, clif bars are wheat free.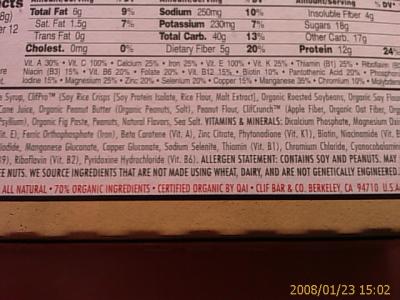 Permalink: clif_bars_no_wheat.html
Words: 11
Location: Buffalo, NY
Category: food
01/23/08 12:59 - 20ºF - ID#42998
Tears of flour filled sadness
I knew it. I am freakin' blood test certified allergic to wheat and corn. I am totally not surprised as I am such an allergic person and I am sure that Hay and grass are one of my main enemies. This morning my stomach was all gurgely, squishy which is not a good thing and I did eat wheat yesterday for the first time in weeks.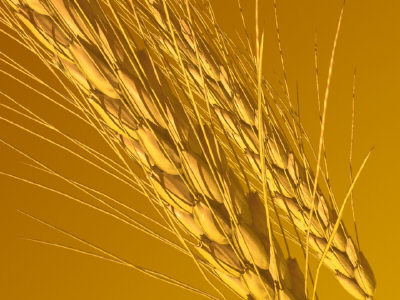 I have a doctors appointment to discuss this on Friday Feb 1. I wonder if anything else is wrong with me - I took so many tests last week.
Finally, I have an appointment with a gastro on Thursday. I wasn't going to go but now I might go to discuss this with them. What if everything is my allergies. I am really only a step away form bubble boy. What the fuck happend to me that made me so allergic to everything. It seems liek my immune system is so over the top xenophobic.
Gluten causes damage to the intestinal lining by eroding the villi and microvilli essential for digestion and absorption processes. This damage then increases the likelihood of partially digested gluten proteins passing into the bloodstream. Certain proteins cause our immune systems to react. Undigested partial proteins found in gluten cereals have morphine-like properties once they enter the bloodstream, suggesting an origin for the phrase 'comfort foods' and its addictive nature. Once an immune response has been initiated, inflammatory reactions can cause a whole host of wheat allergy symptoms. A gluten/wheat allergy may not always be a severe frequent reaction but can result in many digestive symptoms � flatulence, bloating, constipation, diarrhea, pain etc. � and may aggravate a host of other symptoms.
--paul


Permalink: Tears_of_flour_filled_sadness.html
Words: 305
Location: Buffalo, NY
Category: mobile
01/23/08 12:35 - 20ºF - ID#42993
Not the phone
For a minute I was having some anger about my Nokia n810 not phone not working right with my windows mobile ATT tilt phone. Bluetooth DUN costs $70/month and I only pay like $40 but then I discovered this article

talking about Windows Mobile Wifi Router

which really works perfect. I can't believe how awesome it is and for free. Now my phone can act as a wifi router for any device and it gets some serious speed. I am able to surf mobiley at about 1000 kbps download /70 kbps upload.
Go windows mobile. However, much I complain about the windows mobile OS - I am seeing the most innovations in both hardware and software coming out on that platform. I mean just look at what is available on windows mobile for free,



this doesn't even get close to how much you could also buy. I can't wait to see the same phone running Google's android - whenever that happens.
Recently, one of the most innovative interfaces I saw on a mobile was this one that let you take pictures of a UPC online and then would instantly install the application over your air on your phone.

Now I freaking love the not phone again.
Here it is skyping The sound quality is great.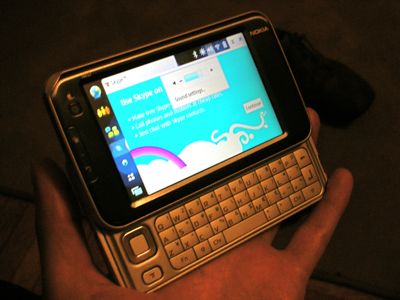 Here they are being friends.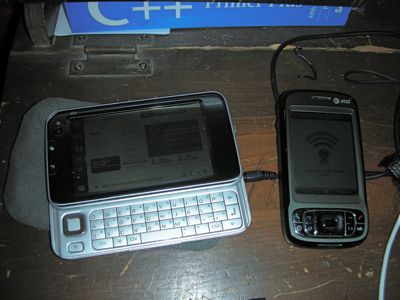 And finally a pic of
(e:imk2)
at lunch today. She looked so cute with her hair did.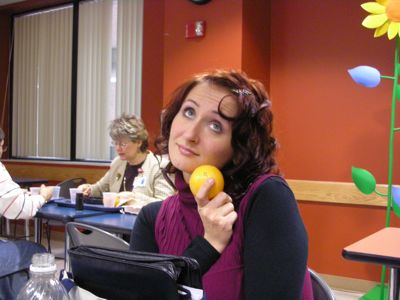 Permalink: Not_the_phone.html
Words: 274
Location: Buffalo, NY
Category: holiday
01/22/08 07:08 - 32ºF - ID#42991
Whole Foods, Laptops, and Birthdays
Today was so far the most uneventful birthday ever. Which was fine with me. We might go out to dinner later. The exciting part was that I ate a chicken hogie sub for lunch on wheat with cheese and I am not really sick right now. I figured I would just try it for my birthday.
Toys
My new Nokia n810

not phone is on its way tonight. I cannot wait to play with it.
Laptops
One of my coworkers got a new Dell XPS laptop that almost puts my mac to shame in terms of beauty and brawn. To bad it runs the wrong OS. I think Mac OS would looks great on it. It has a 64GB solid state drive. Must be nice but I am not sure that is enough space for me yet and also sports a finger print scanner.
Bye, bye plastic bags
Whole Food grocery store got rid of their plastic bags. No more plastic bags at checkout. What will the coop do in response?


Permalink: Whole_Foods_Laptops_and_Birthdays.html
Words: 177
Location: Buffalo, NY
Category: estrip
01/21/08 05:06 - 20ºF - ID#42976
The New Estrip Server Is Deployed
i switched server's today. I am sure there are somethings that need ironing out but generally I think it is all good. Hopefully, I will not need to stress out for my birthday tonight/tomorrow. It is an exciting first step in estrip v6 coming to life.
Here is the server at home before we left
During our last snuggle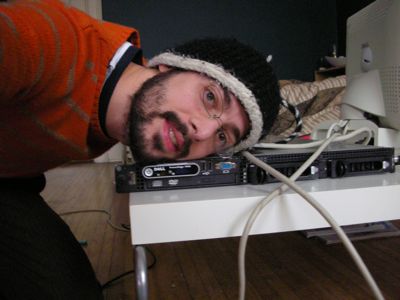 In the car on the way to artvoice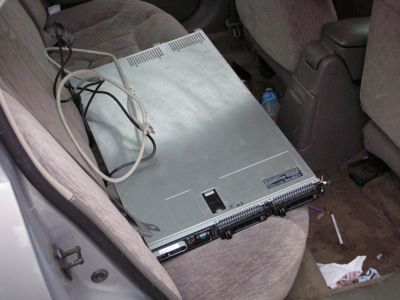 At its new home in Artvoice's basement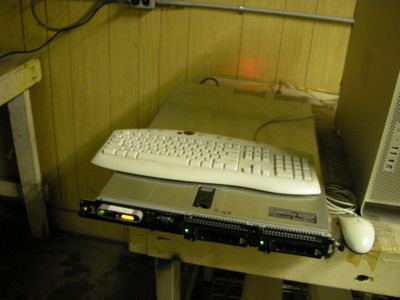 The old server home on retirement. I am turning into a backup machine and 3D rendering station like it used to be.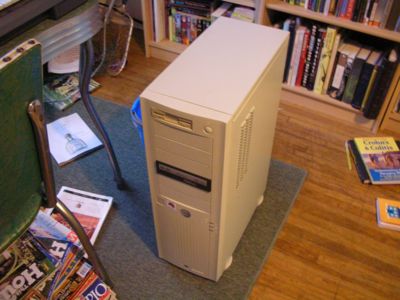 Permalink: The_New_Estrip_Server_Is_Deployed.html
Words: 107
Location: Buffalo, NY
Category: holiday
01/20/08 11:55 - 10ºF - ID#42968
My 31st Birthday - Family Party
More fish. For my birthday my mom cooked more seafood. This time Calamari with cinamon, clove sauce which I love.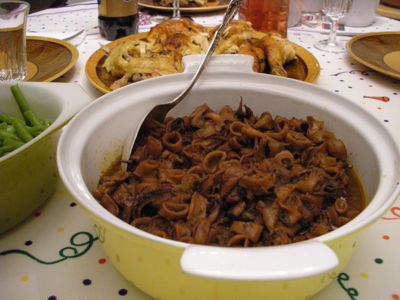 I feel bad because I ate orange roughy which is great other than my enviro checker fish site

says it is bad to eat. We didn't release before. It tastes just about like lobster. It is so good. Too bad I will probably never have it again.
And shrimp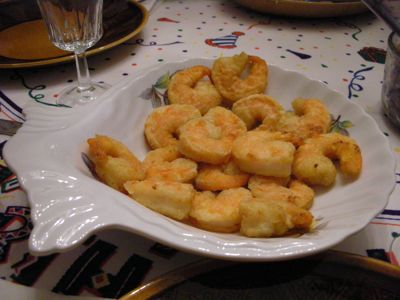 This hickory smoked salmon was much like bacon in flavor, yum.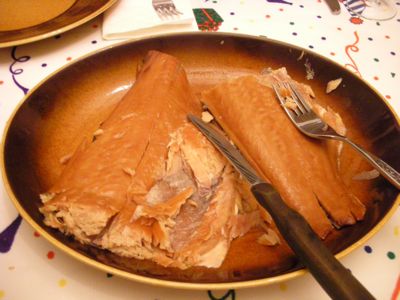 And chicken because not everyone likes fish ;(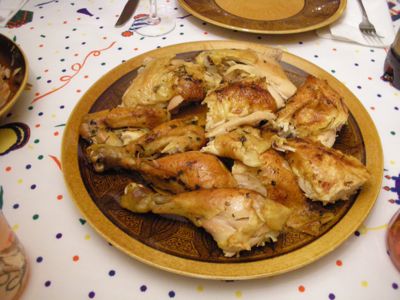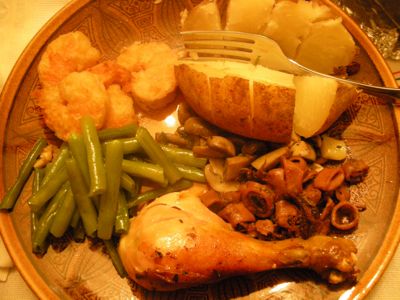 After blowing on the candles on the lemon menrigue, wheat-free, dairy-free cake I opened my presents.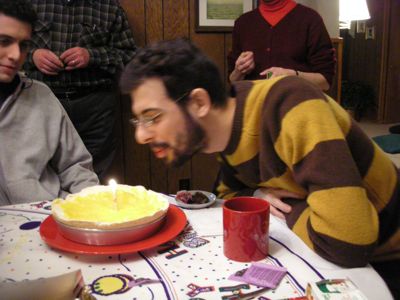 And got the juicer I really wanted from my parents.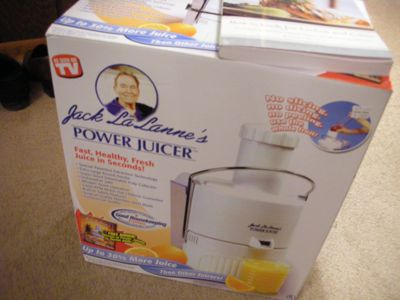 Permalink: My_31st_Birthday_Family_Party.html
Words: 134
Location: Buffalo, NY
Category: food
01/20/08 02:13 - 10ºF - ID#42959
Dinner At Fuji Grill
So I have been eating more and more new stuff to see how I feel and so far, so good. Still never went back to eating any milk products.
We went to dinner with
(e:jim)
and
(e:james)
at fuji grill. I ate lots of yummy sushi and decided I definately like Mackerel the best and not the bland spanish one but the silvery, really fatty one.
I ate live scallops. Not sure how much more alive they were as the normal dead ones in sashimi- I mean they didn't move.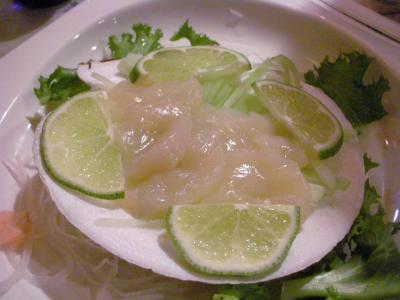 I ordered a lot of flavors that all tasted great. I really liked the real crab rolls. The mackerel on the front of this plate was the Spanish kind and it was so very bland compared to the other kind I got on the second round that was so delicious.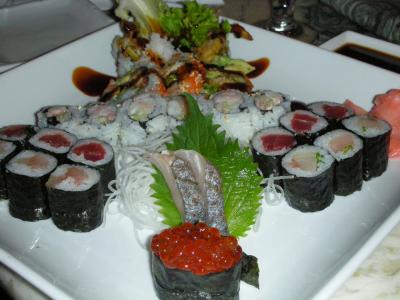 I am sure that the surf clam was also one of my favorites. It was the sweetest, yummiest one for me.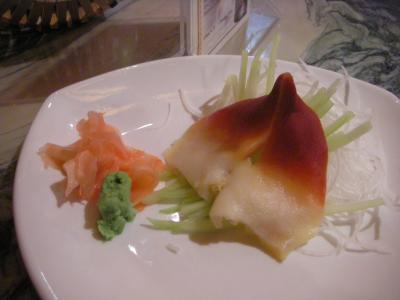 So I eat way more fish than anyone I know. Like maybe its unreasonable to eat fish everyday, multiple times, or is it?
I guess there are some of them I should avoid.
Here

is a good chart to help you make healthy and environmentally sound choices about your seafood, although I am still convinced I should try skate someday.
Okay, this picture is not from Fuji grill but I looks so good.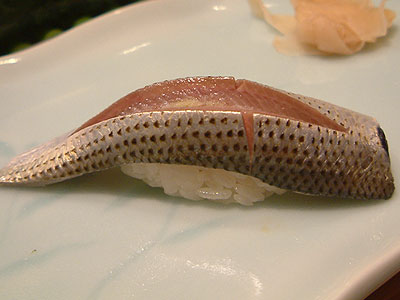 Permalink: Dinner_At_Fuji_Grill.html
Words: 251
Location: Buffalo, NY
Category: technology
01/19/08 04:10 - 22ºF - ID#42954
Bye, bye OLPC - Sold
Well that was quick, I sold the OLPC

(e:paul,42673)
I can't believe someone bought it for "buy it now" $300 on ebay in like 10 minutes after I put it up. Clearly, I underestimated the value. Considering we spend $400 for both and one was for charity, making $300 back on it was an insane deal. We also got a free year of tmobile hot spots out of it.
Well that pays for the nokia n810 which I think is a much better linux based internet device for me.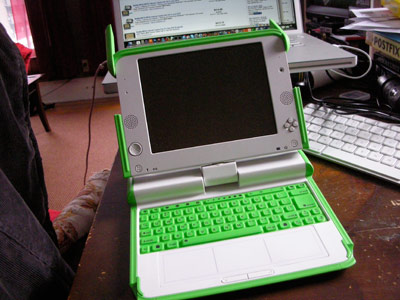 Permalink: Bye_bye_OLPC_Sold.html
Words: 91
Location: Buffalo, NY
Category: mobile
01/19/08 03:08 - 22ºF - ID#42953
Happy Birthday To Me - the Nokia N810
I have purchased myself yet another linux internet tablet for myself for my birthday. This time it has a freakin' keyboard.
Hopefully, it will make me feel like the old one did
(e:paul,38513)
I lied, after checking my own journal it appears I bought my current one last march which means it must have arrived the night of some other party, not my birthday party, hm - maybe I just have a problem.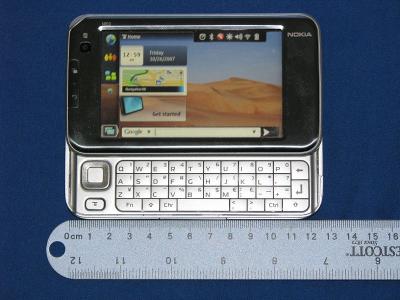 I don't agree that this make steh iphone feel old but this article has some good pics

here is the developer site

The nice thing about there is unlike a real phone they have no monthly service fee or anything.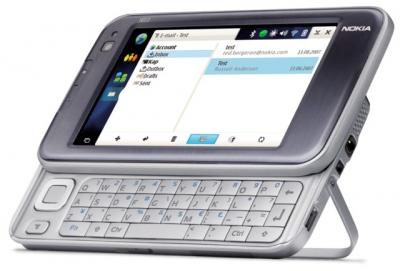 Permalink: Happy_Birthday_To_Me_the_Nokia_N810.html
Words: 131
Location: Buffalo, NY
<-- Earlier Entries