Category: www
10/31/08 12:32 - ID#46446
The creepiest classified ever
I was perousing through

as I find it endlessly entertaining to read about other people sex lives. I have a feeling the Buffalo ones are tame compared to those in SF or NYC. This

is definitely the most creeptastic one I have ever read. It reads like the beginning of a serial killer movie.
I am a middle-aged white man looking for a young(18-20yr old)white guy who wants to be my houseboi in sunny,warm,and wonderful,Tampabay,Florida! NO Snow,lots of sun and fun! You will have to get here on your own! I will provide room and board,No experience needed,will train the right guy. This is a long term relationship,im a dominant type of guy,a top,5'10",7"cut,heavy build,and I can be strict.I want you to do some light housekeeping,take care of my wants and needs,go places and do things with me,all at my expense! You won't need a salary,I will pay for everything!No other job allowed,No outside dating,No one in the house,and No going out with anyone! I like the quiet submissive type of guy,who does what he is told,and likes to serve others.If you are interested,send stats,photos,and contact info to me asap! this position won't last long,christmas is coming!no car wanted or needed,fly down or take the bus!
Tell me what you are into? this is a great location,beats WNY by a mile! CYA! IF THIS ISN'T FOR YOU,KEEP YOUR COMMENTS TO YOURSELF! GET A LIFE! I'M NOT LOOKING FOR A CRITIC,IM LOOKING FOR A HOUSEBOI!
To me this reads as a serial killer looking to cut you off from all communication and rape you continuously. Especially creepy is the "no car wanted or needed,fly down or take the bus!" That just screams, there will be no trace that you ever came here, and you are never leaving.
I started searching for words from the ad and found some other links:

He has either been on the search for a while or he wore the old ones out.
He also didn't post it on Tampa craigslist about it which sounds like he wants a person who has no local connections. Creepy.


Permalink: The_creepiest_classified_ever.html
Words: 410
Category: www
05/30/08 09:56 - ID#44489
Lost in South America
I can't decide if this is the saddest or coolest story ever. According to this article on yahoo news, there is this tribe in South America that has never been contacted by modern humans. In the pictures below they say that the natives are trying to attack the aircraft with spears. I can't help but laugh at the thought of this, however, culturally insensitive that is. I mean what do they think it is? They must have this wild stories about the outside world. It makes me wonder why none of them has run away to find out what is outside. Maybe they are so scared by outside. Is it really possible that there are people that have no idea about the rest of the world. I thought that was so over.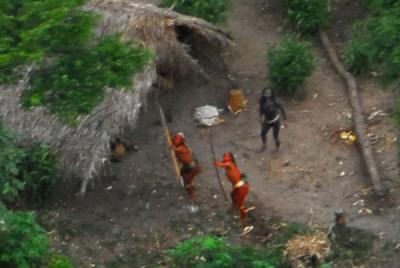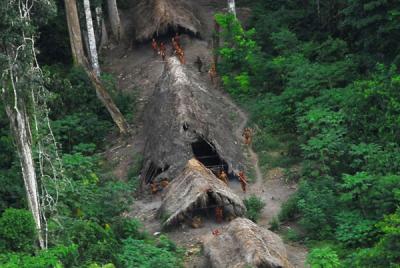 Members of an unknown Amazon Basin tribe and their dwellings are seen during a flight over the Brazilian state of Acre along the border with Peru in a May, 2008 photo distributed by Survival International.

Survival International estimates that there are over 100 uncontacted tribes worldwide, and says that uncontacted tribes in the region are under increasing threat from illegal logging over the border in Peru.

I think the saddest part of the whole thing is that their houses aren't half as nice as the bower bird nests. Here you can see David Attentborough showing one of their nests



Permalink: Lost_in_South_America.html
Words: 254
<-- Earlier Entries