Category: home
04/26/13 02:00 - ID#57575
Home Improvement Center Sucks, Buffalo NY 14226 - Terrible Customer Service
I can't say how their work is because we never made it that far, but I can say their customer service sucks.
Two week in a row I scheduled an appointment for the Home Improvement Center (2991 Sheridan Dr Amherst, NY 14226)

to come and do an estimate for some home improvement project I am working on and took time out of my schedule.
Last week they canceled like an hour before the appointment because the guy couldn't make it. I was annoyed but things happen, I let it slide. We scheduled for today at 1PM.
At around 1 I called to confirm they were coming this time and the secretary said the guy was on his way. At 1:22, 22 minutes late, I get a call saying he couldn't park in my driveway so he wanted to reschedule.
My neighbors had some trees being cut and, like every group in the world, the workers decided my driveway was fine to park in front of.
Yes, that is annoying but the is parking all over the place within one block of walking, not to mention those people blocking the driveway were gone shortly thereafter. What if I didn't have a driveway, would he not do an estimate then? There are plenty of houses without driveways and who can guarantee off street parking right in front of a house in downtown buffalo. God forbid the guy could walk a block. That or he could have just waited seeing as he already had inconvenienced me taking off the week before.
I could have rescheduled but how can you trust someone who flakes out two weeks in a row on just the estimate. I called the guy back and canceled. Then I called the secretary and asked to speak with a manger. She says no one is around, then the same guy calls me back to say he is the manager and there is frustration on both ends because I could have told him someone would be blocking the driveway. I didn't even know that was going on. I decided to just give up on them because there was no point if the same guy who thought that was acceptable was also the manager.


Permalink: Home_Improvement_Center_Sucks_Buffalo_NY_14226_Terrible_Customer_Service.html
Words: 373
Last Modified: 04/27/13 12:14
Category: home
01/08/11 12:26 - ID#53409
Forced Air - Furnace Filter
16x25x1. I am sick of not being sure what size filter I need so I figured I would write it down here instead of on some random piece of paper. I wish so bad I had radiators instead of forced air. I feel like it is killing me. The years I had radiators I breathed so much better.
I wonder just how expensive it would be to convert to modern radiators. Anyone have any experience with this.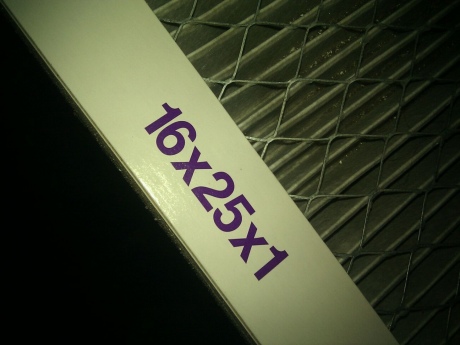 Permalink: Forced_Air_Furnace_Filter.html
Words: 80
Last Modified: 09/30/17 05:06
<-- Earlier Entries