08/27/15 10:09 - 60.ºF - ID#60184
Starting to Post Again
(e:yesthatcasey)
pointed out I never post on
(e:strip)
anymore the other day and I realized I hadn't posted anything since April and definitely hadn't posted tons even before that. I looked back and I used to post almost daily at the beginning and a lot for years after that. I will likely post that much again because I don't necessarily want to post every last detail of my life online anymore but at the same time having all my old posts was so nice because it really provided a lot of memories of what I was doing at the time. So I am going to try and post more we will see.


Permalink: Starting_to_Post_Again.html
Words: 114
Location: Kenmore, NY
Last Modified: 08/27/15 10:09
08/26/15 12:38 - 59.ºF - ID#60183
Toronto Weekend ends With a Bling
First things first, read til the end there is a surprise ending (or just skip right ahead to the end now if you don't want the whole story)..well only a surprise if you don't really know me and we aren't friends on face book but read on....
Dave took me to Toronto this past weekend for my birthday. He originally booked this what seemed very expensive hotel so we talked about how it was a waste to spend that much and so he book the Sheraton instead. In the end it only ended up being like 50 or 60 dollars less a night and didn't include breakfast so he wasn't sure it was worth the change but the new reservation couldn't be canceled. We got to Toronto really fast and luckily didn't get pulled over even though only one of my headlight was working. (it has been out for weeks but I just keep practicing my shocked "What do you mean officer I had no idea " look because they generally just give you 24 hours to get it fixed) Anywho, we parked across from the hotel because it was cheaper at what we thought was $25 a day (BUT OMG when we left after three days it was only $40 so that was awesome, and that was $40 canadian which I think equals like $3 but more on the exchange rate later) Well actually now, the exchange rate is 25% right now which is amazing. I took out $200 and it was only $150 out of my bank account. And really prices there in general don't seem that much more so with the exchange rate.
Anywhoser, we get to the hotel and suspicious thing #1, one of the two revolving doors was broken. The lobby was really nice and it seemed like a nice hotel. While waiting forever to check in , the poeple in front of us were complaining about something but we weren't sure what it was. We got to our room and it was a nice standard hotel room but then we noticed this beeping sound every few minutes and then this machine grinding sound pretty much constantly. We were pretty sure it was noise from the elevator So we discussed it for a few minutes and decided to call the front desk to complain. It was kinda late, we checked in around 9pm I think but a man answered and took our complaint and said he would call us right back ....never called back so after 20 minutes we tried again and it just rang and rang and rang...we tried again a little bit later and same thing...we decided to give up for the night and go out and not waste the night...
...we walked around Toronto and ended up at a gay bar called zippers...I had been there before and liked it but this seemed like a particularly bad night...there were lots of much much older men without shirts on and dancing really sadlyish...one had a tambourine which seems amaze but he wasn't shaking it at all. In the other corner ,t ehre was a vvery methy couple fighting. Summertime sadness came on and dave was like "this truly is summertime sadness"....so we left there and went to Church or Chapel or something like that. It was Indian (India not Native American) night and everyone was there dancing in a very bollywood type way which I loved! They even played a song I knew from the Bride and Prejudice (an indianish version of pride and prejudice movie that I love) soundtrack so I could sing along. After that we went to the most boring drag show ever at Woody's....the drag queen was so boring and was trying to get people to come on stage for some contest but noone would....all in all a fun night...so then we went back to the hotel and tried to sleep through all the sounds frome th elevator...
...Saturday morning we woke up and Dave called the front desk again to complain about the noise and they transferred him to another department where again it just rang and rang and noone answered. While I showered he decided to go downstairrs to complain. I guess like 3 other people in front of him were also copmlaining so that's not really a good sign. It's not like it was a bad hotel, it was nice enough , there just seemed to be something off about a lot of things and they were very scammy. Like the pictures when you book it show more of a suite but that isn't really the room. Anywho they "upgraded" us to a new room and gave us free breakfast buffet for both days (usually $30 a person) so that was good, that would save us a bunch of money and was very confventinent. The "upgraded" room was basically exactly like the first room except it had a nicer shower and didn't have the elevator noise. It also weirdly only had 1 free bottle of water, (the previous room had 2) and a free loofa. Anywho, it was nice and worked for us since we didn't have to pay more for the "premium" room but if I had paid more for a "premium room" and known the only difference was the shower head I would have been pissed.
The views from the room were really nice and I enjoyed the room too. After the breakfast buffett we walked around Toronto all day and just did some shopping and walked aorund and people watched and building watched which is really what I love to do. We also went to Hairy Wet Dog or something like that which is a restaurant and had some cocktails and food. It was nice sitting ont he porch just enjoying the perfect weather and chatting and people watching. I had two bloody marys (well one and then a few sips of a second one) which was too much. They are just real rough on the stomach but were delicious! I gave Dave the ok in the future to tell me I do not want a second bloody mary (unless I reallyw ant it. I want it documented here it only applies to Bloody Mary's he cannot control my other consumption haha)
That night we went to a restaurant that had good reviews on Yelp called Little Anthony. Well let me tell you I think they might have gotten their name from their portion size but they alos were just not that good. Th waitress never told us there were specials and then after i heard what they were form another waiter telling his table I was made because I would have ordered one but it was too late. I got sea bass and it was like slimyish which was not great. Dave got a spaghetti and turkey meatballs (turkey meatballs are supposedly their famous dish). He literally got I would say at maximum 6 strands of spaghetti, and 2 dry not that tasty turkey meatballs and it was like $25. It seemed redic how tiny it was. That night we went to Fly 2.0 to see DJ Kitty Glitter who is a drag queen Dj from Australia. It was pretty good, I enjoyed the dancing but drinks are so weak in Canada. You really need to drink beer but I don't like beer so it just is tough to stay buzzed/drunk. Anywho we did a shot of vodka and Dave instantly threw up which is usually my job so that was weird.
After a fun night at Fly 2.0 the next day we got up and had breakfast and tehn went to the beach. The line to take the Ferry to the beach was incredibly long but moved somewhat fast. There is a real push in the line to sign a petition against forced organ removal in China. I don't know, but it felt too pushy so I wouldn't sign. I mean I guess I don't know what the negative side to anti-forced organ removal could be but they were so forceful about it I didn't trust it. The lady just kept screaming "sign it, just sign it, sign it". I didn't trust her though I was prolly overreacting....
...anywho this is were the story starts to get real good. After lathering up the sunscreen and laying out for a little bit we head into the water. It was freezing cold and I didn't want to go in farther but Dave insisted so we did ....and thats when it happened, Dave whips out a glittery ring and asks me to marry him. I was shocked , utterly shocked, I know we were together 10 years but I really thought we would be the just discuss it and decide to get married one day. I was overwhelmed and surprised and of course I said YES!!!!!!!!!! We're getting married, we're thinking next fall. I CANNOT WAIT!!!!!!!!!! I love him, I can't believe he did something so unexpected and romantic and I can't wait to marry him (well I can wait until a huge amazing party full of glitter is planned) So pretty much this was the best weekend ever!
P.S. I usually hate finger with ring pictures on it but for
(e:strip)
I thought I would post it.
Some pics from the weekend.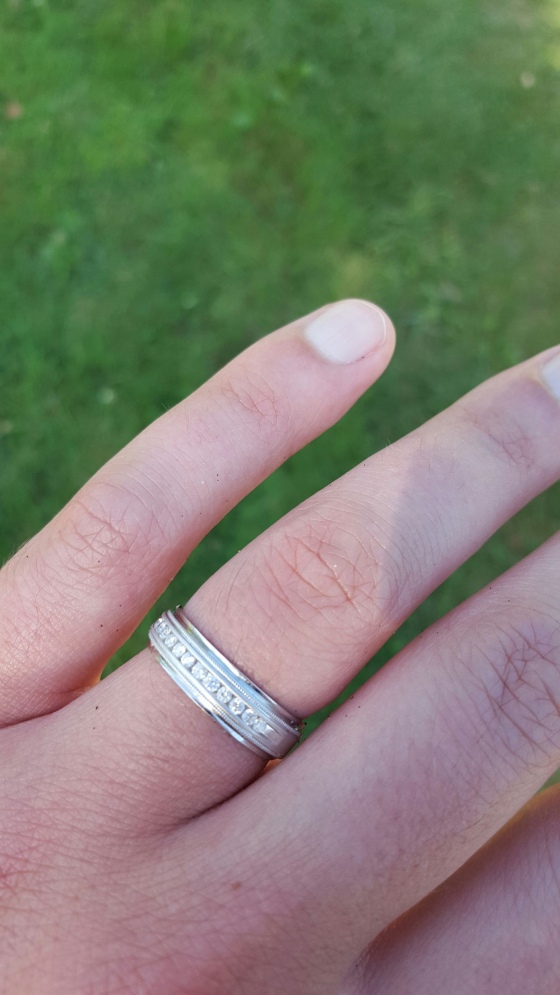 The Bling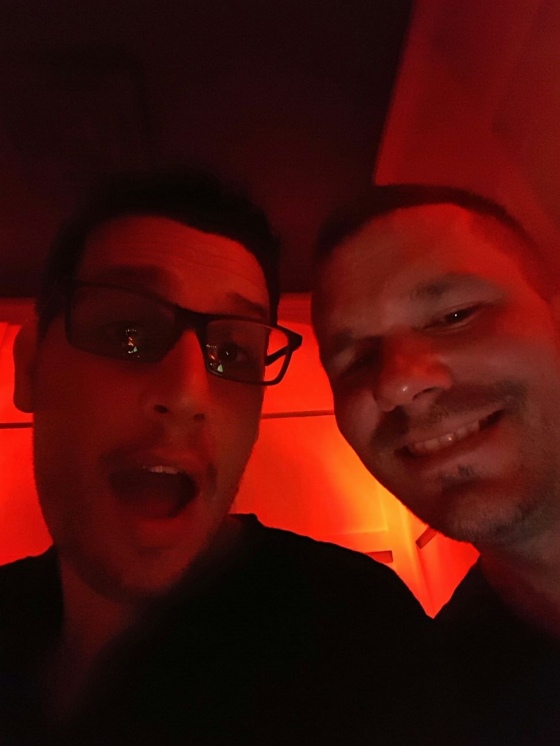 Selfie at Kitty Glitter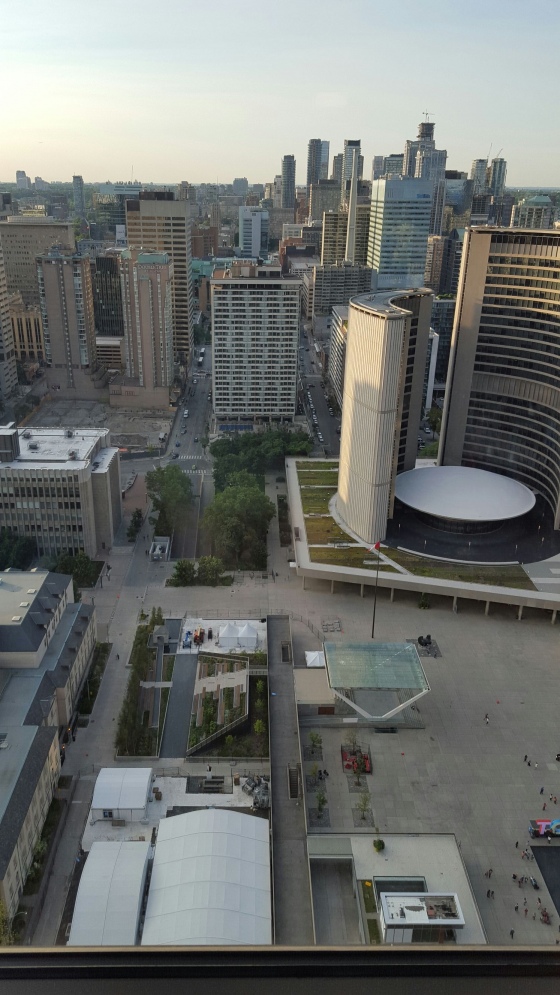 View from our Window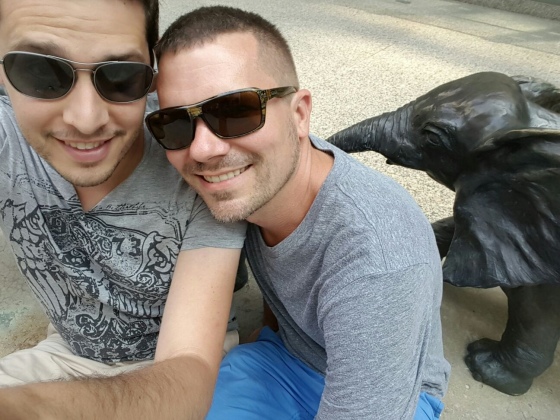 In front of the cutest elephant statue ever!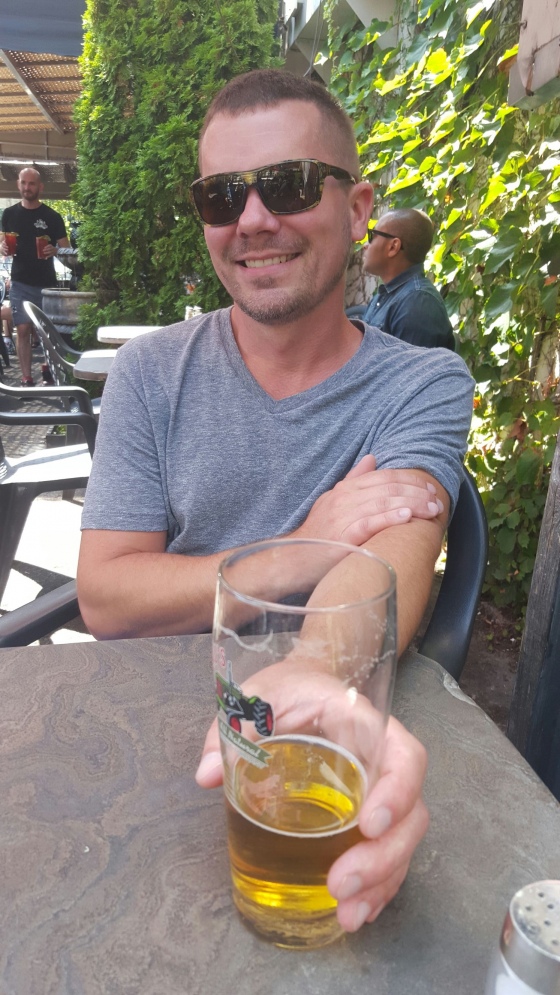 Having a drink at the Wet Dog.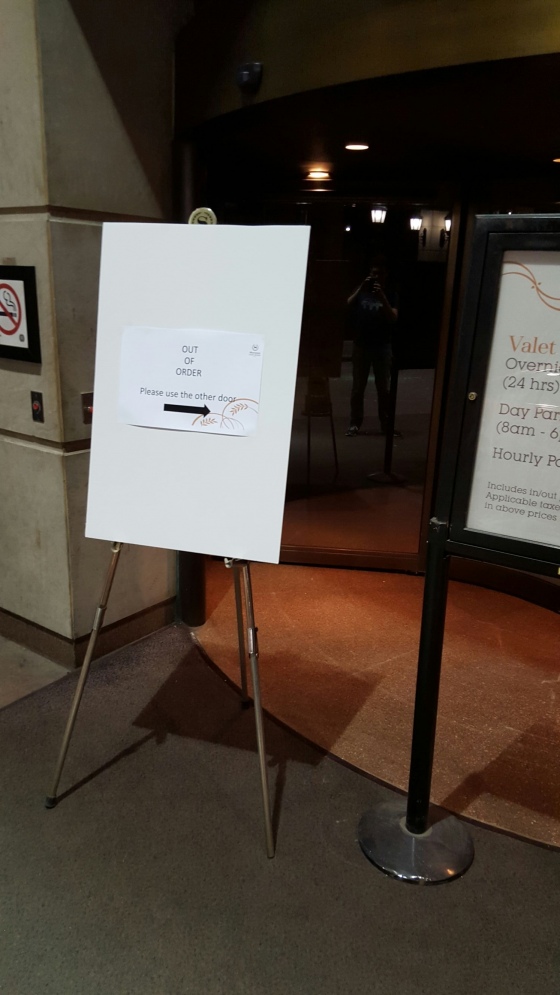 Welcome to the broken hotel.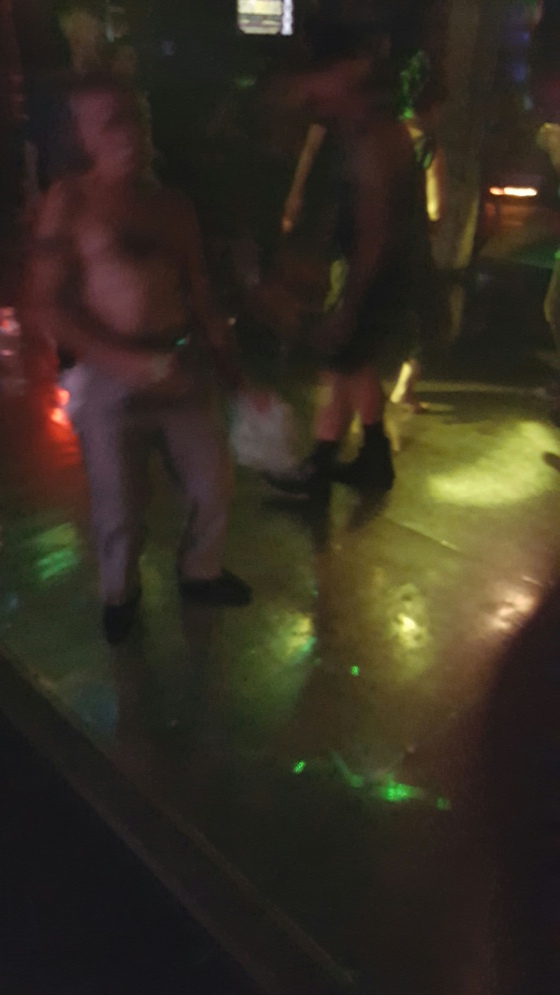 Summertime Sadness


Permalink: Toronto_Weekend_ends_With_a_Bling.html
Words: 1585
Location: Kenmore, NY
Last Modified: 08/26/15 01:39
<-- Earlier Entries