11/21/15 09:09 - ID#60338
Christmas Ceramics
Last night I went with Rachelle, Jill and some of Jill's aunt's and cousins to Crafts Unique in Hamburg to paint ceramics. OMG! I loved it and recommend it. There are so many options of things to paint. Every holiday and thing you can imagine from a bank shaped like an order of french fries, to mardi gras type masks to christmas to halloween and everything in between. I could spend hours just trying to pick something but this time I went in with a mission to paint some type of reindeer. Mind you there were still probably 20 options of reindeer (when I say there are lots of options , I mean it!) What's even crazier is Mary has painted an example of most of them and has painted ones throughout the store. It is so fun to walk around and look at.
Each of the things has directions on how to paint it to look like the example. Mind you you can do whatever you want and customize but it does give you really good guidance. I guess I never realized how it gets done. THey all get coated in a black coat layer first no matter what color you are painting it. Even if it is eventually going to be white, you first put a coat of black on it. Then there are like tons of times you do different colors one over the other with different strokes to give the texture and color you are looking for. For instance there are 4 browns in my reindeer but you have to go over each one with a lighter one in different way to make it look right.
I am not like super good at it but luckily Jill's aunt is like a proffesional and gave me lots of tips and watched me like a hawk and make me change what I was doing if I was messing up.
I think my final product looks pretty good and you can put a candle underneath and it will light out through the holes in the wreath around its neck.
I definitely want to go back but I think Dave is afraid we will get over knickknacked (if we aren't there already).
Overall, I totally recommend Crafts Unique. It is on South Park Ave in Hamburg (I think Hamburg at least). Mary the owner is really nice, there are so many options that there is something for everyone. You pay for the piece (I think my reindeer was like 16 dollars) and then you pay 2 dollars for all the painting you need. It's definitely a good price for a fun night and then you have something to take home at the end. They close at 9 and I am not sure what time they open. We went at six and it took almost until 9 to finish so make sure you give yourself enough time. Or you can leave it there and go back another time and finish up.
OOOOH I almost forgot, in case you were wondering how did he do those eyes. They look soo good. Mary will do the eyes for you. The eyes really make or break a piece and are difficult to get right so she will do the eyes for you. She also will give you any advice if you need it if you make a mistake and are trying to fix it. She really seems great! Everyone should go!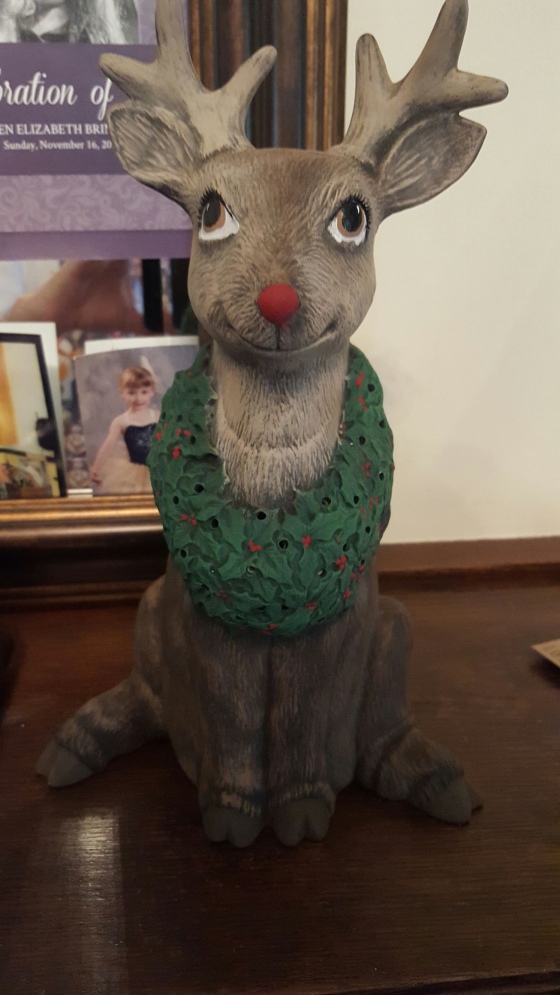 Permalink: Christmas_Ceramics.html
Words: 571
Location: Kenmore, NY
Last Modified: 11/21/15 09:21
11/21/15 09:05 - ID#60337
Corn Chex in My Coffee
Yesterday I took the day off of work which was really nice because I have been working a crazy amount and it has been really stressful. We are going through about 10 million major changes at work that I am at the helm of. Luckily I think it just might start to get better soon, I was able to handle 2 team lead type roles that I just filled that I hope will help take some pressure off of me so both the staff gets the attention they need but I can also work on the bigger projects that are happening as well. I'm hopeful. I really wish I worked downtown. I just think I would enjoy it so much more. You all know I love downtown and I just think it would be so nice not to have my totally congested commute everyday. It is taking longer and longer now with the 198 being 30mph and like the yield signs it takes so much longer. I was in favor of the change to 30mph originally but now with all the additional changes I am currently less in favor but still open to it. I have seen way more accidents since it has went down to 30mph but that is probably due to people getting used to it and going all different mph. I still am not sure what other viable alternatives there are.

I know there are alternatives and people always mention like Ferry, Hertel, AMherst that go east to west but I mean those are all streets that people actually live on and businesses are on and people are walking around. I don't really see why it is a better alternative to send thousands of cars down streets where people live, work and play? It seems a little NIMBYish. I don't want these cars traveling through my park and area so send them through city streets where other people live.

Well this was not the point of my post at all. The real point of my post is I had the day off yesterday and for the first time in a while because we had fresh milk (I only drink milk like until a week before the expiration date so it doens't last long so I hardly every buy it) I had my coffee with Corn Chex in it. We used to always have that at my nonna's for breakfast when I would sleep over there. There is something so delcious about chex in a fresh cup of coffee with sugar and milk. I think you should all try it! It is delish!



Permalink: Corn_Chex_in_My_Coffee.html
Words: 432
Location: Kenmore, NY
Last Modified: 11/21/15 09:05
<-- Earlier Entries