Category: web
08/16/10 03:14 - 77.ºF - ID#52460
estrip.com is finally ours
After years of trying to get ownership of it. We now own estrip.com. No more worries about it turning into a porn site. It cost a good chunk of change but I think in the long run it was worth protecting our assets by owning the .com.
For now estrip.com just redirects to estrip.org. I think it will probably stay that way as I am not going to reprint the bumpster magnets and seeing as we are non commercial it makes more sense.
The most creative story about it was when
(e:twisted)
wrote to the former owner - who we will never mention again by name or company as part of the purchase contract - to say her name was Ester Stripinopolous and that she was looking to purchase the domain back in like 2004 or 2005.


Permalink: estrip_com_is_finally_ours.html
Words: 139
Location: Buffalo, NY
Last Modified: 08/16/10 03:14
Category: mobile
06/17/10 03:16 - 59.ºF - ID#51927
Much Better Mobile Site
I really revamped the mobile site to work well on both the iphone 3g (iOS) and nexus one (android). If you get a chance try it out, should be much easier to manipulate with fingers than it was before. Sadly, the lame iphone cannot upload in the browser like the android phone I am posting this from.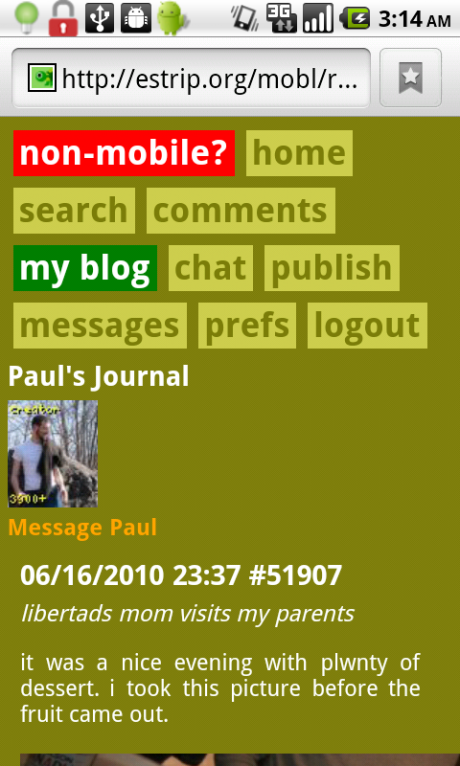 Permalink: Much_Better_Mobile_Site.html
Words: 59
Location: Buffalo, NY
Last Modified: 06/17/10 03:17
Category: estrip8
06/12/10 10:39 - 65.ºF - ID#51863
Estrip 8 - now live
This is my first test post from estrip8. I am sure there are a ton of issues seeing as I programmed it piecemeal over the last 6 years about 2 hours a week and have scrapped and restarted over a bunch of times. It does not necessarily represent a lot of new features, but rather brings it up to date with my surebert framework so that I can more easily add new features and fixes in the future. Hope you enjoy it.

Sorry about the lack of themes. I will create them shortly. I have some already in production.

--paul



Permalink: Estrip_8_now_live.html
Words: 98
Location: Buffalo, NY
Last Modified: 06/12/10 11:18
Category: android
06/10/10 01:25 - 63ºF - ID#51842
Android Application Update
You can now simply select estrip share from any menu that supports text sharing including the link sharing in the browser and other apps such as engadget. If you see their is an update for the estrip app, just update. If however, you do not see an update, please delete and download from the marketplace. I lost my private key last week and had to restart a new app in the marketplace, although it has the same name.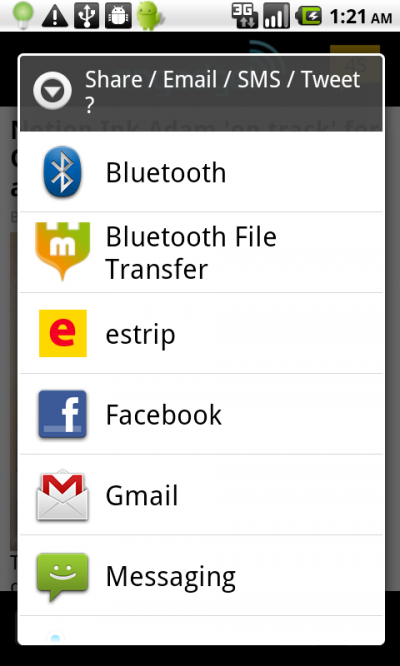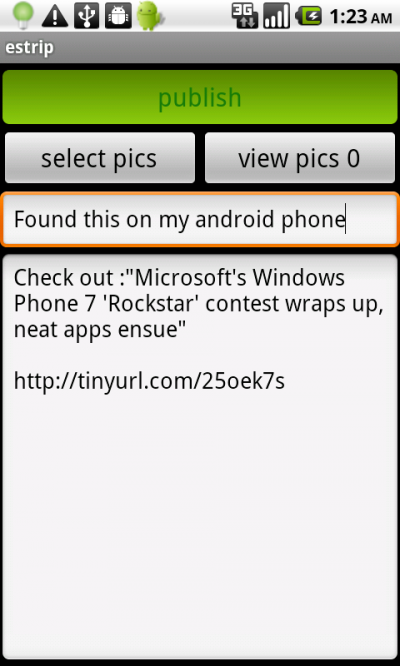 Permalink: Android_Application_Update.html
Words: 82
Location: Buffalo, NY
Category: estrip
04/17/10 12:37 - 41ºF - ID#51411
The island and the vote? anonoman
Up until this point I have never deleted anyone because of anything other than posting commercial content, which I never hesitate to do. I am fine with deleting this guy because his postings are harassing which is against the TOS. However, I fear if you guys determine that you want to delete people based on a group vote mentality that everyone will get deleted at some point. I can guarantee at one time or another I have heard from just about every single person how they are so angry about what some other person posted and yet we all made it through because I don't delete people based on content.
This person is different based on the fact that they are not really a member of the community but more like a harasser, so go ahead and post your feelings here about it.
What makes it all so weird is that
(e:theli)
has not complained about it but maybe he is embarrassed? I have no idea.


Permalink: The_island_and_the_vote_anonoman.html
Words: 167
Location: Buffalo, NY
Category: party
12/28/09 11:10 - 19ºF - ID#50678
New years party 2010
We are having a new year's party after all. 9PM 24 Linwood bring all your friends. Ball drop at midnight - sorry about the late notice. Hope you can make it.

--Paul



Permalink: New_years_party_2010.html
Words: 31
Location: Buffalo, NY
Category: estrip
05/10/09 03:50 - 47ºF - ID#48640
Buffalo News Article I Missed
Somehow I missed this

Buffalo News article that mentioned estrip.
(E:strip)
:
This is the self-proclaimed "original neighborhood blogging community" of Buffalo - inspired specifically by the Elmwood Village strip.
A fairly sophisticated site, it allows for image, sound and video embedding, as well as a mobile/dial-up site for the blogger who just can't wait until he or she gets home to tell everyone about that squirrel fight in Delaware Park.
Blogging topics on this site are broad, including but not limited to animals (with such delightful posts as "A bird in the hand means poop on the car" and "Chinese death camp for cats") and Food ("Dave don't eat it!" and "Subway. Finger-licking Freedom").
Turns out, the Elmwood strip is a popular hangout in cyberspace, too.


Permalink: Buffalo_News_Article_I_Missed.html
Words: 136
Location: Buffalo, NY
Category: estrip
03/30/09 09:40 - 32ºF - ID#48236
New estrip - new top info area
Here is just a glimpse of what it will be like in the new estrip when I am done - someday. I really wish I had more time to donate to it, sorry it is going so slowly. Not done with fleshing out the messages yet, but it is more obvious when you have messages showing you the number of new and the number of total messages. Then you can read them inline, by clicking the link.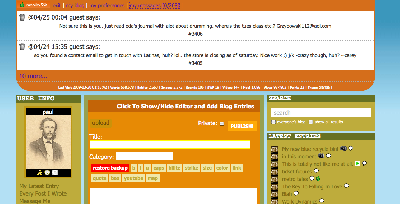 I only have a few things left:
1. The new mobile site
2. Preferences section
3. Draw replacement
4. quickstart guide
5. help
6. stats
7. convert latest data into new database structure


Permalink: New_estrip_new_top_info_area.html
Words: 105
Location: Buffalo, NY
Category: estrip
03/20/09 03:36 - 36ºF - ID#48139
Work on new estrip
I decided to go with avatars and titles in the latest entries list. I think for people who are not familiar with the site content it will make more sense than the person's name or the date. The datetime shows when you hover over the title, the user's name by hovering over the pic. Both link to the journal.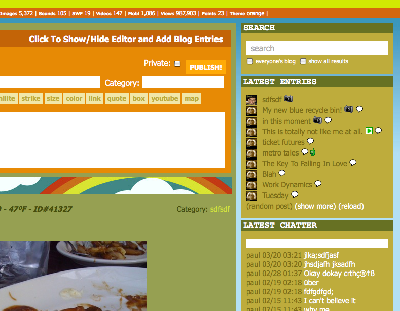 Permalink: Work_on_new_estrip.html
Words: 61
Location: Buffalo, NY
Category: estrip
12/11/08 08:06 - 28ºF - ID#47031
IE Browser stats
On both the Buffalo NFTA Bus schedule site

and on estrip.org it appears that the use of IE6 is dying rapidly. I think Roswell might be the last stronghold. I can't believe we are using such outdated, insecure crap as our browser.
IE 6 is green, IE 7 is in blue ad IE 8 is red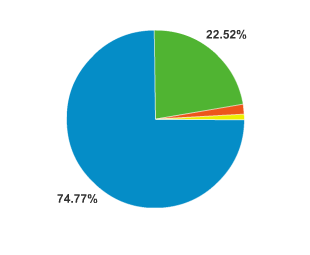 this is only out of the small IE percentage. Firefox alone is now 57% of viewers. On the NFTA site though, IE is 77% of viewers, although, same ratio of IE 6 to IE7


Permalink: IE_Browser_stats.html
Words: 92
Location: Buffalo, NY
<-- Earlier Entries
Author Info
Category Cloud
My Fav Posts
This user has zero favorite blogs selected ;(