Category: estrip
01/25/15 04:31 - 19.ºF - ID#59792
File Upload
When you upload files now, you can either drag/drop them to the media bar on you blog publisher interface or you can click the media bar and select the files off of your computer. I have gotten rid of the flash file upload.
I also made the thumbnails display instantly and larger so that you can see what you uploaded. When you upload an image, the code is auto added to the entry. If you want to re-add it to the entry, just click the thumbnail.
I also made it so that the restore backup button is more prominent and include titles and category along with entry when restoring.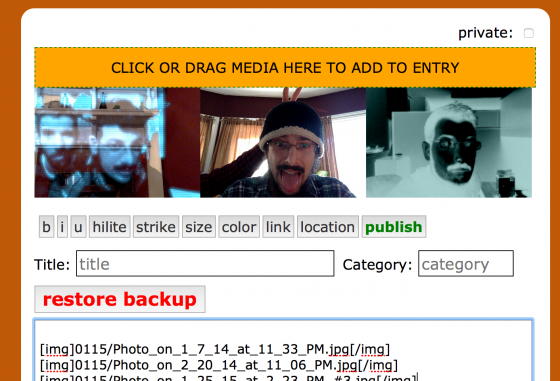 Permalink: File_Upload.html
Words: 115
Location: Buffalo, NY
Last Modified: 01/25/15 04:31
<-- Earlier Entries
Author Info
Category Cloud
My Fav Posts
This user has zero favorite blogs selected ;(