Category: server
07/25/08 11:23 - 69ºF - ID#45145
The cost of estrip this month
Holy crap. My first FIOS bill from Verizon to serve estrip came today and it is $321!!
That is for one month and some weeks of service, plus setup fee, plus router, plus taxes. It looks like it will be about $115.00/month. So if anyone wants to/can donate that would be awesome as I pay for that all out of pocket. You can donate by clicking on the donate link above the userpics to the right.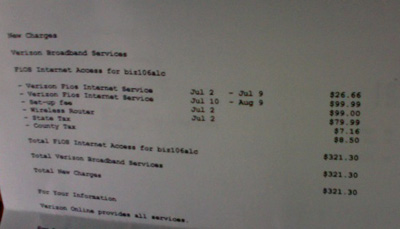 Permalink: The_cost_of_estrip_this_month.html
Words: 78
Location: Buffalo, NY
Category: server
07/03/08 02:13 - 69ºF - ID#44849
The move is complete
The new server is now running over at
(e:fing)
's It should be much faster than before. Tell me if you notice anything weird.
Now that I pay $100/month for estrip.org you all should entertain me with more journals or donate.


Permalink: The_move_is_complete.html
Words: 42
Location: Buffalo, NY
<-- Earlier Entries
Author Info
Category Cloud
My Fav Posts
This user has zero favorite blogs selected ;(