Category: web
08/16/10 03:14 - ID#52460
estrip.com is finally ours
After years of trying to get ownership of it. We now own estrip.com. No more worries about it turning into a porn site. It cost a good chunk of change but I think in the long run it was worth protecting our assets by owning the .com.
For now estrip.com just redirects to estrip.org. I think it will probably stay that way as I am not going to reprint the bumpster magnets and seeing as we are non commercial it makes more sense.
The most creative story about it was when
(e:twisted)
wrote to the former owner - who we will never mention again by name or company as part of the purchase contract - to say her name was Ester Stripinopolous and that she was looking to purchase the domain back in like 2004 or 2005.


Permalink: estrip_com_is_finally_ours.html
Words: 139
Last Modified: 08/16/10 03:14
Category: web
09/10/08 11:02 - ID#45622
Browser Stats for estrip
Firefox still is the top. Look how few people visit with safari. Reading mac news sites you would think it was like 90% of the web, lol.
Chrome is still nothing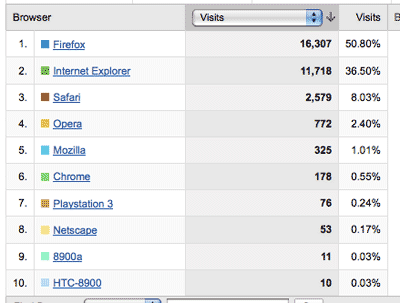 However, I am srprised to see how many people are using IE 6 but then I realize that Roswell Park, where a bunch of us work, is still stuck back in 2001 browser technology land and it makes sense.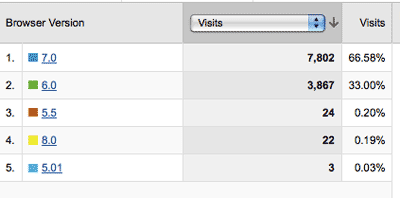 Permalink: Browser_Stats_for_estrip.html
Words: 71
Category: web
02/03/08 11:51 - ID#43157
Cornering the Market on Search
So we are cornering the market on some search keywords via google that really surprise me.
buffalo blogs
- estrip.org #1
I mean we come up in the top 5 for just about anything with buffalo or elmwood in the search term, but these are without.
Google Web Searches
warcraft sex
-
(e:shawnr,34230)
#3
dong count
-
(e:jason,23538)
#1
irresponsible dumb jerk
-
(e:theecarey,35835)
#1
deinspiration
-
(e:imk2,37781)
and
(e:imk2,37795)
#1 and #2
i don't like you that way
-
(e:theecarey,39212)
#2 only after Idontlikeyouthatway.com
video liquidators
-
(e:paul,38302)
#2 only to video-liquidators.com themselves
doctor fucking
-
(e:james,42894)
#5
wegmans wifi
-
(e:paul,43004)
#5
hypoallergenic dog breeds
-
(e:paul,32816)
#7
nudist vacation adirondacks
(e:paul,40394)
#3
Google Images
There are a bizillion search combos we come up for. Some of the most popular are:
1900 house
- Our living room comes up in row two
house buffalo, ny
- our living room comes up along side the Darwin Martin and Coit house
linwood ave
- our house is #1
nudist adirondacks
- hm
naked adirondacks
- hm
vermont ledges
- hm
vermont ledges naked
- hm
zoar valley naked
- hm


Permalink: Cornering_the_Market_on_Search.html
Words: 188
Category: web
06/23/07 12:12 - ID#39784
Linky Dinks
Can some of you with access to other web sites add links back to estrip? I am playing with google analytics and want to see how it affects it. You could use the sticker code on the front page of estrip below the comments section or just make your own links.

Our current google page rank is 4. I want to know how much more it takes to make it 5.

Thanks,
Paul



Permalink: Linky_Dinks.html
Words: 71
Category: web
06/11/07 10:08 - ID#39615
Safari For Windows
Safari For Windows
just came out which makes it a lot easier to keep everything the same on all platforms. It is really time for IE to catch up or shut down their browser development.
The safari CSS problem at the top of the site has been resolved now that I could easily test it.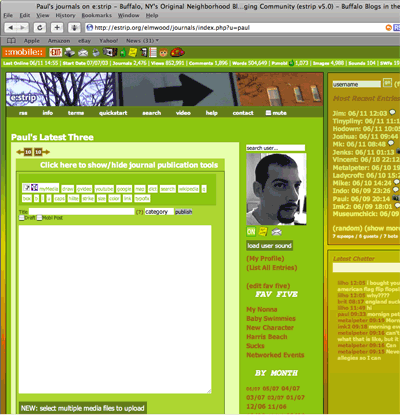 I also have not seen the safari quit bug in this build which goes along with what
(e:carlonian)
was saying about it not being in the latest apple build and means that it was most likely a safari bug.
I have noticed that safari is a bit faster than firefox but it is unfair comparing my highly customized, extension rich firefox to a default build of safari.
I wonder if we will see safari for linux?
Apparently, investors would have been happier with new hardware and 3rd party app development, instead of web devel for the iphone. It would be nice to not need one to develop though.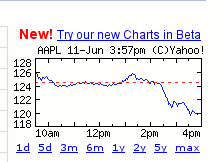 Permalink: Safari_For_Windows.html
Words: 168
Category: web
05/17/07 01:47 - ID#39324
Buffalo Wireless Org
I received this message on the 6th but didn't notice it until today. this seems like a fantsic community internet asset and I wanted to pass along the info.
Hi Paul,
I am writing because I came across your site estrip.org a long time ago and recognized that it is an important community portal in the Elmwood area. Currently I am starting another community project in the area that I thought you might be interested in, based on your interests in technology and community.
Recently I set up the web site

The site, and the list serve that I set up, are aimed at getting people together to create a community wireless network. As opposed to projects like Buffalo Wifi (http://www.buffalowifi.org), which just seems to provide free access points in areas convenient for businesses, Buffalo Wireless (http://www.buffalowireless.org) is modeled after projects that descend in some way from MIT's Roofnet project. Currently some of the most successful community wireless networks include Portland's Personal Telco Project and Seattle Wireless.
Basically, the project in Buffalo would aim to provide Internet access that is run by local communities and users, rather than large corporations. It would do this by the construction of a mesh network running protocols like OLSR (http://www.olsr.org). As we start the project, we need users interested in having access to the Internet that they control. I have already contact the local Linux Users Group and have several very technical users interested in helping to set up access points (although more certainly won't hurt).
The primary thing that we need right now in order to get the network off the ground is to find individuals who are willing to share roof real estate on which to locate an access point, and especially those who are willing to buy the access points that we will install on their roofs. I am trying to spread the word in the Elmwood area in particular because of geographic density and the large portion of the population in this area that already uses the Internet on a daily basis.
If you are interested, please check outlink and sign up on the list serve in order to receive project updates. In addition, I would appreciate if you would spread the word to anyone in the area whom you think might be interested in helping out in any way.
Please let me know if you have any questions or advice for the project, and I hope to hear from you soon!
Best,
Justin S. Leitgeb
Email: justin AT buffalowireless.org
Buffalo Wireless

Personal Web Site



Permalink: Buffalo_Wireless_Org.html
Words: 448
Category: web
06/02/06 12:42 - ID#30288
Upgrade your firefox
If you don't already have firefox on automatic update you should, but if you don't you should upgrade to version 1.5.0.4 right away. They fixed a lot of bugs and some security issues that were pretty scary.

Firefox is the official browser of estrip.


Permalink: Upgrade_your_firefox.html
Words: 47
Category: web
03/26/06 03:22 - ID#30232
Loudfeeder - Make your own Podcast
I have created another application like picfeeder

This one is called loudfeeder and allows you to make your own podcasts for sharing music and sound with programs on programs that can handle podcasts
(WIKIPEDIA - podcast)
such as itunes.
I am going to ask that you please do not share copyrighted music witht his technology.
If you do I will ban you form loudfeeder and estrip. However, you can feel free to share music you created, or the music of any band you have the permisison to share.
You can also use it to cast your own podcast radio shows. If anyone starts their own show please tell me so that we can syndicate it on elmwood radio.
Here is the login window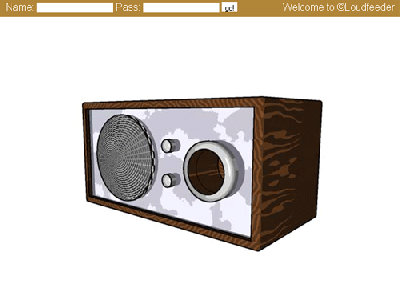 Here is the podcast creator interface, you can see it looks a lot like picfeeder

and behaves exactly the same way makign it easy to use both.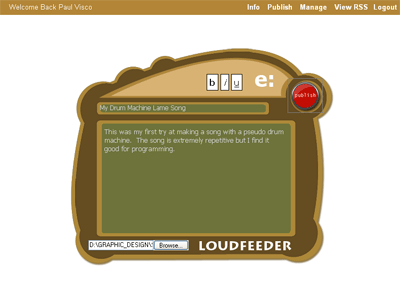 Here is how you subscribe to your podcast on itunes

You can give the address of your podcast to any of your friednds that you want to subscribe. When they subscribe they will recieved automatic updates of whatever is in your feed right into their player. There are many other podcast player out there. Just search on google. They even have them for phones and PPCs.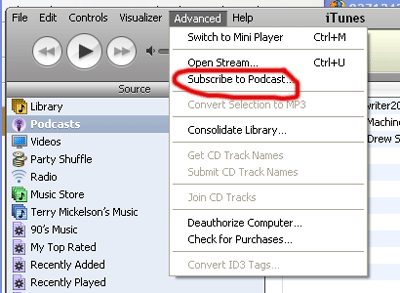 I started my own podcast using loudfeeder with the first song being one I created with a software drum machine You can subscribe to it by putting this addr

I will probably be using it to start a mobile podcast from my phone which has an mp3 recorder and works with loudfeeder.
I also bought loudfeeder and picfeeder.com so maybe if it works out I will extend subscriptions to other people.
This program can download podcasts on windows, mac and linux if you don't have itunes



Permalink: Loudfeeder_Make_your_own_Podcast.html
Words: 343
Category: web
03/25/06 10:48 - ID#30231
pic feeder is ready to go
Okay now I added instructions and a bunch of other features and checks. Anyone who wants a photo sharing RSS feed should check it out. You get a free account by being an epeep. Just log in with your estrip ID after clicking ont he picfeeder tag to the right of the latest entries list. RIght now images are limited to 400k.
I would suggest sage

as an RSS reader for firefox or sharpreader

for windows.
Paul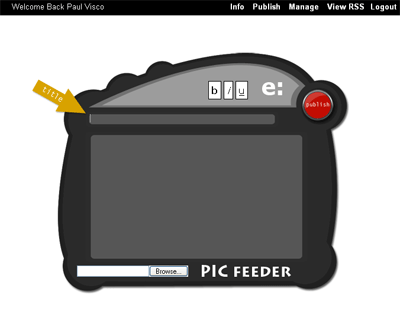 Here is an example of the feed in sage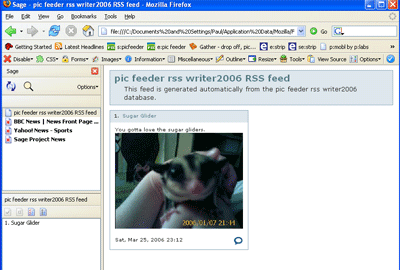 I will make an mp3 veriosn of this process to let peeps have their own podcasts if someone donates.


Permalink: pic_feeder_is_ready_to_go.html
Words: 127
Category: web
03/25/06 07:55 - ID#30230
Updated picfeeder
I updated picfeeder to optimize it for smaller screens. I also fixed a couple bugs and added new features, like the ability to delete individual items from the feed.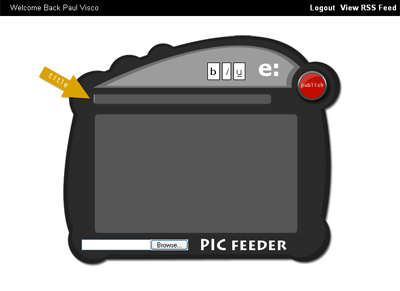 Permalink: Updated_picfeeder.html
Words: 31
<-- Earlier Entries
Author Info
Category Cloud
My Fav Posts
This user has zero favorite blogs selected ;(