Category: body art
05/19/11 07:38 - ID#54309
Tattoo Ideas
I will admit I love Lovely tattoos on women.... I Don't know about the sleeve thing though I prefer when you can see what each Tattoo is with some space around it.... Yes over on that other site I like tattoo pages and like tattoo shows.... Well there was a question about if you got a $1000 tattoo and had to spend all of it what would you get? I have no idea what anything costs....

-I don't think I could deal with the type of pain that tattoos give
-what if I don't like it, I mean how it look on me I'm more of a wall art guy

That being said I have 3 ideas for what I think could be pretty cool of course the pain of any of them might kill me and I don't know if they could be done artistically

1. San Fransisco Metallica Tattoo.... It would be include all the members yes even Mustane who went onto megadeth fame... Somehow the golden gate bridge and those famous Trolly's would have to be a part of it....

2. I tropical lagoon with a huge waterfall rising out of the water would be a water dragon and laying on the grass would be a white tiger.......

3. A mash up of Sean Madden art... Maybe the warpigs with a tank and one of them has the Bottle and gun with girls kissing as the pope looks on dancing with the devil or something like that

4. On top of a flat part of a mountain a huge dragon Sits with a Knight and is crying as they both look down on a grave yard... The crosses are swords with shields on them

Again just Ideas to get the detail on my skinny self to make any of them good I would need my entire chest or back......



Permalink: Tattoo_Ideas.html
Words: 306
Last Modified: 05/19/11 07:38
Category: body art
10/09/08 08:20 - ID#46030
HateTheFeetLoveThePenisTattoes
So La Ink's new season starts Tonight and that has part of my thoughts on body issues and body art. There will not be any penis or feet pictures but here are some I found on line from LA Ink and few other body modifaction pictures. I myself do like tattoos and think they are nice. For some people it is a way to deal with something. For some it is pretty art and for some it is a way to alter how they look along with piercings or other modifications. .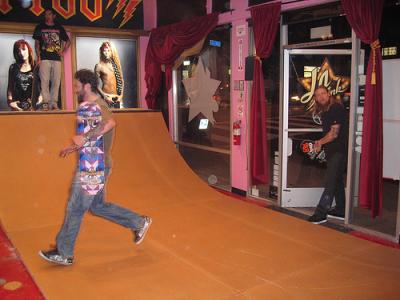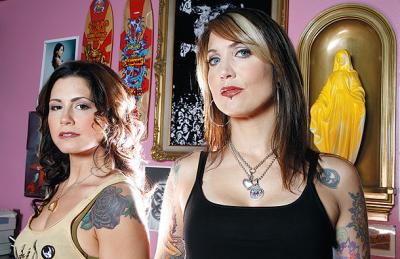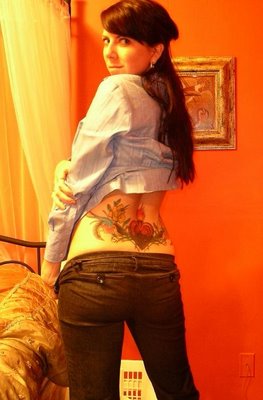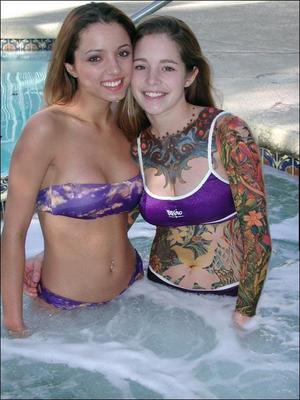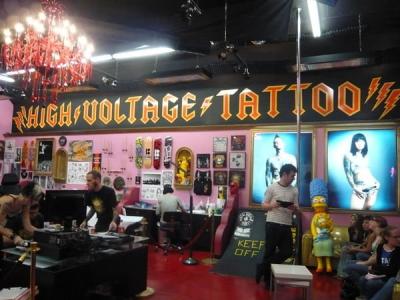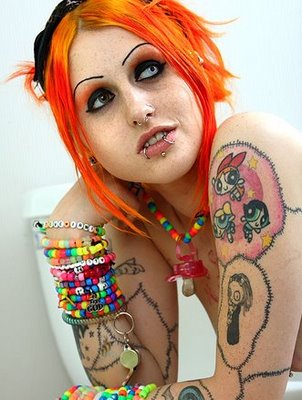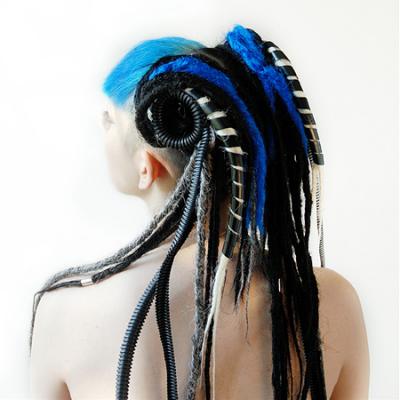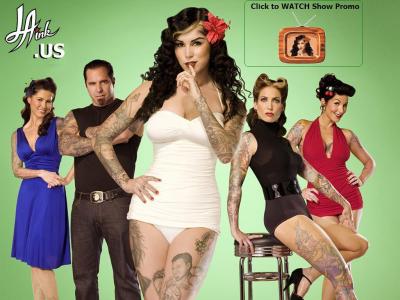 In terms of people who change how they look, I think it is more of an enhancement not that I don't like how I look type of thing.
Beautiful lyrics

[Spoken]
Don't look at me

Every day is so wonderful
And suddenly, it's hard to breathe
Now and then, I get insecure
From all the fame, I'm so ashamed

I am beautiful no matter what they say
Words can't bring me down
I am beautiful in every single way
Yes, words can't bring me down
So don't you bring me down today

To all your friends, you're delirious
So consumed in all your doom
Trying hard to fill the emptiness
The piece is gone and the puzzle undone
That's the way it is

You are beautiful no matter what they say
Words can't bring you down
You are beautiful in every single way
Yes, words can't bring you down
Don't you bring me down today...

No matter what we do
(no matter what we do)
No matter what they say
(no matter what they say)
When the sun is shining through
Then the clouds won't stay

And everywhere we go
(everywhere we go)
The sun won't always shine
(sun won't always shine)
But tomorrow will find a way
All the other times

We are beautiful no matter what they say
Yes, words won't bring us down
We are beautiful no matter what they say
Yes, words can't bring us down
Don't you bring me down today

Don't you bring me down today
Don't you bring me down today
Yes I admit that I for some reason have all ways liked that song, maybe it is the words or that she can sign not sure, but her hottness and her being hot and signing about that can't hurt either.
I do think that both guys and girls do have body image issues. I think it is natural who doesn't want to Look Like Christian Bale or Jessica Alba. I think often it is thought of just a girls issue but it isn't really. Everyone I think has stuff they aren't happy with. I won't say that everyone wants to change things about their body, but I think most if they could would. Even if you did that doesn't mean it would make things better. Some girls with small boobs want them bigger so they will get more attention and some girls with a nice large rack say that guys only notice that and that is all they care about, both have valid points.
Now on to me. I walk a lot and stand on my feet a lot, and I used to walk a lot more. Because of this my feet take a beating. My feet are nasty. Hey I'm not a foot guy but some people have really pretty feet and toes but not me stay away. I could be totaly naked in a group orgy and my socks are staying on.
As much as I love porn (I really need to go buy some new ones to). I do think that there is some harm in it for guys. Just like Hollywood images and models can be bad for girls. I'm not saying people shouldn't try to look like the pretty people. But we need to remember that the beauty is part of what got them there. This is true in porn. Now I haven't gone out and measured guys in porn and not in porn to see if this is true, but most guys in porn and large dicks and some you think "how can that chick take that it doesn't even fit all the way in, och " . One has to remember that those guys are in porn for a reason and it won't get to you, well unless you are bigger then those guys and then you are a lucky mother fucker. So you have to remember these guys aren't trying to get the girl you are trying to pick up someplace and your penis is fine. I think that is where the self love comes in. See I'm no porn star but I love my penis I really do. I know that sounds crazy but I love how it looks and it doesn't really matter if anyone else loves how it looks, but it sure does help if someone else likes it. I'm not sure where this love comes from but it seems new. Yes in porn I love seeing some girl suck off some huge guy but that isn't really the same. Maybe it is more an aprication and an exceptance of what I have and that I love how it looks. I admit it is kinda odd, but it is the truth. But it isn't all about being about me, see if it was I would love how my feet look, so I'm saying it is a visual thing, but not sure.
I think that everyone should learn to love there own bodies and if there is something they don't like change what they don't like. But it needs to be for the right reasons like they don't like how they look and not because someone else doesn't like how they look. I know that there are things about me I would change if I could, that doesn't mean I'm not happy with who I am most of the time.
1. Good feet
2. Package longer and thicker
3. Tattooes not sure of what maybe dragons or a few really cool pictures I've thought off
4. Skin that is a little darker so that I don't burn in like an hour
5. Little bit taller and a little bit wider and thicker boned
Since I lost my train of thought I guess that is it.


Permalink: HateTheFeetLoveThePenisTattoes.html
Words: 1070
Category: body art
12/28/06 08:13 - ID#28501
Ink Marathon
Sometimes around this time of year TV stations have Show marathons. TLC had one that I wish I knew about ahead of time for Miami Ink. I saw a little bit of it. I wanted to play around a little bit with the new picture or way files are uploaded so I figured download some pictures from their site and then up load them here I'm not sure yet if it is better to do one picture at a time Or if it is quicker to open multiple files at once. In any event I anyone reading this likes the pictures oh yeah currently the sabres are beating the caines hopefully they can pull out the win for the sold out HSBC Areana fans that would be nice.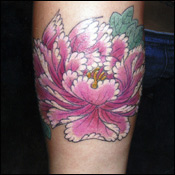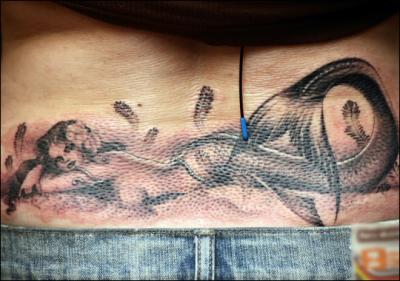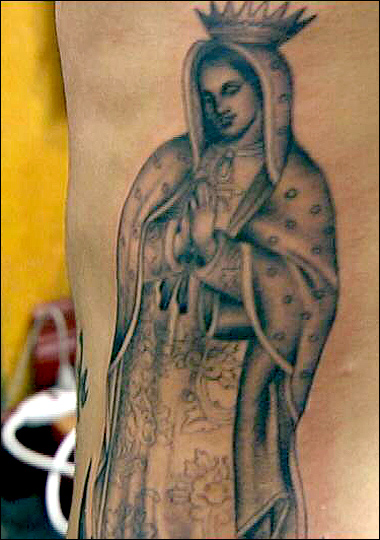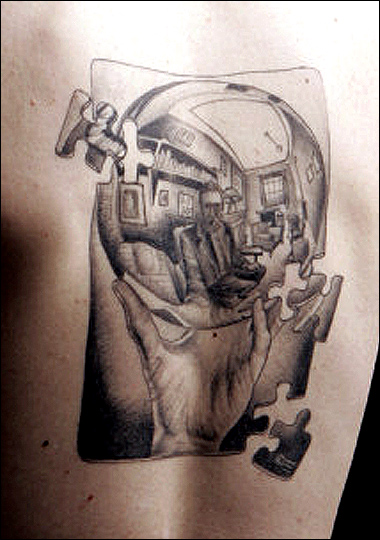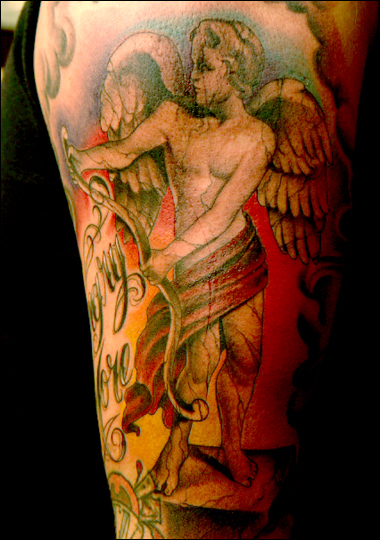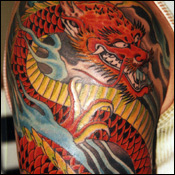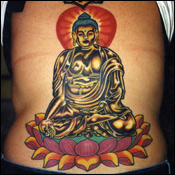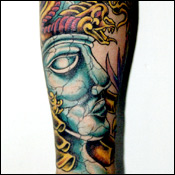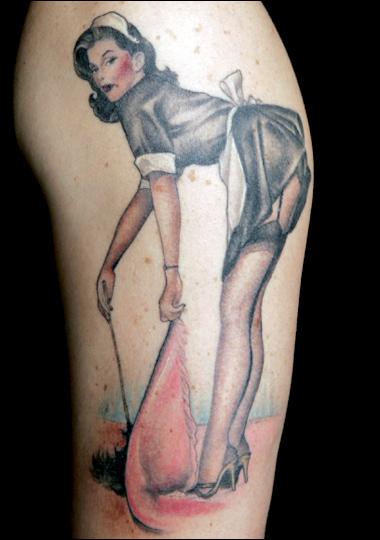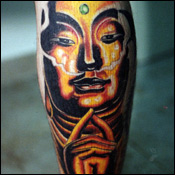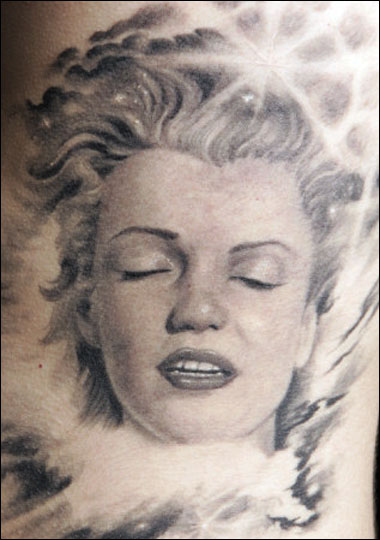 Permalink: Ink_Marathon.html
Words: 158
Category: body art
06/06/06 07:27 - ID#28397
Aniversary +
Yeah Yeah Yeah, congratulations to me, Yeah. Not really just thought that would be fun to yell that. Somehow yesterday I missed that I've been on
(e:strip)
for two years. That is kinda hard to belive. A few stats. I have no idea how many pictures I have up here that I've taken and that I've posted from the web. For some reason My Page Has never counted them I belive. In the time since comments I have 257 that is a lot I think. But what is almost impossible to belive is that I have posted 777 coments that is over 100 more journals then I have. I think my no shows to parties is about equal to the ones I've made. But if you count the bar get togathers that I allways mis I'm sure I've missed a lot more then I have made. No actuall count keeping. As long as the weather is ok I'm going to be verry busy going between MIA and Allentown. Who knows maybe I'll run into a few peeps out in the hood. I know it is going to turn expensive quiclkly Just from Picture developing alone. Plus I allways buy something. Below I have some pics of some Tattoo pics I found on line. Maybe at one of these summer festivals I'll get a Henna or temp tattoo. If I wasn't so affraid of needles and the kind of pain or sensation depending on who you talk to I might be able to get one sometime.
Tonight I plan to start watching "Date Movie" I borrowed it from a friend it looks really funny wee shall see. Sometimes those commentaries and deleated scenes are a great bonus. I have seen a couple where the funiest scenes in the movie was left on the cutting room floor.
If there are any Dennis Leary fans I belive Rescue me is on tonight on FX I know they repeat them during the week. Not sure if it starts this weak or last.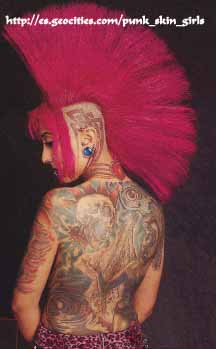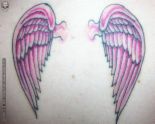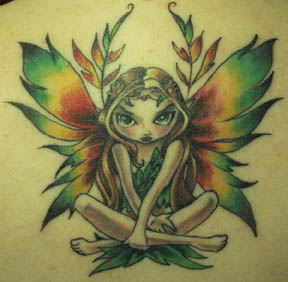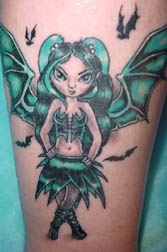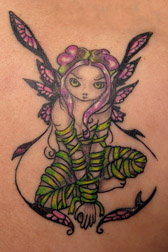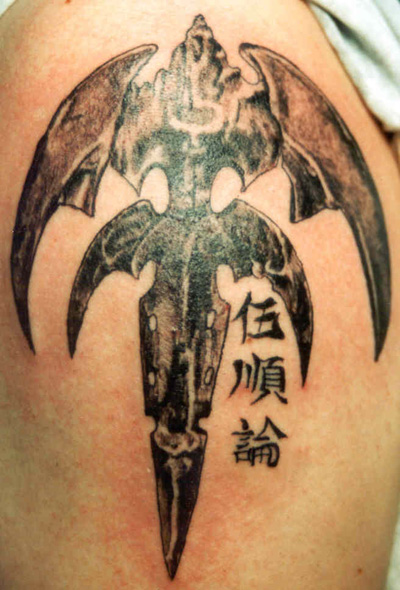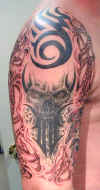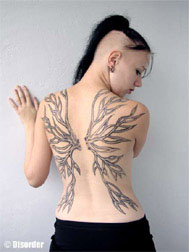 Slight up date I forgot the pics hope now that I'm posting in 666 the coments stay. I wish I could think of 6 more things to talk about.


Permalink: Aniversary_.html
Words: 386
Category: body art
05/17/06 07:58 - ID#28379
Tattoo Pics
I think that I have a good variety of pictures of differant neat looking tattoos that I found online. I can't really say what tats I've seen and online are my favorite. Yes is it art and how it looks is how it looks. But we don't know the meaning behind the art. Are the names people in the family or did they die. Is the devil just a picture or does it represent the temptation and is a reminder to not go that route. I assume that all of these tats are legit and arn't photo shoped. I remember
(e:soyen)
used to have a picture that I saw of a dragon tattoo on some guys dick and I've seen some cat tattoos near ladies snatch but I allways assumed those where fake. So when ever you see them on line it is hard to tell. I also decided to go with no nudes or porn pictures of tats. Hope you enjoy them.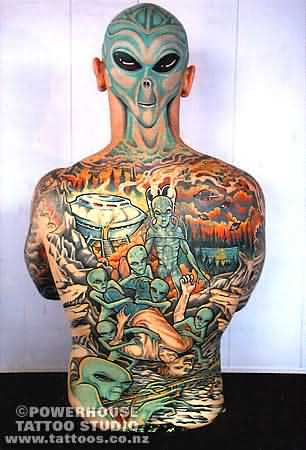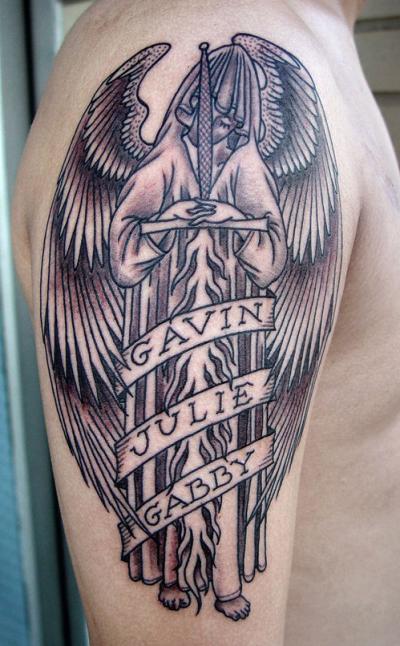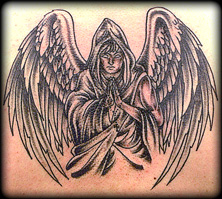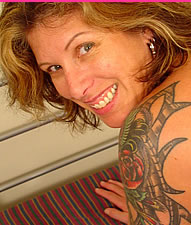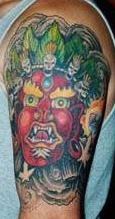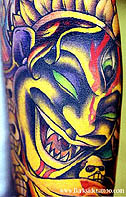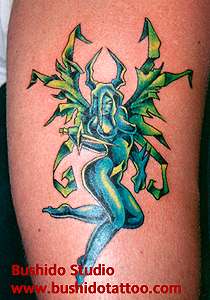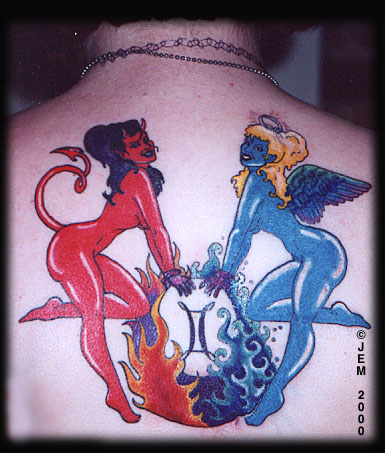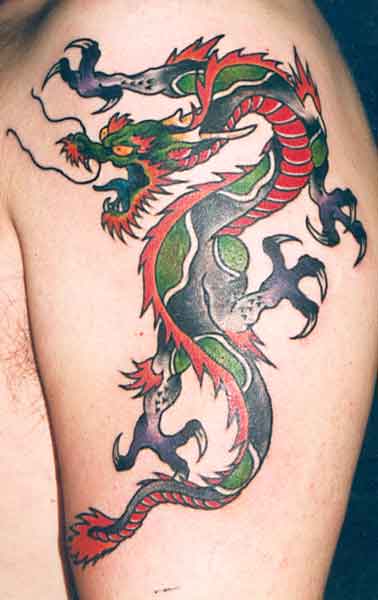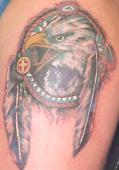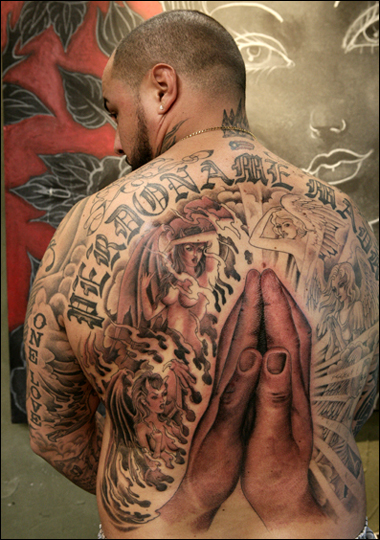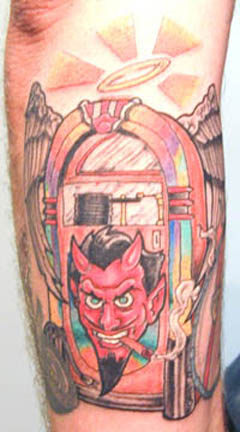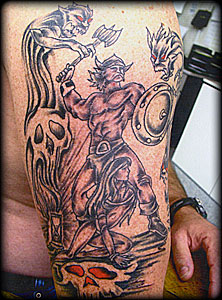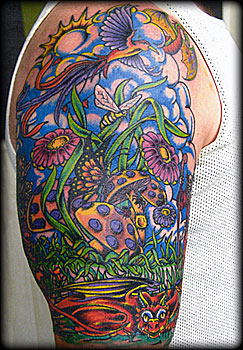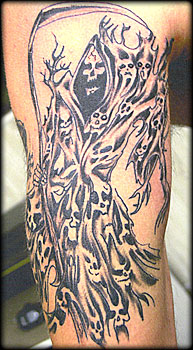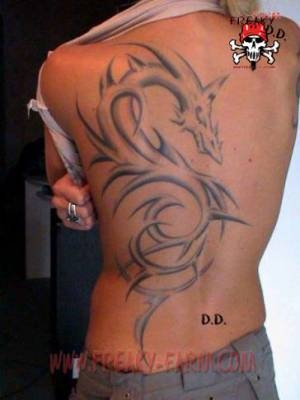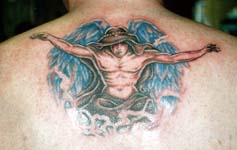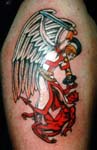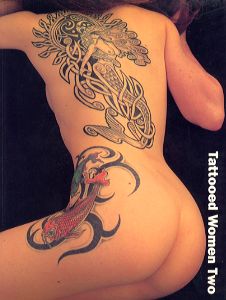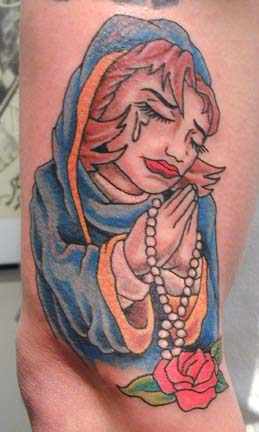 Permalink: Tattoo_Pics.html
Words: 234
Category: body art
04/27/06 08:36 - ID#28362
Body Art Search
Not sure which picture search egine of Yahoo or Google is better. A couple times they have given much differant results. Google had this one site when I looked up stripers that had male stripers and women in a public strip club grabing there dick wich wasn't what I was looking for but was interesting. I have also looked up Jackdaw not knowing it was a bird also besides a band and got all kinds of pictures that happens often. Most of these pics are from Yahoo and Google search however a few of them are from Miami-ink.com they are the work of Kat. Her portrait work is so amazing. Hope some of you enjoy these it wasn't a real extensive search.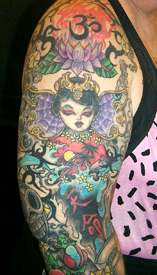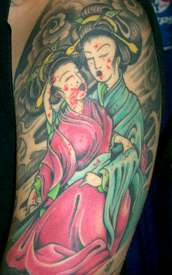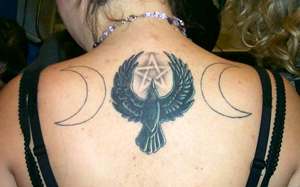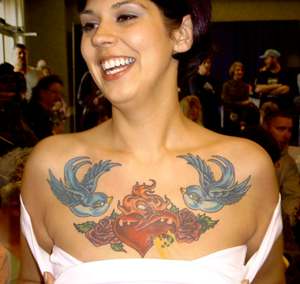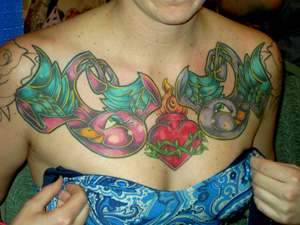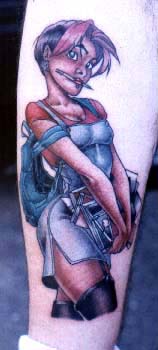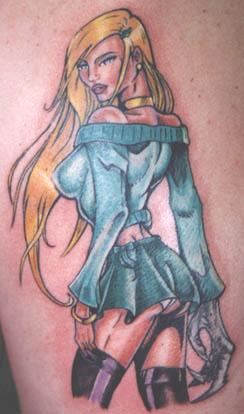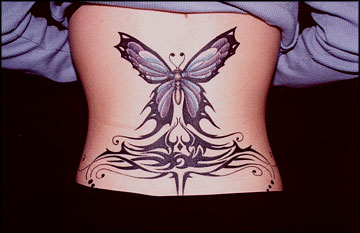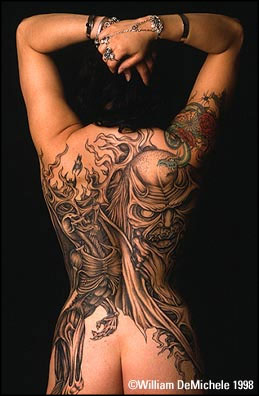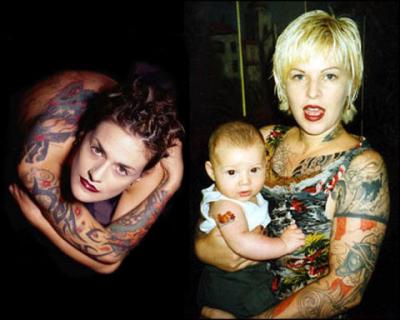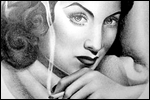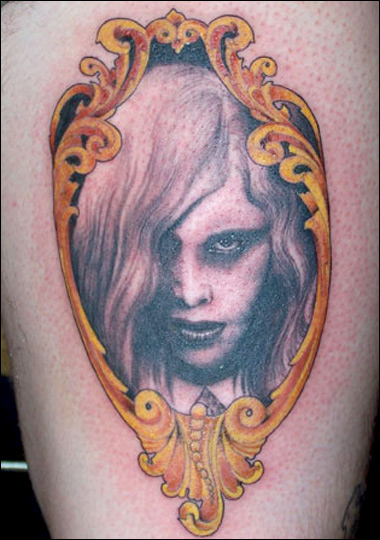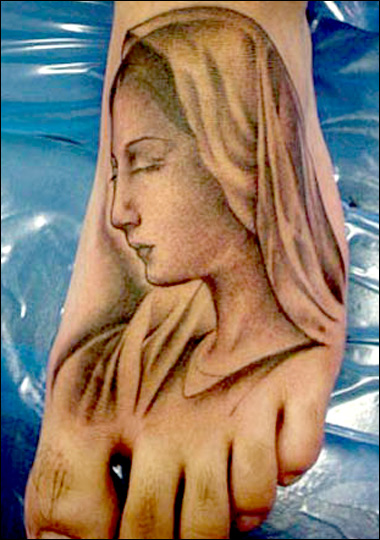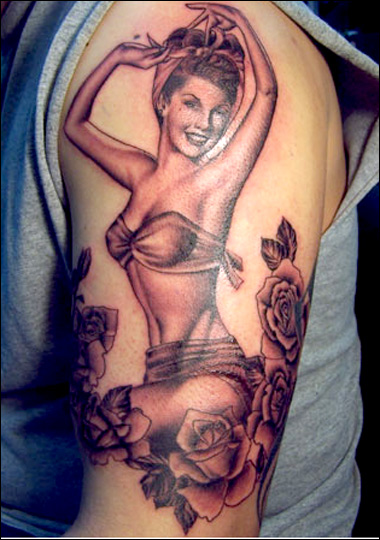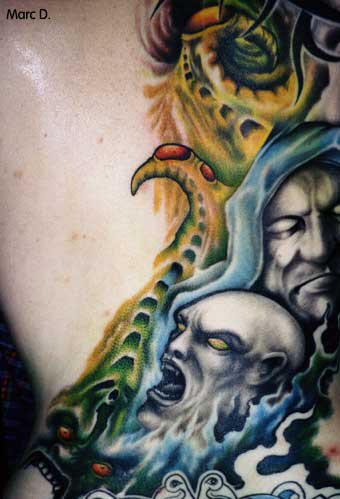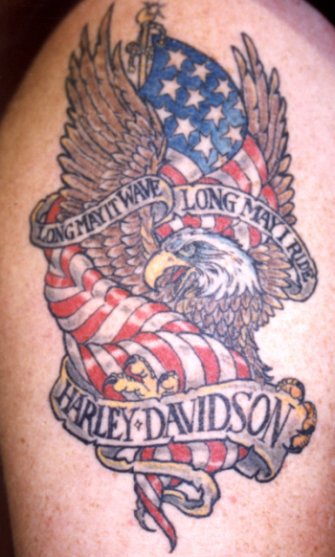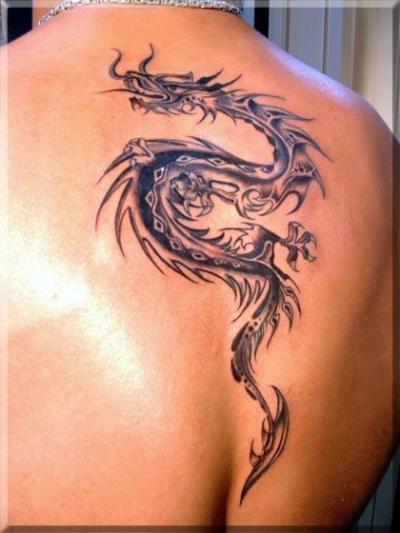 Permalink: Body_Art_Search.html
Words: 173
Category: body art
11/13/05 10:37 - ID#28225
Shelly Jackson Skin
the other night I was watching a show I taped called Inked it is about a Tattoo shop in The Palms Hotel and Casino in Las Vegas. Part of the show was about this lady who got runs tattooed on her foot. The Tattoo artist was stuned and had to ask her why. She explained that she signed up for this at this site

. Shelly Jackson is a writer who is making a mortal piece of art that is a story. I found it interesting so I looked up her site. From what I heard and saw on her site each person gets a differant word on them and take a picture of it. The only people who get to know the entire story are all the particapants, they even have to sign contracts to not to say they won't tell the story. I don't really read to much so I had never heard of shelly Jackson but I think it is an interesting Idea. I wasn't sure if the topic should be Tattos, Art, writing so I went with a compromise of body art. For a full explanation check out the website and I also did the copy paste thing from her site on the skin project.
AUTHOR ANNOUNCES MORTAL WORK OF ART


Writer Shelley Jackson invites participants in a new work entitled "Skin." Each participant must agree to have one word of the story tattooed upon his or her body. The text will be published nowhere else, and the author will not permit it to be summarized, quoted, described, set to music, or adapted for film, theater, television or any other medium. The full text will be known only to participants, who may, but need not choose to establish communication with one another. In the event that insufficiant participants come forward to complete the first and only edition of the story, the incomplete version will be considered definitive. If no participants come forward, this call itself is the work.

Prospective participants should contact the author (shelley@drizzle.com) and explain their interest in the work. If they are accepted they must sign a contract and a waiver releasing the author from any responsibility for health problems, body image disorders, job-loss, or relationship difficulties that may result from the tattooing process. On receipt of the waiver, the author will reply with a registered letter specifying the word (or word plus punctuation mark) assigned to participant. Participants must accept the word they are given, but they may choose the site of their tattoo, with the exception of words naming specific body parts, which may be anywhere but the body part named. Tattoos must be in black ink and a classic book font. Words in fanciful fonts will be expunged from the work.

When the work has been completed, participants must send a signed and dated close-up of the tattoo to the author, for verification only, and a portrait in which the tattoo is not visible, for possible publication. Participants will receive in return a signed and dated certificate confirming their participation in the work and verifying the authenticity of their word. Author retains copyright, though she contracts not to devalue the original work with subsequent editions, transcripts, or synopses. However, correspondence and other documentation pertaining to the work (with the exception of photographs of the words themselves) will be considered for publication.

From this time on, participants will be known as "words". They are not understood as carriers or agents of the texts they bear, but as its embodiments. As a result, injuries to the printed texts, such as dermabrasion, laser surgery, tattoo cover work or the loss of body parts, will not be considered to alter the work. Only the death of words effaces them from the text. As words die the story will change; when the last word dies the story will also have died. The author will make every effort to attend the funerals of her words.



SKIN NEWS
[Approximate # of participants 9/10/04: 1780 of a total 2095]

IS
I assume that this is still going on, and that since they showed the website on the show, that more people may join. Hopefully I'm correct here is one picture from the site.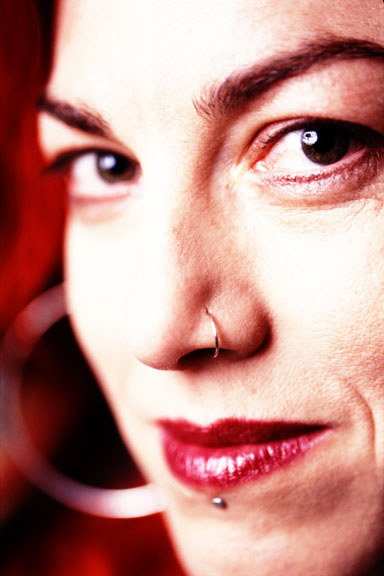 Permalink: Shelly_Jackson_Skin.html
Words: 712
<-- Earlier Entries
Author Info
More Entries
My Fav Posts
This user has zero favorite blogs selected ;(