Category: events
09/06/09 01:21 - ID#49707
Wing fest 2009
Hope everyone who went on Saturday and Goes today has a great time. I also hope they give a Donation to MIA and the Firefighters they are both great causes.
That being said I don't know if these guys take money or what there deal is. I don't think it is a protest I think they are trying to give there Message.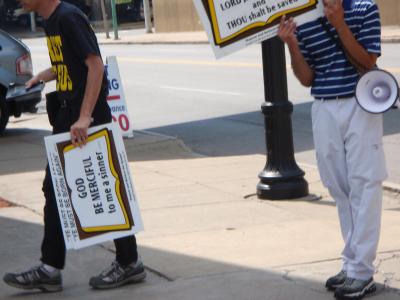 There are so many kinds of wings that it is tough to decide what kind to try. It is also important to me at least that just because two places have the same type of wing they may taste different.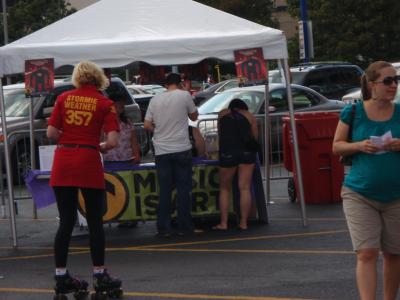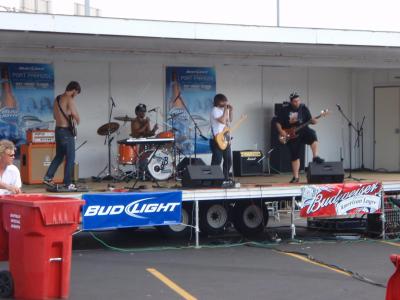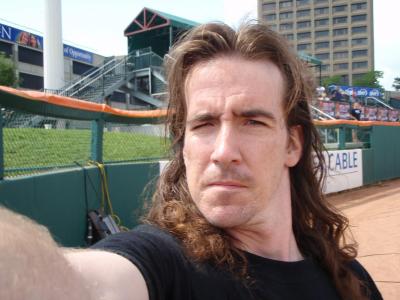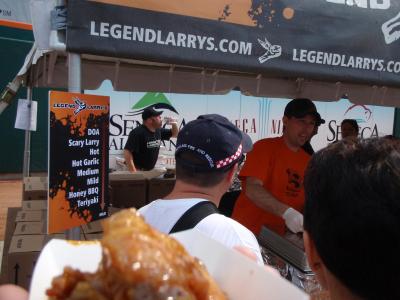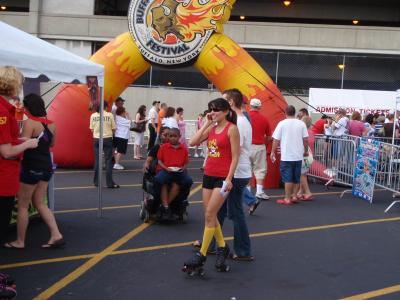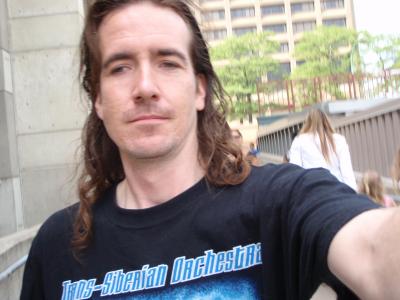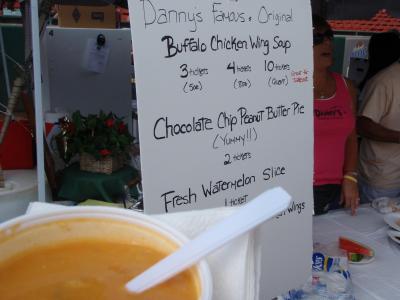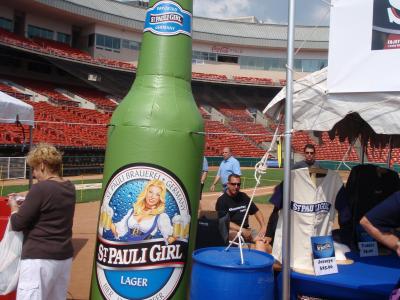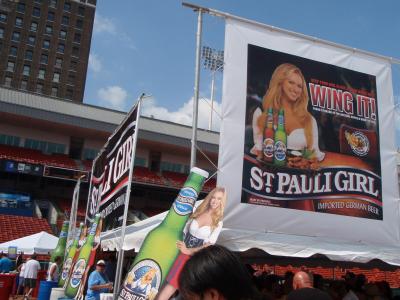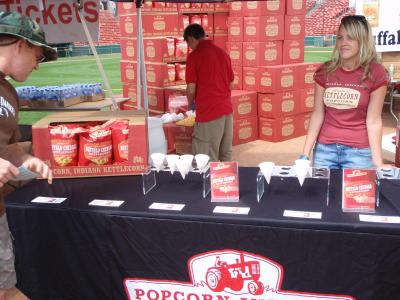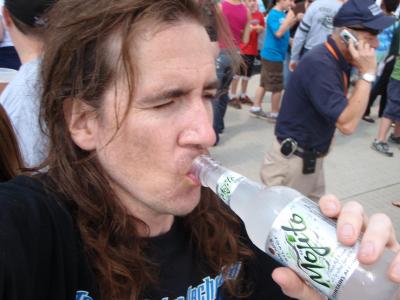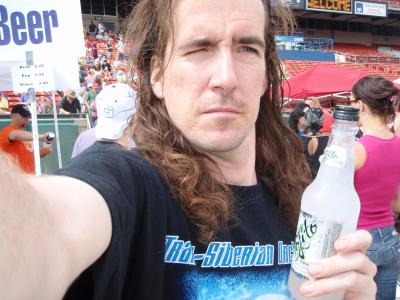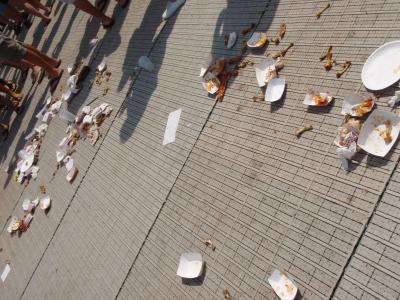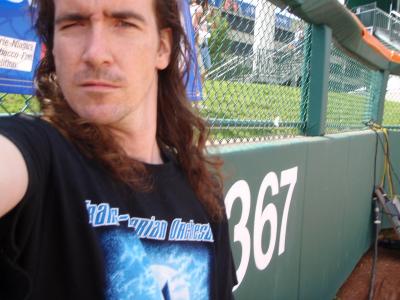 That Mojito Stuff is Very good, I had never even heard of it before but it sure went down nice. Well here are some more of the sites.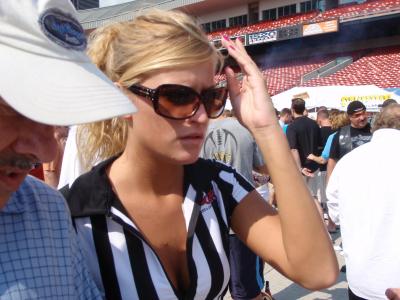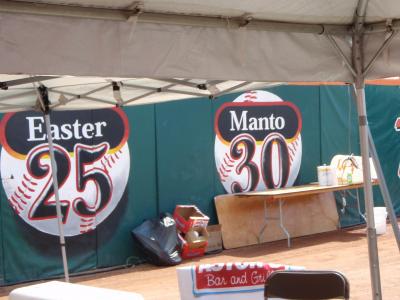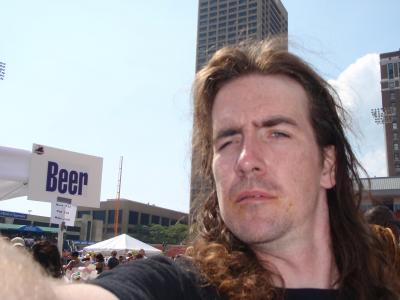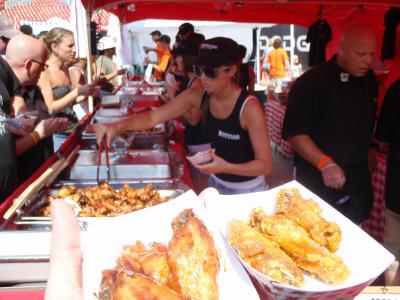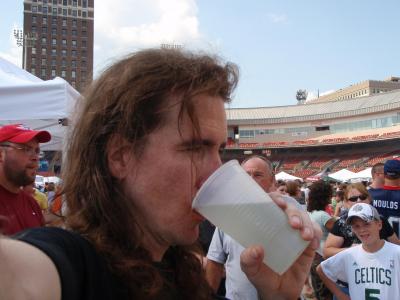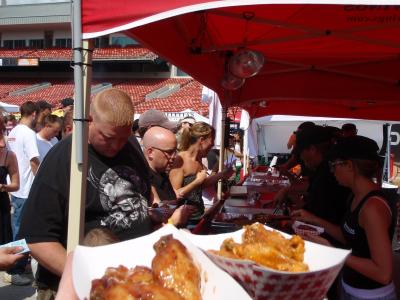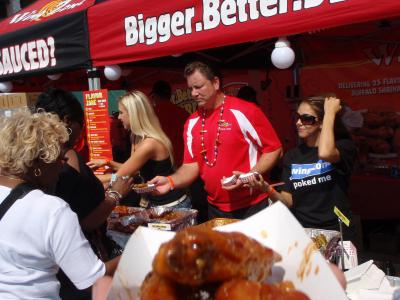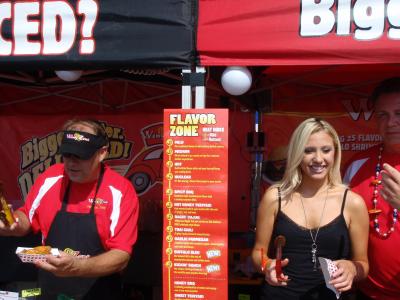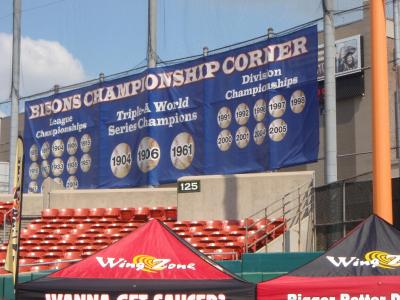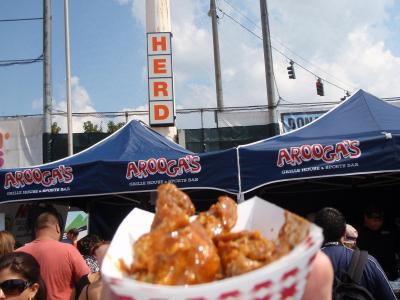 I think I Need to Touch on those ladies in the Ref tops. First of all I think they where all, pretty hot. The ones had huge amazing boobs they where looking pretty nice. I think they worked for one of the places since there was a name on the shirts. I never did walk in a way that we where face to face that would have made a great shot but I never got it.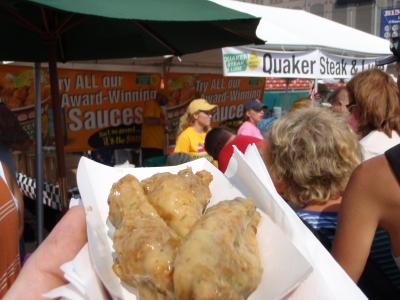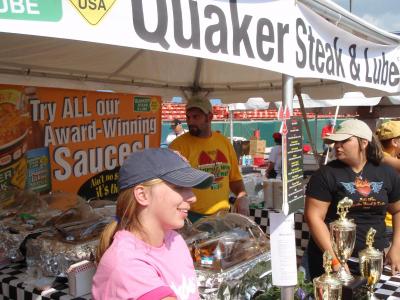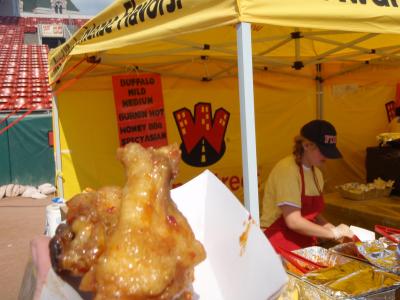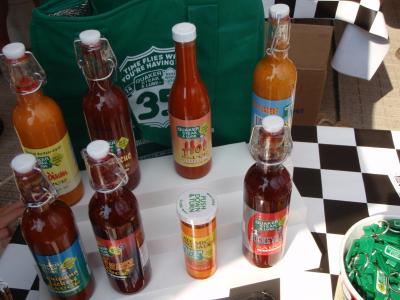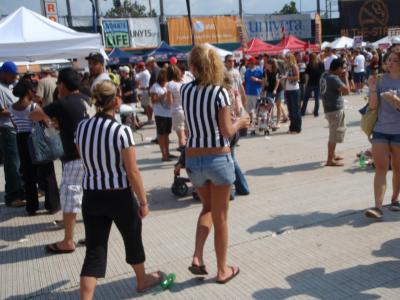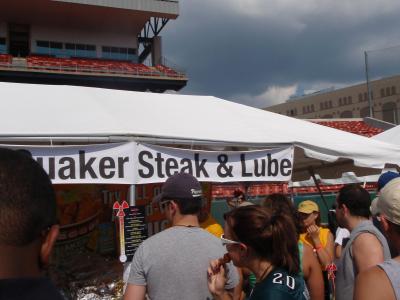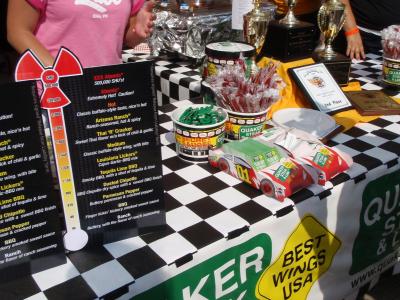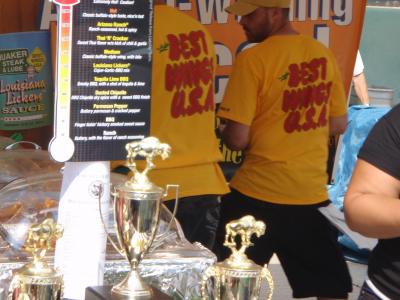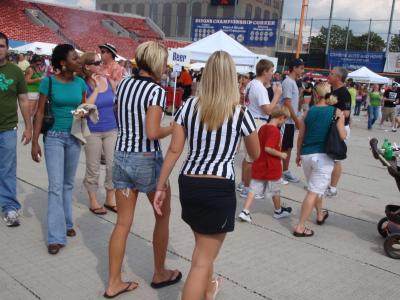 One place as above shows that I had to try was Quaker Steak and Lube. Hey the girls there where pretty cute. Not sure if I got the Ranch or The Arizona Ranch but it was very good and had a white sauce on it. Well (assuming anyone is reading this) are some more shots.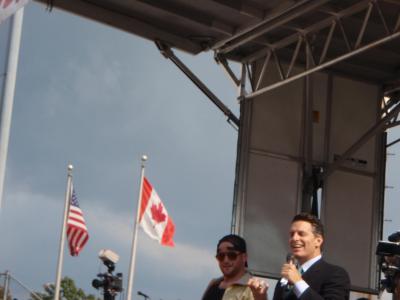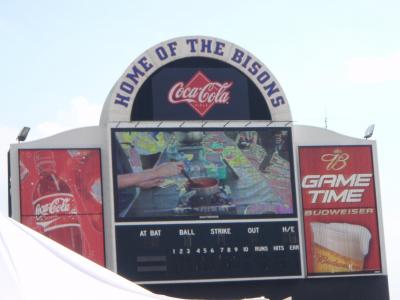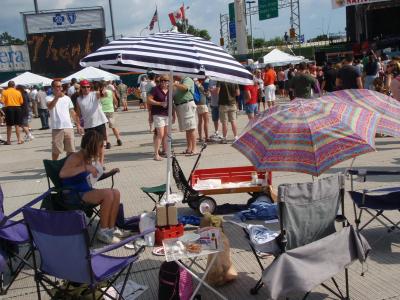 I made Sure to get up close so I could see the Chicken wing Eating Championship. There was a lot of media there and I'm in a couple pictures on facebook along with the rest of the crowd. Before the event started you can see some of the Eaters like Sonya "The Black Widow" Thomas and back there with them is Robby Takac, he didn't compete.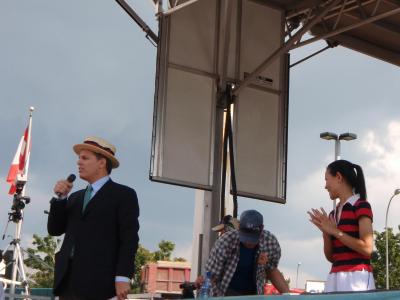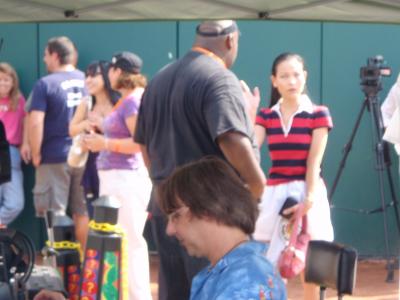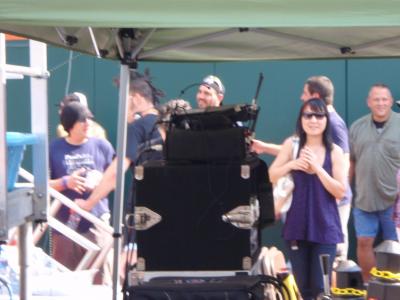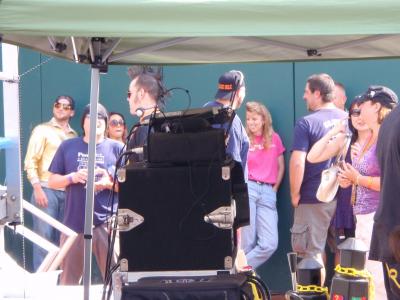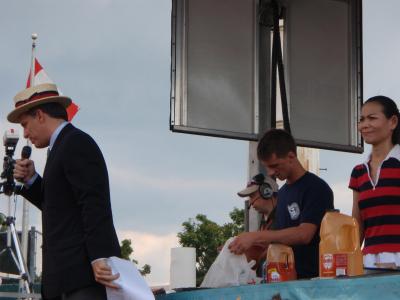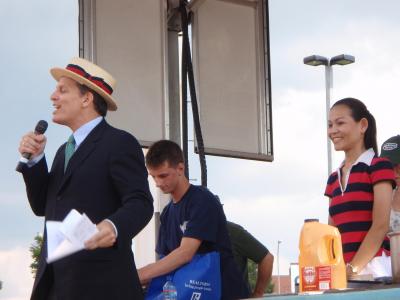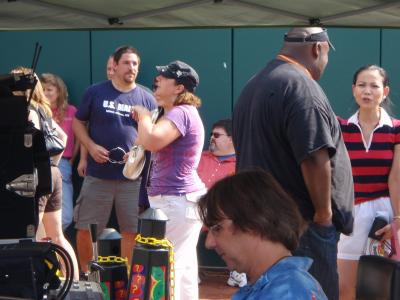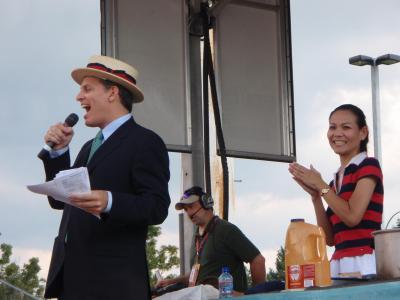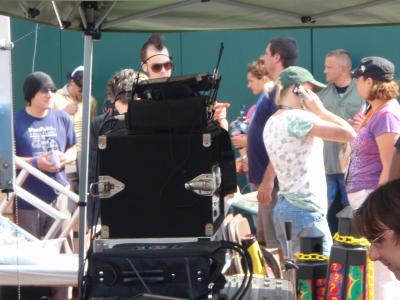 I also Like how everyone who competes gets their own intro. I few times the MC of the thing had to cut off the music guy so he could finish we was really good.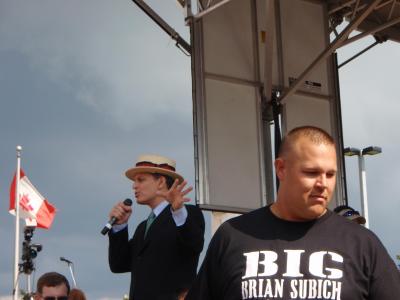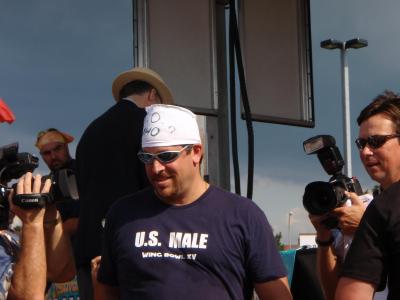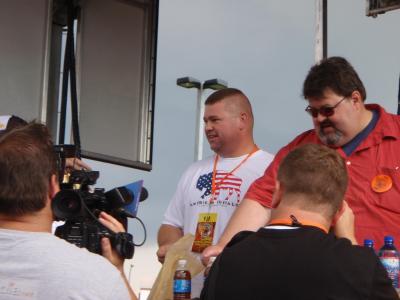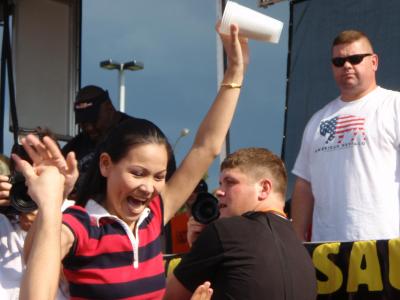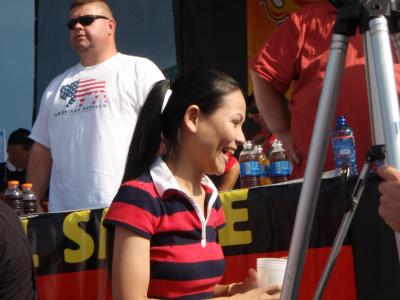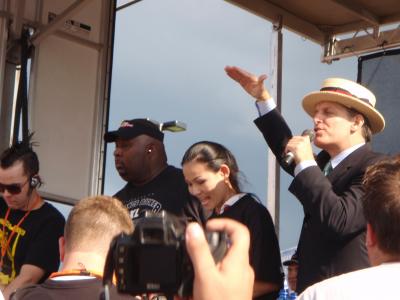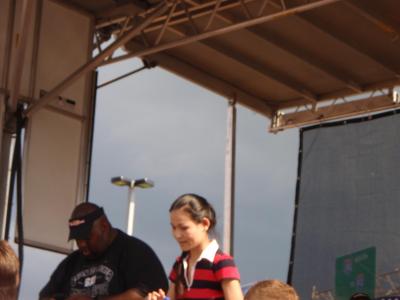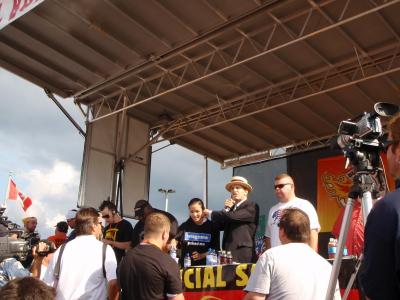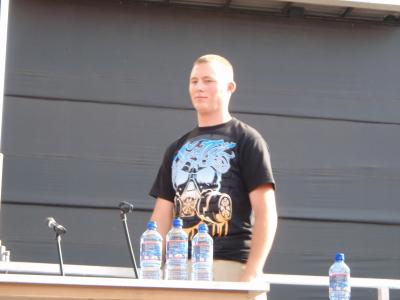 The Guy with the White shirt is from the Buffalo Area Jim Reeves I think his name is. The Big Black Guy Is "badlands Booker" and then They say Sonya "The Black Widow " Thomas is the underdog. Well let the eating begin.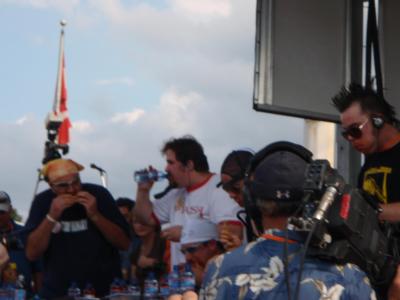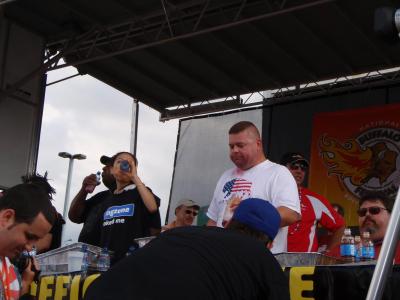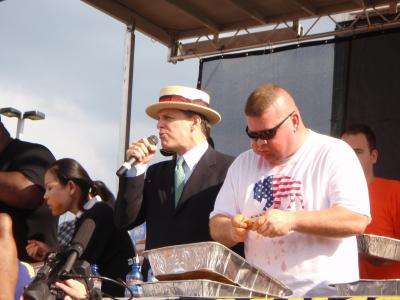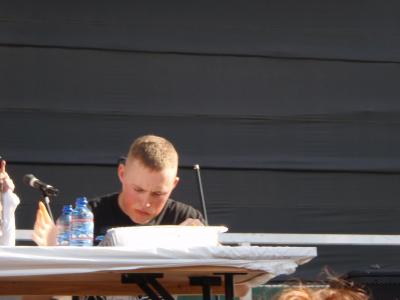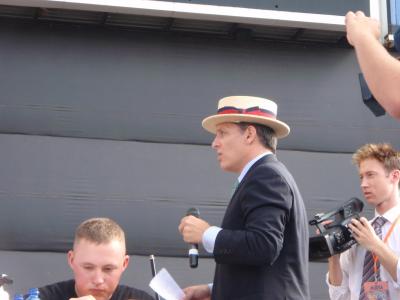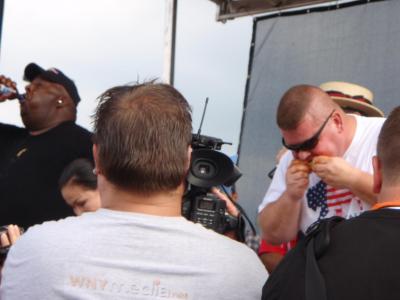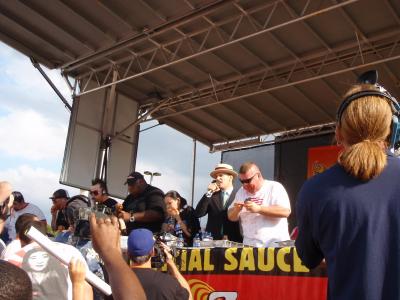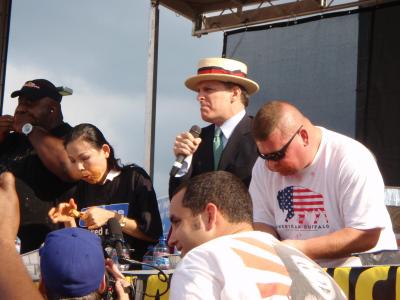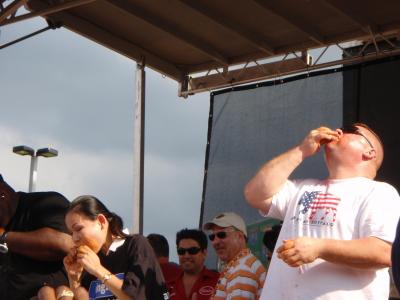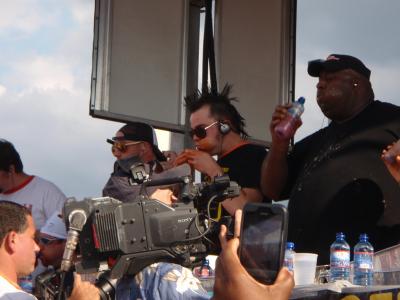 One Question I have is how do you decide who wins? Remember when you where a kid and some kid claimed he ate all these wings. But you take a look and his wings are tiny. Or what happens is that he doesn't pop the bones apart so there is all this meet left on them. Well because of this the way it works is that each tray weighs so much and after the 12 minutes they go and weigh how much is left and subtract it out. I'm not a judge so Not sure if that is how it really works. Ok here is your winner, that I'm guessing (assuming some one is reading this) you all ready heard about.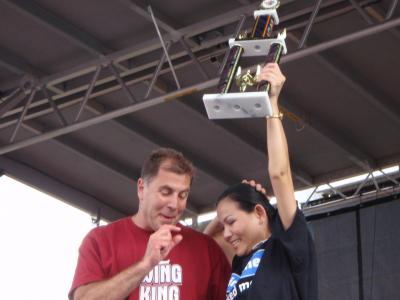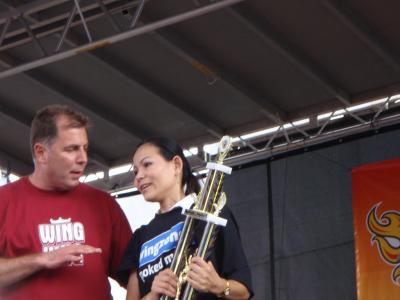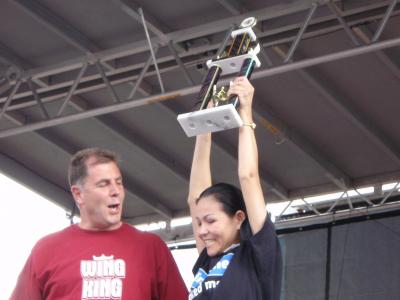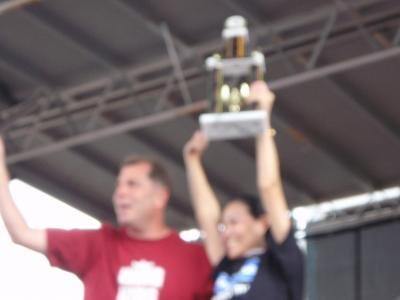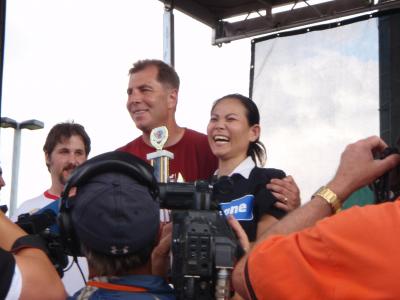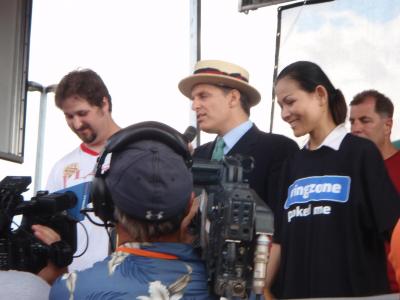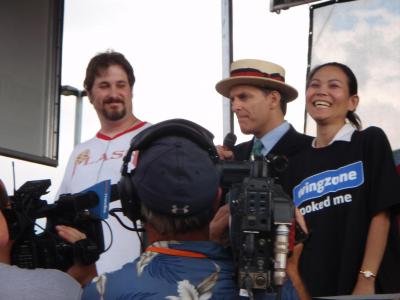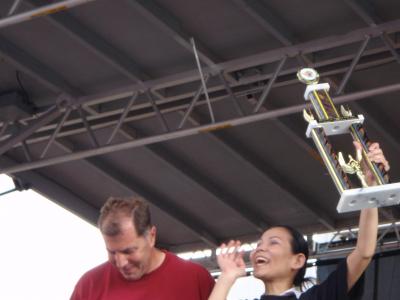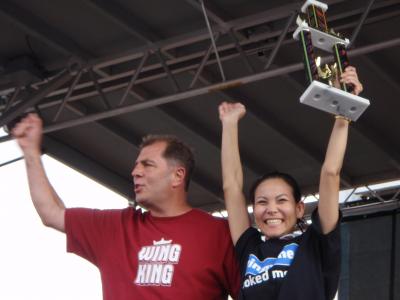 So Last Year I missed the Miss Buffalo wing Contest so I don't know how it went. But the Year before was great they had tasting and questions and a lovely lady won who worked at the Anchor Bar not sure how she spelled her name it was like Luchetta. But this year is was more of a beauty contest with the winner becoming miss buffalo and being sponsered by the wing fest. It was a great time anyways that will be the next post.


Permalink: Wing_fest_2009.html
Words: 758
Category: events
06/09/09 06:54 - ID#48878
Is it the weekend yet
It seems odd that it is only Tuesday and I'm all ready looking forward to the weekend. Not that I partook in any of the Pride activites a few days ago, but that was like only two days ago [PREVIOUS POST HAS PICTURES]
The first part is that On Friday Night I'm planning to go to Club Diablo to go see the Purgatory Fetish 2. I'm guessing like last time there will be some stuff that I like and some stuff that freaks me out. Hopefully I will be close and get some good pictures of the stage. The day before that I'm hoping for good weather since I'm going to the Bisons game. This weekend is also the Allentown Art Festival. I know a lot of people bash them but I like a lot of the stuff people sell there. Granted some of it is out of my price range. Then dealing with the crowds is tough some times. But there is also that other festival that has a name that takes place around all those Allen St. Bars and that is all ways interesting as well. I'm hoping to find some cool art that I like and can also buy we shall see. Then I'm also going to try and go to a party on Saturday night [
(e:Libertad)
's] that should be a good time as well. I know looking forward to things that haven't happened yet is often a bad way to go through life. Hey then if you don't make it to one of those things you feel down even though you might still be having a good time. It looks like if I'm able to pull everything off that this weekend will be busier then the one that just ended.
I wish I was going to have time to go see a movie this weekend but I don't see that happening. That Pixar movie UP looks pretty good and not sure what new movies are opening this weekend if any, but I think that will get put on the back burner. Things like Allentown and Prugatory also makes me wish I lived Downtown but if I did I wonder if I would really like it.


Permalink: Is_it_the_weekend_yet.html
Words: 369
Category: events
10/27/08 08:16 - ID#46373
Henry Rollins Spoken word
So I'm looking forward to Wends. I'm going to see Henry Rollins. He won't be singing or dancing or well maybe he will be you never know, but it is for spoken word not music. I'm thinking maybe head downtown from work and treat myself to some drinks and a nice meal at say T.G.I fridays but I have to double check the time. I don't know how to say what spoken word is other then that he tells stories, at some point of the story it leads into another story. Hey sometimes someone mentions something and then to know what that is you need another story. Some of it is funny and some of it is political and yes he does have merch. for sale so you can buy other spoken word tours. I'm hoping it really good this year like it was last year. I have never seen him do a question and answer thing it isn't like an Evening with Kevin smith but some aspects are the same. Yes you can disagree with his political views and still have a good time at the town ballroom.



Permalink: Henry_Rollins_Spoken_word.html
Words: 191
Category: events
09/19/08 07:25 - ID#45733
Prof that I'm out of my mind......
Here is what I'm trying to do. Shortly I'm heading downtown to go to Club Diablo. They are having some Fetish Performers who hit the stage around 10 there might even be Multiple stages but don't think Diablo is big enough for that. Then I want to go down to HSBC Arena for the open Practice that starts at 10am and Sabres tickets go on sale at 9am. If the arena was open tonight I would just wear a Hoodie and sleep there, but it isn't. I will be amazed if this works. I wish I had enough money to go to 5 games I think I have enough to get tickets to 3 of them: The Penguins on December 22nd, the Ducks in Late Feb. and in Nov. the Columbus blue Jackets I would also like to see the kings game and there is another team that I saw that I won't get tickets for. I guess they are having a Hockey Games out side and then inside they will Reveal the 3rd Jersey and will be taking pre orders. Not sure If I'll be able to get that but I'll think about if it looks pretty cool. I wish I could stay at Diablo till 4am and then find something to do from 4 till 9 but I have no idea what I could do down there, wish there was something than after the practice I could sleep but it looks like I'll head home and turn on the alarm and get my bank stuff together so I can figure out a way to deposit my check to, it is already a crazy weekend.



Permalink: Prof_that_I_m_out_of_my_mind_.html
Words: 271
Category: events
08/31/08 06:28 - ID#45526
Weekend So Far UPDATED
Yesterday I had a great time at Project Independent Oh yeah and it was nice to see you before the show
(e:tinypliny)
. I haven't had time to download the pictures yet but maybe I can do that on Monday. It was great to go to a good Metal show. "His Name Was Yesterday" started the show I thought they where pretty good, they had a bunch of people who know who they were. The second Band was "Frailty" they didn't seem to be as well known I liked there set. The Band that I came to see was up next "As Summer Dies" it was my second time seeing them and I had to get some merch before the show I really enjoyed there set. The National Band who is on the entire tour is "Ninetail" I think of all the bands they have the most music on myspace, they are also the band who won last years so that is why they get the national tour they were very good. The Head liners of the show was STEMM. It has been a long time since I've seen them and they were very good. You might not know any of there music but if you watch UFC one of there songs is part of the UFC.
Today I went to the National Buffalo wing festival. I tried all sorts of different flavors of wings. Not sure As I had a favorite. I did get to see an eating contest. "The Black Widow" Sonya sorry don't know her last name won it. She also won the Chicken wing one yesterday. Tonight I'm guessing I'll try to get caught up on either Documentiers or generation Kill on HBO. I Hoping to remember to Watch Metalopclypse tonight since it is new, I missed it last week. Maybe I'll go see a movie or something down town on monday who knows. Hope everyones weekend is pretty good.
So Last Night I found out that I really Like IFC , It is one of those stations I kinda forget about. There was this movie called "When Will I be Loved", I admit it wasn't my thing per say, but it was worth it just for the Neve Cambell nude scenes. That was Followed by an interesting documentary about Larry flint. Even if you don't agree with his political views I think he really is a good fighter for free speach and for people not to give their own rights away. That was fallowed by this show called Z Rock. I thought it was pretty funny plus the show has real rock stars on it. The Premise is that there is this Brooklyn Rock band (they sound pretty good to me) but to pay the bills they Play kids shows. It is funny stuff. Like there is one scene where Sabsatchen bach loves there music so they are pumped but it is his kids who listen to the kids music in the car. As the rock band they sleep with these two groupies (did I forget to mention the sex stuff) so they latter go to this party and the groupies show up at the kids party they are related to the person who booked it, Hey I think the show is pretty funny.
Some Random Pictures from the Weekend so far.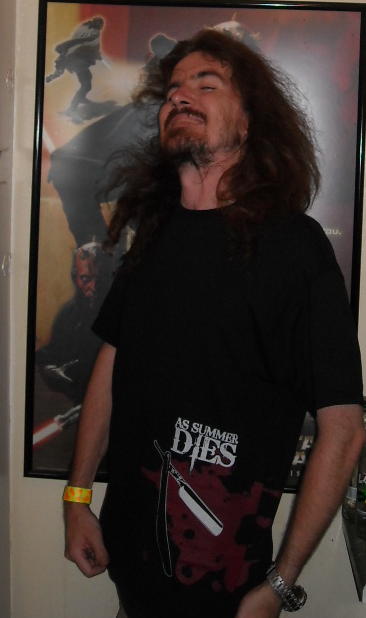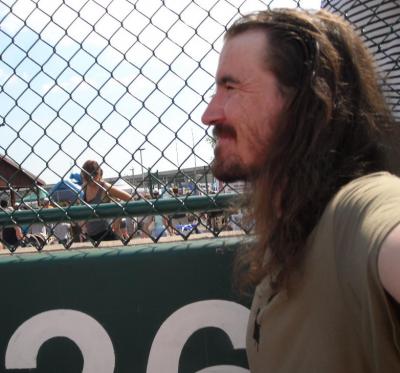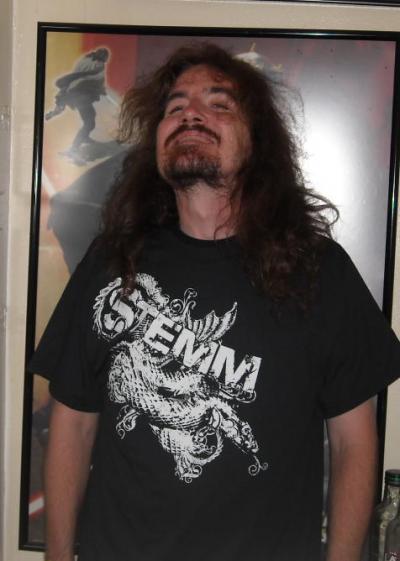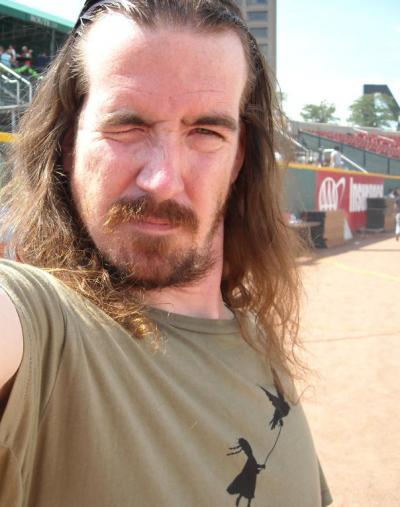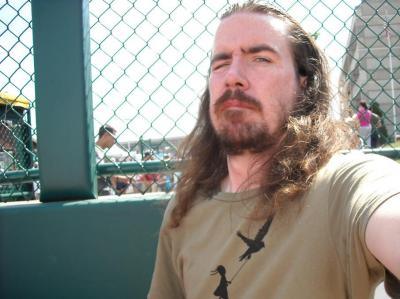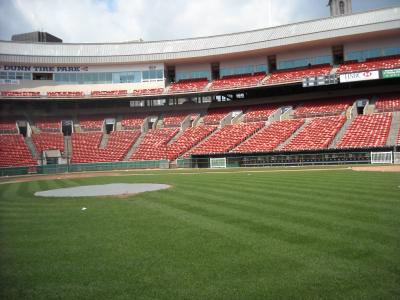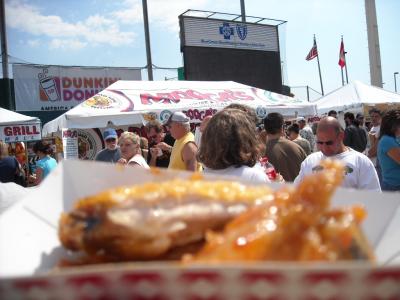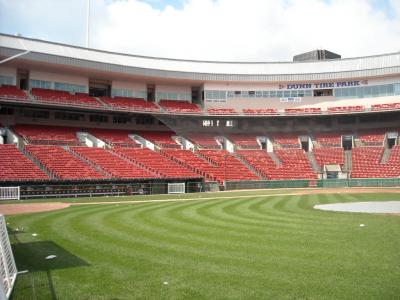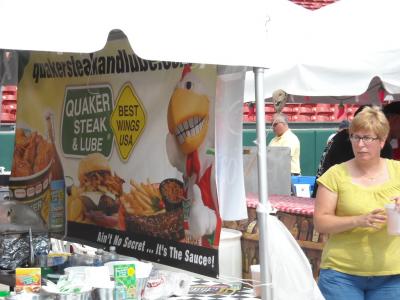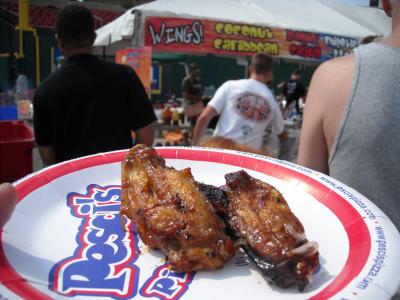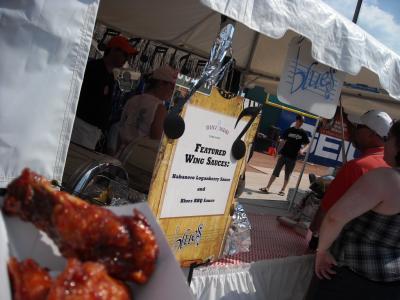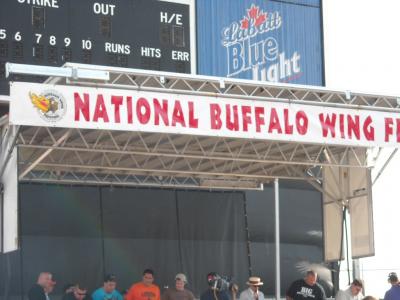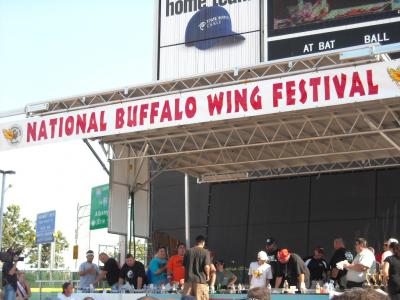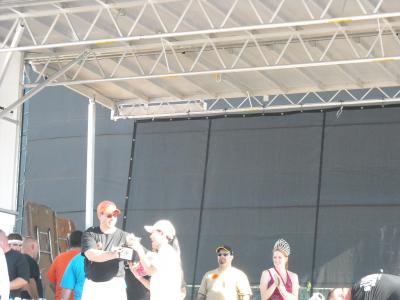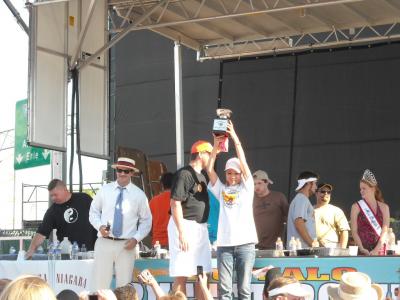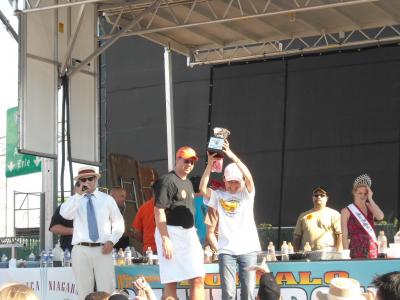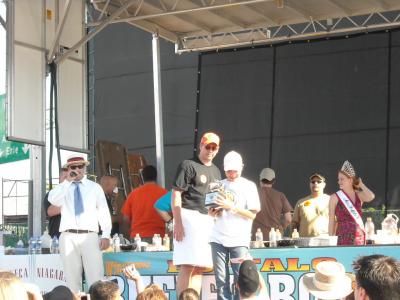 Missing Image ;(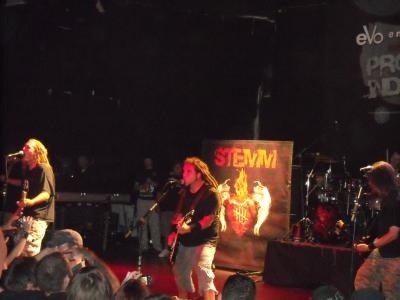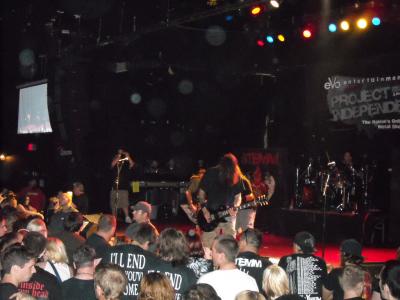 Missing Image ;(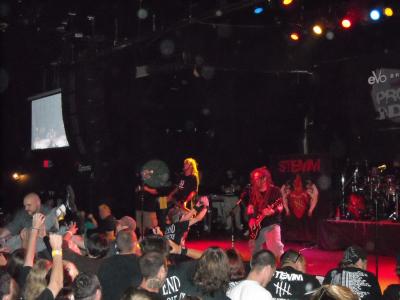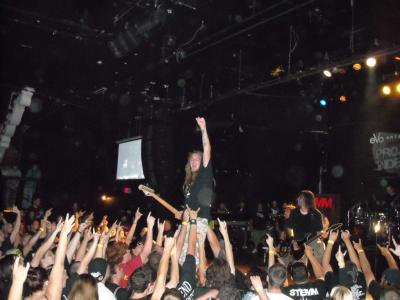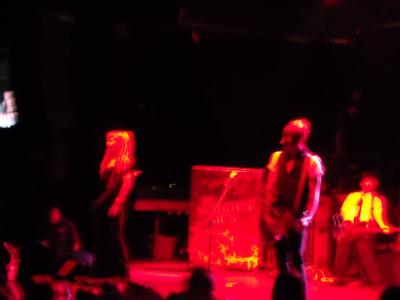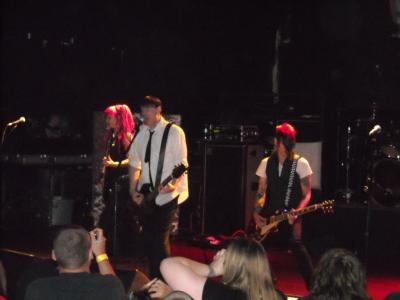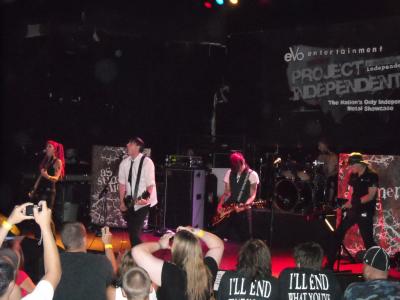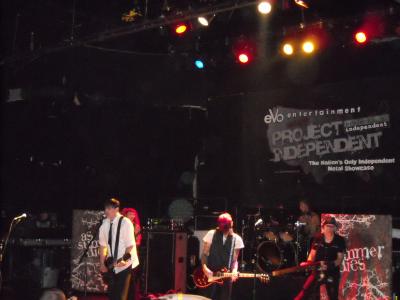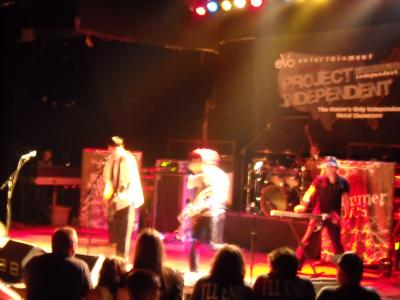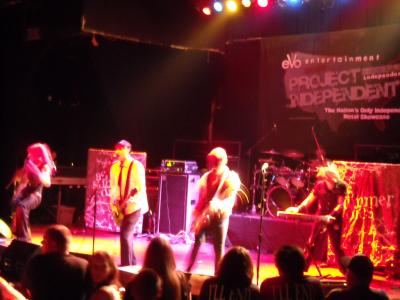 Missing Image ;(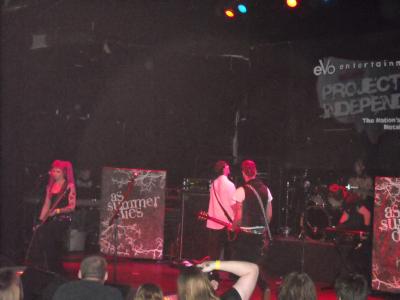 Missing Image ;(
Missing Image ;(
I'm sure that is plenty of pictures. The way that I first of as Summer Dies I'm not positive but I think it was on Poster for them performing as Park of a Queen City Roller Girls event of some kind or maybe it was something they where both going to be at I can't remember for sure, but they are a pretty good band I think the other pictures are of STemm well we shall see how the few I picked randomly look.


Permalink: Weekend_So_Far_UPDATED.html
Words: 706
Category: events
08/28/08 06:13 - ID#45488
Some Weekend Events
So this weekend is That National Buffalo wing fest. That is a pretty cool event and you can try all kinds of different wings. The only downside is some places you can't tell what kind of wings they have until you get close because of where they have their signs. There are other events they have like a chicken wing eating contest and last year I saw the guy perform as Elvis. It in the past has been a good time. They are having some extention of that Friday at Pearl St. Grill & Brewry I think it is bands and food and the money goes to the food bank. Jackdaw is playing someplace Saturday night I think it is at Sample on Allen St. I will be at Project Independent , It is a Metal showcase. There are a couple National Acts that I don't know , I guessing I will enjoy them and then I want to see Stemm , and As Summer Dies. I think it will be a great time but not sure that I want to eat a bunch of Chicken Wings before I go but maybe I will not sure.



Permalink: Some_Weekend_Events.html
Words: 193
Category: events
08/22/08 07:53 - ID#45416
Arts this Weekend Sqaure
So for now I'm done with my say on the Same Hoyt stuff this post is about fun. For those that may not remember. On Sat. and Sun. is the Elmwood Festival of the Arts. Yes there is art you can buy. They have dancers and bands and all kinds of stuff you might like.

Last night I had a great time at T.A.T.S the opening band was pretty good Klear is either from Buffalo or Niagara Falls. I really enjoyed there set and they have their original singer back. Next up was Saliva I will admit I haven't seen them in a long time. I thought they where very good. I had a great time. I'm really glad I went I was feeling tired and worn out but had a great time. It was nice to rock out it seems like it has been a long time.



Permalink: Arts_this_Weekend_Sqaure.html
Words: 151
Category: events
08/18/08 06:52 - ID#45361
Music Is Art Again

So Not sure if the link above will work it is for the Myspace page of Dali's Ghost. I will admit I have only seen part of one of there shows and then listened to there music on myspace. They are one of the bands I'm looking forward to seeing at MIA. I have no idea how many songs they will get to do. One of the Members of the band (I don't know him) is related to one of my cousins husbands. The reason I'm reposting the MIA stuff is the last time I did it I think some of it got cut off by the box.
Music is Art Festival '08 Announced for Saturday September 13
at Albright Knox Art Gallery
All day event to feature music, dance, art, dj performance and more


Music is Art Founder and President Robby Takac today announced that the annual Music is Art Festival will take place Saturday, September 13 on the grounds of the Albright Knox Art Gallery. The event is absolutely free.


"I founded Music is Art in 2003 to bring together all genres of music and to link them to the other art forms in our area," Takac said. "What better way to show that music is art than to bring our festival to the world famous Albright Knox Art Gallery."


The all day festival - kicking off at 11 a.m. - will take place outdoors (rain or shine) on the Lincoln Parkway side of the gallery on three stages featuring live music, dance and theatre performance. The event will also feature live art creation, displayed art and photography, a kids village, a not for profit row, and a dj performance area. The Music is Art Student Battle of the Bands winners will play on the main stage, and this year the other finalists and winner of The Big Easy in Buffalo battle will also perform.


"I am excited that Music is Art continues to do good work in the community, and I would like to congratulate Robby Takac and the entire Music is Art team for continuing this great tradition of bringing all the arts together in this festival," Albright Knox Director Louis Grachos added.


Now in its sixth year the Festival has entertained thousands and again takes its place as one of the most innovative and anticipated cultural events of the year. The festival is one of seven core programs of Music is Art, including a music instrument drive currently taking place at 18 Starbucks locations until August 17. Information on Music is Art and its programs can be found at www.musicisart.org.


"We're happy to be partnering with the Albright Knox and we're thrilled to have the festival back in Buffalo," Takac concluded. "Everyone in invited to come out and join me on September 13!"




Bands


Agent ME Maria Aurigema
Bev-Beverley Chylde
Crittenden Image Performance Dali's Ghost
Ron Davis Acid Funk Duo Family FUNKtion & The Sitar Jams
FreshGuac Gamalon
Handsome Jack A Hotel Nourishing
Inlite (student Battle of the Bands winner) Johnny Nobody
Juxtaposse Klear
Last Conservative Lazlo Hollyfeld
Mandy K The Mom And Dad Love Parade
Peanut Brittle Satellite Psuedo Intellectuals
Rhyson Hall Rhubarb
Terry Sullivan Those Idiots
Type:Relevant Wisp


ALSO AT MiA '08. . . . . . . gEt FrAcTaLs beat gallery


11 DJs including Jubei, Marc V, Tweak Nasty, dharmalab, DJ Brandon Chase and amungus . . . w/ special guest MCs and Vocalists throughout the day . . . .


w/ Dance Exhibitions featuring:

Amy Lynn's Dance Studio Bella Dea Bellydancing
Center for Dance Motivation Future Dance Center
Hamburg Performing Arts Ilya's Bellydancing
Janet Dunstan's School of Dance Rince Na Tiarna School of Irish Dance
Stacy Zawadski's ECNAD Dance


...And More!

There is a Part of me that wishes I was the Volunteering type but I'm really not, and I doubt I would be very good at anything they needed anyways, but I bet a lot of people think that way. Again the music is art site is



Permalink: Music_Is_Art_Again.html
Words: 669
Category: events
07/12/08 08:53 - ID#44984
A wicked Taste
First of all the taste of buffalo was a good time. That being said I'm glad I got some time in before wicked. Before wicked I got free pork, that is right pork for free it was pretty good. Then there where people handing out some Cereal that is in that middle section and that was pretty good to. I tried a small portion of this soup from Danny's I think that was like beef Kimmelweck that was very good. Then over by one of the stages there was this place Mobay I think it was called that was pretty good I got what was called mobay it was Jerk Chicken (very good) on this huge breed that was pretty tasty. I almost forgot there was a Ghirardelli place giving out free Chocolate how can anyone pass that up. After wicked I didn't stay long seeing as the rain came down in buckets and things where blowing over. It wasn't to to bad but with a paper bag and no one handing out plastic ones anymore I was in trouble quickly so it did wind up driving me home, I'm ok but my bag is pretty shreded. But I did get time to fit in a Chilli Chese Burger from Steer that was pretty tasty. I'm sorry I can't remember the name of the place that was giving out free ice tea but it was pretty good. Hopefully I will make it back on Sunday for more food seeing as there is more stuff I must try.

Wicked was fun to see. I did look up online and get the story. Sometimes stories in musicals can be tough to follow. I should not have read Act II it would have been better and then everything would have been a surprise story wise and it would still have been followable. Seat wise I was left of center about 4 seats in and 4 rows back so, I thought it was a pretty good seat. With out going into the story and telling spoilers for those who have not seen it, I won't really tell anything. I'm not a fan of love stories but there was a few love stories in there that was really good. All I will really say story wise is that it is the untold story of the wicked witch. If you take that story and then think about the story of the Wizard of Oz it is kinda not odd but changes you view on that movie. I thought the lighting effects where good and helped the story. I think all the actors/singers did a great job, it really was great, if it came back or if I went out of town someplace and it was playing I would go again.



Permalink: A_wicked_Taste.html
Words: 463
Category: events
07/10/08 07:09 - ID#44921
Wicked taste up coming
So in Buffalo during the summer there are lots of events and things to do. This weekend is the taste of buffalo. I know it is all about the food for most. But there are also prizes to win at places and sometimes a company will hand out new stuff like last year those chips made from fruit or was that the year before, very tasty. Then they have that section for kids and lots of other stuff. Yes the portions are small but they are small on purpose. 1) If they where large then they would cost more and then people would buy less. 2) If they where larger you would get full and not try other things. Besides you have to have enough money to get a nice stack of multiple color cups those that drink know what I'm talking about or have at least seen it. I just wish that all these walkers would understand the rules of the road, and why are they not posted.
1) If you want to look fine walk slow don't stop completely
2) Get food on your side only (none of this walking across 400 people getting in everyones way.
3) You wana talk fine walk and talk no standing in the middle of the road
A. No circles with air in the middle
B. If this must be done and you see someone get off to the side of sidewalk
4) Walk down the street on your right and back on your right (none of this walking into people coming your way bullshit)
5) groups walk single file not side to side blocking everything
6) wide body strollers never side by side and all the storage secure, if you kid can't hold onto there cup or teddy bear then they shouldn't have it.
7) no stopping when walking in people traffic
8) except in lines if you don't move you will be moved or kicked by the person or people behind you
---
> It is fine to move slow and look and talk and decide what you want, what isn't ok is to clog everything up and cause traffic jams if you did that in a car you would get flipped of or in LA get shot. A little common sense people is all I fucking ask for.
I forgot two
9) if you are hot show off that body
10) if you are showing it, it is so people look if you don't like your cleavage, tattoos or crazy hair looked at then don't show it off.
11) Have fun and don't get in others way and everything will be fine
I forgot that Wicked was still in town. I will going on Saturday afternoon and then assuming the weather is nice or at least not a down poor the taste of Buffalo. I'm looking forward to wicked I have heard from two people that it is very good, but the one person thought it was too long. I will be in the side ochestra in the first 10 rows. But I'm a little scared there might be lots of kids because of the show time but it should be a lot of fun. On a side note there is a new show starting on HBO on Sunday that looks really good (mini series) called Generation kill. Has anyone else on here seen wicked and what did you think? Yes I like both Musicals and Cartoons about Metalbands my interests very a lot and sometimes that makes it tough to do what you want or really get into stuff. I didn't get them but I can't believe there wherer $125 dollar tickets to wicked. I'm sorry that is just to much pressure. What I mean is a musical that is good at 30 or 50 or 70 has to be like twice as good based on how much you are paying for it. If I run into any
(e:peeps)
I hope I don't break any of my own rules, and maybe I'll remember to snap a picture of you. One day early hope everyone has a great weekend.


Permalink: Wicked_taste_up_coming.html
Words: 672
<-- Earlier Entries
Author Info
My Fav Posts
This user has zero favorite blogs selected ;(