Category: halloween
10/18/05 12:59 - ID#30171
Halloween Party 2005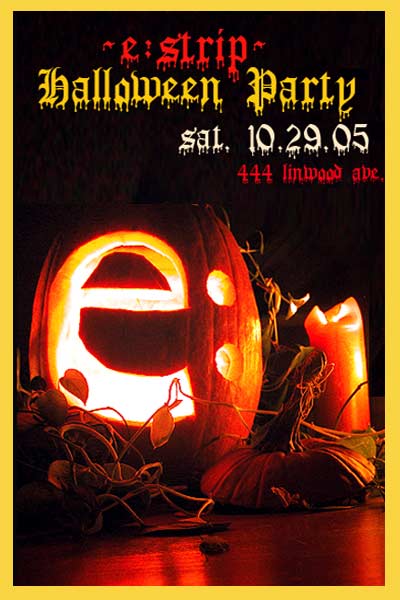 We are having our annual "(e:strip) Halloween Party" this year on Saturday, October 29th! 8:00pm until the sun comes up the next morning. Costumes are not mandatory, but appreciated. This event is open to everyone. don't forget to BYOB.
what: Halloween Party
where: 444 Linwood Ave. Back apartment. See you there!
when: Saturday, October 29th 2005 8pm


Permalink: Halloween_Party_2005.html
Words: 65
Location: Buffalo, NY
Category: estrip
10/18/05 12:13 - ID#30170
Some Updates
Categories have been moved to a (show categories) link under your userpic. There is no reason to have to load them each time, especially now that people have began to use categories like subtitles.
It is right next to the journal dots. Has anyone checked those out. It is an easy way to go through your old journals and categorize them or just view them.
I also added a way to backup the entire media contents of your journal. Just click on the zip icon in front of your username at the top of your journal.
[size=m]Media Library Backup[/size]

It may take a while for files to compress and then it will ask you to download the archive. You will need winzip or something comparable to open the archive.


Permalink: Some_Updates.html
Words: 131
Location: Buffalo, NY
Category: estrip
10/14/05 04:17 - ID#30169
The (show more) link
The show more link now renders the links in the main journal area as expected.



Permalink: The_show_more_link.html
Words: 15
Location: Buffalo, NY
Category: estrip
10/13/05 01:08 - ID#30168
Comments
I changed the add comments link to be a normal end of journal icon. It matches the comment icon in the latest entries list. When you roll over it, it tells you how many comments there are.

It only shows up like this on journals that have not been cached yet or journals that get updated with new comments. Old journals will still look like they used to.
I forgot to mention that the comment icon has "abc" in it when there are comments present. If there are you can also roll over the the bubble icon and see how many before clicking. Thanks
(e:uncutsaniflush)
for reminding me.



Permalink: Comments.html
Words: 114
Location: Buffalo, NY
Category: errors
10/12/05 06:29 - ID#30167
Serious Site Drama, Please Read
For those of you that weren't online during the tragedy, we had a close call when I accidentally deleted elmwoodstrip.org from the face of the internet. Well not the media you uploaded or the site code, but all the text. E.g. the journal entries, the chat and comments. I usually backup ever single day but the last two I didn't because I was working so furiously on getting better, releasing the new sound systme and the new chat system.

This only affected about 30 journals, those since sunday.

Anyways, Luckily, I did have most of the data but there are a couple catches.
1. Comment for the journals since sunday are gone, that is unless you kept them in your email. In that case you can repostr them back into your own journal entries.

2. I only had your first drafts. This might be wildely different than the final copy you intended to publish, so check you journals since Sunday in case there is somethig that you edited out or in afterwards. Unfortunately, I do not have those changes.

3. All the dates are off. Maybe I can fix that, maybe not but the journals are at least int he correct chronological order.

This would probably never happen if I could afford my own server and could just backup with a tape drive or a firewire drive. Life would be much easier. Maybe somebody will donate again and help realize that dream. It has been about 4 months since any has.

An another note, private chatrooms are up and running and are as tech savy as the site chat is. You can get there with the (+) button on the chatterbox. It also acts as a standalone chat page for the site.




Permalink: Serious_Site_Drama_Please_Read.html
Words: 289
Location: Buffalo, NY
10/11/05 10:20 - ID#30166
chat update 1 million and 1
I added an auto spell check to the chat that fixes the most common typos. It uses the same word list that the quick correct button does in the journal publish box.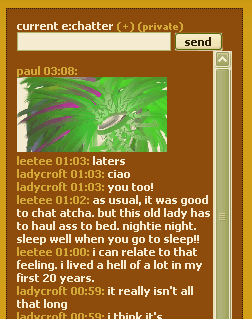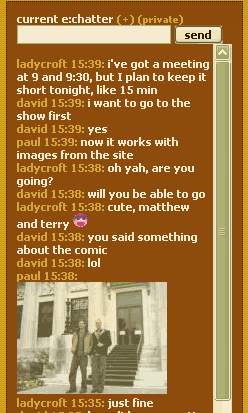 I also made it so that when you drag images in, they are actually cached on the siteas mini-thumbnails that link to the originals so there is no need to worry aboutsomeone messing it it.
I updated the chat commands info. You can type help in the chat window to find out
what commands are currently avaible. I will update it as I add new features.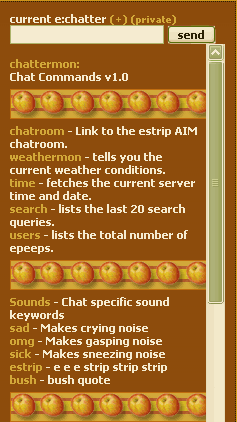 Permalink: chat_update_1_million_and_1.html
Words: 106
Location: Buffalo, NY
Category: rememberbuffalo
10/09/05 12:02 - 48ºF - ID#30165
Remember Buffalo Project
We finally decided on a name and as you can probably guess it is the Remember Buffalo Project. We bought the url rememberbuffalo.org/com but it won't be up for another day or so. In the meantime you can find the project info at

This is going to be a huge undertaking both technologicially and socially. We will need help from lots of people, the most important person right now being a grant writer. Does anyone have interest in volunteering to help with this. Does anyone on the site or anyone reading this have experience with grant writing? If so please email
(e:paul)
at

[size=m]Help Us Research[/size]
Right now interested parties can also participcate in the research end of the project by entering links into the link dump at

Also if anyone would like to be included in the brainstorming facilitation with Katie Kelly feel free to contact
(e:paul)
.


Permalink: Remember_Buffalo_Project.html
Words: 172
Location: Buffalo, NY
Category: estrip
10/08/05 03:48 - 45ºF - ID#30164
Chat Update
I decided to extract the chat from the site into a side project I am working on called p:chat.

You can alsoaccess it from the top of the freedom chat. It allows you to start a private chatroom. You just pick a username and a chat roomname. If someone else signs into the same chat room name, then you can chat with them.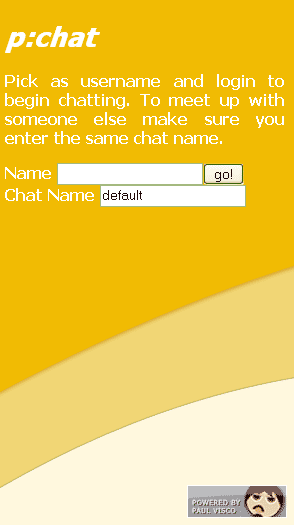 I also totally redid the inner working of the site's AJAX based chat system. Instead of working with the previous elaborately involved timestamp scheme and xmlHTTP text responses it now uses fully compliant xml packets to identify each line of the chat.
Soon I will release new chat features including a chat based trivia game.


Permalink: Chat_Update.html
Words: 125
Location: Buffalo, NY
Category: info
10/06/05 03:40 - 78ºF - ID#30163
Video and Journal Forwards
[size=m]Site Video Section[/size]
We need new videos for the video section ( on the linkbar ) of the site. The ones there are so old and are getting stale. I would like to have some new ones up within the next two weeks.
Some street interviews would be great if anyone wants to do some.
(e:mike)
has a camera, I have a pro street recorder mic, we basically would just need a reporter to interview the people. It would help if it was a woman as we noticed the people open up when a woman is asking the questions. If anyone has some ideas for what questions we should ask, feel free to comment.
[size=m]Journal Forwards[/size]
For the last couple years people have had the ability to forward journal entries with all associated media as an email by clicking on the email icon at the bottom of any entry. In fact that icon has been clicked on over 28,800 times yet only 9 people went through with sending the journal as an email. Are the instructions not good or is it not useful. Or do people not know about it. I know I used it to forward the directions for
(e:theecarey)
's party to my email. DOes anyone have some feedback about this feature. How can I make it more useful/used.


Permalink: Video_and_Journal_Forwards.html
Words: 219
Location: Buffalo, NY
Category: estrip
10/04/05 03:05 - 65ºF - ID#30162
Caramel Apple Fall Theme
I was really bored in the library today and decided to make a new theme. I am pretty sure its done, although I make make some slight alterations. Caramel Apple is now the default theme. If you have the site set to another theme and want to switch, simply click on the caramel candy icon in the themes bar at the top right of the home page.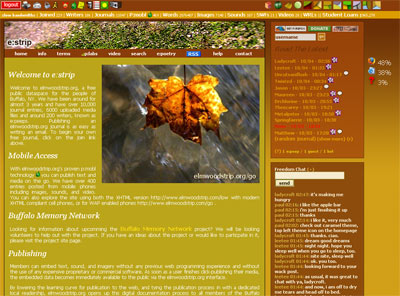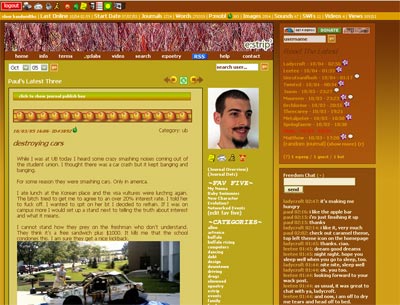 [size=m]help[/size]
On another note, will someone write to Buffalo.com and see if they can get the site listed. It is not like we need the link to generate traffic but it kills me that we are not part of something called Buffalo.com considering we have been around for years, are all about Buffalo and now have over 11,000 journal entries. At one point they told me the site was too personal. We only had about 5,000 entries back then, haha. Maybe someone wants to take over PR altogther. That would be fantastic. I just want to be a programmer/designer not a business man/PR advocate.


Permalink: Caramel_Apple_Fall_Theme.html
Words: 177
Location: Buffalo, NY
<-- Earlier Entries
Author Info
Category Cloud
More Entries
My Fav Posts
This user has zero favorite blogs selected ;(