Category: photos
05/17/15 07:00 - 81.ºF - ID#60000
Hospice Walk 2015
Ok where to start I guess Things have been bothering me a bit recently but for multiple reasons this time of year is kinda tough... It isn't like oh I'm thinking about this ... It is hard to explain but the Party was great thanks everyone (was not sure if I was going to make it for a bit ) it was a great time so just another thank you....
The Hospice walk there are some people who really get into and have teams and shirts with Pictures on them and team names and really go for it... There is no way I could do that but I give them props it is not a fun walk for me ... But this year there was not that sense of dread (I think the Party had a lot to do with that)
Now the Pictures I am posting are more about what I saw and they are on facebook as well ... But being by the water and seeing the monuments wait wrong term but means I don't need to go on Memorial day , not that I all ways go, .....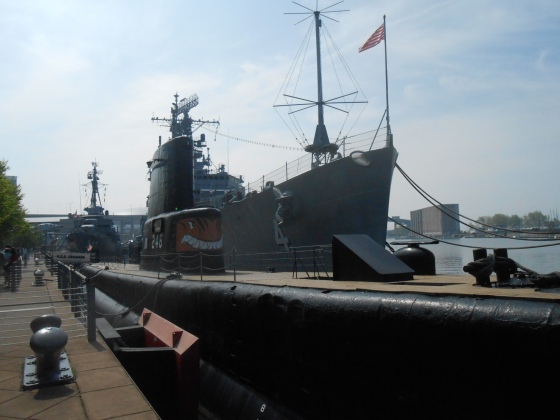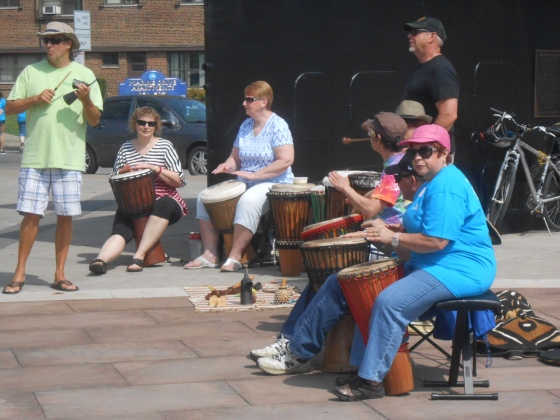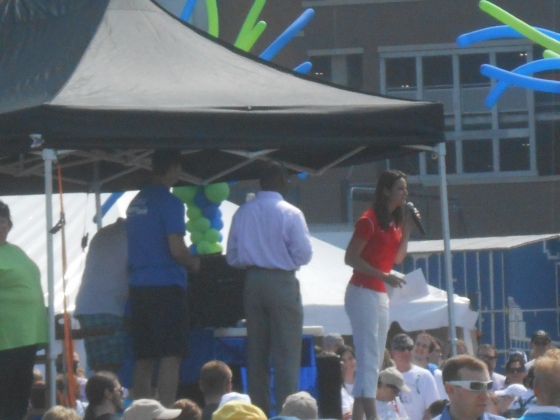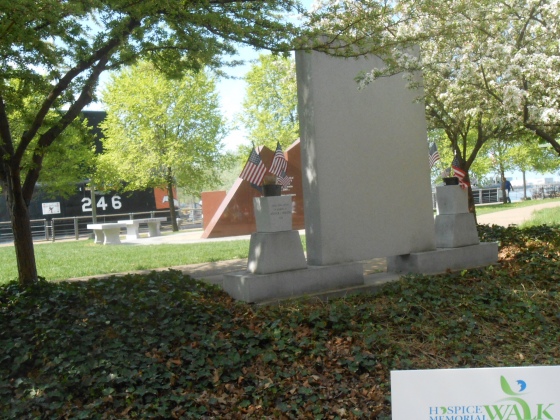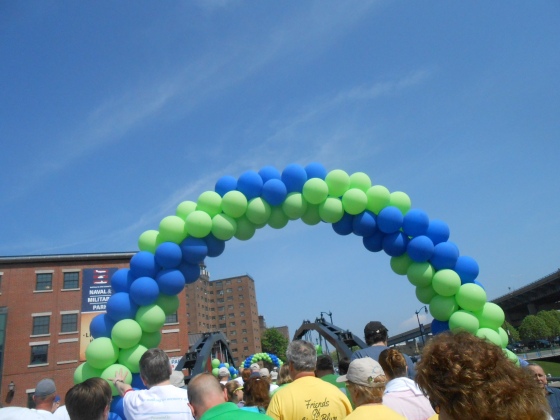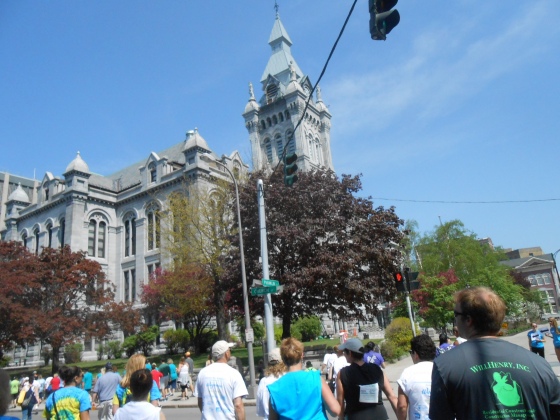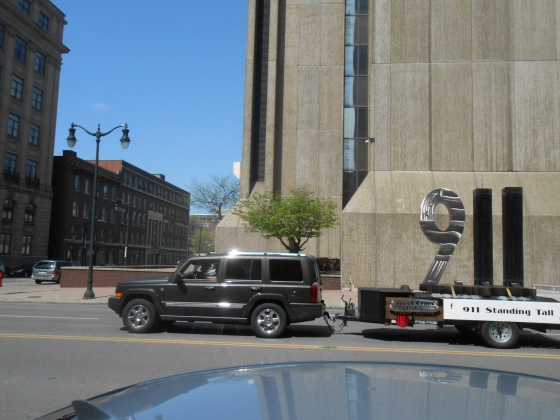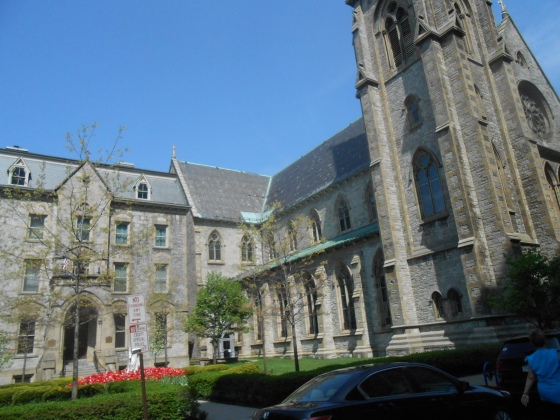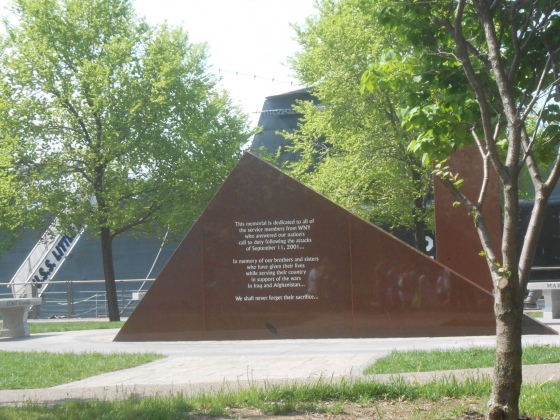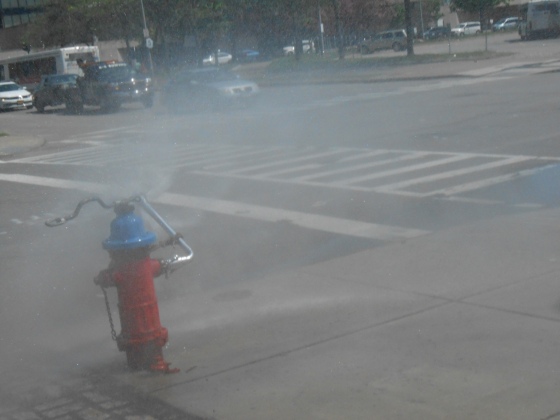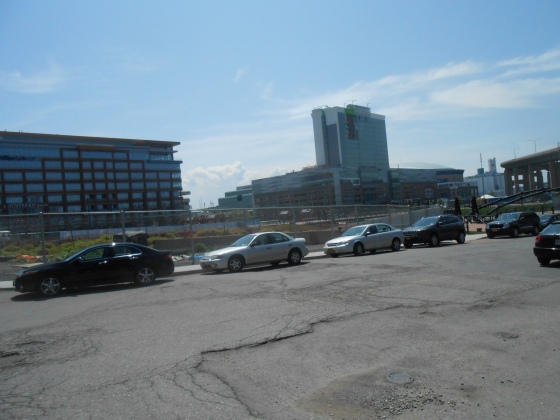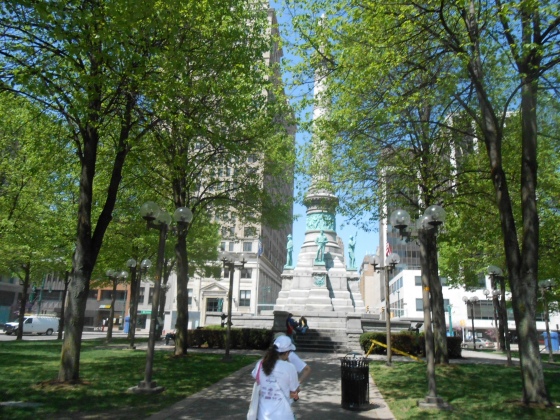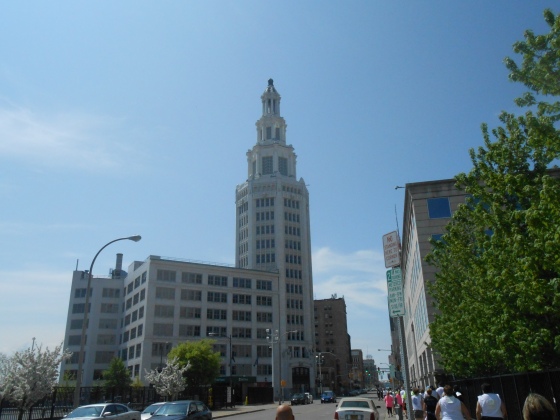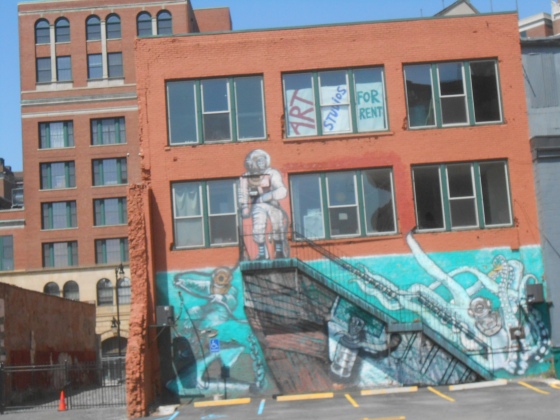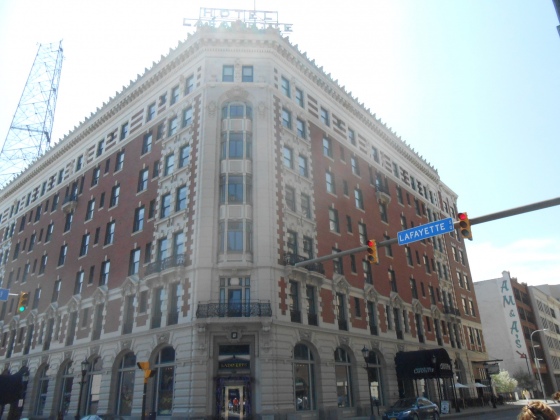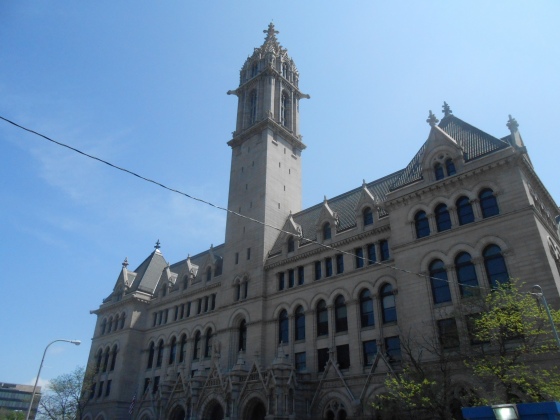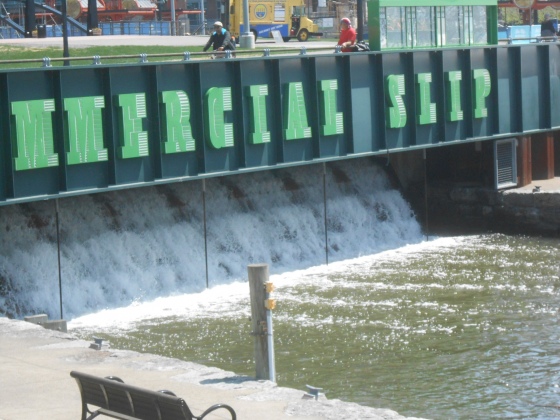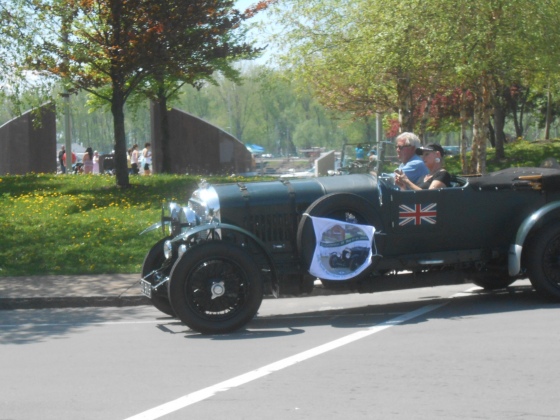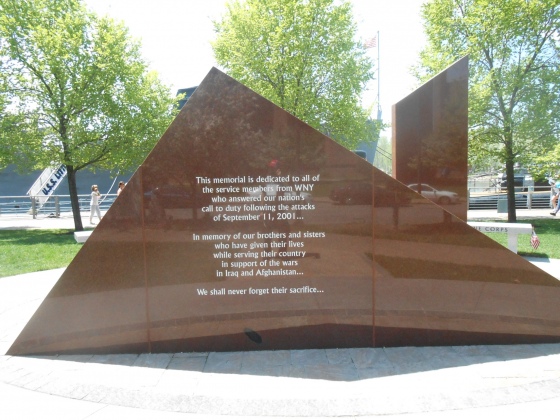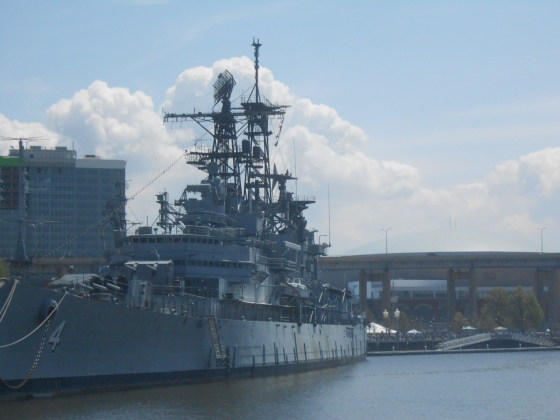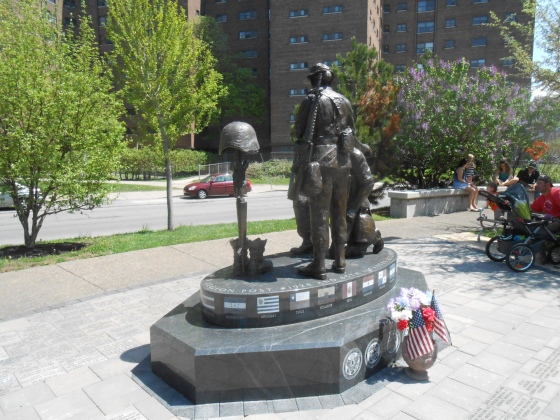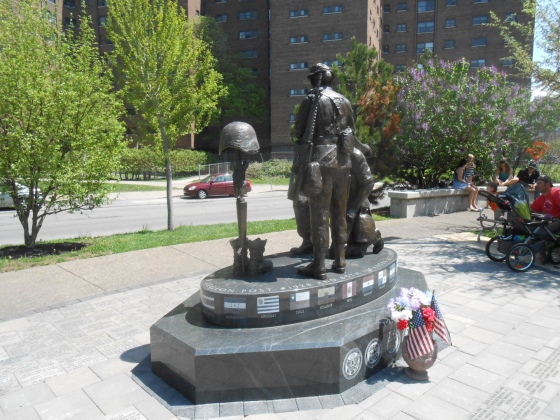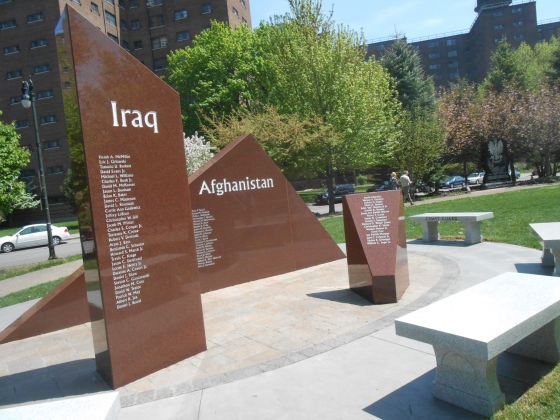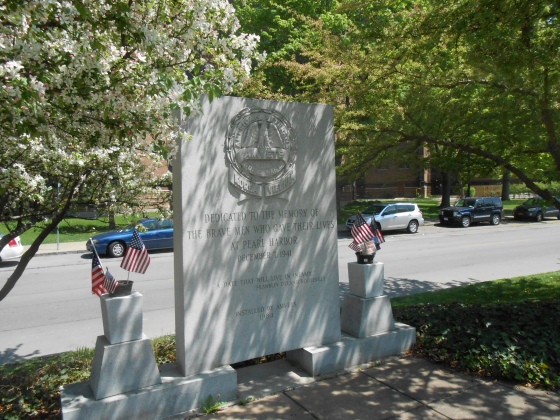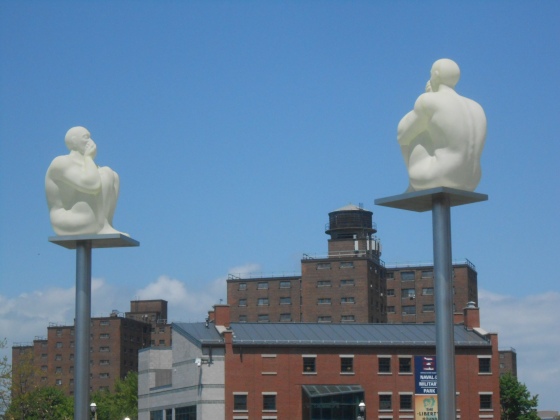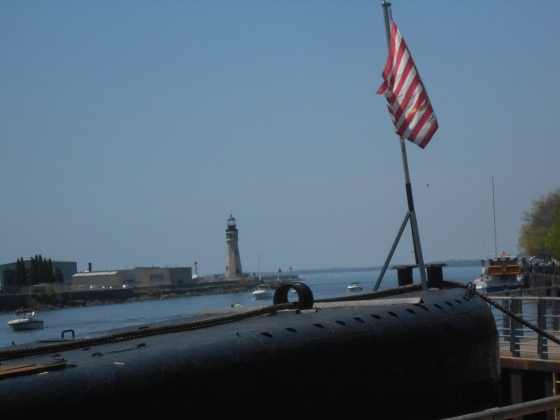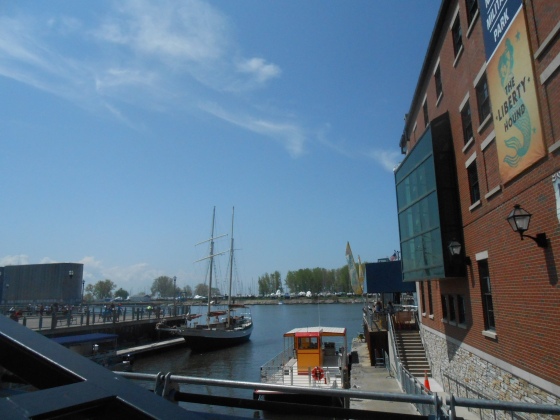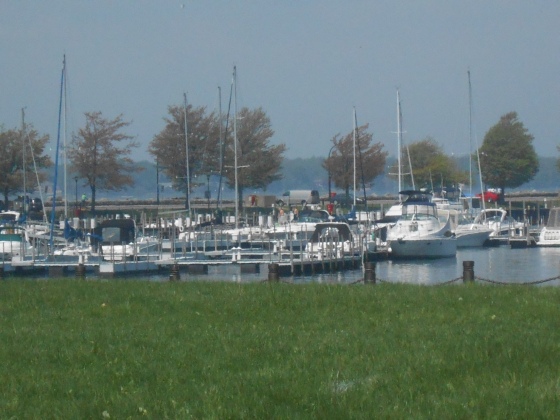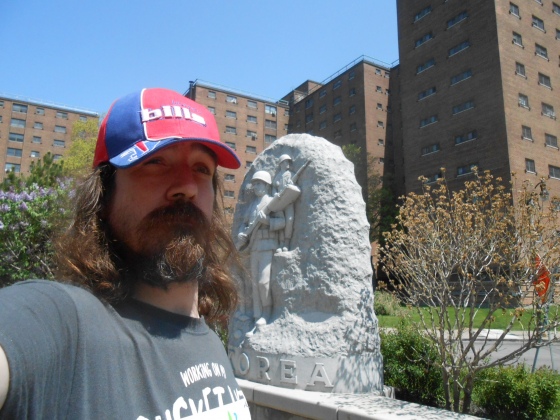 Permalink: Hospice_Walk_2015.html
Words: 251
Location: Buffalo, NY
Last Modified: 05/17/15 07:00
Category: photos
05/17/15 04:19 - 81.ºF - ID#59999
Heidi & Diane 5-16-2015
It really was a good Time thanks everyone .... Sometimes it takes a bit of time to warm up and take photos of people whom I don't know ... Hence why there are people who I missed but hope people like the pictures .....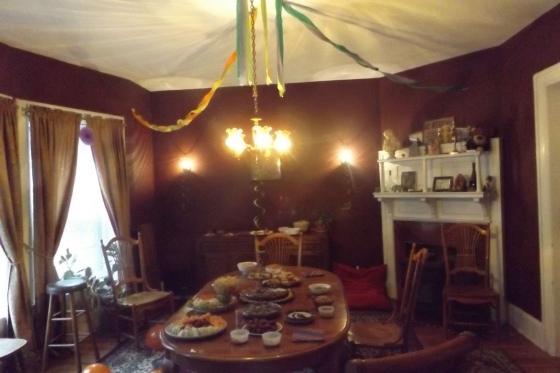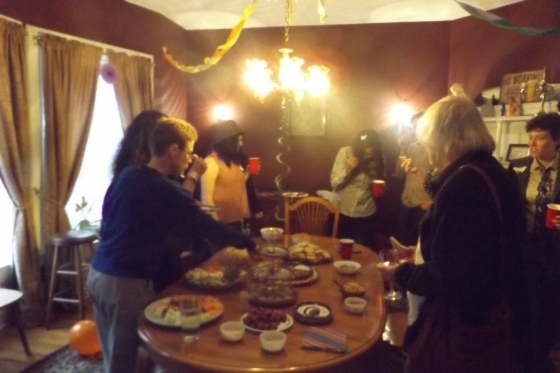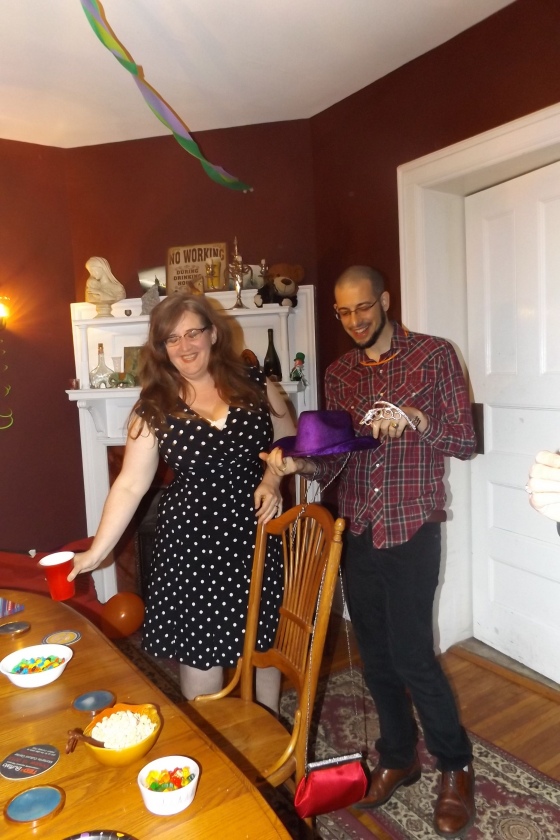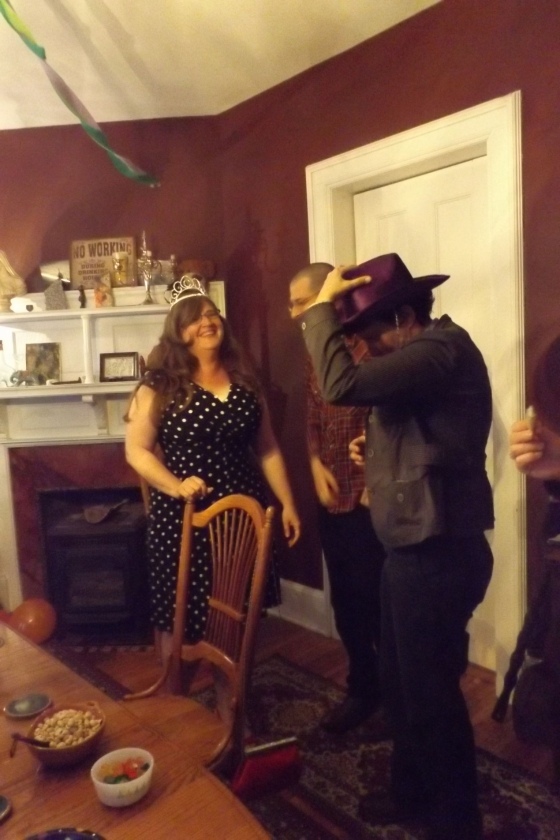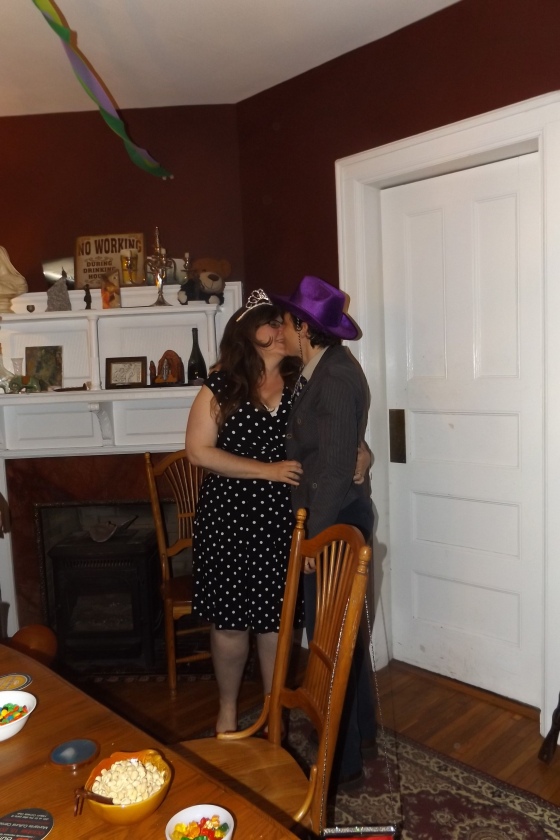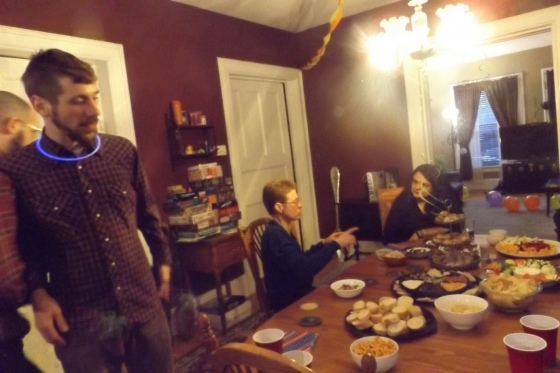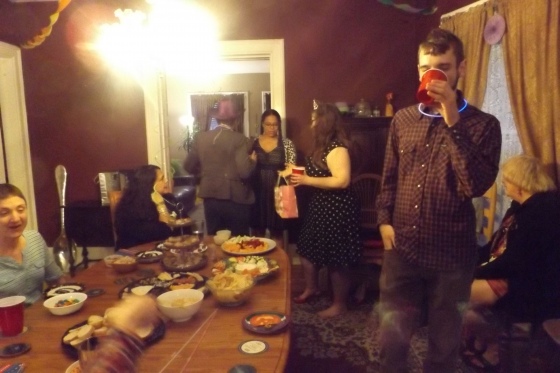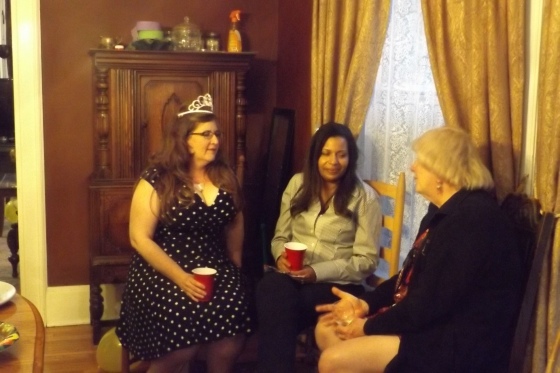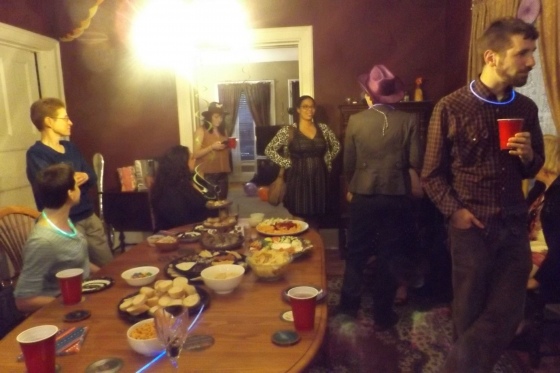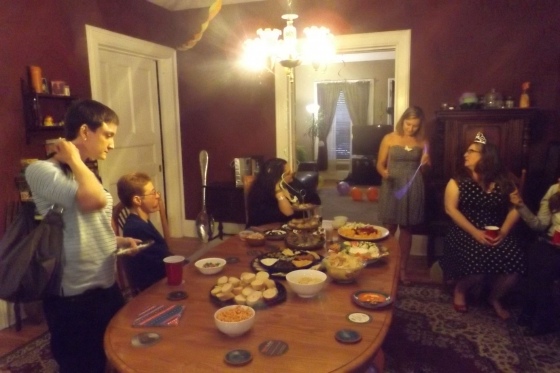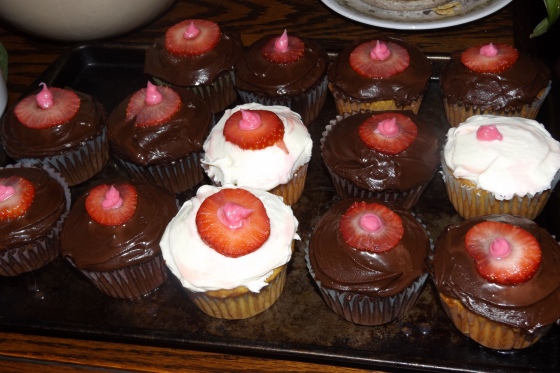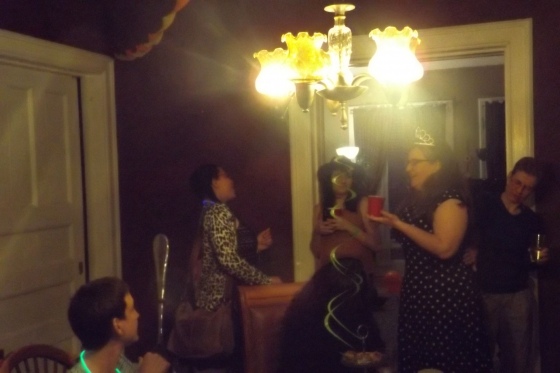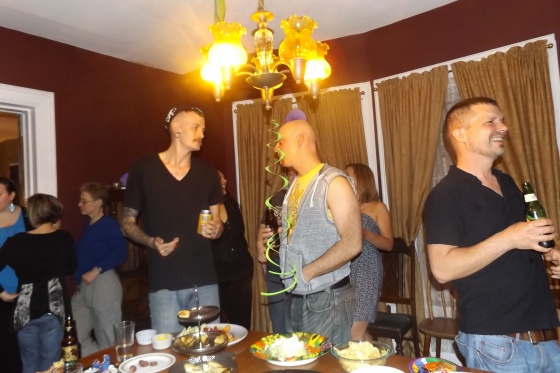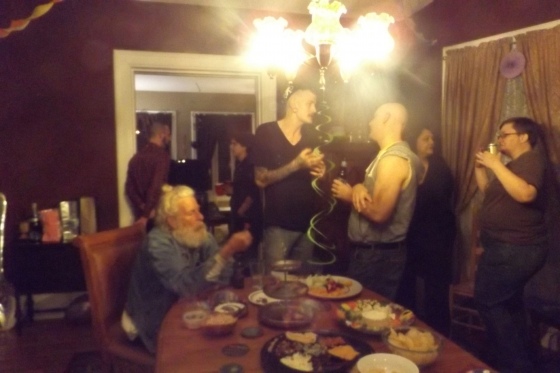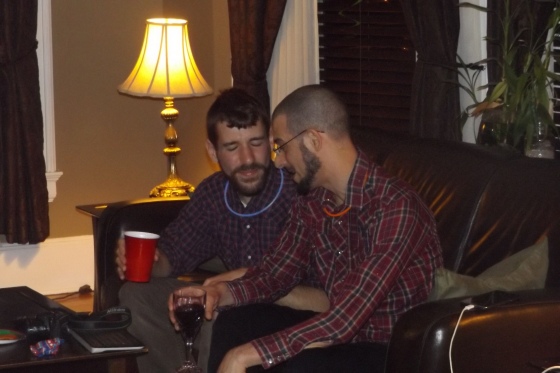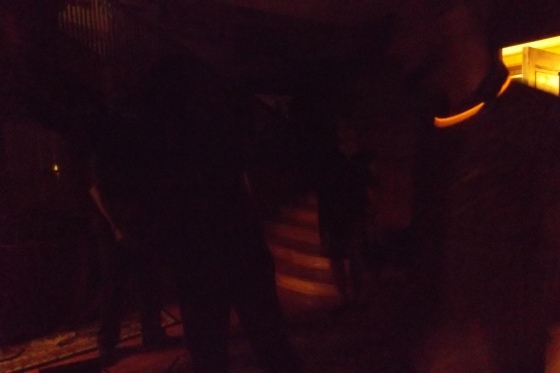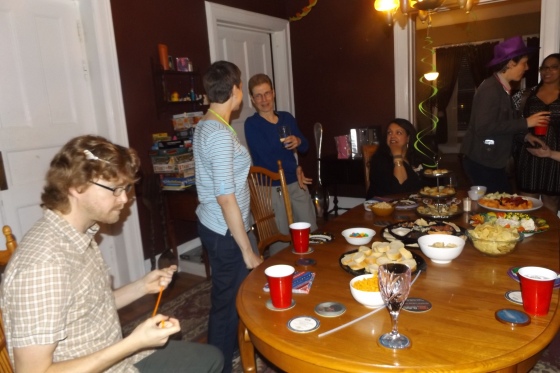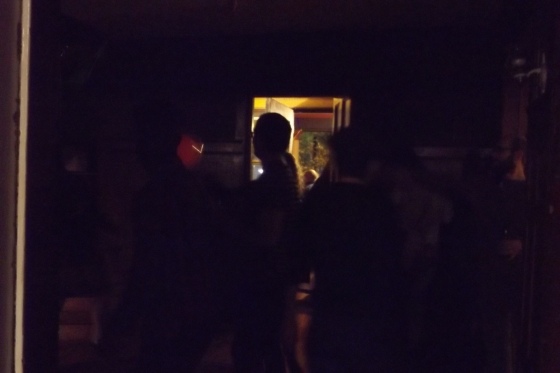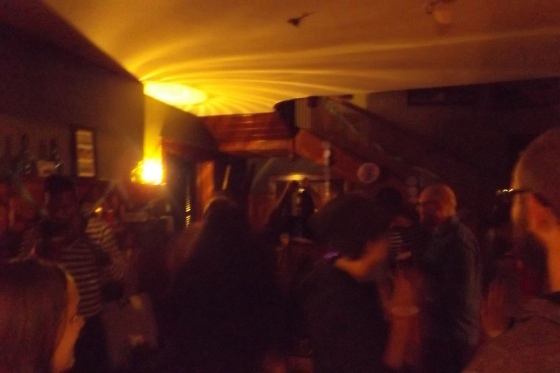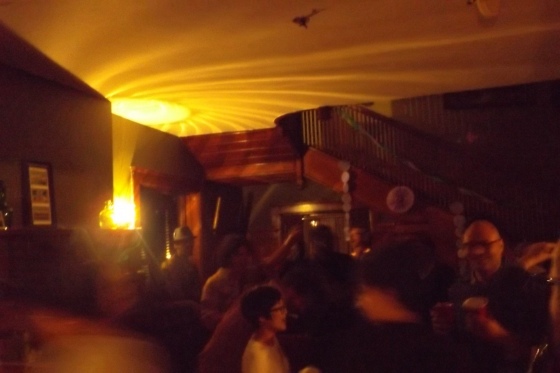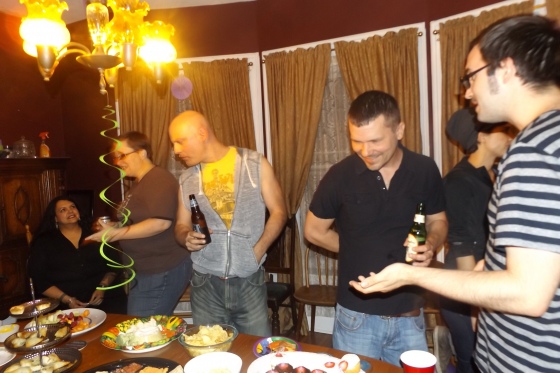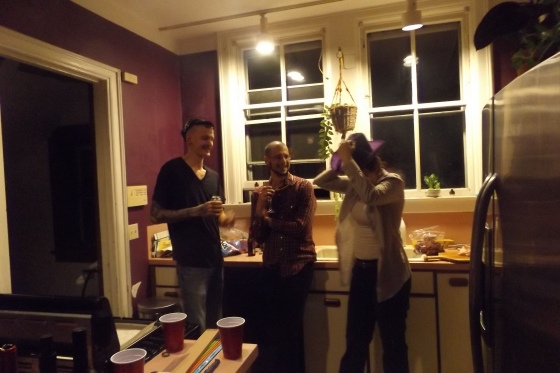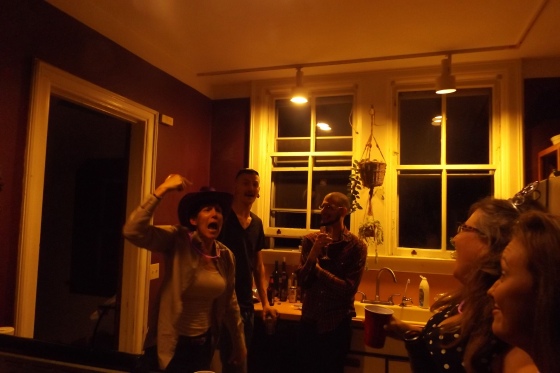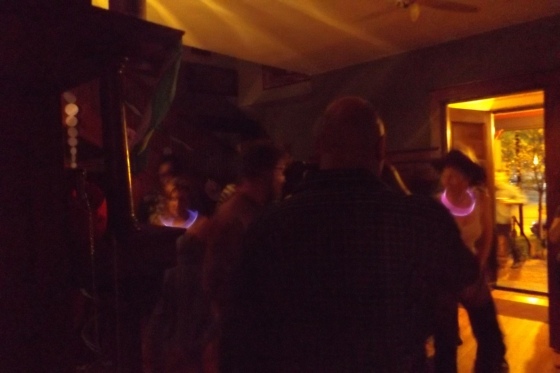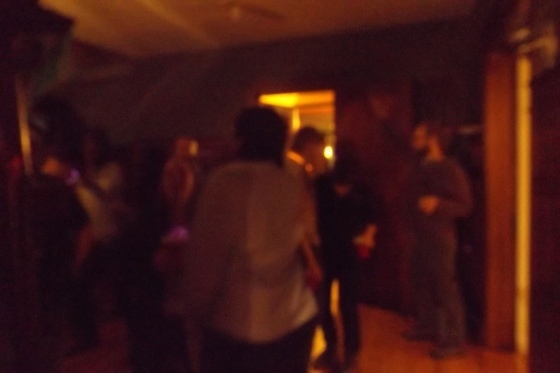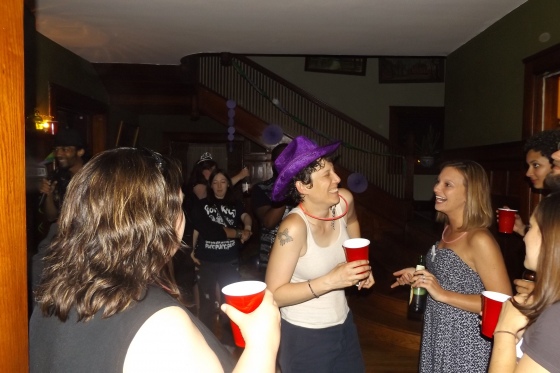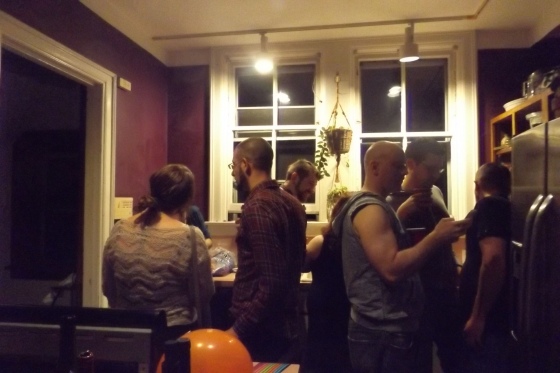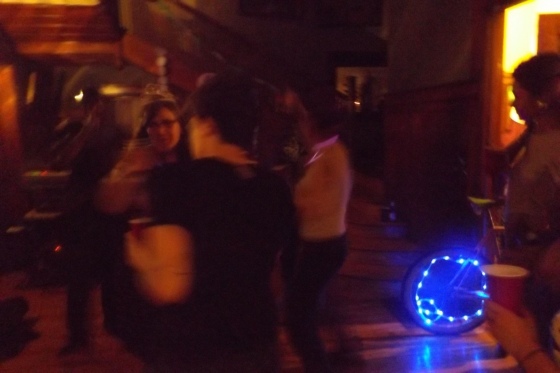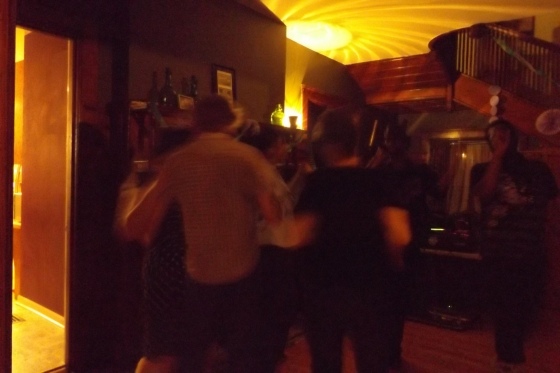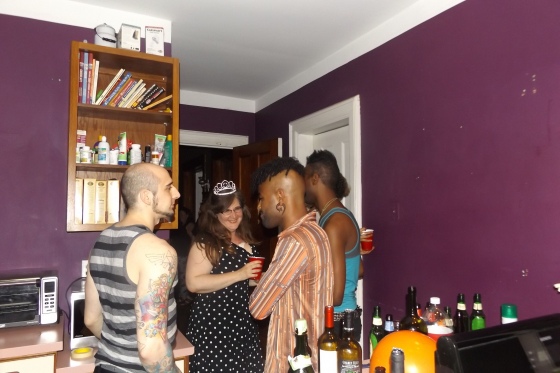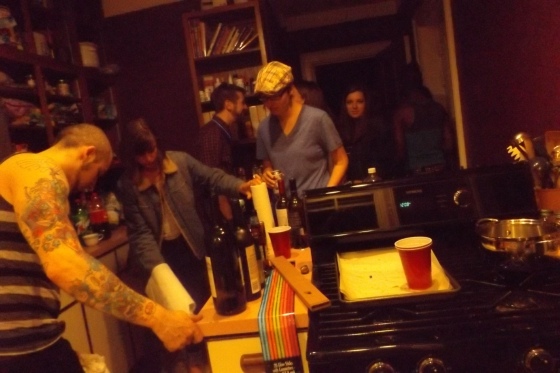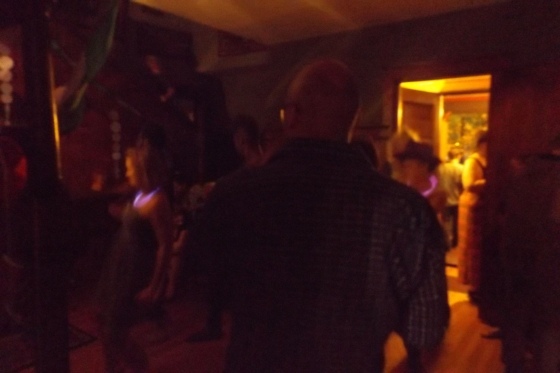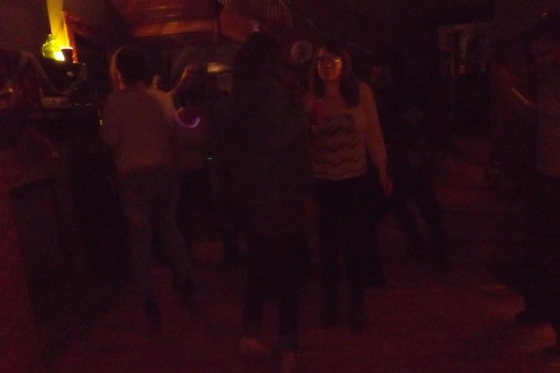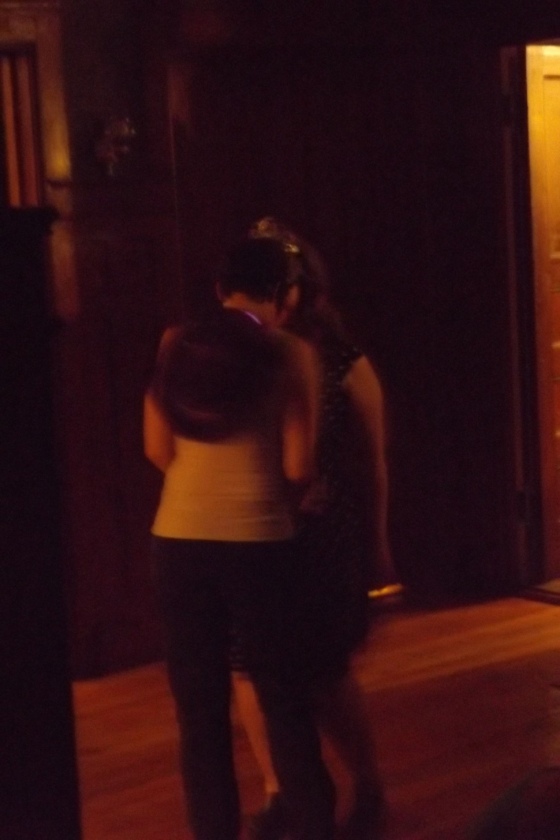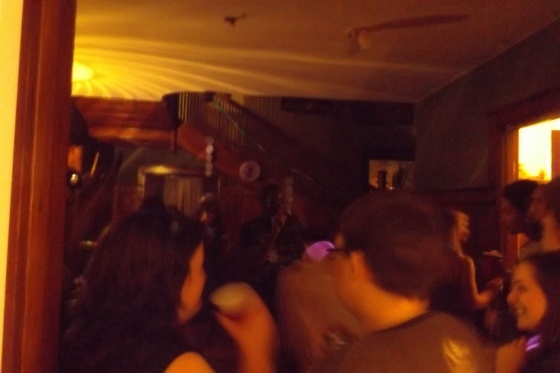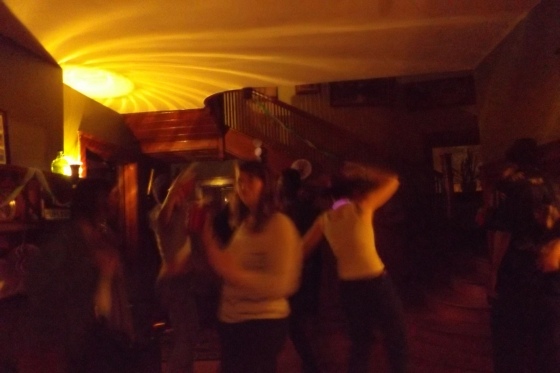 Again it was a great time and I enjoyed talking with everyone Hope the pictures I took the other way line up right and that people like them and that others post photos but not sure if they are part of this site so ....


Permalink: Heidi_Diane_5_16_2015.html
Words: 159
Location: Buffalo, NY
Last Modified: 05/17/15 04:19
Category: photos
03/20/15 08:29 - 42.ºF - ID#59915
Parade Politics ?
So I did go To The Parade for St. Pats Day .... And to be honest I had debated how to post about the Parade because I don't want to make a political post cause it kinda isn't worth it ... But how far should one go with it being a political post .... I'm still not sure so I guess what I will say is this and not connect it to anything .....
-I am Irish but I'm not like a lot of Irish People or Sterotype ones
--Not Really a fan of Irish Music Now it is pretty good when Morphed with like Punk or Metal or HardRock
--Food Wise I don't like Irish Food really No Corn Beef and Cabbage yuck Now I do like shepherd's Pie but I grew up with Beef not lamb that is the real way I guess
--I don't like beer not Green not Guiness
--I have had some good Jack Daniels but that is Tennessee not Irish Whisky and flavored version Never tried any brand of Irish Whiskey
--Never been to Ireland it would be cool to go but Not on the top of list so many other places maybe as part of a big tour would be fun
--Never been to South Buffalo or is that Old First Ward Parade
Now that being said though I like The Bag Pipes and Irish dancing is pretty cool .... And I love Shamrock Shakes ... And think the Parade is a lot of fun more a fan of watching then partaking But I also watch stuff on Sunday nights and wake up early on Mondays so that might be a factor... But I would love to get trashed :) have in past and it was a blast and yes I would like to some year check out a parade in another city and see where they turn the water green in person ....
Now That being said I love that on that one day a year everyone is Irish or maybe it is just in #Buffalo we turn everything into a drinking Holiday or add a drinking Element to every holiday :) I am Not offended , It doesn't bother me that people put on bad fake accents :) HA and that some people do the Notrde Dame Fighting Irish thing and use it as an excuse to drink and fight .... And years back when SNL came out with a bit about a CD or Irish Fighting songs I laughed my ass off .... Hey everyone becomes Italian a little bit (or maybe I'm just a west sider ) for the festival ... Some people become Polish for some time at Dyngus day.... I think it is great ... Ok so some photos ......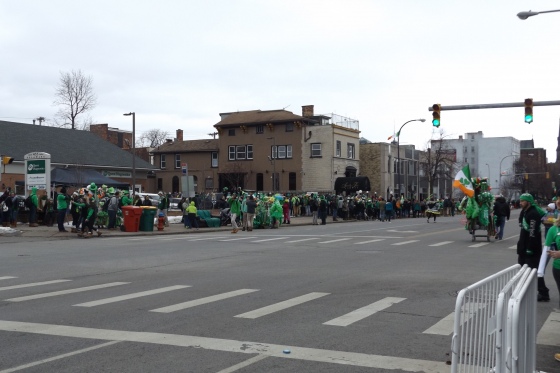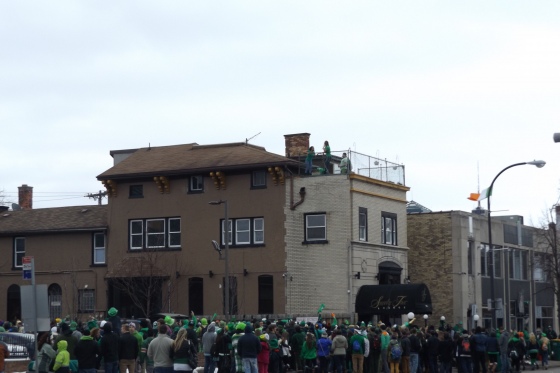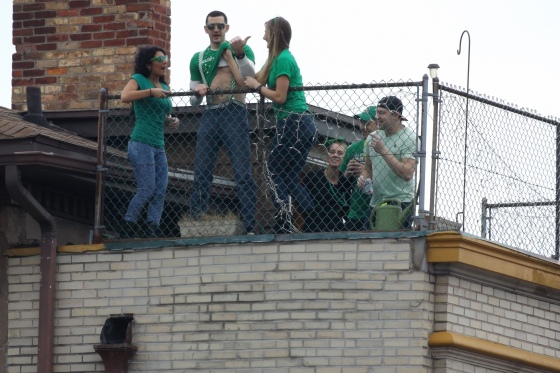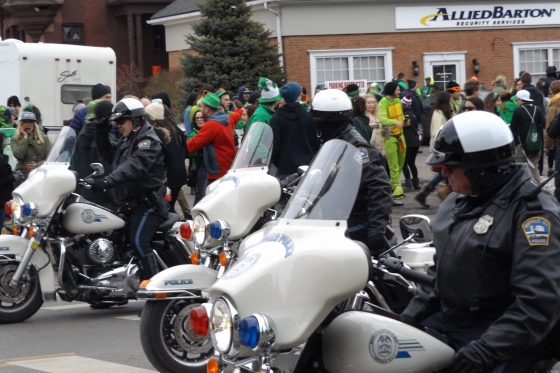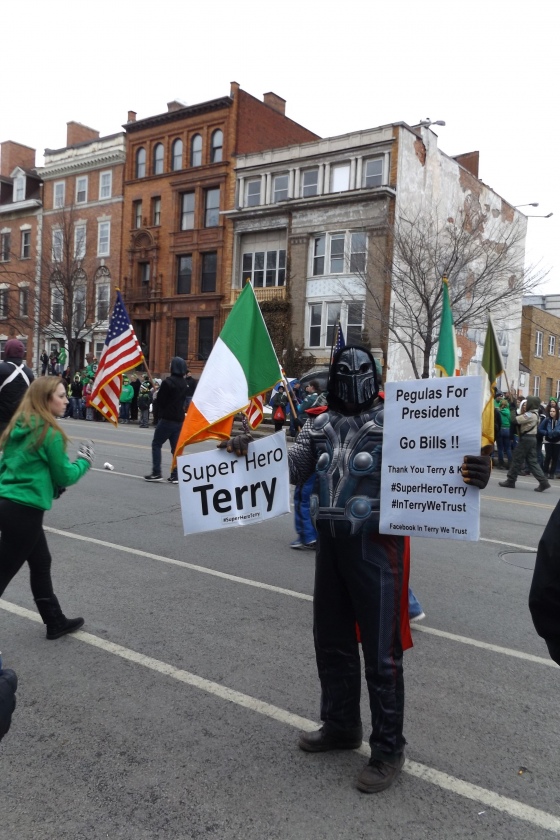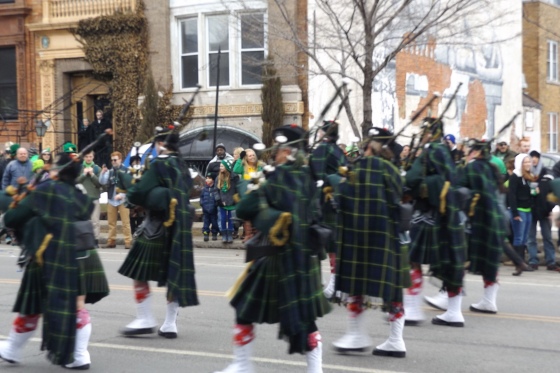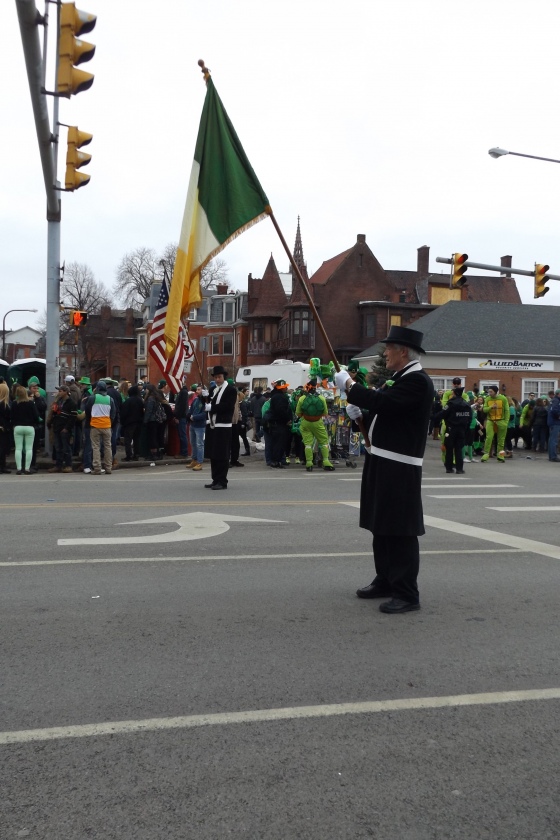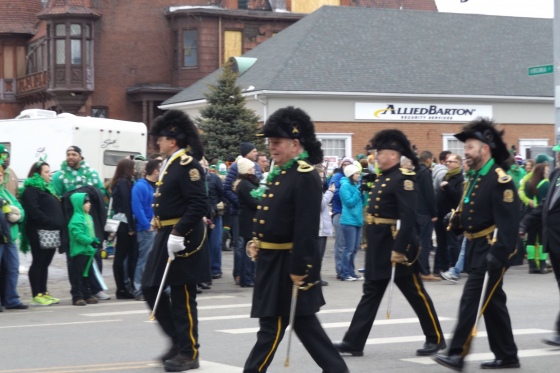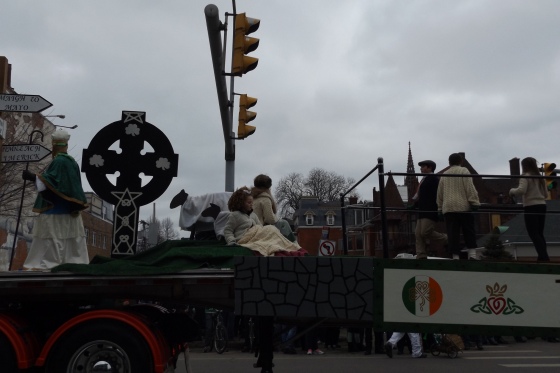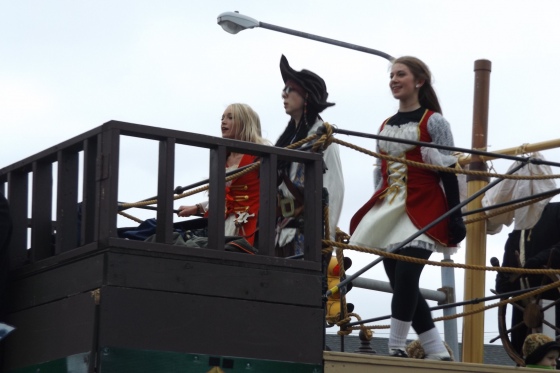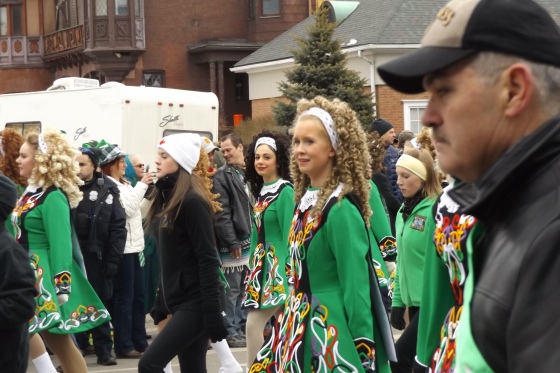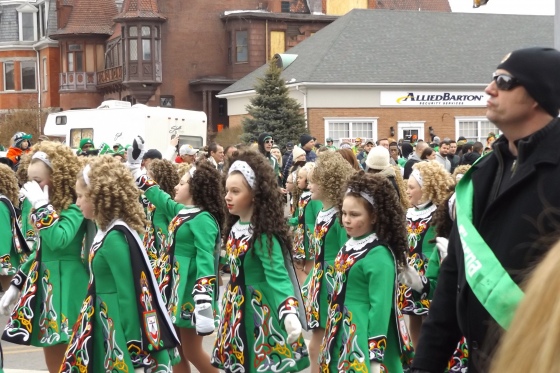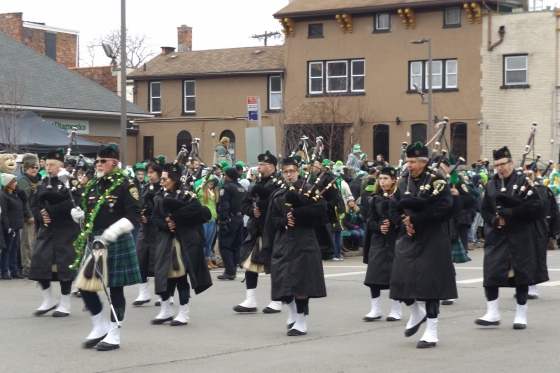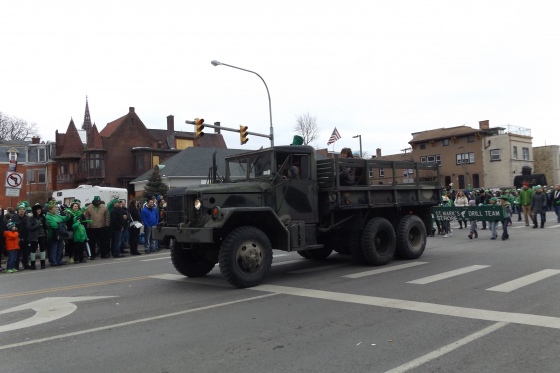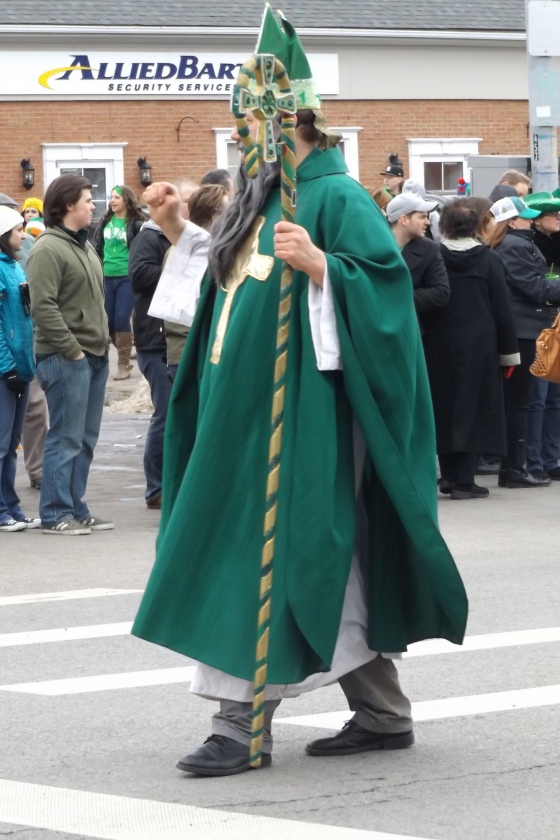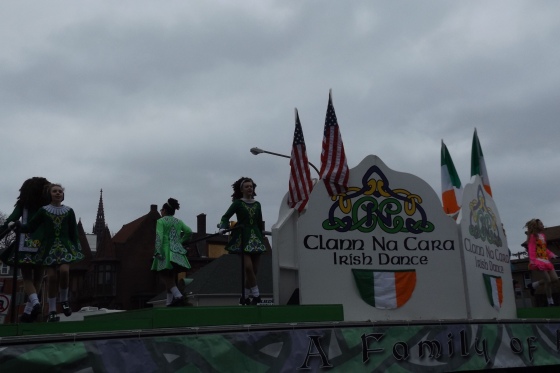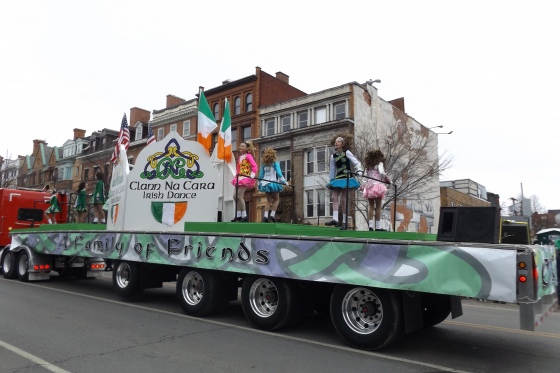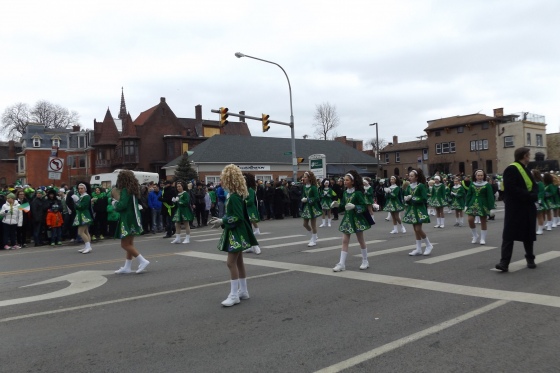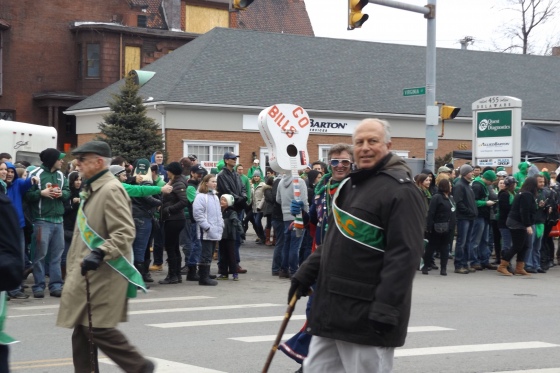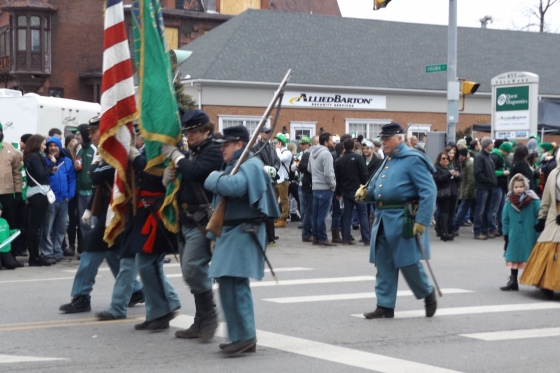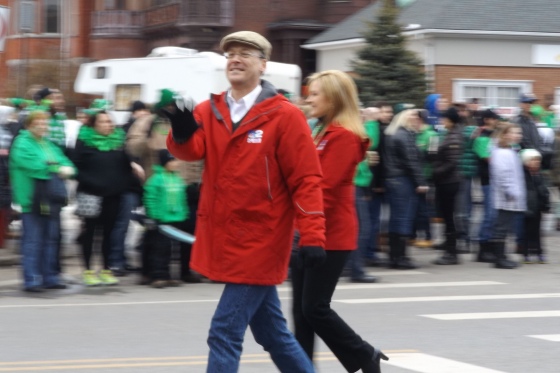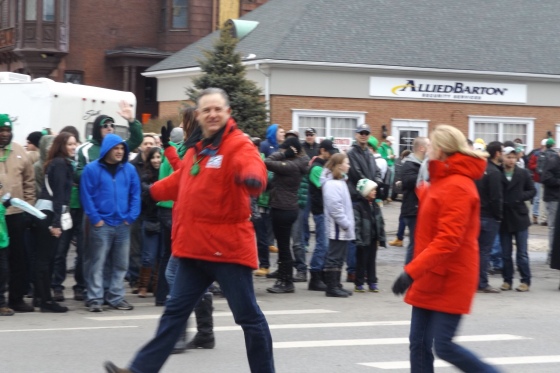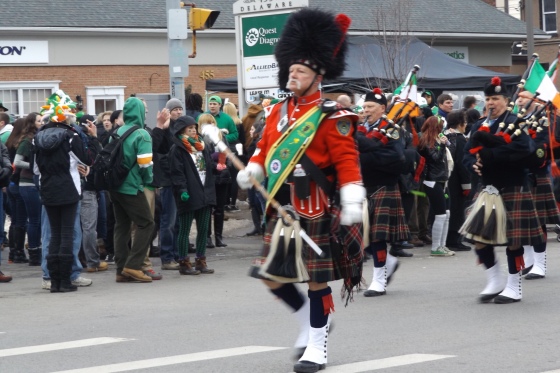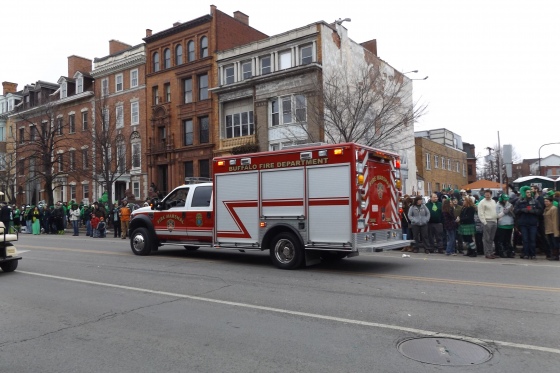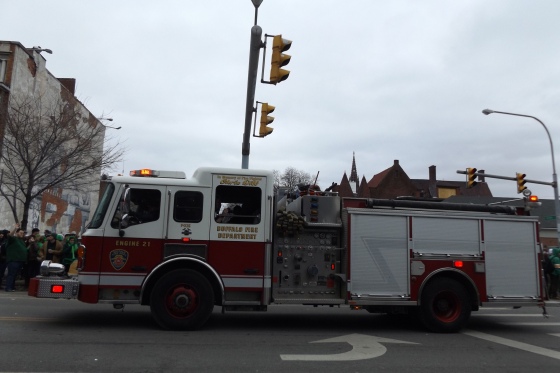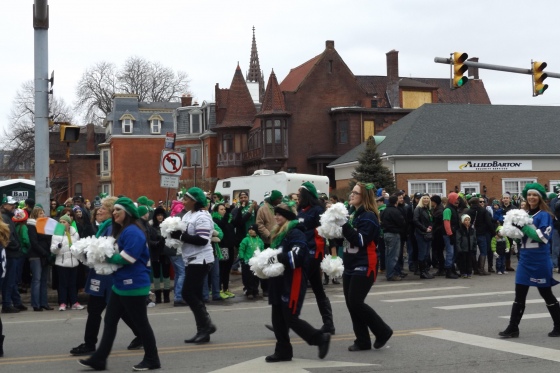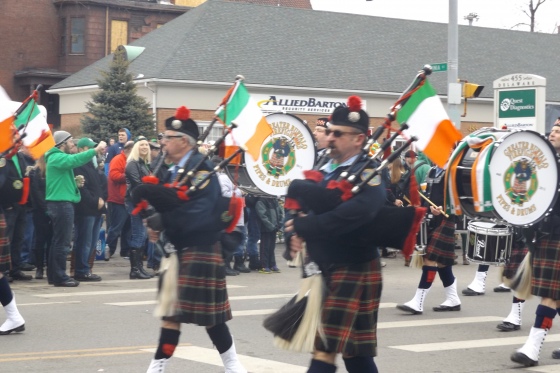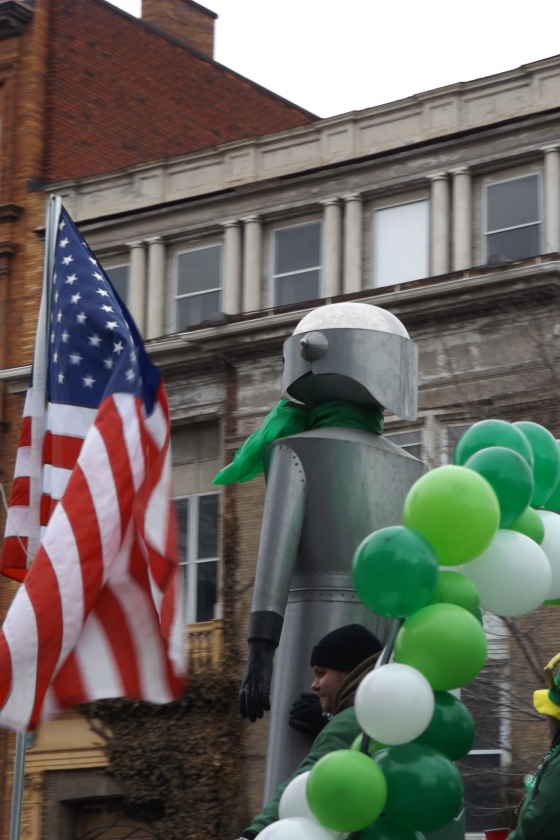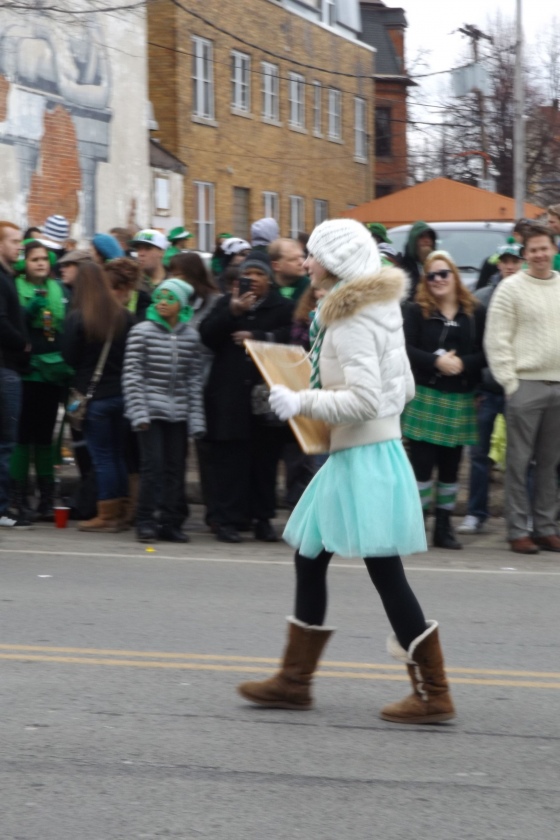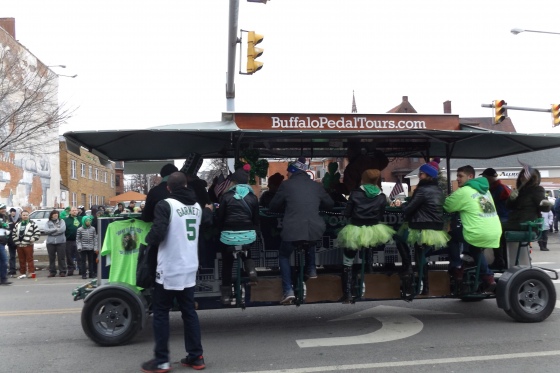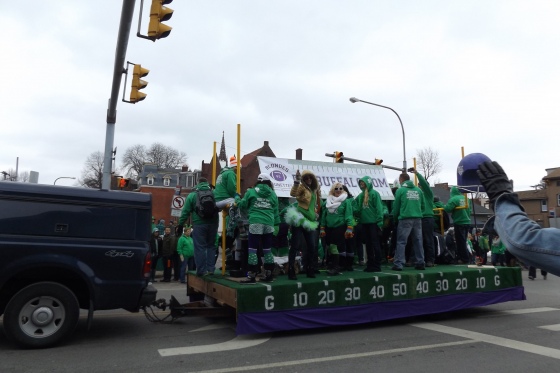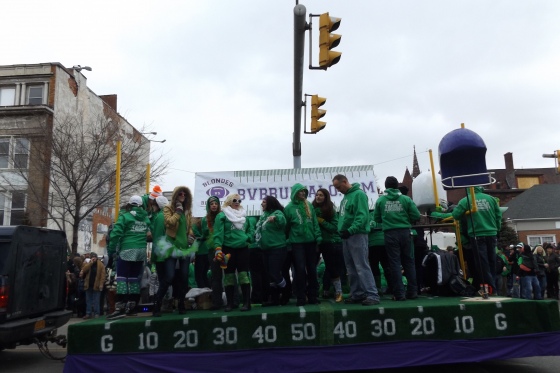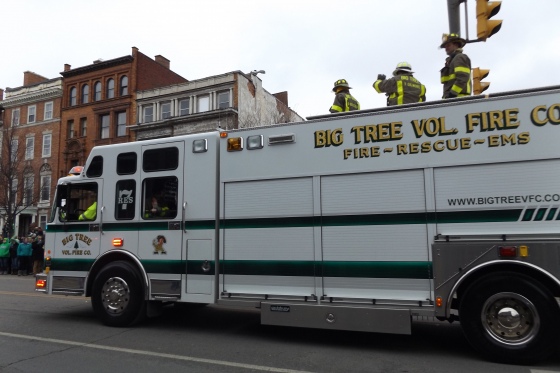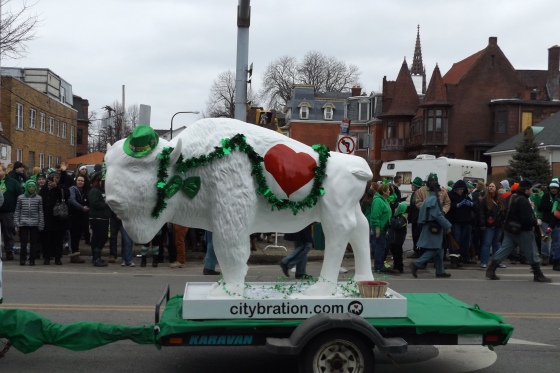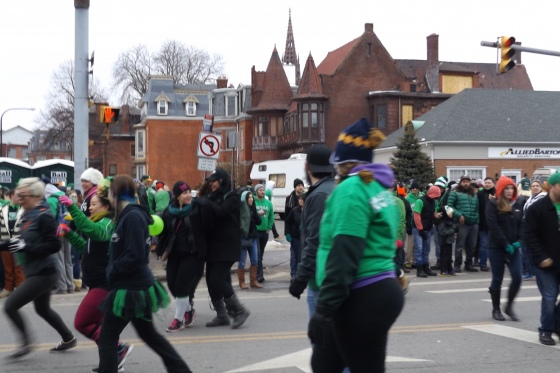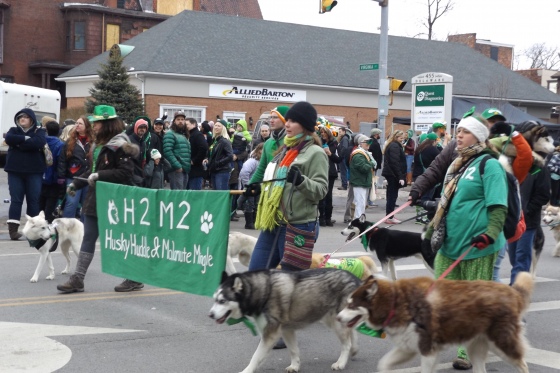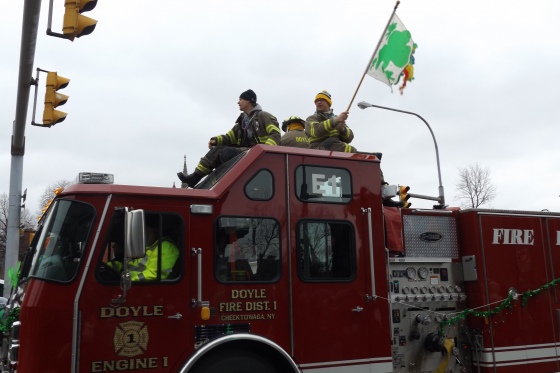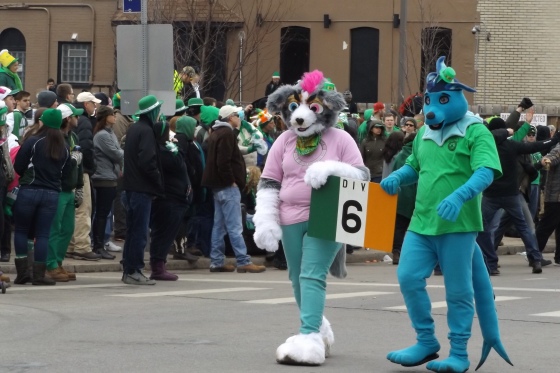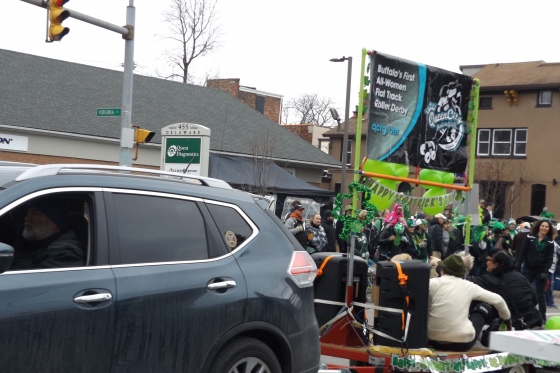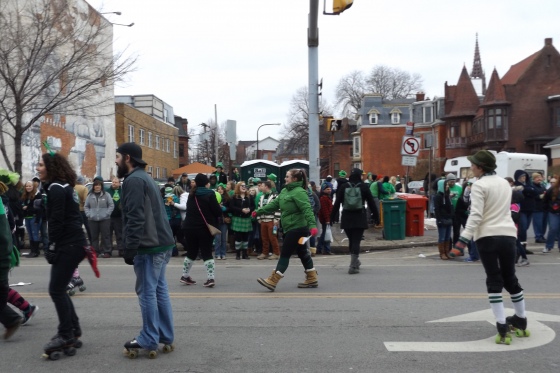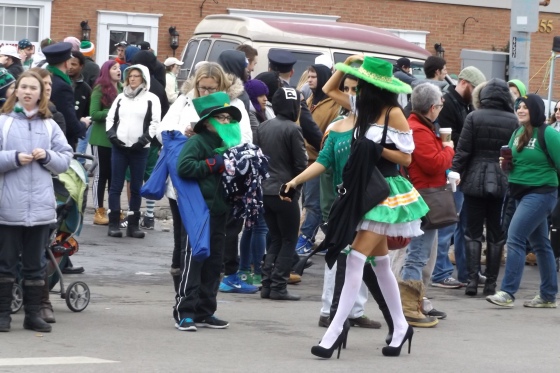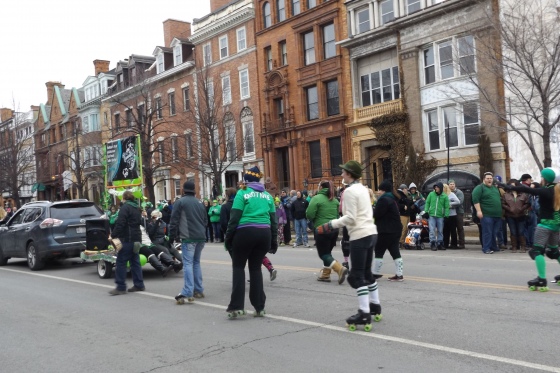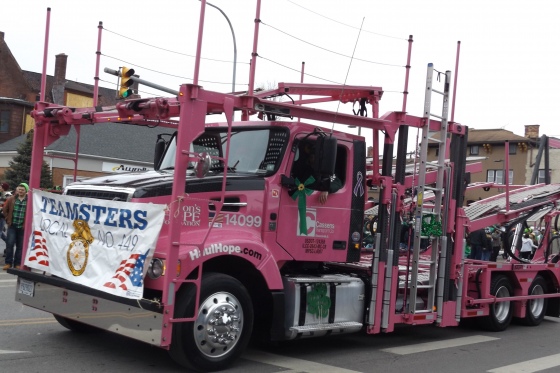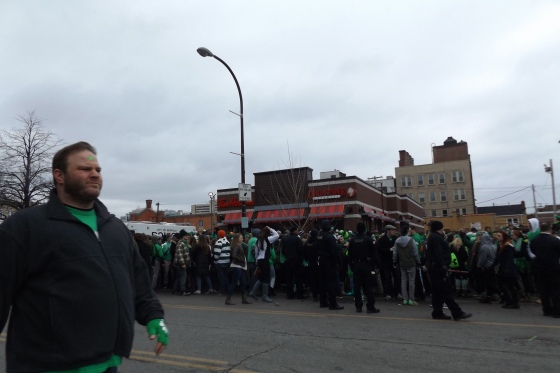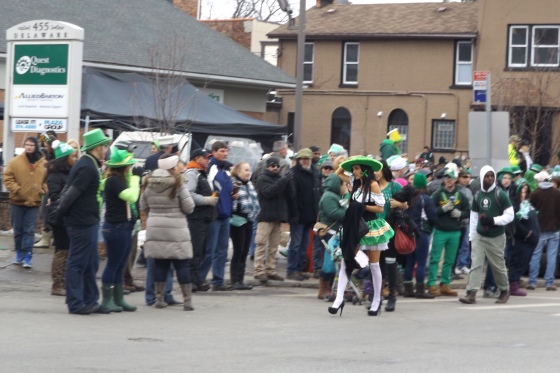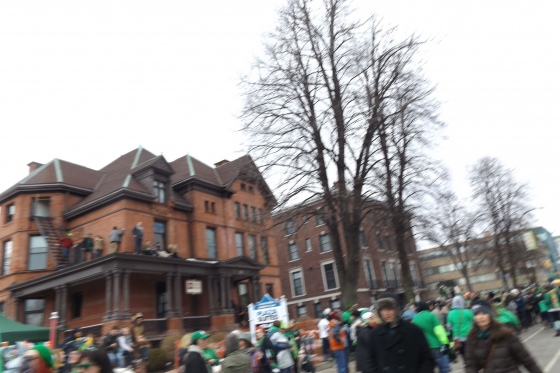 I tried to get photos that covers the scene But it is kinda tough to do or is beyond my level ..... Think you have to be a Pro then you can like walk up to people and get the scene ? was a fun time though
-P.S.
I do not know if it has been an Issue and didn't hear about it this year in the News in Buffalo or about NYC or Boston it was that you could be gay and that was fine but you could not be a gay cause ... I disagree ... I think that if you are Irish and You have a group then it is fine to be in the Parade .... But I kinda get that they don't want it to turn into a Pride Parade and that there are a lot of traditional values But if you can have Iron Makers and Unions and fire trucks why can't you gays being out in the Parade.... That would be fine... Again I have no idea if that was ever an issue in Buffalo though ......


Permalink: Parade_Politics_.html
Words: 723
Location: Buffalo, NY
Last Modified: 03/20/15 08:29
Category: holiday
03/15/15 05:00 - 36.ºF - ID#59902

St pats Parade


Permalink: St_pats_Parade.html
Words: 30
Location: Buffalo, NY
Last Modified: 03/15/15 05:00
03/13/15 11:46 - 44.ºF - ID#59900
St. Pats ? Bandits The 13th
So Today is Friday The 13th and the Bandits had it as Fright Night ... The Bandits won and it was a lot of Fun they beat The Toronto Rock and they did have some fights at the end ..... On Saturday Night they play in Toronto... I bet that would be a lot of fun go to Toronto stay over and yell if any of your voice left and I assume they have a huge Parade as well .....
I would not know really But I assume they have a big St. Pats that would be fun I bet... I have had some great days with you peeps , and been before with my Family.... Now there is a way the Bandits Tie in.... They Have a bag Piper before the game as Part of the intro... There was a point in Time when the guy who did the Bag Pipes was from the Band Jackdaw .... He knew that I know of one of
(e:peep)
and maybe more ... Saw them I think twice at two different places for the Holiday but not sure but all ways a crazy and fun time ..... No idea if they are still around or make new music any more .....
I have to admit that I have never been to the Parade that is in South Buffalo on Saturday... Now in terms of the Parade on Sunday there is a part of me that thinks they should not have taken away the snow.... Let the kids sit on the snow banks and me so I can see over people in the street ... HA but what about the drunks (nothing wrong with that ) falling off of them .....
That brings up another Point. I saw an article where they claim that cops will be cracking down on open containers ... I have trouble believing that ... I could see if it is not on the Parade route ... Now also I think Coors is sponsoring a program and cabs and things.... I would seem that what would make sense for Bars and the cops is to let people drink in front or by the bars where they have the Barricades and then that would have families who don't want to drink in other areas that would seem to make the most sense ? not saying that is what they are doing but it seems like that is the goal :) ?


Permalink: St_Pats_Bandits_The_13th.html
Words: 395
Location: Buffalo, NY
Last Modified: 03/13/15 11:46
Category: photos
03/03/15 07:54 - 36.ºF - ID#59878
Mayan Ruins
So as part of the Cruise one of the ports was Cozumel I picked to go see the Tulum Ruins.... Yes with both ports there was stress just all the getting ready and having to be a certain place at certain time and not knowing how stuff was going to go down .... But I made it through it .... Now the one bad thing about it is it takes a lot of time to get there you take a boat ride that you have to get on that is very very bouncy and got some people sick ... IF I would have bought a Drink I would have Puked to.... I saw things in Mexico that I didn't get pictures of wasn't fast enough like a guy with some kind of little big cat of some kind and other animals .... Then On the way back there was a place to eat and drink but I didn't eat there cause of the boat ride I would be on later and also a bus trip was part of it..... Now at the ruins there was a beach but it was not safe to swim it was closed... And I did learn a lot it was a lot of fun .....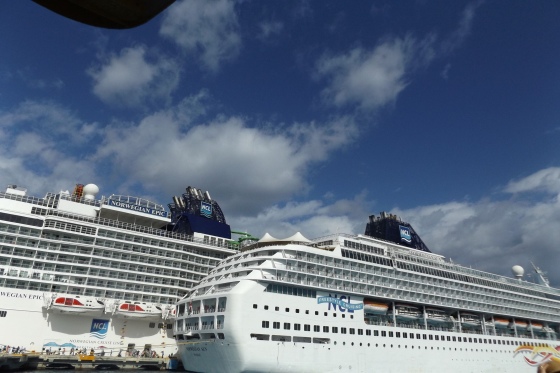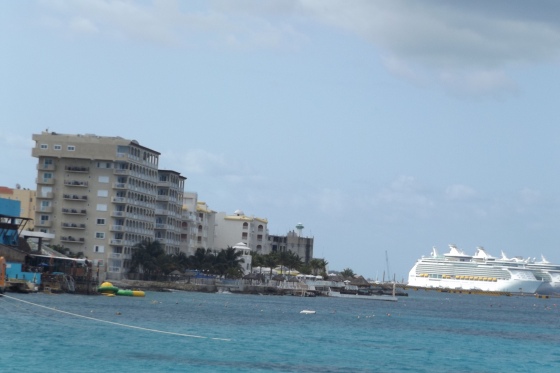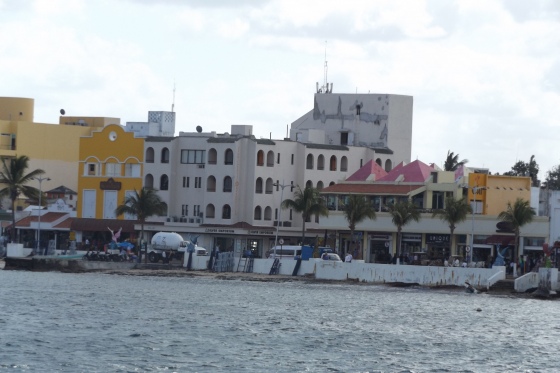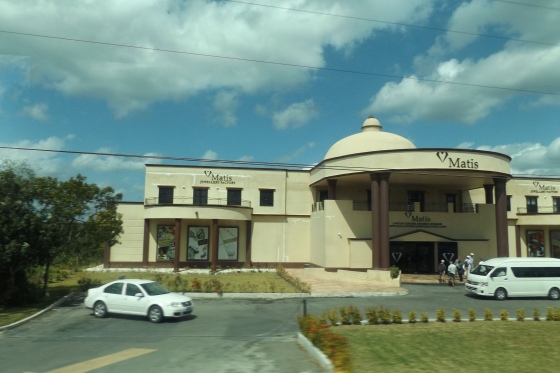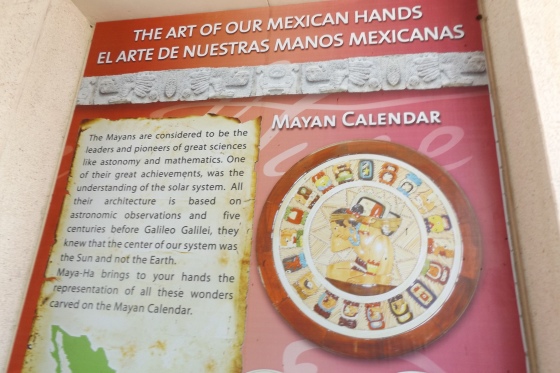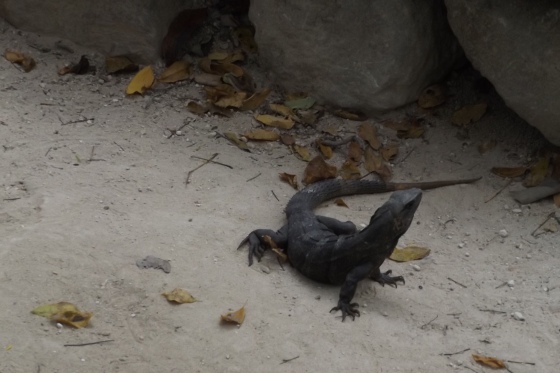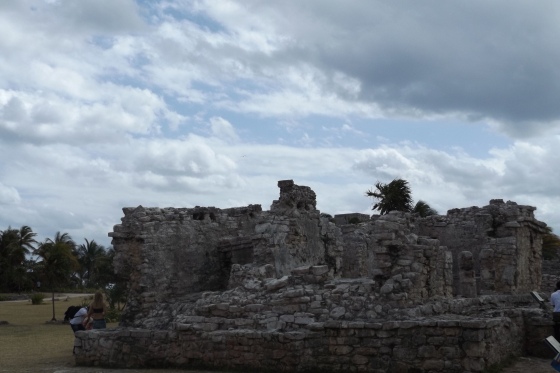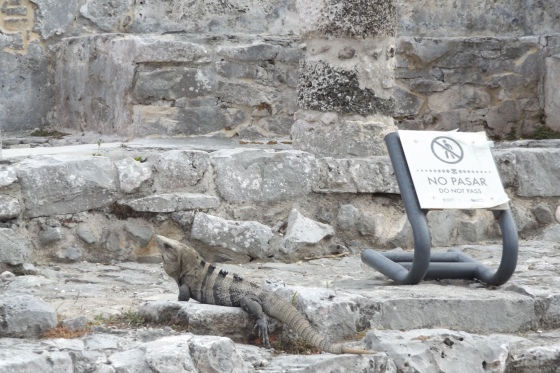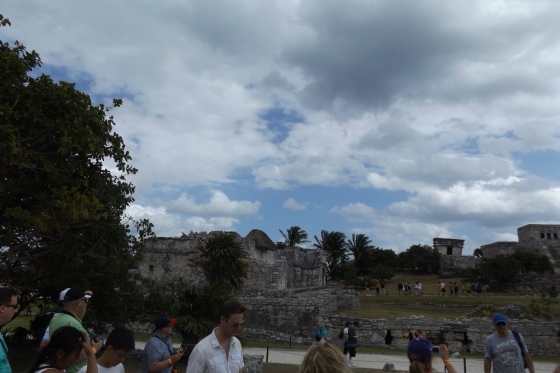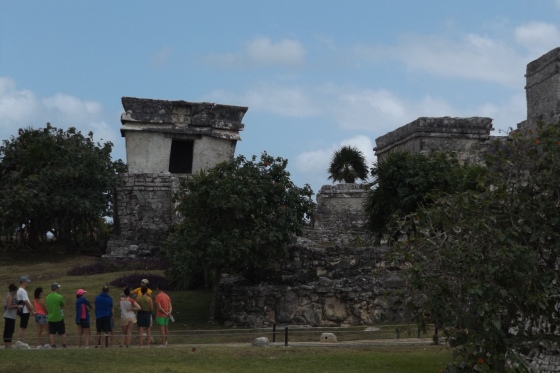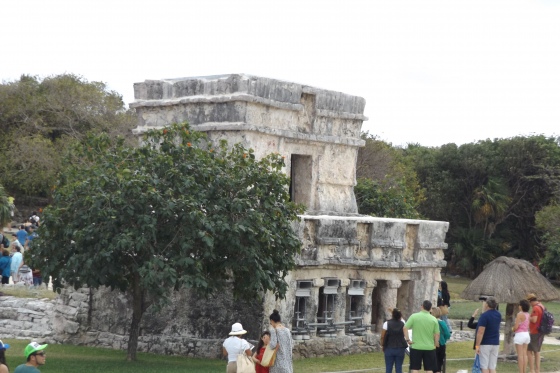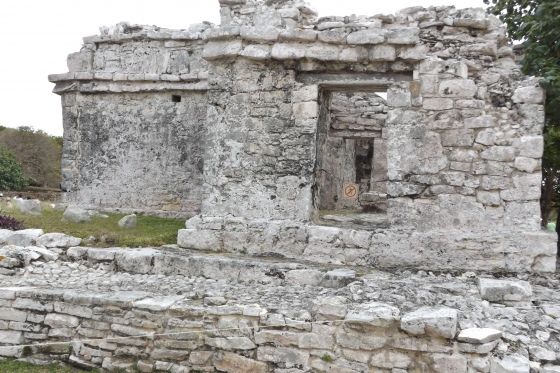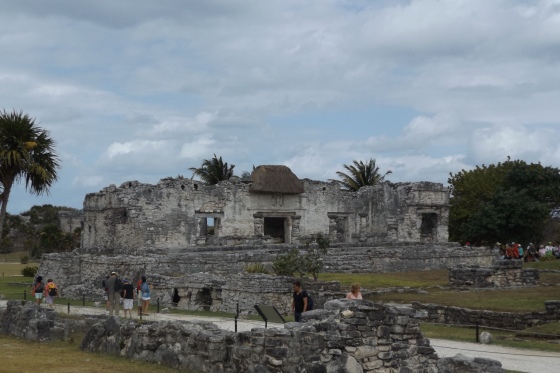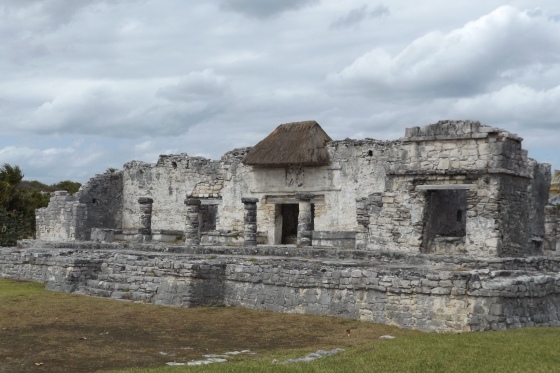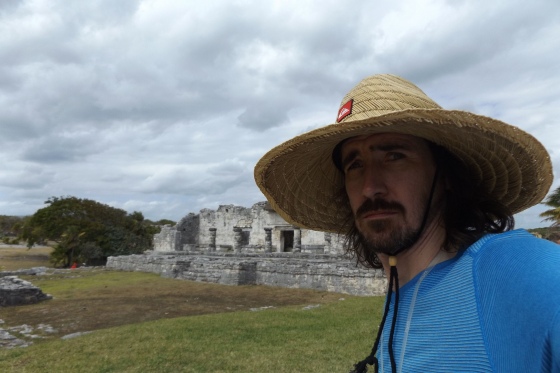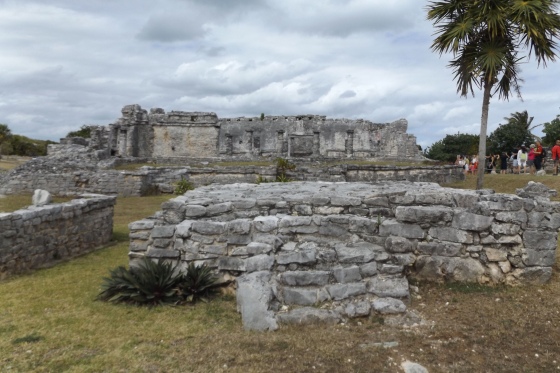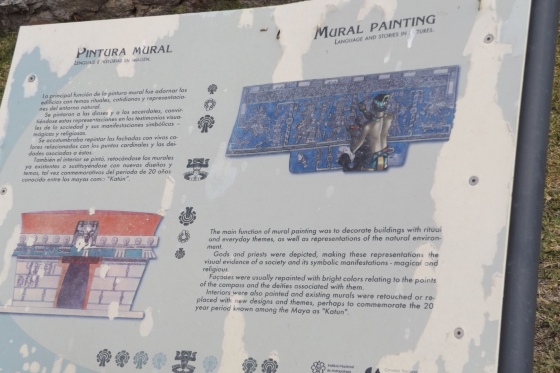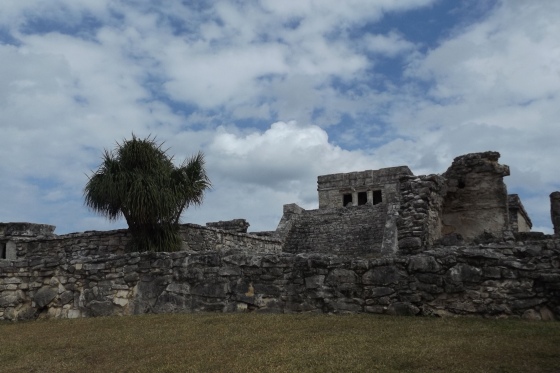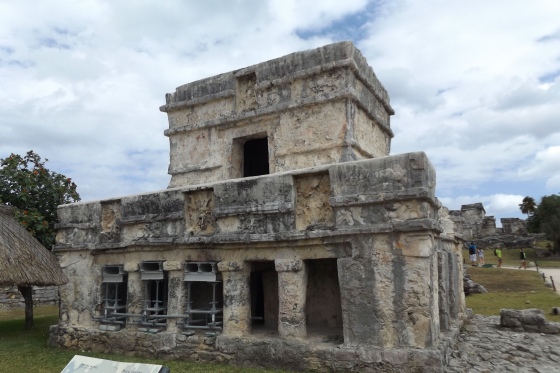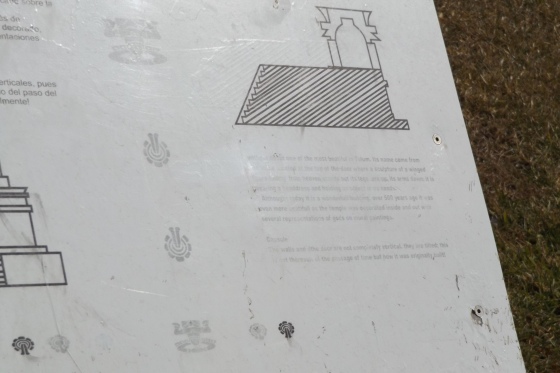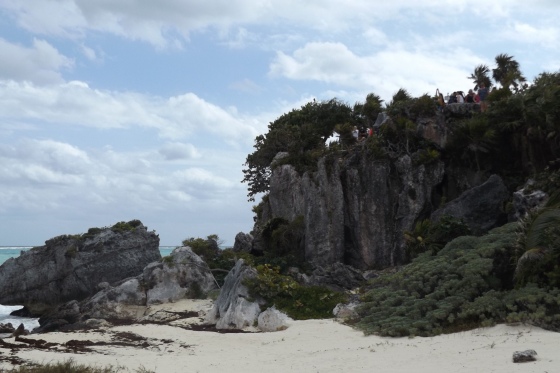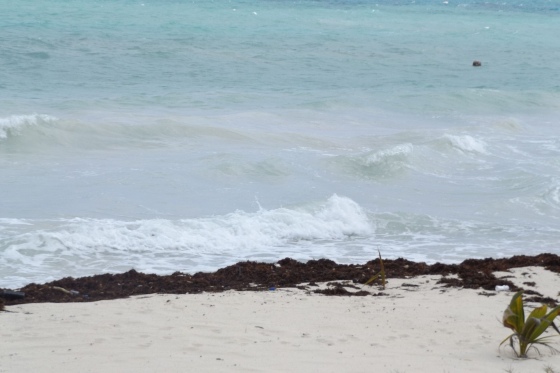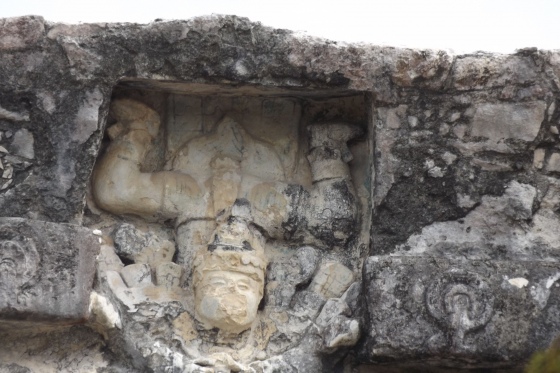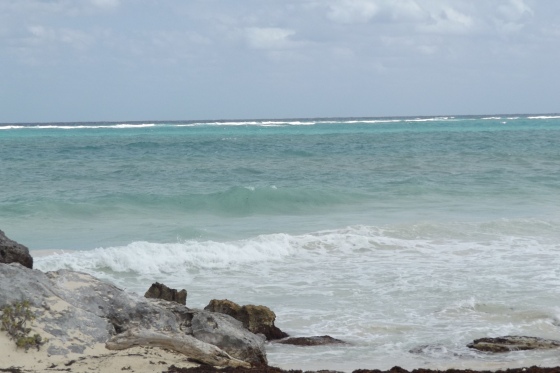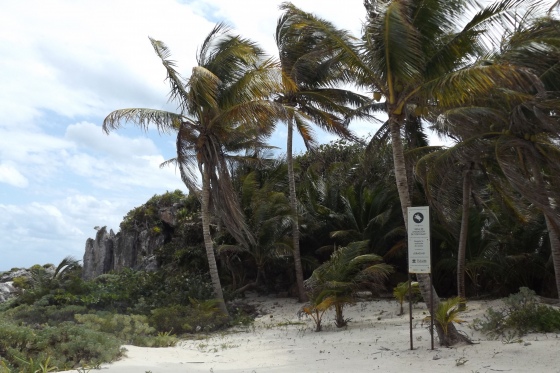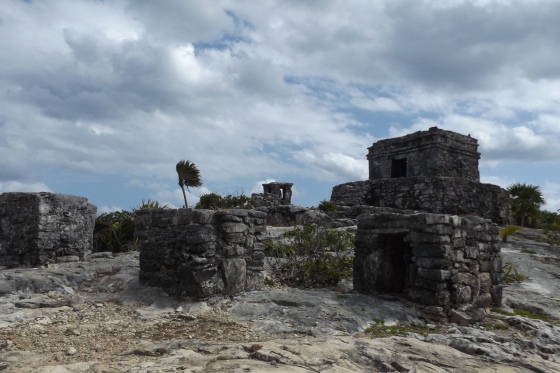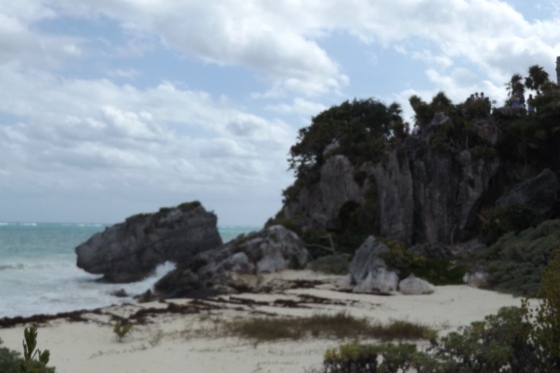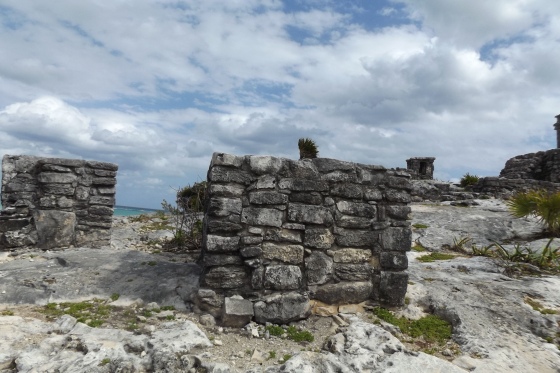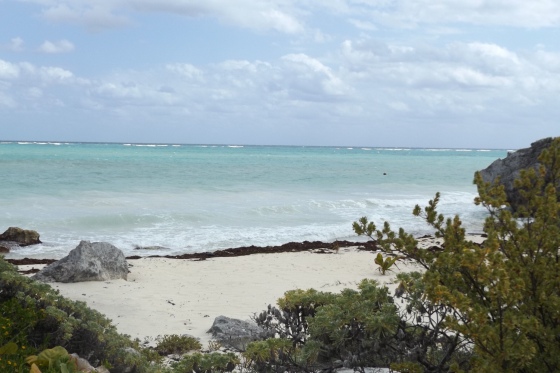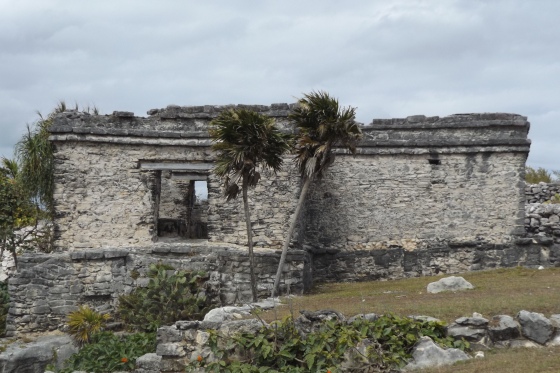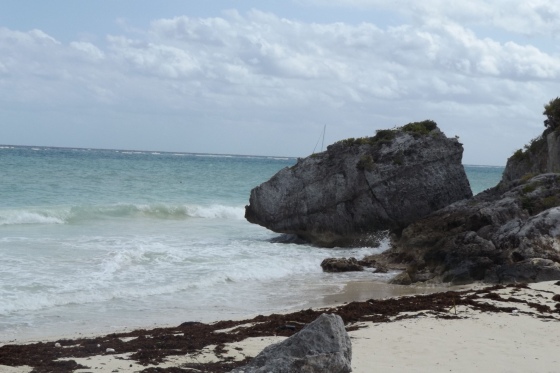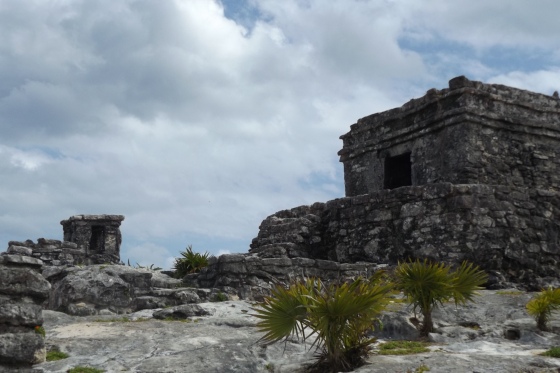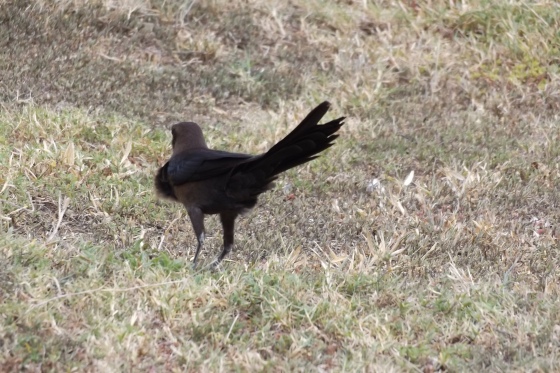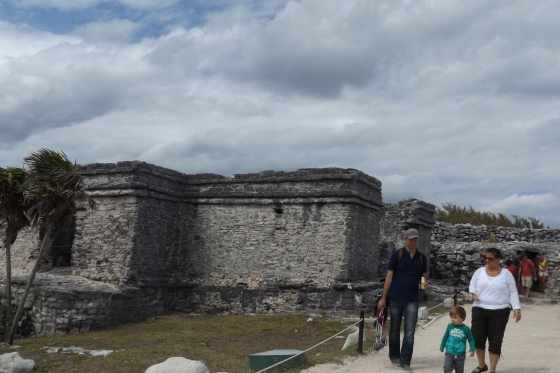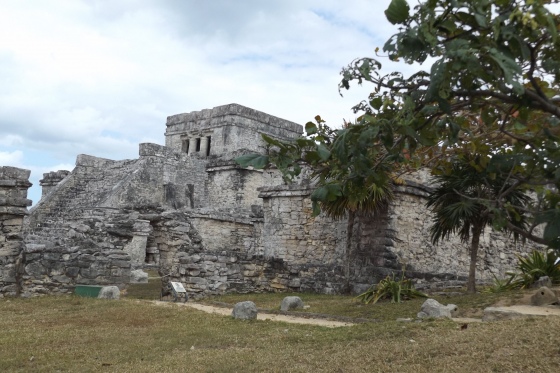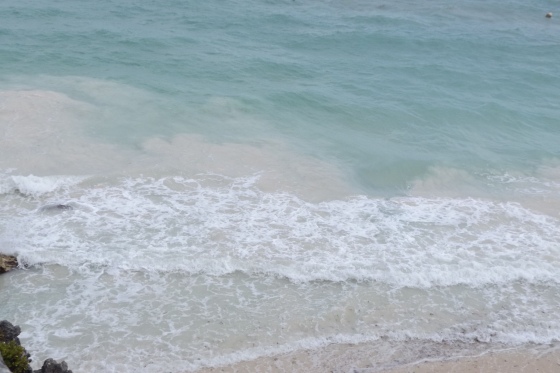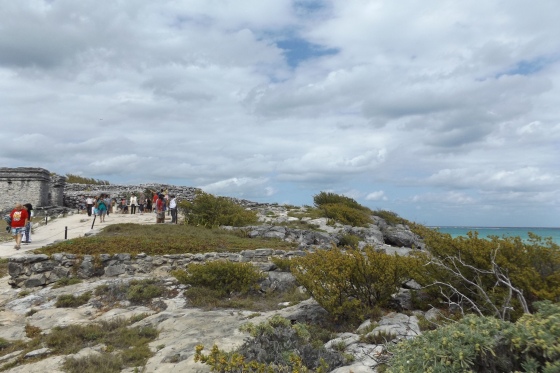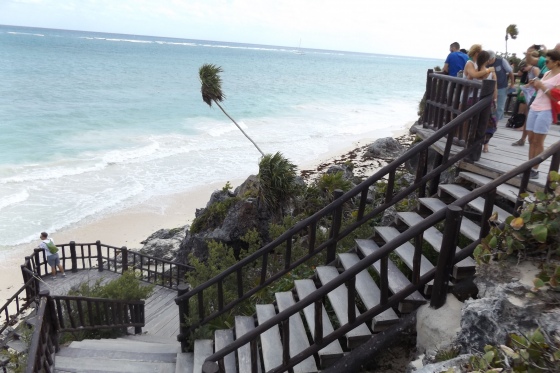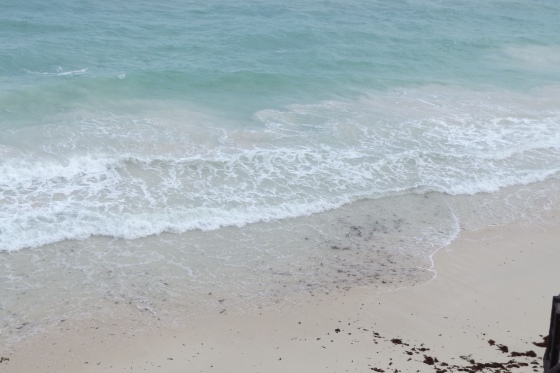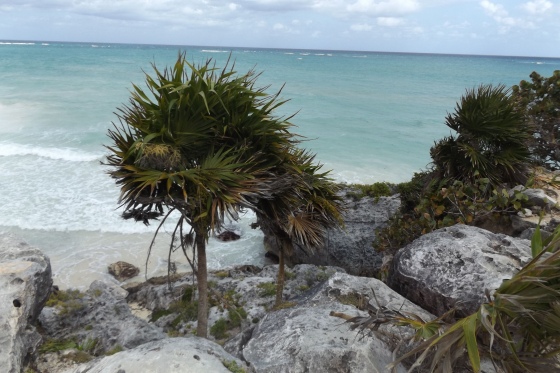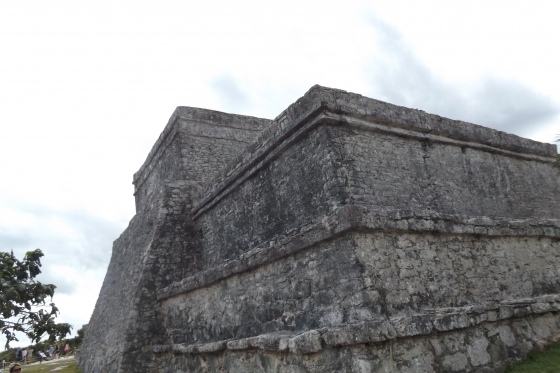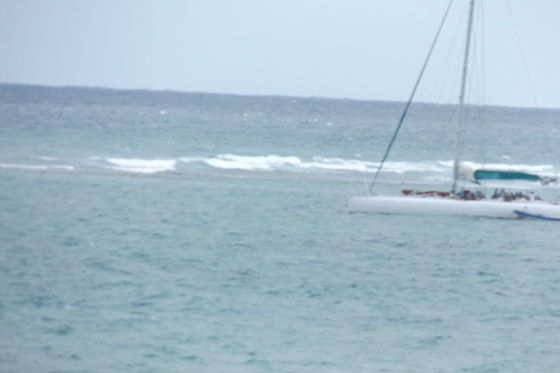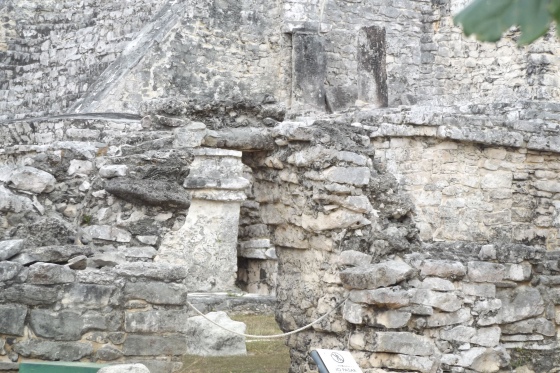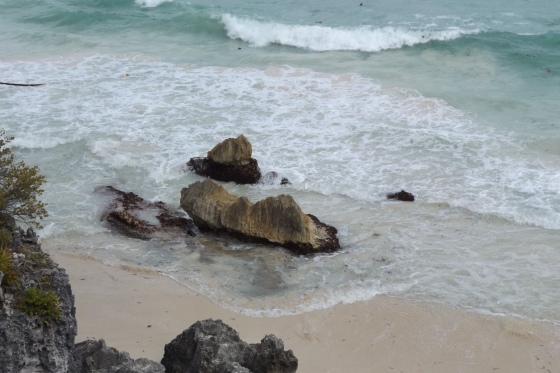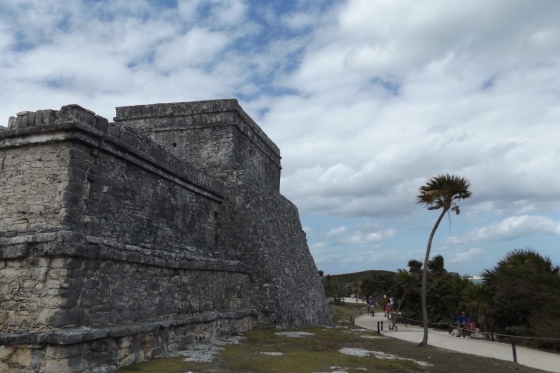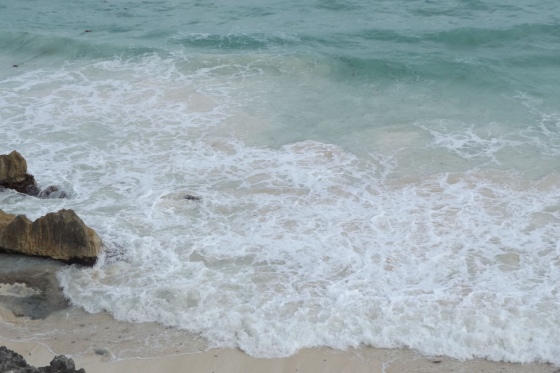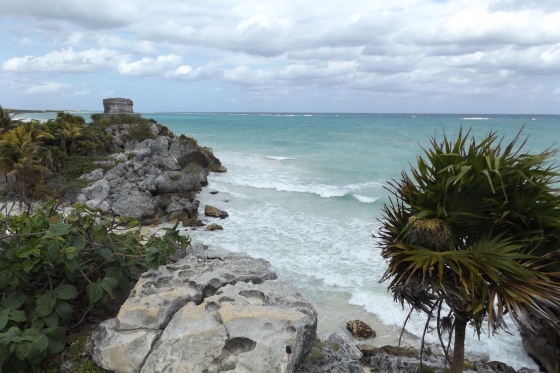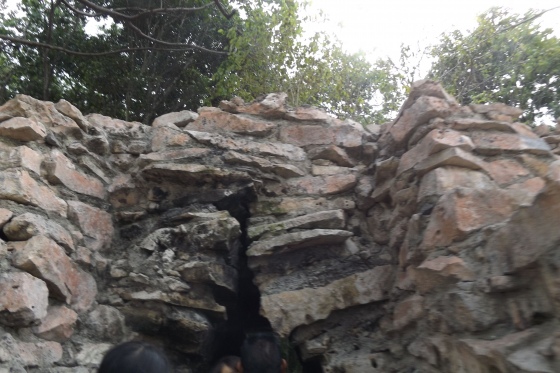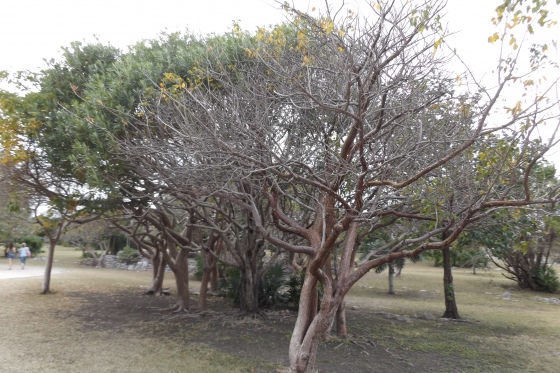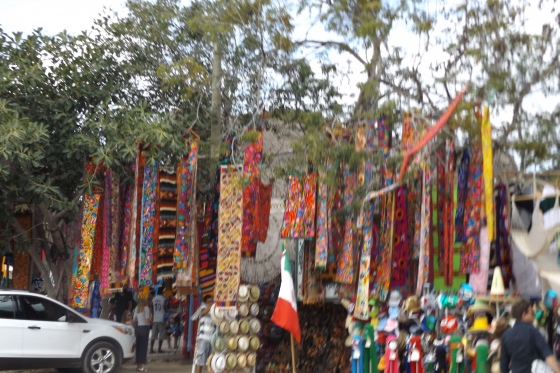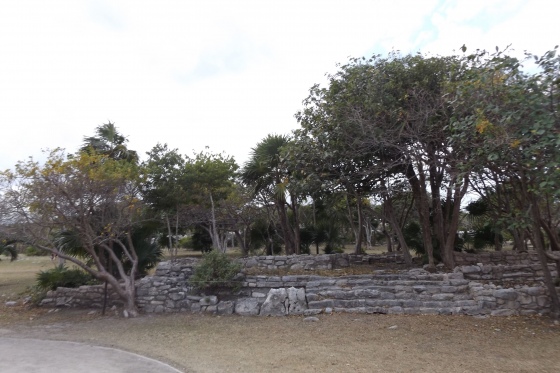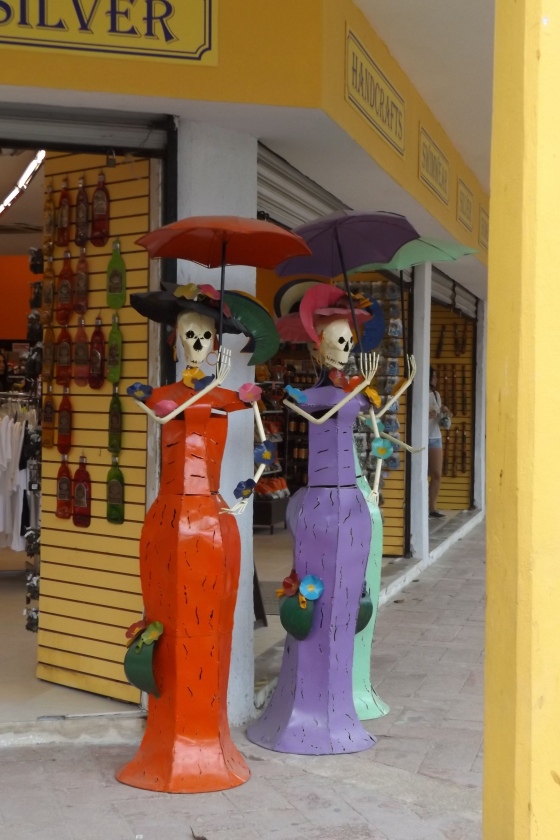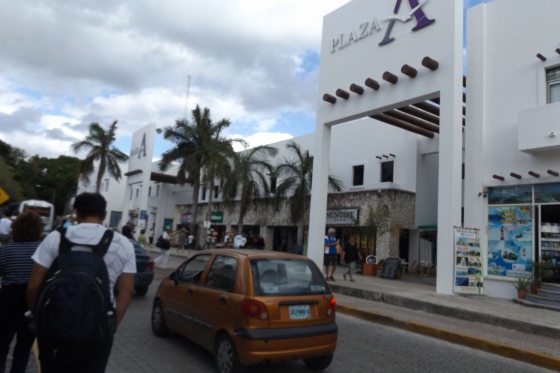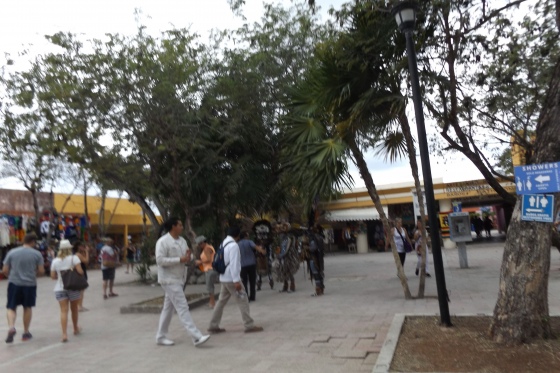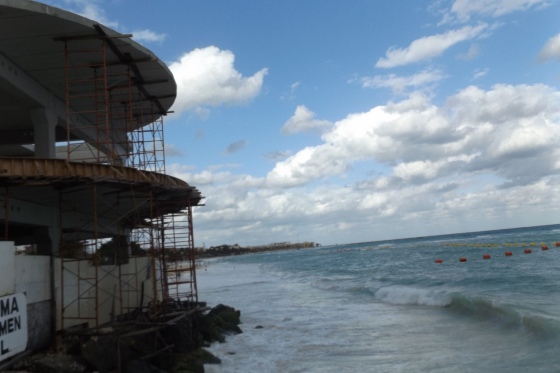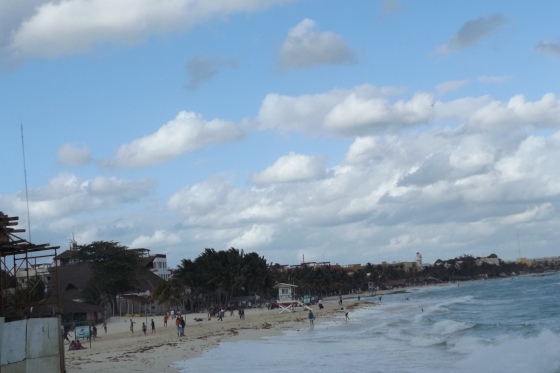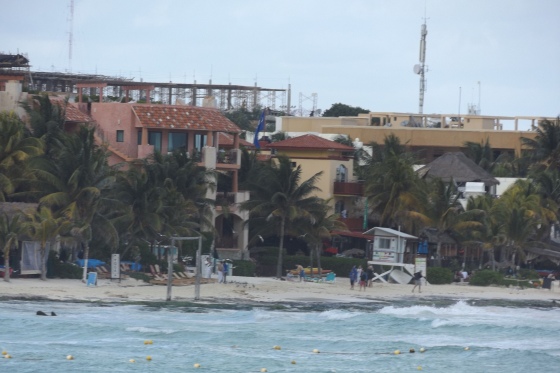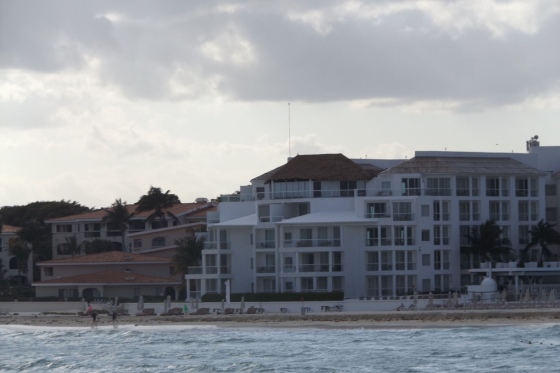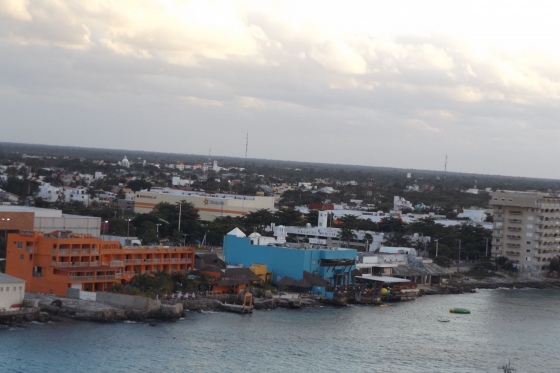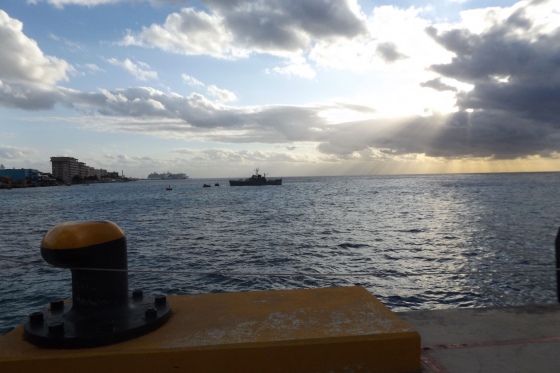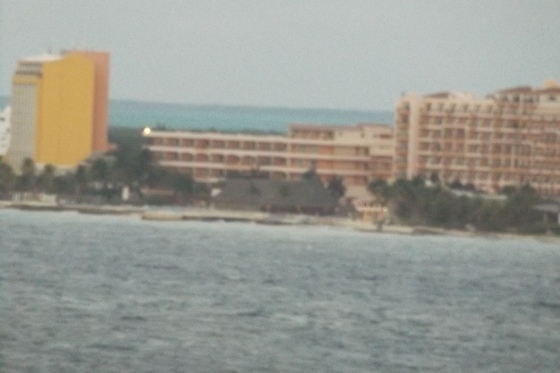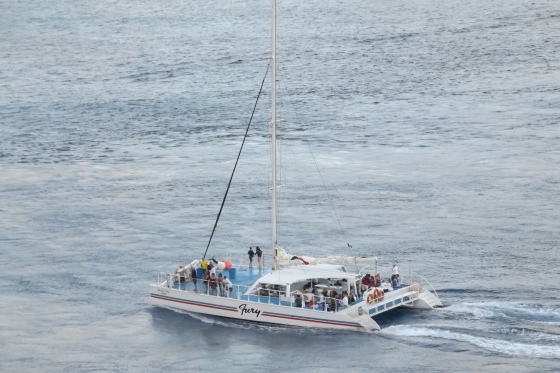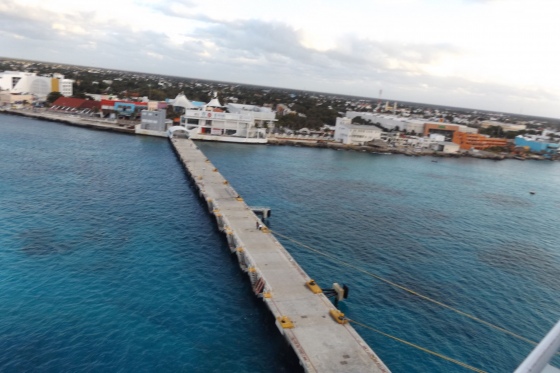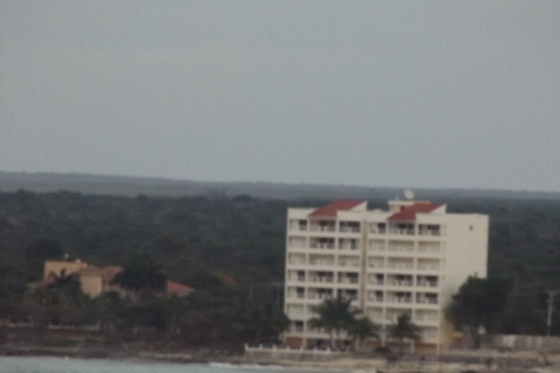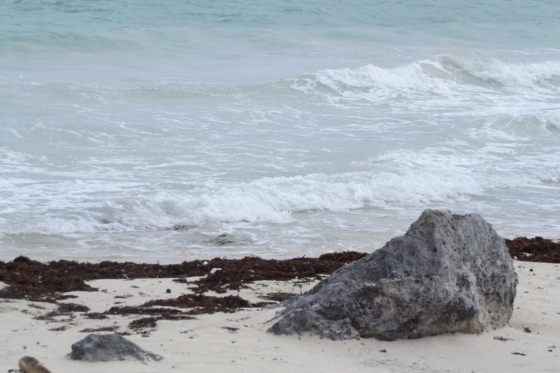 Permalink: Mayan_Ruins.html
Words: 341
Location: Buffalo, NY
Last Modified: 03/03/15 07:54
Category: photos
03/01/15 09:36 - 19.ºF - ID#59872
Bandits Win and Arena
So I do still Have Bandits Season Tickets and Today I am going to a WWE House Show at the Arena... I know the people who work there like at all NHL Arenas and some places have multiple sports like Buffalo do a great job doing a change over.... I have no idea what they do and if they pull up rug and then lay down stuff ... If it is Hockey do they just cover the ice like they use to with those boards ..... Or is that the Job of the WWE and I wonder what time they came in... Not to mention they have to have the ring set up before the event so wrestlers can hit it first and kinda go over what they do ..... It is a 1PM Bell Time and the game ended at close to 10 .... But they always do a great Job .... But I wonder how much pressure is on the crews to get it all set up ......
It was a great Bandits Game last night and the Bandits won.... I forget the New Goalies Name but he did a Victory lap before the rest of the team did that was kinda cool a few pics .....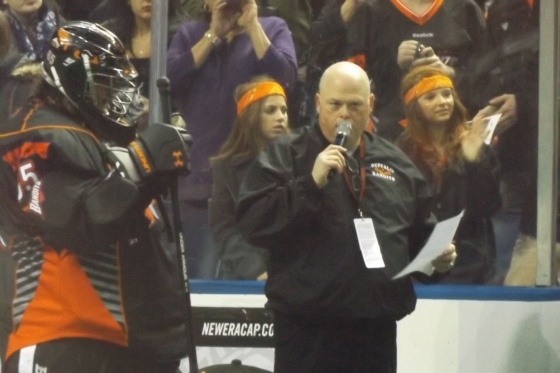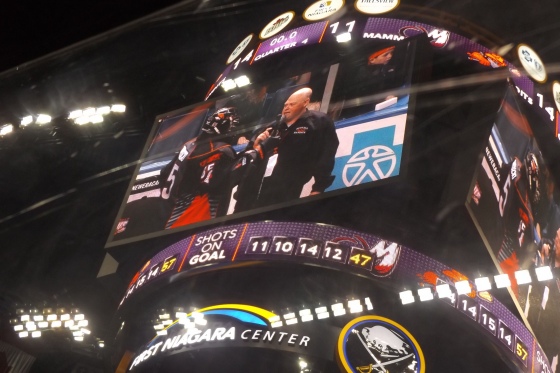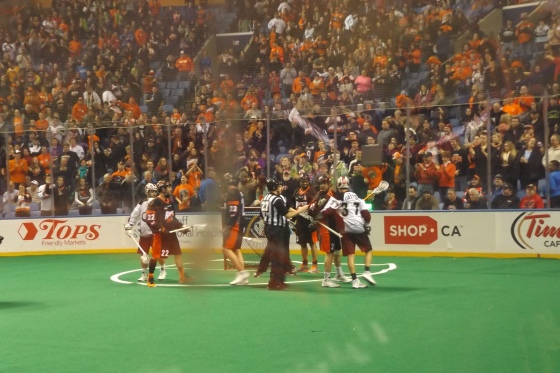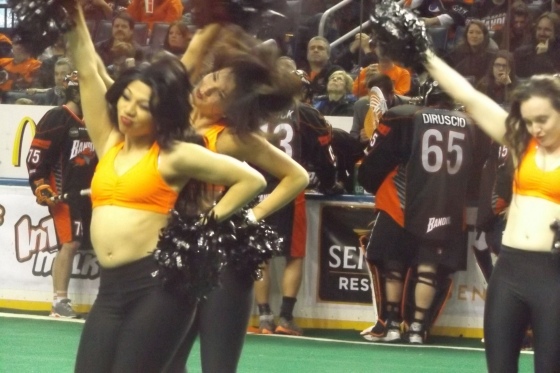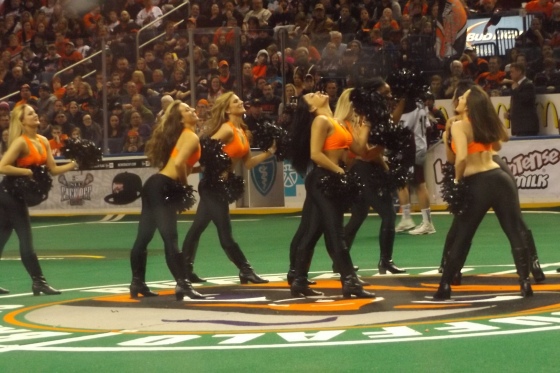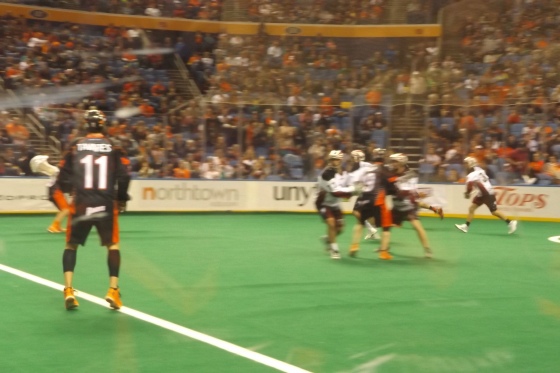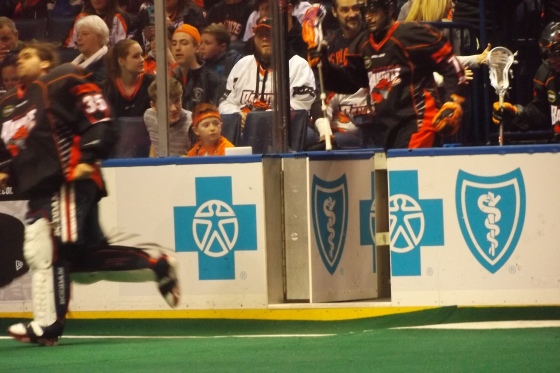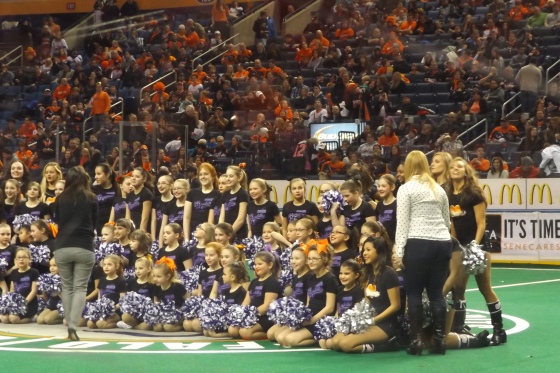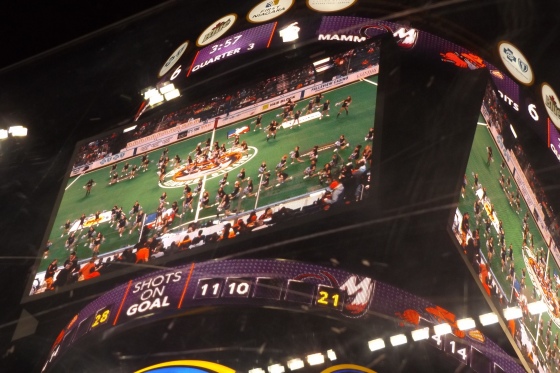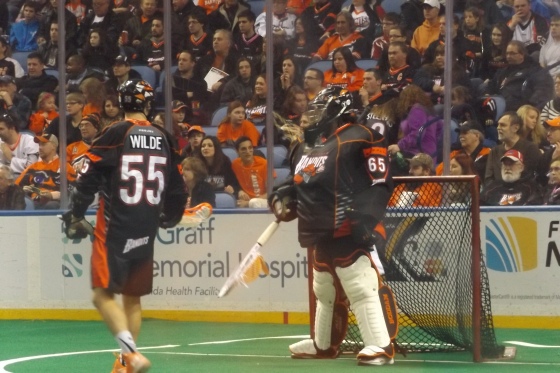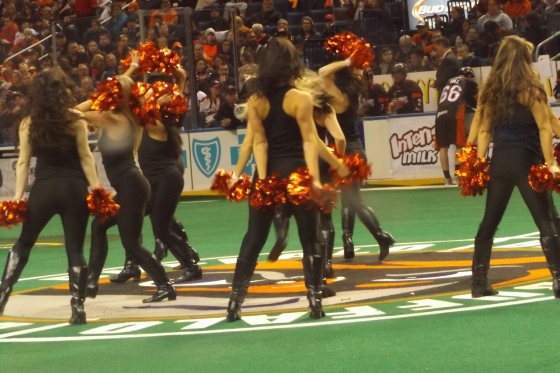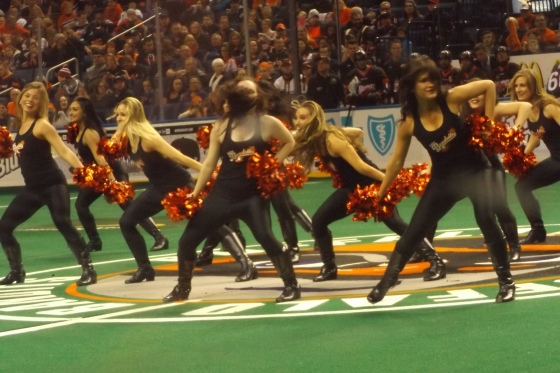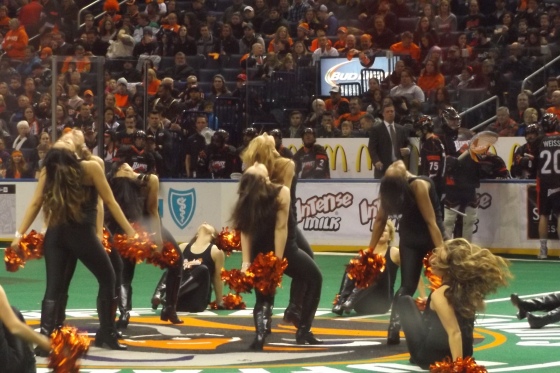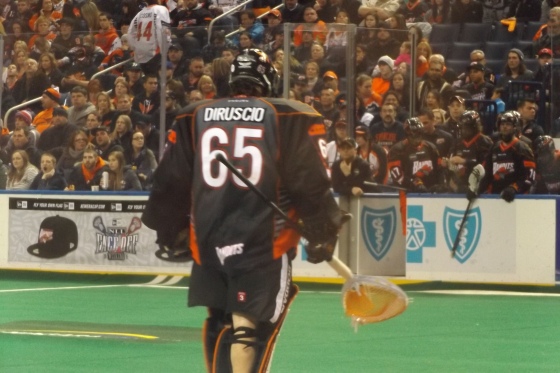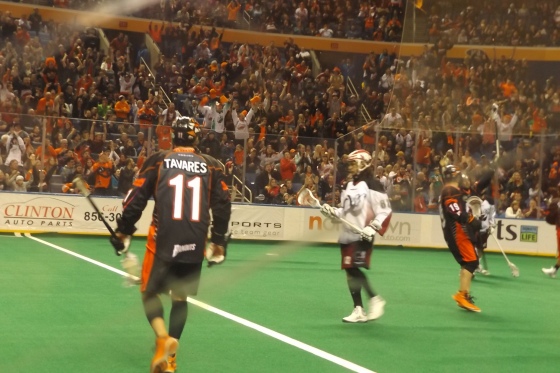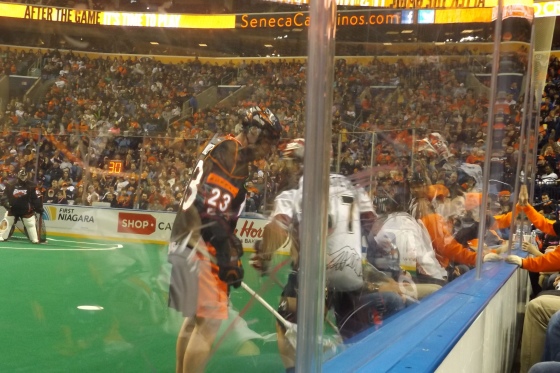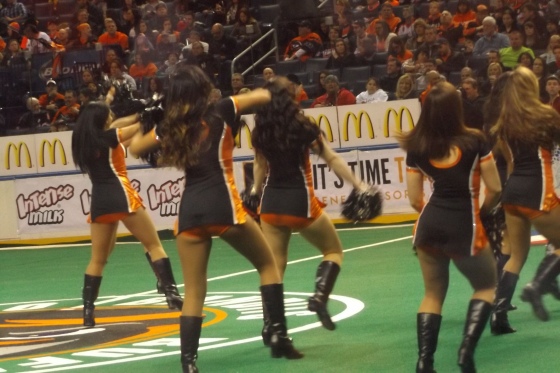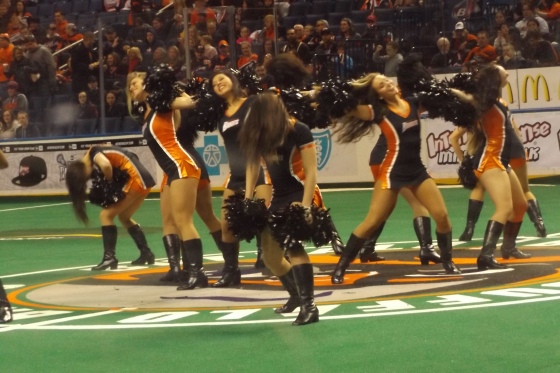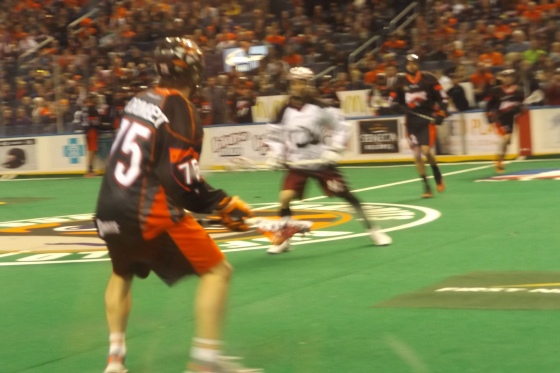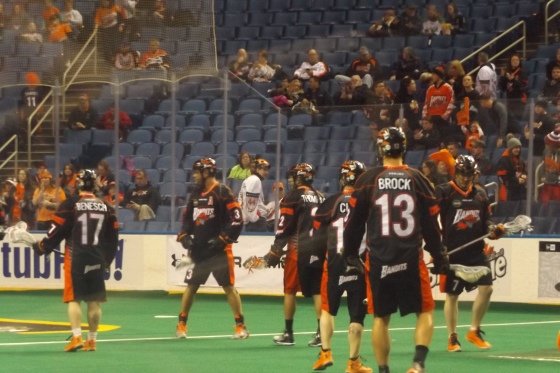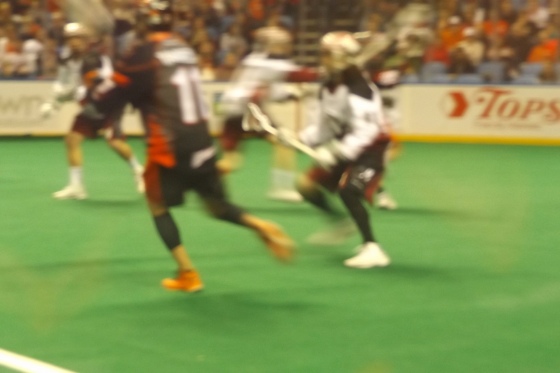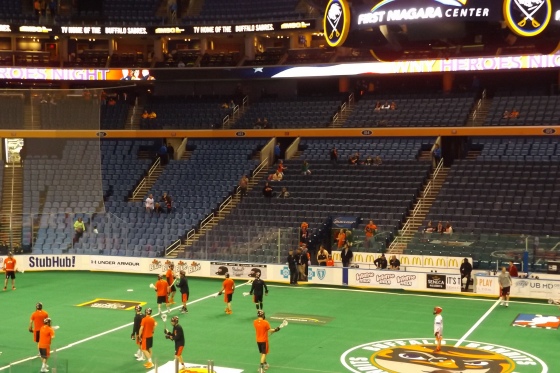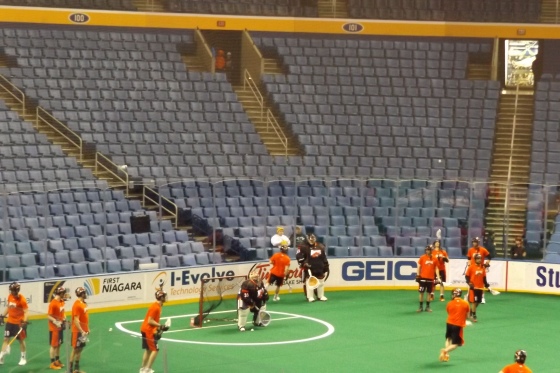 Permalink: Bandits_Win_and_Arena.html
Words: 251
Location: Buffalo, NY
Last Modified: 03/01/15 09:36
Category: photos
02/28/15 04:39 - 18.ºF - ID#59870
Jamaica 2015 cruise
So I will Admit that I try to Keep up with
(e:strip)
and fall behind I think part of that is Twitter is good or can be at real time conversation but what it and facebook are not good at is Blogs and I think they teach you in a way to write short or to even leave words out some times ..... But
(e:strip)
is about writing something and it is odd with how bad I was in English that I have a blog that I don't prof read .... That being said going to try and keep up better then I have been...
In Jamaica the trip I booked (well all the trips are through the cruise line) was to see Dunn's River Falls .... Wow I was out of shape or maybe it is that the water shoes aren't the best for climbing rocks and the falls but it was a fun time with my bad balance .... That I had no pictures of cause they have all these signs about being hands free .... Turns out if you bring a water camera they will take your photo in the water .... But I bought a DVD that I have not watched yet that is supposed to have Pictures on it... You don't have to walk the falls though you can just look at them (My sis did that and has some nice falls pictures) .....
Then it was off to this beach.... I got the one where they bring you food and drinks .... I went in the water a little bit .... You could rent stuff if you wanted to but I wanted to relax.... One could swim I didn't cause I couldn't really watch my stuff not that I thought any one from the group would take it .......
(Photos from Water Camera )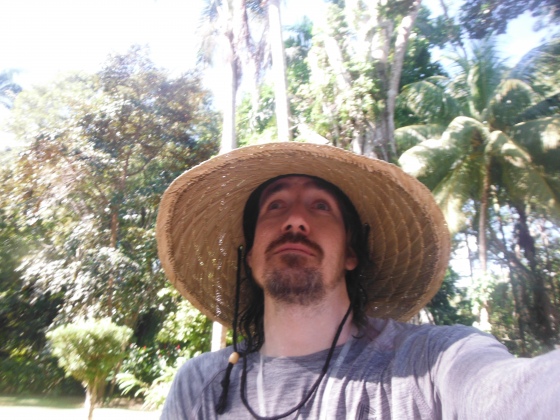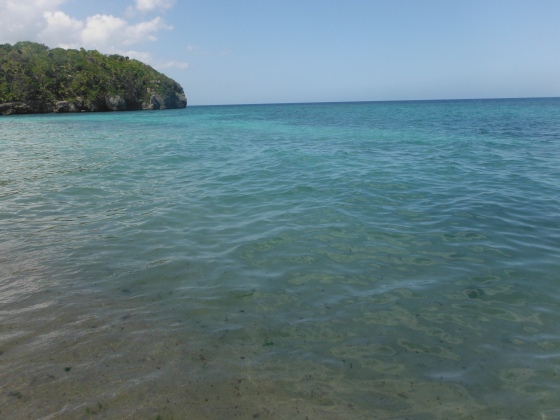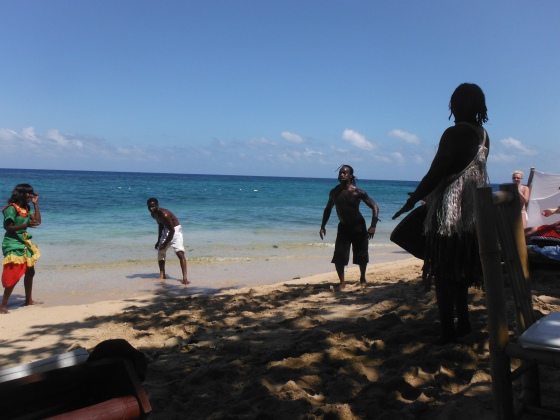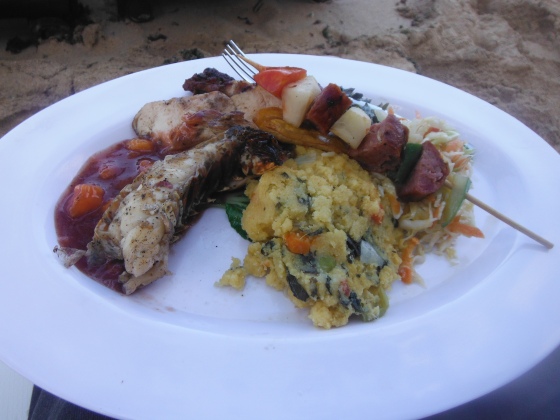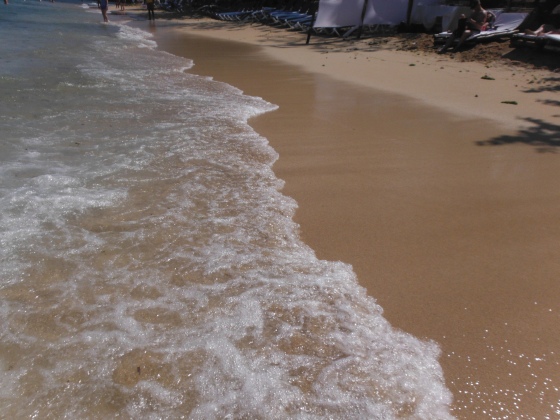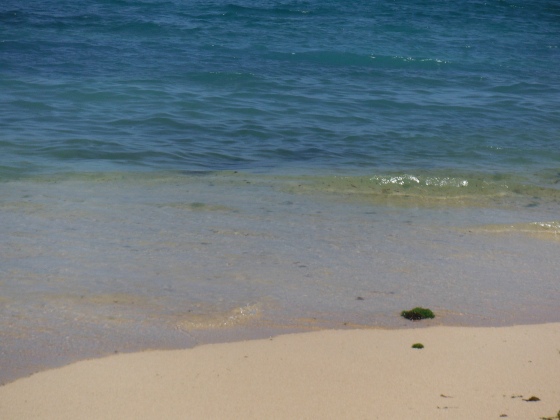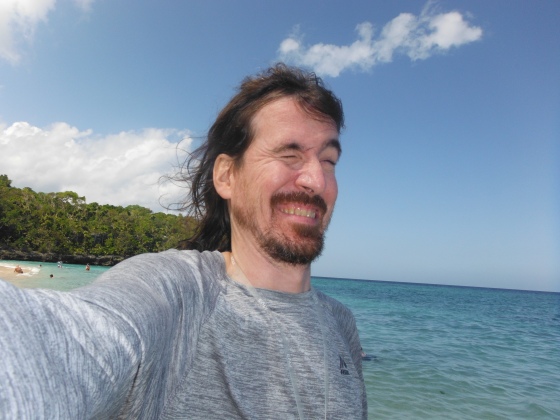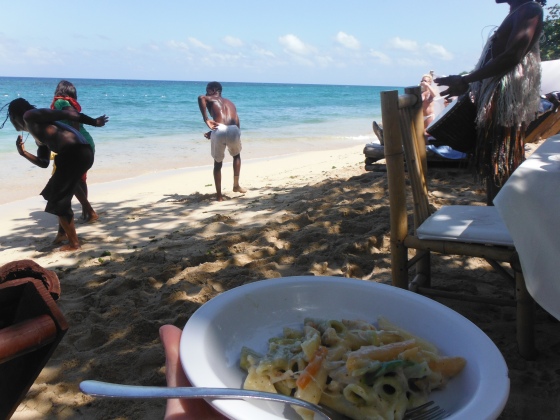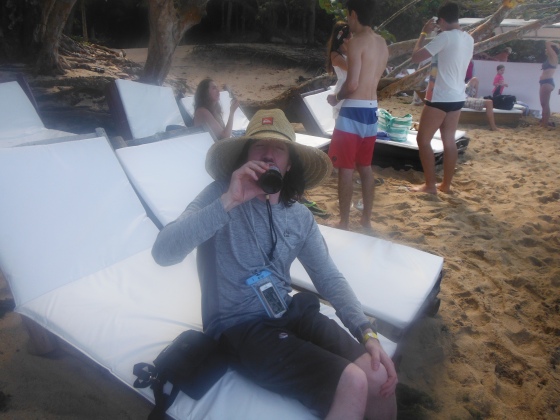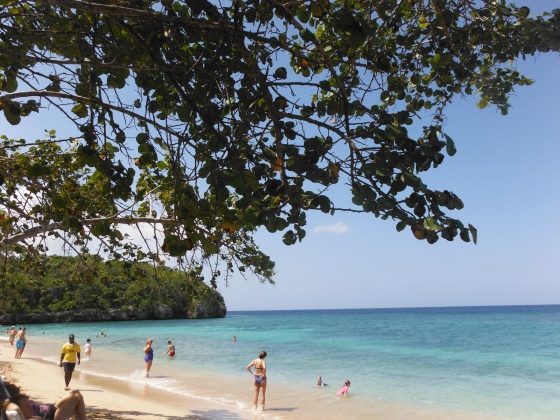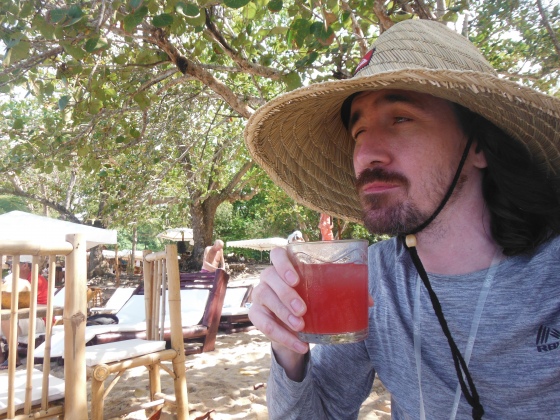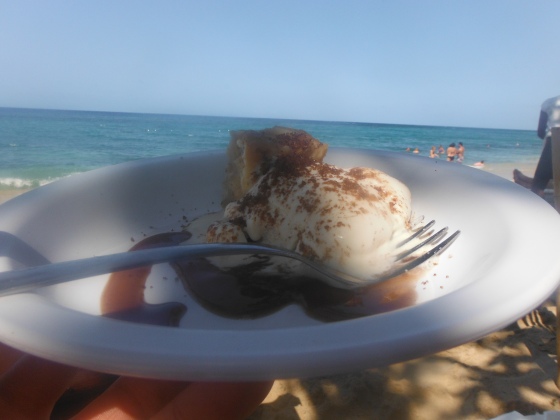 I am Not a Fan of Beer but Had to try to Red Stripe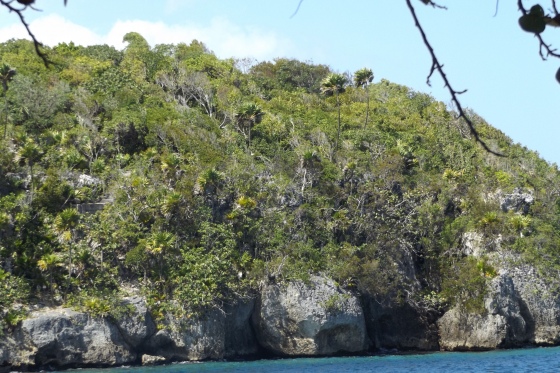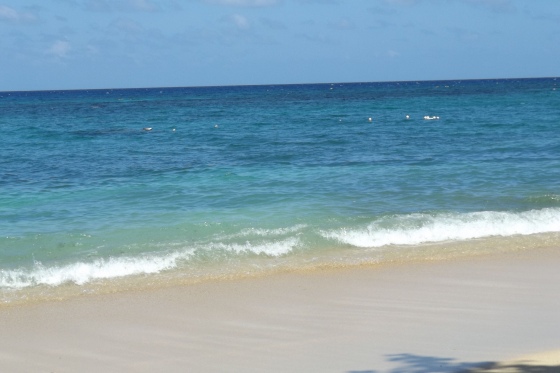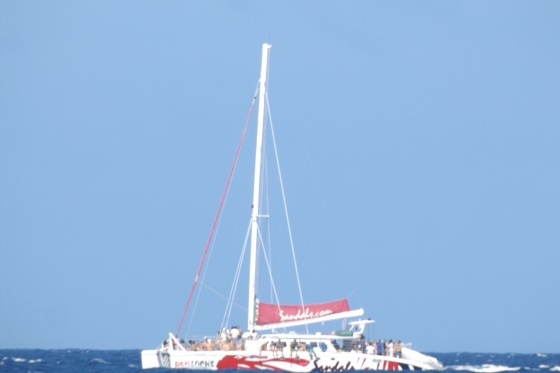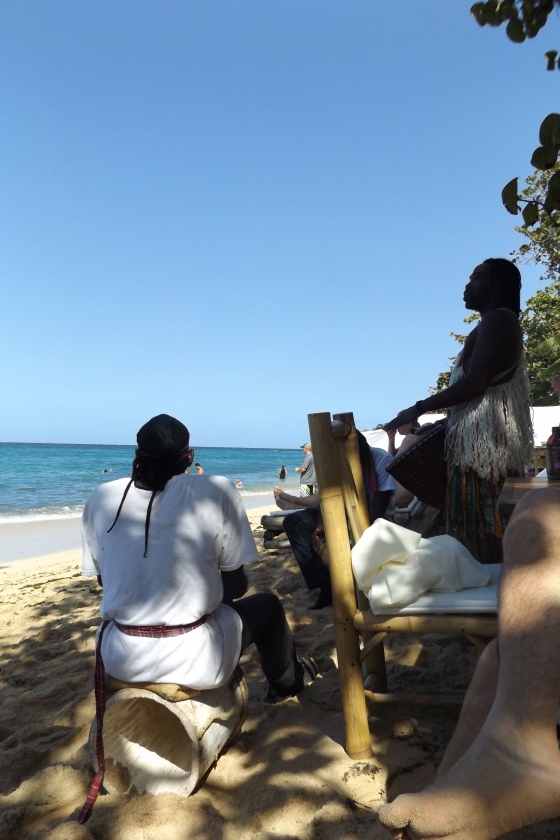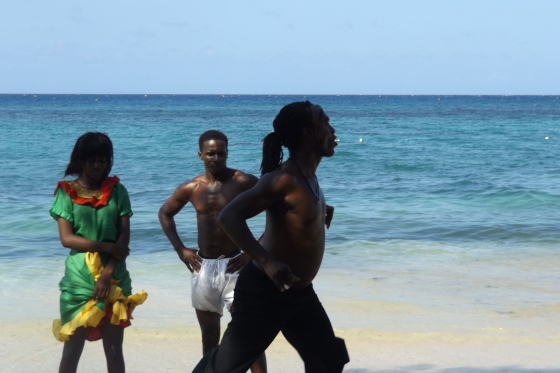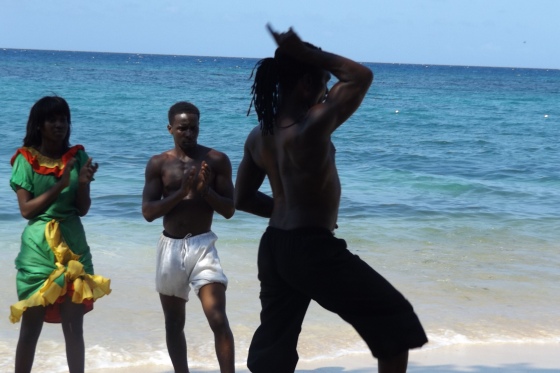 I added a few from the Big Camera I enjoyed the band and a few shots from the ship of us leaving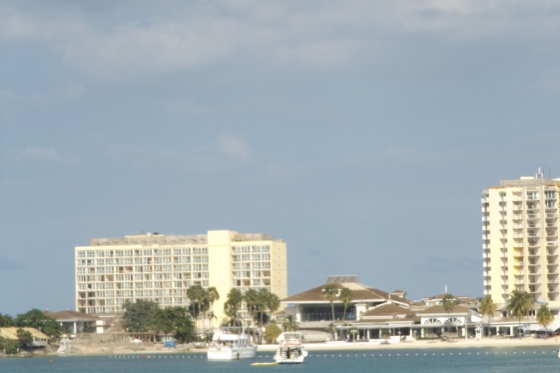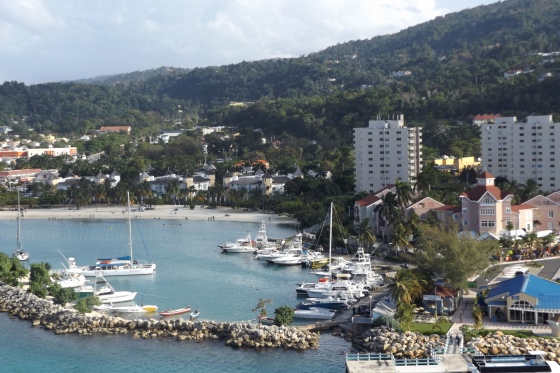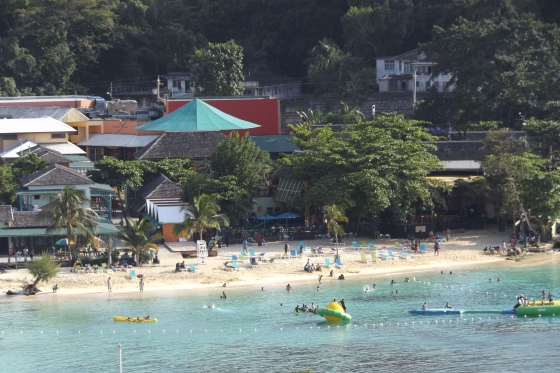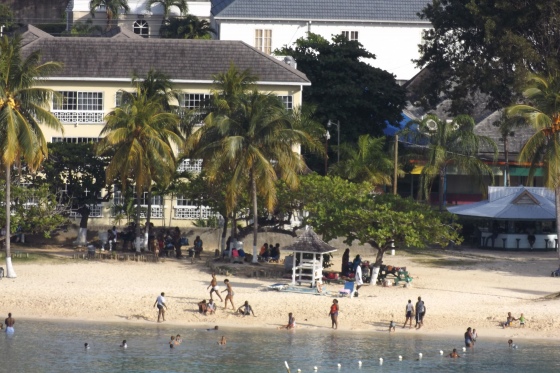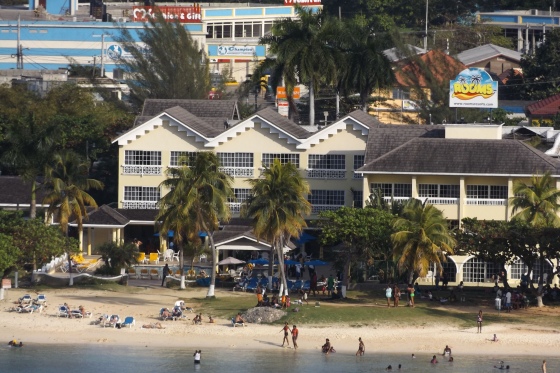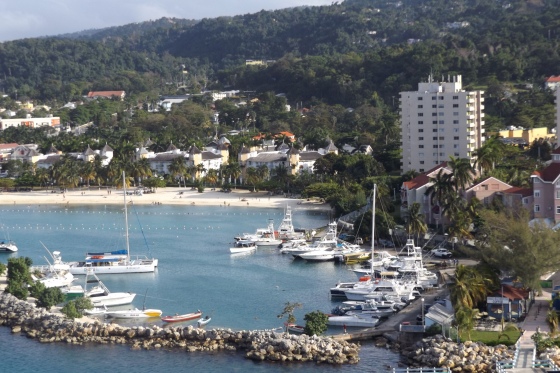 Permalink: Jamaica_2015_cruise.html
Words: 387
Location: Buffalo, NY
Last Modified: 02/28/15 04:39
02/28/15 12:04 - 12.ºF - ID#59869
Cruising
So I want to Post some Pictures from the Cruise I went on Got back on Monday but that will be the next post later today ... I went with Sis her Daughter and one of my sis Friends and my mother .... Yes it was fun but not as fun as it should have been... One Port where you Taxi in, had high waves , Weather was to bad and that was going to be a family day everyone at the beach.... Also I could feel the movement of the ship not enough to make me sick but still some .... But the part that is tough about a Cruise is you go down a day early and stay some where (Some people didn't do that from Buffalo and Boston and flights didn't make it ) and then you are on the water with out being any where it is like 3 or 4 of the days (going and coming back ) and when you lose one you are on the ship more then at ports ... now Their are longer cruises this is not true (Go to more places ) ... They had some great entertainment like Improve Comedy , Blue Man Group and that Cirque stuff so it was fun I'm not saying it isn't just that a lot of the activities where not my cup of tea..... Yes they Have Pools on the top deck but for me with the wind I would have felt cold or cool I like to be warm so for me it was out .....

We Left out of Miami but for those that don't fly some leave from NYC .... NCL is the cruise line my Sister booked it was for her 30th Birthday... If you don't like Asians it might not be the company for you I have no problem with them and all the crew was great .... But I wonder what it is like to work on a ship .... It must be tough in some ways but I bet it is a highly sought after job ?



Permalink: Cruising.html
Words: 334
Location: Buffalo, NY
Last Modified: 02/28/15 12:04
Category: photos
01/02/15 10:11 - 27.ºF - ID#59713
Holiday Season
So At this time of year there are all kinds of Holidays and it can be tough even if you have a great Holiday it is easy to think but oh we did that this other way like it was better ... But That isn't really what this post is about it is about just posting some Pictures of the season and yeah some will be TSO but Hopefully Not to many just a few .......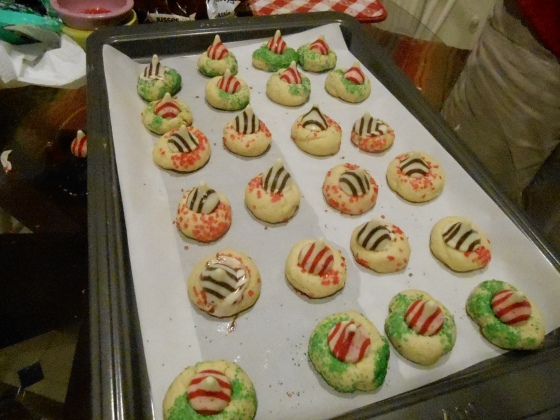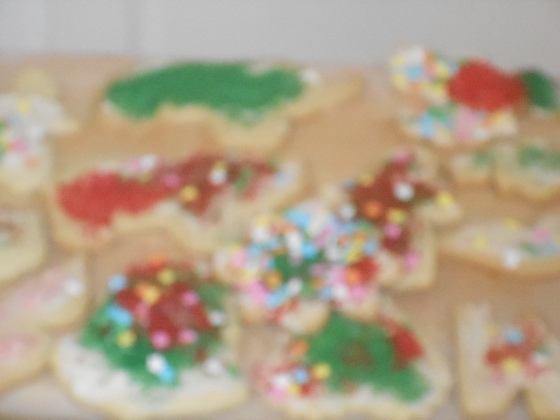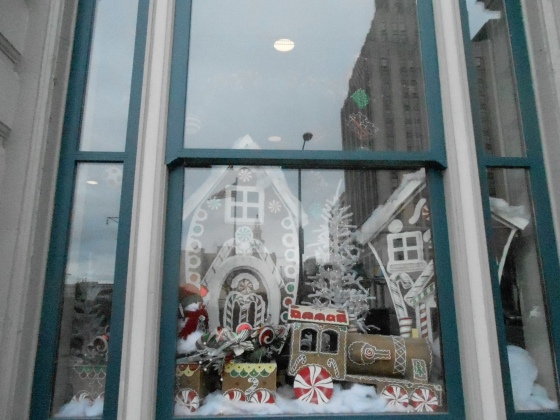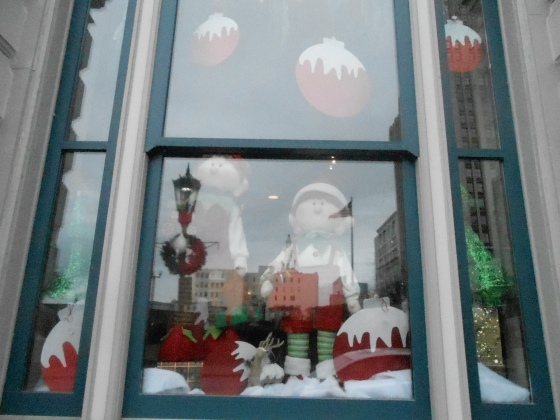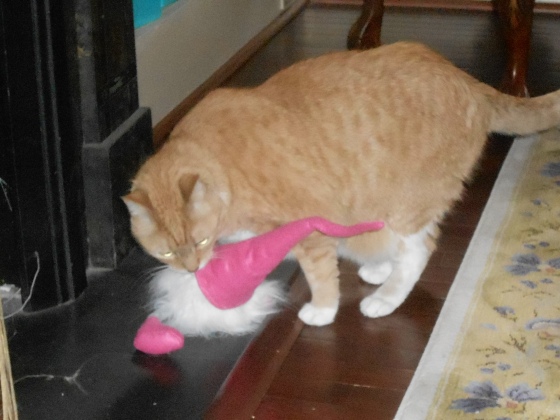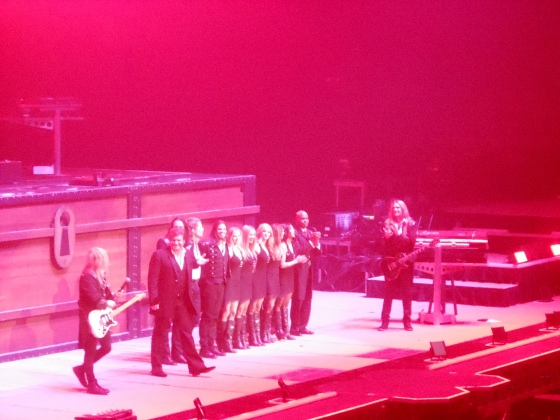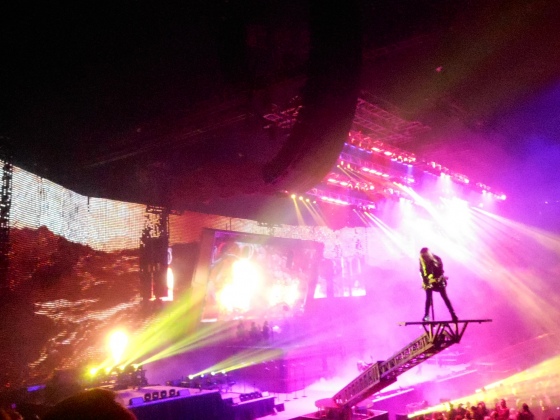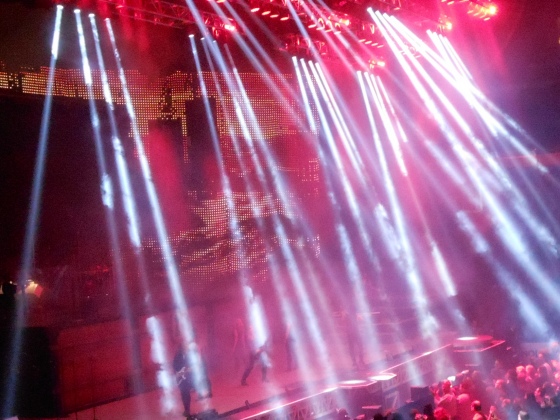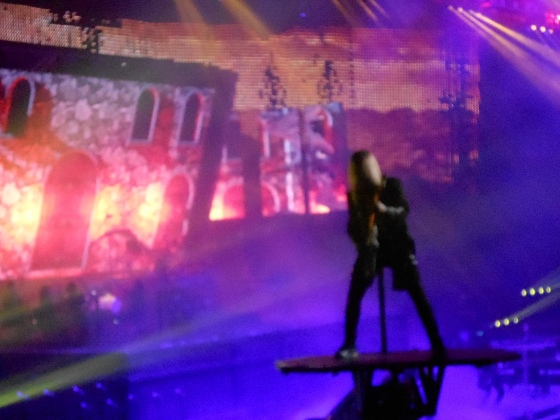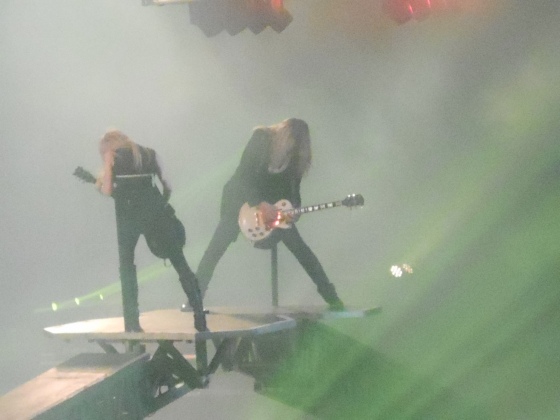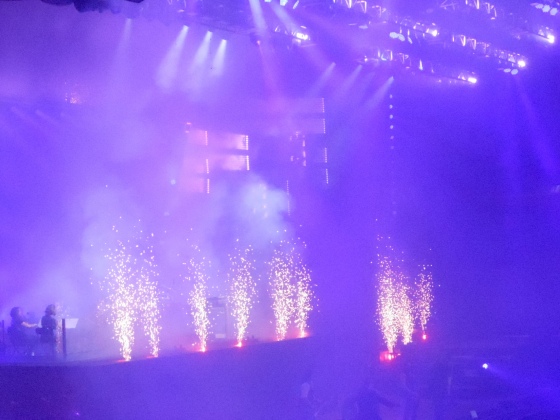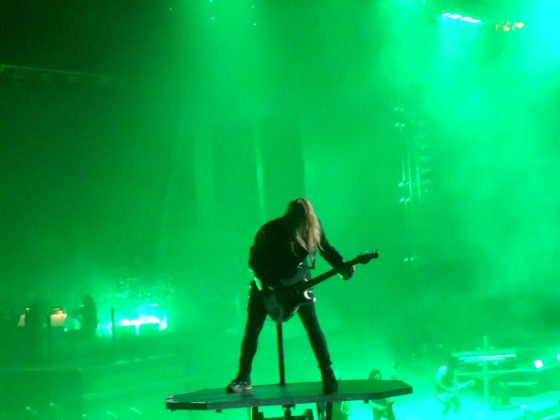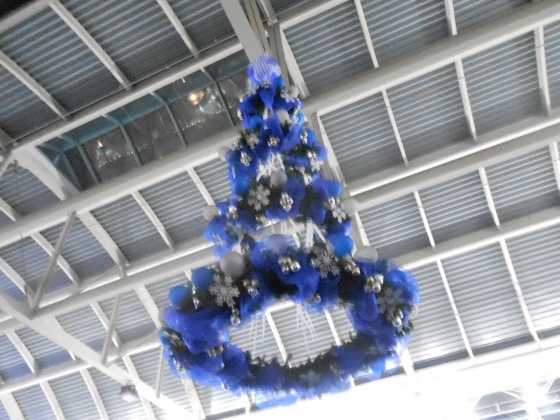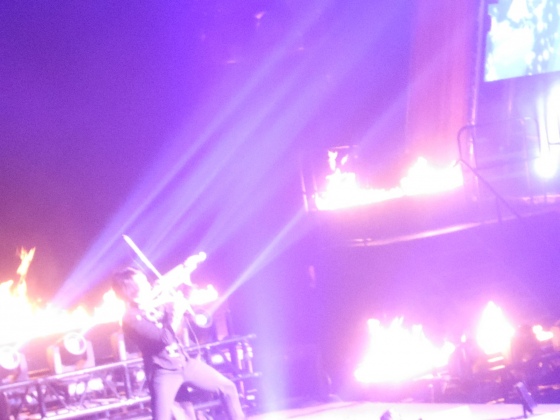 Now that being said I do like Christmas Lights and the huge Displays but never got to see that show Christmas Light Fights guess it was a competition I also can take no credit for Christmas Cookies .... Now in terms of TSO I like them and the effects they used with that chest is cool but liked past shows better ..... Hoping to keep up with posting on here .....


Permalink: Holiday_Season.html
Words: 172
Location: Buffalo, NY
Last Modified: 01/02/15 10:11
<-- Earlier Entries
Author Info
My Fav Posts
This user has zero favorite blogs selected ;(