Category: food
07/31/07 01:02 - ID#40326
Positive Restaurant Review
I consider going out to eat our entertainment since neither
(e:Uncutsaniflush)
and i are big partiers. Besides, we really do have to keep our pleasantly plump shapes, well, pleasantly plump.
Buffalo has some amazing places to eat. Bill Rapaport's Restaurant Guide

has been a great resource to us.
So, i thought i would send him my review of a new place we tried yesterday, Fables Cafe.
Here's what i sent him:

Fables Cafe
1 Lafayette Square
Downtown Public Library, Main Floor
Buffalo, NY 14203
(716) 858-7127

info@fablescafe.com

Positive Review

Fables Cafe was not difficult to find in the Downtown Public Library in the middle of the lunch hour, even on a Monday. Follow your nose and you will find it. The smells alone convinced my husband and i to stay for lunch. The decor was clean, modern, but not frilly in the least. Comfortable, i would say, in that downtown officey sorta way.

The line was long, most of the tables were full, but since we were not in a hurry, we didn't scramble for a table. The line moved quickly enough, but we did have time to consider our options at the drink cabinet. Luckily, there was also a menu board there, too, since i wasn't able to read the menu sign from the counter. Maybe i need glasses?

Turn over was fast and we found a table before our order was out. On the opposite side of the counter, however, the drink selection was different. Even though i had already paid, i asked and employee if i could swap out my ice tea for a different flavour. I would recommend looking at both drink coolers before deciding on beverage, just in case.

The menu is limited but from appearances of what other customers ordered and what we saw coming out from behind the counter, looked very good.

I decided on the Quattro Fromage, a yummy melty gooey vegetarian sandwich with an unknown combination of cheeses and fresh tomato slices on crisply fried (i assume with a panini pressed) slightly garlicy bread. My reaction, on first bite, was to say "Oh my god, this is a great grilled cheese!" The side salad it came with was good, but simple -- merely a blend of lettuces with some carrot and radish with a sweet balsamic vinegarette. The " Skrumption" as described on the website might change daily, i am not sure, but today it was a wee wedge of brownie. Just enough to have a sweet ending to the meal.

My husband, not a vegetarian like me, had, as they say on the website, a "mystery" (aka daily special?) which was, in this case, a "Brooklyn" Roast Beef Sandwich. He said the oil and vinegar combination was nice with the slightly spicy mayo, perhaps with a bit of horseradish in it, and the beef itself was tender. It came with cheese, lettuce and tomato on untoasted bread. Which would have been the death of me, if i ate meat -- looked like it got a little soggy nearing the end.

The price for us both to have a sandwich with the side salad and wee dessert with a drink each was just under $18. Not cheap, but not overpriced at all. We would return gladly, next time perhaps on a cooler afternoon when i felt more like trying one of the vegetarian soup options.
But aren't you folks lucky, you get to see pictures, too.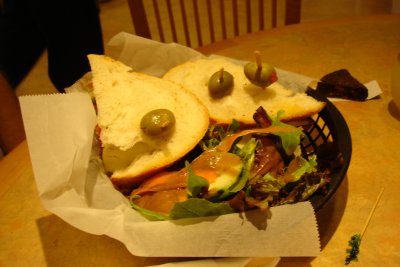 (e:Uncutsaniflush)
's roast beef with one of my olives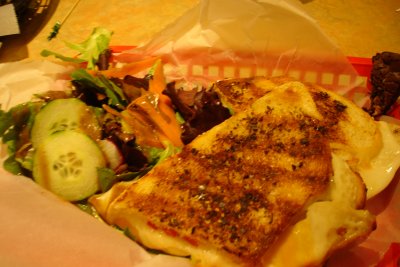 (e:LeeTee)
's grilled cheese
And now, looking at the pictures, i realized i forgot to mention that the salad has cucumbers. Oh well.. not bad for a first try.


Permalink: Positive_Restaurant_Review.html
Words: 632
Category: food
06/13/07 11:42 - ID#39650
Pulling A Paul
That's what i call it when i take pictures of my lunch. I will always think of it as something
(e:Paul)
does.
Today, we ate lunch at Zhang's Buffet on Union, between Walden and George Urban. It used to be something else, and that place wasn't very good... this new one is much better. The parking lot was packed and we had to park down a side street. The second time we had to do that.
One of the main reasons i like this buffet is the stir fry grill... any veg i want, made to order. So, i don't have to worry about whether or not it's vegetarian -- i know.
Here's
(e:Uncutsaniflush)
's half eaten plate of sushi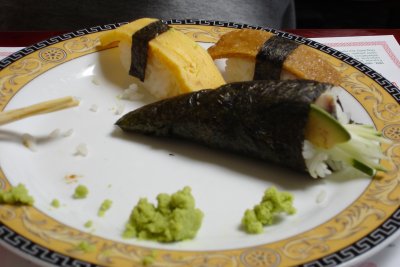 And here's my bowl of half eaten miso soup with tofu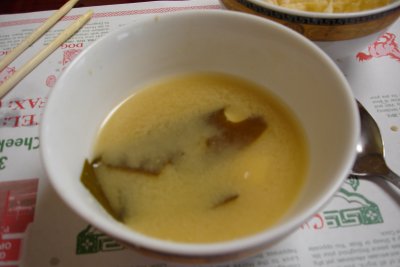 Permalink: Pulling_A_Paul.html
Words: 137
Category: food
05/26/07 11:10 - ID#39414
Raspeberry Sorbet III
This is one of those recipes i invented, and super easy. But, it took 3 tries to get the right combination of sweet and tart for our tastes.
Raspberry Sorbet III
1 cup water
3/4 cup sugar
1 12oz pacakge of frozen raspberries
3 tablespoons lemon juice
In a medium saucepan, put in sugar and water. On high heat, disolve sugar in water. Let boil for a minute and remove from heat. Add frozen raspberries and lemon juice. Stir. Cool for a few minutes.
Scoop cooled mixture into a blender. Blend until there are no chunks left.
Strain mixture into a bowl and put in refridgerator to cool for about 5 minutes.
Scoop into ice cream maker and follow manufacturer's directions.


Permalink: Raspeberry_Sorbet_III.html
Words: 115
Category: food
02/08/06 04:27 - ID#25580
In Honour of Paul
Here's a picture of my lunch today.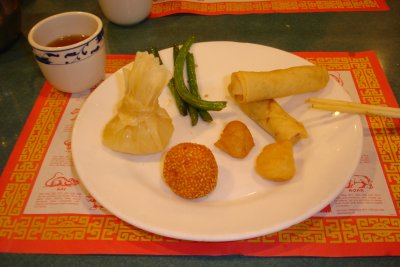 Green beans were nice and yummy. The sesame bun was too doughy for me. The spring rolls were good. So were the pineapple tempura. Interesting mix of food. That plate was sort of my "dessert".
We went to a buffet in West Seneca called China One. They have a pork dim sum dumpling that
(e:Uncutsaniflush)
really likes...
Which reminds me. When you guys ate at Korea House [inlink]paul,4160[/inlink] the other day,
(e:Paul)
, you missed us by a couple of hours. We ate there that same day, just way closer to stereotypical "lunch" time. Anyhoo, my point was going to be that i also get something there that has a raw egg in it, but i ask them to omit the beef. It's served in a hot pot dish and the point is to stir it about so the egg becomes a cooked sauce. I wonder if that is what yours was supposed to be? Looks like it to me. Was it in a black dish that was really hot? Or maybe it was supposed to have hot steaming broth poured over it; i've seen that there, too. I'm not sure you were supposed to eat the stuff raw... least, that is the way Korean food has been in my limited experience.


Permalink: In_Honour_of_Paul.html
Words: 222
Category: food
02/03/06 06:30 - ID#25578
Pizza Survey -- Updated
OK, folks, i got a food question for ya'll. As i sit and wait for my favie pizza to arrive, i wonder what you guys like. Where's your favie place? What's your favie toppings? Give me all the dirt!
My favie is LaNova. They have great pizza. OK, so the location is a bit... well, it is off the beaten strip, let's just say. Not too far from our place, really. It's on Ferry...
Oh yum... its here!!
Update
Thanks for all your responses, peeps! Like me, most of you have strong opinions and tastes on pizza.
Funny, though, i didn't even say what i like. Go me. I am a bit of a purist... i like cheese pizzas, preferably NY style. I am ok with some toppings, but not loads. My preference is a good thin crust cheese pie...
Which, i reckon is the opposite of your tastes, eh,
(e:Theecarey)
?
We tried Just Pizza once and we were disappointed. Thought it was overpriced and it seemed to be all about the toppings, not the quality of the basic ingredients.
We used to go to NY Pizza when we lived in that 'hood,
(e:dcoffee)
... we should check on the places you mention in South Buffalo. I love little hole in the wall places. :)
I should try my hand at homemade pizza,
(e:Kara)
... i could do it the easy way, really and get out my breadmaker for the dough. :O)


Permalink: Pizza_Survey_Updated.html
Words: 242
Category: food
11/16/05 11:28 - ID#25549
No Longer A Virgin
I have been threatening it for the longest time. At first, i thought it was just some sort of freaky fad. Now, years later, it is still popular. Just like moving to Buffalo, it started as a joke. Ah, but did i really go through with it?!? Yes. I did. I ate poutine.
Here is the evidence.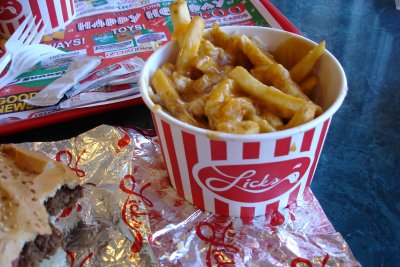 Permalink: No_Longer_A_Virgin.html
Words: 59
<-- Earlier Entries
Author Info
More Entries
My Fav Posts
This user has zero favorite blogs selected ;(