Category: real estate
10/26/09 11:41 - ID#50126
Gentrification
So they're almost done "cleaning up" downtown. First it was The hookers on Chippewa, then it was the House of Quinn, more recently it has been the demolition of the Continental. Now I guess they're going to kick out the crackhead bums out of the Hotel Lafayette

Because after all there is a proven track record of crackhead bums that live in that building

Now the last time I was in the general vicinity was in July with
(e:metalpeter)
as we went to the Lafayette Tap Room. I was pretty blown away even in the bar side by the marble and other intricacies such as the back restaurant section resembling the old aud club. So I'm torn as I do appreciate the history and the architecture of one of the few remaining building from the 1901 Pan Am Expo. Then another part of me mourns the inevitable loss of another shady aspect of downtown Buffalo.


Permalink: Gentrification.html
Words: 167
Location: Youngstown, NY
Category: talk radio
10/25/09 12:25 - 46ºF - ID#50102
Hit or Miss?

These web bot guys on Coast to Coast AM make this prediction in July
# A big crisis is kicked off on October 25, 2009. It could be that Israel bombs Iran, or that Swine Flu goes into a level of extreme lethality. 10 days later, in relation to this crisis, the Obama administration will be thrown into chaos.
Now we have this:

Personally I think Swine Flu is sensationalized hype, but I'll give a day to say that these guys did nailed it pretty well. But We'll have to see what happens the day after election day to see if the second half is a hit as well...


Permalink: Hit_or_Miss_.html
Words: 125
Location: Youngstown, NY
Category: random thoughts
10/23/09 03:11 - 45ºF - ID#50084
Good News
I finally got around to booking my room for next week for the wedding. Hopefully we will have a good enough time where it is put to good use ;-)
On another note it was interesting to see Buffalo get mentioned in a good light economically

But it's pretty obvious, as it states we're OK because you can never lose something that you never had in the first place....


Permalink: Good_News.html
Words: 79
Location: Youngstown, NY
Category: paranormal
10/22/09 07:37 - 55ºF - ID#50077
UFO?
A couple news outlets covered this
Ch 7

A Niagara Falls Ont Newspaper

The longer vid
The Other Video
I really can't say what it was or if it was even anything at all. But what I can say is that over the course of my life living where I do, I have seen strange things in the sky.
Or who knows, it could be a marketing gimmick for the fourth kind movie...


Permalink: UFO_.html
Words: 91
Location: Youngstown, NY
Category: fall
10/21/09 07:26 - 55ºF - ID#50071
Foliage Test
Just testing out my new camera.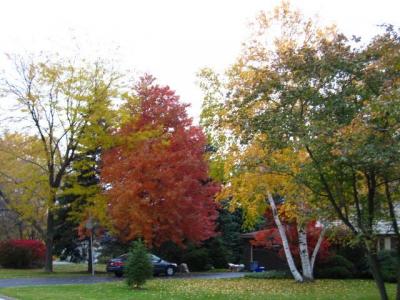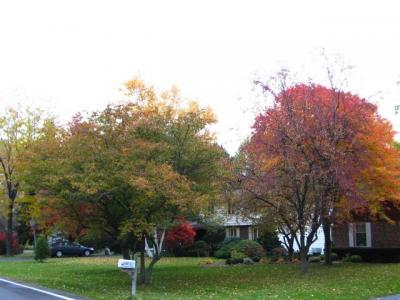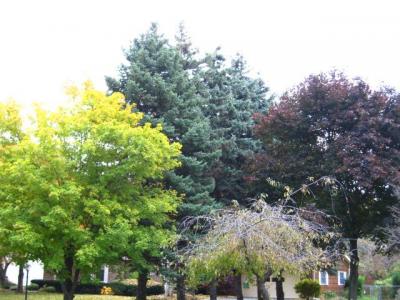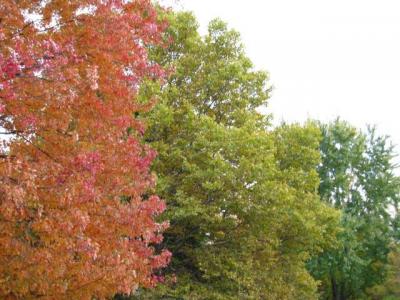 I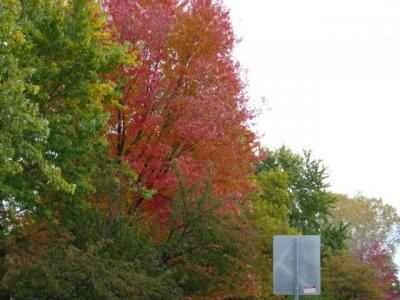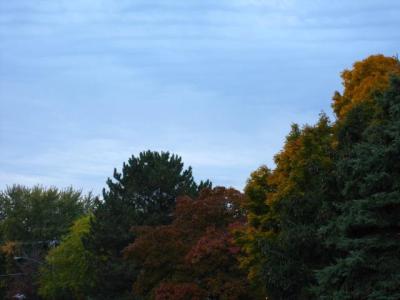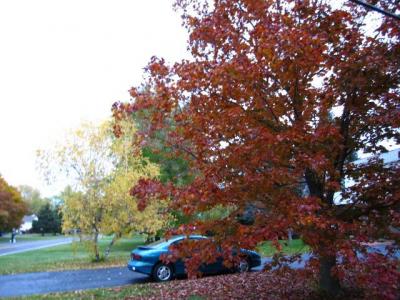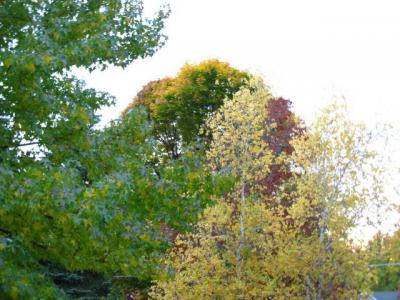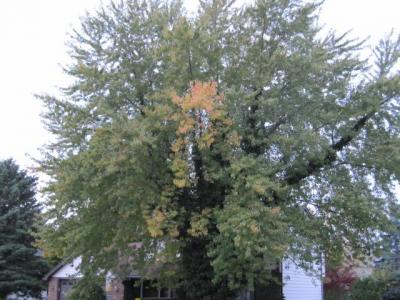 Auto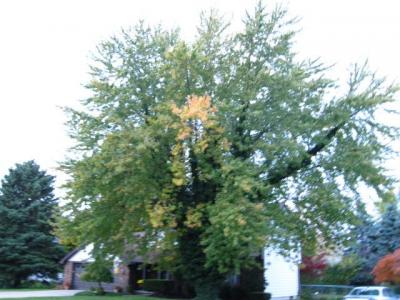 Foliage


Permalink: Foliage_Test.html
Words: 32
Location: Youngstown, NY
Category: stuff
10/18/09 11:16 - ID#50051
a couple of things
I had one of the best birthdays last week. I don't know if it's the advent of facebok and the ability for everyone to know when it is if they log in on a fairly regular basis, but it was a good time none the less.

When I went out on Thursday we stopped at Allen St Hardware. What got me was something that initially in my mind was bad, but after some consideration I justified it as being alright. Hardware was the first place around here that I was consciously aware of that served Pabst or PBR and for years they had it in bottles none the less. Then I would say they stopped the bottles and served cans, now if I want a PBR in a bottle I'll now have to go next door to Staples or walk across the street to Mulligans Brick Bar or walk further down the st to Frizzy's. Then what I realized was they substituted their "old man beer" selections to Genny Screamer or Genesee Cream Ale and also Schmidt's or I guess as it's marketed now just Schmidt. I can deal with Genny C.A. as it isn't that bad and to be honest there aren 't really too many cream ales out on the market anyway. Now I brought a case of Schmit's to a party about a 2 years ago as a joke since all of the people at this party were micro brew beer snobs. Well I guess in some sort of new-found hipter way actually they drank us out of the Schmidt's and even the Old Milwaukee that we brought as well.

In the end I actually don't mind Schmidt's as it's a pretty smooth drinking beer to have and for $2.50 a can you can't go wrong with the price. So I think I can forgive them for discontinuing the PBR on their beer list.



Permalink: a_couple_of_things.html
Words: 316
Location: Youngstown, NY
Category: photography
10/12/09 02:12 - 45ºF - ID#49994
Cameras
I have finally decided to spend the money and buy a real camera. So in doing my research I've pretty much narrowed it down to two choices. The cannon sx20 is & the cannon sd980is.

They're both in my price range of $300-$400 but the thing that I am still hung up on is the question, Do I really want to lug a small brick around with the sx20?

The reason why I have settled on the two is for the basic fact that they're in my price range and the videos that I have seen on youtube really are pretty descent for digital cameras.

What I am doing today is kicking myself for not jumping on the available used & refurbished ones that were available this weekend. If I can snag a sd980is for under $300 I may grab that or if a sx20 is available for around $300 I may just snag it. So it may come down to price and taking the plunge on a used/refurb item. Yea I know it may be a gamble as you don't really know what you're getting but right now I'm kind of in the penny pinching mindset for some odd reason.



Permalink: Cameras.html
Words: 202
Location: Youngstown, NY
10/09/09 01:04 - 56ºF - ID#49968
Brickesque
I went to see Ben Folds tonight with the BPO.

It was an amazing show as his older stuff really took on another new dimension with a symphony orchestra behind him.

Anyway he didn't play the "Brick Song" which kind of left me disappointed, but I could see why he wouldn't want to play it after all these years.

So here's another brick type of song from a German SynthPop group.



I basically associate the song with the old Continental which will soon be razed. Anyway I have this vision that I will finally be happily married when the place does come falling down. It's kind of like the end of some cheesy movie when the hero destroys the ______ which interns and keeps captive the good energy and souls of innocent people that he evil villain has captured and interned through his conquests and evil deeds. So even though the place was my own personal "Old Pink" in the sense that I could always find some stray goth chick that had a shitload of problems more than I could ever comprehend, doing me wasn't one of them...



Permalink: Brickesque.html
Words: 189
Location: Youngstown, NY
Category: music
10/05/09 01:24 - 50ºF - ID#49929
Ben Folds Trend
Well I came across one of those things in the Buffalo News this weekend that kind of blew my mind. It was an article stating the a big trend these days on college campuses is to sing Ben Folds Five or his solo stuff acapella

Now how does this stuff develop organically? I have been with his since Whatever and Ever Amen and I'm just amazed that kids these days are into 1. good music and 2. do it in a unique style.
Here are some of my favorites that I cam across:
Army
Brick Song
You Don't Know Me
Annie Waits


Permalink: Ben_Folds_Trend.html
Words: 118
Location: Youngstown, NY
Category: vacation
10/03/09 07:47 - 58ºF - ID#49918
Vegas Drop, remembering a day at the HRH
After the horrendous week I had it was just perfect timing that I was able to get out of dodge and to Vegas. So I went from Saturday until Wednesday and had a descent time. Although I didn't come out ahead, I did have a freaking blast @ Rehab. The pool party on Sunday's at the Hard Rock Hotel, the one that the reality show is filmed on TruTv.
So here are a few pics of the new Paradise Tower room I stayed in.
Me on the bed checking facebook or something.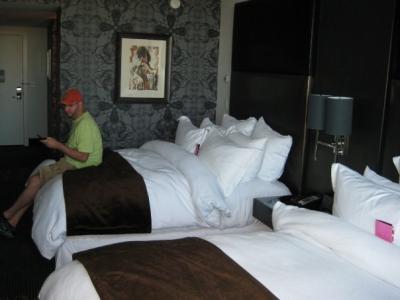 The Vanity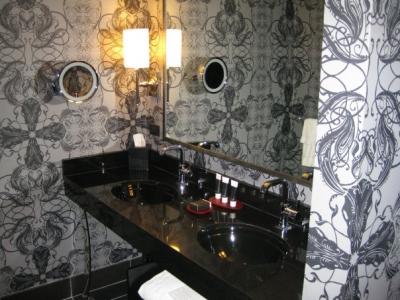 Shower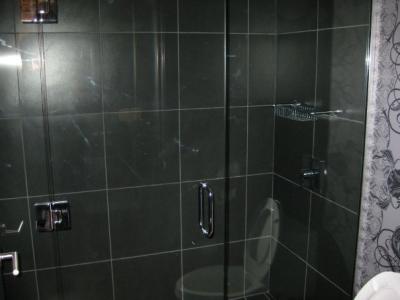 View 1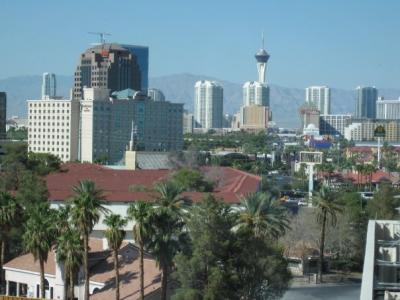 View 2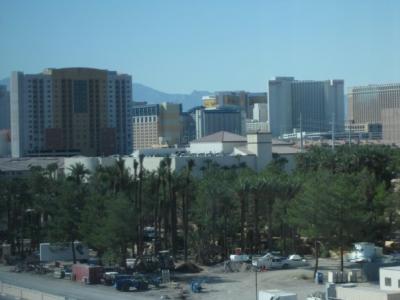 Even though I posted the following on another site, I'll just repost it over here, but yea I love Rehab, the pool party. I guess I have a bit of frat boy in me or something, but for an event which you can view and make your own opinions of I was pretty impressed by the DJ's and what they were spinning. For instance they were playing Depeche mode and other assorted stuff that I used to hear when the Continental was open 5 years ago. Also a reoccurring theme for me at this event is some chick always tries to get me to save her expensive pair of Dolce & Gabbana or Dior sunglasses as they drop somewhere in the pool, at least the chick that made out with me found hers.
Sun 9/27
We wake up a bit early and place our bets for the Sunday NFL action. After handicapping out bets we head down to grab the breakfast buffet, which though at $20+ dollars was a bit expensive, but to be honest the food was of very good quality with a great selection. Our next move after watching the first half of the games a decent sized TV in the North Tower room was to then check out. We then walked north about two blocks to the downtown transportation center where we still had valid bus passes from yesterday. We then hopped the 108 to the Hard Rock before they expired on 25 minutes. I went to the front desk to check in and my friend stood in a very long bell hop line to check out bags as our room wasn't ready and wouldn't be for a few hours. In the meantime we obtained out Rehab wristbands and hung out at the sports book to catch the 4th quarter of some games. We then went into Rehab and kicked back for a few hours taking in the scene and scenery. After going back in to the sports book to place a wager on the 2nd half of the Bills/Saints game and coming back into the covered bar area in the pool area my cell phone rings and our room is ready, it's about 4PM at this time, we then pull the same delegation of tasks and we're up in our Paradise Tower "mountain view" room. Honestly they should market it as a South Strip view as you do and can see if you turn at an angle everything from Bally's to Encore/Wynn with a straight on view of the Hilton. I was pretty impressed with the new rooms as the gothic wall patterns, pic of a rock star, beds, shower head, amours, and ever the naughty catalog complete with the $7 assorted male contraceptives on top of the min-bar, 40 inch HDTV with 200+ channels and cordless room phone.
So after changing into our swim trunks it was off to the pool, which was the main reason why we choose to spend $350 for a room on a Sunday, Rehab! It was everything that it portrayed on TV, but going there is always a rush. I just enjoyed $7 beers, but my friend indulged in the $22 sports drink cups, which are filled ½ of the way with booze. Needless to say he didn't heed my warning about the dangers of partaking in such consumption and he did feel worse for the wear. I actually was impressed by what the DJ's were spinning and did get my moment in the sun when some chick from Staten Island basically jumped me in the pool ;-) Yea, I don't know what it is with my and chicks from the metro NYC area but it was fun as my buddy shook his head. I basically at the end of the night had a conversation with the bartender Kat who was working the covered area away from the insanity by the DJ's and the main pool. I basically got all of my drinks from her all night and was totally impressed by her grace, poise and charm. She hasn't let the show get to her head at all. Plus she did a phenomenal job of keeping the drinks coming fast and cold all day. So around 8ish I bid my goodbye and ended up walking out with a security guard and we then spoke for about 10-15 minutes about the craziness that is Rehab and how the show affects their job. I worked in a casino for about 4 years so I could definitely emphasize and relate to what they did every Sunday for the summer.


Permalink: Vegas_Drop_remembering_a_day_at_the_HRH.html
Words: 861
Location: Youngstown, NY
<-- Earlier Entries
Author Info
Category Cloud
My Fav Posts
This user has zero favorite blogs selected ;(