Category: vlog
04/12/11 07:54 - ID#54040
Queen St NF Ontario


Video of driving down Queen St in Niagara Falls Ont during the fog a couple of weeks ago.



Permalink: Queen_St_NF_Ontario.html
Words: 21
Location: Youngstown, NY
Last Modified: 04/12/11 07:54
Category: travel
04/03/11 01:16 - ID#53969
Airfare! Seriously
Who the F in their right mind would pay this much money to fly from Buffalo to Florida [through Cleveland & Toronto & deal with Customs] for the price of $2,248 when you can fly other alternative airlines for around $300-$400 for the same destination one way ticket?
Totally WTF!?!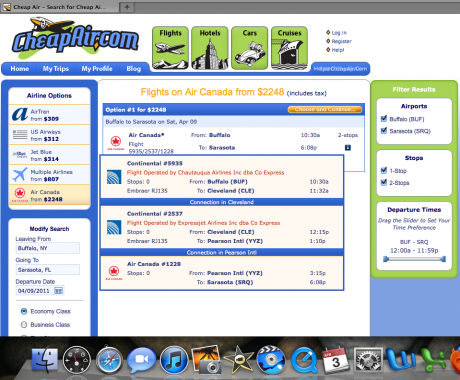 Permalink: Airfare_Seriously.html
Words: 49
Location: Youngstown, NY
Last Modified: 04/03/11 01:16
<-- Earlier Entries
Author Info
Category Cloud
My Fav Posts
This user has zero favorite blogs selected ;(