Category: tats
08/03/06 04:16 - ID#37144
violent fems
I have this song stuck in my head today

She's has always been smokin hot!
But it is these lyrics:
I miss my sister, whyd she go ?
Shes the one who would have taken me
To my first all-ages show.
It was the violent femmes and the del fuegos,
Before they had a record out. before they went gold,
And started to grow.
I'm on my way now out there now!


Permalink: violent_fems.html
Words: 78
Category: tats
07/13/06 11:04 - ID#37132
Mr. Tea Party
Well it's Thursday and it is the one day of the week where I feel like I am not wasting my summer and life.
So I am pretty pumped to catch the reincarnation of Jim Morrison tonight @ The Square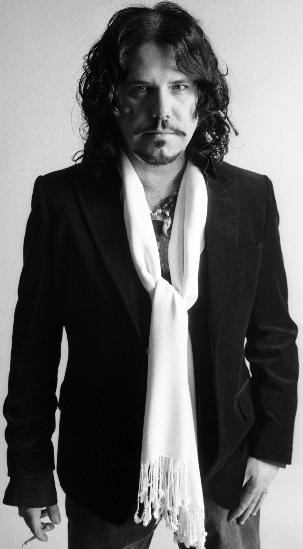 Jeff Martin
So I am going to be attempting to have a good time today. Not before I attempt to go drop off my laundry and stop by Target and look for the new Sage Francis CD.
I stopped by the Youngstown Coffee Company today with my Mom and ran into my neighbors/parents friends. It was descent and the Egg & Steak Bagel was pretty good. There is nothing like the laid back scenic village of Youngstown during working hours in the summer. Watching the kids ride to Jr. Sailing the old ladies trying to do something productive and the people that are retired or independently wealthy just sipping their coffee trying to have a really profound intelligent conversation with people that kind of listen.
If anyone is looking for something to do tomorrow night (FRI) my buddies are playing Mr. Goodbar. I most likely cannot attend since I have to work the next day @ 6:45am :-(
If you do go print this flier out, it is good for a free drink at least. If you are in the neighborhood and you have nothing else to do, and you're like the music of Radiohead check it out.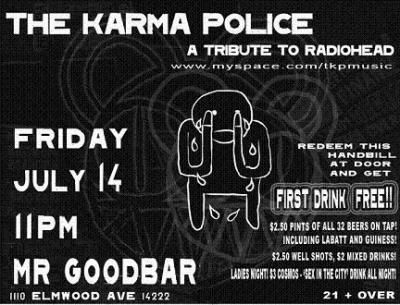 OK now I feel like a total whore, but it's for a free drink....


Permalink: Mr_Tea_Party.html
Words: 256
Category: tats
06/16/06 01:43 - ID#37123
A bit of a surprise, but a good time
So I finally convinced my good college buddy Junior to come out to Thursday at the Square before he moves back to NYC. He asked me if I wanted to stop by his buddy's/co-workers place along the way. When he told me he lived on Washington St. I knew exactly what building it was, Holling Place next to Diablo. Although we snuck in through the security Door it we didn't realize that units 6 and up were on the right side and in an entire different section and building. We called him and found the place.
It was TOTALLY PIMP. 5th floor loft style the whole bachelor pad works et all. The story is that his roommate's family ended up with a Multi-Million construction accident settlement and that is why the place was stocked. Then again they said they were the first to sign a lease in the building and that also helps to the fact that they only pay a combined total of 640 a month. Not bad at all. The one lesson that he learned from Jr. was this" If you don't have $ find a roommate who does!" Crazy, that is his quote not mine.
After finally prying Jr away from his gawking of a bachelor pad we hit the square and ran into (
(e:ladycroft)
) Had a descent time, but only caught a few songs from Soullive :-( I ended up being one of those people more absorbed into the social aspect of the square than the music. After he headed back to 501 Washington they watched the finals on ch 7 and then I begged them to head out to Quote.
Needles to say although I missed the Band I wanted to see the most seeing the inside of that building was very interesting. So after taking it easy after the square I am almost out of here for the a long weekend!!! Now I have to figure out what to do with myself.
Thanks again (
(e:ladycroft)
) for a great time after the square at Quote. At least one man in this world RECOGNIZES!!!!


Permalink: A_bit_of_a_surprise_but_a_good_time.html
Words: 346
<-- Earlier Entries
Author Info
Category Cloud
My Fav Posts
This user has zero favorite blogs selected ;(