Category: allentown
06/30/13 10:57 - ID#57854
Dirty Allendale Theatre
So this is how it was advertised when the Allendale Theater showed porn?
I caught this graphic on the wall of the new music venue The Waiting Room. They also had some old show fliers and other Buffalo music scene stuff on their one wall as well.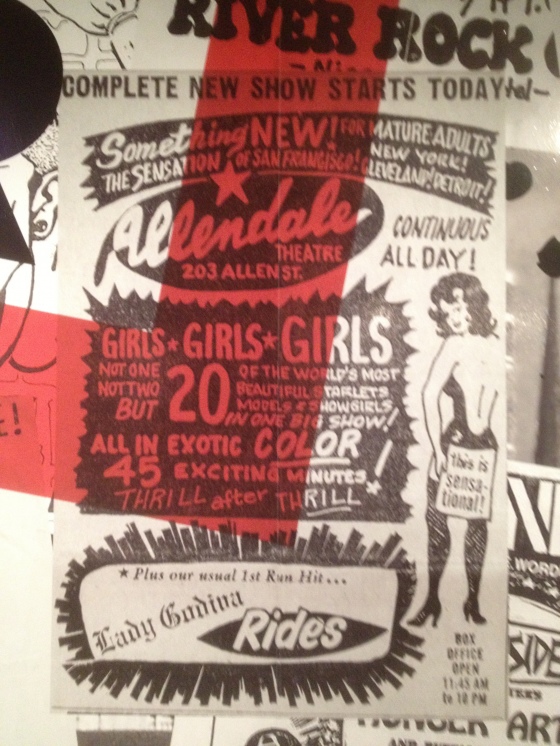 Permalink: Dirty_Allendale_Theatre.html
Words: 49
Last Modified: 06/30/13 10:57
Category: allentown
05/17/08 03:37 - ID#44375
Bar Fight!
Yea, I almost got into one last night in allentown and of all places it was F'n Gabriel's Gate

Ironically we went there since my Ex saw some old co-worker across the street @ Frizzy's and didn't want to get into it with her.
We get to the bar, of which all the stools were taken at the time. We order a couple of beers and then wait for a couple to cash out their bar bill as they were heading to a table. There is this old guy literally stuffing his face with chicken wings at the end of the bar, but I think nothing of it.Then for the next 30 minutes we watch the Celtics lost to the Cavs. The weird guy goes away to the bathroom and comes back 20 minutes later to the same spot at the end of the bar. Then all heck breaks loose. He then marches to my stool 5 down and starts getting into my face saying, "You moved my beer!! That is a rotten thing to do!!!" Now to be honest I though he was saying that I stole his beer, but nothing I said to the contary did anything but make him more angry. At one point I thought we were going to go at it, but he backed away. From what my ex tells me he then proceeded to stand behind me chugging his beer. The next thing is that a guy that was watching this unfold at a table behind us comes up to me and tells me , "that guy is getting ready to BUST THAT BEER BOTTLE OVER YOUR HEAD!!!" I turn around and the guy is bright red!!!
My thought is, "I am going to get into a fight @ Gabriel's Gate with a 55 Year old Gay Guy!!!" I put down my half finished Heinie & immediately leave. As a precautionary measure I ready myself on the right side of the door nest to the iron gate. The decision is made, if this Fucker comes across the line of the gate, I'm taking him down UFC Style on the sidewalk. Well he did follow me outside, but he just looked at me on the front of the steps, sneered at me and then walked away towards Coulter Bay.
My Ex was laughing her ass off that of all Fucking places I was going to get into a fight with an AARP member at Gabriel's Gate!!! Of all the shady ass places I've been to drink I actually can't believe that I had to experience this at this of all places! It's a fucked up world where you feel safer with 21 year old fratboys drinking on Chippewa. I guess if you're dealing with people that may be packing you don't pull that kind of drama when you're tripping balls.
Anyway to close the night we ended up checking the newest incarnation of the Jupiter Room now "The Bend." All I can say is I really like what they have done to the place. I actually felt comfortable in there without the vibe of throwing down ;-)


Permalink: Bar_Fight_.html
Words: 520
<-- Earlier Entries
Author Info
Category Cloud
More Entries
My Fav Posts
This user has zero favorite blogs selected ;(