Category: holiday
12/25/09 12:17 - ID#50651
And so it is here....
I just looked at the time...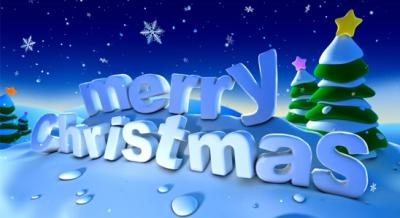 and for those feeling a little 'bah humbug'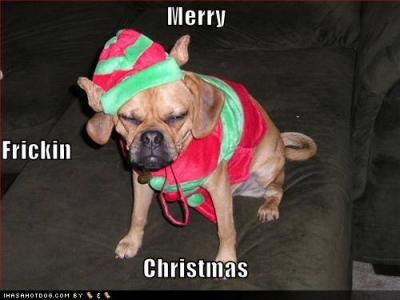 Whatever your plans, whether you are celebrating or not, with people or on your own, have a fantastic day.
After some family time, I plan to go to the movies to see Sherlock Holmes.
What are ya'll up to?


Permalink: And_so_it_is_here_.html
Words: 57
Category: holiday
12/25/09 12:15 - ID#50650
Christmas Eve
It was a fun day.
Had a few family members over for a Christmas Eve early dinner. Well, it was my mom and my "step dad" (someone who has been in my life since I was 12, who was with my mom for 14 years until she decided to end the relationship but they are still very good friends, which is totally awesome) and his room mate/friend (who moved in six months ago, they had grown up together, was supposed to be a one month temporary thing, but it has worked out well for it to be a longer situation, so naturally he is adopted into our "family"- that's how we roll). So the four of us had a really nice time- good food, conversation and lots of laughs.
After they all left, I spent the remainder of the evening catching up on emails, chatting with some friends I haven't spoken to in awhile and just.. thinking. I guess with another year at a close, some thoughts are bound to be at the forefront of my mind.
While doing all the emailing and chatting and so on, I had a nice mug of hot chocolate from a mix that
(e:pyrcedgrrl)
had made as gifts. I added a candy cane and an extra large splash of chocolate mint Baileys. Yummy. I tossed my special hat on that I wear when I am chilled sitting at home. Ok, I have an assortment that I can chose from, and really I just grab whatever is closest to me. The one I chose always brings a smile to my face, it is an old joke of the sort.. yeh, it has Barbie on it (so NOT my thing).
Now I am wrapping it up and heading to bed with a book. Warren Ellis', Crooked Little Vein, if you want to know.
want some?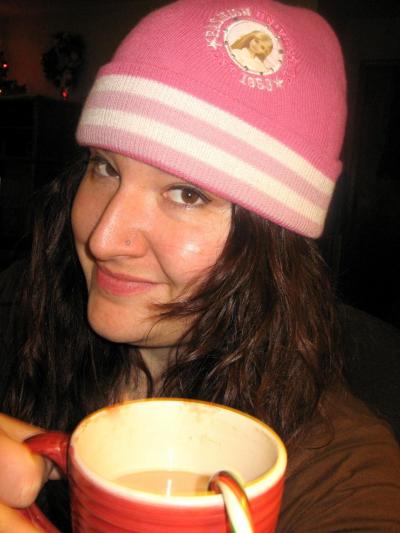 yummy!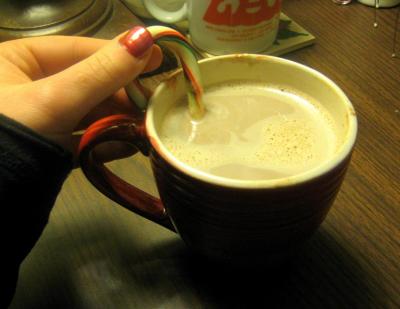 Trying to get me, the cocoa and the top of my hat in while take a self pic was much more complicated than I thought, so you get a second pic of me. :P
cheers!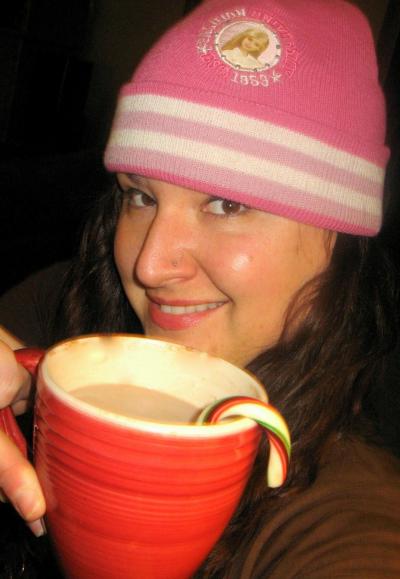 Permalink: Christmas_Eve.html
Words: 353
Category: holiday
11/04/09 01:26 - ID#50216
Pauls Halloween Costume
In response to your comment Paul (on my previous post), I didn't take any pics at the party.
(e:pyrcedgrrl)
got a few with her phone which I just snagged from her. They happen to be of you. Your outfit was hilarious. What were you again, a "Christmas Ghost" or 'Ghost of Christmas' ? Nice use of Christmas decorations.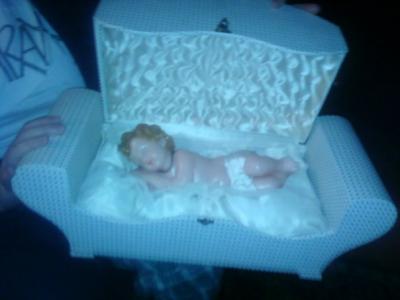 Permalink: Pauls_Halloween_Costume.html
Words: 65
Category: holiday
04/13/09 05:12 - ID#48378
Waterguns and Pussy Willows
woops, forgot to hit, "publish" a couple of hours ago.
Happy Dyngus day!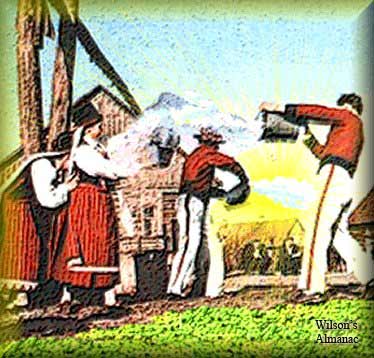 Dyngus Day Buffalo site:

from Holiday Insights,

Dyngus Day

When : Always the Monday after Easter

Dyngus Day, also spelled Dingus Day, is a Polish Holiday. It is very popular in Poland, and in Polish communities in America. After the long Lenten holiday, Dyngus Day is a day of fun. And, perhaps a little romantic fun. It is always celebrated on the Monday after Easter.

There area all sort of ways for boys to meet girls. But, this one takes the cake.

Guys, on this day you get to wet the ladies down. Sprinkling or drenching with water is your goal. Chase after the ladies with squirt guns, buckets, or other containers of water. The more bold and gallant boys, may choose to use cologne. Hitting (gently, please) the ladies on the legs with switches or pussy willows is also common.

Yes ladies, you can strike back. Ladies , you get your revenge on Tuesday, when tradition has it that you throw dishes or crockery back at the boys. It has become increasingly popular for the ladies to get their revenge on Monday, tossing water back at the boys.

Note: Dyngus Day is also called Wet Easter Monday. Hmmmmm, I wonder why!?

Origin of Dyngus Day:

When exploring the roots of Dyngus Day, Historians point to the baptism of Polish Prince Mieszko I in 966 A.D. Baptism with water signifies cleansing, fertility, and purification. Somewhere along the way, the tradition of tossing water on the girls and hitting them with pussy willows evolved.
Always a holiday in WNY! enjoy!


Permalink: Waterguns_and_Pussy_Willows.html
Words: 285
Category: holiday
12/31/08 12:47 - ID#47226
Happy New Year
Wow, another year over.
A lot of changes, for the better occurred in my life this past year. A lot of learning and and growing. Much to be thankful for and much to still think about. Soon, as with previous years posts, a 'year in review' to be posted. Right now, a quick post to wish all of you a Happy New Year.
While I feel a tug of desire to head out to the 24 this evening, my plan for this evening is to go to my bf's house. I wasn't sure what the plans might be until recently. As was determined last week, he will have his son, who is three, staying over tonight. Father duties which I respect and admire; and so I want to be with them. I can't imagine bringing in the new year not beside my wonderful bf. These are our first holidays and such and so it is so great, comforting and enjoyable to share in these new firsts together. He is my best friend on top of it, so no matter what we do, we tend to have fun. Although I'm quite sure he would insist that I go meet up with all of you, it is an evening I want to share with him and the little one, in whatever way we celebrate/not celebrate. I think I will buy a bottle of champagne and a few noise makers and perhaps whatever else looks fun/creative to add to the repertoire.
I don't foresee anything changing, but if it does, we'll be there.
I'm eager for all of you to meet.
I haven't seen many of you in a long long time. This year has been bizarre in many ways, and I intend to be better at catching up with all the people I care about. That's you,
(e:peeps)
, even those I haven't met yet! So, more gatherings, coffee conversations and such are mandatory!
(e:pyrcedgrrl)
lives back in buffalo for several months now, and I have only been to her place twice. Timing, choices and circumstances have kept me closer to home rather than the usual adventuring I do. I think I have my first "resolution" :)
Anyway, I must go, much to do today.
Stay warm, stay safe, have fun, take loads of pictures and post ASAP!
Cheers, my friends!
~carey
(e:ladycroft)
, call meeeeeeeeeeee!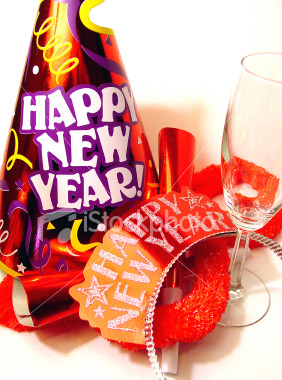 Permalink: Happy_New_Year.html
Words: 397
Category: holiday
12/25/08 11:54 - ID#47183
To All of You....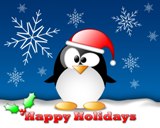 Stay warm, be safe, eat lots of cookies :)
xo,
Carey


Permalink: To_All_of_You_.html
Words: 13
Category: holiday
12/24/08 12:00 - ID#47170
Muppet's Genocide and Cookie Poo
Or as originally titled, "movies I rented and cookies I made"
I made
Sugar cookies
- rolled out and used cutouts of, course! Christmas trees, Stars, Bells, Snowmen and Stockings (Santas and Angels never really look like anything to me, so I pass on those). Then frosted and decorated. A few or more eaten here and there. A different recipe was used this year and they were extra yum.
Gingerbread cookies
. Again, rolled out and used cutouts. Among my regular cutters, I failed to realize that I did not have a "gingerbread man" shaped cutter. A run to the grocery store was almost fruitless, until I spotted one- a tiny package of six miniature cutters, one of which had a "gingerbread boy". Other shapes included a bell, star, tree, candy cane and holly. I used half of those shapes. Gingerbread Boys were made crispy then iced. The other shapes were made to be soft, then left alone as is. All yums.
The above cookies were all that I was going to make, then I decided to try out a few other kinds.
Among the extras, this included a peanut butter cookie, a chocolate mint cookie, some peanut butter drop cookie that was made with cornflakes- odd but kinda good, a shortbread with walnuts and then something of my own creation which included among the other standard ingredients, butterscotch chips, mini semi sweet chips, walnuts and almond extract.These turned out really nice, and I gave them all away. I pretty much kept all the "reject" cookies. Poor Snowmen getting decapitated mid decoration and the such.
As for my movie rental selection, I did not have a whole lot to choose from as others have done the same, but I picked up a few:
1.
Muppet Christmas
--the newer one, not the Muppet Christmas Carol, although I could have, should have, gotten that as well. Anything Muppets is sure to be a great pick. I agree,
(e:james)
, something along the lines of, "Muppets: Gateway to Genocide with Kemit the lovable green Dictator" would indeed still be.. spellbinding-ly cute.
Heil Kermitler?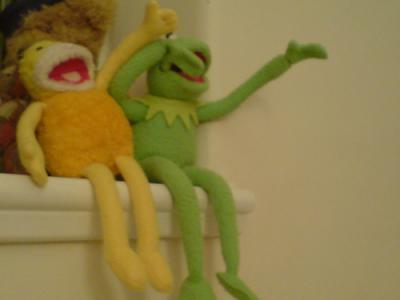 Speaking of Muppets--
EMMIT OTTERS JUG BAND CHRISTMAS
!! ok, so I totally didn't find it, but I know that I can buy it at a local store, so hopefully I can still do that yet at some point soon. I havent seen that movie since I was a kid, and I LOVED it. It was awesome to see that as a suggestion,
(e:matthew)
and
(e:iriesara)
!
2.
Elf.
--Love that movie, haven't seen it in a long time, so this will be fun to revisit. Love Will Ferrel in it. "It's SANTA!!"
My bf has,
Charlie Brown Christmas
and "
Polar Express
", which we just watched. I enjoyed that a lot- very dream-like. I think that will be a 'once a year' sort of movie for me. Fra ra ra ra ra..!
I did not want anything with horror or nudity (i really don't like nudity in my movie watching- maybe if there was a more equal nudity factor, but really, I don't like looking at naked women. ever.So rare is the male nudity glimpses, right? Also, not what I was looking for in a Christmas themed movie.)
(e:mrmike)
, I passed on,
A Christmas Story
. There were a lot of those left. Maybe I will learn to like it. Maybe I would if I watched it now, as I haven't seen it in numerous years. Perspectives change. I just never really got into it. Might be the annoying look of the main character. As a kid, I was rooting for him to shoot his eye out. heh
You are correct,
(e:metalpeter)
, the first
Die Hard
takes place on Christmas (or maybe Christmas eve).
I had to look up,
Trapped In Paradise
, as per
(e:drew)
's suggestion. It sounded so familiar to me. IMDB helped me to remember that I have seen it. Good stuff!
I would have rented the
Santa Clause
(I think there are a few of them?) if it was there and possibly the first Home Alone-- but nada.
so, since I was open to a lame but feel good sort of movie, I was therefore open to RomComs.
I have,
The Holiday
, and it perfect for that need. I've watched it once recently and have had it on "as background" for a few days on and off. (I don't have cable or antennas to tune in to local channels)
3.
Last Holiday
- Queen Latifah, LL Cool J and others. She is told she is dying and has three weeks to live, so she takes all her money and lives out her last few weeks... Cute, but not as good/cute as I wanted. The idea was there, but it wasn't fully pulled off, for me.
4.
Love Actually.
eh, didn't really do anything for me. But Liam Neeson, Colin Firth and Alan Rickman.. that was worth the watch, but I wont revisit it. It was so .. blah to me. I had high expectations though. Enough of Hugh Grant already.
5.
A Wrinkle In Time
. (2003, i think) Not a "christmas movie", but I have been wanting to watch this for some time now, and I actually thought to look for it while at Blockbuster (I rarely rent movies). I was pleased to find it, and I am eager to watch it. I hope it follows the book and really brings the characters to life. A tesseract! I'm so excited!
I REALLY wanted to rent a few classics. Such as,
A Christmas Carol
like
(e:janelle)
suggested.
Or Miracle on 34th
or It's a Wonderful Life, as
(e:jenks)
suggested. Nothing. Only a few remakes- but I didn't want that. I don't want to see known current actors and actresses do their version of the classics. One that I can't remember the name for, was not only a redo of a classic using known people, but it was also turned into a musical (not a big fan). I should find those to buy- just build a holiday themed movie collection.
I caught a few of the classic animated ones recently on tv- Frosty, Rudolph, Heat Miser.. Those are so cool. I remember waiting for all of those to come on tv each year. Everyone knew when it was on, what channel and so forth. We tuned in. It was a special thing. Friends talked about it the next day in school. Now, we see things whenever we want to, losing its 'specialness', if that makes sense.
I look forward to watching the rest of what I rented. Hopefully I will quickly finish up what I need to in preparation for Christmas, and then I can relax to a few good/fun movies. Ahhh, wrapping time, here I come.
Stay warm!
Hmmm, how could I have possibly failed to take a picture of the end product? maybe somewhere..
the beginnings anyway: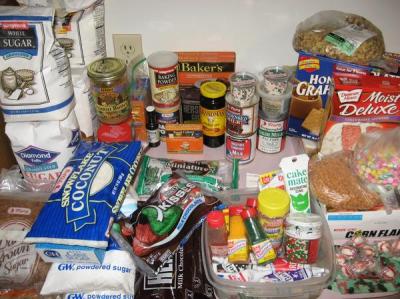 ha, I just noticed that I jotted down recipe/ingredients on my
Cookie Monster paper. Fitting, right? :) Cookie Monster is so cool.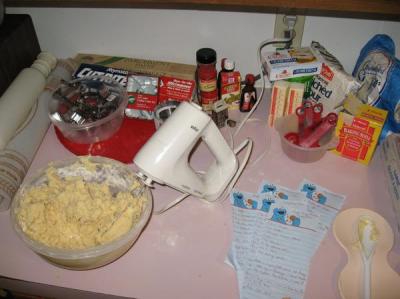 Permalink: Muppet_s_Genocide_and_Cookie_Poo.html
Words: 1177
Category: holiday
12/17/08 12:36 - ID#47089
Christmas Movies- Your Faves?
Movie suggestions?

I have such an urge to watch holiday themed movies. I don't really own any (unless you count Die Hard with its taking place on Christmas Eve, heh) so I will be heading out to Blockbuster or somewhere to pick up a few.

I recently saw for the first time, Polar Express, so that is out. I will likely watch it again, but that won't count towards my movie renting adventure queue, as with Charlie Brown Christmas.

"Elf" will be on my list- Will Ferrel just cracks me up in it.

But what else? I'm open to anything- new, super old, classics, funny, raunchy, dramatic, cartoons and/or even silly/lame romantic comedies (I own, The Holiday, now that I think about it- Jude Law, Cameron Diaz, Jack Black, Kate Winslet)

I'm looking for a list of movies on line to choose from right now, but this will be so much better to have your input!!! :)

So, what are your favorite Holiday/Christmas themed movies???





Permalink: Christmas_Movies_Your_Faves_.html
Words: 167
Category: holiday
12/15/08 07:52 - ID#47071
Parties, Food, Cooking, anti Shopping
So many parties and gathering abound. Not sure which I will attend of anyone's, and which I will pass on, for various reasons. I did however go to one this past Friday as I have known about it for months. The holiday party I attended with my bf for his work was really quite nice. As per last post, I was just fine in the social arena. I faked being 'not shy', and as usual it worked out fine. People were curious about me, as no one had yet met me although they very much knew about my existence. It was equally nice to put faces to names and stories I had heard about. I really enjoyed the atmosphere and everyone I talked with.
The night was cold and snowy going there, but leaving, the sky turned amazingly clear and starry, a nice backdrop for a full vibrant moon. I wore a cute but modest cocktail (tube?) dress and heels. Black with a hint of glimmering purple. The bodice went straight across my chest without any glimpse of cleavage, which I prefer for most all of my clothing. Directly under the breast area yet just above the waist was a black bow detail. It was/is really cute and I would like to wear it again, otherwise it will just sit in my closet. Suppose I could always sell it. So overall, I ended up spending more money on everything than I anticipated. Not a bad thing, it just isn't where I usually spend my money. I originally planned to wear a super cute dressy skirt and pair it with a new blouse or sweater, but in my shopping endeavors, I didn't find anything that I was comfortable with. So when I decided to try this dress on for the fun of it, I was greatly surprised how it would be perfect for the occasion. So I went for it. Really, I have more than a closet full of clothes but I wanted something new. I have SO many clothes, but I pretty much stick to the same things regardless of what the event calls for. I love clothes seeing different fashions and such, but I'm more of a casual, functional, adventure ready sort of attire wearer. In heals, I am pushed up over 6 feet tall, and I'm really more comfortable in flats and maintaining my 5'10" loveliness. But I do sport the heals on occasion, preferably when I know there wont be a lot of walking. I like to walk fast and without worry of toppling over. Anyway, all in all, I was pleased with my find and the end product. I may or may not have pictures. Although my bf always has a camera on him, we failed to get any of us at the event. Before hand, we set the camera to take a pic of us, but it wasn't a full body shot, something I wanted so I could post over at a fashion community group at Live Journal.
So we arrived at a nice banquet facility- I do not remember the name, and I plan to find out as it was small, classy, cozy, and well laid out. Hors d'oeuvres of stuffed mushrooms, clams casino, meatballs, vegetables were displayed and delicious to consume. I was craving more of the clams all weekend. An open bar provided for any sort of concoction one desired. I had two rounds of a vodka-soda with lime. A super cool magician guy kept us entertained. I was seriously baffled at times, which heightened my amusement. Later, dinner was a nice spread of all sorts of yummy food and continued conversation.
The company did a gift exchange, which was entertaining to watch. Everyone who wants to participate brings a gift. A bowl full of pieces of paper with a number written on each are circulated around to everyone. Each person draws a number, which indicates when it is your turn to go up to the gift table to select a gift. For example, person number One goes up and selects any wrapped gift they choose and opens it right there. Everyone sees it. At this point, they must keep the gift, so they go sit down. Person with number Two then goes up to the gift table and selects a wrapped gift, and then decides whether to open it and KEEP it-- OR (and this is where it becomes entertaining) if they prefer person number Ones opened gift they hand over their chosen unopened gift over to person number One and trade (which person number One has no choice- their gift might be snatched from them, and handed the unknown unopened gift that person number Two selected). So on it goes. Person number Three then goes to the table, selects a wrapped gift then decides to open it and keep it, OR before opening it, swap with either of the others gifts that have been opened already by person One or Two. And so it goes from there. There can be all sort of swapping and you never know what you have until the very end. The last person to have the option to swap, it the person who went up to begin with, person number One. Starting off as the number One person you have no choice, as no other gifts have been opened. But in the end, you have the ultimate choice, as you can choose from any of the other gifts that were opened through every last person having their turn. In this case, 15 people participated in the gift exchange. When our turn came, my BF chose a package and handed it to someone who had previously opened a gift of Baileys liqueur. So for a little while we had giant bottle of Baileys in our possession before it got swiped out by someone unknowingly holding a package of flashlights, which we had to open and keep (no more swapping by choice beyond the initial gift selection) and went home with. It was fun. There were some gag gifts of the sort and some really nice stuff and a few things in between. The Baileys would have been fun. The flashlights could be fun. Baileys and flashlights would be most fun.
I still have yet to get any shopping done. Well, I picked up one thing for a friend, and a movie for my mom, but that is all so far. I have to really think about what I want to get and then take care of it all this week- and then tie up loose ends next week. I am NOT going out this weekend- as anyone else who has put it off is likely to be out on the final weekend before the holiday! I'm not a 'shopper' and usually prefer to stay out of stores, unless it is for me- books, techy stuff, and occasional late night jaunt to wander Wegmans when I feel like I have the place to myself. Speaking of which..
I've been cooking a lot more lately- last week it was a green chicken/veggie curry over jasmine rice (perfect) and this weekend it was a beef stroganoff made with lots of sirloin and sliced baby portabella mushrooms. Everything I make is made with as fresh of ingredients as possible and from "scratch"- unless it is otherwise redeemed ridiculous, time or money consuming. I pretty much guess at what goes into my concoctions and I measure nothing, unless baking, then I follow more closely. I consult a recipe prior to shopping just to see what I might want to make sure goes into a dish- but I will add and take away as I feel creative. That is what I like about cooking- not so much anything to fill my belly, but to experiment and create. A nice balance of Art and Science, if you will. There is an end product, and it can be appreciated by others. I do less cooking if there is no one for me to share it with. Considering how well the last few things I have made turned out (seriously so yummy), I would be wise to write down as much as I can remember as to what went into it (still wouldn't know how much measurement wise). Also, I keep kicking myself for not photographically documenting the process. I know how many of us love some good food-porn.
This week, I aim to make lasagna and/or chili, if I have the time, money and ambition to buy what is needed. I have noodles and beans I want to use up, so it will be a matter of finding the remaining ingredients at the store. I am also trying to make a couple of different things using what I bought for the original intent (ie, I made a beef barley soup from rationed off stroganoff ingredients. Made a killer omelet using some of the veggies from previous curry recipe, etc). My mind feels more organized when I do that as well and besides, the food (and tastes) goes farther when I can make a couple of smaller batch items than one giant batch of something. Good stuff.
I still want to find some mistletoe- I entirely forgot when I was out last week shopping for an outfit for the party. Actually, I have a bit of "un-shopping" to do, as I purchased extra items for my outfit (as extra choices) that I certainly don't need (ie jewelery, stockings, bra-nothing worn, just decided against some of the things I purchased). So that will be a nice chunk of change back into my account that I can use to start/finish gift shopping.
oy.
That's it for now. Stay warm- don't blow away. it was so crazy windy this morning that the sounds of the wind/rain morphed my dreams. Eery stuff.
PS. I just realized that I have never had eggnog. Have I been missing out?
thought this was kind of cute when it was circulated in an email recently: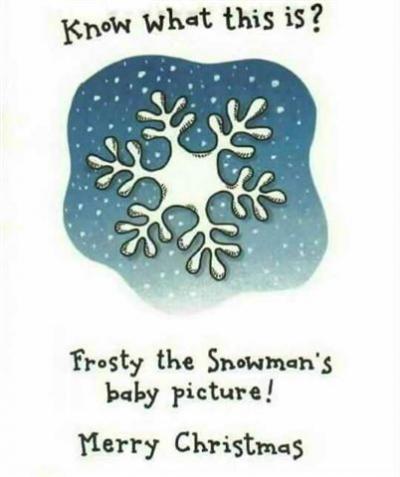 Permalink: Parties_Food_Cooking_anti_Shopping.html
Words: 1678
Category: holiday
12/11/08 12:17 - ID#47023
two weeks- also where to find mistletoe?
So I look at the calender and realize that in two weeks today is Christmas. Seems I am always losing a couple of days here and there- the dates of things seem to sneak up. As with most major holidays, this one isn't a big deal. I mean, I barely have any family in the area.
The holidays were a bigger to-do back a decade or so, when there were more family, extended family, friends and so on. So while those were some fun times, it is nice not to have the craziness of this time effect me like it does others. I can go out in one afternoon a shop for the few people on my list. No anxiety in dealing with crowds, finding gifts or wiping out the bank account to do so. I can make cookies or not. There aren't any big dinners or gatherings to enjoy/suffer through. Some of those things can be fun, and so with that, I want to make some cookies, maybe get around to sending out cards (I'm terribly inconsistent with giving out cars- however, i found some super cool FESTIVUS cards last year that I want to use!) and I will do a little shopping soon, maybe even today.
My boyfriend doesn't have any family, but he does have a three year old son (who he sees a few days of the week- and will likely be with his sons family for the holiday). Anyway, kids are fun for all the creative coolness I enjoy, so I look forward to getting out some art supplies and having us make some "ornaments" for the small tree I put up at my boyfriends. Maybe the little one can help decorate a few cookies.
So although I don't fully celebrate like others do, not feel the need to get so into it (nor do I have a basis to), I enjoy the creativity that can comes of this holiday, as mentioned above. I also like sparkly stuff- so putting up a very simple tree, yet looks really nice lit at night, humors me. It is nice to sit in quiet contemplation and look at the lights within the tree. Reminds me of my childhood, when I would lay among the gifts under the tree, I would look up through the tree branches and day dream to the twinkling lights. I loved doing that so much- getting lost in my thoughts- wish I could remember what I thought about.
Today I head out to pick out something to wear to a Christmas party tomorrow night for my BF work party. I'm so socially retarded that I have some anxiety over this. I can pretend to be 'not shy', but the feelings still swirl around inside. I'm often ok once I am in the midst of everything, but not always. Being more hermit-like is so much more comfortable! But I will do alright, even though I will be around a bunch of strangers, dressed up and inwardly freaking out. I think I need to start mentally prepping myself now, haha.

While I am out today, I want to find mistletoe- anyone know where I can find some?? I think I just stumbled across some in previous years.I want to buy several bunches of mistletoe to hang all throughout his place. I need to be a little obnoxious, right?

Stay warm!




Permalink: two_weeks_also_where_to_find_mistletoe_.html
Words: 566
<-- Earlier Entries
Author Info
Category Cloud
My Fav Posts
This user has zero favorite blogs selected ;(