Category: friends
11/03/09 02:14 - ID#50210
Timika and Rory- One Picture
I didn't take any pictures at the wedding and only took a few at the reception; all of which I will post soon. In the meantime, here is the one picture that really stands out from any of the others I took.
awwww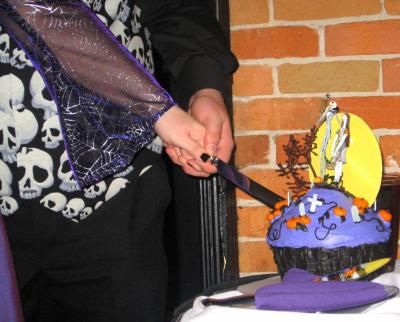 Permalink: Timika_and_Rory_One_Picture.html
Words: 47
Category: friends
10/02/07 11:59 - ID#41451
friends in places
Just clearing my head a little bit. No details.. just a general overview.

I'm sad when my friends are down, really really down. I wish to be able to do-say something that really helps. I know they can only figure out things on their own. I know that they know that I am around (and other friends/family).. and they do talk. So at the minimum, my ears are wide open.

One has a really full plate- the primary thing that he ("T") is dealing with is a challenge for me to wrap my mind around. Then there are many issues spiraling off of that main one. A lot of change and decisions are necessary and its anxiety provoking for him. Right now he sees a lot of it as a crisis. I gently point out the excitement and opportunity that can come from these situations; which over time may be possible for him to see and experience as well. Right now, its the transition process taking a toll. As one to need structure, security, and logical progression, it will be a challenge for him, but one that I feel positive that he will be fine about. I think. There is just so much going on! Anyway, I think he is in a good position to step back, reframe the situation and systematically form an action plan; something that will appeal to the structured side of him. Its just getting there..

Another friend has his ("B") immediate life-future up in the air and its killing him inside. This really makes my stomach turn in empathy and helplessness. As opposed to my first friend, he doesn't have as many resources at his side or any sense of security or foundation to stand on. I think he has good coping mechanisms and can be resourceful.. but its going to be a scary ride. Honestly, I don't know if this will plummet him further down the depression abyss. I think he's not in a good position to figure things out, since he has little to work with, which is a warning flag of some sort especially considering the immediacy. Despite his ability to usually take care of himself, his current experience must be weighing him down. I'll attempt to track him down later, what the plan is, if there is one.

so my thoughts are with them. Sometimes we have life moments that leave us feeling weak, exasperated and lost. Often its very temporary but its scary in the moment. Having friends, family and other resources to turn to can ease the burden a bit by sharing the weight. The hard part is choosing/allowing to do that. I think these two are open to that. And so I offer my strong shoulder to them..

still wish I could just twitch my nose, ya know?

On a side yet kind of related note-- has anyone noticed the increase in depression medication ads on tv very recently? As though its extra marketing doled out for the season..



Permalink: friends_in_places.html
Words: 503
Category: friends
08/25/07 06:14 - ID#40734
Confessions of a Matchmaker
I wrote about this before:
(e:theecarey,39775)
I've been watching
Confessions of a Matchmaker
on and off since its debut back in May, I think. There are a few I need to catch up on, but
(e:pyrcedgrrl)
has them recorded. yay!
Some of the episodes are really quite hilarious funny. For those that don't know, Confessions is a Buffalo based "reality" show. Auditions then taping occurred earlier this year. My friend,
(e:inspiraysean)
is on the show, and will be finally making his episode appearance this
Sunday, August 26th at 11pm on A&E. Look for "Sean K"
I do believe this is the last episode of the season.
haha, he's been touted as Patti's most difficult case yet. ;)
A little more info about the show taken from their website:

Set in Buffalo, New York, CONFESSIONS OF A MATCHMAKER follows singles desperate for Patti's help, from their initial interview, through the date, and finally, to the often painfully honest follow-up where Patti assesses their performance and reveals whether or not a match has been made. The series goes inside the real world of dating, where people are flawed and sometimes just need a good swift kick. And Patti is not afraid to give it to them. The Simon Cowell of dating, Patti's brutal honesty and gut instincts are like nothing you've ever seen. They may not end up in a hot-tub at the end of every episode...in fact, more than likely, they'll end up in hot water with Patti for not following her advice!
I really think that Angela, who appeared on episode three was one of our peeps,
(e:angelal)
?-- not that she has been on here in a long long time, to ask.
So anyways, watch it. Its funny. Its Buffalo..


Permalink: Confessions_of_a_Matchmaker.html
Words: 305
Category: friends
06/22/07 09:38 - ID#39775
epeep debut! Confessions of a Matchmaker
I got a text from my friend,
(e:inspiraysean)
letting me know about his upcoming national debut. This should be a riot. You see, he had been involved with the auditions for a buffalo based reality show- this was back in Feb, if I recall correctly. Things were going well all along, and now it is airing!
so tune in
Saturday June 23 at 10pm on channel A&E
for the begining of,
" Confessions of a Matchmaker "
It sounds fun from everything I have been told.
[box]This is no ordinary dating show and she is no ordinary matchmaker. For the past six years, matchmaker Patti Novak has been warming up the lonely hearts of Buffalo - a city with one of the highest populations of singles per capita - with her no-nonsense style of tough love. Now, she is letting cameras into her sessions and on dates with her clients...sharing the secrets of her success with the world.[/box]
here is a link for more info!

and Sean, I have a feeling, I will be giggling a whole lot. Charmers know how to push just the right buttons ;)


Permalink: epeep_debut_Confessions_of_a_Matchmaker.html
Words: 196
Category: friends
07/09/06 05:30 - ID#35982
Coming to Shakespeare in the Park???
I scored a car, so I am going to Shakespeare in the Park.. who else is going for sure??
I know
(e:leetee)
and
(e:imk2)
so far...
Anyway, I am heading out solo and will be looking for friendly faces to join!!
I am going to stop and grab a bottle of wine, I think, on my way out... and cups and who knows what else.. ooh, I know.. GUMMI BEARS!!!
leave post-it or text/call me (deleted) we can share a blanket and half-ass pay attention to the play :)
Later peeps!


Permalink: Coming_to_Shakespeare_in_the_Park_.html
Words: 93
Category: friends
06/28/06 12:59 - ID#35967
On being (very) neighborly
I saw a bush in my front yard moving and it scared me. Seriously. It wasnt windy out.. My front door was open and I expected Slayer (my pet name for aforementioned stalker) to be standing there. Instead, it was a porch full of eyecandy.
score. lol
My neighbor and his bros came over to invite me over for a drink,
shit. an Irish car bomb at tthat.
Oh and some SoCo and Lime. Dude, they make 100 proof.
(e:kangarooboi)
we have a date with that when you come home,!!!!hahaha--or before then.. :)
Yeh, so other than my semi ill fated attempt at my first Mojito of the season (jury is still out on whether it was spearamint or catnip)-- which was 12 parts club soda to one part rum (read: not *really* an alcoholic drink).. its been numerous months since I have had an appreciable amount of alcohol. Its really not my thing-- I get bored with all that easily.. but if its there.. yo, so am I.
Normally I leave it.. tonight I take it.
That mixed with my exercise regimine and strict eating habits during the week (it *is* only Tuesday), I was not sure what kind of effect a drink would have on me. As is, I am a light weight in that department. I never really drink much. What I drink in a year can easily be the amount that someone drinks in a weekend.
But it was cool. My brain ached from all of the school work I have been doing--
so why not chill for a bit?
hehe.
I didn't have much, but again, it was much more than I have had in a long time (and it still wasnt much). The primary effect that occurs when I have some beverages is that I become very lovable, much more than I already am. I am just a relatively happy, laid back person. I am very much still in tune with eveything.. I am just enhanced.. so yeh, I love you man, hehe. kidding.. But yeh, if you ever want to know stuff.. this is when you ask. But only ask what you want to know answers to! ;)
after a couple of drinks, we headed over to the Stone Jug. It was quiet, but the patio was very nice. How great it was to sit in the fresh air (ok, not exactly fresh, as there was a smoker in the vicinity, yuck).. and to overlook the Niagara River. It was sooo nice of a night.
i want to be in a boat. RIGHT NOW!
and my neighbor has a sailboat (which he is selling, darn.. ) and a big motot boat-- which needs some work (yeesh, get it fixed! this girl is jonsing for a boat ride!!) and a very fun jet ski, which I am pumped for going on, the next outing. YAY!
It is really just a consequence of living in this area. It is a big sailboat/ water toy area.. with the river and lake at the end of the street.
Level Regatta is in a few weeks..
Anyway, it was an impromptu fun night.
And since my brain is not ready to fall asleep or dive back into school work, I thought.. why not make a post.
later gators
ps check my last post on
(e:sbrugger)
's last ditch attempt to sell his worldy belongs before he heads out to the the other coast. (*still* not buying a couch for my garage, friend)


Permalink: On_being_very_neighborly.html
Words: 583
Category: friends
06/27/06 03:40 - ID#35966
"crazy" doen't even come close
Would someone please buy Austins couch, lol
Otherwise a couch is going to end up on my doorstep, with a bill of sale attached to it... as he insists my garage needs a couch, lol
My garage does not need a couch. It needs to be cleaned. It needs a lot of things.. but it doesn't need a couch.
Seriously though.. there is enough stuff to outfit an apartment!!
Contact him if you are looking for something. Seems he has a little bit of everything.
Microwave, table, full bed, couch, fan, (cats!)
etc.. You need this stuff, or you know someone who needs this stuff... He's moving and won't be taking it across the continent with him! (and I wont be putting a couch in my garage!! haha)
((while I am at it..I am even selling a
refridgerator and stove
. I am not going anywhere.. just manage to find myself with extra kitchen appliances?))
I should have a garage sale. I need to clean out.. I think I have enough stuff for a sale. Not really sure... If I decide to pull one together, it would probably be successful, as I live in a prime spot of Y-Town for a sale. Its been years since I have had a garage sale. Maybe someone would like to join in on it with me? I have a big yard, long driveway and the requisite garage...
Anyway..hellp the frazzled guy out.. go to
Crazy Austin's Mad Sale
..
(e:sbrugger)
has enough stuff... buy it all.
the sale ads:
(e:sbrugger,43)
(e:sbrugger,44)
(e:sbrugger,45)


Permalink: _quot_crazy_quot_doen_t_even_come_close.html
Words: 263
<-- Earlier Entries
Author Info
Category Cloud
My Fav Posts
This user has zero favorite blogs selected ;(