Category: adventure
07/02/09 03:26 - ID#49172
sushi...summer plans..pending adventures
Just thinking over some summer plans.. such as which events, activities, foods, drinks, and so on that I feel more motivated to pursue. My schedule has changed a bit, and I feel like I am reacquainting myself among the living. Over nights.. sucked (for lack of better word). Anyway, it is now July and the time can slow way down.
Speaking of down.. I'm down for some sushi.
almost anywhere..
but have any of you been to Ichiban?
It is on Sheridan, I believe.
I rarely remember the name as it is supposed to be said as I usually call it, "itchy bum" whenever I hear it.
I was there once, sort of recently.
(e:pyrcedgrrl)
took me there at the conclusion of a long thought out decision. 'Sushi Therapy'' is always a welcome gesture. Of course, I would like to go back under more relaxed conditions.
I used to go to Kunis (of course) and some others whose names allude me. Oh, and Koi, at the Casino (good friends, good times, damn, so much time has passed). Havent been there in a few years though.
Last several months had left me grabbing food when and where I could. Not a whole lot of dining out at interesting and yummy places. Overall, I prefer to cook or cook with someone, or have someone have me over for dinner.. but finding somewhere to eat is always welcome too.
ok, enough about food!
So summer stuff planned so far:
I've got a camp out that I am attending at the end of the month at a friends country property. I need to double check my camping supplies!
There are some TAT concerts I'd like to go to, along with ones at Art Park and Molsen Canal Series (is that the name?), that is now in Lockport. I think Our Lady Peace is this Friday. I need to write this stuff down.
There are a few movies.. not a fan of going to the theater, but heading to the drive-in once or twice will be fun, along with a couple if IMAX flicks (Harry Potter- finally!) (NOT Transformers!) I have an Ice Age movie ticket that I hope to use soon.
Dali &, Bodyworld.. and getting reacquainted with area museums and galleries. Especially free ones :)
swimming, hiking, biking, long walks, the usual active fare- preferably a few planned outings with friends, but I often head out solo due to my spontaneous & adventurous nature.
chilled out good times with friends, old and new.
camping again.. but somewhere such as Green Lake out in Syracuse (and maybe Allegany, Letchworth, or Stoney Brook come late summer, early fall- love camping in the fall, but lets not think that far ahead!).
visit my families country home in Esopus then head to the city home for a couple of days. Need some H&H bagels!
maybe a spontaneous jaunt for bagels (or whatever-i'm not bagel obsessed, just fun to go some distance for something kind of random- doesn't have to be food, either. mmm) before then. I enjoy destination-less drives more than a pre determined one, but I am open to anything.
might have a garage sale.. but only one day, two at the most. I keep saying this, but it is not something I am enthusiastic to organize.
What else should be on my list?
der..
(e:ladycroft)
and
(e:rory)
shindig! WOOOO can't wait!


Permalink: sushi_summer_plans_pending_adventures.html
Words: 572
Category: adventure
10/21/08 12:06 - ID#46222
Registering Domain BuffaloWeb Services
I was looking at the fees associated with registering a domain name. There are several sites varying in price range. Register.com was my initial 'go-to' site, just to check on a few names. Then after confirming that they were available, I began to think about web hosting, which took me onto another search. I see that many of these sites offer packages- such as some amount of web hosting and page creation features along with a free domain name for X amount of money. Such as IPOWERWEB

I'm not necessarily ready to make use of anything. I just want a couple of names to sit on for future purposes, basically register a name and then go from there.
The 'free domain name' with web host/etc package made me curious as to what would happen with the domain name if I chose at a later date to no longer use the company. The fact that it was considered "free" does that somehow make the name I choose to be owned by them- only to leave me at the mercy of buying it off of them at their "price" should I decide after that I don't want to do business with them any longer? Maybe, maybe not. Obviously contacting someone would be a way to find out.
And I wonder how much additional spam-junk mail is received by the domain name owner due to that persons contact info (physical address & phone number) is readily available via "who is" ??hmmm
Gah! In terms of the bigger picture, I have so much to learn, or rather, become aware of. Having information and processes organized in my head helps me to carry out necessary actions with confidence. Some things I can simply jump into and learn/figure out as I go, but other areas, I like to know as much as I can before stepping forward. I comprehend most of what I read and am regularly capable of grasping new information very quickly. So many thoughts, so many questions.
I checked into local business that might offer what I am looking for. I found BuffaloWeb Services. Anyone know anything of them?

I can register a domain name for a fair prices. Then later on, add on to what I need. I believe I would go with one year for now, although a longer length of time would be less, overall. Just watching my cash flow for the time being.


Permalink: Registering_Domain_BuffaloWeb_Services.html
Words: 417
Category: adventure
10/16/08 01:14 - ID#46144
Sewing Contractors? Sew What
Business plans, executive summaries and other nuances of business start up can be daunting, yet somehow I have found a bit of a thrill in pulling together the information, placing the puzzle pieces into their respective spots. In some of my grad school classes we would do a mock version, and for some, a real to life version. Since then, I have assisted others in whatever way I can, if only as a cheerleader- but more often, much more than that. In my own pursuits, and there are often a few being juggled at the same time, I sometimes forget to have fun. And so it is through once again providing some pointers to someone in need of direction, that I get all anticipatory in my endeavors, and carry on. But this post isn't exactly about me.

A friend has a sewing project. It will get bigger than what a person or a few people can likely carry out themselves, well, at least, I am thinking big like that, for them. It is important to factor in "growth" and how you plan to handle it when/if it occurs. Funny how often people forget that growth is an issue to be addressed ahead of time. Anyway, I thought about sewing contractors. It is vital to their plan to have a production option ready to them in the event they need or want to outsource. I wondered what might be available in the WNY area and NYS in general. Anything that came up in a Google search provided abstract names without websites or any information that might solidify that the company is indeed a sewing contractor. A nationwide search brought up several with appropriate descriptions of what can be done and so on. However, my general bent on business, is keep it local when possible.

One in NYC looked interesting, but they also have a site in China, which made me think they outsource their projects across seas. Lets keep it on this side of the ditch, please.

Besides making several phone calls, which I am apt to do (or provide the numbers to my friend to make), I wonder if anyone has heard, had experience with or any sort of direction, food for thought regarding outsourcing projects that required simple sewing?

Going to be very chilly tonight, stay warm, snuggle close..



Permalink: Sewing_Contractors_Sew_What.html
Words: 391
Category: adventure
06/16/07 11:49 - ID#39700
Shakespeare in Park/ Carey in Woods
So, Shakespeare in Delaware Park is beginning any second. All's Well that Ends Well and Othello are this seasons production.
Kinda bored, feeling a little down or something. Not exactly sure why- although I have some tid bits to mull over.
Been a very busy social week considering I havent driven anywhere in quite some time. Super short jaunts is it. Mostly my friends have come to see me or come to pick my ass up. Hell, even
(e:ladycroft)
has swung by to pick me up, haha. Poor little beastly car- hanging in there.. still need to get it into the shop.
This has been a quiet weekend overall, but its not over yet! This time last week, I was chillin with a bunch of friends. No major drama, just eating, playing, laughing, chatting and having a simple-good time. Bonfire camp outs are always a lot of fun for me. Its really the company more than anything else. There is a lot of history among most of the friends I keep. Its nice to just.. Be.
and to be looked after, and to look after my friends...
After everyone crawled into their tents to go to sleep, B* and I continued to sit around the bonfire for more conversation and bacardi. Sometime in the night he suggested we take on the wilderness. Always up for some adventure, I was eager to go at it- to explore the unknown. Armed with just a flashlight, we headed away from the bonfire and into the dense woods, further away from everybody- and without direction. Perfect.
Fox, coyote, deer and other creatures reside in the woods we were entering. It was creepy, the land was wet with dew. The sky was clear, full of bright stars, and half a moon helped light the way.
Our imaginations ran as wild as the animals in the woods. We thought we saw things, we thought we heard things.. and quite possibly we did- but with a flick of a switch to the super bright 1 million candle power flashlight, we didn't really see anything.
We kept going, winding through grasses, brush, trees and vines. Up hills and down/around trenches. We ventures further and further- until we were so deep into the woods, that we no longer could hear anything at all. Not a sound from an insect. We could no longer see the stars in the sky-- or any of the sky for that matter. The air was entirely still. We crept along, our breathing and footsteps the only sound to be heard. We stopped and looked around. Breathed. Nothing. So dark, so still, so far away..
a little nervous, but excited by our adventure, we continued until we could go no longer. We hit a swamp..
and our flashlight died..
If we could have gone further without the flashlight, I think we may have tried-- probably neither one of us wanting to chicken out.
.. but since we were at an impasse with the swamp, our only option was to turn back, and embark on the adventure of returning-- first through almost total darkness.
It was a slow go, but we eventually made it back to being under the stars. My legs wet up to my crotch, feet totally soaked, & head moist with dew.
and probably a big smile on my face.
we returned to what was left of the bonfire.. a pile of sizzling embers. We worked on building the fire back up, as neither one of us were ready for sleep. It felt good to warm up and to know that we returned safely.
yet our imaginations and senses were still heightened..
and the coyotes were heard getting closer..
and everyone else were alseep in their tents..
and the whole night was still ours..
We finally went to bed just as the sun began to rise.
Camping out is fun!


Permalink: Shakespeare_in_Park_Carey_in_Woods.html
Words: 647
Category: adventure
03/24/07 04:21 - ID#38605
destination unknown
After a few nights of insomnia, I finally crashed Thursday night and slept quite a bit. It felt good to catch up on sleep, until I found myself falling back asleep just a few short hours later. This would have been yesterday, the warm sun filled day. I dozed deeply until about 5 pm. My plans to explore an unknown destination were now derailed. I quickly jumped out of bed (again), threw on clothes and ran out the door to try to salvage the remaining daylight hours.

I hiked, I walked, I trudged through spring sludge, I breathed, I jogged, I climbed hills, chatted with strangers, laughed, observed nature, contemplated and soaked up the still brightly lit sky.

Met a dog named Guinness, haha. The little white ball of fluff tried to eat me.

A bench high up on a hill provided me with a few minutes of solitude to rest and look out at what appeared to be a screen of bright blue. The water and sky reflected the same color, making the view in front of me feel and look surreal. As always, I enjoyed the experience of it.

The sky had a few remaining streaks of light as I wrapped up my late afternoon romp.

and that would have been almost 8:00 pm! I love the longer days!!!!!

While I had originally planned on a day trek out somewhere else (close eyes, point to map, finger lands on destination of the day), this short 'journey' sufficed. Not bad for last minute damage control.

The desire to go out today was strong, although the persistent rain has been unappealing enough to keep me home. Sometimes I like walking in the rain, other times, such as today, it does not interest me at all. I'm pining for some more sunshine. I am however, figuring out my next few destinations and activities.

.. and figuring out a few other things out as well. All in time, all in time..

Right now though, I am making a cup of coffee and heading out into my attached garage, kitties in tow, to begin organizing, cleaning, purging the items contained within. Its been a super busy two years and this is pretty much the last of the purging process that I began several weeks ago. I wonder what kind of forgotten treasures I will find?

The weekend is half over... wonder what else there is to do. I hope to find something fun and interesting to do socially, yet I am not ambitious enough to make sure it happens. Default activity will be to finish reading my national geographic adventure magazine to further fill my head with ideas :)

lots of places to go, things to do..



Permalink: destination_unknown.html
Words: 450
Category: adventure
03/05/07 11:51 - ID#38374
shamrock shakes
Florida is sounding really good to me right now and not just because of the arctic deep freeze we have been experiencing for the past month (brrrrrr!!); although it certainly bolsters my desire!!
I just keep hearing about Florida.. family.. friends..epeeps. travel.. all these things that have been planting a travel seed in my mind; of course, not just Florida, but for some reason I am feeling drawn to it. Been there, done that, but would certainly do it again. Perhaps a little trip to the Keys, hmmmm ?
pack my backpack of essentials (book, undies, lipgloss), pack my camera and I am off to explore.
Lets see what develops..
I'm working on getting my passport as well :)
and while all that figures itself out, I am doing some local day travels, camera in hand- cold ass weather and all. Simply heading wherever I feel drawn.. life is good!
PS- Shamrock Shake time!



Permalink: shamrock_shakes.html
Words: 155
Category: adventure
02/28/07 07:57 - ID#38313
compromising positions
somehow, I end up like this anytime I encounter even the tiniest slope while XC skiing.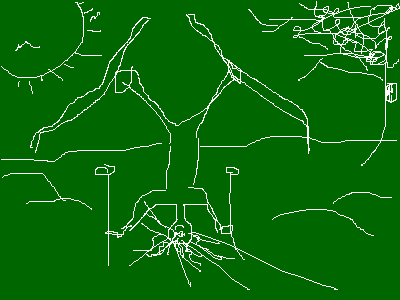 I still don't know how to get up after a fall. But now I am quicker at unlocking the boots from the binding :)


Permalink: compromising_positions.html
Words: 40
Category: adventure
02/18/07 12:04 - ID#38200
heat wave, baby
The temperatures are going to reach into the mid thirties this week! YAY! This will make for some great cross country skiing weather.
Maybe build a snowman as well.
Like this:



"first she says go out, then she says come in.."

"snow sharks" haha!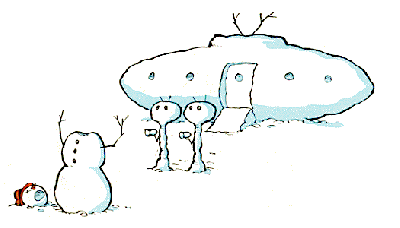 "wow it really snowed last night.."
"its like having a white sheet of paper to draw on"
"a day of possibilities.."
"its a magical world.. lets go exploring!"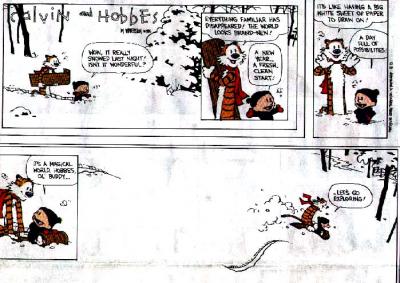 hmmm.. it does feel like that..
Feel the adventure! :)


Permalink: heat_wave_baby.html
Words: 101
Category: adventure
01/20/07 10:04 - ID#37798
Walking the Buffalo Divide
Brrrr, it was a chilly day today. A good brisk walk in the sun was well needed and enjoyed. Although I danced on and off all day yesterday, and bounced around inside (love those stairs!) I still need to have my daily dose of fresh air, even if it is arctic cold. Playing with my car in Wegman's parking lot yesterday, freezing my ass off while assessing the sudden 'lack of brakes' issue, does not count as quality time in fresh air. Nope. So it was definitely on my agenda today.
I bundled up in layers, tossed a backpack on my shoulders and headed out the door, no particular destination or time frame in mind. I love my strong leg and butt muscles. They take me anywhere I want to go and as far as I want to go. It is wonderful to just take off walking and eventually forget that my lower body is moving as my mind takes over and takes in my surroundings or takes me places other than my surroundings.
My ever reliable back pack contained a few essentials: ID, cash, shiny lip gloss and two books. A pit stop for a steaming cup of blackberry sage tea allowed me the time to finish reading, The Alchemist by Paulo Coehlo- another source that is replete with ideas and messages that I have thought about already in the past. One paragraph brought a tear to my eyes; it is strange to feel things much more strongly than what I have in the past. I dig it. The second book, Sun Tzu's The Art of War, was started and abandoned back in August of 2006
(e:theecarey,228)
. I had needed to amp up my academic efforts therefore suspended reading anything that was not school related. I read a few more pages before heading back out into the cold and icy January day. It is a quick, albeit occasionally complicated read. I love that I can catch up on my reading. I pulled out at least a dozen books from my collection that I fully intend to delightfully tear into.
I returned to the 24 with anticipation of curling up and relaxing on my deep orange body melting barcalounger. I lit a few vanilla candles, put on a full length sweater, added a blanket for extra warmth and turned off the lights. I laid back and closed my eyes, not falling asleep but not fully awake either. Thoughts swirled around behind my closed eyes; most were visual with an emphasis on delicious.
Having not paid attention to the time all day, I am not sure how long I relaxed in my chair. Ooh, that chair felt good- it has been such a long time since I just sat down like that. The primary effect was rejuvenation which was much needful after a very busy and late night prior. It was nice to shake off any lingering negativity and insecurities as well. yeh, it happens and I just deal with it head on. With newfound freshness, I stood up and stretched, went downstairs to make tea, then resumed my stretching in more purposeful manner. I am very flexible and work at maintaining a balance in this flexibility; it must be combined with strength and balance to be optimal. I should take a yoga class or buy a DVD to further enhance my abilities.
rock on.
Considering that I am outdoors as much as possible (I go through a lot of SPF lotion all year long!) and immensely enjoy walking/hiking, it would do me well to incorporate it more with other fond activities such as writing and phtography. I love packing my backpack and heading out into the woods, usually without a destination, time frame or predetermined distance. Now, how about trying something different- having to carefully map out the destination with logistics pertaining to time and distance (and survival, hehe!) ? I would like to strive for hiking the continental divide one day. I am sure I have mentioned it before as it is something I think about on again, off again. However, I have taken an active approach to looking into it.

3000 miles. Come on, who's with me???Any takers?????????? hehe
yes yes yes yes!
update via p:mobl another pic trying to get the flower. Mirror image picked up me as well, when I looked at the whole image(accidentally and then purposefully). Still can't get in close enough for the flower as hoped. Sepia tone on Pocket PC.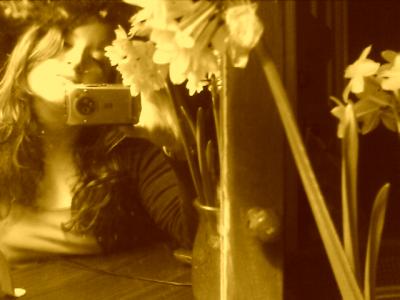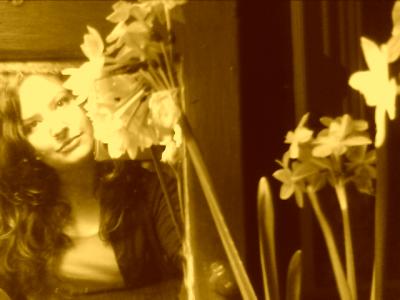 Permalink: Walking_the_Buffalo_Divide.html
Words: 760
Category: adventure
01/07/07 11:29 - ID#37583
Bird Pier Island- My turn
Yesterday I awoke with the desire to run through the woods
nothing surprising there, I suppose. I have lost track of how often I have mentioned (and completed) that wish. Yet I have been far off course these last few months, so feeling it yesterday was decidedly a delicate mix of both novel and familiar.
I began with continuing to work on domestic tasks- purging, organizing, cleansing. I am making a mess, disrupting my current 'system', but in a short period of time, it will all come back together. I may very well be the only person who notices- as everything is normally clean and has a relaxing ambiance. But I am getting into the details- it is a bit of a purge on a few levels.
Eventually I made my way to
(e:ladycroft)
where our outdoor adventure led us to Bird Pier Island. I still wanted very much to breathe in the woods, but time needed to be factored in. I suggested finding the pier as I had yet to go out on it, although I drive by it regularly. We set out not knowing quite where we were going. Thats ok, it is all part of the experience. Well, it was closing in on dusk by the time we parked. perfect.
The breeze was chilly and rain drops began to fall. As always the weather is not a deterent. I was quite pleased with the weather- it felt perfect to me. The darkness came slowly as we made our way to the pier; talking, thinking, laughing sharing ideas. Occasionally we stopped to look at the water- calm along the canal side, rough rushing waves along the river, ourselves making our way inbetween.
I relished the sound of the water crashing upon the boulders.
I ran my fingers lightly over the cool metal cable lining the pier- guiding me as my focus was rarely straight ahead.
Geese, ducks and seagulls delighted me.. "GEESIES!!" "DUCKIES!!", I exclaimed.
In the distance, water crashed over the break wall.
The sky held multiple layers of grey and blue clouds, with deep pink peeking through. The greatest darkness was further into the distance- where the vastness of lake erie held me mesmorized. The combination of breeze, rushing water and birds engolfed me in a sense of the surreal. Breathing in, the air maintained a surprising freshness. Inhaling deeply, it smelt like a summer night in July. LC concurred.
Reaching the furthest point we could go, I was a bit disappointed that it was time to turn back around. We stood and talked a bit longer contemplating the purpose of a structure in the distance that looked like a pirate ship, a magic one at that. Discussion of lake surfing, rafting and stealth missions ensued. The return walk was just as visually pleasing but in a less dramatic and surreal way.
Darkness now apparent, the evening lights of Buffalo and Canada reflected off the water, encouraging color selection for a painting palette. "so many colors in the water right now" with the ducks swimming by, making endless ripples. The structures of downtown were seen from a refreshing persective- a future trek will include my camera.
(e:mrmike,224)
we too considered the fate of Fred and Christina :) and that abandoned black sweater proved to be a vital element in hiding LC's secret treasure. I am pleased to have finally located the pier (thanks,
(e:pyrcedgrrl)
) and to have shared this experience with
(e:ldaycroft)
- who is equally up for a spontaneous outing. The remainder of the evening included making a yummy dinner, playing Simons Quest and munching on apples for dessert.
Today, I spent time outside getting my hands dirty.
damn, that felt good.


Permalink: Bird_Pier_Island_My_turn.html
Words: 620
<-- Earlier Entries
Author Info
Category Cloud
My Fav Posts
This user has zero favorite blogs selected ;(