Category: music
01/20/09 11:10 - ID#47469
Sunshine
I added to my music collection this weekend.
If anyone has seen the movie, Sunshine (Danny Boyle, sci-fi, 2007), you may have noticed the amazing and beautiful music score throughout the movie.
An official soundtrack never came out much to many fans disappointment.Every time I have seen it, I wished so much that one would be released.
Not too many details as to why, but this was tiny bit of information was readily available (from wiki):
Despite high praise for the score from many fans of the film, a soundtrack for the film was heavily delayed to be released, in part due to 'disputes' between the lawyers of Underworld and Fox Searchlight.[41] Although not released close to the film's debut, a soundtrack was still widely expected to be eventually released, until the film's producer Andrew Macdonald stated in a fansite interview that the soundtrack was "stuck" and that there were "no plans to release" it
Then not that long ago, I heard rumors that the music was going to be released, but not as a hard copy, but through iTunes. Eventually this turned out to be true (only as of the end of this past November). This still upset some fans, but personally, I am grateful that the music made it into any attainable format.
So I spent an iTunes gift card this weekend on purchasing the illustrious soundtrack to, Sunshine. It is awesome.
1. "Welcome to Icarus II" (John Murphy) - 1:59
2. "Avenue of Hope" (I Am Kloot) - 4:34
3. "Capa's Last Transmission Home" (Underworld) - 2:11
4. "Kanada's Death, Pt. 2 (Adagio In D Minor)" (John Murphy) - 2:58
5. "Mercury" (Underworld & John Murphy) - 2:10
6. "Kanada's Death, Pt. 1" (John Murphy) - 6:06
7. "Searle Finds the Crew of Icarus I / Floating Free / Searle's Last Blast" (Underworld & John Murphy) - 3:11
8. "Freezing Outside: Harvey" (John Murphy & Underworld) - 2:54
9. "Trey's Fate" (Underworld) - 2:42
10. "Pinbacker Slashes Capa" (John Murphy & Underworld) - 2:32
11. "Corazon Finds the Seedling" (Underworld) - 1:20
12. "Cassie Searches / Dead Coraz�n" (John Murphy & Underworld) - 2:41
13. "Freezing Inside: Mace" (John Murphy) - 1:51
14. "Capa Suits Up" (John Murphy) - 1:54
15. "Sunshine (Adagio In D Minor)" (John Murphy) - 4:27
16. "Capa's Jump" (John Murphy) - 1:20
17. "Distortions" (Underworld) - 5:40
18. "Capa Meets the Sun (To Heal)" (Underworld) - 2:18
19. "Peggy Sussed" (Underworld) - 2:27
thanks LC!
Trailer to Sunshine:
wiki:

(2007_film)
also, great clip from Sunshine, called, "Mercury". Watch this!!
Now I am in search of a few more pieces of music. Generally, I want a whole album, I want it as a hard copy. If I just want a few songs here and there, then individual iTunes purchasing is good.
I'd like the soundtrack to WALL-E. Really nice music peppered throughout that movie as well.
There is one Enya cd that I do not have. It is from 2005 called, Amarantine. Haven't knowingly heard anything from this album, but I would buy it without listening to it. It is Enya, it can possibly be bad (for Enya fans). I know I simply feel relaxed and loosened up upon hearing the music.
Metric is coming out with some new stuff soon. I purchased a few older tunes to add to my music library. Also a couple of songs from Lady Gaga- yeh, those songs initially annoyed the hell out of me, but then grew on me to the point of liking them.
Also added some Flaming Lips and The Psychedelic Furs. Also burned a few of my older (well purchased with the past year) cds into iTunes, some that I just hadn't gotten around to doing yet such as Gnarles Barkley(The Odd Couple), Robert Plant/Alison Krauss (Raising Sand), Tegan and Sara (The Con), Moby (Last Night) and a few others. I put music on, take it off, but I don't think I had ever had those in my list, so on they went.
I'm never done. New stuff comes out or I remember old stuff that I don't have, and so it is an on going pleasurable chore of the sort.
I don't update my music library that often, as when I do, I'm losing track of time- a good thing, if you've got it to spare. I simply get lost in searching, organizing, adding, listening, etc, that a whole day (weekend!) can pass by much too quickly.
And so, I'm good for a little while.
Stay warm and good night.


Permalink: Sunshine.html
Words: 734
Category: music
02/27/08 03:02 - ID#43483
Medeski Martin and Wood
MMW last night at Town Ballroom, very cool. The three men played two lengthy sets taking the audience through a wide spectrum of auditory textures. I really dig jazz-funk-fusion harmony.
This is my first time having the opportunity to see these guys perform. I was pleased that my date/friend "T" and I found a spot at the stage, (one because standing for over three hours it was nice to have the railing to lean against, and two, I could see what instruments were making which sounds) as it was nice to have the auditory experience of the night enhanced by being so close. Watching them play their variety of instruments, in particular Medeski's variety of keyboards (mellotron, melodica, clavinet, etc) that I wouldnt have seen if we weren't right at the stage. I nean, I could hear a harmonica type of sound when Medeski used this rectangular shoe-box size instrument that had a blow hose and some keys. I now know that it is a melodica after looking it up.
They are out of NYC and have local tour dates, but they bounce all over the globe. Pretty cool.
Now to buy myself some music!
Myspace:

Official Site:



Permalink: Medeski_Martin_and_Wood.html
Words: 210
Category: music
10/19/07 02:04 - ID#41708
music binge and purge
I've updated my music collection and I am rather pleased with myself, haha.
It had been awhile since I looked for music- I get so consumed in the search that several hours will go by unnoticed. Not a bad thing- just need to save it for a day that I can do that.
I have added new artists to my collection and have had the pleasure of acquiring more songs from some of my favorite artists. Bonus.
I also deleted a slew of music that I just seem to never bother listening to. It almost felt sad.
While I have a pretty cool music selection, there is plenty to be embarrassed about as well. I need to tuck those away into a folder all of its own. Shut up; you have a few dirty beats that get cranked up when no one else is around-- most likely in the car, right? right?!?! Thought so. :)
alright.. in no particular order..
well, the first three are the only ones that I did not have any music from, so I look forward to 'bonding' with the 'new' stuff:
Mindless Self Indulgence

Goldfrapp

Shiny Toy Guns
the remaining artists I already have in my collection, but just managed to find more of.. (yay!).. although some are still skimpy- -must keep looking:
Interpol

Nuclear Ramjet

Sphongle

Dead Can Dance

Blaqk Audio

Chemical Brothers

Dandy Warhols (my fave, along with Moby)

Dashboard Confessional

Tegan and Sara

a couple here and there from ..Moist, Nickelback, Lords of Acid, J-Lo

oh, and a slew of "mash ups" -- fun stuff.
--can always use more Aphex Twin, Fischerspooner, Infected Mushroom, Muse and Moby; although just not a priority right now.
I'm looking for some hard hitting aggressive stuff. Not even sure what genre. BT is working right now, but I'm thinking something edgier.
Suggestions of all sorts are welcome.
I'm also looking to add to my "Her Space Holiday" collection.
and to find and buy, Charlie Hunter Trio. good stuff, and my collection has been just begging for his (their) stuff.
Saw Charlie Hunter Trio at Thursday at the Square with a date, "T". The music was entertaining, although I was a bit weirded out with the company I was with. Glad I don't jump into anything with anyone- ever.


Permalink: music_binge_and_purge.html
Words: 381
Category: music
09/14/07 02:01 - ID#41095
Charlier Hunter Trio and last TATS
Thursday at the Square, September 13th
I wasn't paying much attention this summer, but its the 20th anniversary of Thursday at the Square.
It was a perfect evening to venture downtown for the second to last TATS performance. Although I had not seen or heard, Charlie Hunter Trio previously, what little I did know, made me eager to know more.
I am pleased to the point of popping! I intend to buy some music very soon. I know a lot of the sounds and experience in general is lost in a venue like TATS, so acquiring a cd or going to another concert should prove to magnify the experience I had. I LOVE finding 'new' music. I'm in a perpetual search for 'good music'; yes, subjective, I know.
Anders Osborne was the other performance. I like blues, I love the Saxaphone, I deeply enjoy tuning into one instrument all the while feeling the symphony of cohesion. Anders didn't have that. It felt mechanical. Not sure if this is the norm or if anyone picked up on that, but it decreased my favorability, and instead I found my mind wandering to the going-ons of everyone else.
Hey, I saw a lady hauled off in handcuffs, escorted by two officers, one of which was carry her purse by his elbow. I saw kids (or men?) doing wheelies on bikes, one of which fell off the back when the rear tire kept going forward mid wheelie. I saw the extreme pleasure a man took in dancing his own special rhythm to Anders Osborne. I wasn't sure if he has his own music in his head, or if he was just really letting loose, if so, I kinda dig that.
I usually sit in the same spot- up near the statues, and I have noticed that this year, I have seen the same people when I go. The ever present "air guitar" player did not disappoint in contributing his participation with the bands. Please tell me someone has seen this guy? haha, he is always to the right of the stage. Also, the super funny older 'drunk guys' found their way to the bushes, as always, with their multiple cups of beer. They are super happy drunks yet I can only hope they walked or took a cab.
Next week is Dropkick Murphys. I am kinda curious about them. I think if anything, it will lend to an energetic atmosphere for as the last performance of the season. So I will try to go.

Also, Jackdaw is on.
a couple of Dropkick Murphys videos:
Walk Away
Sunshine Highway


Permalink: Charlier_Hunter_Trio_and_last_TATS.html
Words: 448
Category: music
06/29/07 10:23 - ID#39851
TATS & 90's Music
Joan Osborne was a pleasure to see at Thursday at the Square; such the lovely voice that I remember. Although I have and really like her cd, Relish (1995), I don't think I have anything else, or have really heard anything else since. With all the unfamiliar songs she sang, I decided to look to see what I have missed over the past decade. Apparently a lot: (album list)
http://www.google.com/musica?aid=9HkP4n527k&sa=X&oi=music&ct=result
Now I have some music to find!
The other artist.. something Hoge (Will?) was alright. The best part of that performance, was one given by a guy in the audience. He stood nearby, faced the crowd and played his Air Guitar. He was *all* into it- song after song after song. Eventually he managed to form a band. He got someone on Air drums and Air bass. It was really funny.
(e:enknot)
,
(e:pyrcedgrrl)
,
(e:ladycroft)
and
(e:frogadelic)
know all about it. You do to if you were there, it was hard to miss! haha. I think
(e:laurajean)
came too late to see all that.
In other mid- 90's music news..
Spice Girls are getting back together?!?
yes, for a reunion tour- as a 'thank you' to the fans...
the Spice Girls insist they are not back for good. "This is going to be a one-night stand," said Geri.

The girls promised to perform all their classic hits during the show.

While I am not a fan, the Spice Girls are a little bit of an inside joke for me. I've got a little purse, notepad and a few um, *cough cough COUGH* songs on my iPod. ('gifts' from friends) I remember when they appeared on the scene. So not related, but in my music history, it was at the tail end of the grunge phase and just before "alternative" became mainstream. There was a lull in music- everything kinda dark, moody and edgy, even on the otherwise pop hit music stations. Then these ladies emerged and then a slew of lighter, bouncier music followed. Why I remember this, I do not know. I am full of random/useless memories and trivia.
for giggles, I pay homage to the Brit ladies with one of their songs as a user sound.
enjoy ;)


Permalink: TATS_amp_90_s_Music.html
Words: 412
Category: music
05/18/07 03:33 - ID#39329
Thurday at the Square line up
its that time of year.. in just a couple more weeks, it all begins:
Thursday at the Square!! YAY!

wow, come to think of it, I have not been in attendance in two summers. I always had a class on Thursday evenings.


Permalink: Thurday_at_the_Square_line_up.html
Words: 50
Category: music
09/25/06 12:14 - ID#36044
musique classique
j'adore musique!
Thought I would turn in early tonight..
until I decided that I need to add songs to my iPod.
which I am sure you know..once you start, it is hard to stop. A few hours later and just minutes before my usual bedtime, I am done. -- or atleast I am forcing myself to be done.
Added a bunch of classical (bach, mozart, chopin, beethoven) which I have been really into lately- have always been a fan but the past few says it is all I have really wanted to hear. Also downloaded some Frou Frou, Herb Albert, Trans Siberian Orchesta, Arielle Dombasle (french singer), a few singles of songs of the past; ie, blu cantell, escape club, mmmm maybe more. My music tastes are eclectic. I dig a whole lot of music, minus just about all country. yuck. But I have an open mind and am always adding to my auditory experiences..
miss arielle. I like her website: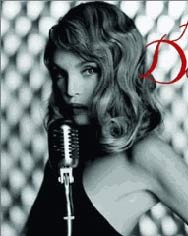 P.S. Anyone see the commercial for Trivial Pursuit 80's ?? It has a whole bunch of actors/actresses from that time (Kelly Lebrock, Cory Feldman, Tiffany, The Hulk, etc.. ). Here is a little bit of it:
From Cyndi Lauper website as she directed the commercial:

Good night!
Bon Nuit!


Permalink: musique_classique.html
Words: 223
Category: music
09/03/06 11:27 - ID#36027
get your sexy on
"You see these shackles
Baby I'm your slave
I'll let you whip me if I misbehave"
I've had that running through my head all day....
mwhaaahahahahahahhahhaha!
Ive just jumped on the pop tune bandwagon. forgive me, but right now "it just does something" for me..
I havent listened to the radio much this past year. It usually annoys me to no end as there is little that I want to hear from the airwaves. I also hate commercials. And I have an iPod, I use that all of the time in my car, so yeh, the radio is generally useless to me.
except this afternoon as I had a bunch of places to stop at and it was more aggrivating to keep messing with the pod than to either keep the radio off or just tune in and hope for some decent music.
Curious about new songs- I tuned into some local channel.
I am totally digging this song by Justin Timberlake: Sexy Back
here are the lyrics, video and check my user sound.
maybe I will hate it in a week, but again, right now it is doing something for me.
I like how he sounds.. i like the way the whole song sounds..
I just found the video..
video on you tube:

I'm bringing sexy back
Them other boys don't know how to act
I think it's special, what's behind your back?
So turn around and I'll pick up the slack
(Take it to the bridge)
Dirty babe, you see these shackles
Baby I'm your slave
I'll let you whip me if I misbehave
It's just that no one makes me feel this way
(Take it to the chorus)
Come here girl, go ahead be gone with it
Come to the back, go ahead be gone with it
VIP, go ahead be gone with it
Drinks on me, go ahead be gone with it
You see what you working with, go ahead be gone with it
Look at those hips, go ahead be gone with it
You make me smile, go ahead be gone with it
Come here child, go ahead be gone with it
Get your sexy on, go ahead be gone with it (7x)
Get your sexy on.
I'm bringing sexy back
them motherf***ers don't know how to act
Come let me make up for the things you lack
Cause you're burning up, I've got to get it fast
(Take it to the bridge)
Dirty babe, you see these shackles
Baby I'm your slave
I'll let you whip me if I misbehave
It's just that no one makes me feel this way
(Take it to the chorus)
Come here girl, go ahead be gone with it
Come to the back, go ahead be gone with it
VIP, go ahead be gone with it
Drinks on me, go ahead be gone with it
You see what you working with, go ahead be gone with it
Look at those hips, go ahead be gone with it
You make me smile, go ahead be gone with it
Come here child, go ahead be gone with it
Get your sexy on, go ahead be gone with it (7x)
Get your sexy on.
I'm bringing sexy back
Them motherf***ers watch how I attack
If that's your girl, better watch your back
Cause you're burning up for me, and that's a fact
Come here girl, go ahead be gone with it
Come to the back, go ahead be gone with it
VIP, go ahead be gone with it
Drinks on me, go ahead be gone with it
You see what you working with, go ahead be gone with it
Look at those hips, go ahead be gone with it
You make me smile, go ahead be gone with it
Come here child, go ahead be gone with it
Get your sexy on, go ahead be gone with it (7x)
Get your sexy on.
good night..
as visions of last nights non english speaking hot foreign boys dancing in my head. I was hoping that they were party favors. But alas, it was entertaining anyways. Thanks Timika-- usually you have glow sticks, but Foreign boys work too. *high five*
update:
hahahaha I was just looking through all of
(e:metalpeter)
's pics that he posted to web shots. I snagged some of them for myself as I saw something that cracked me up... (whether true or not, hehe)
what is holding the attention of these fellas?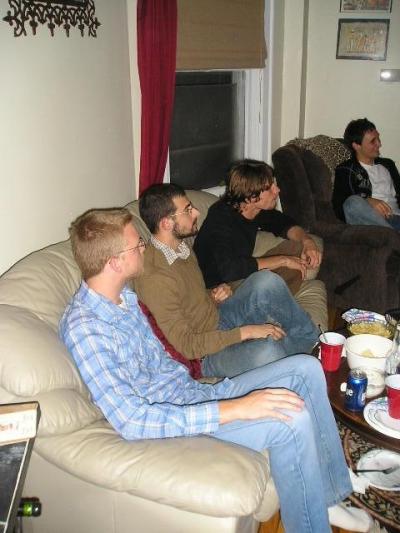 ahhhh, yup yup.. I think I understand now ;) (thanks for that one Peter, all the rest were of one girls butt, haha)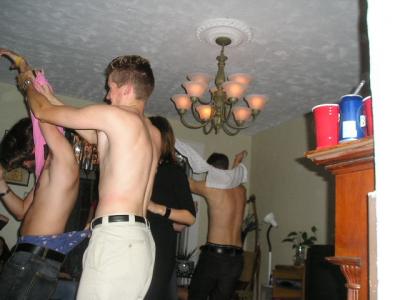 random blow pop picture in the infamous unibomber hoody. Yes my lips were blue, no I wasnt doing anything with a smurf.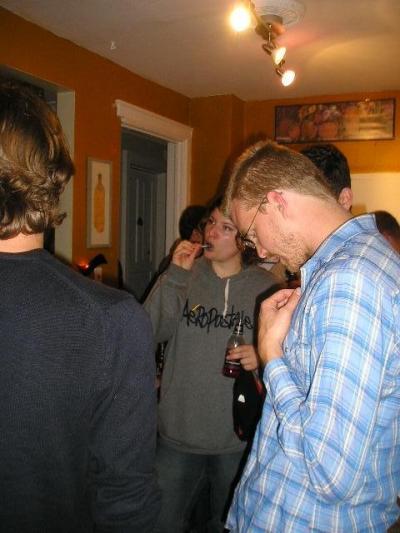 or was I??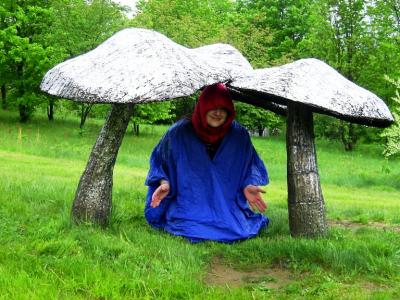 Permalink: get_your_sexy_on.html
Words: 812
Category: music
05/22/06 11:15 - ID#35941
ambiance
Music can open doorways into what it means to be human beyond our limited cultural definitions. If the listener is open, music becomes a magic carpet carrying the participant on a flight of becoming.
~Michael Strearns
of becoming what? hehe
..anything I want, I suppose. hmmm..
Stearns

created the soundtracks to Back to the Furture: The Ride and Star Trek: The Experience. Also Chronos and Baraka, two non verbal "global masterpieces". I have some music from Baraka, although not nearly enough. Which brings me to this post. I found a sampling at Amazon.com:

LimeWire is limited in sources, although the songs are available. I may have to try another music sharing site.
And so, I roll out my new user sound:
African Journey- Dead Can Dance
I have off Friday.. I am thinking about a venture out to Letchworth..
I have a bunch of stuff in mind for the long weekend, weather permitting. Well, not that that EVER stops me.. but I am in the mood for some sunshine and calm air.
Who's up for some adventure??
be safe,
carey


Permalink: ambiance.html
Words: 201
<-- Earlier Entries
Author Info
Category Cloud
My Fav Posts
This user has zero favorite blogs selected ;(