Category: new year
12/30/11 08:55 - ID#55813
as we say good-bye to 2011
As The New Year Rings In
On the eve of each New Year we often reflect on our lives. As we say good-bye to 2011 and hello to 2012, I wish you joy that never ends and happiness with all your family and friends.

Where were you when 2011 began?
In the 33rd floor Sky Lounge of Nido watching London fireworks.

Who were you with?
Rory, my boss, his wife and a few friends.

Where will you be when 2011 ends?
At home.

Whom will you be with when 2011 ends?
Rory.

Was 2011 a good year for you?
Overall yes, but a difficult year in terms of loss.

What was your favorite moment of the year?
Announcing to our parents that we were going to have a baby.

What was your least favorite moment of the year?
Finding out my nephew had cancer, my dog Bambi died and that Joshua had died.

Did you reach your New Year goals for 2011?
Most of the them!

Lose weight- I lost 18 pounds before getting pregnant!

Travel to Netherlands, Sweden, Finland, Russian Federation, Denmark, Gibraltar, Brunei and Ireland. I've also got this thing about SCUBA diving shipwrecks in Bermuda - Made it to Netherlands, Sweden, Finland, Russia, and Denmark.

Rewrite a more comprehensive Resident Handbook - did it!

Read more. More specifically, read at least 2 books per month - read more, but didn't reach that specific goal. Pregnancy made me so tired and sick the first 5 months reading wasn't on the menu.

Beat Dead Rising with all endings, all survivors, all quests and full levels. Zombies! - Negative. Couldn't be bothered to play games either.

Buy an awesome bicycle with a basket and bell and take some lovely rides in London. - Nope. Once it came time for nice weather we found out Stickybean was on the way and basically bicycle riding isn't allowed :(

Get to know London better. Start utilizing my secret black book to mark bus routes and hidden treasures we come across in our excursions. - Yep!

Grow more 'duck feathers' to let certain things roll off my back a little more quickly. - Yep.

Be the best wifey I can be and never let a day go without telling Rory how much I love him. - Absolutely!

Make my cat famous for her awesome fetch skillz and run a line of crazy T-shirts. OK, this one is a joke, but it would still be fun. - Seriously thinking of this one for next year....

What was your favorite month of 2011?
May; we both stared at the pregnancy test stick in awe.

Did you travel outside of the US in 2011?
Indeed: England, Holland, Denmark, Finland, Estonia, Russia, Sweden and Poland.

Did you lose anybody close to you in 2011?
I did. Our dear Joshua and my sweet little Bambi.

What was your favorite movie that you saw in 2011?
Hmmm....I think the King's Speech

What was your favorite song in 2011?
Someone Like You by Adele

What was your most exciting moment of 2011?
Buying our first home together.

What was your proudest moment of 2011?
Being part of the winning team for a prestigious award for Environmental Excellence in the UK.

What was your most embarrassing moment of 2011?
Rocking up to the airport only to find out our tickets were actually for the day PRIOR.

What are your goals for 2012?

• Continue to lose weight- I was doing well before getting pregnant, so once it is safe to do so I'd like to continue with that progress.

• Travel to the US with Stickybean to meet family.

• Read the 5 books waiting in line to be read.

• Buy an awesome bicycle with a basket and bell and take some lovely rides with Stickybean and Rory.

• Get my UK driver's license.

• Buy a car.

• Be the best wifey and mother I can be and never let a day go without telling Rory or Stickybean how much I love them.

• Make my cat famous for her awesome fetch skillz and run a line of crazy T-shirts, even if it's just for us :)

Cheers to a happy new year, celebrate safely and have fun!!!



Permalink: as_we_say_good_bye_to_2011.html
Words: 680
Location: Niagara Falls, NY
Last Modified: 12/30/11 08:55
Category: christmas
12/17/11 05:56 - ID#55756
8 more sleeps til Christmas
Christmas is coming and THIS goose is getting fat! Only 5 weeks left untilS Stickybean's expected arrival. 8 more days til Christmas :) I'm excited to be able to host our very first Christmas dinner in our very own house!

I finally have my first midwife appointment today with my new branch. Kind of nerving to transfer doctors and such so late in the game. She's coming over today for my check up (35 weeks!!!). Yah, how's that for service....she's coming to MY HOUSE. How convenient is that for a pregnant lady?

Wishing all the peeps a loving and warm holiday!




Permalink: 8_more_sleeps_til_Christmas.html
Words: 98
Location: Niagara Falls, NY
Last Modified: 12/17/11 05:56
11/18/11 03:07 - ID#55544
children in need
So, Rory and I went to see Rock of Ages (highly recommend seeing it!) at a special Children in Need gala showing. I got a fist full of glitter thrown down my cleavage by Justin Lee Collins! Ha! Good times. Anyway, we chose that showing so we could contribute to the charity in a fun way. I carried on the fundraising at work and made my co-workers donate to come dressed for a clash day. Too much fun when you get your boss to don a pink tutu!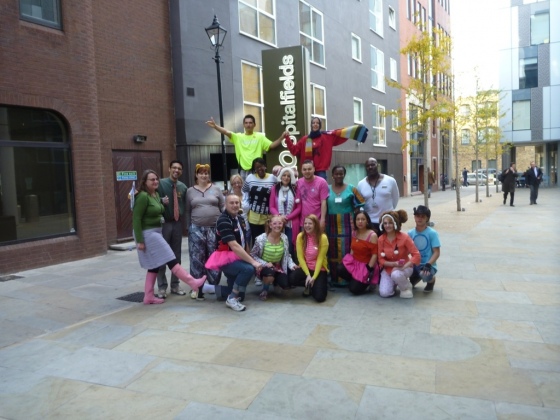 The whole staff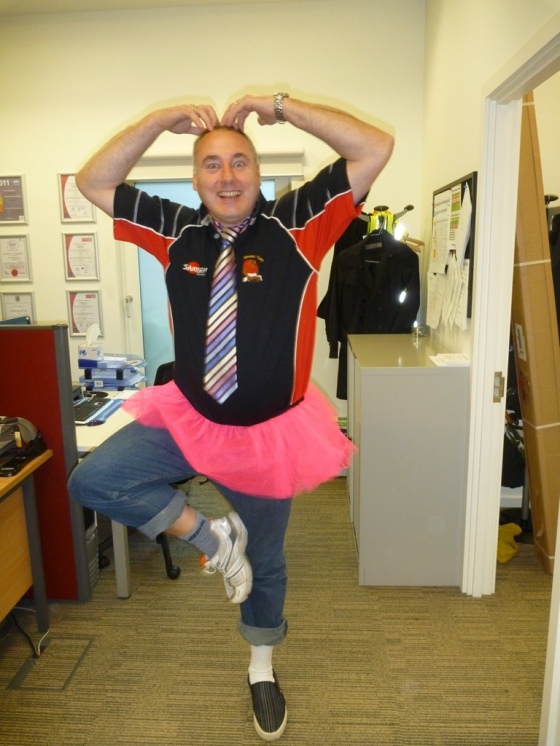 My boss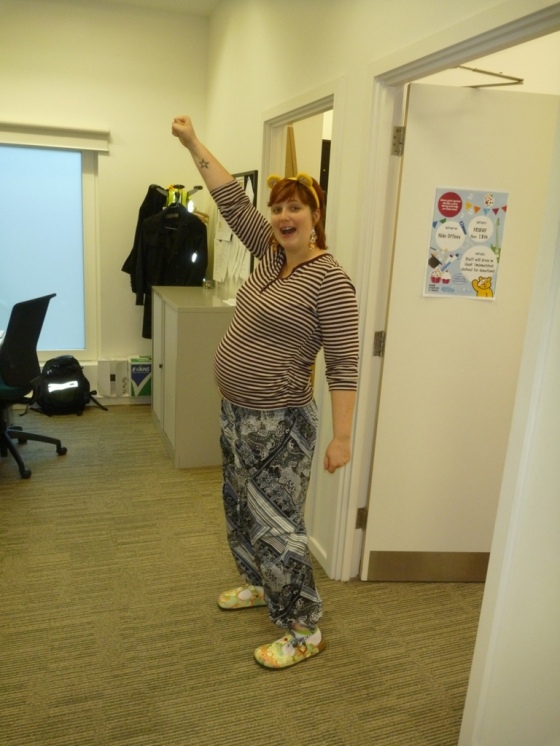 Me with my Pudsy bear ears on


Permalink: children_in_need.html
Words: 106
Location: Niagara Falls, NY
Last Modified: 11/18/11 03:07
Category: baby
11/08/11 03:13 - ID#55463
results
GTT came back all good, no daibetes! But my iron came out too low so I now have to take iron pills. Have to get a flu shot tomorrow which I'm not thrilled about. The one and only time in my life that I got a flu shot I got horribly ill with the flu. Please don't let that happen again!

My scar is also hurting and stretching at the bottom. I have to go to hospital Thursday to take a closer look and see what the next 2 months might look like for me.

Other than that, Stickybean is doing well, plumping up and has a nice healthy heartbeat :)



Permalink: results.html
Words: 109
Location: Niagara Falls, NY
Last Modified: 11/08/11 03:13
Category: baby
11/04/11 02:03 - ID#55436
so hungry
I'm jet lagged, starving, woken up at 5am by a beating inside my belly and I'm not allowed to eat because I have a fasting GTT test today! Misery. Fasting and pregnancy do not mix!



Permalink: so_hungry.html
Words: 35
Location: Niagara Falls, NY
Last Modified: 11/04/11 02:03
Category: travel
11/02/11 08:35 - ID#55425
leavin on a jet plane
Flying out today :( Too short of a visit, there's never enough time these days. Said good-bye to one nephew today sending him off on his bus to school. Poor guy thinks we'll be home when he gets back. Couldn't say a proper good-bye because he's going to be horribly upset. We went shopping just the other day and said 'bye', he thought we were leaving for good and started to cry. We thought maybe it would sting less if we just let him go off to school happy.
So it's off to London and 3 more weeks of work, then I start maternity leave. We'll officially move into our new house the weekend of Nov. 25th.
Thanks again
(e:Springfaerie)
and
(e:Dimartiste)
for the awesome handmade baby blankets! Thanks
(e:Theecarey)
for the cats and dogs coverall and watermelon onsie! Thank you
(e:jbeatty)
for sophie the giraffe and the krinkle toy. They MUST be good ones, not just because your Emily loves them, but my nephew was like 'ooooh this is fun'...and he's 5! Lastly, thank you SO MUCH
(e:Metalpeter)
for the gdiapers, burp pads and thermometer! You're so kind and the sustainable diaper system is something that was really important to us, so thanks for getting us started!
Til next time peeps....


Permalink: leavin_on_a_jet_plane.html
Words: 215
Location: Niagara Falls, NY
Last Modified: 11/02/11 10:15
Category: visit
10/29/11 09:20 - ID#55400
for a limited time only
Enjoying time at home with my family. Had a bout of illness just before our flight and it really took it out of me for a few days. Couldn't seem to kick the jet lag, not that the dreary weather helped any! But, looking forward to seeing more folks today as it's much easier for friends to come and see us. I simply don't have the energy to get out and about. Hope to see some of you on this trip, pre-baby.

Ciao!



Permalink: for_a_limited_time_only.html
Words: 83
Location: Niagara Falls, NY
Last Modified: 10/29/11 09:20
Category: baby
10/11/11 10:19 - ID#55278
updates
Stickybean is starting to kick and punch on a regular basis. It's rarely detectable on the outside though Rory has gotten to feel it here and there. Sometimes it catches me so off guard! I guess you can never really be prepared for a sudden stomp on the bladder or punch to the intestines. Can't imagine what it'll be like as it gets even bigger...yikes. Anyhow...just approaching 26 weeks and doing fine, just getting more inflated by the minute.

We've closed on our house and we pick up keys this Saturday and do our walk through - while also moving in the majority of our stuff, having phones and tv installed and purchasing the flooring for the ground floor. Busy, busy day ahead. We needed to get it done before we go on holiday though and this is the last weekend we have to do it.

Heading off to Paris next weekend on a travel program with some of my residents, then we turn around and fly stateside! Hopefully get to see some of you while we're home. We'll try to post when we're out and about if you'd like to meet up with us. When I get back I've only got 2 weeks of work and then I start maternity leave! CRAZY.

That's all peeps!



Permalink: updates.html
Words: 216
Location: Niagara Falls, NY
Last Modified: 10/11/11 10:19
Category: baby
09/14/11 10:42 - ID#55152
sticky bean part 2
We had our 20 week scan 2 weeks ago. These images are quite hard to see (they didn't scan well) but you can see a very clear face. Everything appears to be going well. Baby has all the right bits and bobs and they are functioning as expected at this stage.
The sanogropher held the wand still for a minute and we could see baby yawn, stretch out an arm, then place them both behind its head and go to sleep. Ha! Let's hope it does lots of that in the beginnning so we get sleep too!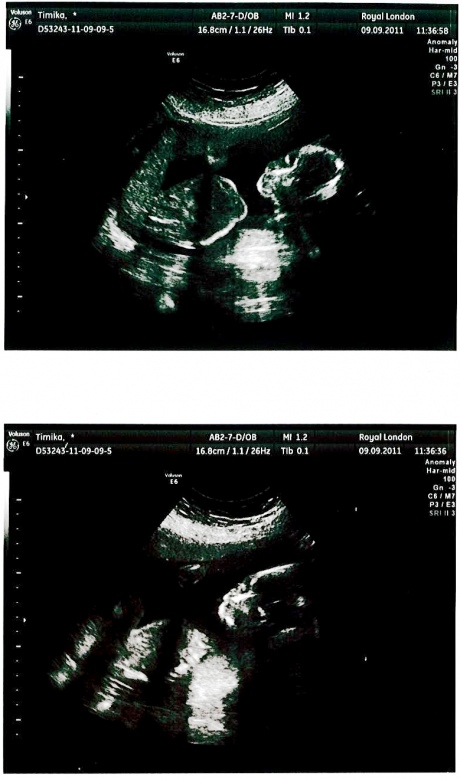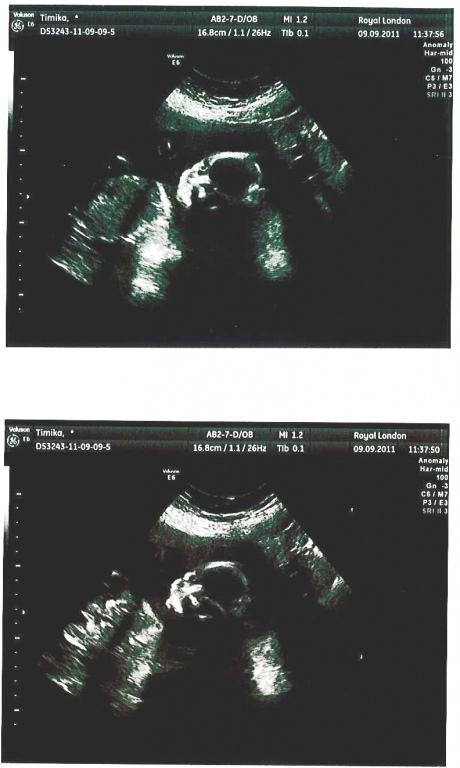 P.S. Have not been able to make comments on existing entries for some reason, but thanks everyone for the congratulations!


Permalink: sticky_bean_part_2.html
Words: 124
Location: Niagara Falls, NY
Last Modified: 09/14/11 10:44
Category: baby
08/12/11 11:29 - ID#54927
sticky bean
Well, everyone can know now.....
Rory and I are having a baby! We are due around January 21st. Yep, shocker of the decade I know!!!
It's crazy, you can even see teeny tiny teeth!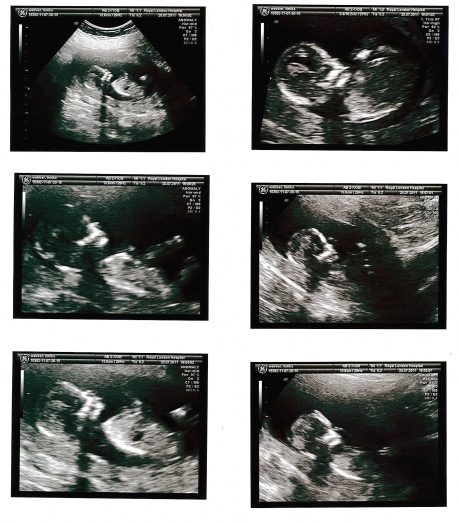 Permalink: sticky_bean.html
Words: 37
Location: Niagara Falls, NY
Last Modified: 08/12/11 11:29
<-- Earlier Entries