Category: new year
12/29/10 06:44 - 28.ºF - ID#53347
As the New Year Rings in
On the eve of each New Year we often reflect on our lives. As we say good-bye to 2010 and hello to 2011, I wish you joy that never ends and happiness with all your family and friends.
Where were you when 2010 began?
In my bed with a massive migraine. Rory and I toasted with orange juice.
Who were you with?
Rory
Where will you be when 2010 ends?
At The Pipeline, the bar next door.
Whom will you be with when 2010 ends?
My husband, a work colleague, and lots of strangers.
Was 2010 a good year for you?
It was. Beyond the stress and heartache, I learned so much about myself, my morals and just how supportive my husband is. I couldn't ask for more.
What was your favorite moment of the year?
Sitting in business class with a glass of champagne at 7 in the morning, about to depart Doha for the last time. I shed one tear, my heart was lightened and I felt so free.
What was your least favorite moment of the year?
Dropping off Blinky for her flight to prison (quarantine). It was heartbreaking.
Did you keep your New Year resolutions of 2010?
I don't do resolutions. This year was a bit of a curveball in trying to accomplish my original 'plans for 2010' list though.
Master the art of packing light
- definitely did it, we are pros through and through.
Travel to New Zealand, Oman, Abu Dhabi, India, Egypt, Jordan, Australia, and Antarctica
- made it to Dubai, India and Jordan. Plans for the rest were drastically changed by the decision
to leave Qatar.
Lose 40 pounds by our 1 year anniversary
-nope 
Pay off my car in November
-even sooner than, and then sold it to lovely young woman just moving to Doha. Also bought a
car for the USA so we can stop wasting loads on rentals and my mom has something to get
around in.
Pay off 1/3 of one of my student loans
-nope, again plans to leave Qatar interrupted this plan
Knit tons of goodies to donate to charity
-I wouldn't call it 'tons', but yes I did knit for charity
Participate in more community service opportunities
-Some. Not as much as I had hoped, but if you live your life well it is in everything you do
Be the best teammate (wifey) I can be
-I think so, and I get told so!
Drop the dead weight in my life and look for more positive forces to surround myself with.
-Did it!
Create a solid sustainability campaign in our residence halls
-Did it! Won a personal award for it as well as one for Qatar Foundation by the country.
Do you have any New Year resolutions for 2011?
Just plans.
Did you fall in love in 2010?
I do it every day.
What was your favorite month of 2010?
August; it was the start of our new life in London.
Did you travel outside of the US in 2010?
Qatar, Dubai, India, Jordan, Scotland, England.
How many different states did you travel to in 2010?
New York, Texas, Kansas.
Did you lose anybody close to you in 2010?
Close, no.
What was your favorite movie that you saw in 2010?
Inception
What was your favorite song in 2010?
I think The Flood by Take That. It's catchy.
What was your favorite album in 2010?
I'm going for a Christmas album this year with Annie Lennox's Cornucopia. It's a little wacky.
What was your most exciting moment of 2010?
Being able to let go of Doha then showing them exactly what I'm made of by landing a job in London that was a higher promotion than what they shafted me for. The looks on their faces were priceless.
What was your proudest moment of 2010?
Watching and supporting Rory and our friend Annie in getting their half SCUBA certification.
What was your most embarrassing moment of 2010?
I'm having trouble of thinking of one.
If you could go back in time to any moment of 2010 and change something, what would it be?
Hindsight being 20/20...I would have done just a tad more regional travel if I had known I'd be leaving Qatar a year early, as a matter of convenience.
What are your plans for 2010?
• That ever illusive plan to lose weight- no more excuses. I've got a more concrete plan and a nice little gym on the top floor of my building to make sure it happens.
• Travel to Netherlands, Sweden, Finland, Russian Federation, Denmark, Gibraltar, Brunei and Ireland. I've also got this thing about SCUBA diving shipwrecks in Bermuda.
• Rewrite a more comprehensive Resident Handbook
• Read more. More specifically, read at least 2 books per month.
• Beat Dead Rising with all endings, all survivors, all quests and full levels. Zombies!
• Buy an awesome bicycle with a basket and bell and take some lovely rides in London.
• Get to know London better. Start utilizing my secret black book to mark bus routes and hidden treasures we come across in our excursions.
• Grow more 'duck feathers' to let certain things roll off my back a little more quickly.
• Be the best wifey I can be and never let a day go without telling Rory how much I love him.
• Make my cat famous for her awesome fetch skillz and run a line of crazy T-shirts. OK, this one is a joke, but it would still be fun 


Permalink: As_the_New_Year_Rings_in.html
Words: 898
Location: Niagara Falls, NY
Last Modified: 12/29/10 06:44
Category: anniversary
10/31/10 05:14 - 41.ºF - ID#53039
Happy Halloweeniversary!!!
I love you Rory...

For all that you are,

All that you are not,

And all that you can be,

It has been a perfect year and I look forward to every minute with you in the year to come. You are amazing!



Permalink: Happy_Halloweeniversary_.html
Words: 47
Location: Niagara Falls, NY
Last Modified: 10/31/10 05:15
Category: london
09/07/10 04:38 - 67.ºF - ID#52675
tube strike
So today is my first experience living in London with the Underground on strike. It's chaos outside. Buses are passing stops because they are bulging at the seems. Lots of people still haven't made it into work today. Lucky for me my commute is about 30 seconds by elevator :)

Had a FABULOUS birthday yesterday! My lovely husband got me the new Metroid for Wii and I can't wait to have a chance to play it! I also got a new electric toothbrush which makes me happier than a pig in poop :) Best of all he suprised me with tickets for a weekend getaway in Edinburgh this weekend! Woohoo! I have one other little gift but I don't want to post about it just yet. I first have to experiment with it and then I'll share the full scoop.

Even though there is a LOT to learn yet, I feel so much more relaxed in general being here in London. The people I work with are nice and actually LAUGH throughout the day. I'm breathing better because I'm not suffering from dust/sand allergies, the weather right now is pretty much a perfect t-shirt temperature, and I haven't had a single anxiety attack since moving here. I'm so happy to be out of that negative work environment!



Permalink: tube_strike.html
Words: 215
Location: Niagara Falls, NY
Last Modified: 09/08/10 03:31
Category: travel
08/01/10 04:54 - 66.ºF - ID#52343
jordan
I'm a little late getting this posted, but here are a few pics from our trek to Jordan.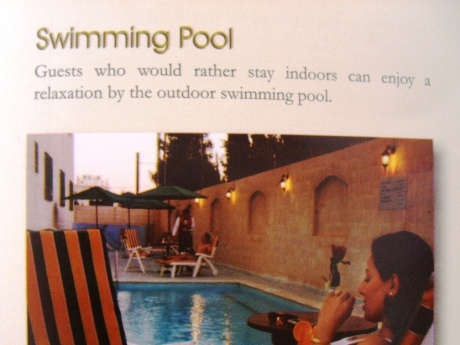 a quantum physics experiment perhaps?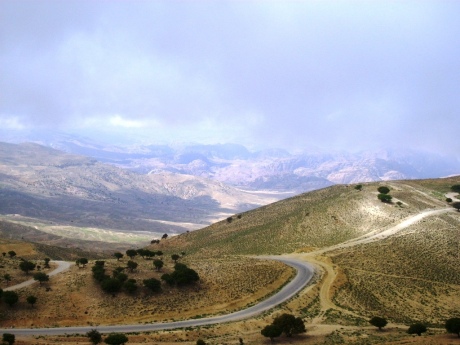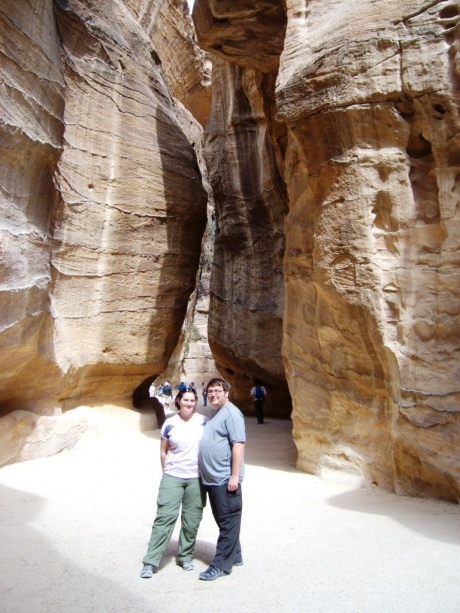 walking the valley of the crescent moon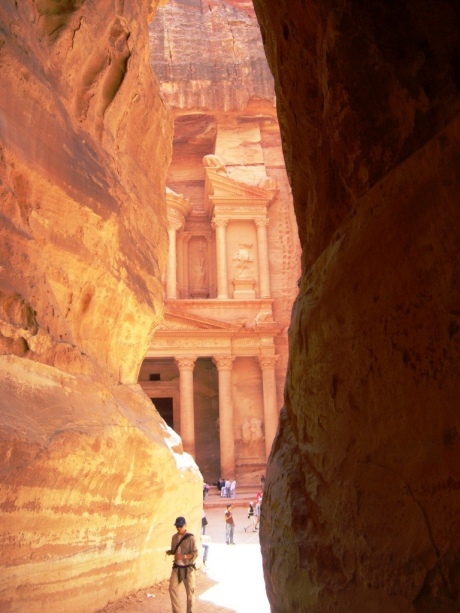 the first peek you get of the treasury (we had a guide for part of our trek, he made Rory close his eyes for a minute and then told him to turn around to see the view - while he played Indiana Jones from his cell phone. It was kind of funny.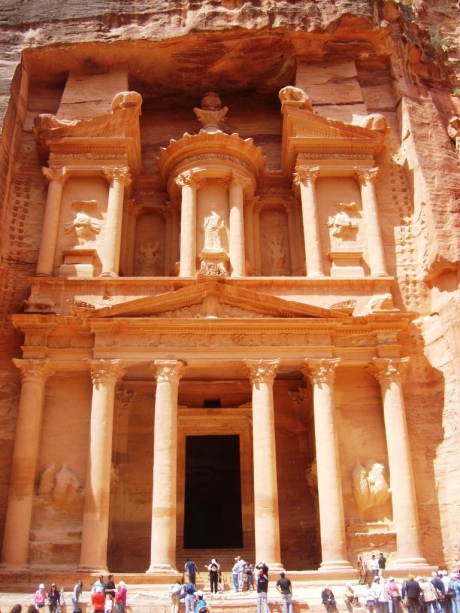 the treasury (no, there are no transformers hiding there, i checked)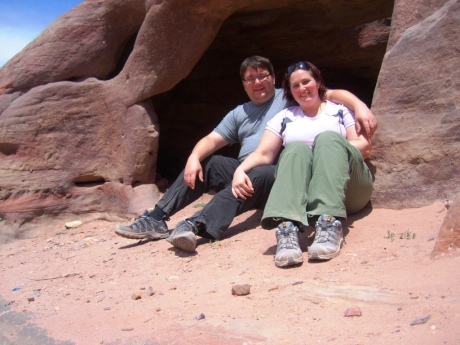 it's hard to imagine people actually living in these little caves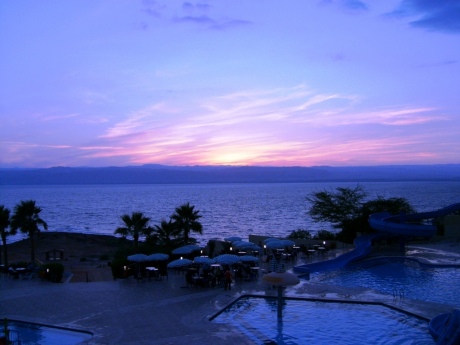 then we drove 2,000 feet below sea level to the dead sea (the water bottles in the car were actually crushed from the pressure change!)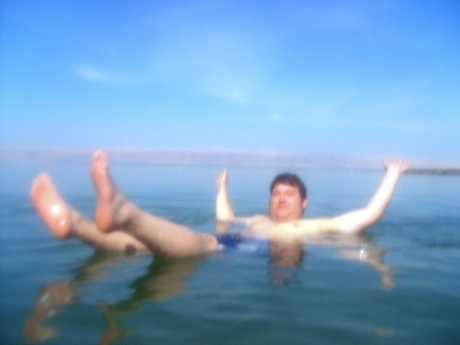 the salt content is so intense it's actually hard to stay 'standing'...but you don't want your face near the water because the tiniest drop of your lip burns like a son of a pup!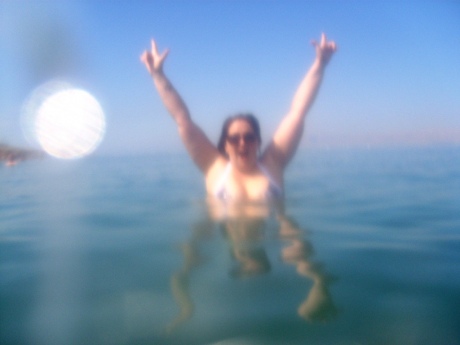 once i found my 'balance' i managed to stand up...this is in 10 feet of water, 'standing' completely still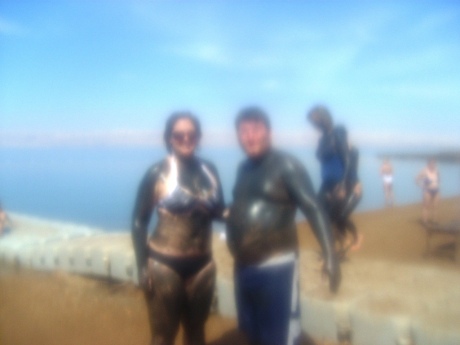 and of course we played in the famed mud


Permalink: jordan.html
Words: 211
Location: Niagara Falls, NY
Last Modified: 08/01/10 04:54
Category: about doha
07/19/10 12:40 - 79.ºF - ID#52237
you know you live in doha when
You go for a swim in the pool at 7pm and after 15 minutes say, 'oooh, it's a bit chilly now, think I'll go back home'. Get home and look at the thermometer and it reads...102 F. Yah. Today was fuck all hot as ass, and dusty to boot. Bad day to have to move.

Forecast for tomorrow? 113 F, heat index of 152 F with warnings of 'extremely hot' weather. I think the outdoor laborers might actually get the afternoon off!



Permalink: you_know_you_live_in_doha_when.html
Words: 79
Location: Niagara Falls, NY
Last Modified: 07/19/10 12:40
Category: about doha
07/08/10 07:09 - 73.ºF - ID#52122
a desert drive
we drove for hours looking at sand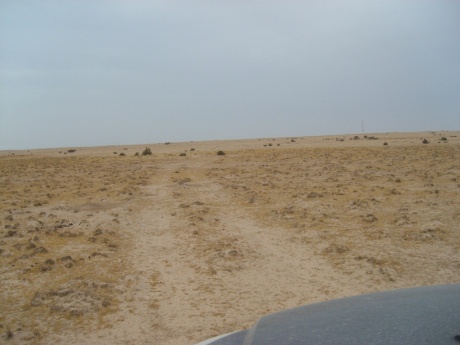 you could probably do a naked car fire drill out here...no one for miles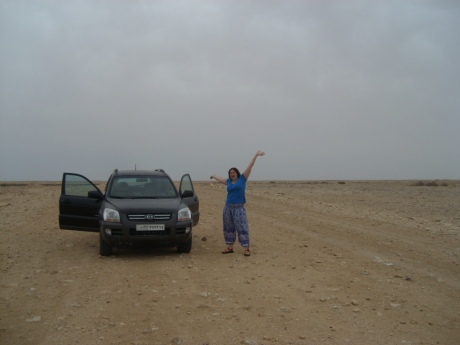 we came across some camels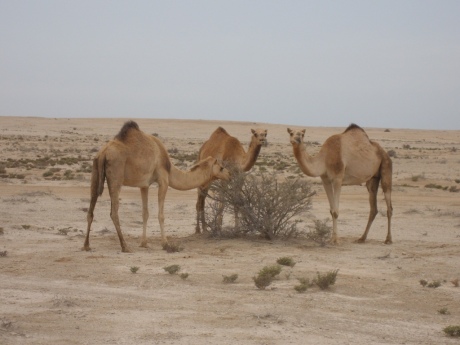 one curious camel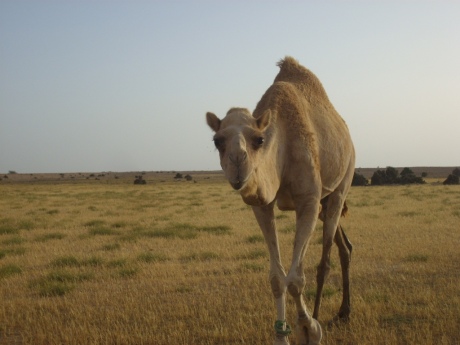 make that a very curious camel!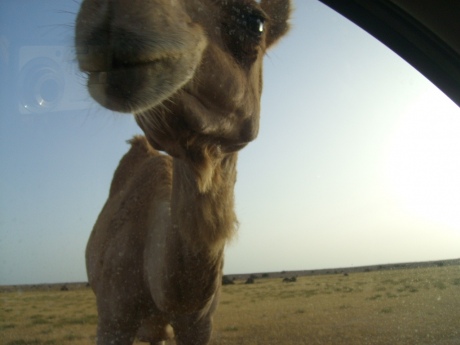 Permalink: a_desert_drive.html
Words: 46
Location: Niagara Falls, NY
Last Modified: 07/08/10 07:09
Category: about doha
07/06/10 08:19 - 76.ºF - ID#52109
the time has come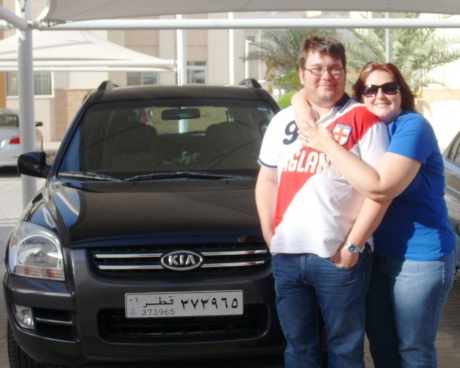 Well, she's on the market. I just hope it brings the buyer as much unexpected joy as she did for me! We met because of this car and I hate to sell it, but we won't need a car in central London! Bye-bye my little Kia.


Permalink: the_time_has_come.html
Words: 50
Location: Niagara Falls, NY
Last Modified: 07/06/10 08:19
Category: pets
07/03/10 01:12 - 77.ºF - ID#52087
blinky


Permalink: blinky.html
Words: 5
Location: Niagara Falls, NY
Last Modified: 07/03/10 01:12
Category: dream
06/21/10 08:22 - 67.ºF - ID#51982
martha's new book
I had a dream that I was standing in Martha Stewart's kitchen trying to convince her that she should publish a book on crime scene cleaning. What's that all about?



Permalink: martha_s_new_book.html
Words: 30
Location: Niagara Falls, NY
Last Modified: 06/21/10 08:22
Category: job
06/19/10 12:32 - 81.ºF - ID#51958
I got the job!
So we're moving to London! We've already got the kitty sent ahead of time so she can start 'doing her time'. Poor thing, her only crime was to be born here. Now she has to spend 6 months in lock up. At least we'll have her back in time for Christmas :)
Totally stoked about the new job! I start September 1st. Awesome location and yet another chance to be part of a brand new office and create the program. I guess that's going to be my career trademark.
Hopefully folks will actually hop the pond and visit this time! Can't offer you a place to stay since it's a central London flat (ie extremely small) but there are youth hostels and cheaper hotels to be found.
Check it out!



Permalink: I_got_the_job_.html
Words: 138
Location: Niagara Falls, NY
Last Modified: 06/19/10 12:32
<-- Earlier Entries