11/18/11 03:07 - ID#55544
children in need
So, Rory and I went to see Rock of Ages (highly recommend seeing it!) at a special Children in Need gala showing. I got a fist full of glitter thrown down my cleavage by Justin Lee Collins! Ha! Good times. Anyway, we chose that showing so we could contribute to the charity in a fun way. I carried on the fundraising at work and made my co-workers donate to come dressed for a clash day. Too much fun when you get your boss to don a pink tutu!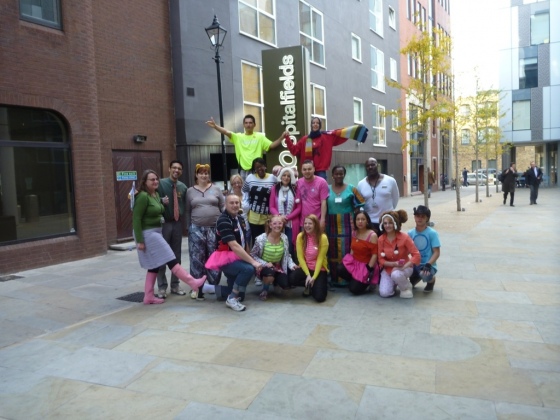 The whole staff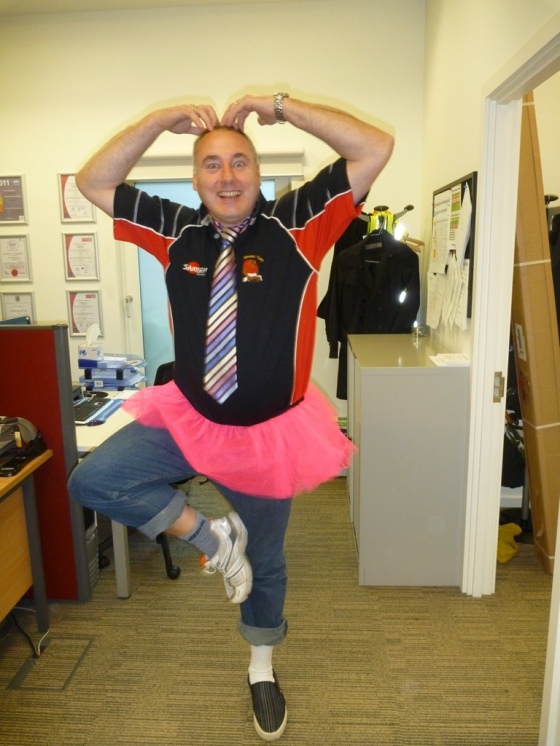 My boss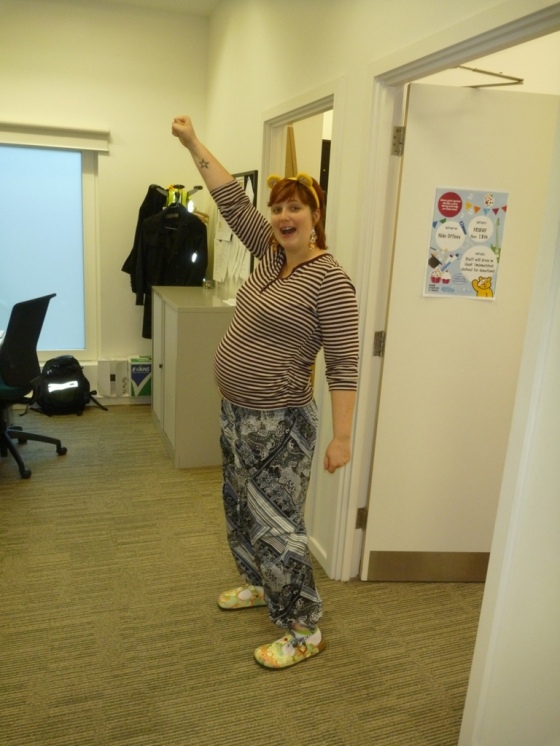 Me with my Pudsy bear ears on


Permalink: children_in_need.html
Words: 106
Location: Niagara Falls, NY
Last Modified: 11/18/11 03:07
Category: travel
11/02/11 08:35 - ID#55425
leavin on a jet plane
Flying out today :( Too short of a visit, there's never enough time these days. Said good-bye to one nephew today sending him off on his bus to school. Poor guy thinks we'll be home when he gets back. Couldn't say a proper good-bye because he's going to be horribly upset. We went shopping just the other day and said 'bye', he thought we were leaving for good and started to cry. We thought maybe it would sting less if we just let him go off to school happy.
So it's off to London and 3 more weeks of work, then I start maternity leave. We'll officially move into our new house the weekend of Nov. 25th.
Thanks again
(e:Springfaerie)
and
(e:Dimartiste)
for the awesome handmade baby blankets! Thanks
(e:Theecarey)
for the cats and dogs coverall and watermelon onsie! Thank you
(e:jbeatty)
for sophie the giraffe and the krinkle toy. They MUST be good ones, not just because your Emily loves them, but my nephew was like 'ooooh this is fun'...and he's 5! Lastly, thank you SO MUCH
(e:Metalpeter)
for the gdiapers, burp pads and thermometer! You're so kind and the sustainable diaper system is something that was really important to us, so thanks for getting us started!
Til next time peeps....


Permalink: leavin_on_a_jet_plane.html
Words: 215
Location: Niagara Falls, NY
Last Modified: 11/02/11 10:15
<-- Earlier Entries