Category: holiday
07/02/09 12:52 - 66ºF - ID#49175
Fireworks?
I'm unexpectedly in Buffalo this weekend and A's coming to visit. He's big into fireworks. So what's the best option? Sounds like Kenmore was really the place to be last weekend. We'd be happy to have company on our fireworks adventure; we'd also be happy to tag along with other folks.







Permalink: Fireworks_.html
Words: 51
Location: Buffalo, NY
Category: tourism
07/01/09 03:58 - 72ºF - ID#49142
News from home: Bear on Main Street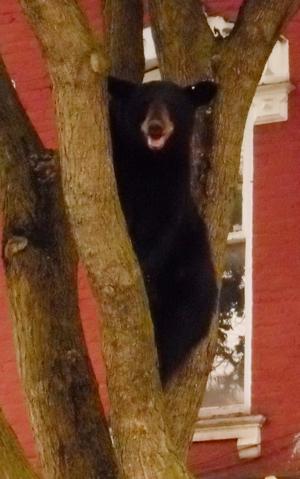 (photo by Kelly Stemcosky, Wellsboro Gazette)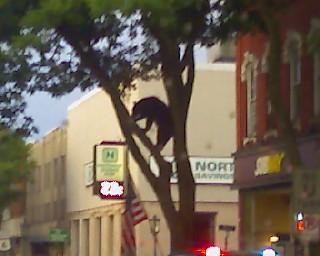 (unknown source)
A bear found its way up a tree around 8:30 p.m. Monday night, June 30, in front of Subway on Main Street in Wellsboro [Tioga County, Pa.].
Crowds of people watched from the sidewalk as the borough police, members of the Department of Conservation and Natural Resources and the Game Commission worked to get the bear down safely.
Jacob Brink, 11, and Branden Enck, 10, said they saw the bear near Austin and Purple Streets just minutes before.
"It was walking right down Purple [Street]. It was huge," said Brink.
This bruin headed for high ground, climbing a tree on Main Street, Wellsboro on Monday evening. The animal was subsequently tranquilized, captured and eventually destroyed because of its aggressive tendencies.

(I wasn't there, I didn't see it, it's Wellsboro, the county seat.)


Permalink: News_from_home_Bear_on_Main_Street.html
Words: 152
Location: Buffalo, NY
Category: economics
06/28/09 03:51 - 64ºF - ID#49108
The high cost of doing biz with Walmart
http://www.fastcompany.com/magazine/77/walmart.html?page=0%2C1

It also is not unheard of for Wal-Mart to demand to examine the private financial records of a supplier, and to insist that its margins are too high and must be cut. And the smaller the supplier, one academic study shows, the greater the likelihood that it will be forced into damaging concessions.

Wal-Mart has also lulled shoppers into ignoring the difference between the price of something and the cost. Its unending focus on price underscores something that Americans are only starting to realize about globalization: Ever-cheaper prices have consequences. Says Steve Dobbins, president of thread maker Carolina Mills: "We want clean air, clear water, good living conditions, the best health care in the world--yet we aren't willing to pay for anything manufactured under those restrictions."

Also has an interesting discussion of Levi's entrance into walmart.
This video discusses similar things from a broader perspective.


What is the Story of Stuff?

From its extraction through sale, use and disposal, all the stuff in our lives affects communities at home and abroad, yet most of this is hidden from view. The Story of Stuff is a 20-minute, fast-paced, fact-filled look at the underside of our production and consumption patterns. The Story of Stuff exposes the connections between a huge number of environmental and social issues, and calls us together to create a more sustainable and just world. It'll teach you something, it'll make you laugh, and it just may change the way you look at all the stuff in your life forever.

Thoughts?


Permalink: The_high_cost_of_doing_biz_with_Walmart.html
Words: 273
Location: Buffalo, NY
Category: tourism
06/23/09 04:33 - 80ºF - ID#49042
Cool sticker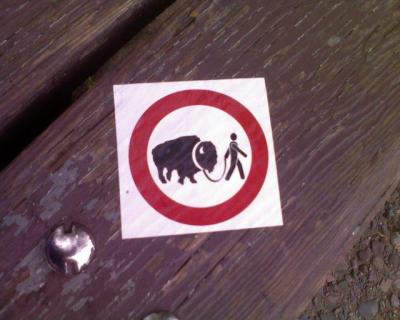 (e:Janelle)
- China, M* & I thank you! It was a disgusting 99 degrees in Raleigh this weekend.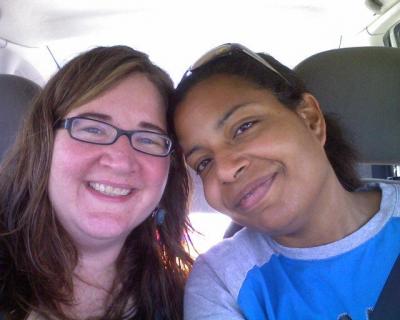 Permalink: Cool_sticker.html
Words: 22
Location: Buffalo, NY
Category: parade
06/18/09 03:13 - 58ºF - ID#48999
Pictures! Juneteenth, client's birds
Taste of Diversity Festival - international foods festival at Grant & Lafayette 11-3 on Saturday, 6/20. (I'll be out of town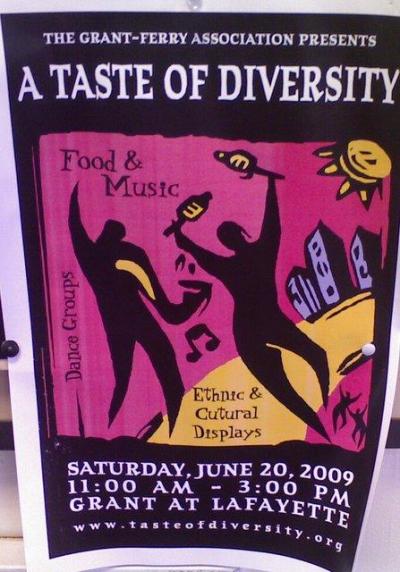 I visited a client yesterday and met her birds.
This is Tango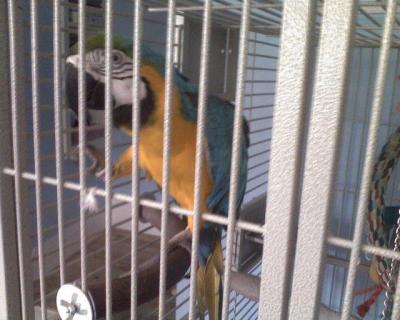 These are Tango's children, one male, one female, 10 weeks old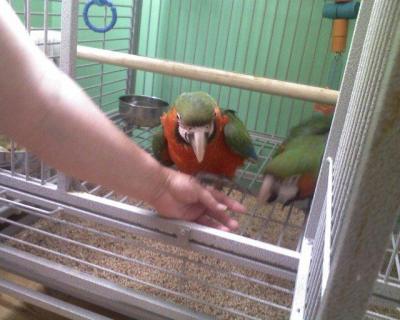 This is Tango's son laying on his back like a baby, getting his belly rubbed. I had no idea birds could be handled like this.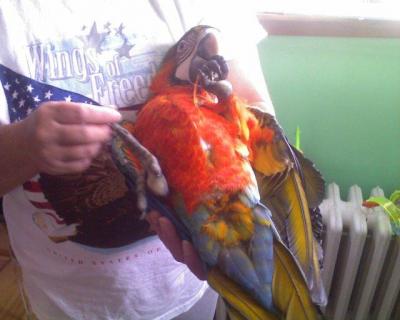 My hand petting a pretty white bird.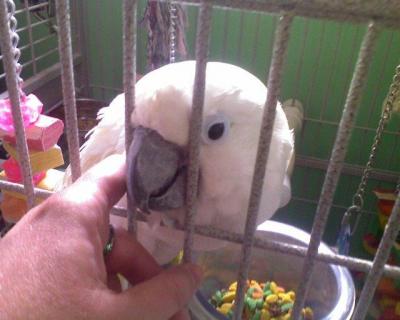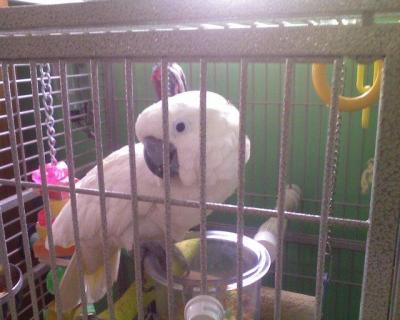 My Juneteenth parade pix aren't fantastic, but they are an interesting contrast with the St. Pat's parade pix.
(e:heidi,48092)
Instead of Irish dancing girls, there were steppers & drill teams - even some with curly hair pieces - is this a Buffalo thing? My hometown parade never has dancing girls (and never any with curly wigs), other than the rare baton twirler. The Irish dancing girls were all on floats, while the steppers walked between drills. The Juneteenth parade had much better cars than the St. Pat's or Pride parades. About Juneteenth

About Juneteenth of Buffalo

Anticipation!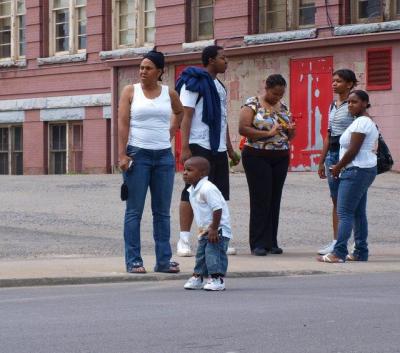 Cars - from old to new...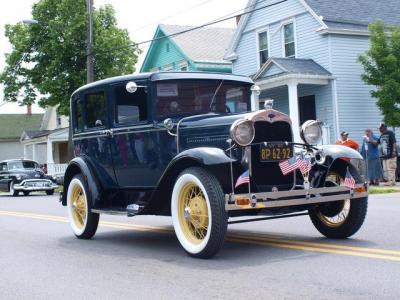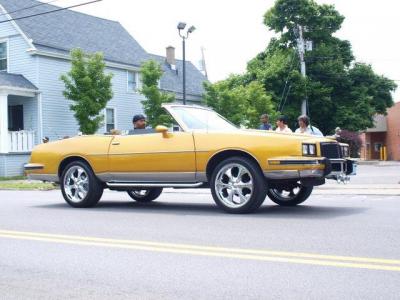 Curly-haired steppers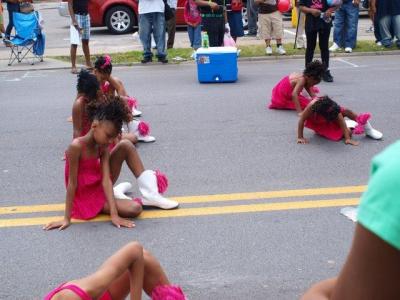 More steppers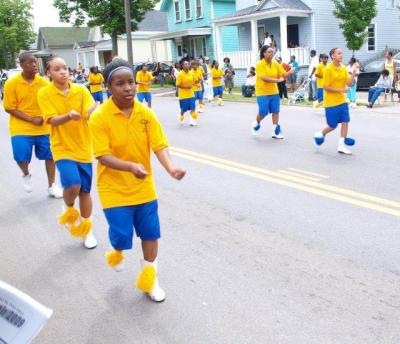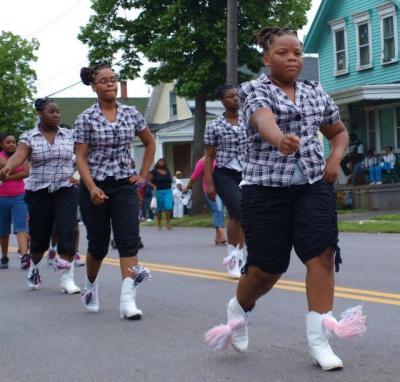 This was the only crew that had a large group of boys - they were with the girls in the orange shirts, a gospel group.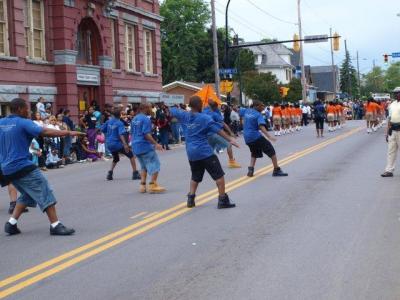 Cheerleaders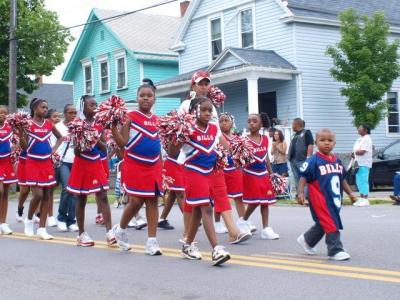 Drummers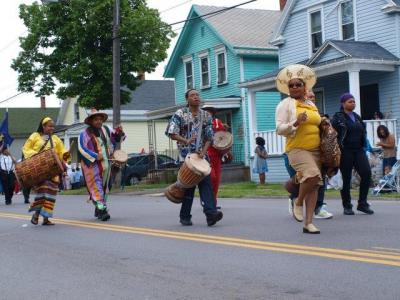 Buddhists - saw this sign at the Pride Parade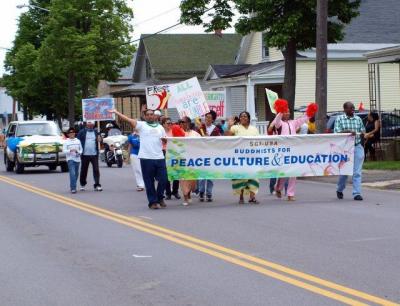 The historically black fraternity & sorority alumni groups were well represented.
Alpha Phi Alpha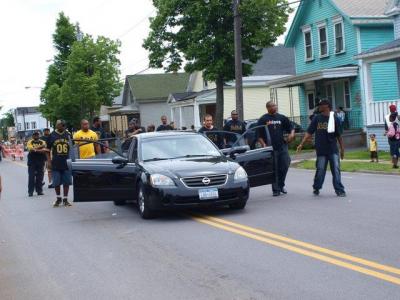 The Delta Sigma Theta ladies were dancing to "Milkshake" by Kelis. Really funny!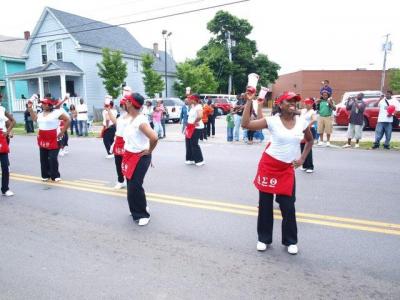 A parade to watch for some Sunday in September - Puerto Rican Day!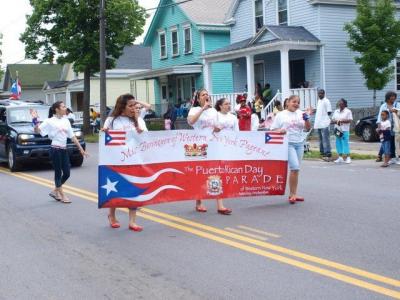 She was the only queen with a tiara as big as the queens' tiaras in the Pride Parde.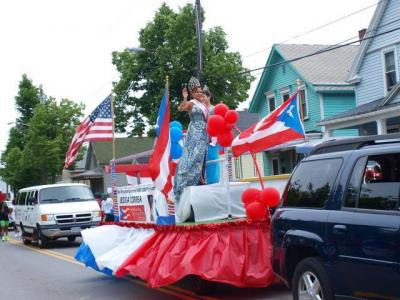 My friend Alisha was posing as a car model in front of this classic Buick.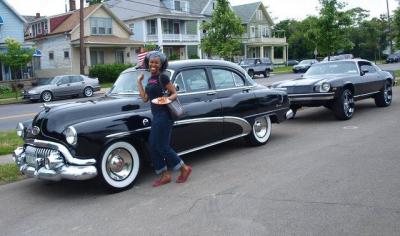 The Juneteenth festival is held at Martin Luther King, Jr. Park, one of the Olmsted parks

That's supposed to be a five-acre wading pool.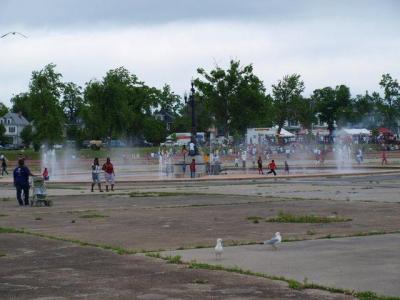 (more photos if you're really interested

)
At Allen West Festival - a hawk rescue group member was showing one of the rescued hawks who can't be released because of a severe wing injury.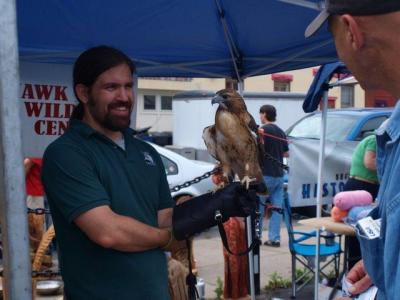 For Uncle Dudley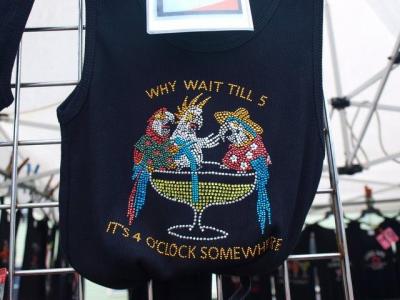 Basra loves strawberries!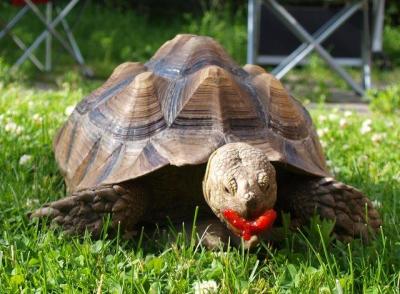 Permalink: Pictures_Juneteenth_client_s_birds.html
Words: 449
Location: Buffalo, NY
Category: movies
06/15/09 11:55 - 70ºF - ID#48982
Where are they now...
I'm sure someone here is going to love these "Where are they now" galleries
Ghostbusters:

Saved by the Bell:

Ferris Bueller's Day Off:

Friday:

Pretty in Pink:



Permalink: Where_are_they_now_.html
Words: 133
Location: Buffalo, NY
Category: home
06/11/09 02:21 - 63ºF - ID#48889
More office chicks
Two chicks hatched while I was at the Pa. office Wednesday.
(e:heidi,48491)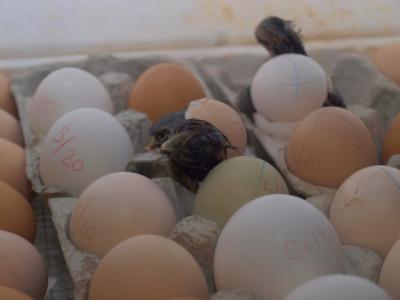 tight crop, same picture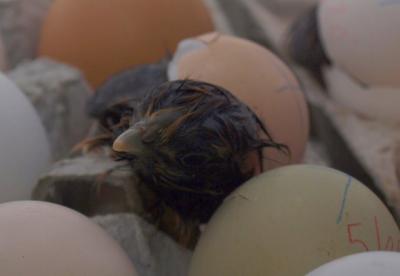 ... and randomly ...
Eco-friendly, hand-crank vibrator - definitely read the second review...

Heard on AM radio on my way back to Buffalo tonight


Permalink: More_office_chicks.html
Words: 57
Location: Buffalo, NY
Category: parties
06/08/09 04:49 - ID#48869
That bluegrass party
I went to my favorite annual party over Memorial Day weekend. It features some of the best in bluegrass - Hickory Project,

(Tioga County-based, internationally known, mandolin player is a top national player)

and some more local folks - Fetish Lane

(they were combined with members of another band, calling themselves Woodshed something, but i forget... ah, update: Woodshed Prophets

)
Backwoods Experiment (who I don't really like)

Grass Stained Genes


(who played in my living room for my 31st birthday party)
and there's jammin' everywhere. I didn't take pix of the whole event, and pretty much no performances except the Sunday afternoon jam in the area we call The Pines, just took shots when the spirit moved me.
The bonfire Saturday night was huge - those are people and trees dwarfed by the fire - and that's after it's died down a lot.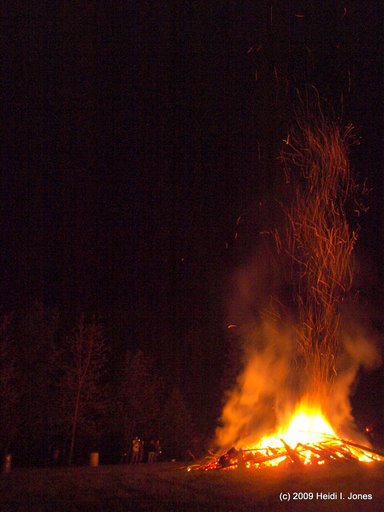 My friend's kid turned 11 at the party.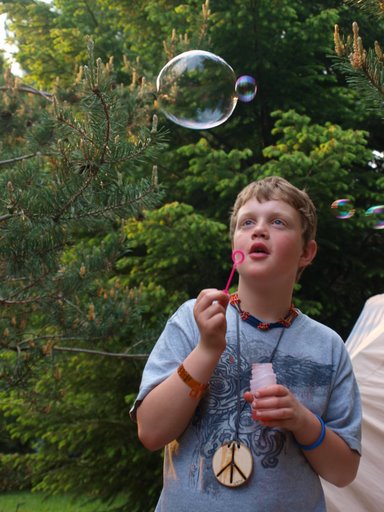 A's little brother wanted food from our stash because he's a big mooch and didn't bring his own food. We had decided that he couldn't have any unless he paid $1 for each item. He negotiated letting me take pix of him blowing bubbles in trade...I've definitely gotten more than $1 in amusement :-)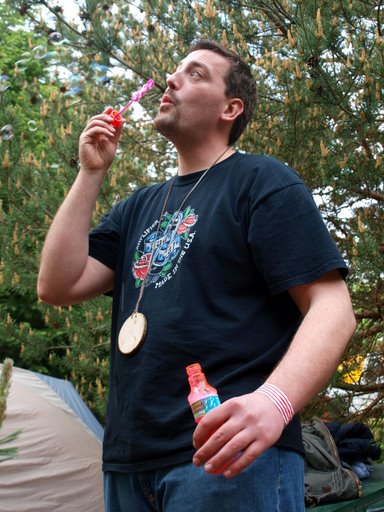 My friend Marty is a blacksmith who lives in Ohio. He brings his "portable" forge and tools with him - this is one of his pieces.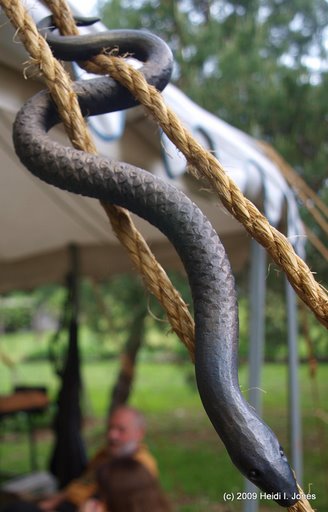 Each year, someone flies a small plane over the party and drops a gift for Bucky, the host. (http://www.dcnr.state.pa.us/stateparks/parks/leonardharrison.aspx - there's a little airport near the PA Grand Canyon)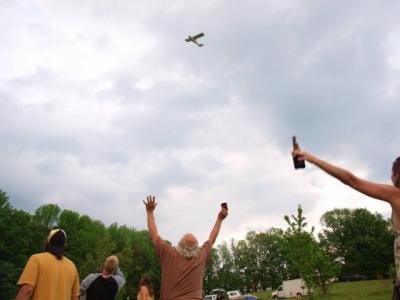 Bucky playing banjo at the "Hardy Hole Cafe" (aka the kitchen)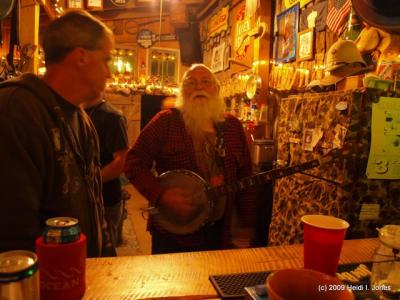 Cellist Dave Bush playing in the Pines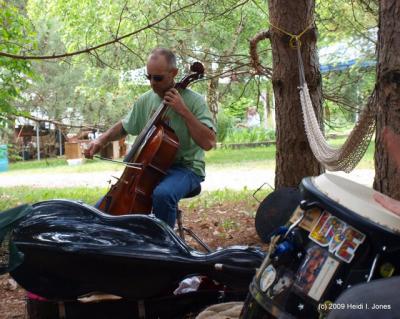 Sunday afternoon jamming (the cellist is back there playing too, behind the guy with the harp)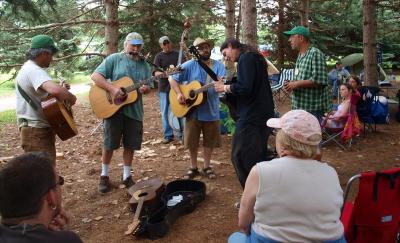 More jammin'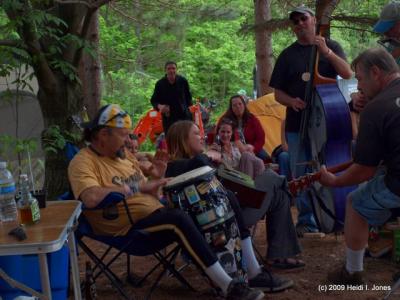 The stage area late Sunday night. My friend (father of kid above) is glaring at the other guitarist because he's sick of the same tunes the guy has been playing since the afternoon jam. There was a bassist, the cellist, a drummer, and a couple other folks that he would rather have been jamming with, in more of a rock style.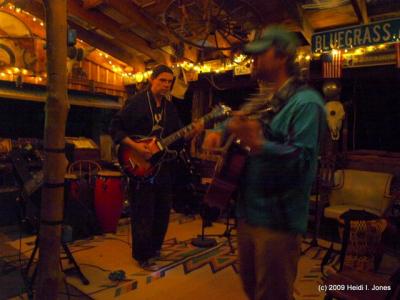 The pews are where the audience sits when when watching folks play on the stage. The wooden platforms visible at the bottom of the picture are where folks dance. The couple on the right comes from North Carolina each year, but he grew up down the road from the party location.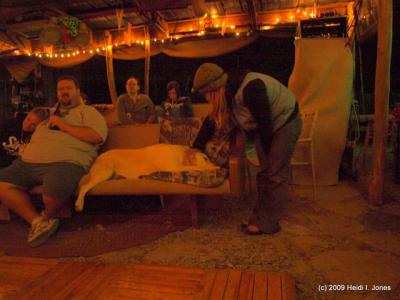 Just a funny shot.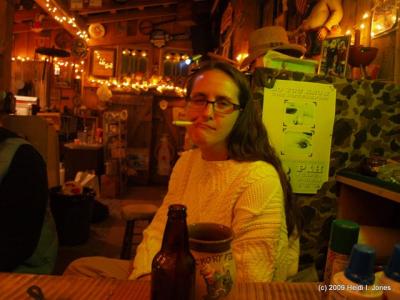 (if you're really curious about the rest of the party, msg me and i'll send you a link)


Permalink: That_bluegrass_party.html
Words: 493
Location: Buffalo, NY
Category: tourism
06/06/09 02:41 - 68ºF - ID#48850
More Pennsylvania photos
These are from Little Pine State Park in Lycoming County, Pa., last summer: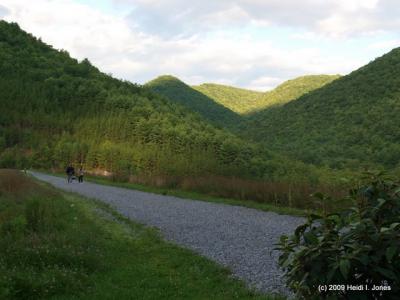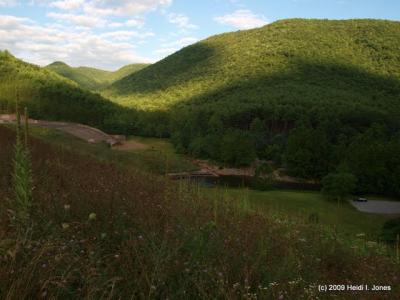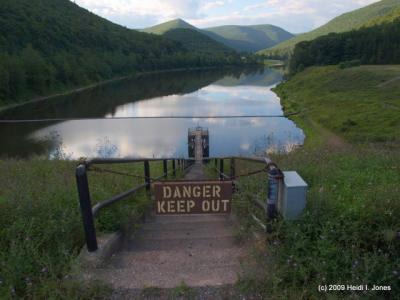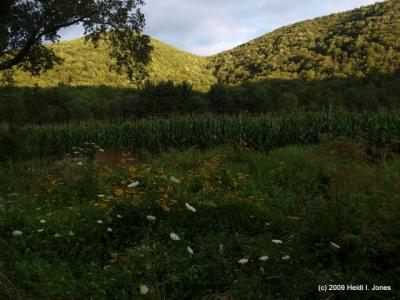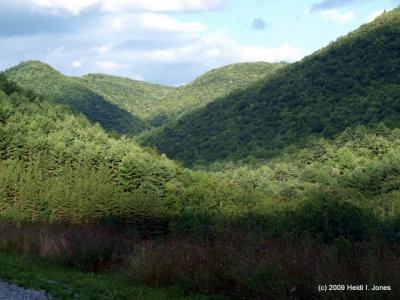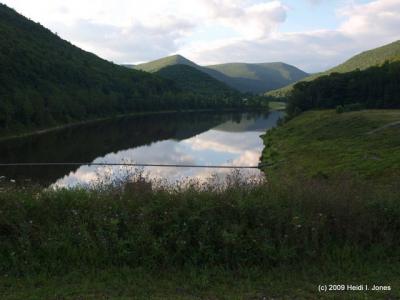 More info about Little Pine State Park:



Permalink: More_Pennsylvania_photos.html
Words: 42
Location: Buffalo, NY
Category: tourism
06/05/09 07:31 - 70ºF - ID#48848
Blossburg Coal Festival
From Thursday to Sunday of Memorial Day weekend, I took about 800 shots. I'm done processing photos through Saturday 5/23 at 1pm... I went home for my favorite annual party, a big bluegrass event in Cherry Flats, Pa., but my dear Uncle Dudley begged me to come off the mountain and photograph the Coal Festival parade Saturday morning. She and her new company, Coal Country Iron Works, had constructed a float and she needed to be on the float to throw candy. So I groggily made it to the parade, unshowered, begged my hairdresser for some gum because I hadn't connected with my toothbrush... and took pictures of the parade and a little of the 17th Annual Blossburg State Coal Festival at Island Park after (where I shot the not-Basra collection (
(e:heidi,48783)
)). The pictures are probably not very exciting for people not connected to Blossburg, Pa., but some of you might be amused by them, hopefully to appreciate the small-townness and not pick on the hicks too much. ;-) The parade features lots of tractors, fire engines and kids, but no curly-wigged Irish dancing girls.
Keith Lindie, town historian & eligible 80-something bachelor, used his beloved John Deere tractor to haul the Red Hat Society float.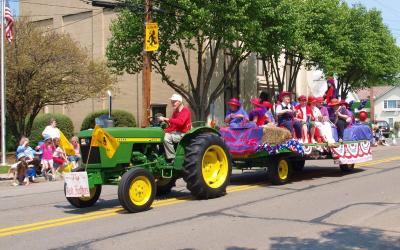 My dear Uncle Dudley with her authentic miner's hat. Miners filled it with oil and lit it so they could see in the tunnels.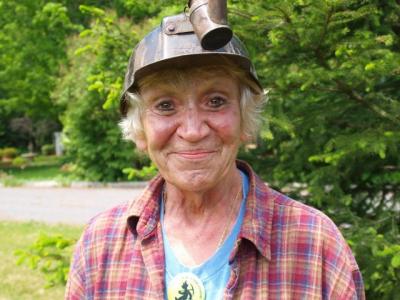 She has an authentic miner's lunch bucket, too. Her bf Bernie has an extensive collection of mining antiques. (I'm sure she's going to yell at me for posting this!)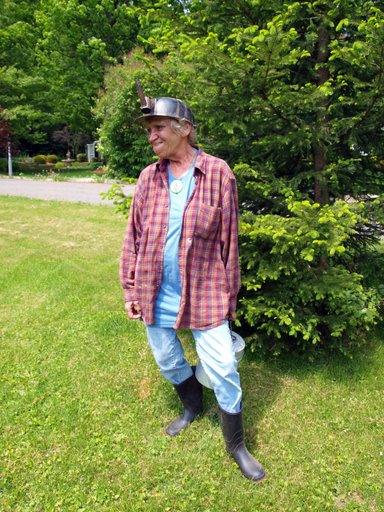 But her float won the prize for Best Appearing Float. It features Mabel, a mule considered to be the last of the mine animals. The mules and ponies would bring the coal carts to the surface to be unloaded.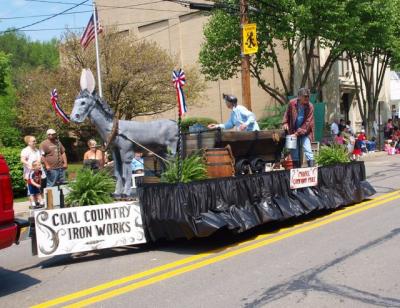 Here's the link to the full album if you're interested:

(official Blossburg Coal Festival website:

)
(More photos below)


Permalink: Blossburg_Coal_Festival.html
Words: 337
Location: Buffalo, NY
<-- Earlier Entries