Category: moving
08/27/10 02:42 - ID#52580
Moving party!
If you are anxiously awaiting an opportunity to help someone move, here's your chance! I'm going to do it in two parts - 5:00 p.m. today or 1:00 p.m. tomorrow. Beer? Pizza? Let me know.



Permalink: Moving_party_.html
Words: 35
Last Modified: 08/27/10 02:42
Category: moving
08/20/10 07:03 - ID#52481
Yea!
I signed the lease for my new apartment today! The property manager is *crazy* but the tenants I met said she's right on top of maintenance. She's got a thing about bugs and women in headscarves and unemployed or disabled people.
[btw, i'm done being pissed. sorry for being a brat!]
I also sold FOUR of my photos!!! I'm so excited. That more than covered all my expenses for
Infringement Festival
.
So I'm planning to move 8/28 & 8/29 and would love love love and deeply appreciate your help! I have a small apartment and light furniture. It took *maybe* an hour for three people to move all my stuff from a U-Haul to my apt when I moved in in 2008 (Thank you,
(e:chico)
!). There will be plenty of beer (and pizza or other yummies) available. If there seems to be a time that works for a couple people, we can make a party out of it.


Permalink: Yea_.html
Words: 155
Last Modified: 08/20/10 07:12
Category: moving
09/28/08 12:57 - ID#45816
How's it going?
(e:Drew)
suggested last night that I need to post more often. I haven't thought of a topic but then I realized I could just answer the question(s) most frequently asked when I meet someone.
1. How's the transition to Buffalo?
I think this might be obvious already, but I love Allentown. I'm very much enjoying Buffalo, all the cool stuff going on and the friendly people. Last night, I went to the
ElmwoodJesus
fundraiser at Cole's and hung out with
(e:Janelle)
,
(e:Vincent)
, &
(e:Jason)
while
(e:Drew)
served as happy hostess. We watched the presidential debate afterwards at the Obama campaign watching party at Cole's - very convenient!. (Thanks for the ride home,
(e:Vincent)
!)
Thursday night I went to Nietzsche's for a fundraiser for the WNY LGBT domestic violence committee that works with Haven House (domestic violence shelter).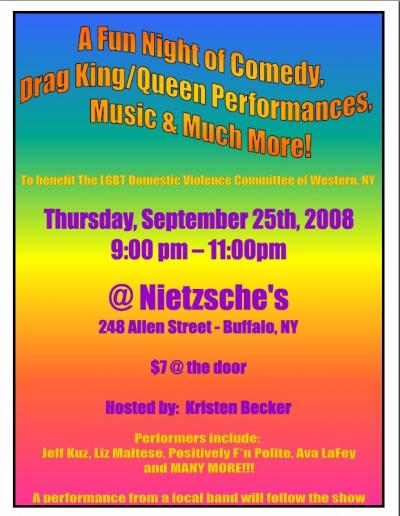 I met some very cool folks there, including Reg and her partner Liz. Reg works for Haven House. I won some cool prizes in the raffle. Does anyone need a copy of Candyland? Kristen Becker

hosted the event - she was very funny, definitely a professional, polished comedian. She hosts comedy night at Nietzsche's every Tuesday night. I want to go, but Tuesday's are in the middle of my work week so that might have to wait until break. Ava LaFey, burlesque goddess, did a fantastic sketch (? not sure of right word - it was extremely funny without a lot of skin) where she, as Sarah Palin danced for a lifesize cardboard cutout of John McCain to the Pet Shop Boys
Opportunities
("I've got the brains, you've got the looks, let's make lots of money!") When she unbuttoned her conservative red suit jacket, her bra was stuffed with money. Too funny.
Last weekend, my friend A and my puppy Nisha visted. A and I went to see the Pointek/Michaud Jazz Trio (yeah, Nietzsche's again... I love live music.) and saw a Grateful Dead cover band Saturday night. A and I see our favorite local band pretty often in Tioga County

but there's always a 30-60 minute drive involved. Live music 500' away? We're there.
Nisha got her hair cut at Pawprints by Penny... cutest poodle cut ever!!! Penny really listened to how I wanted her hair cut and did a fantastic job. The atmosphere there was very friendly. The dogs in doggie day care like to "help" ring up customers.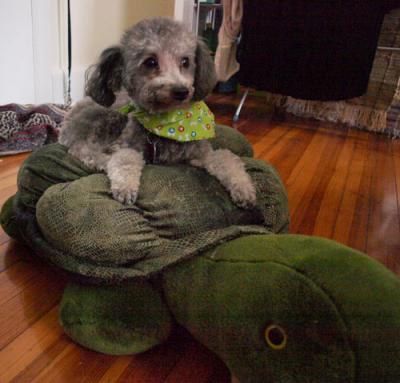 I'll also give a shout out to Patrick at East End Salon. The grad program I'm in had class pictures taken and I desperately needed a haircut quickly. He gave me a great cut and totally listened when I said I don't use product and the only "styling" I do is combing out my wet hair after a shower. This is a very difficult concept for most stylists to understand.
I would not have been able to find such a fantastic location and some immediate social contacts without all the advice and information I've found on
(e:strip)
. Thank you so much for helping make this transition about as easy as it could possibly be.
(Update from
(e:heidi,45556)
: my apartment electric situation got resolved and my stuff is now well protected. Thanks, Tim!)
Great set of articles about what issues in housing & community development the next president needs to address:

Housing, transportation, urban policy... geeky geeky! I used to work for Moises Loza and Leslie Strauss, two of the authors, at the Housing Assistance Council in Washington, D.C. HAC is a national nonprofit dedicated to improving rural housing.



Permalink: How_s_it_going_.html
Words: 632
Category: moving
08/20/08 03:24 - ID#45374
A's adventures in Allentown
I moved up here last Friday and my friend A came with me and enabled me in my stuff addictions... four crates of books (yes, my complete Marion Zimmer Bradley and Ursula K. LeGuin collections, grad-school-related stuff, plus a bunch of books that I haven't read yet.), puppy, kitty, kitchen table, cookie cutters, and too many lamps...
But while we've been unpacking, we've also been experiencing Allen Street and the Buffalo metro area.
Friday night, with dirt rings around my neck that I washed off in the restroom, we went to the Towne for dinner. A says, "It was okay; it was just diner food." While on one level I agree, it is diner food, in comparison with the diner we went to in Tioga County, Pa., on Thursday, it was expensive and had better food selection. Thursday I spent $39 for lunch for six people and left a $10 tip for my superduper neighbor and waitress Jenn in at the Brick Tavern in Blossburg, Pa. I think I spent about the same total for the two of us at the Towne - I need to get used to "normal" prices again.
Saturday we kept unpacking, ordered a white pizza with spinach and broccoli from New York Style Pizza here on Allen. A says, "There wasn't any ricotta cheese on it, and the garlic was powder not real. The crust was very good and the service was great. It wasn't a bad pizza, just not quite what I thought it would be, I guess."
Did I mention that I have the cutest little claw food tub in my apartment? It's adorable... to look at. The shower wasn't ready when I arrived on Friday. Over the weekend, A and I tried multiple ways of bathing. We pretended to be coal miners in the 1890s, when showers (well, any indoor plumbing) were not a part of most houses in Tioga County. We poured pitchers of water over each others heads to shampoo and rinse. Once we were relatively clean, we went to Allen Street Hardware Cafe... Wow!!! great beer selection. Dinner was good too. A got the scallop special with deep fried plantains and rice, I got the eggplant & pesto panini. Yummy yummy. A says, "The food was good. The portions were a little small. The beer was good. It was a little dark in the restaurant."
Sunday, we went to Amy's Place up near UB South. I had the lentil soup - bland - but the sunny side up eggs were very nice. A had some kind of lamb wrap which he liked a lot. On our way back to the car, we met a very nice lady with a front yard garden. She has an alpine section - so neat. The flowers were gorgeous and very unusual.
I have an apartment less than 1/4 the size of the house I sold; it's hard to cram what I consider "necessities" into it. And that's after a 10x10 storage unit and several give-aways.
Missing Image ;(
We went to Home Depot, Target, back to the apartment, back to Home Depot, back to Target, and on our way home down Elmwood, we stopped at Saigon Cafe. A got scallops again, "They were very polite. Speedy service. Great portions for the buck. Excellent food." I got the eggplant in green curry which I didn't like because it's a coconut milk curry. But A loved his and the nibble of mushroom I had from his... yum yum. The hoisin sauce with my veggie spring roll was amazing. I got the caramel cream dessert. I didn't like it, but A loved it. I'd definitely go back but order different things.
Monday, more unpacking. *sigh* the apartment was dirty so we had to clean everything - kitchen cabinets, floors, windows, shelves - and unpacking took many hours more than I expected. However, we still made time for play and went to the Buffalo Zoo!

I have a small but rather insistent animals rights streak and so I resist visiting zoos, but A hadn't been to one since he was a kid visiting his grandmother in South Carolina. Since A took time off to come here and help me move, he gets to pick the daily entertainment.
Go see pix:

[I tried to embed a slideshow and failed, and I don't have the patience to resize and upload the 22 pix.]
Here's one picture from the set to encourage you to go see the rest: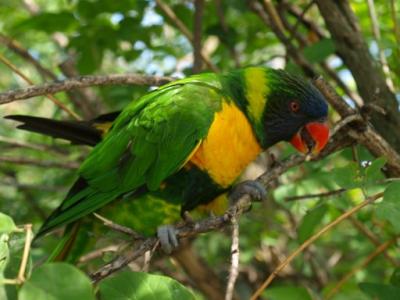 "The zoo's worth going to. There are nice exhibits with a really nice selection of animals. It's very kid-friendly," A said, "Someone shoulda been deep-frying those cockroaches."
I had lots of fun taking pictures. The Lorakeet Landing was especially fun - one bird let me get very close for quite a while. Such vibrant colors!
I've been living in a very rural area and have needed suits... twice? in the past five years. The program I started on Thursday requires more professional dress than I've needed in about 10 years, so going to the mall became a high priority. (I certainly welcome suggestions on where to get women's suits - plus size! 18/20. Lord & Taylor at the Walden Galleria had the best selection at that mall.) We had a little snack at Johnny Rockets, then after I bought a pretty nice suit at L&T, we drove back into the city and decided to cruise Elmwood to see what was still open. A decided to try Jim's Steak Out. He says, "It needs more exploration." I think that means he liked it and wants to go back. I tried a bean burrito supreme with a side of guac at Elmwood Taco & Sub (ETS) and really liked it.
On Tuesday, the management company finally installed my shower in the adorable clawfoot tub and I felt much cleaner. After I worked on a client's website for a couple hours, and checked in with my friend & colleague Kelly in Tioga County, we managed to get almost everything in the apartment cleaned and unpacked. I have a desk-ish thing and bookshelves. That's all that's really important, right?
As "payment" for helping me, I treated A to one of his favorite things - Korean barbecue at Woo Chon Korea House in Williamsville. A has had Korean barbecue one other time - when we moved my friend Lisa out of her house and into a storage unit in Maryland. (Her stuff moved into the storage unit; she moved to NYC.) Her parents were so kind and treated us to dinner at Woomi Korean barbecue in Wheaton, Md. That was freakin' awesome. Tonight at Woo Chon, the food was equally yummy, the service was outstanding, and the soju was biting! Since there were only two of us and I didn't eat barbecue, he didn't get the treat of the at-the-table barbecue, but he loved the kitchen-prepped beef barbecue. So many yummy sides! bean sprouts, tofu, kimchee and kimchee... I had the tempura, and a couple of those little pizza juns.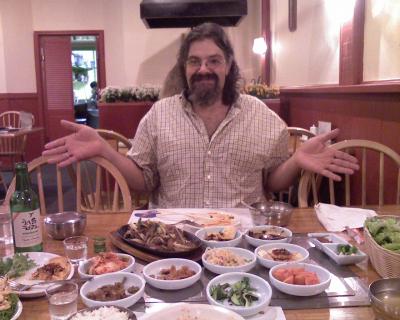 Then we went to several bars on Allen Street: Gabriel's Gate, Staple, the little no-name bar in the yellow vinyl-sided building, Nietzche's, Frizzy's, and another stop at NY Pizza. We had walked walked by Gabriel's Gate several times - it looked kinda tough and maybe like hardcore metalheads (no offense,
(e:metalpeter)
and
(e:tinypliny)
!) hung out there, but we went in anyway. It's gorgous inside!!! Totally worth going in just to see the woodwork. Staple was probably the most comfortable for me, A loved Nietzsche's - he's a bass player currently seeking a band and is now jealous of where I'm living. He liked this sign: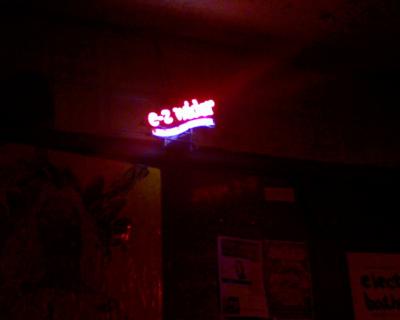 Frizzy's (I might have the name wrong) was boring in comparison to the other places and didn't have as good a beer selection. The no-name bar wasn't our style either. I'm looking forward to exploring more of the bars.
Wednesday while I was working, A visited THREE sausage markets. Spar's European Sausage Market, 405 Amherst, was his favorite - he bought a LOT of sausage there, plus a really nice cheese with peppercorns in it. He wanted to go to Canada, but he didn't remember to bring his birth certificate. Maybe next time. We did more shopping (poor guy had to sit in all these boring stores and wait for me to try stuff on) then got take out at India Gate. Good food once again.
A left Thursday and took my puppy home with him. :-( I didn't take any pix of her while she was here because I knew it would be painful to see them. China Cat Sunflower is settling in nicely.
I also miss my elderly cat, Kitten, who stayed with the house I recently sold. She would beg me to turn on the bathroom sink faucet: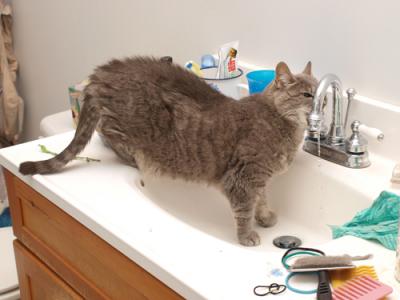 Permalink: A_s_adventures_in_Allentown.html
Words: 1487
Category: moving
08/16/08 03:54 - ID#45342
I'm here!!!
Woooohoooo!!! I made it! I'm in my *ahem* cozy apartment on Allen Street.
Thanks to (e:chico) , my friend A, and Jeff & Devon
(a moving crew that my buddy Lisa in NYC found for me on CraigsList as I stood outside the building and panicked because I didn't plan the move-in part very well...), we got everything from downstairs to upstairs in about an hour. Amazing!


Permalink: I_m_here_.html
Words: 67
Category: moving
08/14/08 12:23 - ID#45325
Moving Friday! Garden pictures
Oh my.... It's now Thursday and I've got about 36 hrs to get everything packed and either moved to storage or in the U-Haul trailer. It'll be done, but I'll be exhausted. I expect to start moving stuff into my new apartment in Buffalo around 1pm on Friday...
My previously referenced
(e:heidi,45183)
nonprofit organization created a community garden this year on an empty lot on the edge of the business district. The lot used to have houses on it but they were eventually condemned as being too risky in a flood zone. Here are some pix I took last week to illustrate the story I wrote for the local paper.
The lot in late April. (credit Tonya McNamara)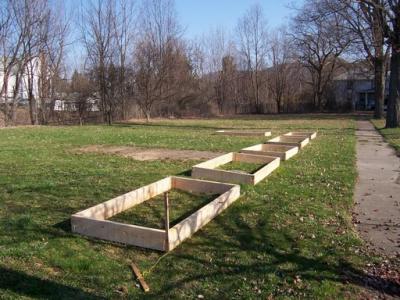 The lot Aug. 4.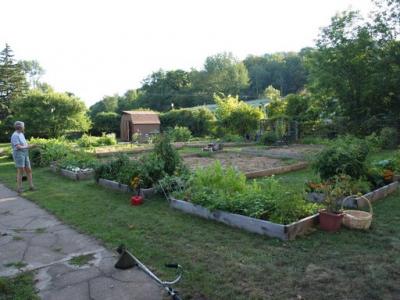 We're having a little pumpkin growing contest for the fall festival.

One of the gardeners picked kale and zucchini for me out of her plot.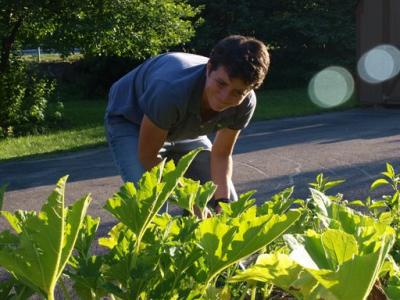 So,
(e:TinyPliny)
, I keep thinking about your tree-planting team. I love the idea, but I didn't have a plot in my community garden, in part because I don't like to do manual labor and I don't particularly like to get diirty... how can I justify digging holes for trees in Buffalo? <grin> I supported the community garden by writing some creative grants...


Permalink: Moving_Friday_Garden_pictures.html
Words: 219
Category: moving
08/06/08 04:08 - ID#45253
Internet connection?
So, starting next Friday, I'll be living on Allen Street in Buffalo... What do you do for internet connectivity at home? I have no need for cable TV or telephone, but I guess I'll end up with one or the other?

Is it incredibly rude of me to ask for help moving in? I'm bringing as little as possible, but it's still stuff - bed, mattress, dressers, recliner, table & chairs, bookshelves... My friend A is coming up with me, but gosh it would be nice to have another person, even just for an hour...





Permalink: Internet_connection_.html
Words: 95
Category: moving
06/27/08 12:32 - ID#44797
apartment!
I found an apartment today! I totally didn't expect to find one so easily, but all the research I was able to do with the kind, gracious and thoughtful assistance of
(e:peeps)
really paid off. 8/15 I'll take possession of a very sunny third-floor one-bedroom apartment on Allen Street! I think it's the kind of apartment I can live (perch?) in for three years.
I also got to meet
(e:drew)
! *waves* Thanks so much for the warm welcome!
Now that I know where I"m moving, I feel like I can finally start packing and processing all my STUFF. I have a lot of stuff and most of it will be living in storage.


Permalink: apartment_.html
Words: 115
Category: moving
06/24/08 04:19 - ID#44769
Subway?
So I just talked to a property management person and when I said I wanted to take public transportation to UB North, he said, "My guess is that you'll take it once or twice but you'll be so grossed out that you'll never take it again." Thoughts?





Permalink: Subway_.html
Words: 47
Category: moving
06/09/08 05:15 - ID#44594
Apartments in Buffalo
Wow. Y'all rock.

It looks like I should focus on the Utica Ave. metro stop (do you call it metro or subway or light rail or train?). I'm looking for a studio, 1 br or 2 br (if i can find a roommate) that will accept 1 small dog and 1 cat. I'm downsizing from a house, so I have lots of stuff but I also plan on getting a storage unit so stuff storage isn't very important. I will need one parking spot. I can start renting as early as 8/1 and as late as 8/15. I think my rent range is about 500-550, up to 650 with all utilities but that's stretching things. I've got tentative plans to visit Buffalo either 6/26 or 6/27 to check stuff out. Linwood looks like a great option.

I must admit, I'm used to my brand new kitchen, dishwasher and garbage disposal, washer & dryer on second floor next to my huge bedroom... but of course I'll be living on a student budget and expect to downscale considerably. Um... how do I provide references when I haven't rented in 10.5 years?









Permalink: Apartments_in_Buffalo.html
Words: 179
<-- Earlier Entries