Category: home
03/18/10 10:02 - 41ºF - ID#51217
Accomplishment
I've been working on a baby blanket since January for Jill's third child Bodhi, who will be born April 5. I finished it in time for the baby shower that I was the slacker-host for. I'm really proud of it so I'm posting a rather extensive set of photos.
Crocheted with Lion Brand Yarn LB Collection Cotton Bamboo

in Magnolia, Snapdragon and Chocolate Dahlia using my great-grandmother's size G hook. It took 25-30 hours. Please note, crocheting and reading law texts are incompatible activities. However, crochet and hot chocolate at Cafe Taza are highly compatible.
Early February.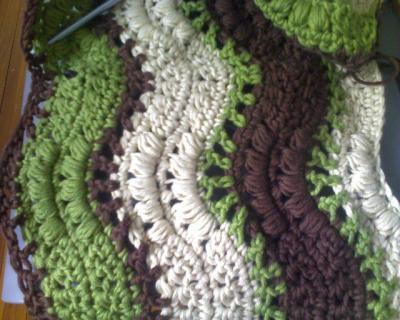 Finished - detail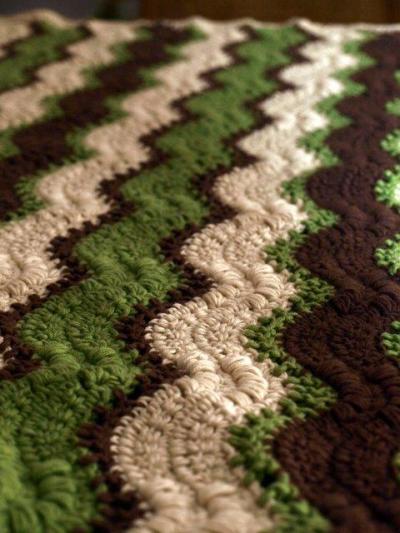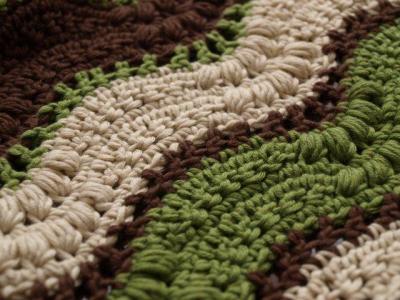 A's shoe box was too big.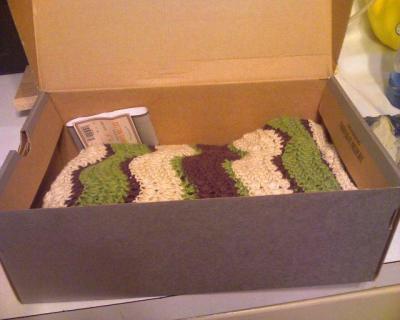 One of the shower games was the most eco-friendly packaging. Since I was judge I couldn't win, but you know I totally did. The 100% compostable Sunchips bag is shiny on the inside. It was A's idea.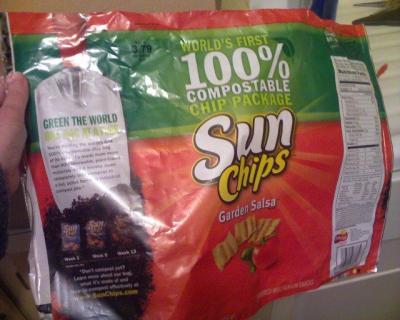 Squished it in a box I found at Uncle Dudley's so the Sunchips bag would fit around it.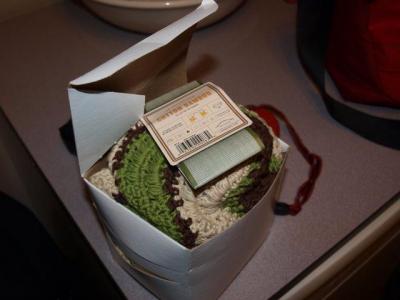 All wrapped - I crocheted the rosette and string, too.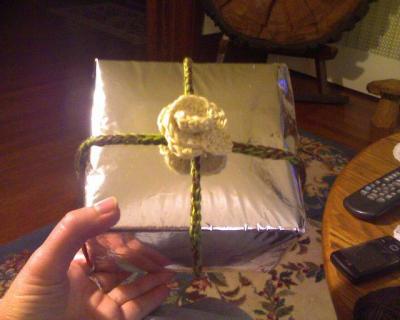 I didn't put a label or card on the box, and it was the first present Jill picked up to open, so she's asking who this is from.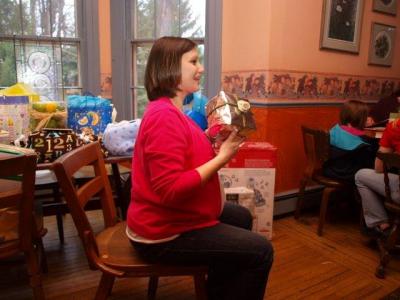 "You made this??" In our six years of working together, I had never mentioned that I crochet. She was astounded.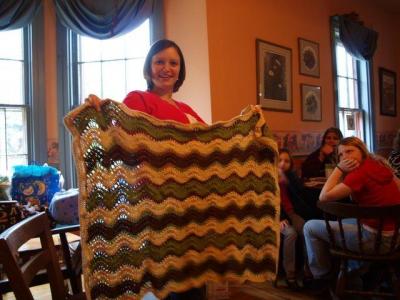 She later said, "This is my dream blanket! I might have to hang it on the wall."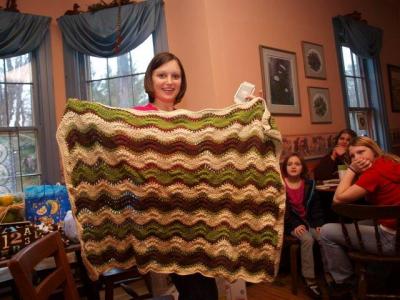 Some table decorations from the shower. Kelly and Jill had spent lots of time planning the shower and then Kelly's son Christopher (one of the triplets) ended up in the hospital with pneumonia for nearly two weeks so she couldn't even go. And since I'm a slacker and have no idea what to do for or at a baby shower, Jill ended up doing all the work. She's still a little grumpy at me, although the blanket helped win me some points.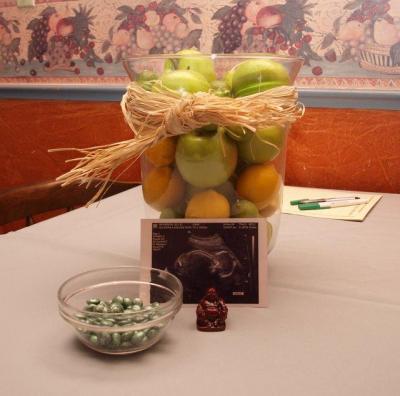 All I really did for the shower was buy some bamboo plants in cute elephant pots at Wang's 99 Cent City on Sheridan. Honestly, who thinks it's a good idea to have a single, childfree late-thirties woman host a baby shower?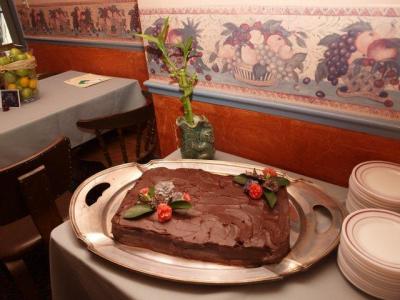 Permalink: Accomplishment.html
Words: 387
Location: Buffalo, NY
Category: home
03/13/10 09:09 - 36ºF - ID#51179
Mud puppy
Nisha and I went for a little picture-taking walk at Big Pond, the former reservoir for the village of Morris Run. There was still ice on the pond. I used to ice skate there as a kid. An older man who lives in one of the two houses and one camp around the pond saw me taking pictures and came out to show me the photos he had recently gotten printed at Walmart. They included close ups of a yearling deer that comes right up to his back porch. I'm pretty sure his daughter used to baby sit me but I've forgotten their names. (gmap:

)
The chopped off bushes are blueberry bushes - so yummy!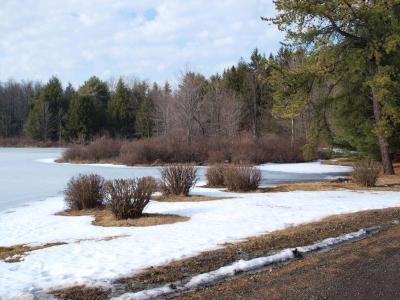 Nisha walked out on the ice, luckily she trotted right back up on the shore when I called her. It would have been really difficult to rescue her if she had fallen in.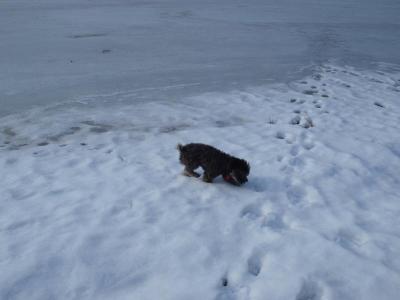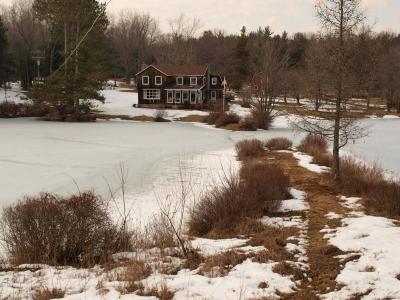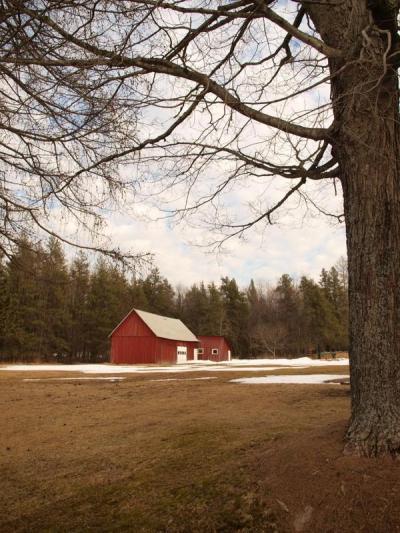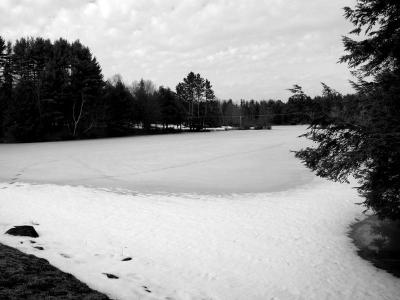 Nisha was muddy up to her knees by the time we were done.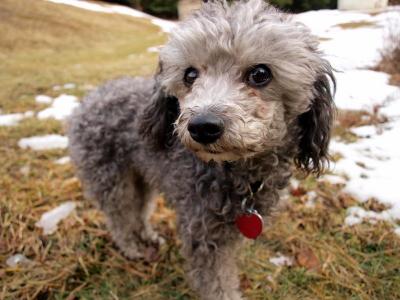 Part of the water treatment facilities.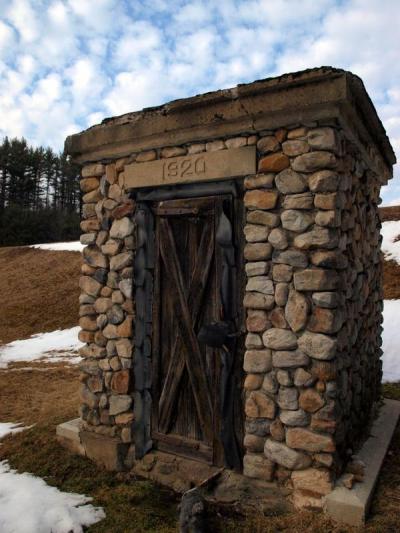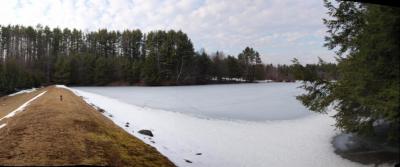 (Yea for autostitch: www.autostitch.com - now for iphones!)
The creek below the reservoir - Morris Run.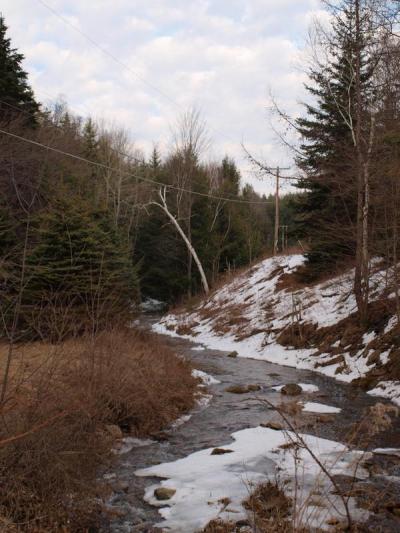 This is a classic saltbox-style company house built for coal miners who owed their souls to the company store. Uncle Dudley lived here when I was a kid. My other aunt and my grandparents lived in saltbox houses just up the street. My family lived in the company office. When my brother was born, we needed another bedroom, so Dad took out the double brick wall (about 12" thick) between the big and little safes and made a bedroom for me. He put in a normal door, but there wasn't anywhere to put in a window because the outside wall was connected to the garage so I lived in a windowless safe.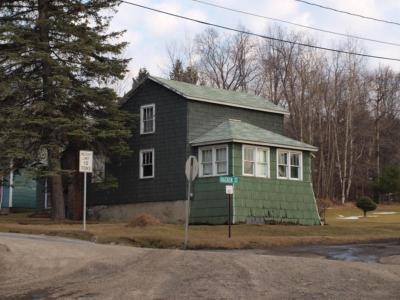 Permalink: Mud_puppy.html
Words: 363
Location: Buffalo, NY
<-- Earlier Entries