Category: food
12/25/15 01:25 - ID#60375
Cinnamon Rolls
The references I used for this project:
recipe 1:

recipe 2:

recipe 3:

icing:

tips:

kneading refresher:

(it came right back to me, didn't need the video)
punch down:

Screwed up the icing at the last minute, but they look pretty good :-)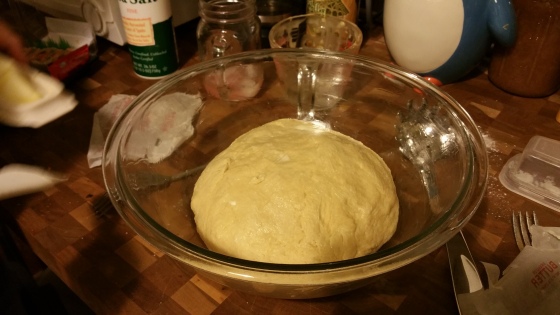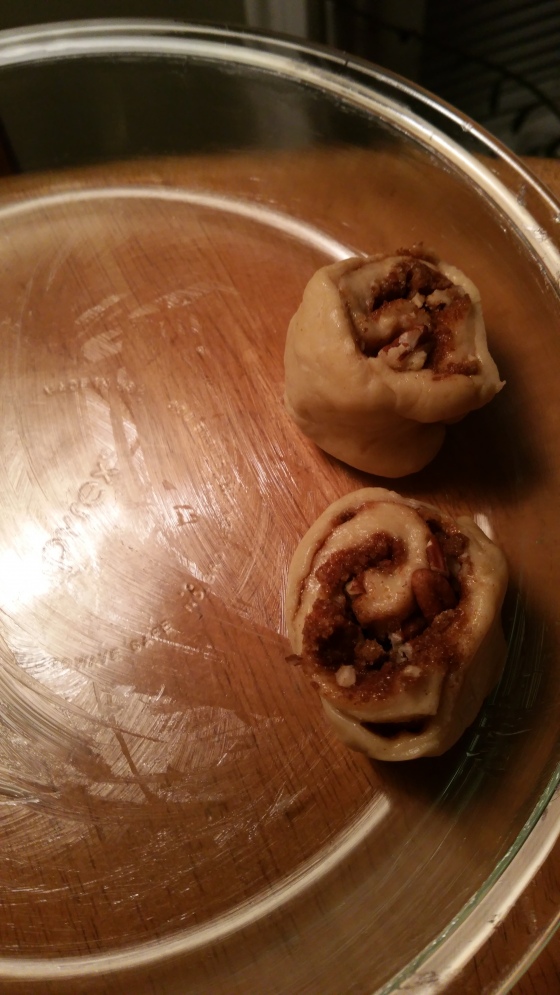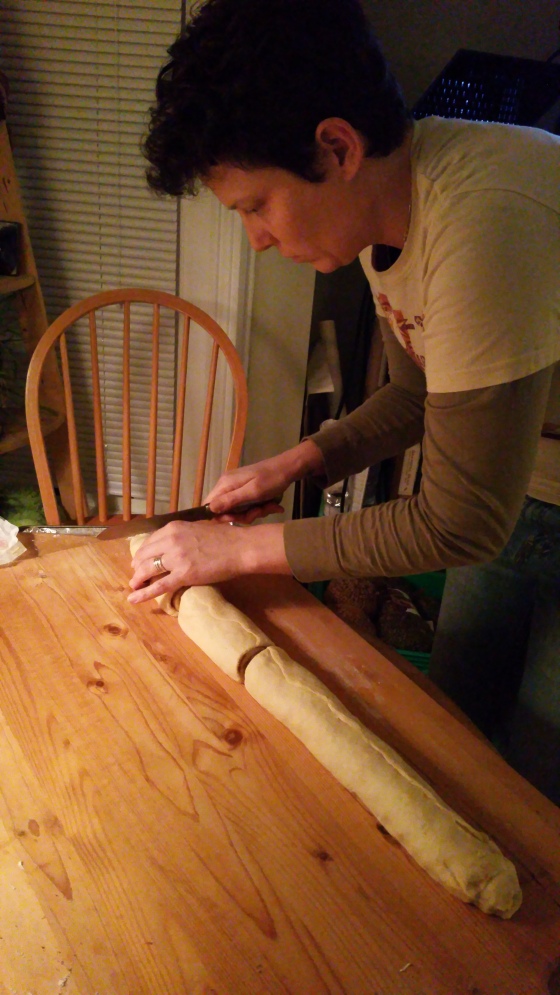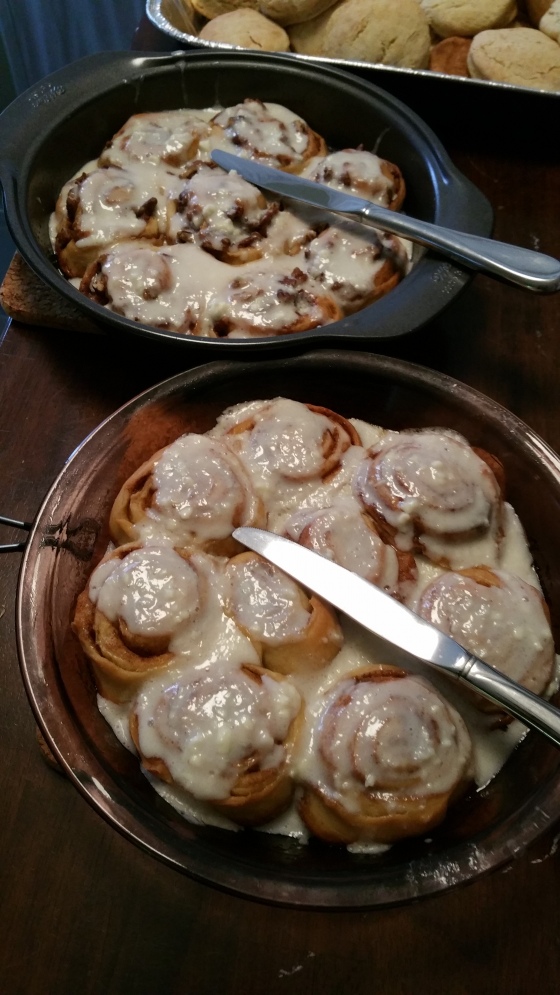 Permalink: Cinnamon_Rolls.html
Words: 88
Last Modified: 12/25/15 12:06
Category: food
02/22/15 02:37 - ID#59858
Recipe - Baked Veggies
In a big bowl, mix
3/8 c. olive, sesame or peanut oil
2 cloves garlic, minced
3/4 c. panko
paprika, salt & pepper to taste

Then mix in
1 zucchini - quartered, chopped into large pieces
some broccoli crowns, chopped into large pieces
4 med. potatoes, chopped into large pieces
1 med. red bell pepper
1 can chick peas, rinsed & drained

Put in 9x13 baking pan. Bake for 50 min at 400 degrees F.




Permalink: Recipe_Baked_Veggies.html
Words: 64
Last Modified: 02/22/15 02:37
Category: food
10/18/14 09:47 - ID#59494
Mac & cheese
We made mac & cheese tonight to accompany our packing.

8 oz. (=1 3/4 c.) dry elbow macaroni
2 c. shredded sharp cheddar
1/2 c. mozzarella shredded
1/2 c. smoked gouda
2 c. milk (we'll try evaporated next time)
1/4 c. butter
1 small onion, chopped
2 1/2 T. flour
salt & pepper
dried mustard
-- topping --
2 T. butter
1/2 c. bread crumbs
paprika

1. Cook the noodles. Drain.
2. Shred cheeses.
3. In heavy saucepan, use a bit of butter to saute the onions. Turn down the heat. Add the rest of the butter. Slowly stir in flour to make a roux, stirring constantly. Stir in milk. Stir in cheeses, salt, pepper, and mustard, and cook over low heat until cheese is melted. Turn off heat, stir in noodles. Pour in baking dish (8x8 pan or 1.5 qt dish, we used the same heavy saucepan).
4. Melt butter, stir in breadcrumbs. Spread over top of mac & cheese. Sprinkle with paprika.
5. Bake at 350F for 30 min. Let cool 15 min. Serve.




Permalink: Mac_cheese.html
Words: 152
Last Modified: 10/18/14 09:47
Category: food
08/30/14 04:53 - ID#59339
Lemon Blueberry Bread
Lemon Blueberry Bread
1/3 c. butter, melted
1 c. sugar
3 T. fresh lemon juice
2 eggs
1.5 c. flour
1 t. baking powder
1 t. salt
1 t. cinnamon
1/2 t. nutmeg
1/2 c. milk
1 c. fresh or frozen blueberries
2 T. grated fresh lemon zest
Glaze
2 T. lemon juice
1 T. butter melted
1 c. powdered sugar (+/- based on desired consistency)
In a large bowl, cream butter & sugar. Mix in eggs. Add add lemon juice, spices, baking powder. Mix flour and milk in slowly together. Fold in blueberries and zest.
Pour into greased, floured 8"x4" bread pan. Bake at 350F for 55-70 minutes or until toothpick comes out clean. Cool for 15 minutes in pan, then remove from pan and put on wire rack.
Glaze: combine ingredients, drizzle over warm bread. Let cool completely before cutting.
Note: if using frozen berries, keep them frozen until you need to put them in the batter. Also, putting flour on fresh berries before putting them in the batter will help to keep them separated.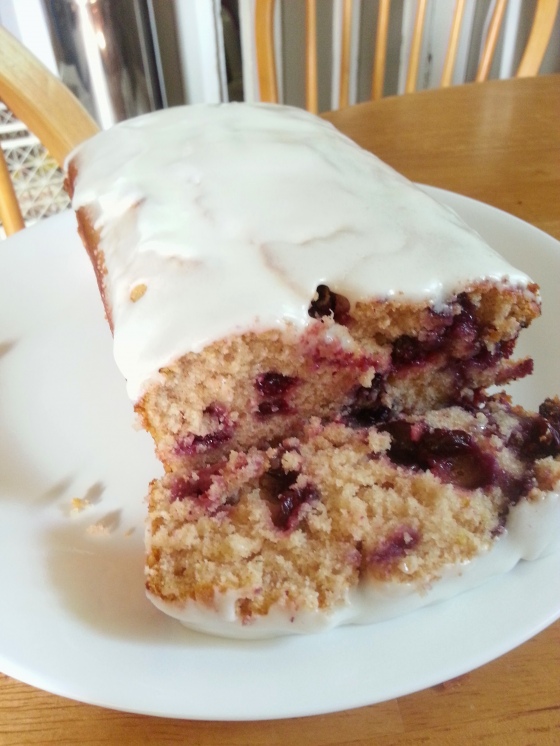 Permalink: Lemon_Blueberry_Bread.html
Words: 163
Last Modified: 08/30/14 04:53
Category: food
04/09/14 11:34 - ID#58884
yum
food, friends, <3
bean dip is
(e:Terry)
's favorite.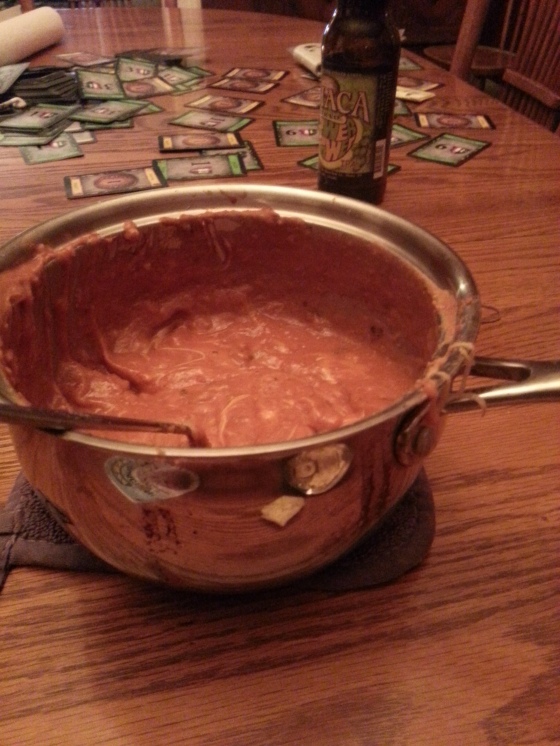 Permalink: yum.html
Words: 9
Last Modified: 04/09/14 11:35
Category: food
01/22/14 03:14 - ID#58599
Pho Dollar!
Pho Dollar, 322 W. Ferry at Grant is really yum. They have a vegetarian menu but you have to ask for it. I had the tofu with ginger and veggie spring rolls. It's currently cash-only. Pho Dollar - a real upgrade from Pho 99 on Bailey?
(Buffalo Rising article

)


Permalink: Pho_Dollar_.html
Words: 51
Last Modified: 01/22/14 03:14
Category: food
11/24/13 05:16 - ID#58343
Stuffed green peppers
3 huge green bell peppers
1/2 lb ground beef or turkey
1/2 lb boca crumbles
1/2 cup chopped onion
2-3 minced garlic cloves

1 t. oregano
1 t. basil
1 t. parsley
1 t. Hungarian half sharp paprika
1 t. salt
1 t. pepper
Be generous in the spices.

2-3 t. vegan Worcestershire sauce
1 (14.5 ounce) can whole peeled tomatoes, chopped
1/2 cup uncooked quick rice
1/2 cup water or broth
1.5 cups shredded Cheddar cheese
1/4 c. bread crumbs

Cut the peppers in half lengthwise, remove seeds and pith.
Have two frying pans with lids going, split the onions, garlic, spices, tomatoes, cheese, rice, broth, breadcrumbs between them as you go:
In pan B (for beef) saute onions & garlic, brown the beef.
5 minutes later, in pan V (for veggie) saute onions, garlic & boca crumbles.
Add the spices while sauteing.
Add the Worcestershire sauce, tomatoes, rice, broth.
Cover, simmer for about 15 until rice is cooked.
Remove from heat, stir in 1 c. of cheese.
Steam the peppers in the microwave (covered bowl, 2T water, 2 min on high). Stuff with mixtures. Mix the breadcrumbs in with the rest of the cheese and top the stuffed peppers. Put in baking pans and bake at 350 for 25-35 min.




Permalink: Stuffed_green_peppers.html
Words: 189
Last Modified: 11/24/13 05:16
Category: food
04/14/13 01:16 - ID#57518
good morning, cafe taza
love the drawing of brena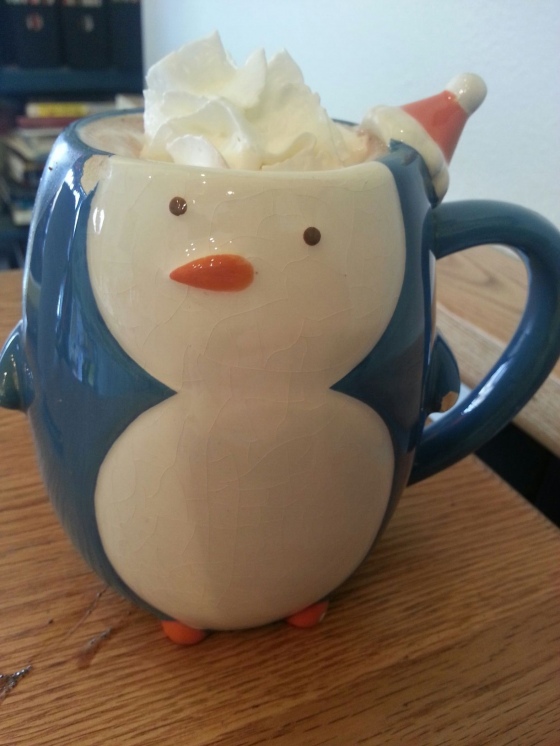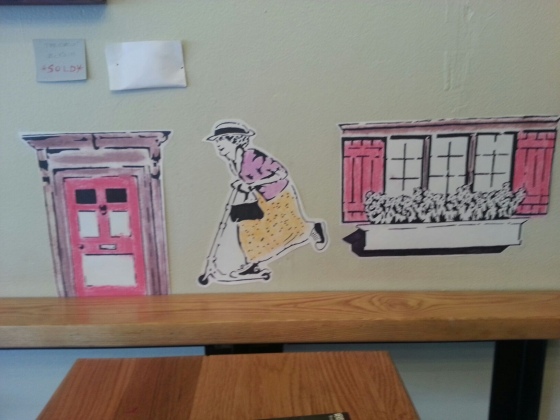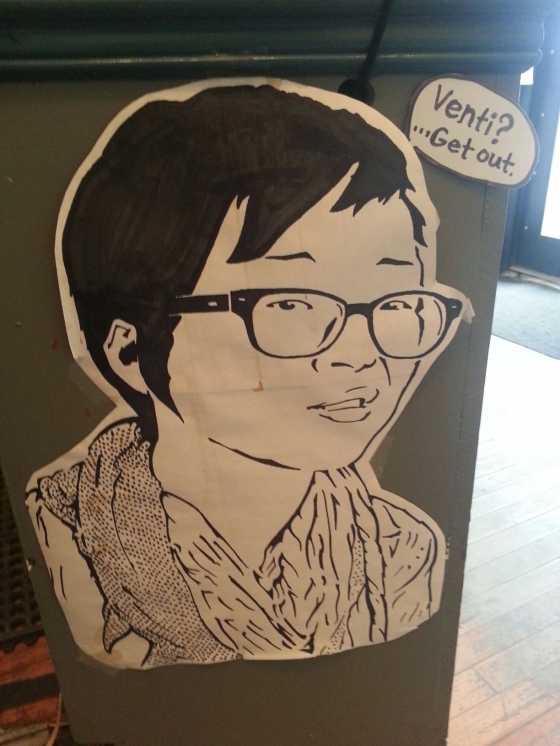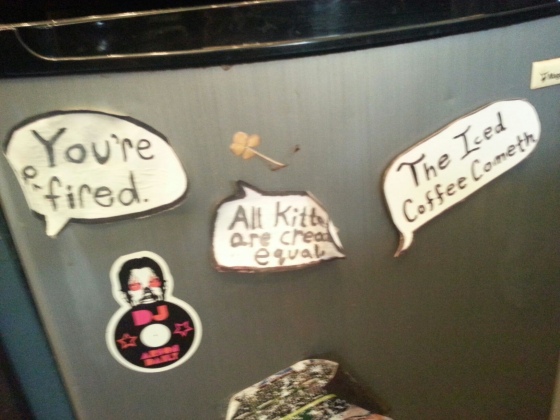 Earlier this week I picked up a smokin' joe mocha for
(e:Terry)


Permalink: good_morning_cafe_taza.html
Words: 24
Last Modified: 04/14/13 01:23
Category: food
12/23/12 02:26 - ID#57033
Thinking of cookies!
(e:tinypliny)
, A and I are making cookies today and thought of you! Teleport here and help! :-)


Permalink: Thinking_of_cookies_.html
Words: 18
Last Modified: 12/23/12 02:26
Category: food
12/12/12 02:21 - ID#56985
Cake!
I completed some really boring tedious tasks and
(e:terry)
bought me a zillycake as a reward :-)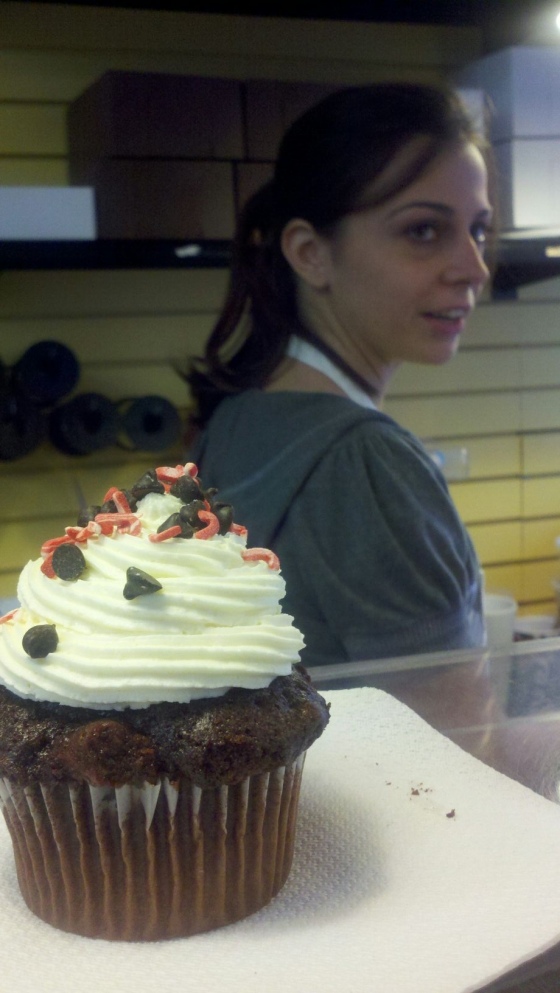 Permalink: Cake_.html
Words: 19
Last Modified: 12/12/12 02:31
<-- Earlier Entries