Category: parade
06/18/09 03:13 - ID#48999
Pictures! Juneteenth, client's birds
Taste of Diversity Festival - international foods festival at Grant & Lafayette 11-3 on Saturday, 6/20. (I'll be out of town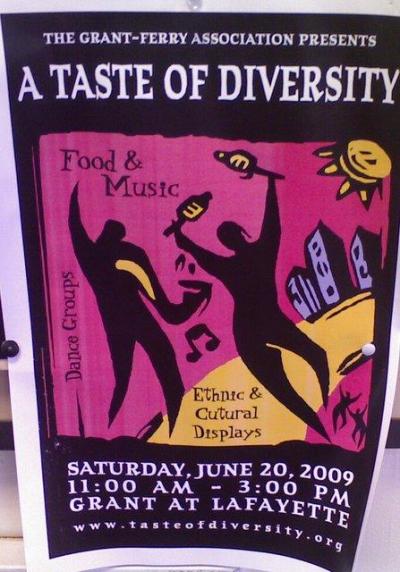 I visited a client yesterday and met her birds.
This is Tango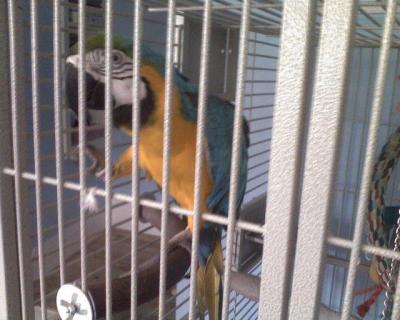 These are Tango's children, one male, one female, 10 weeks old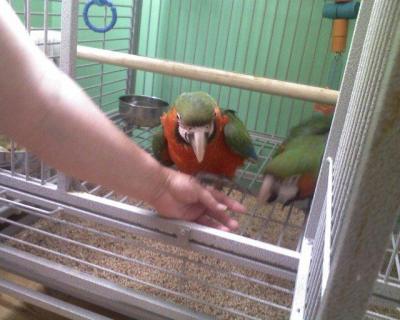 This is Tango's son laying on his back like a baby, getting his belly rubbed. I had no idea birds could be handled like this.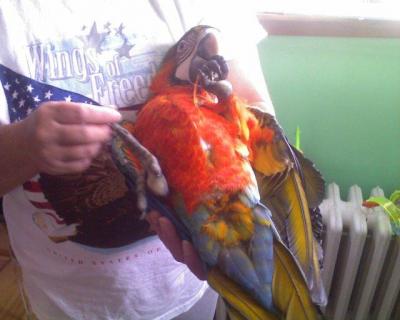 My hand petting a pretty white bird.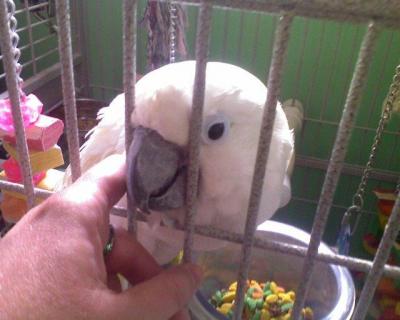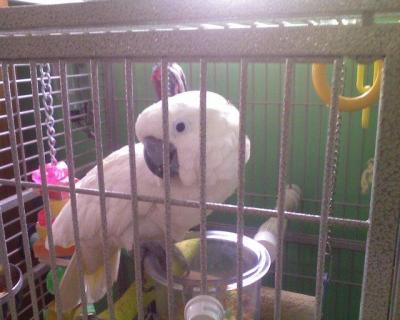 My Juneteenth parade pix aren't fantastic, but they are an interesting contrast with the St. Pat's parade pix.
(e:heidi,48092)
Instead of Irish dancing girls, there were steppers & drill teams - even some with curly hair pieces - is this a Buffalo thing? My hometown parade never has dancing girls (and never any with curly wigs), other than the rare baton twirler. The Irish dancing girls were all on floats, while the steppers walked between drills. The Juneteenth parade had much better cars than the St. Pat's or Pride parades. About Juneteenth

About Juneteenth of Buffalo

Anticipation!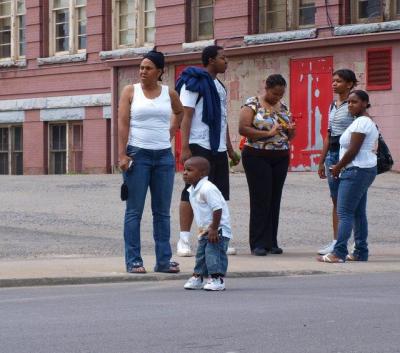 Cars - from old to new...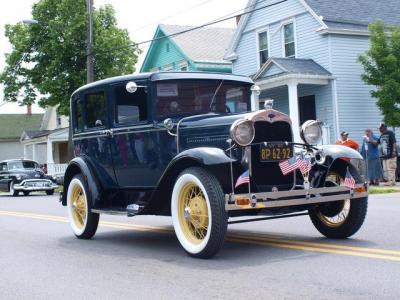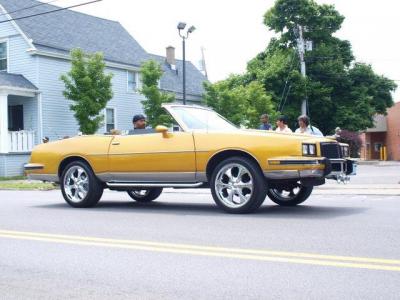 Curly-haired steppers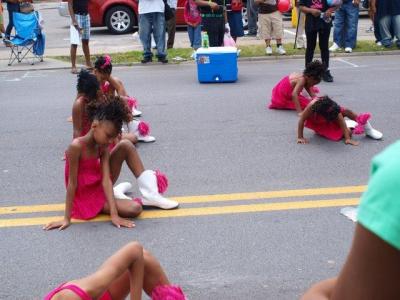 More steppers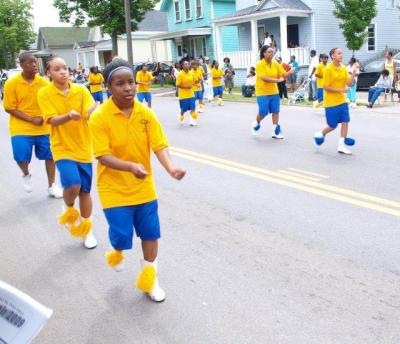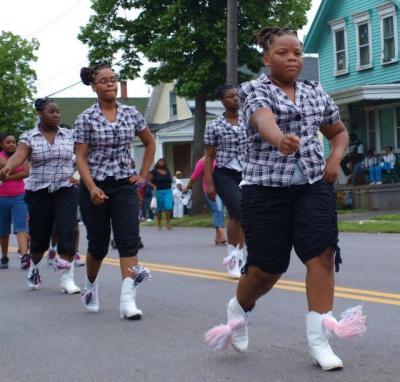 This was the only crew that had a large group of boys - they were with the girls in the orange shirts, a gospel group.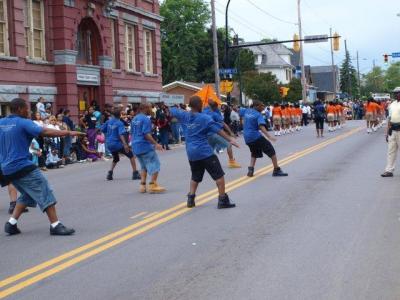 Cheerleaders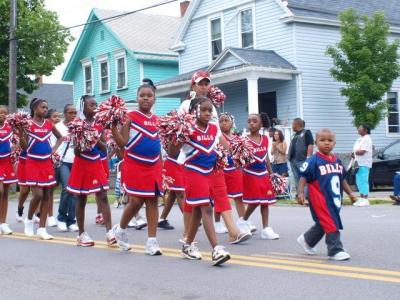 Drummers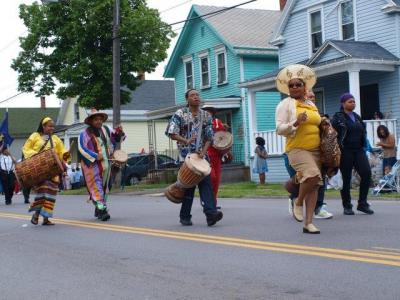 Buddhists - saw this sign at the Pride Parade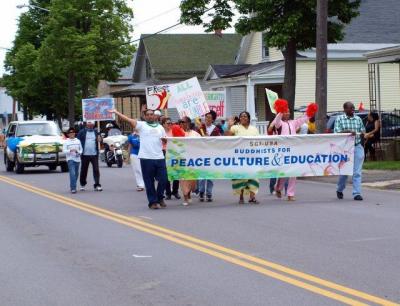 The historically black fraternity & sorority alumni groups were well represented.
Alpha Phi Alpha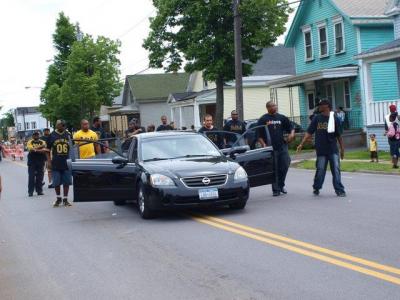 The Delta Sigma Theta ladies were dancing to "Milkshake" by Kelis. Really funny!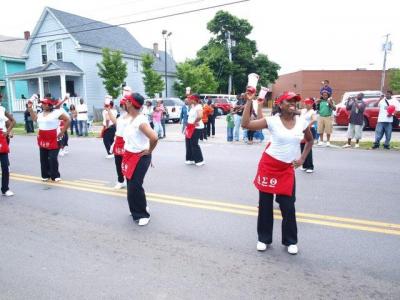 A parade to watch for some Sunday in September - Puerto Rican Day!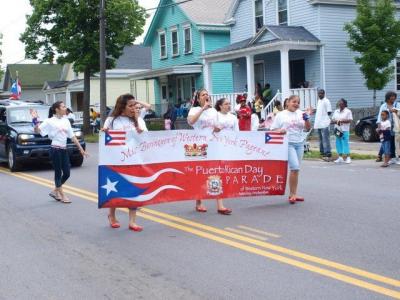 She was the only queen with a tiara as big as the queens' tiaras in the Pride Parde.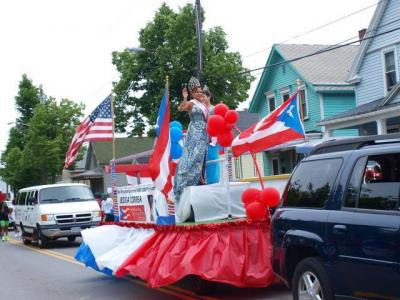 My friend Alisha was posing as a car model in front of this classic Buick.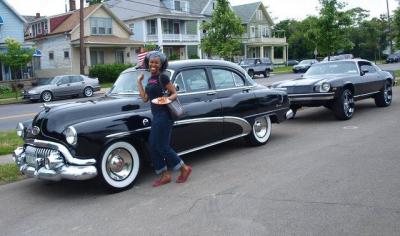 The Juneteenth festival is held at Martin Luther King, Jr. Park, one of the Olmsted parks

That's supposed to be a five-acre wading pool.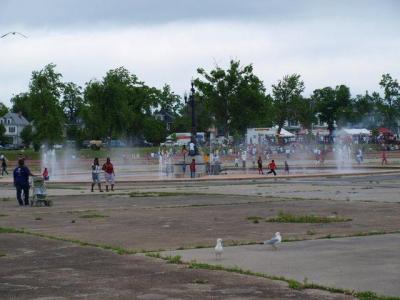 (more photos if you're really interested

)
At Allen West Festival - a hawk rescue group member was showing one of the rescued hawks who can't be released because of a severe wing injury.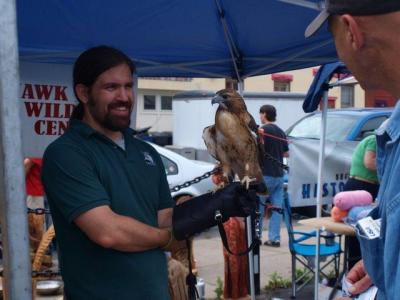 For Uncle Dudley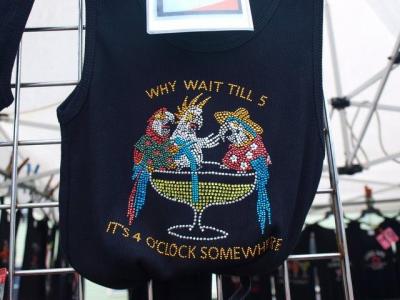 Basra loves strawberries!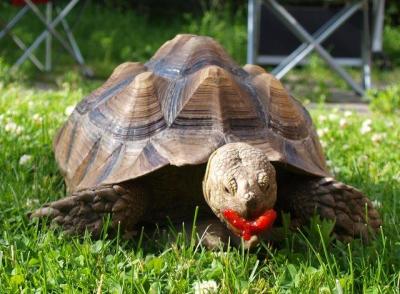 Permalink: Pictures_Juneteenth_client_s_birds.html
Words: 449
Category: parade
03/17/09 07:35 - ID#48092
St. Patrick's Day parade!
Thanks to
(e:libertad)
and
(e:lauren)
for trying to coordinate hanging out - I had no idea of the scale of the parade, and then the cell phone network crashed. I eventually found
(e:lauren)
&
(e:felly)
.
I got a txt from
(e:terry)
at 7:30 that he had sent at 5! (must be before he passed out?)
Since the parade has been well covered by several others, I'll just post a few shots that I really liked.
I stood next to this sweet dog for much of the parade. I was in front of 570 Delaware, just north of Delaware & Allen on the west side. (There was room to move around and I could see the parade really well.)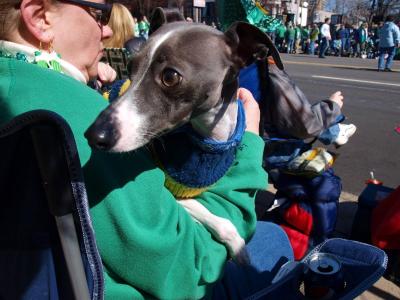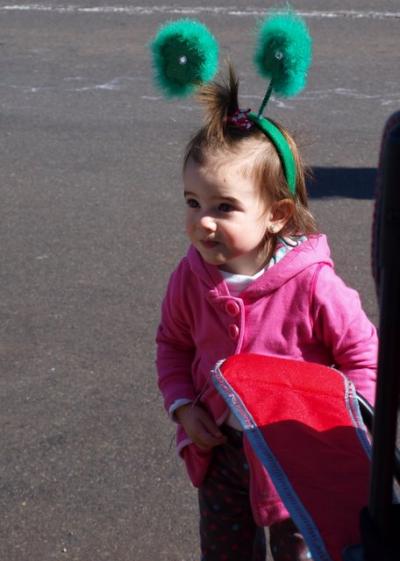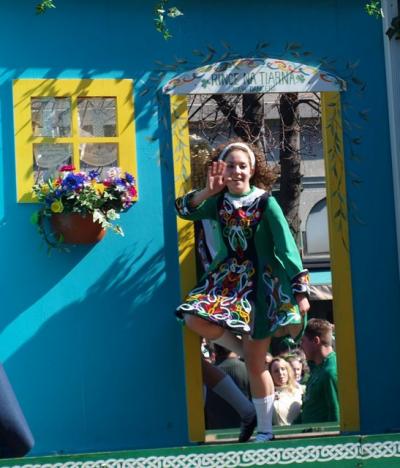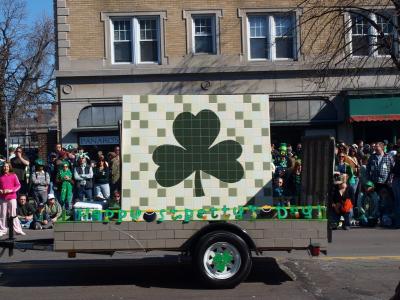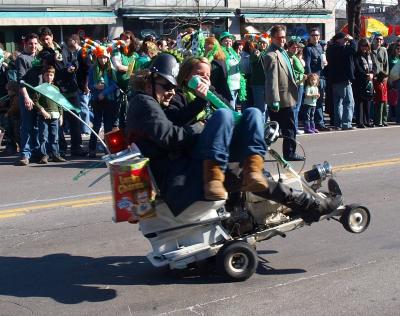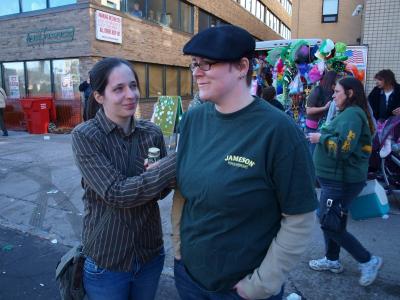 After the parade, we were feeling left out because we had nothing to drink, so we visited the old pink for a beer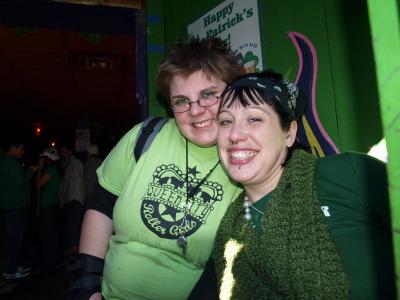 then went to the convenience store and got 40s and some sunchips. We're so cool.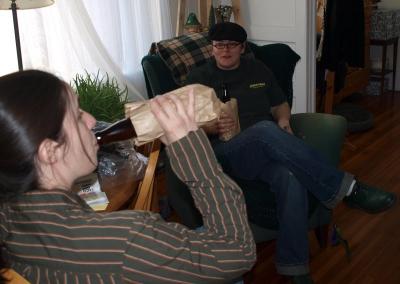 We did finally figure out that we should be outside with our discreet paper bags.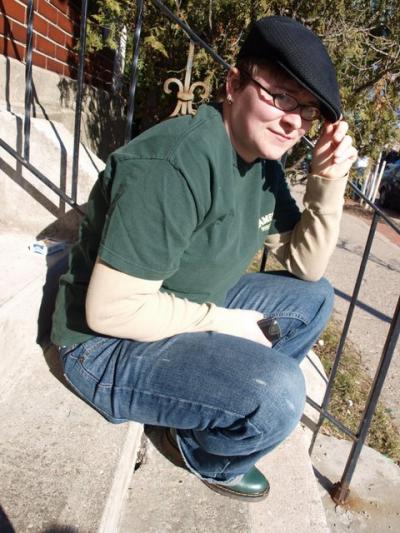 and we watched the scenery from my sunny front stoop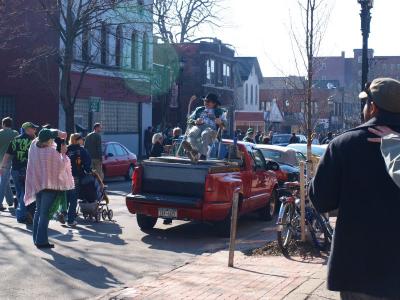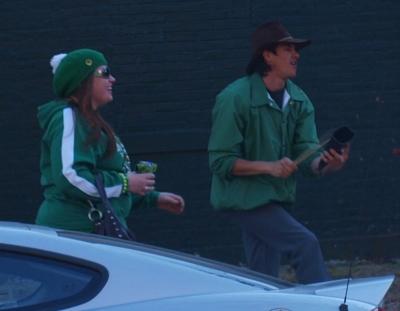 (e:Felly)
thought this was the best Guinness hat of the day.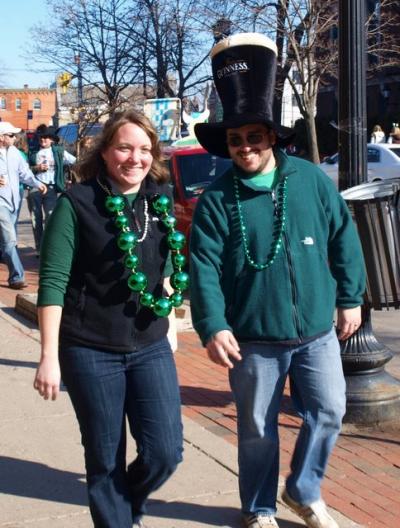 But wasn't so impressed with this one.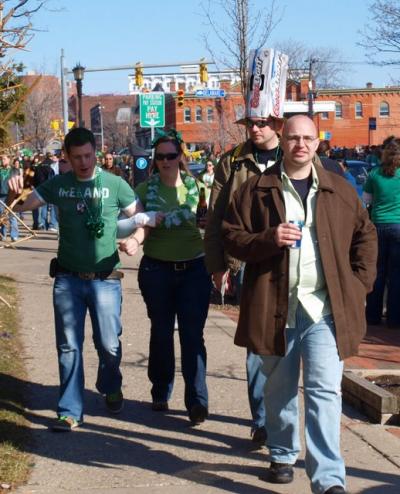 My classmate Paul stumbled by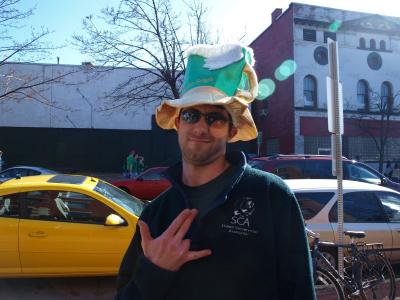 And this pretty one gave us a nice homecoming queen wave.
Thanks to
(e:paul)
&
(e:matthew)
for letting me hang out for a bit, much after the party had ended.


Permalink: St_Patrick_s_Day_parade_.html
Words: 269
<-- Earlier Entries