Category: comedy
12/23/05 11:49 - ID#25297
fast times at hilbert high
(e:Theecarey)
said it all in her entry [inlink]theecarey,68[/inlink]
Many, many, many beers later........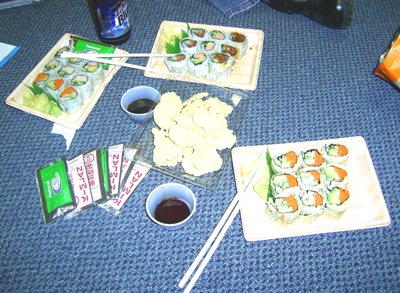 sushi from wegmans, not bad!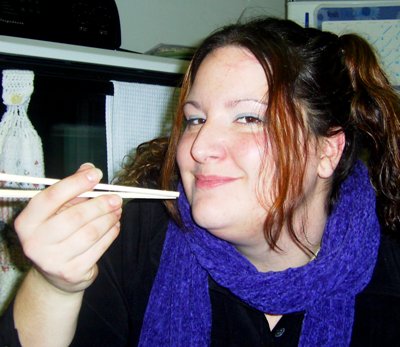 delish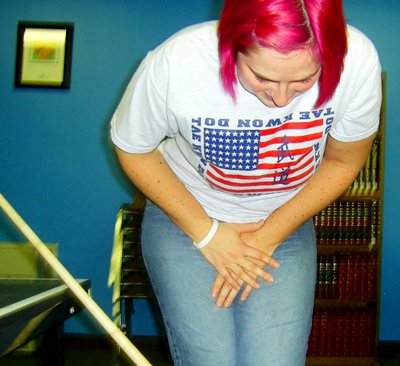 laughing so hard while playing pool, i almost pissed myself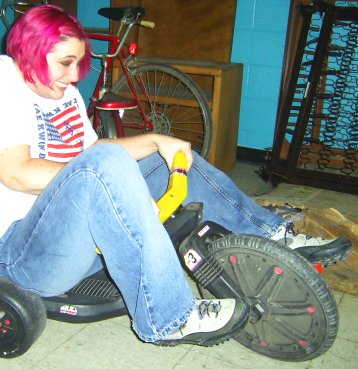 so i had this brilliant idea to play with hot wheels in the basement, but i just sat in place as the wheels spun round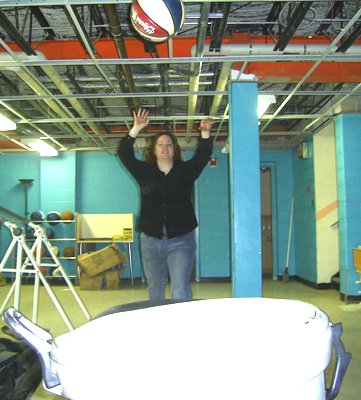 so we shoot some trashcan basketball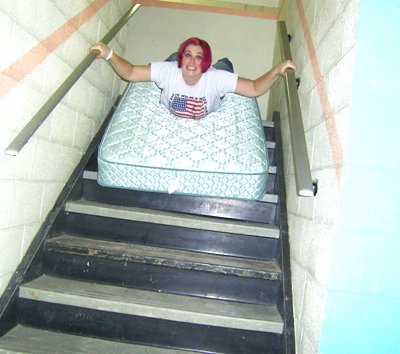 and then try sledding down the stairs on matresses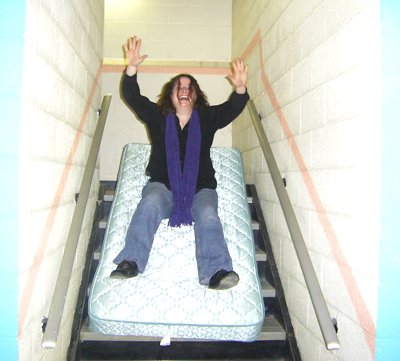 and again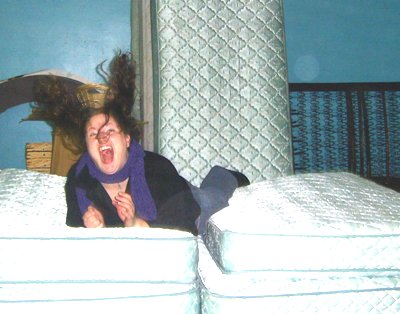 then began the matress diving competition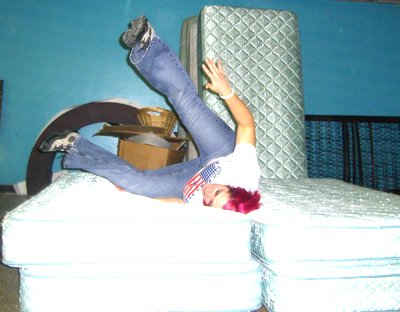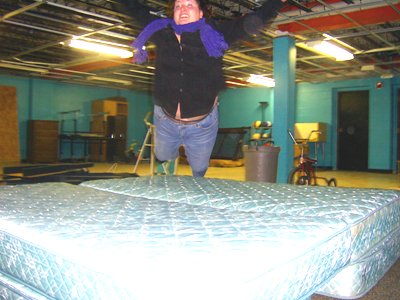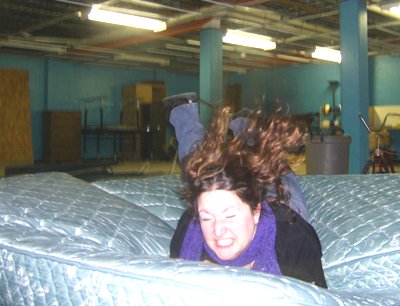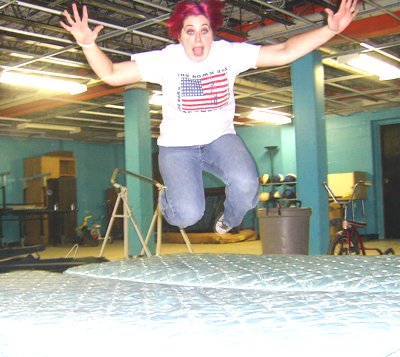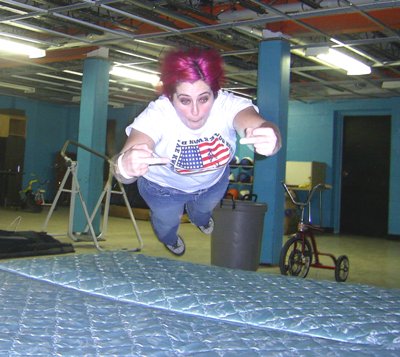 after 30 minutes of this we were hot and sweaty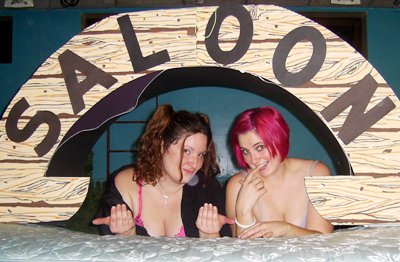 so we cooled off and opened the T & A Saloon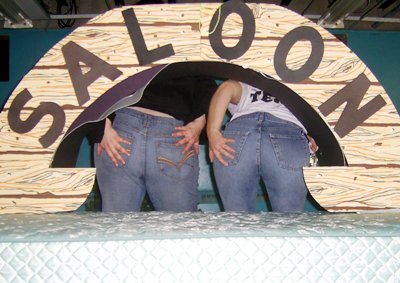 give us a break, we were drunk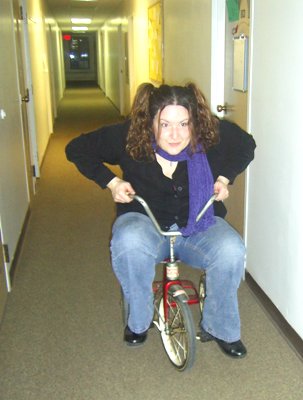 then we started riding tricylces through the halls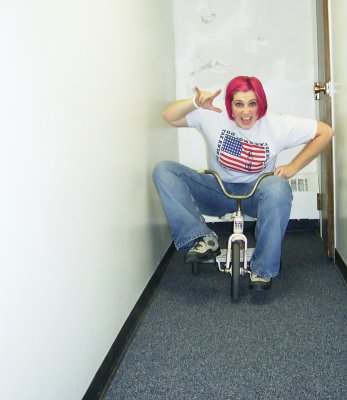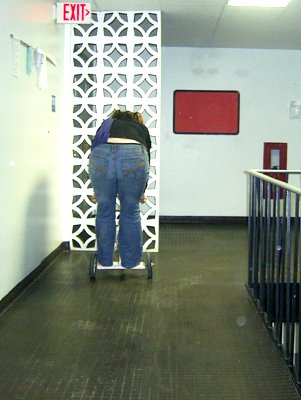 carey ran into that wall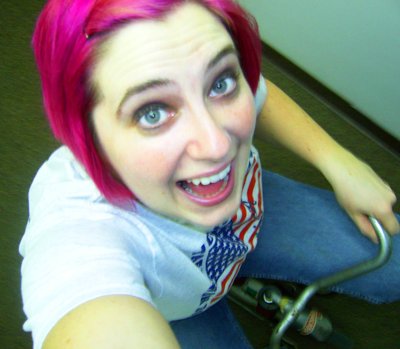 and shortly after taking this shot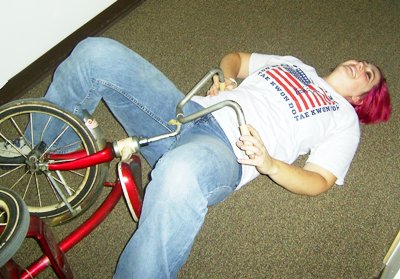 i took a spill rounding a corner too fast - don't drink and drive kids!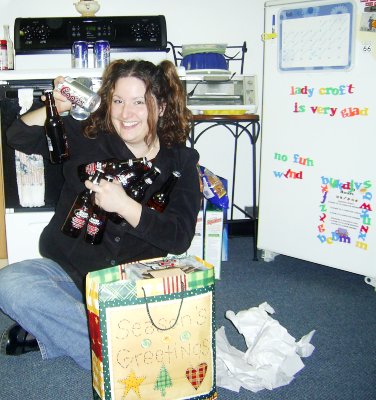 presents!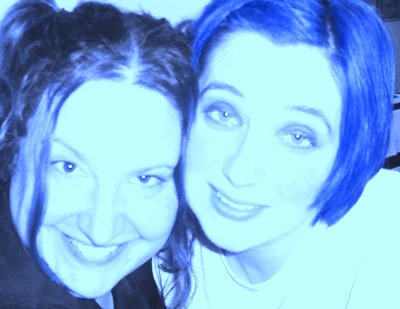 and the night ends with a sleepy and sore good-bye
Now I'm off to shower, pack my backpack and fly down to Mississippi to meet my darling nephew! Latas kids, ciao!


Permalink: fast_times_at_hilbert_high.html
Words: 215
Category: comedy
09/14/05 12:29 - ID#25230
messages from above
Just so you all know…I am making my world famous cone cakes for
(e:Theecarey)
's birthday party this Saturday. If you're not there, well, read the sign.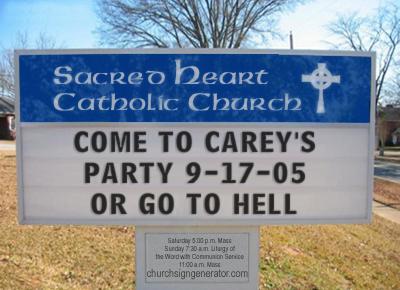 Then stick around for my delicious treats!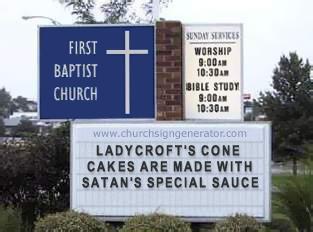 Check it [inlink]ladycroft,65[/inlink] Ciao.


Permalink: messages_from_above.html
Words: 45
Category: comedy
09/09/05 03:10 - ID#25228
did you say hockey pucks?
I got my tickets for Henry Rollins in the mail today and opened them up to make sure everything was in order. I noticed the small print on the back and couldn't stop laughing as I read it. If you don't know who Henry Rollins is, well, he's a pretty intense man. www.henryrollins.com This is actually his spoken word tour, '25 Years of Bullshit', not a Rollins Band concert – which is what makes the disclaimer all the more entertaining. Here it goes: WARNING! You are at your own risk with respect to the dangers incidental to this event whether occurring prior to, during or after the event including specifically (but not exclusively) the dangers of being struck by hockey pucks (I'm sorry did you say hockey pucks?), sticks, balls (no comment), or other equipment (oh my!), by spectators or players or by thrown objects (is this still true if I am the object being thrown?). WARNING! Despite enhanced spectator shielding measures (are we all going to be issued a full suit of armor at the door?), pucks, balls and other objects may still fly into the spectator area. Serious injury can occur. Stay alert at all times (but I so wanted to sleep during the show). If struck, immediately contact an usher for assistance (based on this description, if I'm struck by anything, I'll likely be unconscious). Ciao.



Permalink: did_you_say_hockey_pucks_.html
Words: 235
<-- Earlier Entries