Category: travel
07/09/07 12:01 - 70ºF - ID#40019
Point Breeze and BarnYard Adventures
Dana came over and we headed out in no particular direction. Our original thought was to find "Kraft Jet Puffed StrawberryMallows"- yes, they make excellent s'mores medium- more on that another time. Anyway, a few twisted and turns later, we found ourselves driving out on a gorgeous Sunday afternoon along route 18.
We ventured out to Carlton/Waterport, NY (route 18) to explore the Point Breeze area. Hadn't been there in years- I remember sitting by the water writing in a paper journal the last time I was there, several years ago. I am curious to find it and read what my thoughts were at that time!!!
Peaceful area, blink and you miss it. Located along Lake Ontario an hour east of Youngstown. I have always enjoyed the pier and looking out at the lake. Businesses have come and gone, but each time there is something new to explore.
Like Barn Yard Adventures! part of
Brown's Berry Patch
(farm market, ice cream, grill, pick your own fruit, etc:

Point Breeze: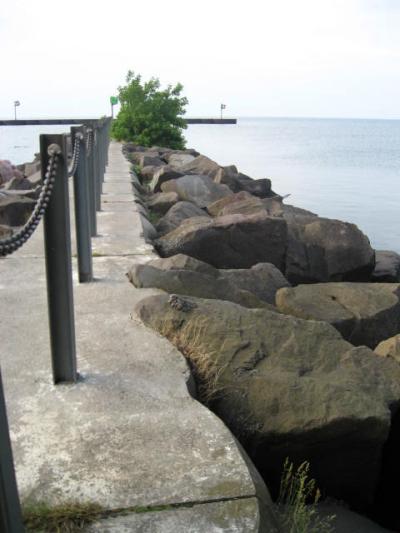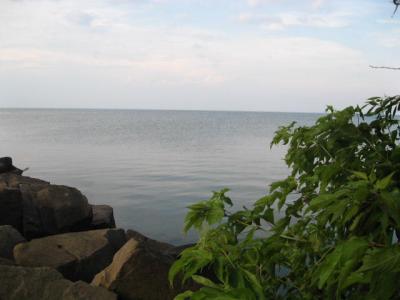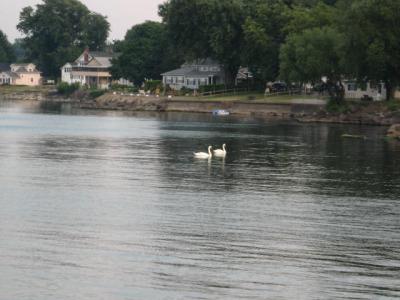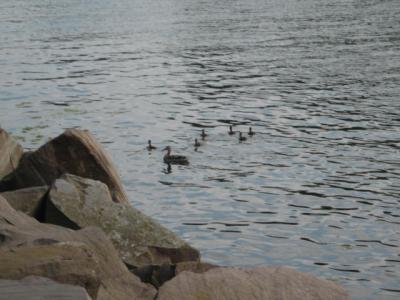 Lovely Piers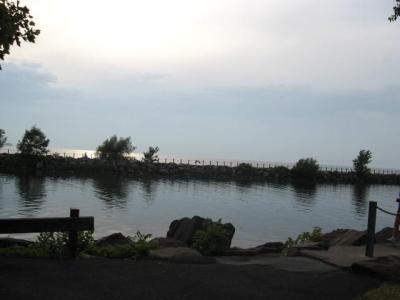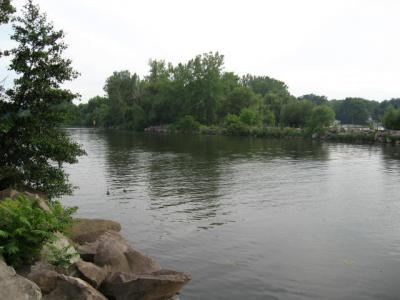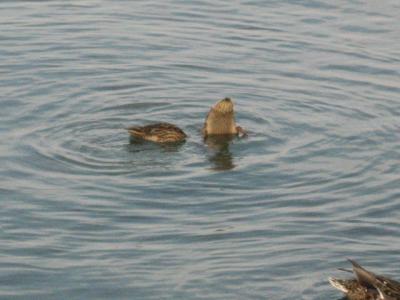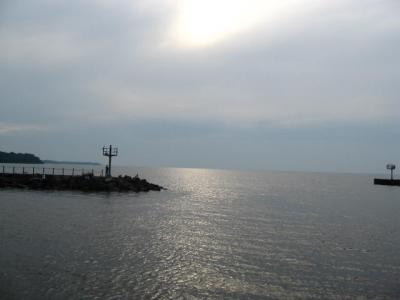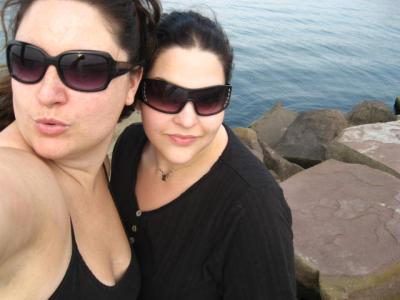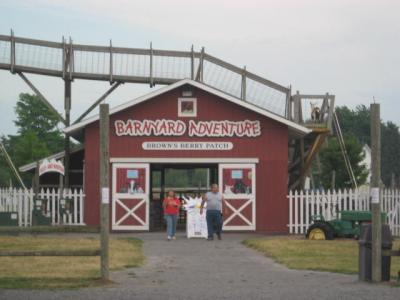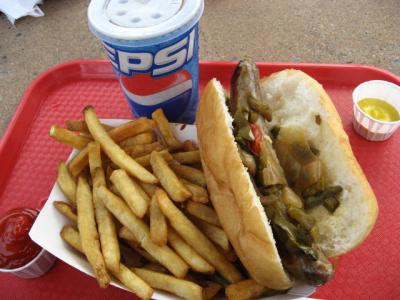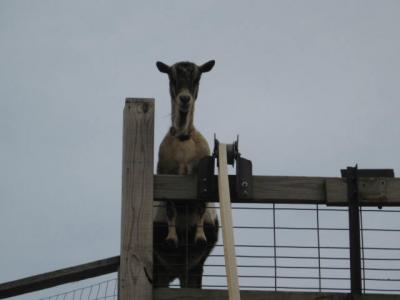 Dana making the goat work for his food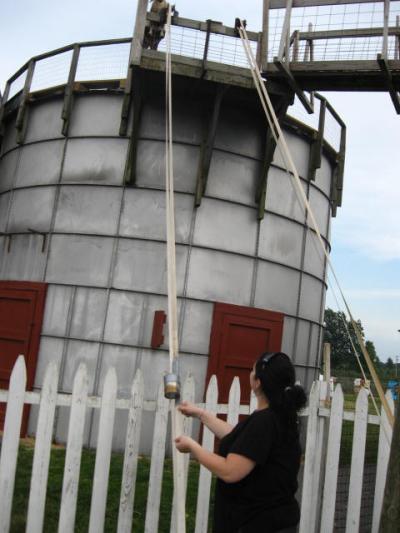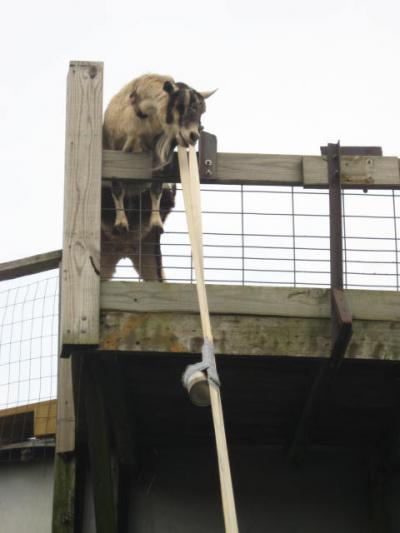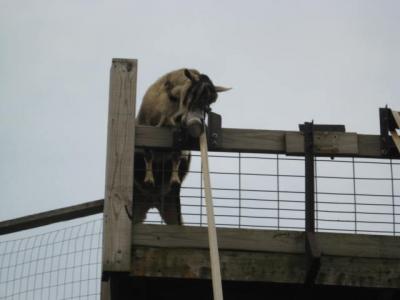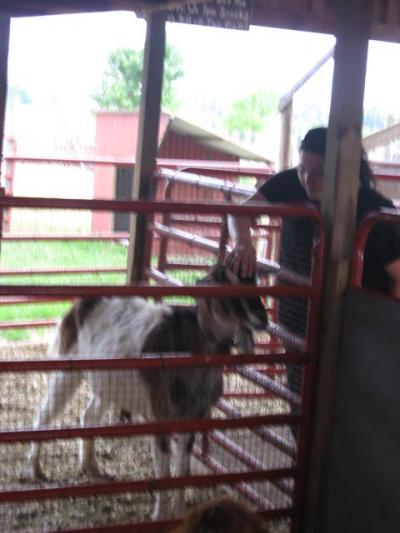 Is that a Llama or an Alpaca? thinks its a Llama. I want one!!!!!!!!!!!!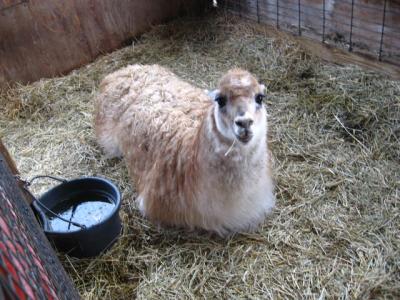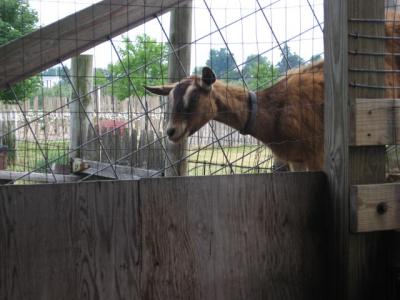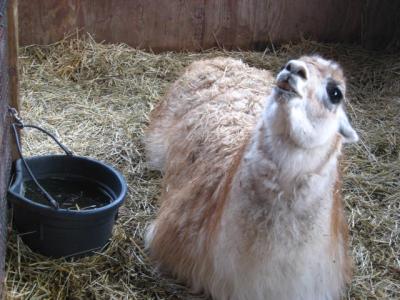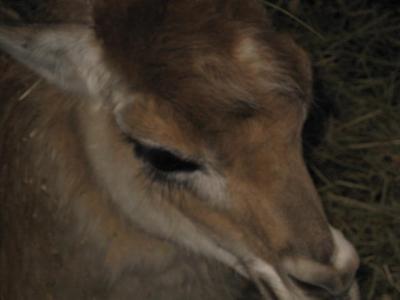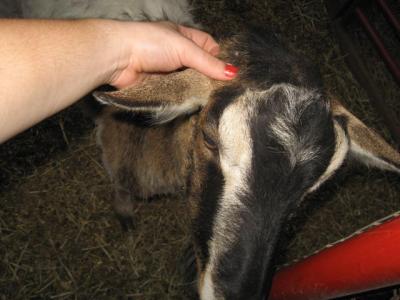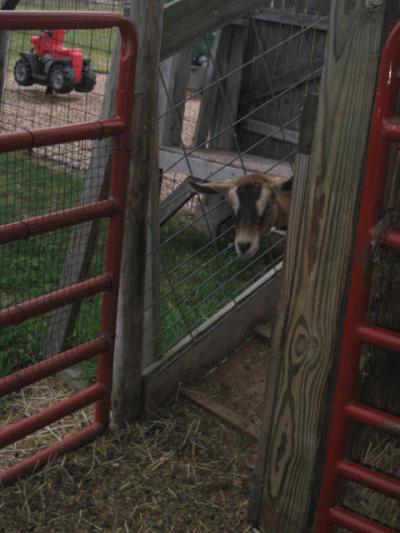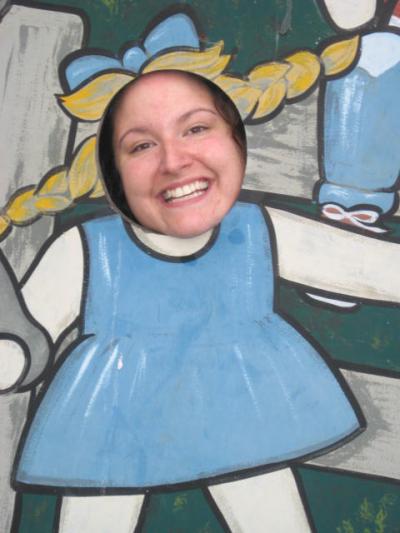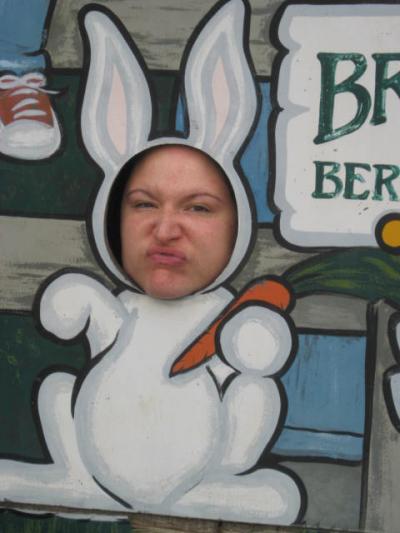 :)


Permalink: Point_Breeze_and_BarnYard_Adventures.html
Words: 248
Location: Youngstown, NY
Category: silliness
07/06/07 10:10 - 75ºF - ID#39975
Fit Has a Feeling
I took my bike out for a good hard ride this evening.
I feel like vomiting. Apparently I need to step up my aerobic activity. Ok, admittedly I was riding a bit wild and fast. A speed nut, zip zip peddling quick and hard without warm up or warm down.
You know those commercials for Propel Fitness Water, where the tag line is, "fit has a feeling" ?

I can really identify with them.
Tonight, I was Lance Armstrong, lol


Permalink: Fit_Has_a_Feeling.html
Words: 94
Location: Youngstown, NY
07/05/07 01:16 - 68ºF - ID#39925
Sour Skittles Commercial- Milk Man ?!
I usually like anything absurd, weird, quirky, silly.. most of the time it makes me giggle.


Then I just saw this commercial on tv.

what am I missing?????

ew



I immediately researched it. I plugged in, "sour skittles milk commercial".. and it pulled up many conversations regarding this; and it appears that I am not the only one to be confused and well, kinda grossed out too- in a spoiled sour milk sort of way.







Permalink: Sour_Skittles_Commercial_Milk_Man_.html
Words: 79
Location: Youngstown, NY
Category: holiday
07/04/07 02:09 - 66ºF - ID#39913
4th
Hmmm anyone know when the official word when "rain date" fireworks will be determined? I see a slew of displays are planned for tonight with rain date for tomorrow.. but I wonder when its determined that the displays will be canceled?

Feel like a firework chaser.. saw some last night (Olcott- crazy packed with people), there should be some tonight, there are some planned for tomorrow and the weekend too, if I have my facts straight. The ones I really wanted to see took place this past Sunday. Bummer. Anyway, hope to hit up another set before its over.


heh, *fiinally* some much needed rain- hope it didn't put too much of a damper on anyones plans.

Have a good one!



Permalink: 4th.html
Words: 121
Location: Youngstown, NY
Category: music
06/29/07 10:23 - 71ºF - ID#39851
TATS & 90's Music
Joan Osborne was a pleasure to see at Thursday at the Square; such the lovely voice that I remember. Although I have and really like her cd, Relish (1995), I don't think I have anything else, or have really heard anything else since. With all the unfamiliar songs she sang, I decided to look to see what I have missed over the past decade. Apparently a lot: (album list)
http://www.google.com/musica?aid=9HkP4n527k&sa=X&oi=music&ct=result
Now I have some music to find!
The other artist.. something Hoge (Will?) was alright. The best part of that performance, was one given by a guy in the audience. He stood nearby, faced the crowd and played his Air Guitar. He was *all* into it- song after song after song. Eventually he managed to form a band. He got someone on Air drums and Air bass. It was really funny.
(e:enknot)
,
(e:pyrcedgrrl)
,
(e:ladycroft)
and
(e:frogadelic)
know all about it. You do to if you were there, it was hard to miss! haha. I think
(e:laurajean)
came too late to see all that.
In other mid- 90's music news..
Spice Girls are getting back together?!?
yes, for a reunion tour- as a 'thank you' to the fans...
the Spice Girls insist they are not back for good. "This is going to be a one-night stand," said Geri.

The girls promised to perform all their classic hits during the show.

While I am not a fan, the Spice Girls are a little bit of an inside joke for me. I've got a little purse, notepad and a few um, *cough cough COUGH* songs on my iPod. ('gifts' from friends) I remember when they appeared on the scene. So not related, but in my music history, it was at the tail end of the grunge phase and just before "alternative" became mainstream. There was a lull in music- everything kinda dark, moody and edgy, even on the otherwise pop hit music stations. Then these ladies emerged and then a slew of lighter, bouncier music followed. Why I remember this, I do not know. I am full of random/useless memories and trivia.
for giggles, I pay homage to the Brit ladies with one of their songs as a user sound.
enjoy ;)


Permalink: TATS_amp_90_s_Music.html
Words: 412
Location: Youngstown, NY
06/28/07 02:13 - 82ºF - ID#39836
Angry Bee Mob :(
I got stung by a bee :(


The last time that happened, I was probably three, running through my back yard barefoot.. and stepped on one of the little bees that go from tiny flower to tiny flower among the grass.

Considering how much time I spend outdoors, and how often I am planting, raking ,digging, trimming, weeding and anything else that brings me into close contact to bees, I am surprised that it hasn't happened before now.

This booger was a yellow jacket, I think.

I tried to retailiate by busting out a can of wasp and hornet killer, but let me tell you, that only pisses them off more, and no, you really can't out run a bee. I tried. I am sure it was comic to anyone paying attention..

and yes, I know that they should be sprayed in the morning or at dusk when they are least active.. not in the middle of the day when they are flying out looking to get more than a little piece of me (it got my wrist).

So anyway, after running in circles away from a mob of angry bees, I aborted my yard work for the day.

But not all was lost! I went inside to rinse my bee stung wrist, and upon going back outside through the garage, an older gentleman ( a neighbor) was standing at the garage doorway to give me a bag of cherries from his yard. A sweet ending.. Yum!





Permalink: Angry_Bee_Mob_.html
Words: 245
Location: Youngstown, NY
Category: movies
06/27/07 01:03 - 77ºF - ID#39821
Live Free or Die Hard
John McClane is back to saving the world as he "takes on an Internet-based terrorist organization who is systematically shutting down the United States"
OOOOh, I was pleased when I saw the preview for the fourth Die Hard movie; it plays tomorrow, well, today (Wed). I need to go see it!!
I am not sure what my obsession is...
(e:pyrcedgrrl)
has had to put up with my insanity over it on a few occasions.
The one that I recall easily is the blizzardy winter night that she drove me all over WNY so I could rent all three Die Hards in one night. I think I posted about it somewhere..
and recently, when all three came out on DVD in a special little movie pack, she forced me to buy it.
and look, now #4 is here!! wooo!
I think Kevin Smith is in it too
Trailer time!
anyone as sick as I?
I need to find out where its playing..
hehehehehe


Permalink: Live_Free_or_Die_Hard.html
Words: 163
Location: Youngstown, NY
Category: buffalo
06/24/07 11:43 - 83ºF - ID#39801
Week in Review
Earlier in the week, time spent with a few (e:peeps) at my home was entertaining and enlightening. Mojitos and Car Bombs (aka Bus Bombs, in this case) paved the way to a relaxing afternoon and strange evening. I never get used to going to bed as the sun comes up..
Stopped at a landscaping nursery. There were a few older kittens roaming about. I was spotted by them and they came up to me for loving. I did not hesitate in their request. I went at it for awhile and then we eventually wondered off. A short while later, I sat down on a bench, waiting for some information. As I waited, one of the kitties came back over to me and jumped up on my lap and proceeded to immediately fall asleep. This little fur blob passed out and didn't have a care in the world. The bench was uncomfortable, but I couldn't disturb the little guy. Then his brother came over and joined us. He plopped down partially on me, and partially on his sleeping brother. He didn't want a nap, but demanded attention from my hand instead. He kept biting my fingers to remind me of this. I'm not sure how long I sat there, but it was quite awhile before I got up. I wanted to itch my face off and I coughed a bit, but as usual, it was all worth it.
All this past week was spent 'purging' again- just simplifying my belongings, giving things away to people who need them, and doing a little handy work here and there. So much to learn..
well, bummer that this weeks episode of 'Confessions of a Matchmaker' did not have (e:inspiraysean) in it. He was misinformed and is trying to find out the exact date from productions. I got a kick out of the two episodes I caught last night. Hilarious and informative! For anyone who saw it, Angela looks/sounds familiar-- do *we* know her??? (e:angelal) maybe? Anyway, once I know his airing- I'll pass it on.
Saw this advertised- Harry Potter and the Order of the Phoenix Wii video game. Looks like fun!!
http://wii.ign.com/objects/842/842199.html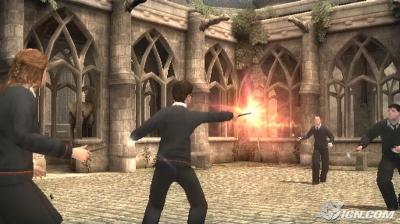 I've been re-doing spaces. By that, I mean, I was asked by various people lately, to help in ideas in the areas of decorating and landscaping. At two places I took items from their homes and put elements together to create totally new and fresh rooms- without buying a thing. Very fun! I guess its more about composition and an eye for design. As for the landscaping- I assisted in creating a layout for plants, trees, bushes etc. --All pro bono-- just came in handy for a creative fix. Although I really enjoyed helping out in those projects..
Speaking of which, been working on several of my own. This weekend I primed and painted a basement room and began putting it together for use as a spare bedroom. Another room in the basement will be rearranged/cleared out as an 'active project' room. There were a bunch of other- 'this must be done before this can be done, but this has to be done before that can be done" sort of chores/mini projects. So this has been an entertaining week of getting all of those things done. I had help from a friend with priming/painting/laying out carpeting project. I totally score on cheap re-do's!
and in all of these things, it would have made sense to take before and after pics. Why oh why did I not do this?
Went to a bike rally today. It was the " Ruben Brown Motorcycle Run" My friend Damian represented there under his company, "Radioactive Cycles". It isn't a scene I normally wander through, but it was entertaining to view the bikes and listen and talk to people who are really into it. It was also for charity. Nice day to be out mingling..
Excerpt from Buffalo News

[box] The seventh annual Ruben Brown Motorcycle Run, a two-day benefit for the Buffalo Salvation Army, will take place this weekend.
Festivities start Saturday night with a prerun party in the Lafayette Tap Room, 391 Washington St., which will include music, auctions and raffles. A door donation of $10 is requested. The event begins at 6 p.m.
Sunday, motorcyclists will ride from West Seneca to Niagara Falls, with one stop in Wilson. The run ends at Seneca Niagara Casino & Hotel, where riders and spectators are to take part in bike displays, live music and more. Registration for the ride takes place before the event between 9 and 11 a.m. Sunday at Certo Brothers Distributing Co., 2500 North American Drive, West Seneca.
The benefit was founded by Ruben Brown while he played for the Buffalo Bills. [/box]
Radioactive Cycles of Tonawanda website:

A new week is upon us.. my best to all!
Peace


Permalink: Week_in_Review.html
Words: 828
Location: Youngstown, NY
Category: friends
06/22/07 09:38 - 61ºF - ID#39775
epeep debut! Confessions of a Matchmaker
I got a text from my friend,
(e:inspiraysean)
letting me know about his upcoming national debut. This should be a riot. You see, he had been involved with the auditions for a buffalo based reality show- this was back in Feb, if I recall correctly. Things were going well all along, and now it is airing!
so tune in
Saturday June 23 at 10pm on channel A&E
for the begining of,
" Confessions of a Matchmaker "
It sounds fun from everything I have been told.
[box]This is no ordinary dating show and she is no ordinary matchmaker. For the past six years, matchmaker Patti Novak has been warming up the lonely hearts of Buffalo - a city with one of the highest populations of singles per capita - with her no-nonsense style of tough love. Now, she is letting cameras into her sessions and on dates with her clients...sharing the secrets of her success with the world.[/box]
here is a link for more info!

and Sean, I have a feeling, I will be giggling a whole lot. Charmers know how to push just the right buttons ;)


Permalink: epeep_debut_Confessions_of_a_Matchmaker.html
Words: 196
Location: Youngstown, NY
Category: adventure
06/16/07 11:49 - 70ºF - ID#39700
Shakespeare in Park/ Carey in Woods
So, Shakespeare in Delaware Park is beginning any second. All's Well that Ends Well and Othello are this seasons production.
Kinda bored, feeling a little down or something. Not exactly sure why- although I have some tid bits to mull over.
Been a very busy social week considering I havent driven anywhere in quite some time. Super short jaunts is it. Mostly my friends have come to see me or come to pick my ass up. Hell, even
(e:ladycroft)
has swung by to pick me up, haha. Poor little beastly car- hanging in there.. still need to get it into the shop.
This has been a quiet weekend overall, but its not over yet! This time last week, I was chillin with a bunch of friends. No major drama, just eating, playing, laughing, chatting and having a simple-good time. Bonfire camp outs are always a lot of fun for me. Its really the company more than anything else. There is a lot of history among most of the friends I keep. Its nice to just.. Be.
and to be looked after, and to look after my friends...
After everyone crawled into their tents to go to sleep, B* and I continued to sit around the bonfire for more conversation and bacardi. Sometime in the night he suggested we take on the wilderness. Always up for some adventure, I was eager to go at it- to explore the unknown. Armed with just a flashlight, we headed away from the bonfire and into the dense woods, further away from everybody- and without direction. Perfect.
Fox, coyote, deer and other creatures reside in the woods we were entering. It was creepy, the land was wet with dew. The sky was clear, full of bright stars, and half a moon helped light the way.
Our imaginations ran as wild as the animals in the woods. We thought we saw things, we thought we heard things.. and quite possibly we did- but with a flick of a switch to the super bright 1 million candle power flashlight, we didn't really see anything.
We kept going, winding through grasses, brush, trees and vines. Up hills and down/around trenches. We ventures further and further- until we were so deep into the woods, that we no longer could hear anything at all. Not a sound from an insect. We could no longer see the stars in the sky-- or any of the sky for that matter. The air was entirely still. We crept along, our breathing and footsteps the only sound to be heard. We stopped and looked around. Breathed. Nothing. So dark, so still, so far away..
a little nervous, but excited by our adventure, we continued until we could go no longer. We hit a swamp..
and our flashlight died..
If we could have gone further without the flashlight, I think we may have tried-- probably neither one of us wanting to chicken out.
.. but since we were at an impasse with the swamp, our only option was to turn back, and embark on the adventure of returning-- first through almost total darkness.
It was a slow go, but we eventually made it back to being under the stars. My legs wet up to my crotch, feet totally soaked, & head moist with dew.
and probably a big smile on my face.
we returned to what was left of the bonfire.. a pile of sizzling embers. We worked on building the fire back up, as neither one of us were ready for sleep. It felt good to warm up and to know that we returned safely.
yet our imaginations and senses were still heightened..
and the coyotes were heard getting closer..
and everyone else were alseep in their tents..
and the whole night was still ours..
We finally went to bed just as the sun began to rise.
Camping out is fun!


Permalink: Shakespeare_in_Park_Carey_in_Woods.html
Words: 647
Location: Youngstown, NY
<-- Earlier Entries
Author Info
Category Cloud
My Fav Posts
This user has zero favorite blogs selected ;(