Category: work
12/27/12 11:06 - ID#57062

Waiting on the train


Permalink: Waiting_on_the_train.html
Words: 5
Location: Buffalo, NY
Last Modified: 12/27/12 11:06
Category: holiday
12/19/12 11:39 - ID#57018

Festivus


Permalink: Festivus.html
Words: 7
Location: Buffalo, NY
Last Modified: 12/19/12 11:39
Category: work
12/04/12 02:33 - ID#56954
Annoying cute work picture


Permalink: Annoying_cute_work_picture.html
Words: 8
Location: Buffalo, NY
Last Modified: 12/07/12 11:43
Category: elmwood
12/02/12 08:22 - ID#56950

night strolling


Permalink: night_strolling.html
Words: 1
Location: Buffalo, NY
Last Modified: 12/02/12 08:27
Category: food
11/30/12 05:40 - ID#56943

Aztec Brownies


Permalink: Aztec_Brownies.html
Words: 20
Location: Buffalo, NY
Last Modified: 11/30/12 05:40
Category: holiday
11/21/12 08:49 - ID#56914
That time again


Permalink: That_time_again.html
Words: 14
Location: Buffalo, NY
Last Modified: 11/21/12 08:49
Category: holiday
11/10/12 10:33 - ID#56882
Bad Santa
In the days leading up to Halloween, I was in my nearest Target and the Christmas decorations/trappings were starting to spread out from the corner of the store, like the slow moving spill that you don't have enough paper towels to clean up. Ever since I became a bachelor once more, I've always struggled a bit with this season. One of the issues with paycheck to paycheck life is trying to tend to holiday business for my kids. They aren't lacking and their amazing mom and I seem to be able to do all right by them, but it always feels like there is some kind of intangible "something" I didn't think. I got too wrapped in balancing books and making sure it was "right" that I was unprepared for the generosity of my two amazing coworkers who were very generous with me. I felt like a complete heel. Fixing that this year (they were first).
I watched a story last night about "Is it too early?" as two radio stations have already switched over to an all Christmas music format and at least one mall is having Santa arrive today. Everybody's doing it seemingly, because everybody is doing. I guess I wonder what's the damn rush. We really don't need more time, especially if it is all about "things" and it shouldn't be. It's like buying a big SUV because other folks are driving big SUVs, peer pressure with a retail component. One of my favorite things in recent years is a little brunch my kids, their mom and the occasional friend partake of together and it's been about just hanging out.
That's why the excessive push to get there, especially on the parts of adults, wrankles me a bit. For a two day holiday, that is the focus of the time period from Thanksgiving onward, more time doesn't seem like something that is needed. I mean, it's more than a month that I have to escape the Ray Coniff Singers or pretend that "Wonderful Christmastime " is a good Paul McCartney song when the reverse is true.
I guess this all festered in my little brain as I work to see about getting my daughter home for thanksgiving (It's okay, dear, you can skip a couple of classes). One of the news reports have some stores moving from opening at 7 am on friday, to midnight Thanksgiving to just a full day of "Black Friday" on Thanksgiving. That kind of stinks. One catastrophe at a time. We aren't in such need of new flat screens that an extra day or two needs to come into the equation.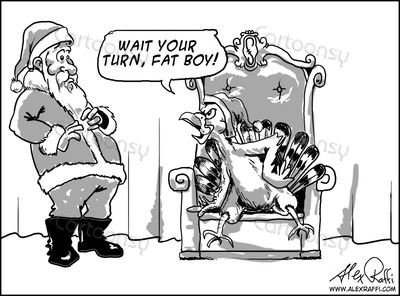 Settle down, ya'all, move too fast and the thanksgiving mashed potatoes will give you a stomach ache.
Christmas can start when Santa finishes the parade, we really don't need to turn into Lord of the Flies with wrapping paper.


Permalink: Bad_Santa.html
Words: 496
Location: Buffalo, NY
Last Modified: 11/10/12 10:33
Category: work
10/20/12 09:48 - ID#56846

Weekend duty


Permalink: Weekend_duty.html
Words: 1
Location: Buffalo, NY
Last Modified: 10/20/12 09:48
Category: work
10/20/12 09:39 - ID#56845

another day at the office


Permalink: another_day_at_the_office.html
Words: 1
Location: Buffalo, NY
Last Modified: 10/20/12 09:39
Category: random
10/20/12 11:00 - ID#56838
Catching Up
That past month of so went by fast. Work has been so event heavy, even when I've had sometime to put thought to screen, it's taken a bit of making my mental remote control to stop to know what.

Got to celebrate my Dad's 76th birthday last Sunday between Zoo events last weekend. Given his triple bypass in the Spring, it was a good thing to kick back, yell at the Bills and be thankful. It also tempered my own guilt at not making it to Purchase for younger daughter's Family Day. The ex and her partner and number one son made the trek and repeated my spoilage from the end of September. Not a huge deal, but I felt a little low at having to work three different Zoo events over the two days. But, that too shall pass.

Sick of the election season already, wish we could just vote. Nobody is saying anything worth listening to, nobody is asking questions that matter, and nobody is answering them.

Got to check out Mike A's Lounge in the Lafayette last night with some old and new friends, liked it a lot.

I screwed my ankle in the early summer, bad pulled the muscles right behind my achilles and the good doctor folks said that takes time to recover from, patience being the best thing with nerves. While that has never been my strong suit, some of the women in my office give me the "You've been limping" for awhile. They never ask if it hurts, am I okay, that bit, so when I got the "You've been Limping..." schtick the other day, I finally groused, "Yeah, my doctor says I need two to three old bitties a day yelling at it for improvement." Shut em up it did. Apparently, could be as much as six months to totally get over it wasn't enough for the office moms.

The second date from two posts ago, didn't turn into a third....and so it goes.



Permalink: Catching_Up.html
Words: 333
Location: Buffalo, NY
Last Modified: 10/20/12 11:00
<-- Earlier Entries