Category: mirth
01/29/08 09:03 - 43ºF - ID#43076
"Do you know who I am?" "Jeff Vader?"
Eddie Izzard just rocks. This is too fucking funny



Permalink: _quot_Do_you_know_who_I_am_quot_quot_Jeff_Vader_quot_.html
Words: 11
Location: Buffalo, NY
01/26/08 09:41 - 21ºF - ID#43038
More health foolishness
The drama never friggen ends. I began Wednesday dealing with a failing starter on my car. A brief spark show later, my oft-mentioned little buggy has a new starter and I'm shopping at Aldi's for the next two weeks. If life could have been quiet there, I would have been fine with it. You never like getting stuck, but you could do a lot worse than the ring road in Delaware Park.

Never thought I'd pass for the picture of health, but I'm starting to wonder. I already wrote about my Father-in-law's cancer battle. Poor dude can't get a break. He had a reaction to I think anesthetic so he was getting rushed over to Buff General, who made sure there were no other obstructions or obstacles to overcome. An MRI later today should confirm that. They brought him down the tunnel to Roswell thursday night. The Ex hung out there whilst I pinch-hitted with the kids. Thursday night stretched magically into Friday morning in that regard.

While all this was going on, my mom was in the emergency room at Suburban. She has been undergoing a treatment regimen for what consensus believes is vascular arteritis, featuring an unhealthy amount of Prednizone. Apparently, it can have some graphic side effects. One of which was a nose bleed. Not one of the "ooh, I bumped my nose" types of bleeds. It was more of the "Who died here" kind. To get it to stop, staff there used a liquid form of cocaine.

Now I have officially seen and heard everything. After a childhood of hearing my mom say things like "tilt your head" and "hold that washcloth still," I can now respond with "Mom, did you do your coke."

Meanwhile, back in Elmwood Village, we had "the talk" with the kids about their grandfather being unlikely to recover. That went about as well as can be expected considering we were making it up as we go.

I had my first day at the Zoo of being devoid of caring, just waited till 5. I swear this being a grownup doesn't look anything like it does in the brochure.

If I wasn't so bill laden this week, I would so be having Guitar Hero plugged into the PS2.

Weekend, anybody?



Permalink: More_health_foolishness.html
Words: 377
Location: Buffalo, NY
Category: politics
01/24/08 11:39 - 20ºF - ID#43009
Clinton: "Screw it, I'm in


Permalink: Clinton_quot_Screw_it_I_m_in.html
Words: 24
Location: Buffalo, NY
Category: work
01/22/08 04:44 - 32ºF - ID#42988
Reaching for levity and pulling a muscle
I just completed spending a god awful amount of money for billboards for the zoo beginning in June. What follows seemed appropriate.


Permalink: Reaching_for_levity_and_pulling_a_muscle.html
Words: 49
Location: Buffalo, NY
Category: random
01/20/08 09:17 - 6ºF - ID#42961
The Mental Plate is a little full
So, I have this nagging feeling of helplessness that won't go away. My Father-in-Law (I guess former since the divorce, but we don't really think in those terms) has been battling cancer most of the year, complete with two very invasive surgeries over at Roswell Peep. He went back over Friday to get the latest report and it wasn't good. The talk of more chemo is too manage pain for a "few more months." If long term terminal is a term, I think I discovered the definition. Since the holidays he was having a rougher go of it. He is one of those who never feels sorry for himself, always wanting the best for everybody and such. Seeing this twist isn't fair under the best of circumstances, but it's been a tough one to swallow. He did everything right. He was a smoker and managed to quit that. He doesn't drink, no red meat, no chicken, heavily into fish and veggies and still Karma decided to say "Fuck You."

Be enough to test your faith, as if mine isn't shaky enough as it is. Got the news yesterday that a distant cousin passed away from unknown causes. She was the daughter of my mom's eldest sister. The sister has long proven to be bonkers so I hadn't them in over 25 years. She was a whack job but I wouldn't wish that on anybody. Even whack jobs deserve a little peace.

So, the yuks aren't exactly plentiful.

I know Dad-in-law doesn't want us all sitting around feeling sorry for ourselves and that is the message my ex and I are going to try and convey to our kids later. At 13 and 16, I suspect my daughters are pretty aware. He's essentially dying, but trying to explain the vast amount of what isn't definite to a 9 year old (The aformentioned number one son). So, what isn't known is what any of this means because we're at a point where everything is just a guestimate.

Depressed yet? I know I am.

Came home from a rare exasperating day at work to that news and my time has been haunted by it ever since.




Permalink: The_Mental_Plate_is_a_little_full.html
Words: 359
Location: Buffalo, NY
Category: work
01/17/08 09:39 - 34ºF - ID#42935
Mrmike, spokespeep


Permalink: Mrmike_spokespeep.html
Words: 18
Location: Buffalo, NY
Category: work
01/16/08 11:40 - 28ºF - ID#42911
Warm & Fuzzy
Got to tell you, this beats selling remotes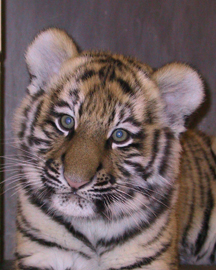 Got my first exposure to tiger training somewhat. After getting to take this photo, I got to watch as the tiger staff took the two 3 month old cubs outside for the first time. The girl cub went first sniffing around and exploring the new environs while her brother watched from the ledge of their indoor room.
After a few minutes, one of the keepers went over and gave the boy a little help. The little guy was a tad unsteady for a few seconds only to have his sister pounce on him and playtime was on. Fun to watch. They charmed the pants off even the steeliest of Zoo staffer for the next twenty minutes before going back inside for lunch.
Fun stuff


Permalink: Warm_amp_Fuzzy.html
Words: 133
Location: Buffalo, NY
Category: mental mcnuggets
01/13/08 08:10 - 38ºF - ID#42873
Lasertron and strange goings-on
I had to take number one son to a birthday party yesterday out at Lasertron. After getting him checked in, the mom of the main party celebrant asked me if I'd go in the Lasertron game so our group of kids. I'm not sure what the deciding factor was in that regard: that I'd played before or that I was the only Dad to show up.
They take two groups at a time. 3 adults and 17 (I'm guessing) kids all around age 9 or 10, divided in two groups. You go through a little briefing, get taken out to your side of the arena and have at it. In no time, all these little kids are turning into Tom Sizemore in Saving Private Ryan. I have expected a few of em to sport the cigar stub that the crusty sarge in all the war movies sports. You play four games and I laughed my fool self through all of em. It's glorified capture the flag. At one instance, a little kid no bigger than my hip comes up to me and says "excuse me, sir, I think if we go up and to the left we can blown up their home."
Little twerp was right, we blew it up good. I told the moms I'd take one for the parenting team provided there was a beer waiting (Lasertron serves beer) and there was. Good mothers.
Maybe we should have an
(e:strip)
shoot'em up some night.


Permalink: Lasertron_and_strange_goings_on.html
Words: 243
Location: Buffalo, NY
Category: politics
01/10/08 02:48 - 40ºF - ID#42819
Go Bloomy Go
Got to love the entertainment value if Bloomberg gets in...
Might start paying attention to the election



Permalink: Go_Bloomy_Go.html
Words: 26
Location: Buffalo, NY
Category: potpourri
01/07/08 10:19 - ID#42777
Mental McNuggets
Some mental leftovers from an uneventful weekend.

Watched the Canadian broadcast (well parts of it) on Sunday of the Winter Classic. I was curious to see what the shenanigans looked like on tv. The broadcasters didn't say "Shitty" although I've heard worse on Canadian TV. They were actually saying "Shinny". It's an old hockey term, essentially meaning no set plays, no fancy business, just when we get the puck everybody go that way. Essentially, what happens when you just choose up sides and hope for the best.

I discovered one of the downsides of getting older. My allergies have tranmogrified to when the weather changes, sinus headaches of ass-kicking potential get you and get you good. Hence, a late Sunday afternoon of watching the pretty colors of a five day old sporting event while making sure my couch didn't spontaneously levitate. Messed me up bad enough that I went to bed for good at 9:30. Hadn't done that in eons, but I'm a better person for it.

Never too old to sponge off the rents though. My Dad has always had a weakness for the Spaghetti Parm at Chef's. I was out at the folks for a time on Saturday when they confessed to heading down sometime this week to satisfy his pasta jonesing. I offered to save him from any wayward Chicken Parm that might get in his way. I wouldn't go out of my way for Chefs, but if somebody else is picking up the tab, all the better. And if they didn't want me to put in an appearance, they wouldn't have said anything right? That's what I thought.

Number one son got invited to test for his black belt in Tae Kwon Do, so don't mess me now. I can sick old Hands of Stone "Son of MrMike" on ya. I was intrigued by his teacher is suffering from the same disease as many Elmwood landlords, put a surcharge on everything. Hell, I didn't need that tax refund anywhoo. Was only going to go on vacation. Got to admit it was pretty cool watching him smash boards on saturday.

Actually saw a promo for the return of American Gladiators last night. Reminded me of one of the few comical stories from working the Bills games. Hulk Hogan hosts the new show. There was a guy in one of my sections who came to the bulk of the Bills games outfitted as the mid 80's Hulkster, hulkamania t-shirt, feather boa, whole thing, phony fu-manchu mustache, the whole deal. During the sunday night Patriots game, this otherwise amiable gent needed my middle-aged self to rescue him from a verbal assault, from you guessed it, another Hulk Hogan wannabe. The second Hulk was in costume for Hulk during a match and was drunkenly assaulting the first for idea stealing.

How can I not want to be a part of that again?

And how was your weekend




Permalink: Mental_McNuggets.html
Words: 486
Location: Buffalo, NY
<-- Earlier Entries