Category: bikes
01/28/14 12:05 - ID#58621

Truck rides with strangers
I decided to ride my bike this morning even though the weather wasn't amazing. I saw
(e:libertad)
walking to work on North. I can never tell if that means I'm running really late or early.
Anyway I was riding down Fuhrmann when the wind and snow started picking up like crazy. A city truck was behind me so I pulled to the side to let him pass. The driver asked me if I was crazy, but I said "No, I'm just going to work."
He followed for a bit down to Tiftt before he honked and asked if I wanted a ride. I hate riding through Lackawanna in the snow since they never plow. So I threw my bike in the bed and got in. It turned out it was the Buffalo DPW commissioner Stephen Stepniak. He told me I was freaking crazy but he liked that I had guts. Once he found out where I worked he told me to send a resume to his office in City Hall.
So the moral of the story is take rides from strangers because how else are you going to network?
The ride back was real nice. I even had a good experience at Rick's for once after I stopped there for new brakes.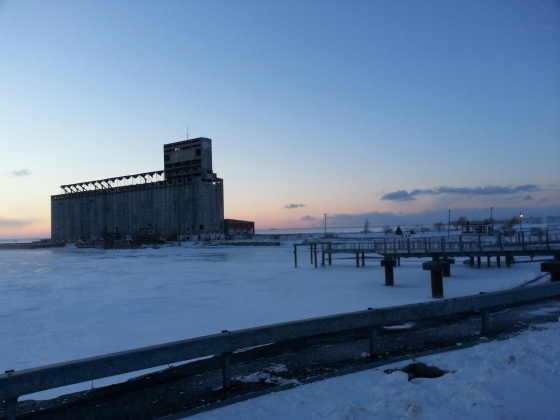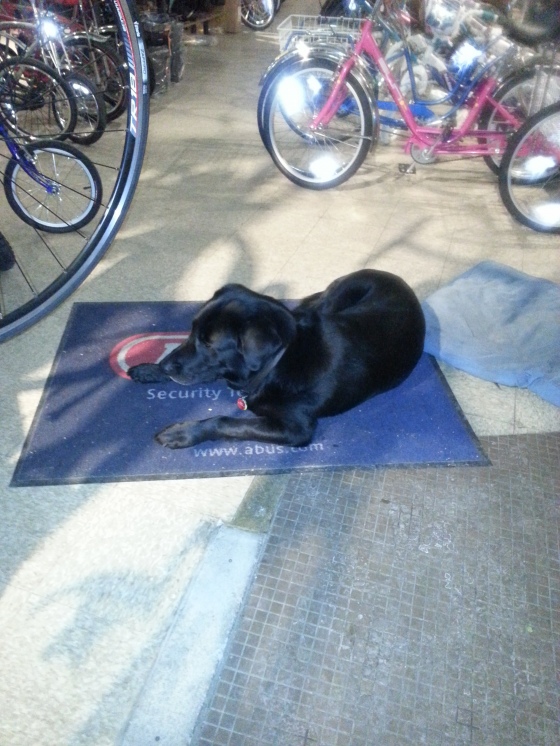 Permalink: Truck_rides_with_strangers.html
Words: 220
Location: Buffalo, NY
Last Modified: 01/28/14 10:50
Category: food
01/27/14 11:52 - ID#58620

Paul's b-day dinner
On Sunday we went to dinner at Paul's parents with
(e:mike)
and
(e:libertad)
for Paul's birthday dinner. I didn't take any pictures but I don't think Ive ever been so full in my life. Paul's parents were so nice, I even sort of enjoyed playing Balderdash.
We saw this ridiculous show called in the Heat of the Night about this small town having a crack epidemic. it was so over the top and dramatic, need to find the next episode.


Permalink: Paul_s_b_day_dinner.html
Words: 82
Location: Buffalo, NY
Last Modified: 02/01/14 12:59
Category: drunk
01/26/14 12:38 - ID#58619

Mike's adventure
(e:mike)
decided to wrap himself in the rug to keep warm before he headed outside. The rug makes him look like some sort of snow witch.
He made it about 50 feet before falling in the snow.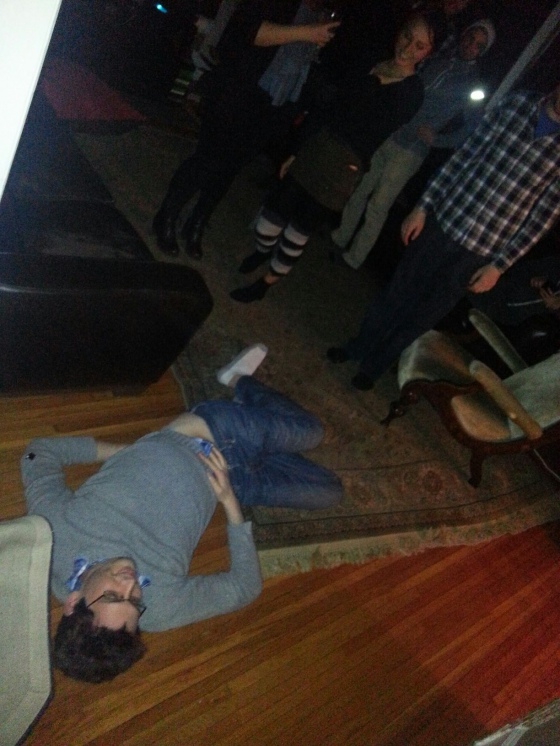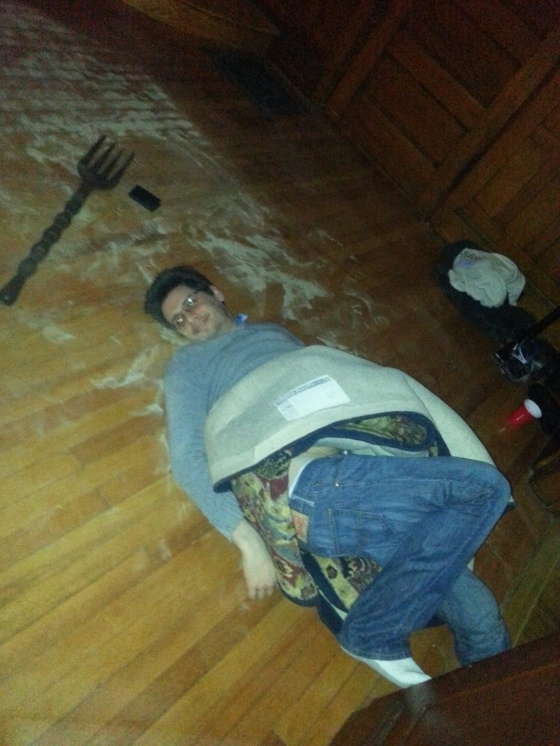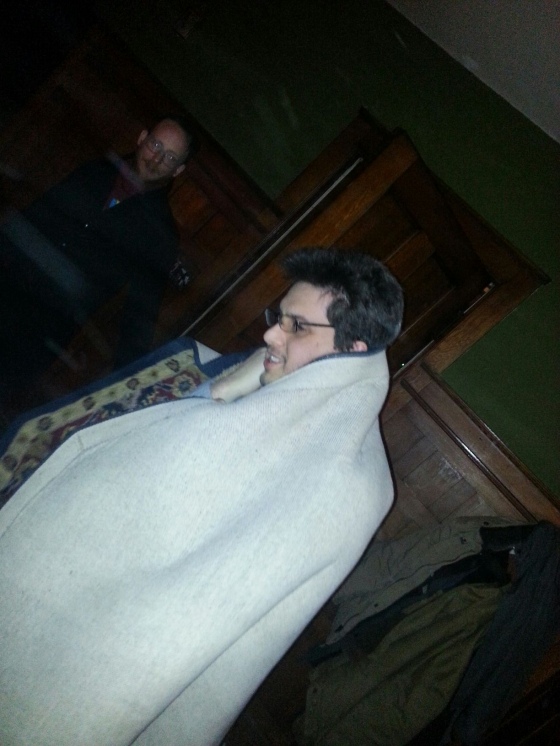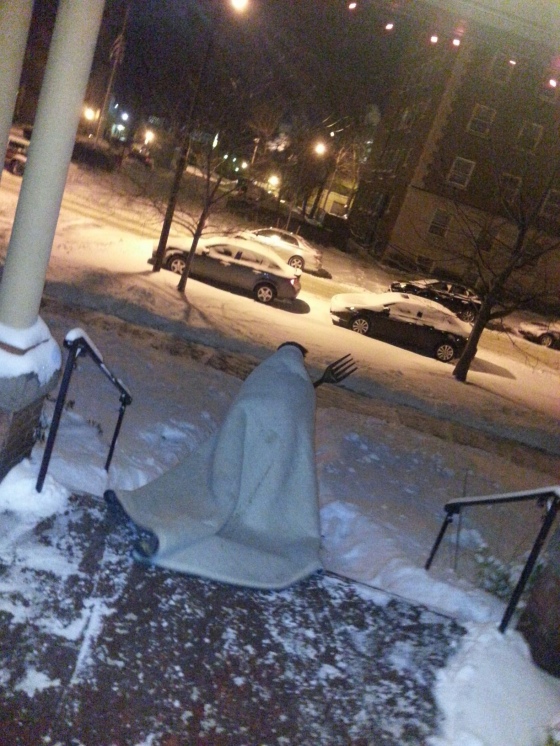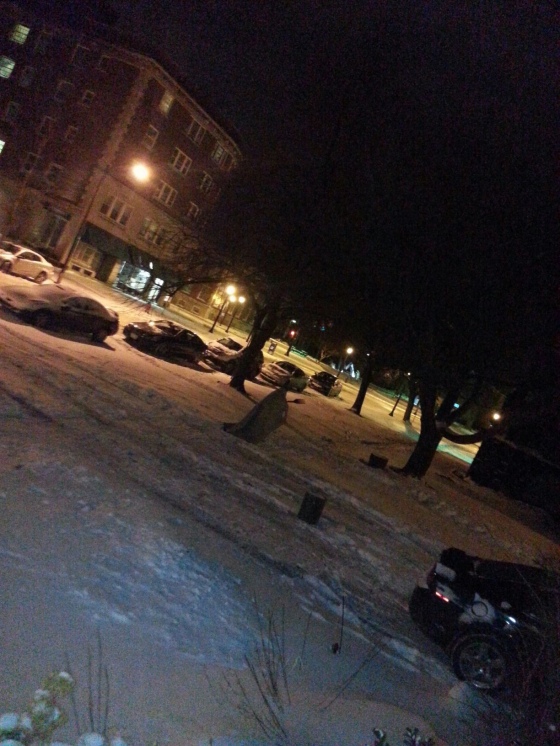 Permalink: Mike_s_adventure.html
Words: 50
Location: Buffalo, NY
Last Modified: 01/28/14 10:51
Category: programming
01/26/14 12:28 - ID#58618

Arduino New Years Ball
I fucking hate the Arduino. I spent a good chunk of yesterday trying to make the distance based LED ball for the ball drop, where the LEDs on it would change color as the ball got lower. Everything was working great until I had it all hooked up and on the ball, when the distance sensor died. I didn't bave time to try anythi g else, so instead I just had to used a lame preprogrammed pattern.
The LEDs looked cool but I am glad
(e:mike)
destroyed the ball for me.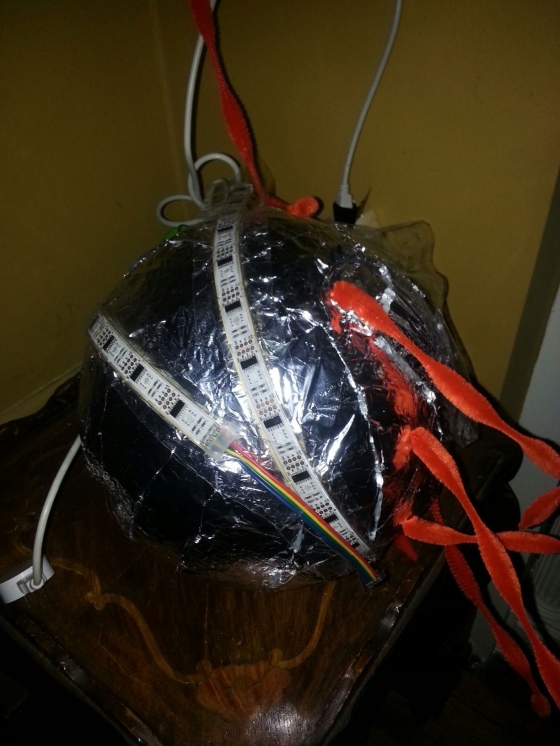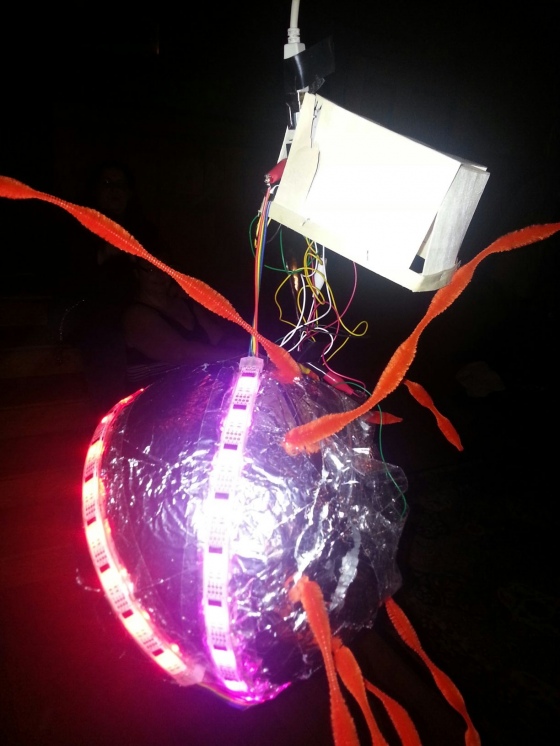 Permalink: Arduino_New_Years_Ball.html
Words: 98
Location: Buffalo, NY
Last Modified: 01/26/14 12:28
Category: birthdays
01/26/14 12:04 - ID#58616

Paul's B-day
(e:paul)
's party was amazing. I even made it past 2:30 for once since I stuck to wine.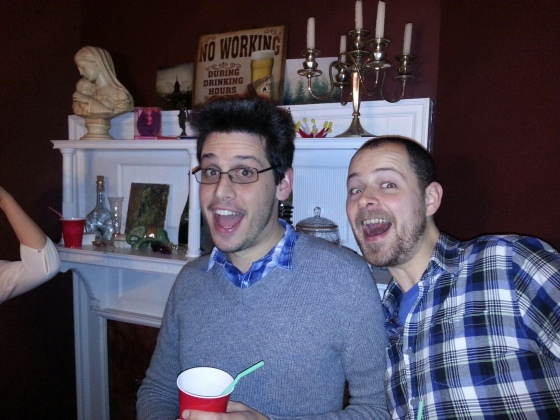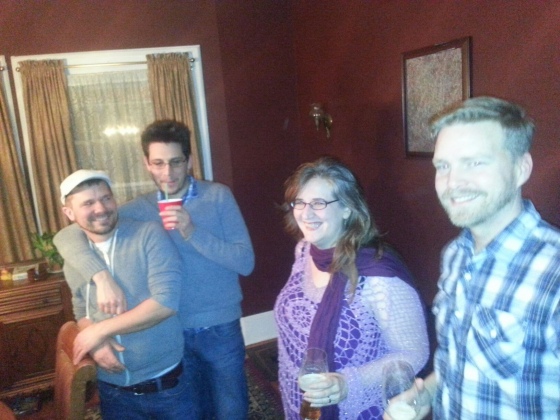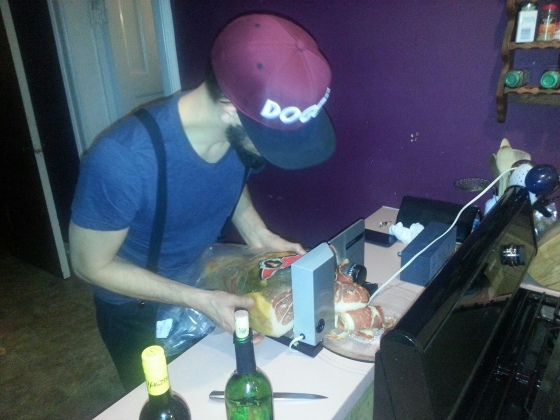 Wine, cured ham and a sharp spinning slicer - perfect combination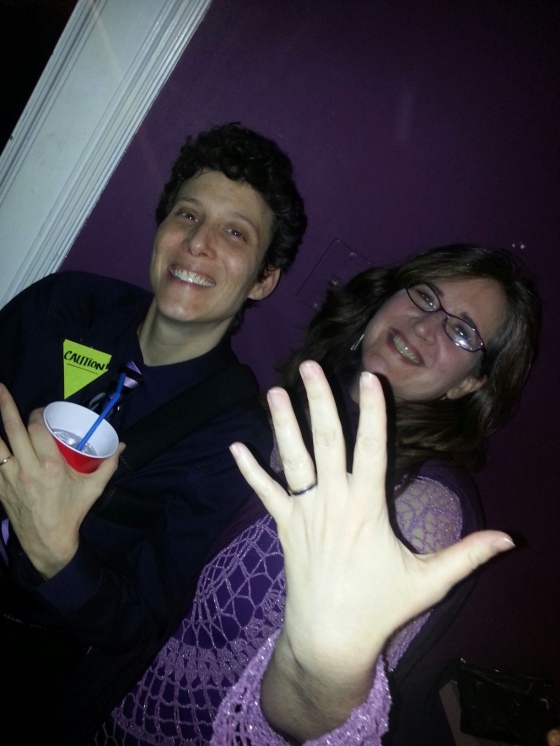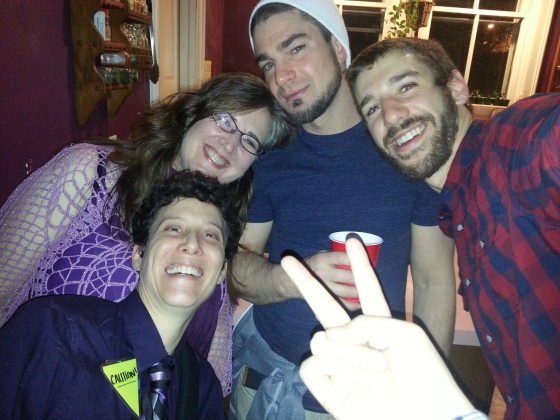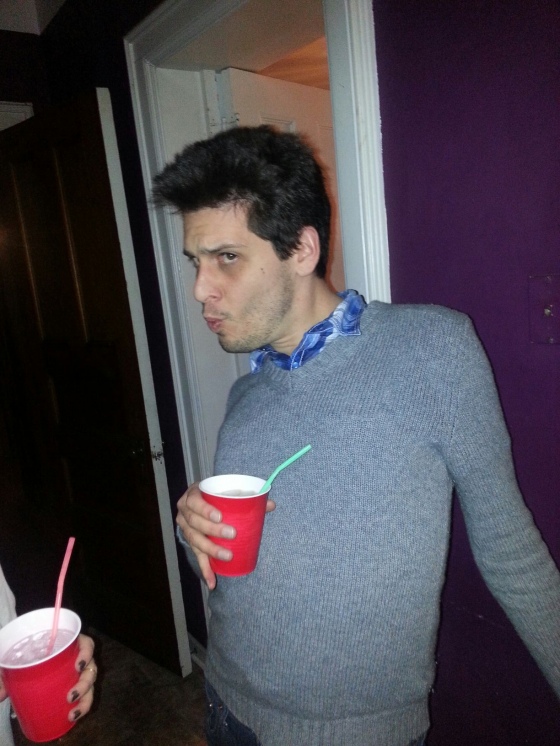 Blue Steel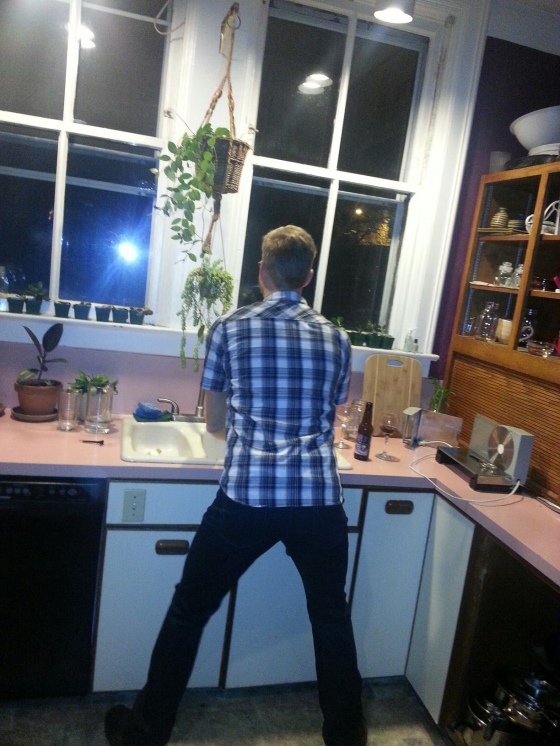 Badonk!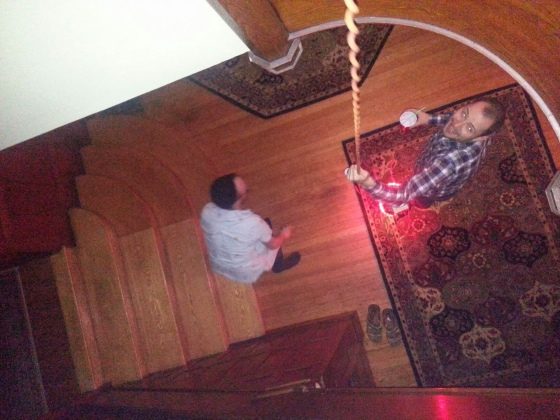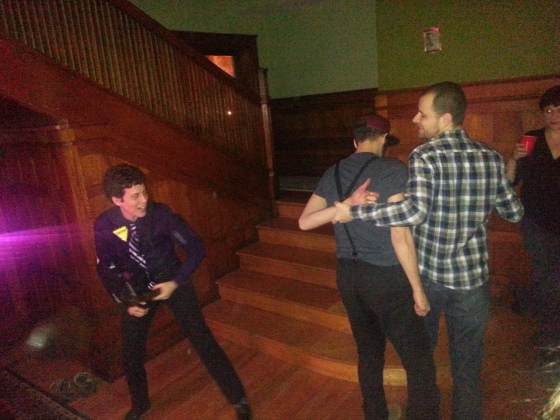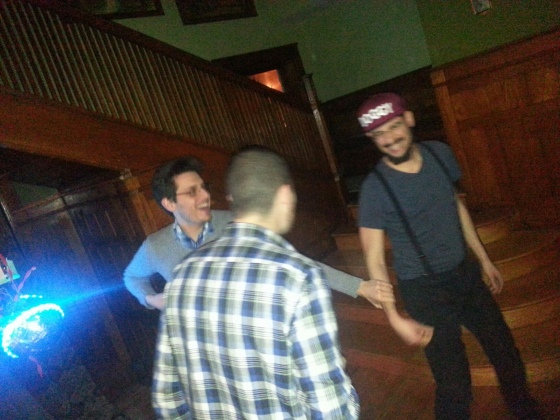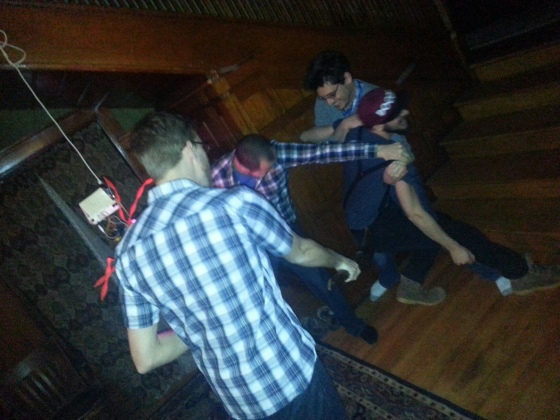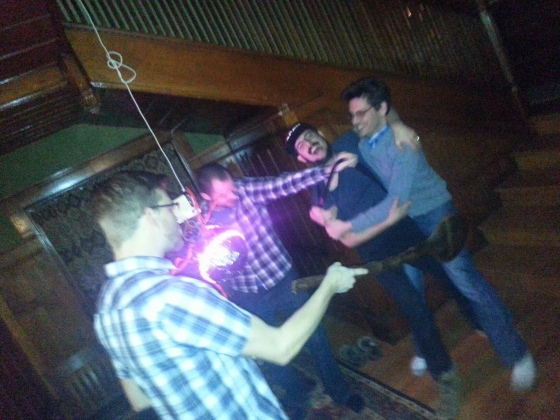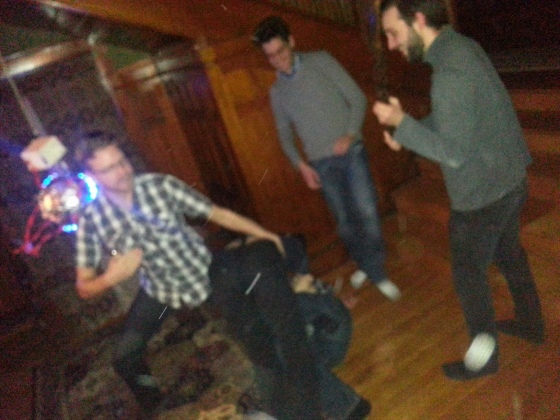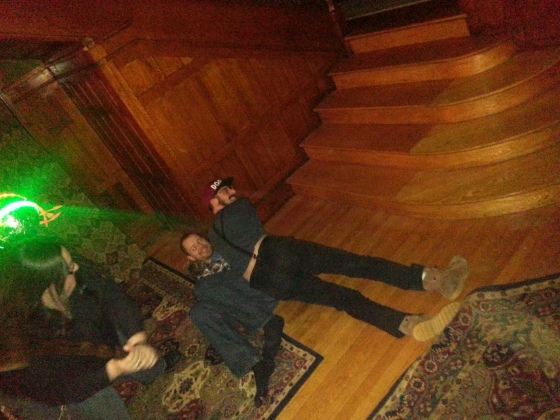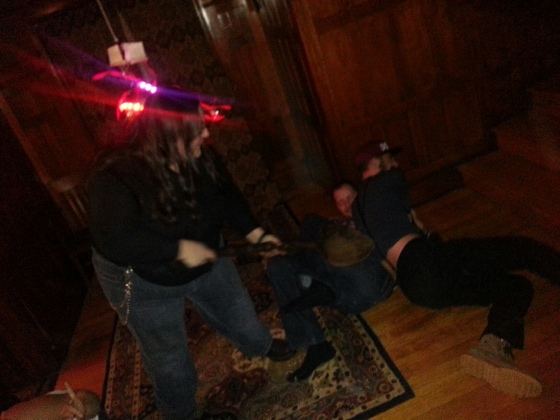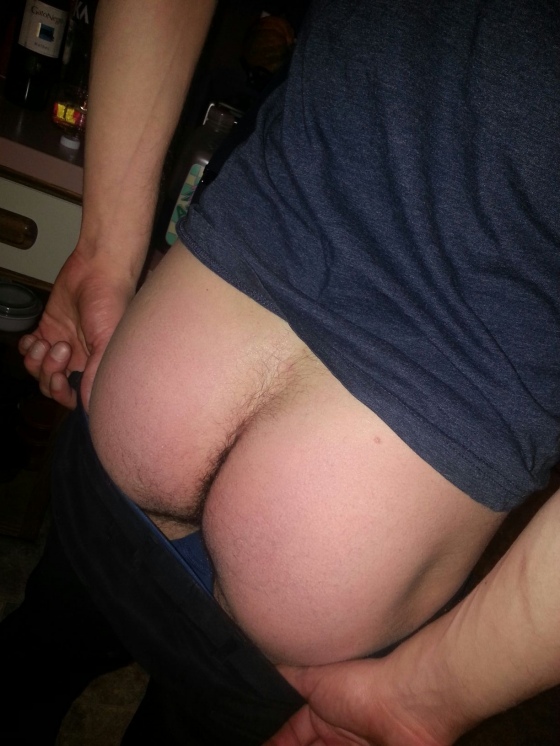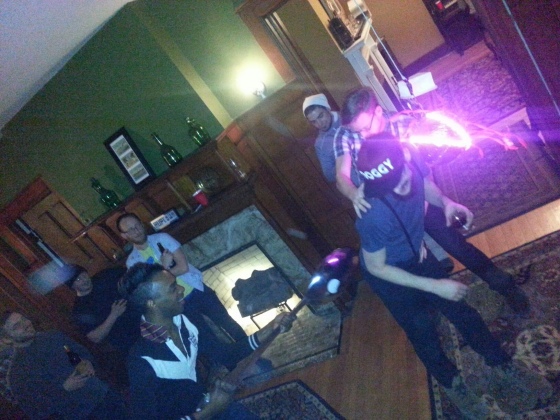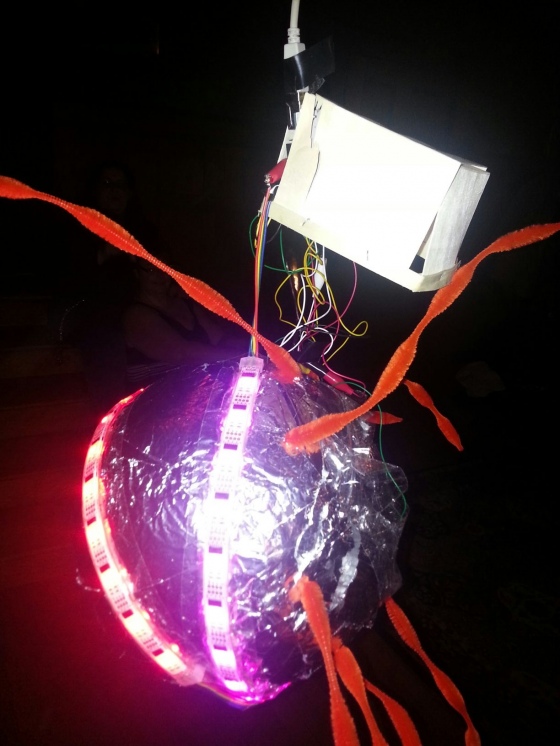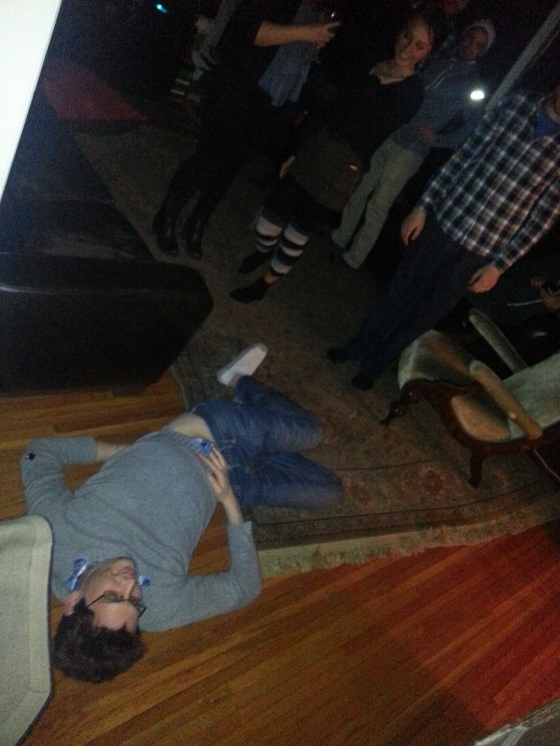 Permalink: Paul_s_B_day.html
Words: 88
Location: Buffalo, NY
Last Modified: 01/26/14 12:30
Category: going out
01/25/14 02:19 - ID#58611

Saddy Hardcore II
After work, while
(e:paul)
and
(e:xandra)
had their car/mall fiasco,
(e:terry)
and I went and got Ethiopian with
(e:yesthatcasey)
. I loved the food at Gatur's.
Then after we went home, I had truffle cake before we hesded out again. We all went for margaritas for Caroline's birthday at Don Tequilas. The big matagarita tube was like drinking sugar syrup, so sick. Afterwards we were going to head to a house party, but an actual dog decided to upstag Paul after he heard about his Doggy hat.
We ended up at saddy hardcore night at Underground with
(e:robert)
. It was still pretty fun, but I can't wait for real happy hardcore dancing at Ohm or Rainbow Rink next week.
The atmosphere was so romantic at Underground that Alex and Robert got engaged.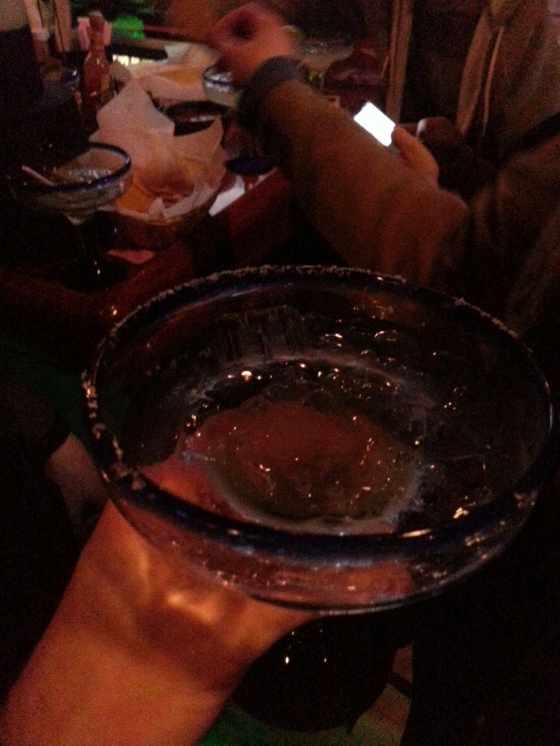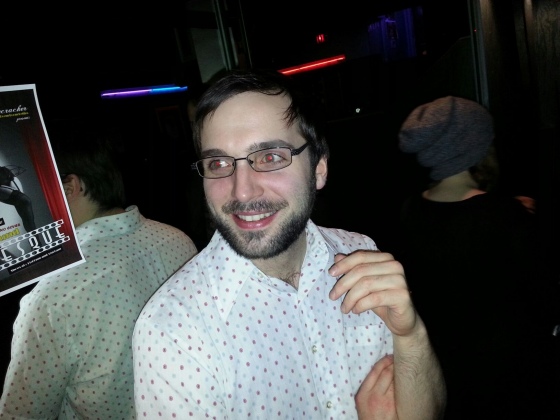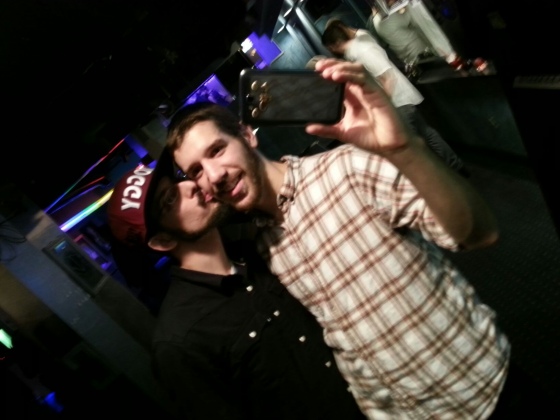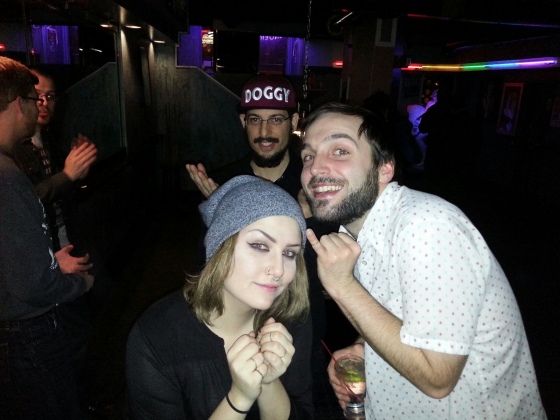 Permalink: Saddy_Hardcore_II.html
Words: 145
Location: Buffalo, NY
Last Modified: 01/25/14 02:20
Category: food
01/25/14 11:10 - ID#58609

Chocolate Truffle Cake
(e:terry)
and I made this flourless chocolate truffle cake for
(e:Paul)
's birthday. I thought I would write it down with modifications if we ever wanted to make it again. The fanciest cake I've ever made.
1 bag semisweet chocolate chips
7 squares unsweetened 100% cacao
3 eggs, 3 whites
2 sticks butter
3/4 cup sugar
We followed these

directions minus the water bath and it worked out fine. We served it with a seedless raspberry sauce and Sweet Jenny's sweet cream ice cream.
Preheat oven to 300 degrees F (150 degrees C). Grease one 10 inch round cake pan and set aside.
In a small saucepan over medium heat combine the water, salt and sugar. Stir until completely dissolved and set aside.
Either in the top half of a double boiler or in a microwave oven melt the bittersweet chocolate. Pour the chocolate into the bowl of an electric mixer.
Cut the butter into pieces and beat the butter into the chocolate, 1 piece at a time. Beat in the hot sugar-water. Slowly beat in the eggs, one at a time.
Pour the batter into the prepared pan. Have a pan larger than the cake pan ready, put the cake pan in the larger pan and fill the pan with boiling water halfway up the sides of the cake pan.
Bake cake in the water bath at 300 degrees F (150 degrees C) for 45 minutes. The center will still look wet. Chill cake overnight in the pan. To unmold, dip the bottom of the cake pan in hot water for 10 seconds and invert onto a serving plate.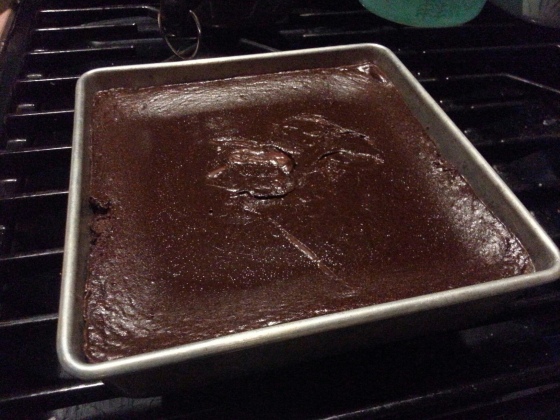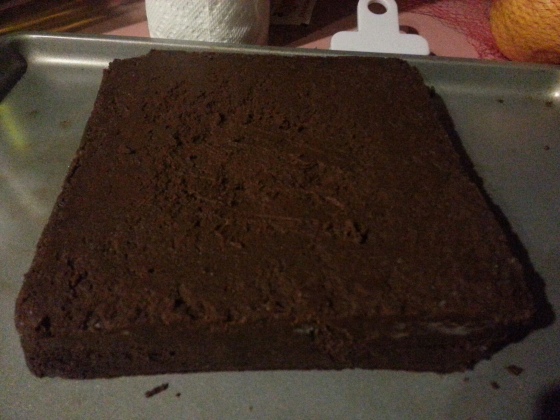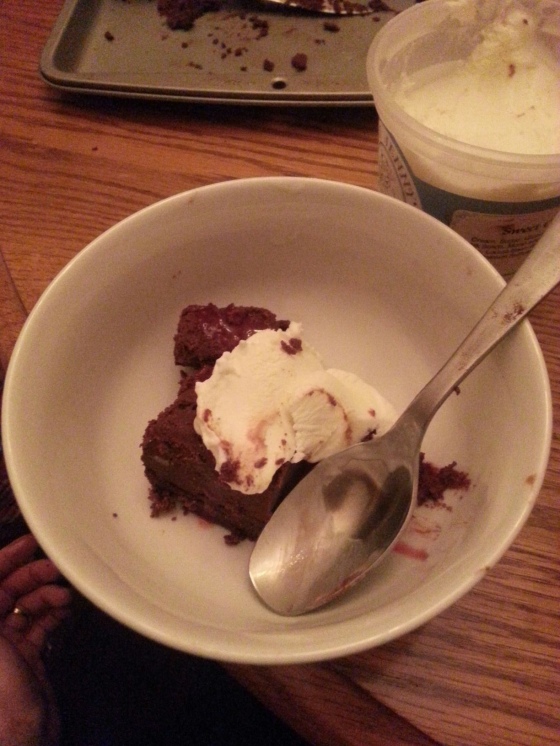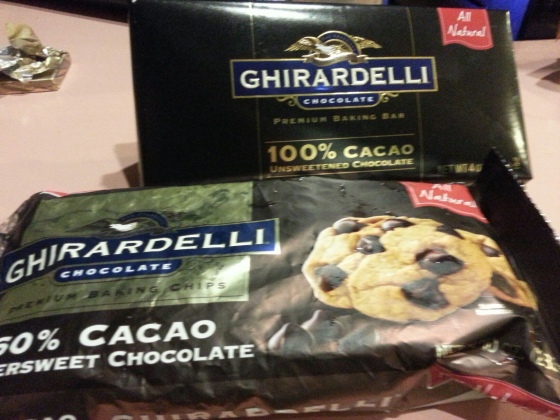 Permalink: Chocolate_Truffle_Cake.html
Words: 276
Location: Buffalo, NY
Last Modified: 01/25/14 12:49
Category: birthdays
01/23/14 09:51 - ID#58602

Happy birthday Paul!
Late but happy birthday Paul!
I love you and hope that your birthday was amazing, and your party this weekend is even better. Here's to many more years!
I'll leave the write up about the bougie bday to you.


Permalink: Happy_birthday_Paul_.html
Words: 41
Location: Buffalo, NY
Last Modified: 01/23/14 10:09
Category: health
01/21/14 10:30 - ID#58598

More blood pressure
Also caught up in the health records trend, I am very happy with my resting heart rate but no so thrilled with my blood pressure. Prehypertension is now defined as 120 and my readings have been consistently over in the mid 120s or low 130s over 70s and 80s.
Some of it is mentally stressing about it, but I can't figure out what else would be contributing to it. I exercise, eat alright, am not too stressed and am generally pretty healthy.
Google tells me poor sleep quality (and I assume length) leads to persistent hypertension. If anything I think that may be it. I usually average 6 hours or less except weekends.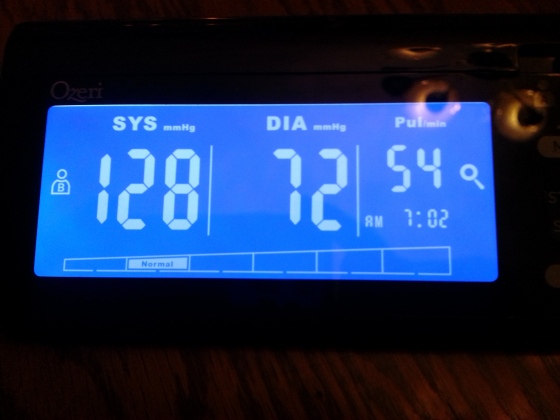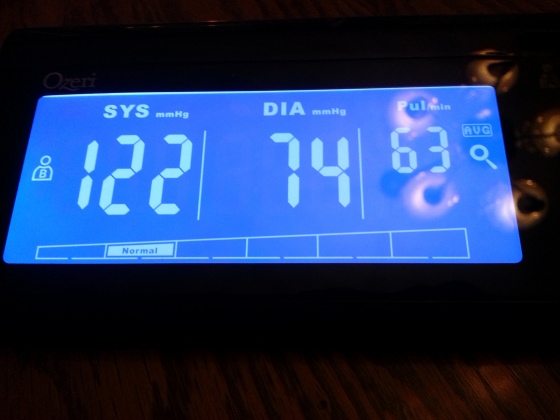 Permalink: More_blood_pressure.html
Words: 125
Location: Buffalo, NY
Last Modified: 01/22/14 12:29
Category: work
01/21/14 08:59 - ID#58593

We'll be counting cars
I'm sitting out in Orchard Park sprawl counting traffic for a study today. 7 hours counting cars, 4 in the office. It seems crazy but my company doesn't have enough automated counters for the study.
(e:terry)
and I think it'd be possible to come up with a cheaper/better device.
Definitely not as nice as it was in the summer but at least I have a data plan now, lol.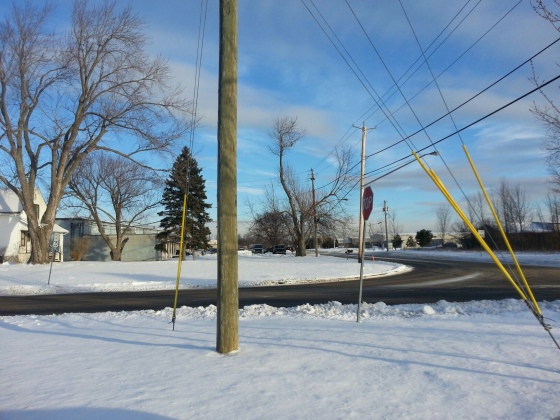 The cops just came up to me because I guess I look shady sitting in a parking lot.


Permalink: We_ll_be_counting_cars.html
Words: 90
Location: Buffalo, NY
Last Modified: 01/21/14 09:02
<-- Earlier Entries