Category: birthdays
01/23/14 09:51 - ID#58602

Happy birthday Paul!
Late but happy birthday Paul!
I love you and hope that your birthday was amazing, and your party this weekend is even better. Here's to many more years!
I'll leave the write up about the bougie bday to you.


Permalink: Happy_birthday_Paul_.html
Words: 41
Location: Buffalo, NY
Last Modified: 01/23/14 10:09
Category: health
01/21/14 10:30 - ID#58598

More blood pressure
Also caught up in the health records trend, I am very happy with my resting heart rate but no so thrilled with my blood pressure. Prehypertension is now defined as 120 and my readings have been consistently over in the mid 120s or low 130s over 70s and 80s.
Some of it is mentally stressing about it, but I can't figure out what else would be contributing to it. I exercise, eat alright, am not too stressed and am generally pretty healthy.
Google tells me poor sleep quality (and I assume length) leads to persistent hypertension. If anything I think that may be it. I usually average 6 hours or less except weekends.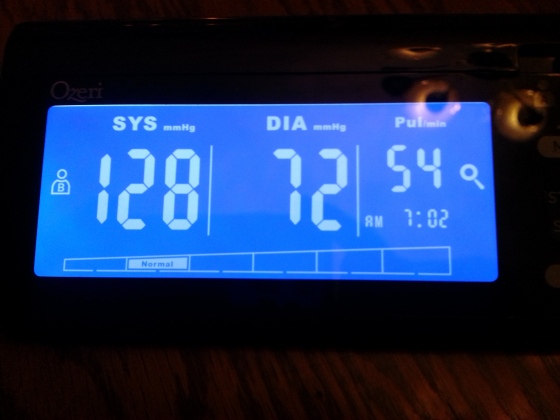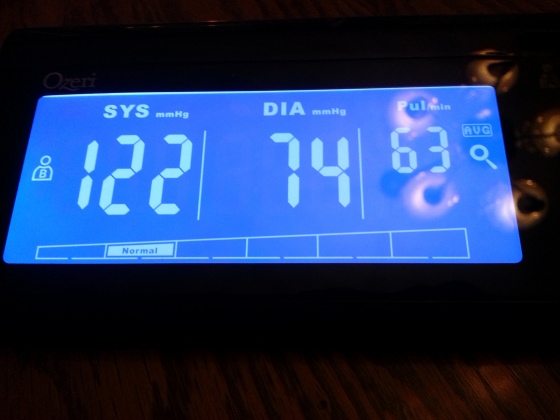 Permalink: More_blood_pressure.html
Words: 125
Location: Buffalo, NY
Last Modified: 01/22/14 12:29
Category: work
01/21/14 08:59 - ID#58593

We'll be counting cars
I'm sitting out in Orchard Park sprawl counting traffic for a study today. 7 hours counting cars, 4 in the office. It seems crazy but my company doesn't have enough automated counters for the study.
(e:terry)
and I think it'd be possible to come up with a cheaper/better device.
Definitely not as nice as it was in the summer but at least I have a data plan now, lol.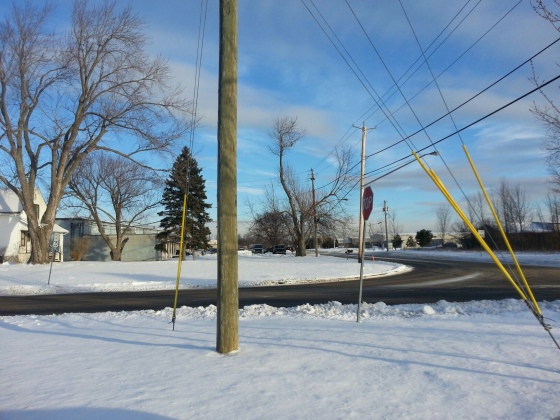 The cops just came up to me because I guess I look shady sitting in a parking lot.


Permalink: We_ll_be_counting_cars.html
Words: 90
Location: Buffalo, NY
Last Modified: 01/21/14 09:02
Category: music
01/21/14 08:48 - ID#58592

Erica's open mic at Nietzsche's
Yesterday
(e:czarkasm)
undid her belt at Nietzsche's and sang at the open mic night. I'm not super muscial but I definitely thought she was one of the best (throat lady notwithstanding). She did four songs, I recorded her cover of Titanium.
Hopefully you're all regular now, Erica.


Permalink: Erica_s_open_mic_at_Nietzsche_s.html
Words: 62
Location: Buffalo, NY
Last Modified: 01/21/14 08:48
Category: movies
01/21/14 08:16 - ID#58591

Wolf of Wall Street
Sunday we watched The Wolf of Wall Street. Basically it was about Jordan Belfort

and a bunch of scummy stockbrokers who became rich off insider trading and other scams.
The movie itself was well made. Leo was an amazing actor and the plot itself was ridic. I don't think the movie ended well because it glamorized them a bunch, but I guess they got off pretty easy in real life too, right? They even freaking put Jordan Belfort in the movie. It's so messed up that you can fraud and cheat, and then sell the story and have a movie made about it. They even advertise his motivational speaking company at the end, as if he is somehow redeemed.
Afterwards and the whole next day, I felt so repulsed by the movie. Not just by how disgusting and corrupt the characters in the movie were, but how much I worry about money. Obviously our motivations are different (doing coke in a Ferrari vs paying student loans) but I still feel so disgusted by any sort of greed. I have everything I could ever want or need, so money should be the last thing on my mind. It feels so selfish and I hate our cultural obsession with it.


Permalink: Wolf_of_Wall_Street.html
Words: 216
Location: Buffalo, NY
Last Modified: 01/21/14 11:33
Category: dancing
01/21/14 07:57 - ID#58590

Lindsay and Carrie's birthday
Saturday night
(e:paul)
(e:terry)
,
(e:xandra)
and I headed out to Casa di Pizza for Lindsay and Carrie's birthday party. Casa was fun, we hung out there for a bit before going to Torro.
After we headed out to Toro for dancing since it was across the street. I had fun dancing, but the music was only okay and I definitely agree with
(e:paul)
about the crowd being way too bro/Long Island. I stepped on a guy's shoe by accident and he wanted to fight. Never going there again. Some of my friends started getting sloppy so we finished the night there. Paul got us Casa pizza which seemed to be so amazing at the time.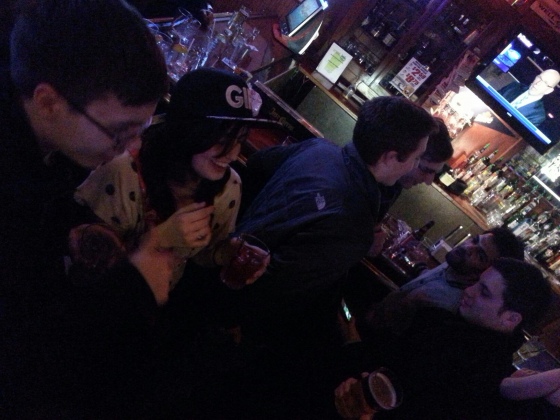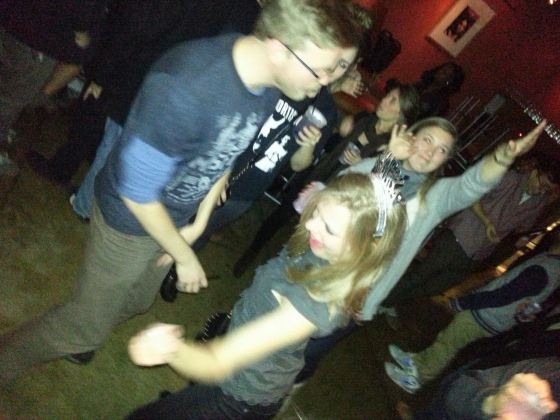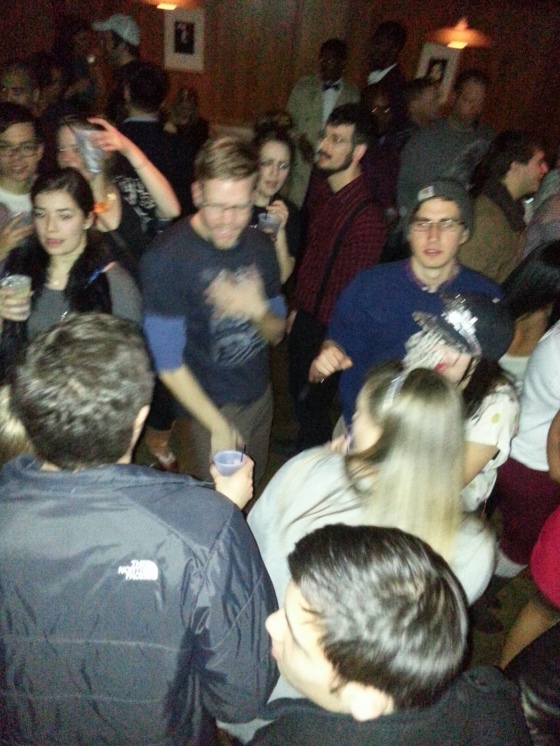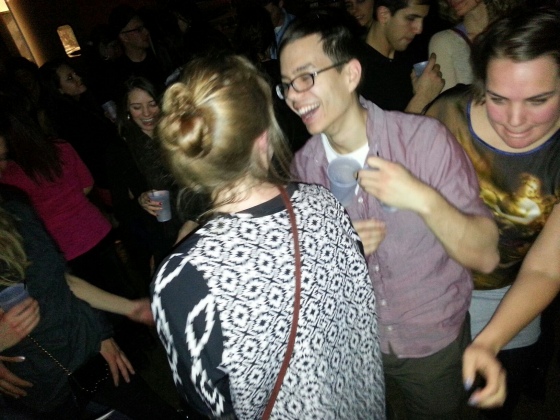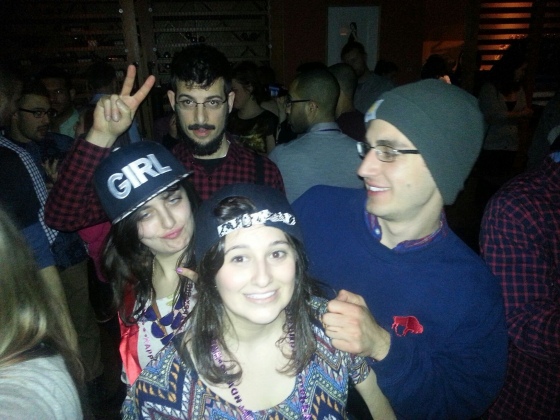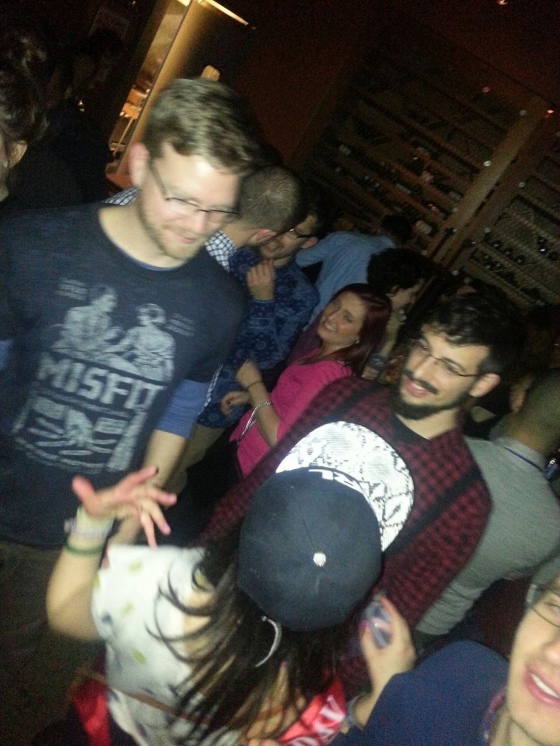 Permalink: Lindsay_and_Carrie_s_birthday.html
Words: 127
Location: Buffalo, NY
Last Modified: 01/21/14 08:50
Category: dancing
01/19/14 06:35 - ID#58587

Boom at the Block Club
Friday night, Emily and I headed out for the Blcok Club launch party. We met up with Mickey, and some of Emilys coworkers there. Eventually
(e:terry)
,
(e:xandra)
, Tanya and
(e:Robert)
came too.
Dancing was super fun. I ran into a couple of people from high school and caught up with tons of other people too. Free beer from Community Beer Works was real good.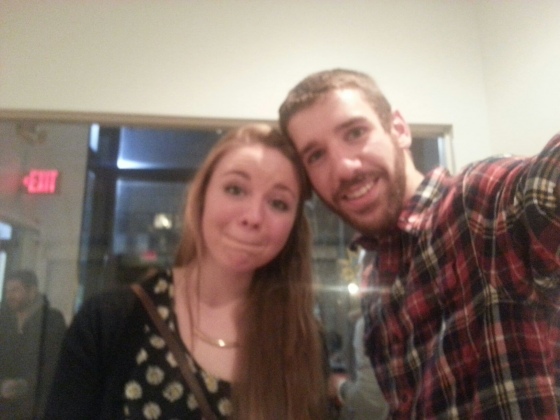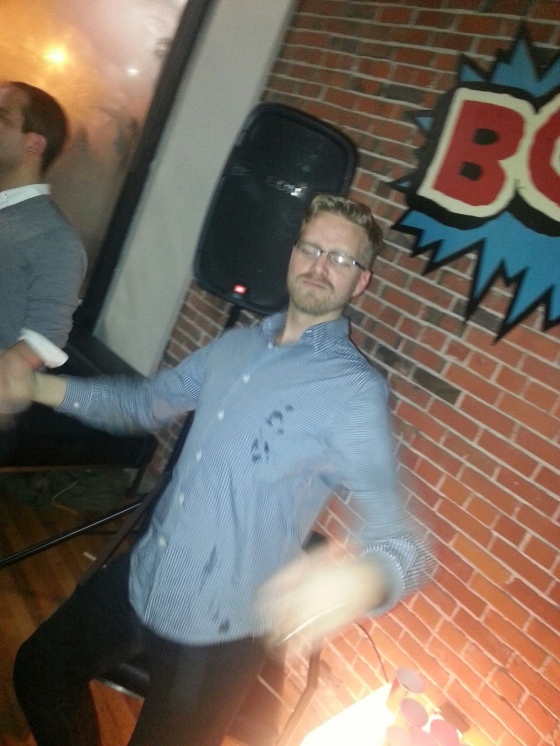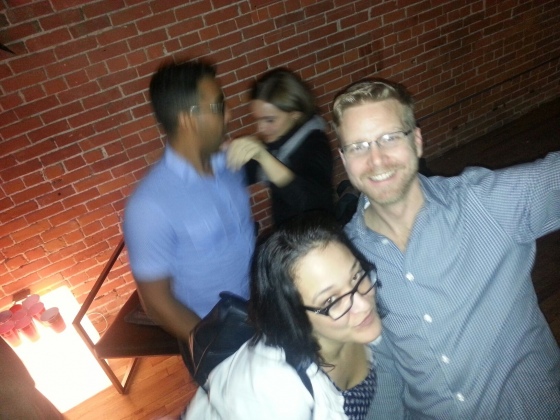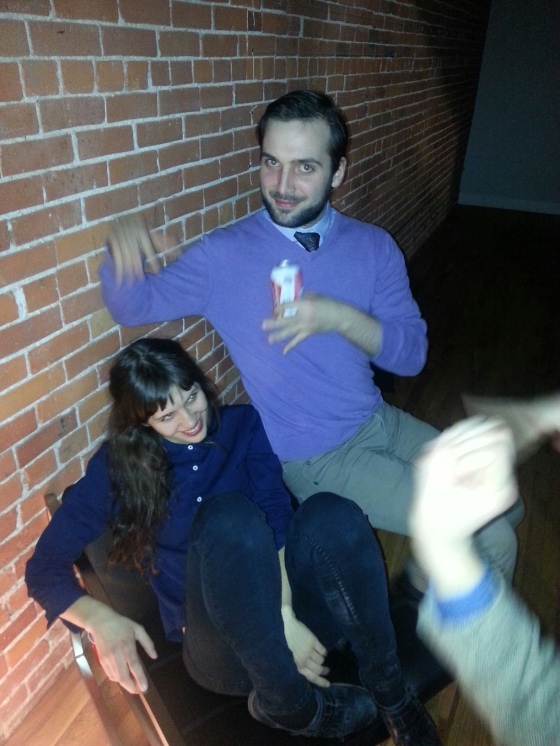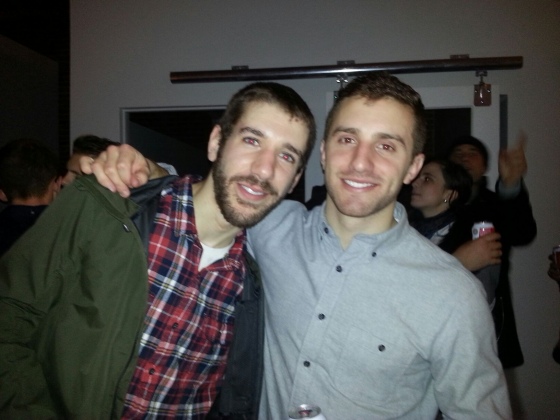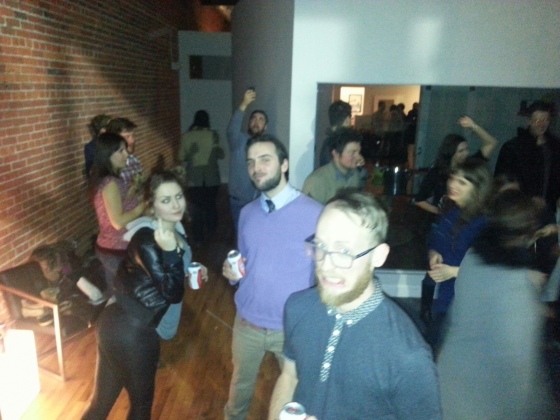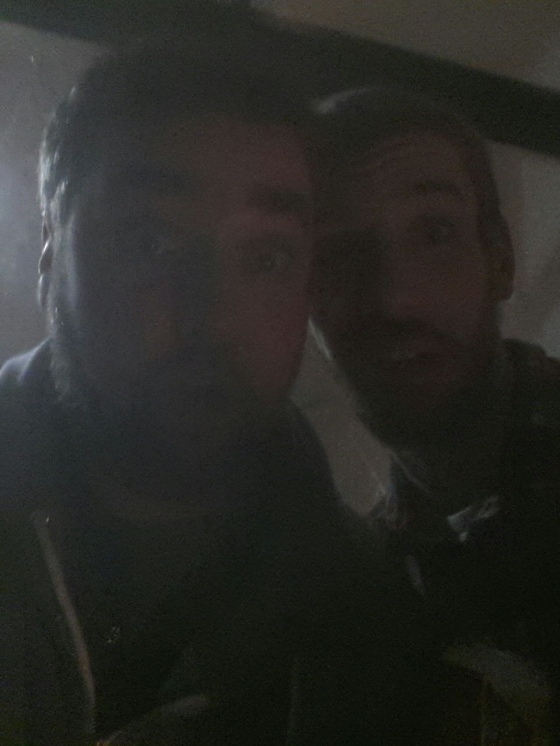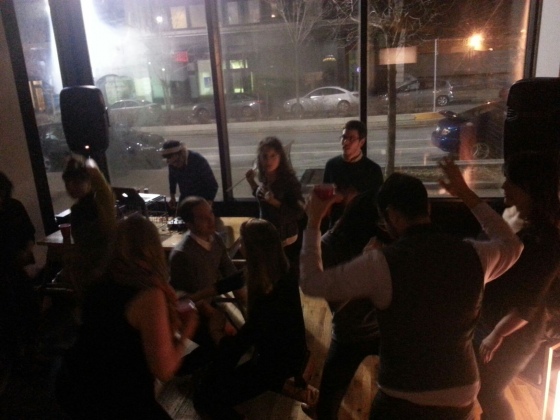 Permalink: Boom_at_the_Block_Club.html
Words: 82
Location: Buffalo, NY
Last Modified: 01/19/14 06:35
Category: food
01/18/14 07:42 - ID#58584

Paul the butcher


Permalink: Paul_the_butcher.html
Words: 15
Location: Buffalo, NY
Last Modified: 01/18/14 07:42
Category: food
01/16/14 07:33 - ID#58580

Dinner with Emily
After work yesterday I rode up to Shish Kebob Express to have date night with Emily. She has a third job plus school now which is absolutely insane. Shish Kebob was pretty good, although I felt kind of gross after - two samoons and fried falafel will do that I guess.
She wanted to get ice cream so we went to Wegmans. I actually shopped there, and ended up paying only a few more dollars than I would have at Trader Joe's. So bougie,
(e:paul)
and
(e:terry)
should be proud. They started doing construction in the freezer section, it made the whole store smell like mildew, so sick.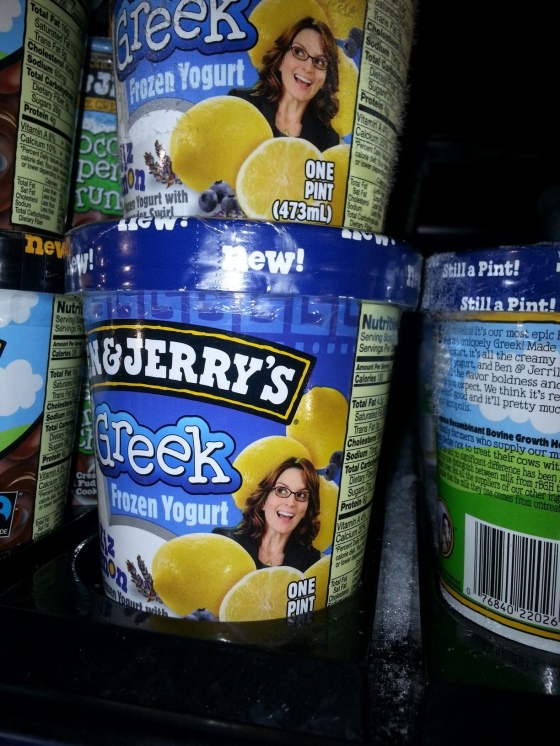 Tina Fey has her own ice cream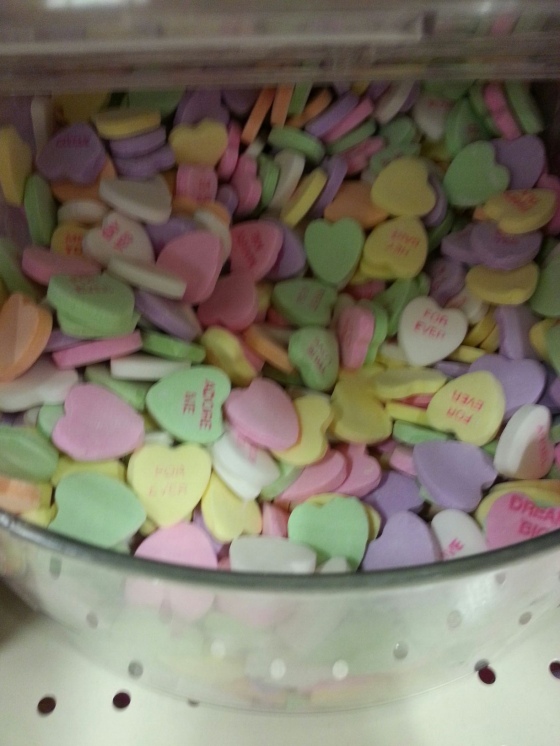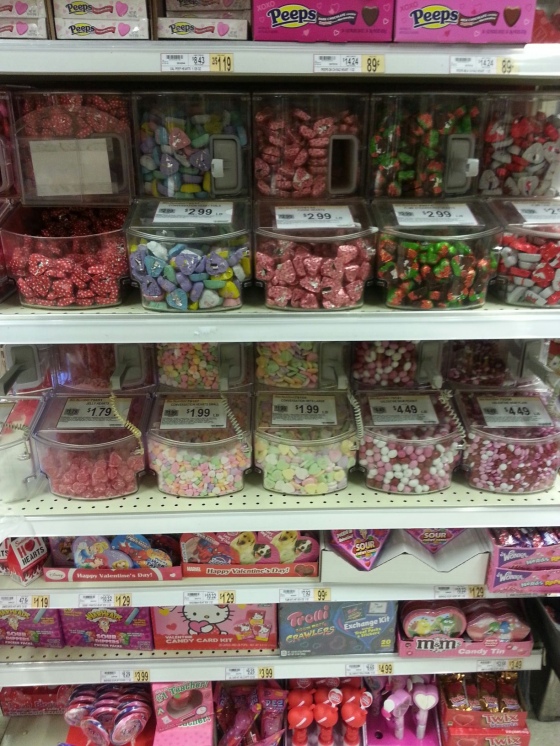 Valentine's candy is out... has to be my second favorite candy related holiday after Easter.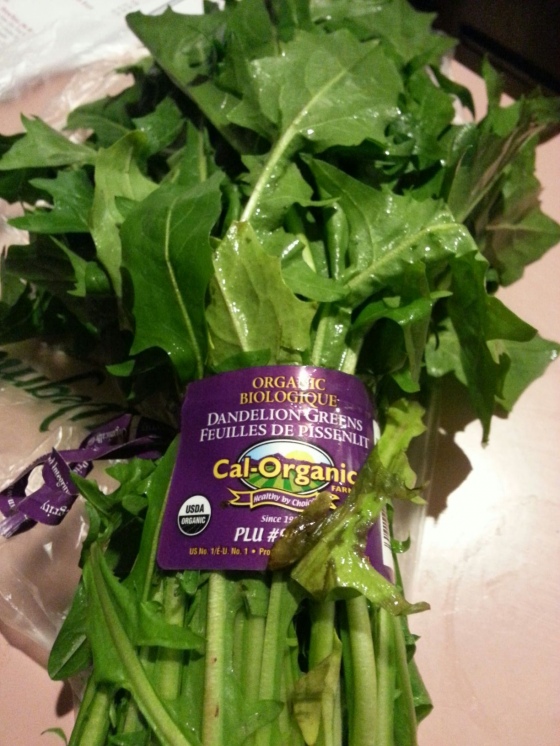 Even Basra gets organic at Wegman's.


Permalink: Dinner_with_Emily.html
Words: 142
Location: Buffalo, NY
Last Modified: 01/17/14 09:46
Category: programming
01/15/14 11:50 - ID#58578

PHP meetup and Teen Wolf
After work I headed over to Synacor for the PHP meetup. The Synacor developer who runs the meetup, Shawn, is pretty awesome. They have a sweet office down near the marina. We over PSRs and composer, both of which I was aware of, but didn't really know how they functioned or how to use them. I know I could always learn about anything PHP from
(e:paul)
but it's good that I don't always have to bother him, lol. One thing Shawn mentioned he found was good practice, especially for javascript, was trying to create a snake game as quickly as you can. I think that might be a good exercise if I ever finish this thermostat.
I started watching Teen Wolf today. Really behind considering it is now in it's third season, but I have to catch up to watch with
(e:paul)
and
(e:terry)
.
It's amazing, it makes me want to be a werewolf minus people hunting me. Not to mention all the guys in it are ridic attractive. The best part is I've found all the episodes either dubbed auf Deutsch or in English with German subtitles, so hopefully it'll be a good way to practice.
(e:xandra)
thinks it sucks but I say she just isn't in the target teen girl/gay man demographic.


Permalink: PHP_meetup_and_Teen_Wolf.html
Words: 219
Location: Buffalo, NY
Last Modified: 01/17/14 09:56
<-- Earlier Entries