Category: allentown
08/17/16 12:07 - ID#60623
Someone lost an arm
If you need it, it's shredded in the abandoned building on Allen.
I don't know how this building is still nothing with everything else that changes around it.
Speculators and and flippers are the worst.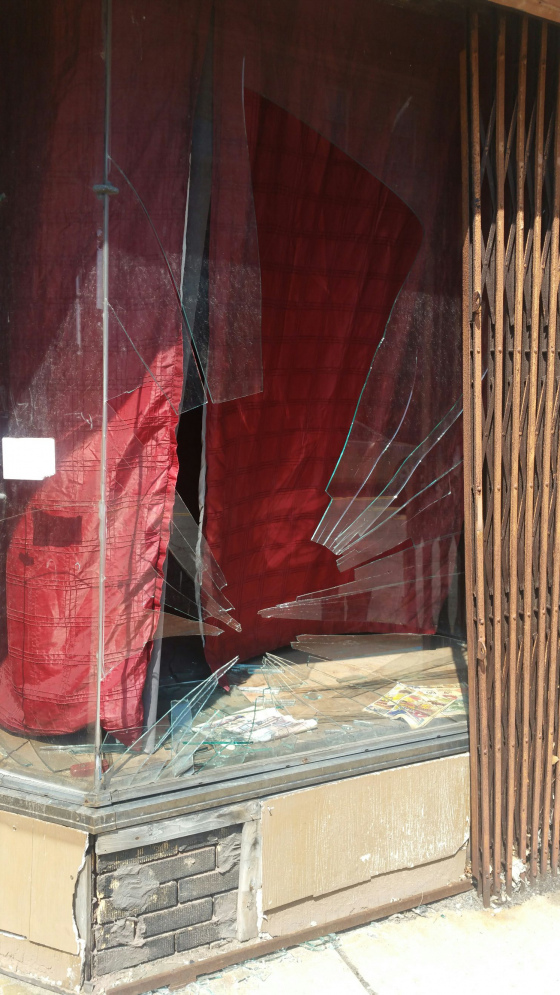 Permalink: Someone_lost_an_arm.html
Words: 36
Last Modified: 08/17/16 12:23
Category: allentown
02/13/16 06:31 - ID#60419
Allentown Action
This was an action packed week in Allentown.
On Monday night, right after we went to bed, an ambulance flipped over at Delaware and North after an SUV ran into it.

They really need to take the rest of Delaware down to three lanes. It's too crazy aggressive on the four lane part.
Then on Wednesday, Bill's Deli on Allen was raided by the police. They found crack and guns by the counter. It always seemed so obvious to me - there's always the same few guys who circulate inside and outside the store all day long, always on cell phones, greeting people who drive up.

(In googling for the article, I found
(e:tinypliny)
's review of the store)
(e:tinypliny,39934)
Weirdly enough it's still open. It makes me wonder about the other businesses in the building, like the one selling Nintendo 64 games, $5 hoodies and VHS tapes.
Governor Cuomo came to the medical campus to announce a Buffalo billion pharmacy company subsidy at Conventus. There were black SUV's swarming everywhere that day.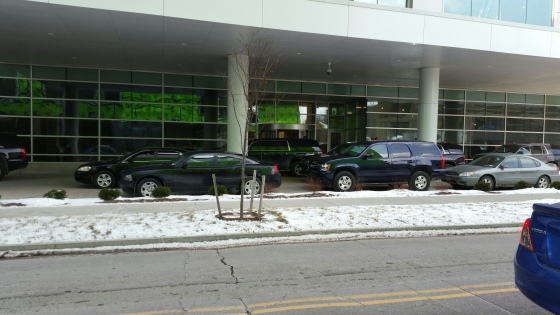 And they are now possibly using an old lab freezer as cadaver storage around the corner from the office of
(e:paul)
and I. We found that out after some real craziness Wednesday night at the office.


Permalink: Allentown_Action.html
Words: 224
Last Modified: 02/13/16 06:56
Category: allentown
10/12/15 04:45 - ID#60274
Cafféology Cafe - Allentown -Buffalo, NY
Doubling up on
(e:paul)
's post. I don't like ad like posts, but I liked it enough and I want them to stick around, so I think it should get two posts.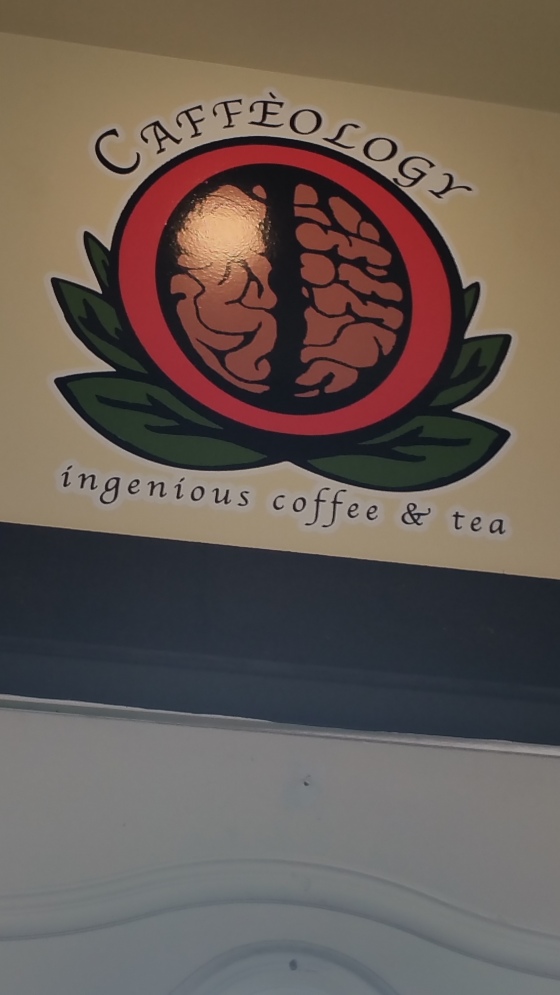 On the way home from the bike ride, I noticed a new store opened in the old Code Blu Juice bar, at North Pearl and Allen Street. It was called "Caféology" and it was amazing. They have a website but it looks unfinished, it does have the menu though.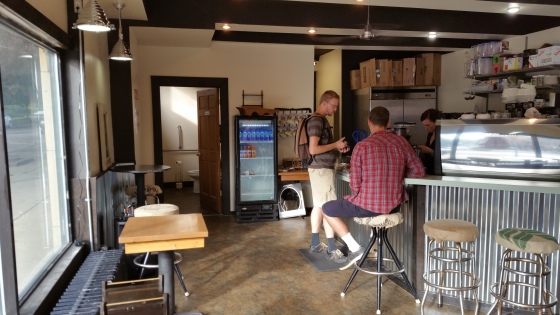 The inside of the cafe was very new - and extremely hot temeprature wise. I was sweating but I still ordered a turkish coffee.
(e:paul)
got a cappucino, and
(e:terry)
got a frozen coffee drink. All of them were amazing taste wise. I have never had a Turkish coffee before but it's even more intense than an Italian coffee, and thick with the coffee grounds. I may be having a heart attack from it right now.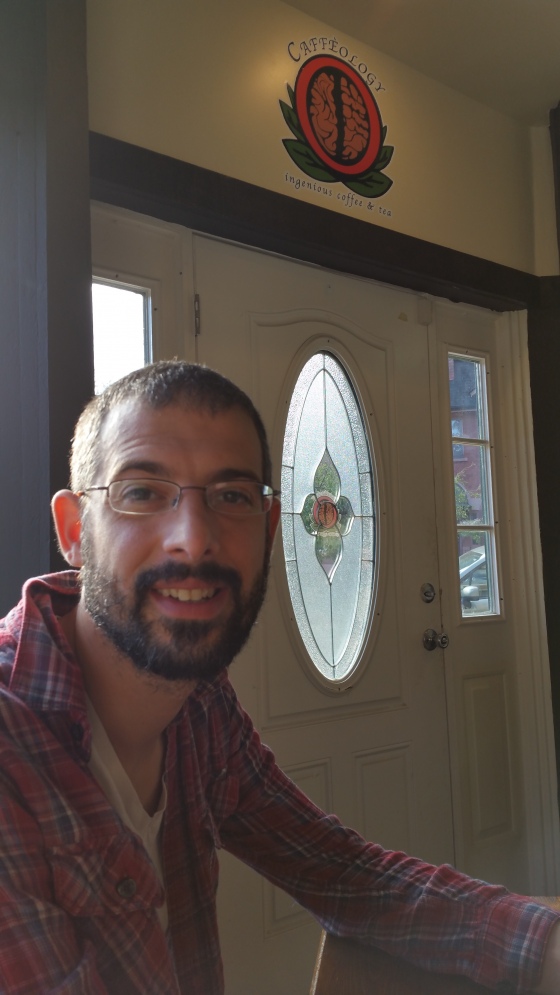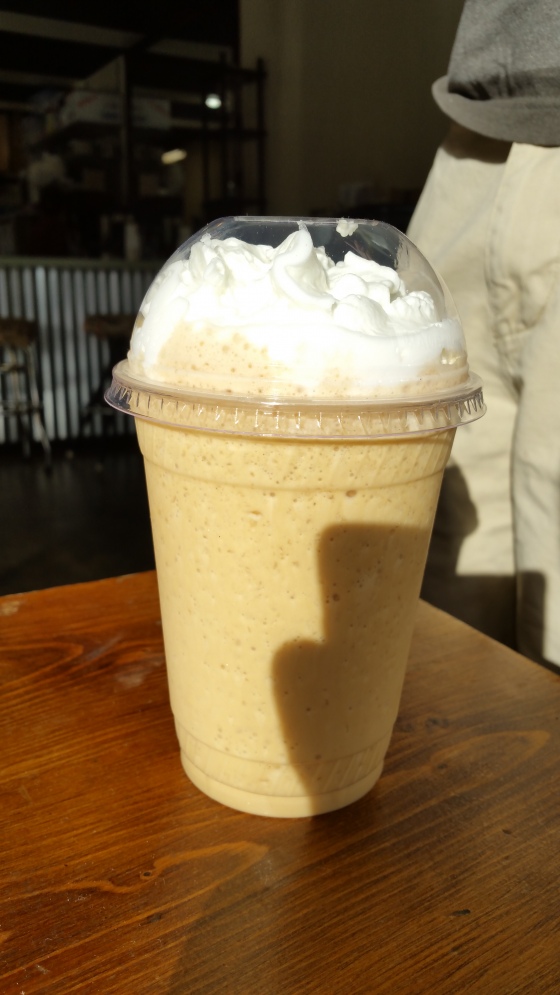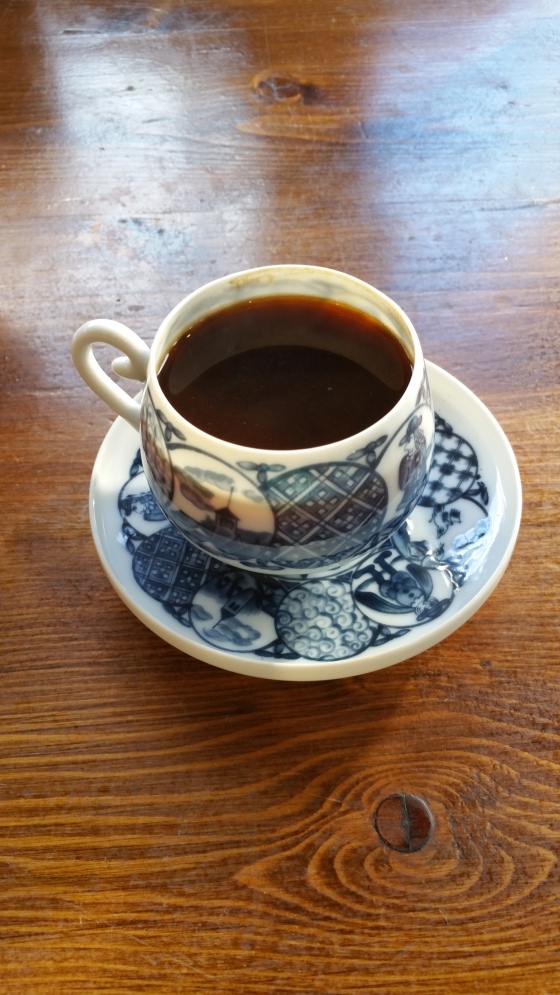 The women working said it will be open until 10 pm, which is awesome. I think this would be a nice place to do work at if they have WiFi. I always thought there should be a coffee shop opened late but the only option around here is a Tim Horton's or Spot.
Menu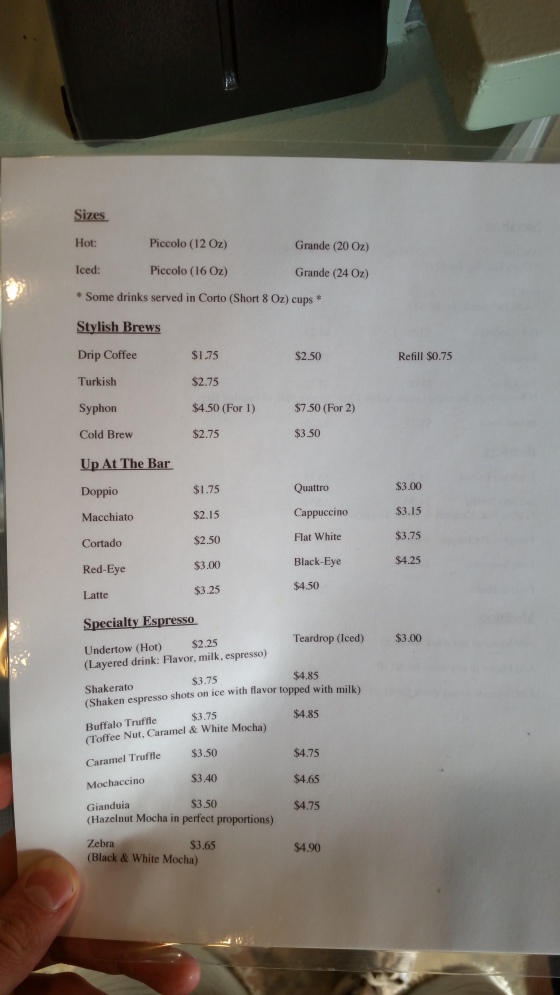 Permalink: Caff_ology_Cafe_Allentown_Buffalo_NY.html
Words: 224
Last Modified: 10/13/15 01:26
Category: allentown
06/16/15 01:33 - ID#60056
Allentown Fried Dough festival
The Allentown Art festival isn't really my thing, I hate knick knacks. I do like the smell of fried dough though and it manages to waft all the way around Allentown.
(e:paul)
got his Italian snausage and came up with a fried dough wrapped version stuffed with cheese.
Dreamland had their own art festival going on with a bunch of pillows and cute stuffed things.
It was nice to just sit on the corner in the shade and watch people go by.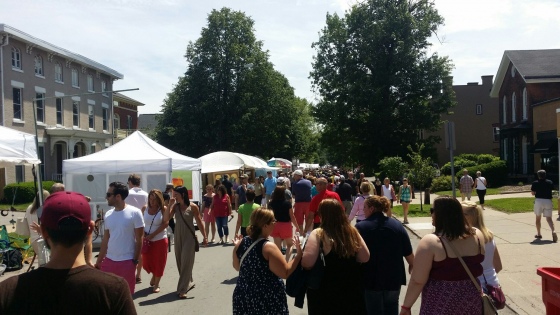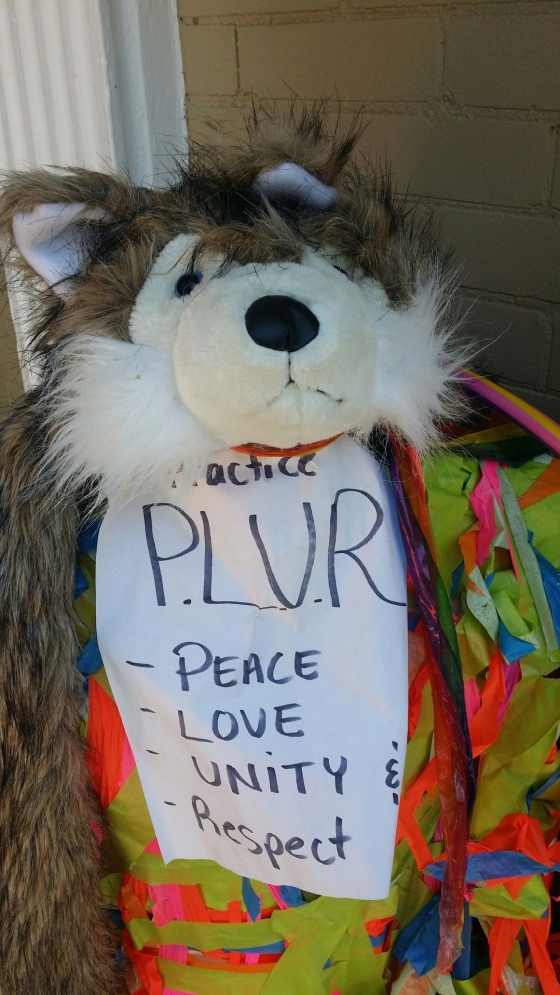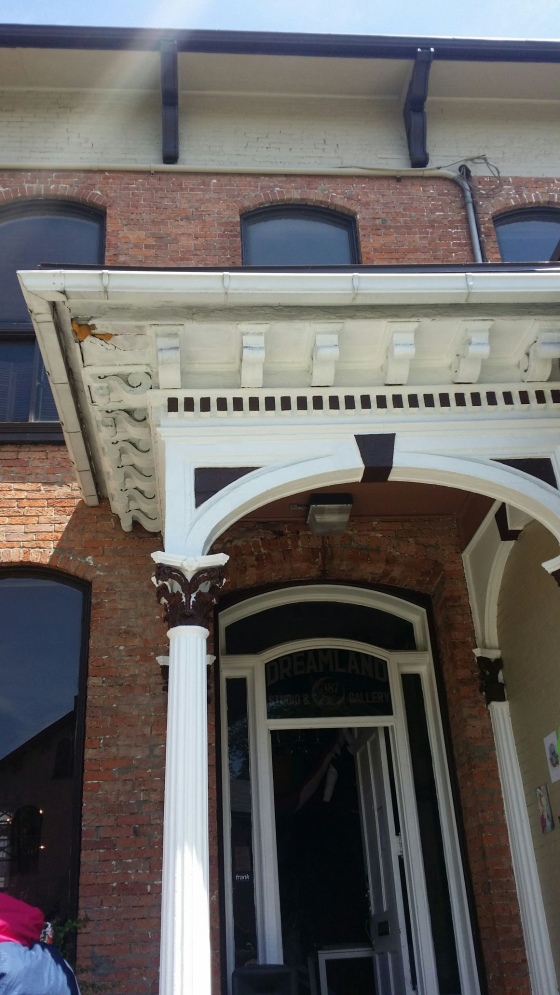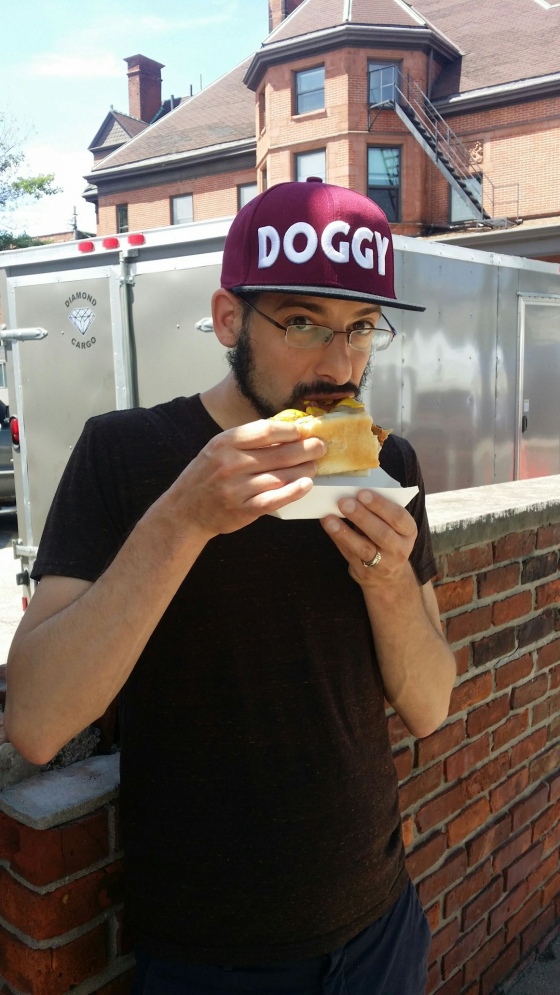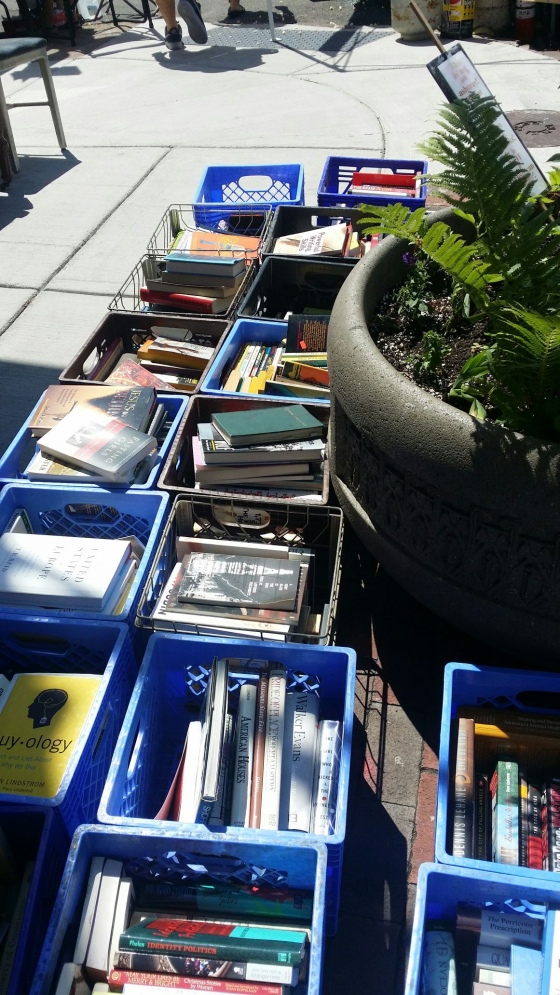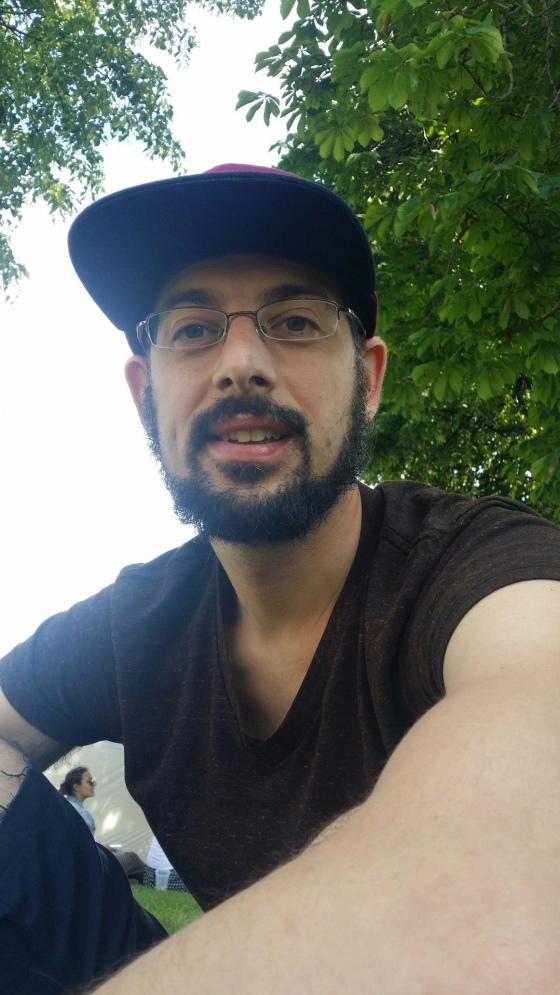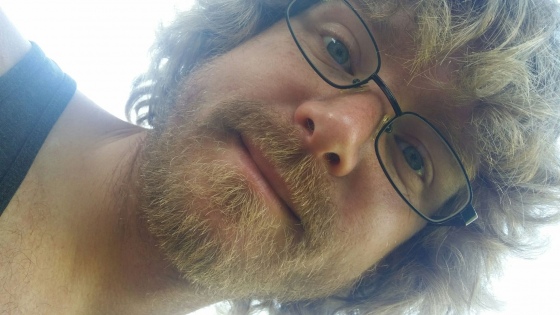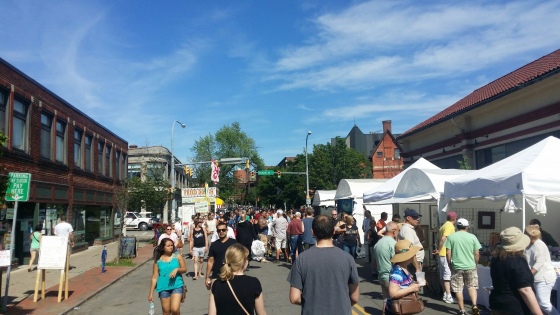 Permalink: Allentown_Fried_Dough_festival.html
Words: 91
Last Modified: 06/16/15 01:50
Category: allentown
10/15/14 01:10 - ID#59480
Franklin Street cobblestones
During the fall fest, I noticed how many areas of Franklin between Allen and North were showing the cobblestones underneath. I wonder if we could uncover them ala Ardmore Place.

Traffic will slow, it's basically maintenance free, and way more permeable than straight up asphalt. Plus maybe it could make all those parking lots worth enough to build something there.
Of course, cobblestones are terrible for bikes so I think they could make some sort of bike lane with a different material. NYC does granite

but I'd even be happy with a strip of asphalt that they left behind.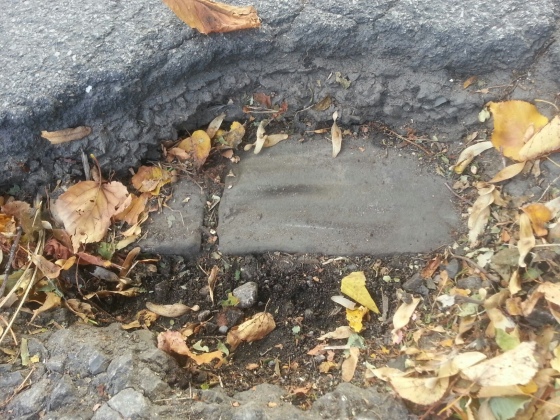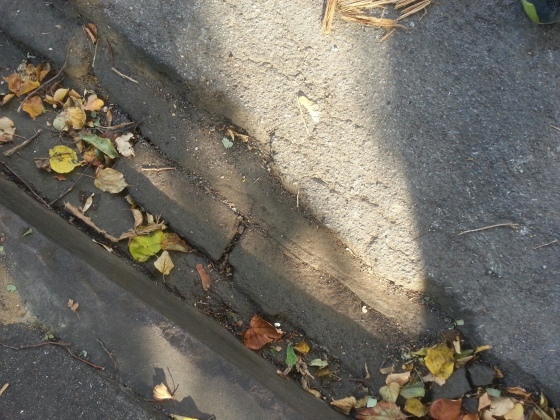 Permalink: Franklin_Street_cobblestones.html
Words: 115
Last Modified: 10/17/14 12:43
Category: allentown
10/11/14 05:58 - ID#59470
El Hermano Tiene Tumbao
Just like Celia, he steps to the side for no one, while simultaneously taking measures.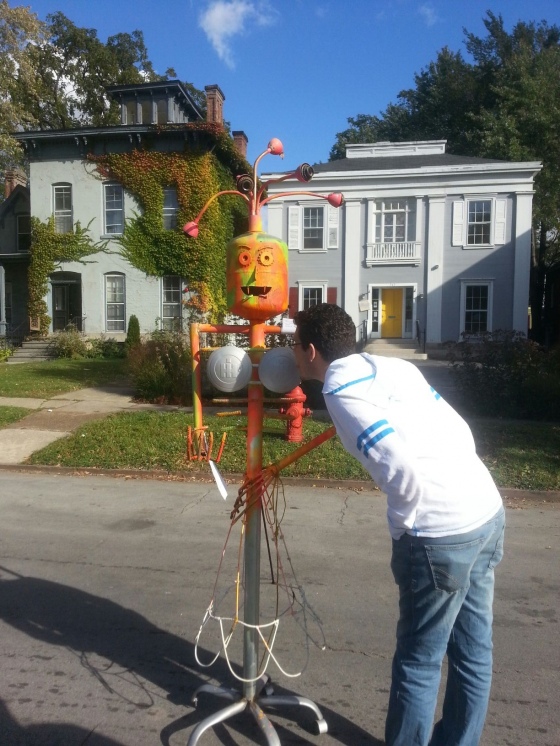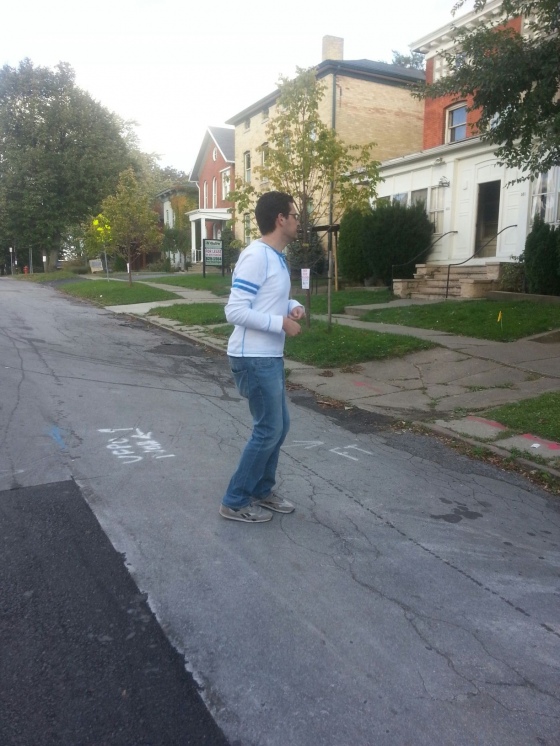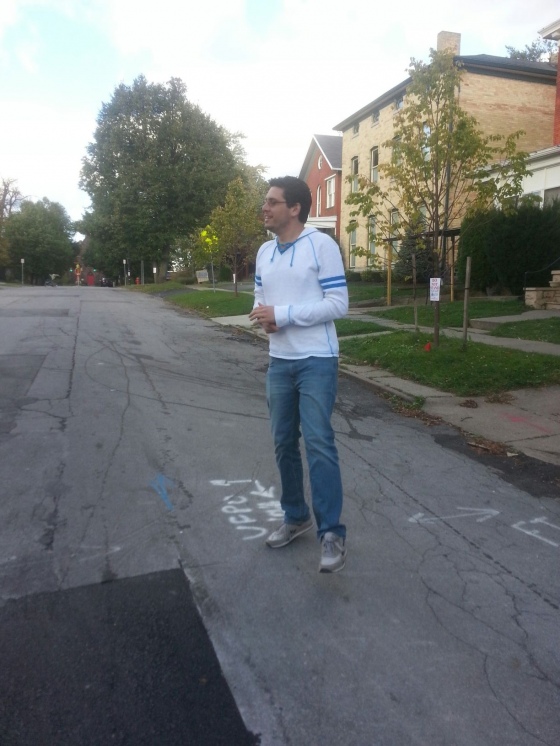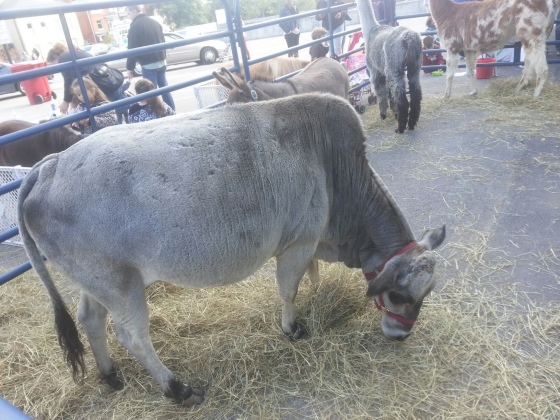 Yesterday we went down to the Allentown fall fest. They had a petting zoo. The baby goat and alpacas were so cute. I thought it was going to be weird going to the childrens section but the animals more than made up for it.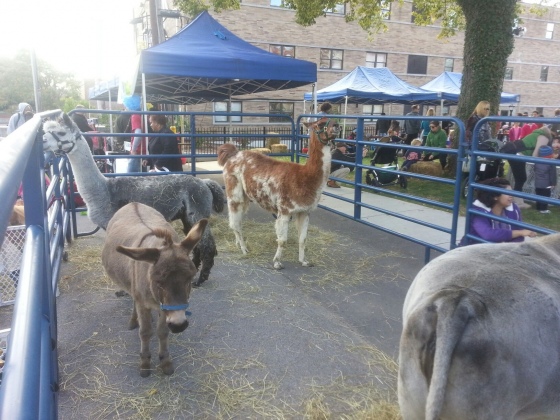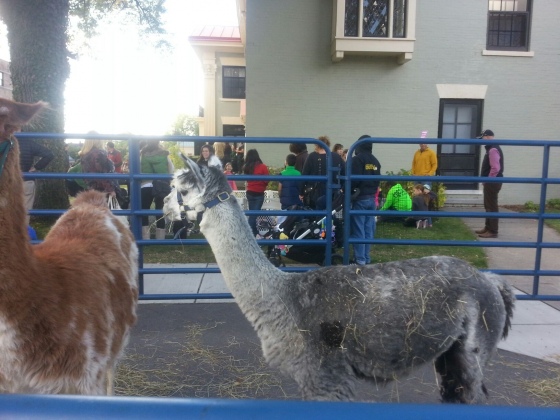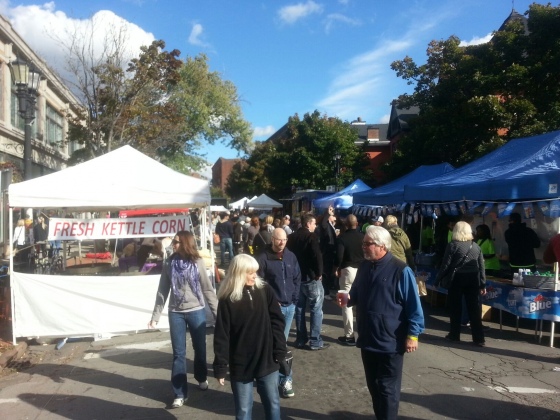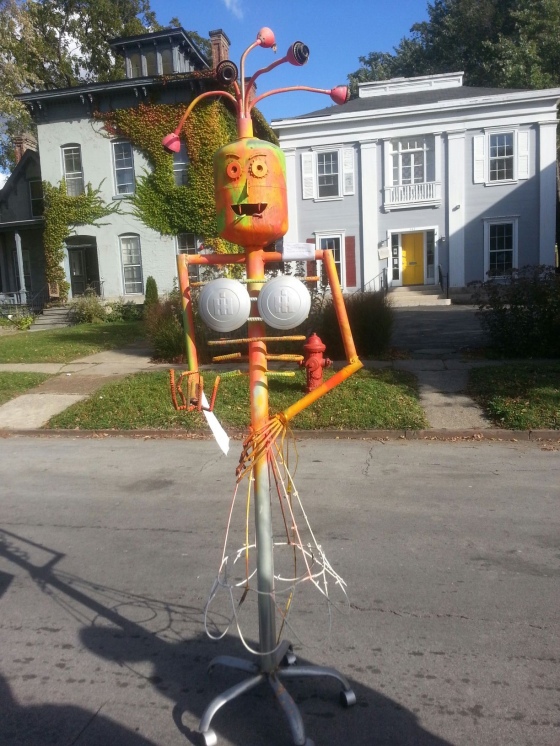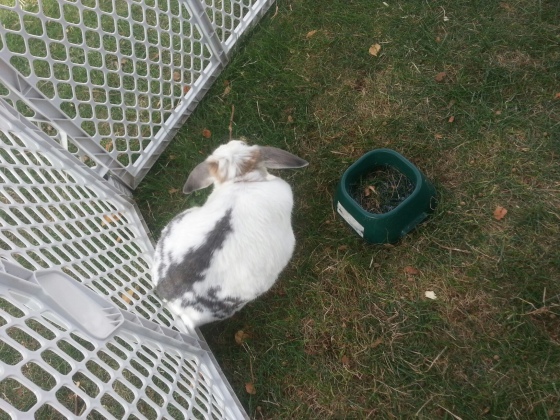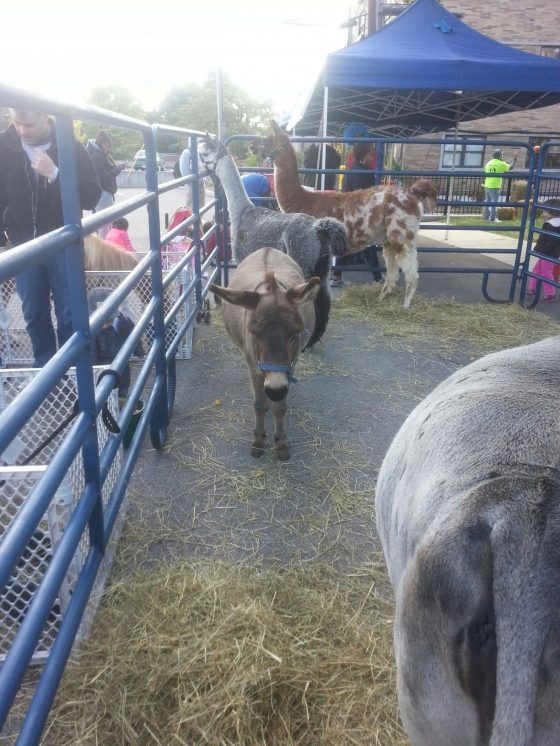 Permalink: El_Hermano_Tiene_Tumbao.html
Words: 69
Last Modified: 10/12/14 12:10
Category: allentown
10/11/14 12:35 - ID#59465
Franklin demolition
The old artvoice/photography/naked party building near Franklin and Allen is knocked down after being boarded up for so long.
(e:terry)
and I really want to go in and explore - there's a entrance into the basement where they already knocked down the front building.
Supposedly it's going to be redeveloped into a new mixed used building. If it's just a parking lot I'm gonna go fucking insane.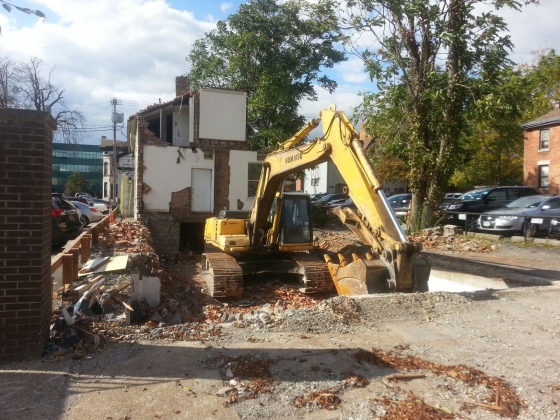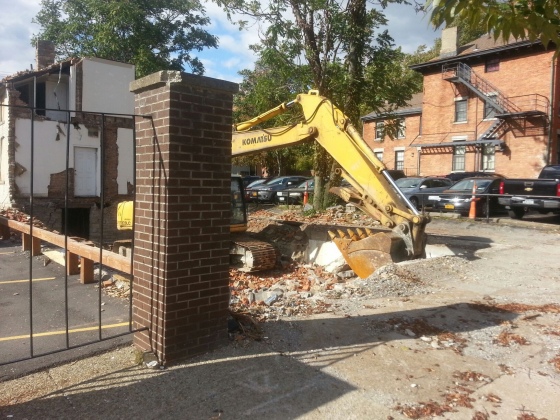 Permalink: Franklin_demolition.html
Words: 72
Last Modified: 10/17/14 12:46
Category: allentown
07/27/14 12:15 - ID#59237
Luxury by the Hill hotel
The boarded up and paved house next to the Hill Hotel on Franklin now has a sign from Sinatra that "luxury apartments" are now coming to the property. I wonder if he's behind the LLC that boarded up the house and paved the lawn? But finally! I can't believe it's sat vacant for so long.
If this is true I can't imagine the Hill hotel is going to be the way it is much longer.
On one hand I hate the owner for putting nothing into it and letting it rot (the Erie County Real tax site says Richard A Panicali is in care of trust that owns it). It's one of the worst properties in Allentown (how long has that busted Porsche been rotting there?). Any sort of renovation or improvement would make the street and Allentown so much nicer. Maybe it would even kick off development on the parking lots all down the street.
On the other hand I do feel sorry for some of the residents if they get kicked out for nicer housing. There aren't many low cost housing options this central to everything. And the fact that the owner has put zero into it and could probably turn a huge profit by selling it makes me sick.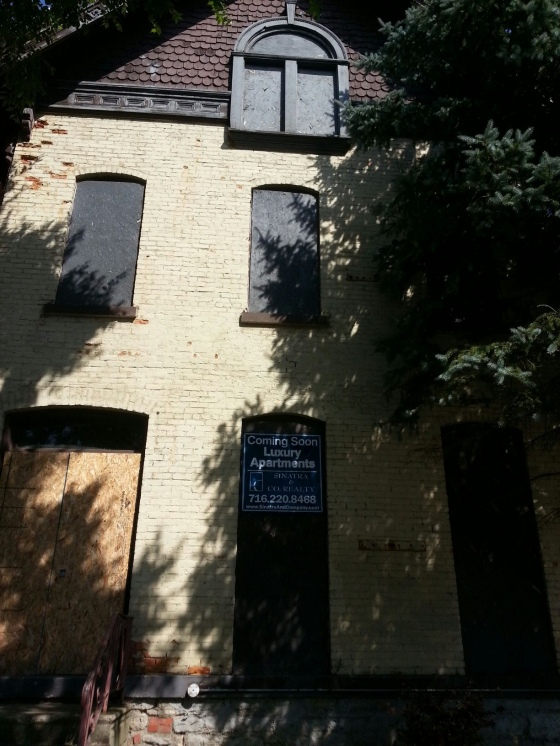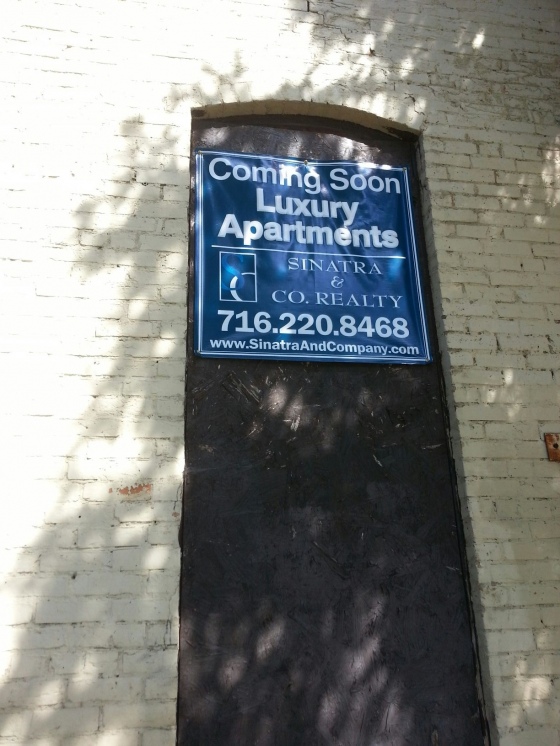 Permalink: Luxury_by_the_Hill_hotel.html
Words: 218
Last Modified: 07/27/14 01:00
Category: allentown
07/18/14 02:07 - ID#59207
Allentown's garbage garden


Permalink: Allentown_s_garbage_garden.html
Words: 21
Last Modified: 07/18/14 03:51
Category: allentown
05/01/14 12:20 - ID#58946
Allentown Association dinner
On Tuesday, I felt better, so I went with
(e:Terry)
to the Allentown Association dinner at Hamiln House.
(e:paul)
was still dying :( . I've never been in there before but I couldn't believe how huge and nice it was on the inside - you would never have guessed from the street.
I didn't take many pictures, but the food was really good. The best thing was probably the fried asparagus. There were a raffles, but we didn't win anything, even though Terry has two very long arms. They had a speech and an opening prayer which seemed out of place for a secular group like that.
Most of the people there were very old. If I didn't know what was going on I would have assume it was a dinner for someone who died. Our table had almost everyone that was under 45 there. 6 of us - Henry, Tori, Gaia and Seth sat with Terry and I.
(e:Paul)
was probably right when he said it would be good for networking, but I didn't have it in me that night. I did get inspired though, it felt likke everyone I talked to had started their own buisness or group or had some other idea they were kicking around. It makes me think almost anyone can try it - I just need to find a good idea and run with it.
Henry also told us about a new bike ride in Buffalo starting this Friday at 10pm, near Cafe 59. It's supposed to be a rolling bike party like in other cities, where everyone rides together to someone's house or some bars or anything fun. Like Critical Mass but without the angst or message.
Link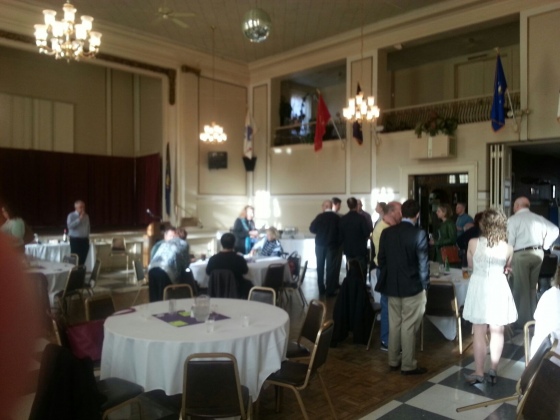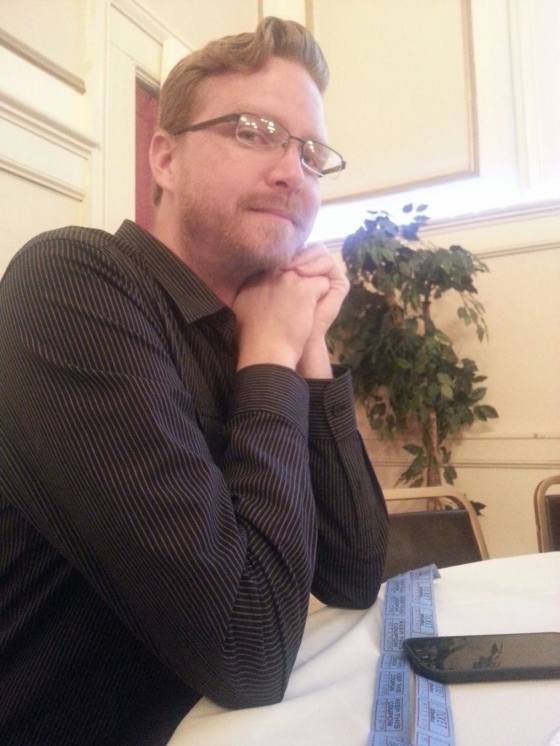 Permalink: Allentown_Association_dinner.html
Words: 285
Last Modified: 05/01/14 04:17
<-- Earlier Entries