Category: bus
12/12/08 06:01 - 27ºF - ID#47045
Google Maps Transit: Now in Buffalo!



Permalink: Google_Maps_Transit_Now_in_Buffalo_.html
Words: 9
Location: Buffalo, NY
Category: politics
12/10/08 09:00 - 26ºF - ID#47020
Yea for science!
Obama's pick to solve the energy crisis
- Andrew Leonard
"You should interview Steven Chu," the scientist at the Joint Genome Institute in Walnut Creek, Calif., told me. "He already has one Nobel Prize. He wants to get a second one for solving the energy crisis."
That was two years ago, and I sorely regret not following through and landing an interview with Chu, a physicist who has dedicated his post-Nobel Prize career to the development of alternative sources of energy. Because as Barack Obama's nominee for secretary of energy, Steven Chu is going to get a chance to make his dreams come true, with the full backing of the U.S. government.



Permalink: Yea_for_science_.html
Words: 121
Location: Buffalo, NY
Category: pets
12/07/08 11:38 - 11ºF - ID#46995
Ridiculous puppy cuteness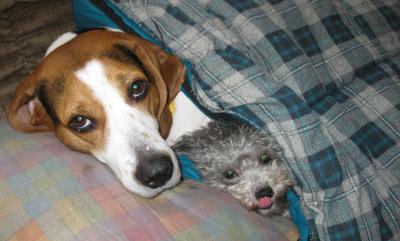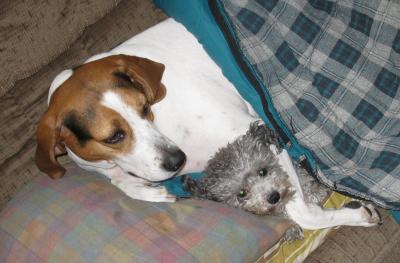 Permalink: Ridiculous_puppy_cuteness.html
Words: 4
Location: Buffalo, NY
Category: school
12/05/08 06:38 - 25ºF - ID#46977
Constitutional Law again
I had been waiting all semester to get to Bowers v. Hardwick

Lawrence v. Texas

and Romer v. Evans

they were scheduled for Thursday, an extra-long class, 8:30 - 11:50. I had even stayed up late to make sure I had read and thought about the opinions. (LvT reminded me of the Molly Ivins gem I posted Wed night.

) which I also posted as my facebook status so the law school kids would see it ;-) Got to class and the prof was
speeding
thru the decisions... and at 10:45 he says, okay, we're done, good luck on the exam! I was like WTF??? 10 min for Romer??? I feel totally ripped off. Someone told him we don't get out of class until 11:50 and he said, oh... do you want to come back and talk about it more? I was practically yelling from my perch at the top of the room Yes Yes Yes! and my classmates were glaring at me. We got back from break and we didn't even go back to the cases, we just talked about the exam. What a disappointment.
I'm planning to go to the Friday, Dec. 12 8pm show of Dreaming out of the Digital by the Stripteasers & Alt Performance Group... Tickets available at

Wanna come with me? :-)


Permalink: Constitutional_Law_again.html
Words: 249
Location: Buffalo, NY
12/04/08 04:21 - 32ºF - ID#46956
cool show... wanna go?


Permalink: cool_show_wanna_go_.html
Words: 13
Location: Buffalo, NY
12/04/08 12:49 - 43ºF - ID#46946
While reading Lawrence v. Texas...
In Lawrence v. Texas (2003) the supreme court overturned Bowers v. Hardwick (1986) and said states can't prohibit consenting adults from enjoying sodomy. It reminded me of this excellent little clip by Molly Ivins
Texas' anti-sex-toy law was overturned Feb. 14, 2008, but they're still illegal in Alabama!

Enjoy!


Permalink: While_reading_Lawrence_v_Texas_.html
Words: 60
Location: Buffalo, NY
Category: news
12/03/08 09:51 - 44ºF - ID#46942
Two good articles
About NYS delays on gay marriage legislation:

Stuff that Nader talked about during dinner regarding the impending government bailout of the automakers shows up in this really good article from Robert Weismann:

And bummer news: my tuition for spring semester, as an out-of-state law student, just increased by $2,130 :-(


Permalink: Two_good_articles.html
Words: 66
Location: Buffalo, NY
Category: concerts
11/28/08 09:33 - 34ºF - ID#46877
ani concert tomorrow?
somehow i've managed not to find anyone to go with me to the ani difranco concert at babeville tomorrow night... anyone interested?

doors open at 7pm and i think it's general admission so we might need to be there earlier than that (anyone know?)

use that little envelope icon below my avatar to send me an email.

:-)

(this is my 50th post!!)



Permalink: ani_concert_tomorrow_.html
Words: 63
Location: Buffalo, NY
Category: museum
11/24/08 08:58 - 36ºF - ID#46823
Your New Burchfield Penney!
In honor of avoiding my paper that's due tomorrow, and to get closer to my 50-post milestone, I'm posting pix from the
Burchfield Penney
opening. (Caution: noisy opening on website.)
A recreation of Charles Burchfield's studio: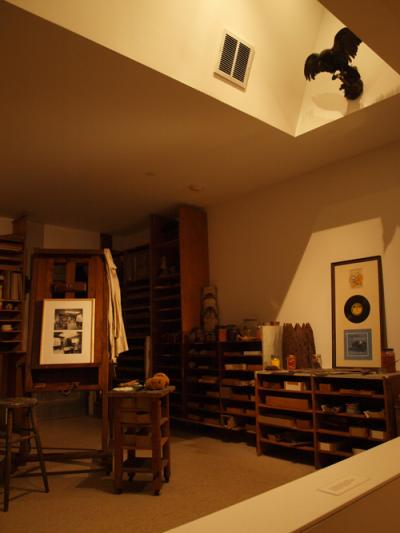 "Unhinged" by Ani Hoover

"Executive Hopscotch"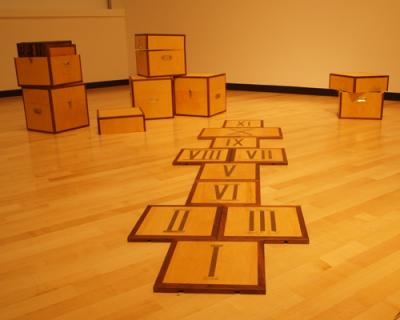 "#13 Coming Wave" by Jozef Bajus (made out of tarpaper!!!)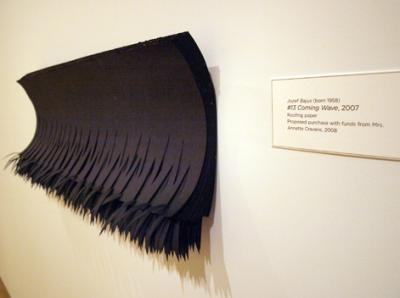 "Underground Railroad"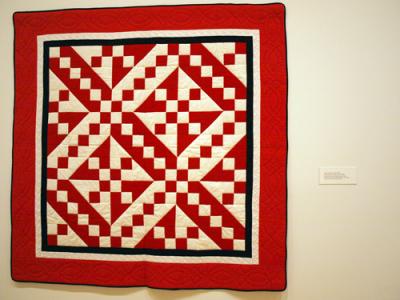 neat yellow sculpture detail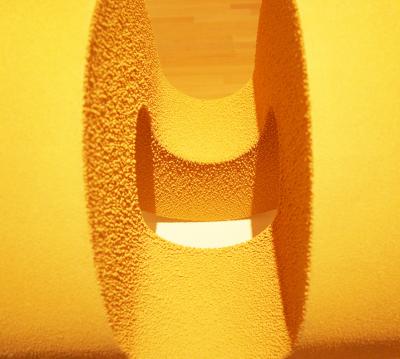 Closed exhibit, Flower Blobs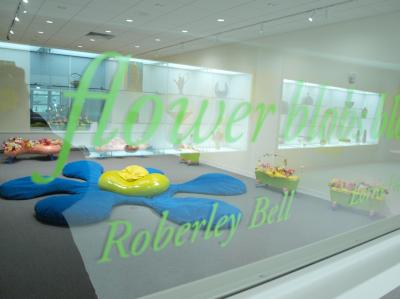 Pretty flowers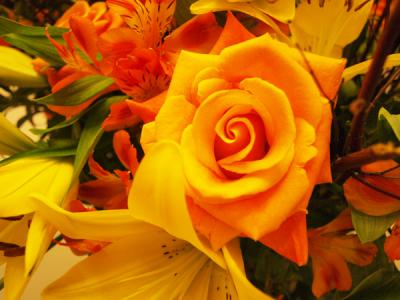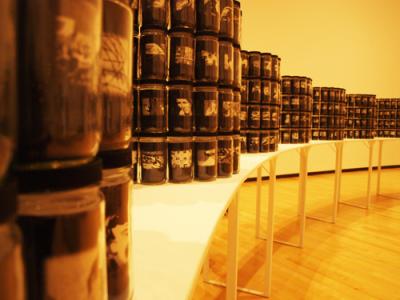 Large gallery space. There are lots of neat spaces.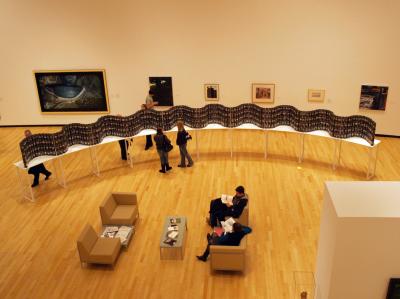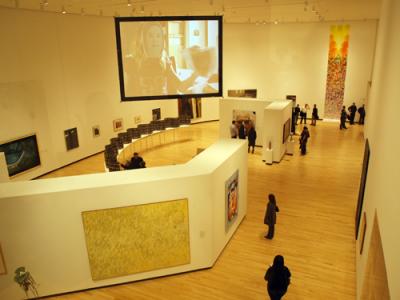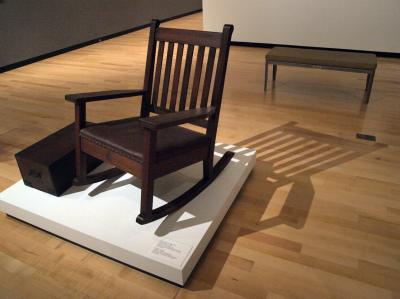 The sculpture to the right of the guitarist from
A Hotel Nourishing
is called "Planetary Array" by Marvin Bjurlin.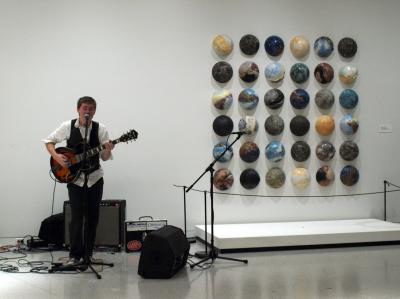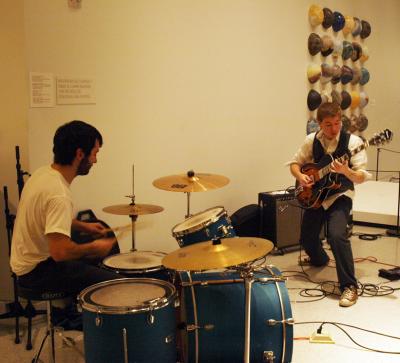 Another view of "Planetary Array"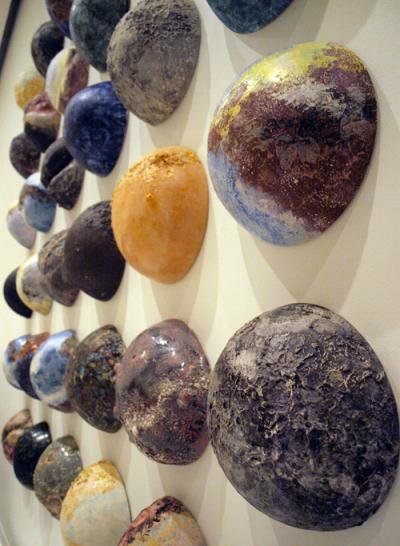 There were performances in three spaces - the auditorium, the project space and the reception area. This is the project space.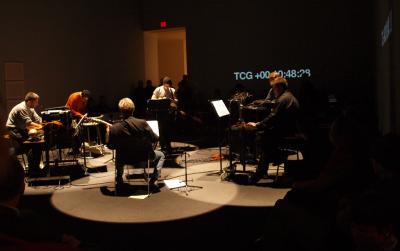 Look up!
Admission prices & times (5 and under free, 6-18 & seniors $4, adults $7. Buff State faculty, staff, students free.)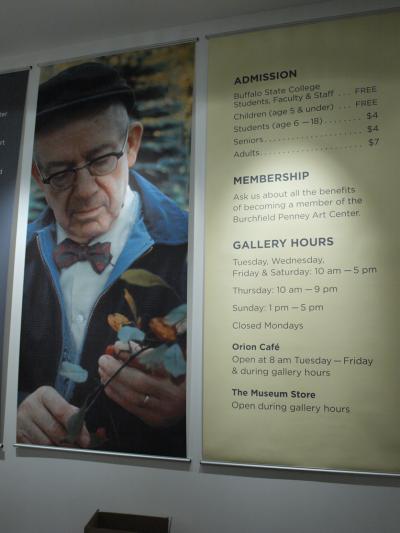 Permalink: Your_New_Burchfield_Penney_.html
Words: 174
Location: Buffalo, NY
Category: museum
11/23/08 01:47 - 24ºF - ID#46803

burchfield-penny opening
I'm at the birchfield-penney opening watching A Hotel Nourishing (look 'em up on myspace). not bad at all... the drummer mentioned this gig to me when he was working the wegmans checkout line. I have video but can't figure out proper mobile posting so you'll have to wait till I get home and post pix and vid.



Permalink: burchfield_penny_opening.html
Words: 57
Location: Buffalo, NY
<-- Earlier Entries