Category: family
05/12/14 12:05 - ID#58972
Mother's Day dinner
After rushing back from camping we had to get ready to have Mother's Day dinner. We thought we just had to clean the messy house, but it turns out, the power in the kitchen and living room went out. Candlelight dinner anyone?
Luckily
(e:mike)
had bought the food and prepared some of it at his house, and we still had a stove. He definitely saved the day on that one.
(e:Paul)
and Mike's parents came, and so did mine, plus Emily and Daniel. Everyone seemed to have a really good time. I was really happy at how great our familes got along.
Random snacks on the fox tray
Grillmeister Paul
A bunch of delicious food - I'll have to take everyone's word on the steak, shrimp and chicken though.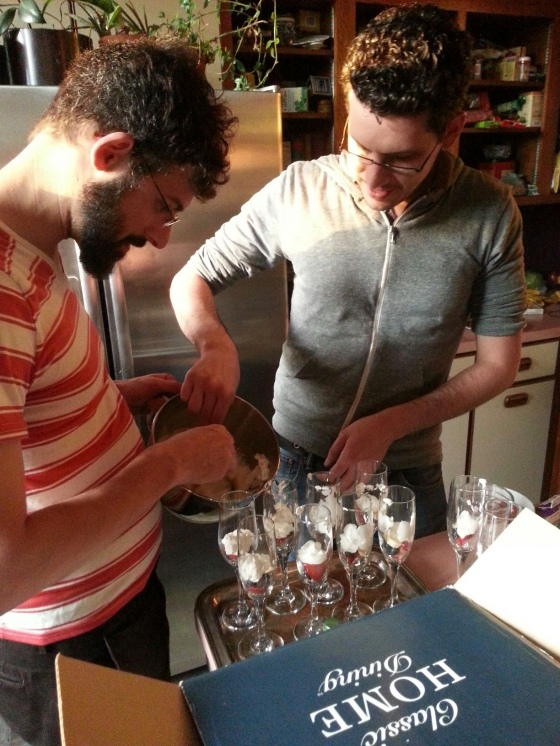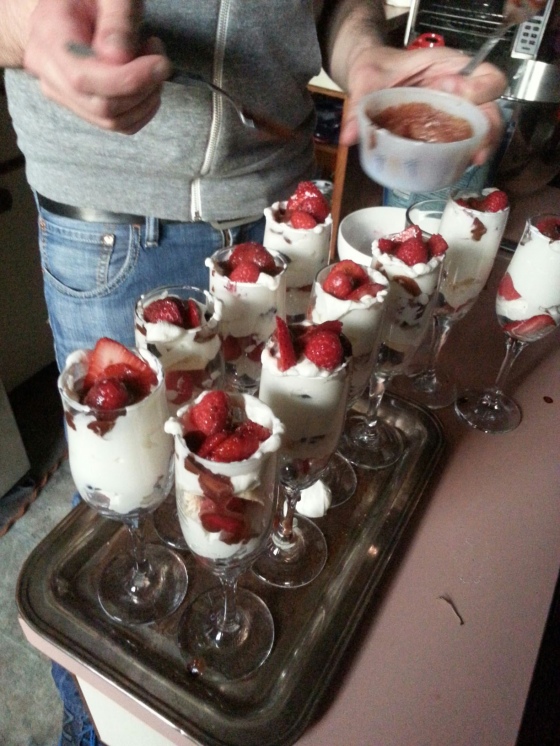 Fancy fruit and whipped cream and chocolate drizz in champagne flutes. Presentation is always important
Dessert time
Then it was dark and we couldn't really clean in a candlelit kitchen. We watched Teen Wolf before passing out super early.


Permalink: Mother_s_Day_dinner.html
Words: 195
Location: Buffalo, NY
Last Modified: 05/12/14 01:01
Category: camping
05/12/14 12:04 - ID#58971
Spring camping at Brushwood
Yesterday we got back from the first camping trip of the year at Brushwood. Absolutely good times.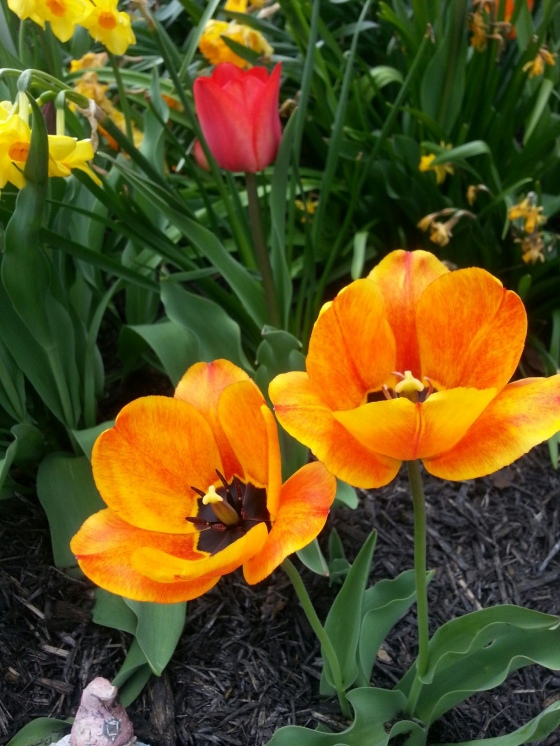 It was such an amazing day - an emergency called camping came up so I had to leave work early. We met
(e:heidi)
and
(e:dianne)
down at the campsite.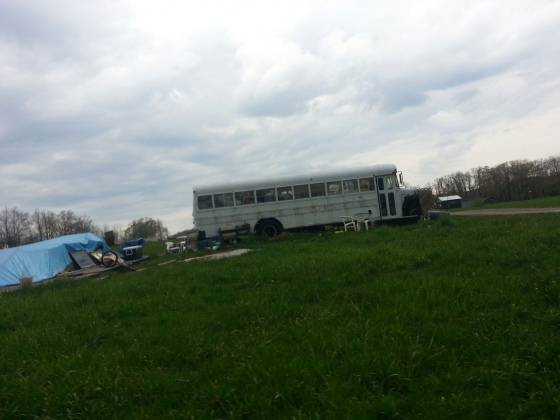 The Brushwood hoarder bus
(e:paul,58969)
wonders about
Someone hung tampons in the tree - glad they weren't used
The first night it rained most of the time.
(e:paul)
was not a happy camper.
But he did have a gaybrella to keep himself from melting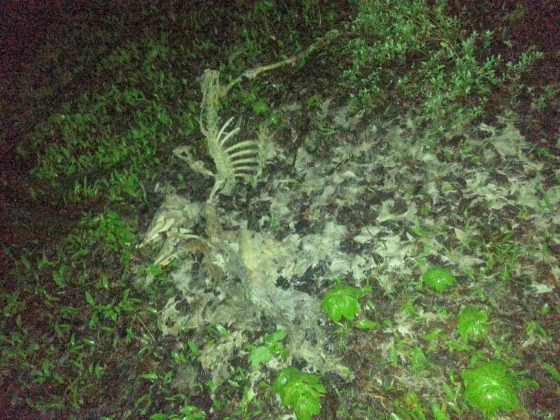 Dead things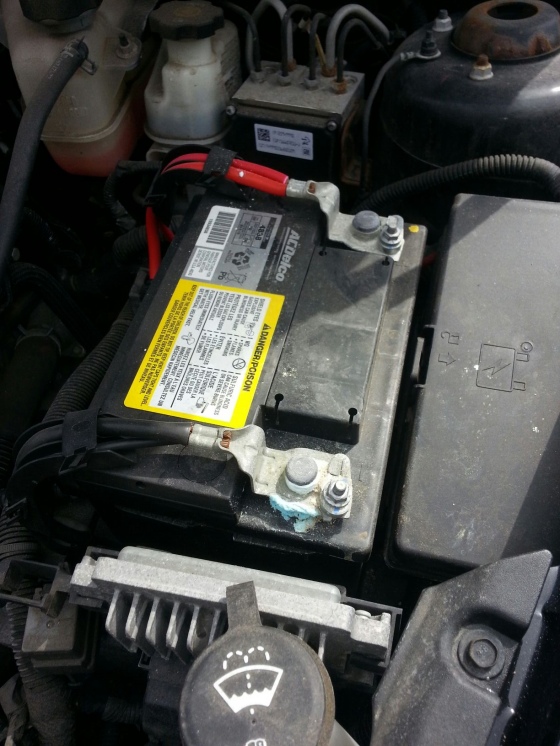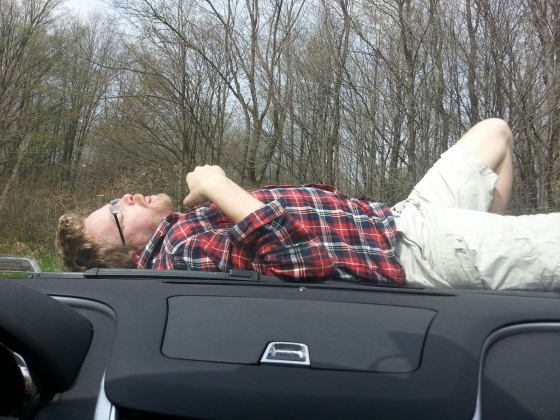 On top of it the rain, the car died after the first night because things kept running off the battery. Just enough battery was left to hit
(e:terry)
.
The next day was a lot nicer weatherwise. Paul and I even got to go nackt. Not long enough to burn though.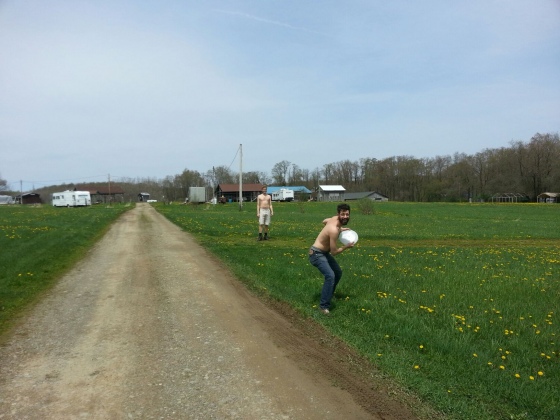 Lots of frisbee and balls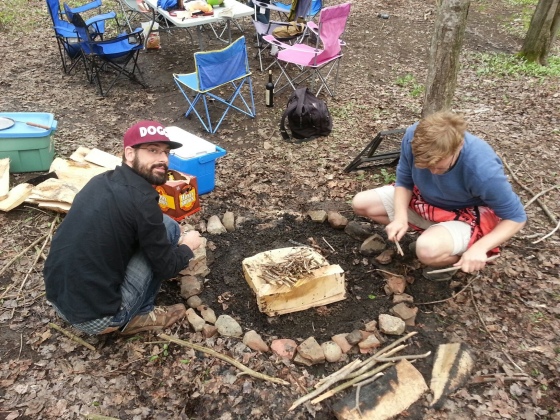 The patent-pending firebuilding method from Paul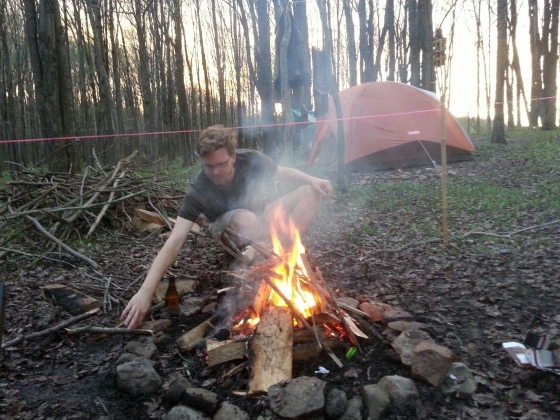 Schoen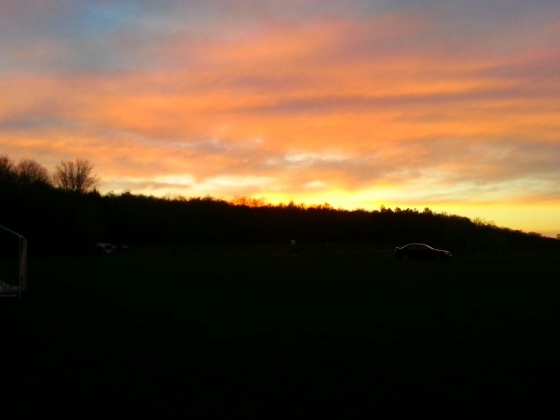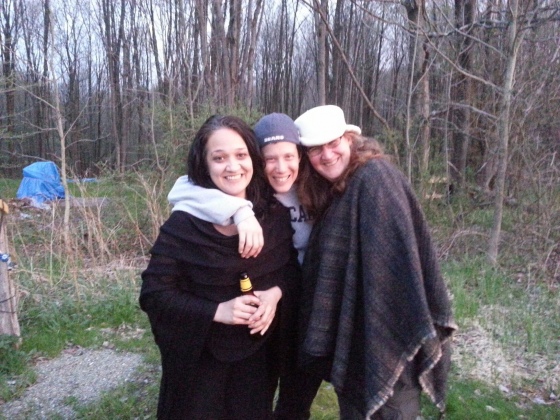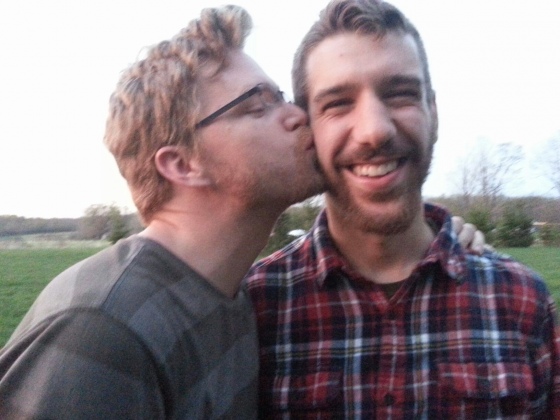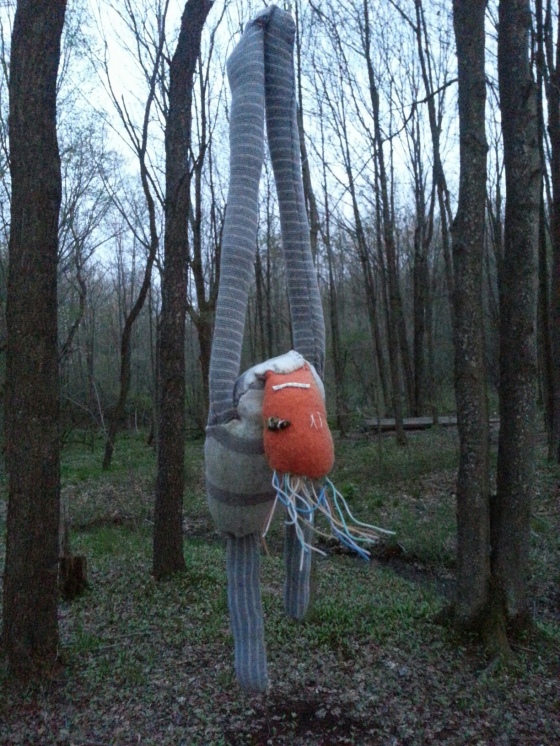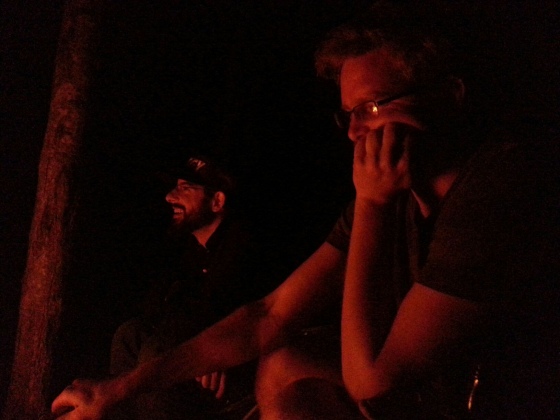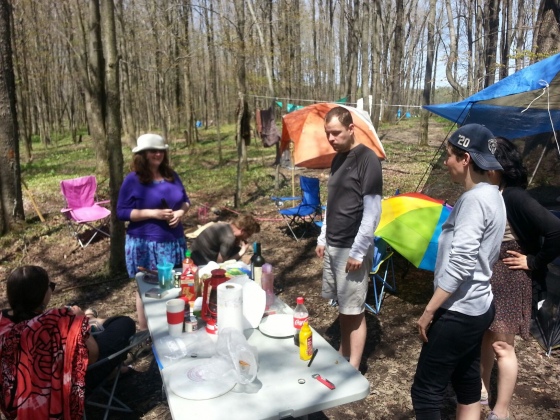 Terry made us a nice eggy breakfast Sunday morning. Then we packed up to head home and get ready for mother's day.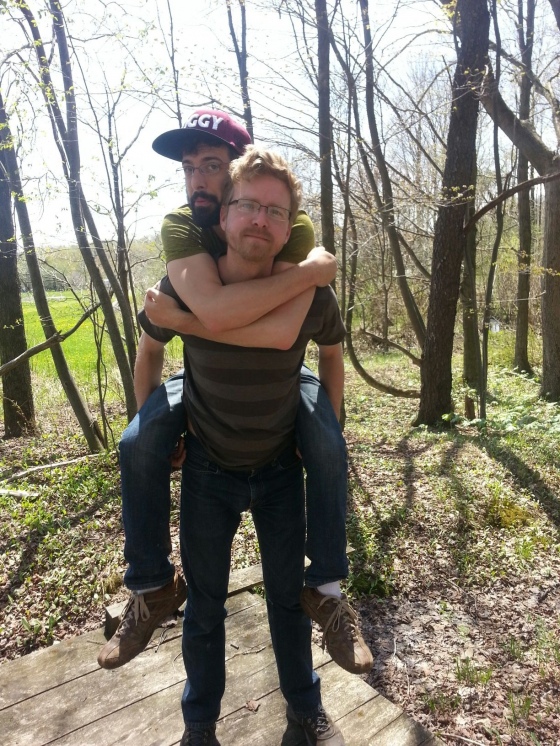 Kyoot.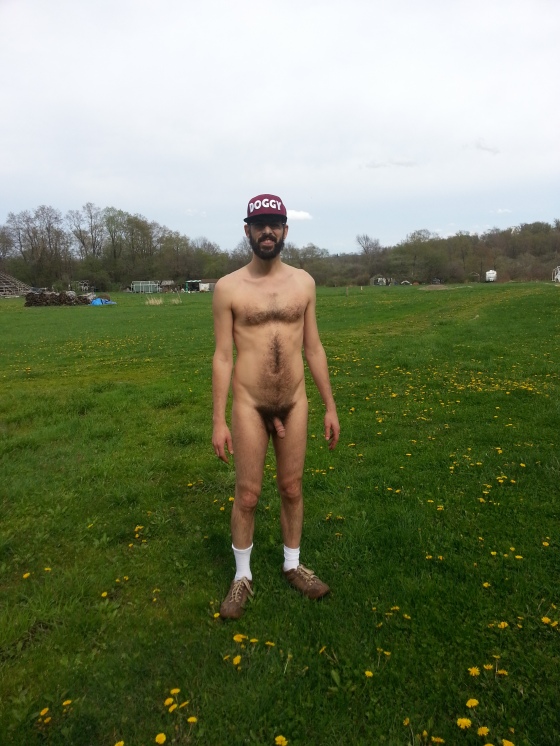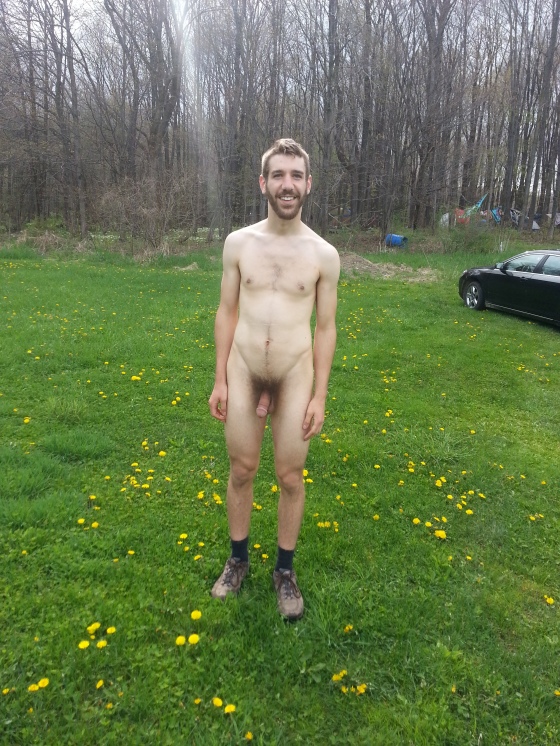 Permalink: Spring_camping_at_Brushwood.html
Words: 250
Location: Buffalo, NY
Last Modified: 05/15/14 11:46
Category: bikes
05/12/14 11:59 - ID#58970
Tonawanda Ride
Thursday, it was absolutely amazing out. So after
(e:terry)
got home, we went over to meet up with
(e:yesthatcasey)
for a night ride. We explored Black Rock a little before getting on to the Riverwalk, which we took up to Tonawanda(city). It felt like a summer ride. Thankfully it was night so we missed most of the toxic air pollution along the river.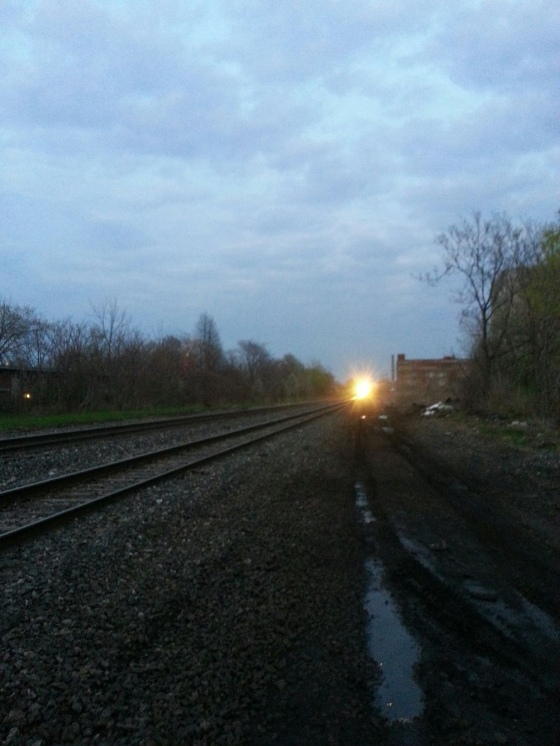 Almost derailed the train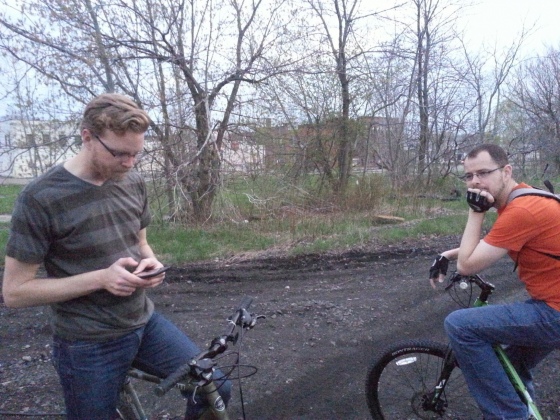 On the way back we rode through Ken-Ton.
(e:paul)
had gotten home from a work party and was with his friend Tim. Total betrunken aber spass.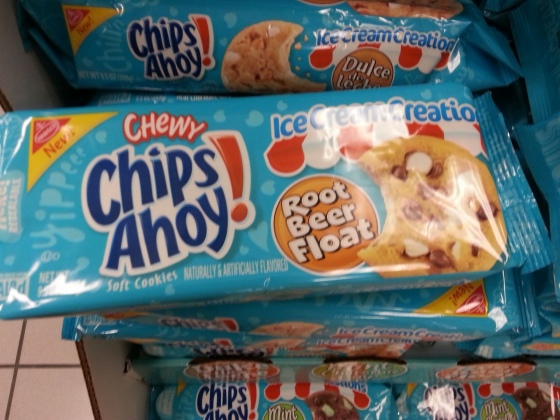 We stopped at this Tops before we turned around. These cookies are a thing.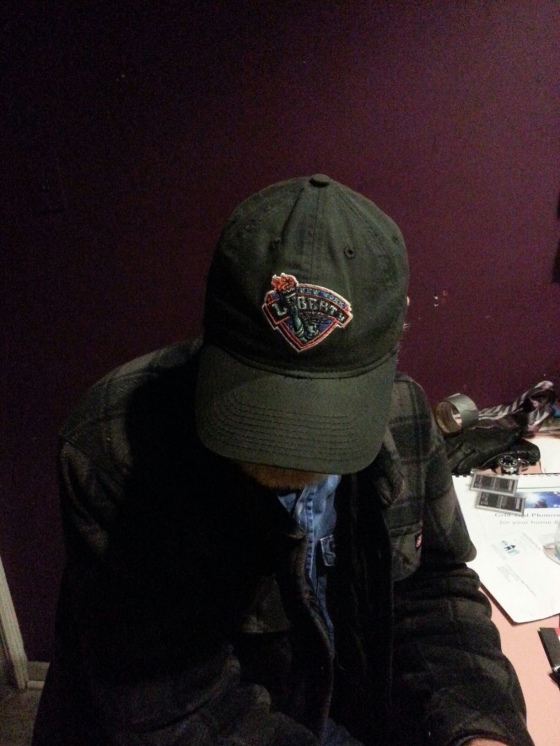 Tim was wearing a New York Liberty WNBA hat (not sure why I know of any WNBA teams)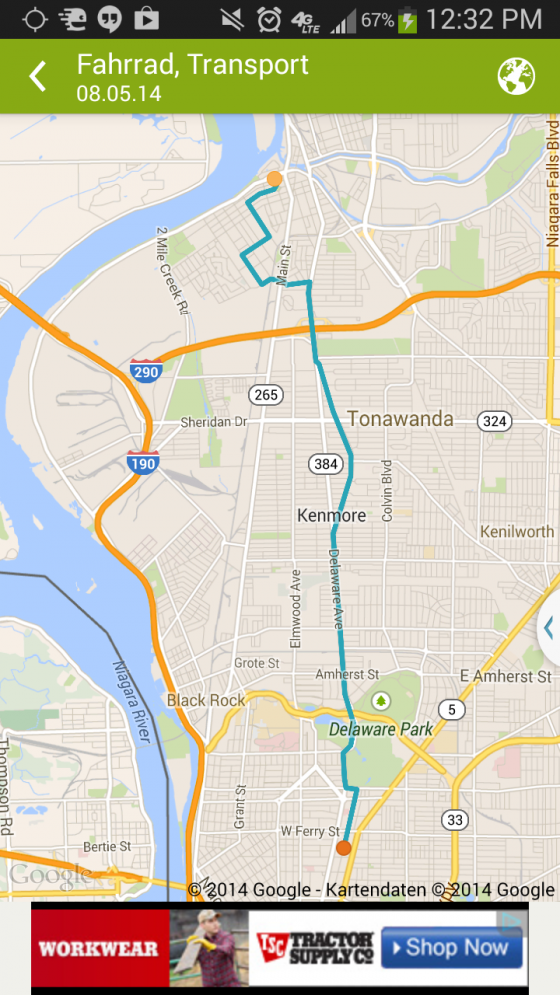 Permalink: Tonawanda_Ride.html
Words: 144
Location: Buffalo, NY
Last Modified: 05/12/14 03:03
Category: bikes
05/08/14 12:24 - ID#58962
Rick's Wednesday ride
Wednesday I got home and went on Rick's Cycle shop new weekly ride. (6pm in front of Rick's). Not many people showed up at first, but by 6:30 we had a decent number of riders plus Rick's employees.
The ride was a super relaxed pace - we averaged about 12mph. Everyone riding was super streberhaft but that made it awesome. One guy I run into on my commute a lot was there - Dave. He wears two cameras on top of his helmet, plus has four times as many lights as I do. Out-nerded.
We rode up around to the cemetary, through the park to the riverwalk, and down to Canalside, where a Rick's employee bought everyone a round of beer at the Liberty Hound. After I rode back and hungout while
(e:terry)
,
(e:heidi)
,
(e:dianne)
and Meredith gamed.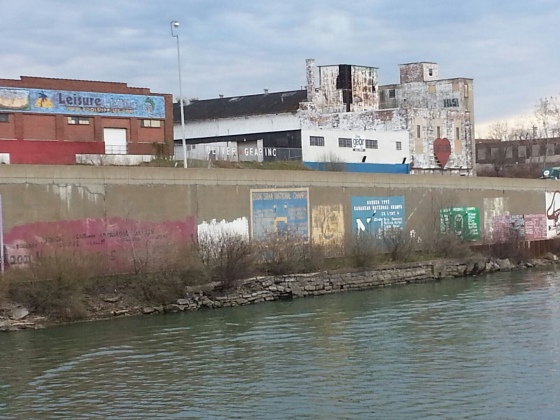 My name is on that wall!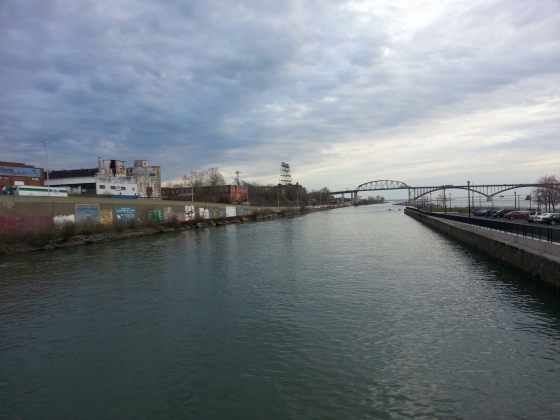 The mixture of a nice day, smell of the canal and sewage treatment plant almost made me want to row again.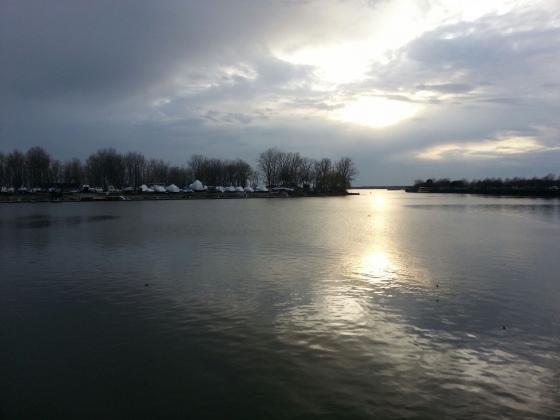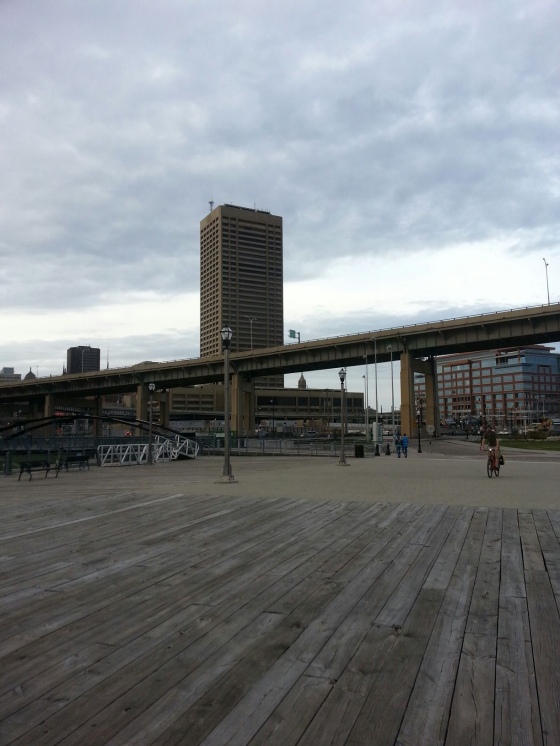 Permalink: Rick_s_Wednesday_ride.html
Words: 184
Location: Buffalo, NY
Last Modified: 05/12/14 12:16
Category: holiday
05/06/14 12:55 - ID#58960

Cinco de Mayo
(e:terry)
wanted to get nachoes to celebrate Cinco de Mayo. I knew it was going to be crazy out, but the hostess at Don Tequila told us about the 2 hour wait there like we would actually wait around for it.
Instead we had cheesy nachoes and salsa at home. Just as good.
(e:paul)
even got home earlyish.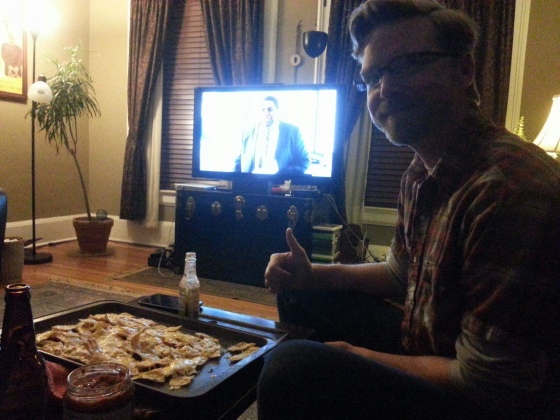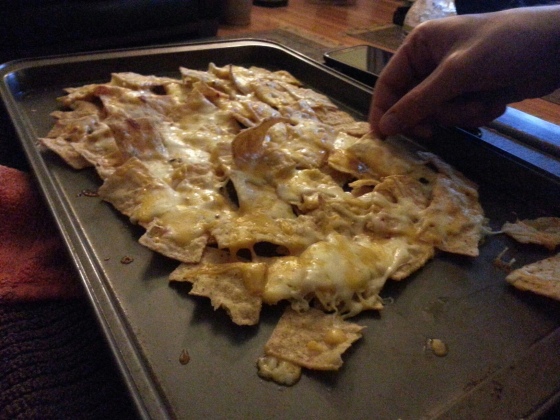 Permalink: Cinco_de_Mayo.html
Words: 66
Location: Buffalo, NY
Last Modified: 05/06/14 02:24
Category: music
05/05/14 12:43 - ID#58959

Erica at the Move the Pole fest
After the tour, we headed out to
(e:czarkasm)
's show at the Library/Forvm out on Maple Road.
(e:terry)
and I went to pick up
(e:yesthatcasey)
and got there a little late, but from what I was able to hear she absolutely rocked. The venue was good, but obviously far away. I got a little day drunk on an empty stomach. I couldn't really get any pictures.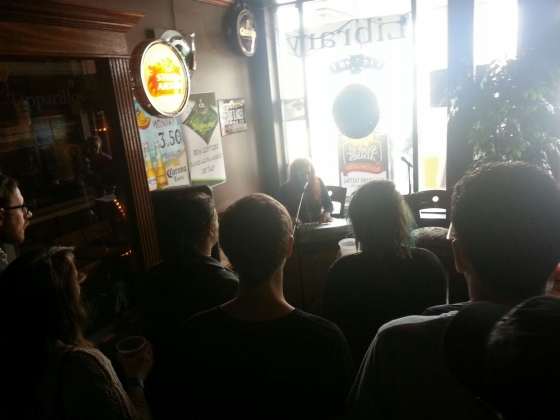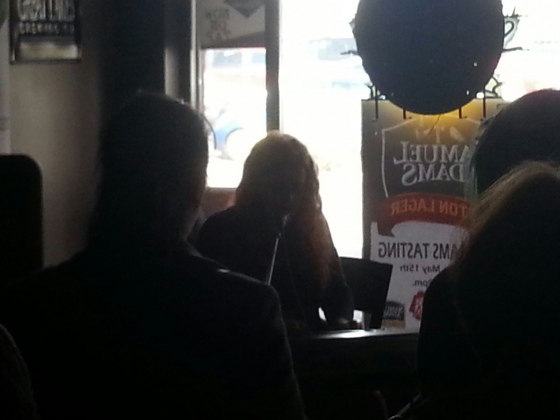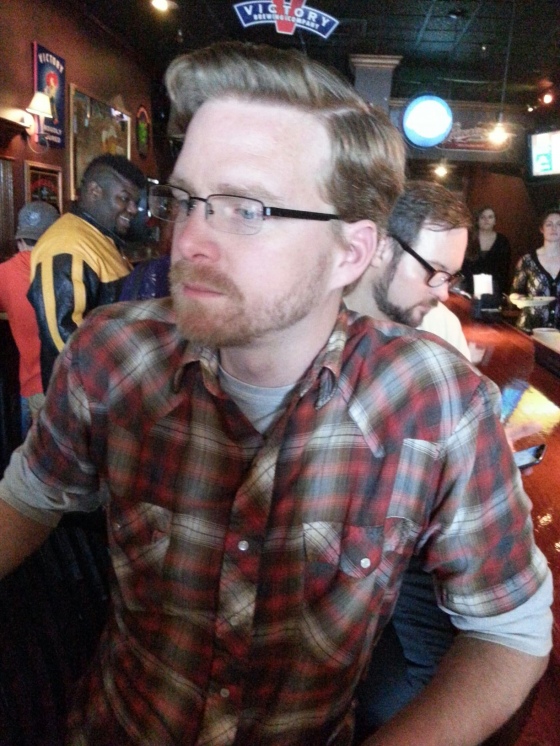 On the way home we stopped at Saigon Bankok with Tanya and Erica, then the coop for some snacks and almonds. We saw Cameron and Eric. I don't know what is up with Cameron but it feels like he doesn't want to hang out ever again.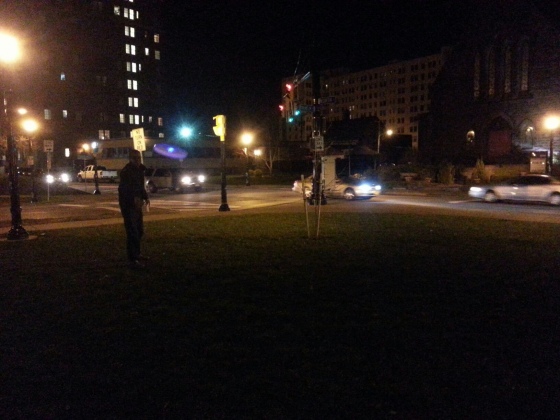 At home
(e:paul)
took a nap. Casey and Terry Straße gekämpft before we went out to play Frisbee.


Permalink: Erica_at_the_Move_the_Pole_fest.html
Words: 143
Location: Buffalo, NY
Last Modified: 05/07/14 10:08
Category: linwood
05/05/14 12:41 - ID#58958

Linwood Home Tour
Yesterday
(e:paul)
,
(e:terry)
and I went on the Linwood home tour with Paul's mom.
The concept seems kind of ridiculous - people pay $25 to go see a bunch of rich people's homes, and the money makes their already nice neighborhood even nicer. Terry made a point that it wasn't always so nice and that having nice neighborhoods in Buffalo makes it nicer for everyone. I guess the point is moot because I haven't been volunteering or improving Buffalo lately, so what can I say?
The houses themselves almost all beautiful. The only one I thought was pointless was an apartment building at the corner of summer that had nothing to look at inside. We also didn't see the Summer Street cat clinic which was on tour.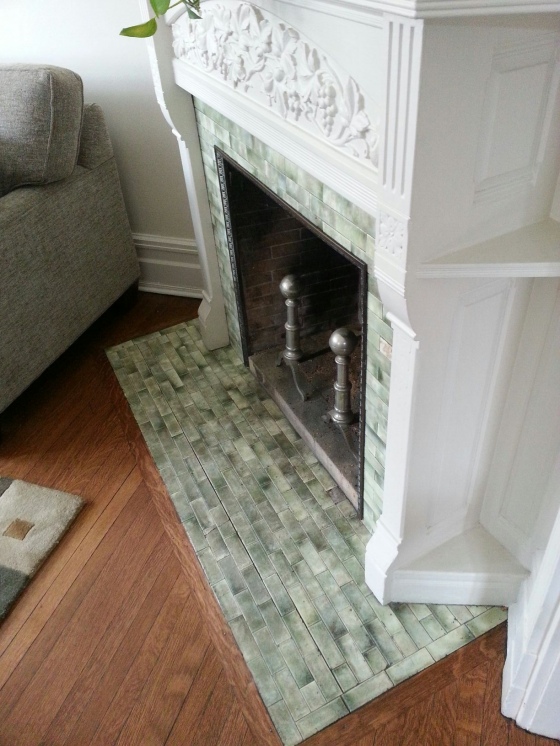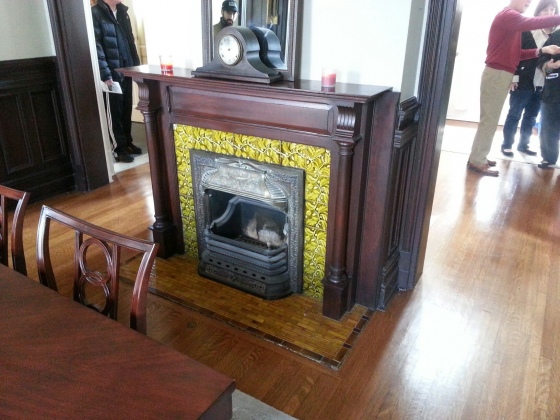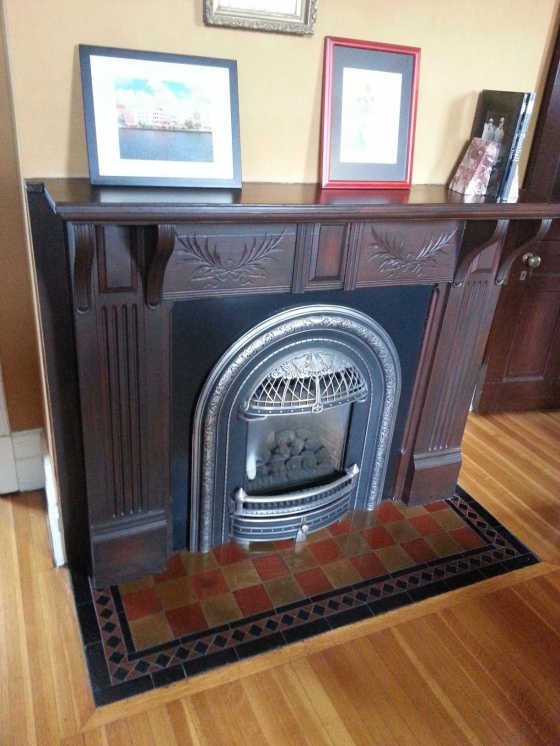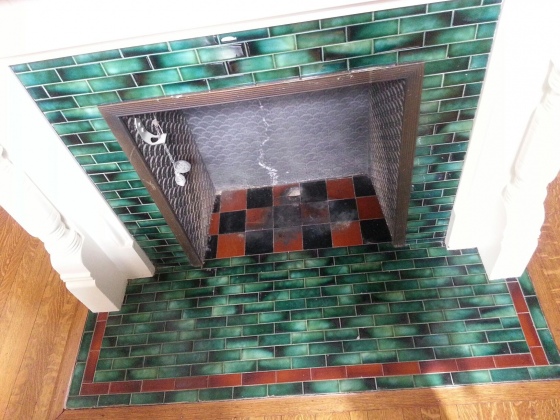 This one house had a fireplace in nearly every room. The tile was pretty similar to ours, but just glazed differently. Their heating vents also had the same design. I don't have the book right now so I don't know the house number.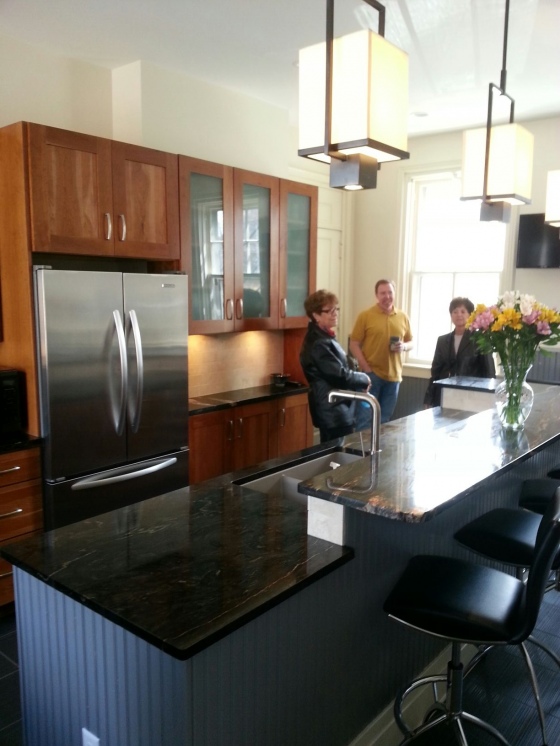 The rest of the house was really modern - the owner is an architect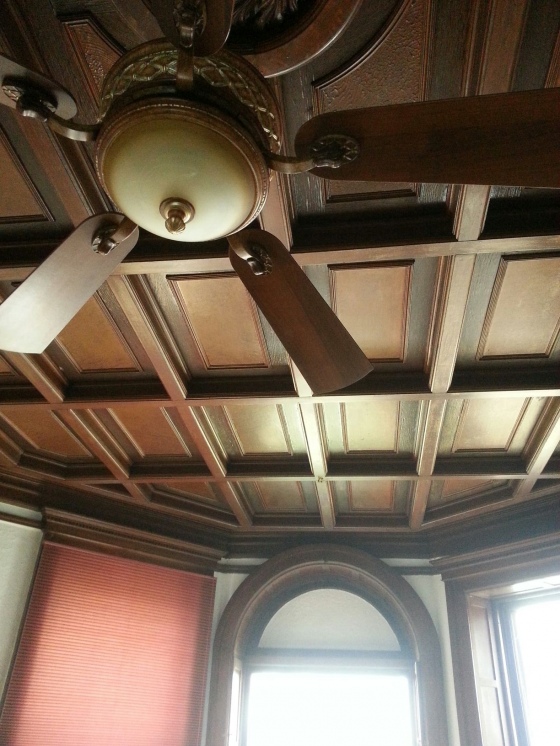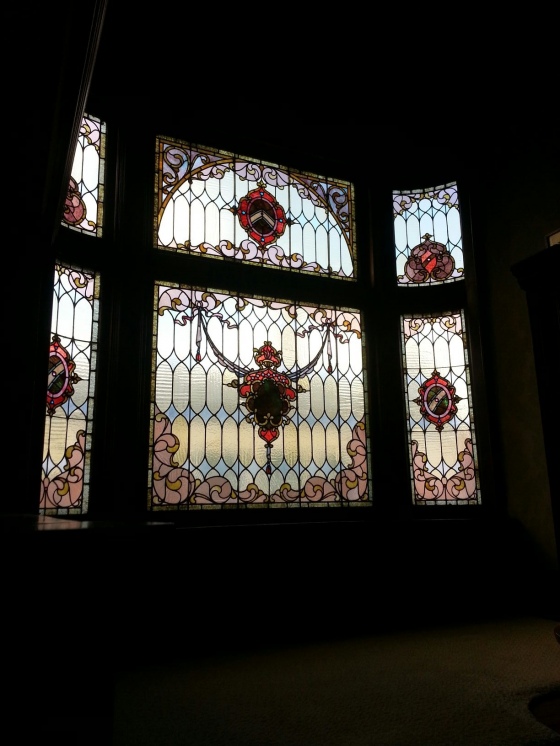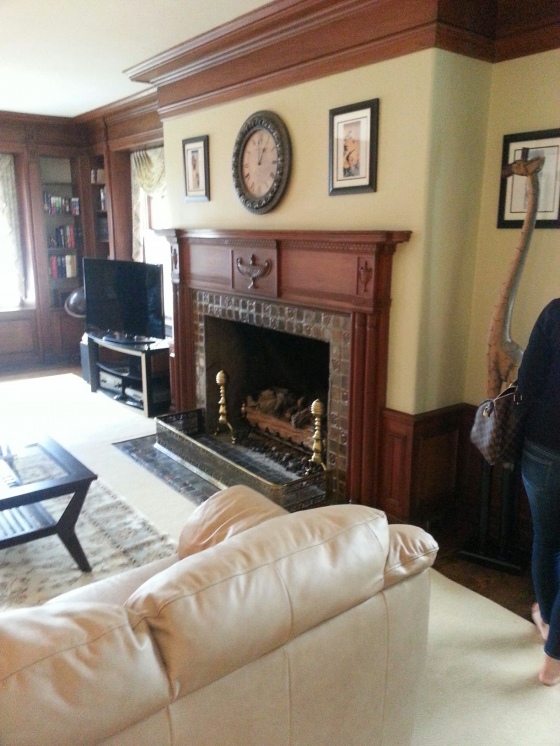 This house had so much hardwood everywhere. It's crazy to think that Buffalo had so much at one time people could cover everything in it.
Someone was putting on a puppet show? We stopped to eat at the Black Market food truck - I had a tofu Bahn Mi.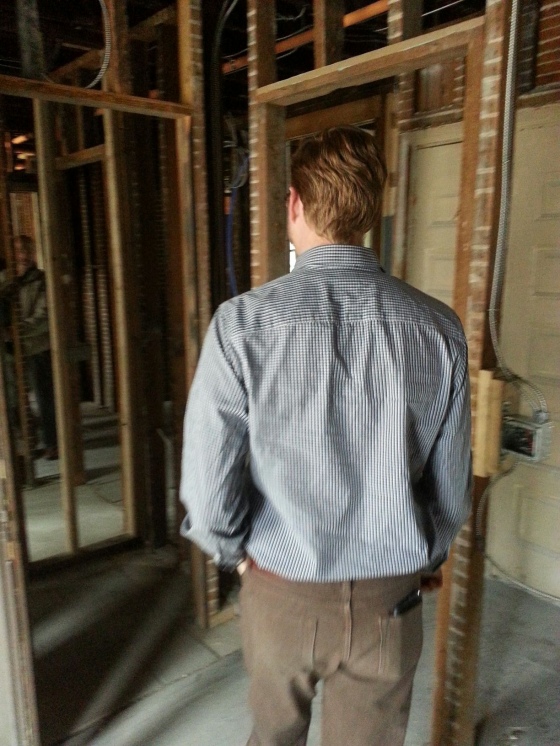 A former rooming house that was completely gutted for remodeling. Anything left over from before was in really rough shape. The house was huge, apparently there will be 5 apartments when it's finished.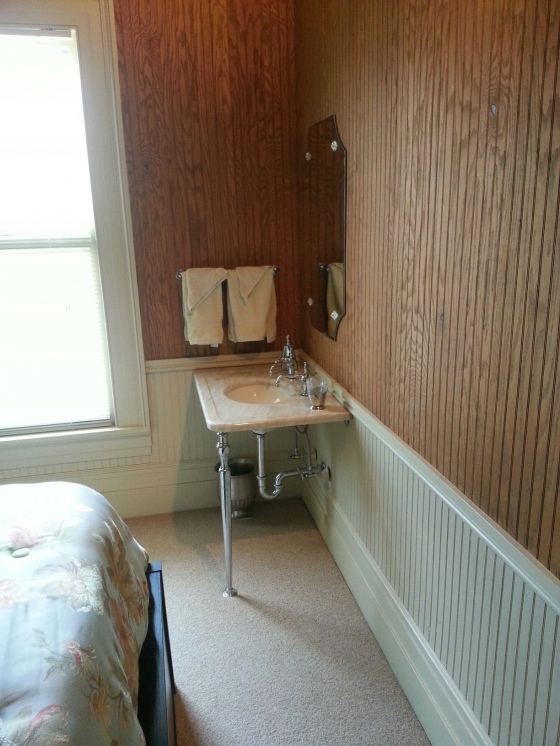 Sink in a bedroom. Antique champagne or pee bucket underneath?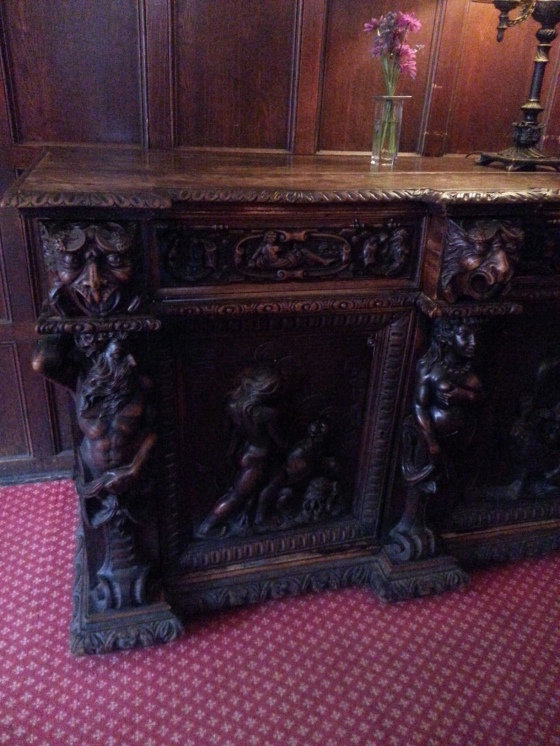 Saturn Club was cool on the inside. It has a weird medieval theme. I don't understand why you pay a club to drink with other wealthy people.


Permalink: Linwood_Home_Tour.html
Words: 322
Location: Buffalo, NY
Last Modified: 05/06/14 02:25
Category: house
05/04/14 12:47 - ID#58956

Make sure your wood smells good
(e:Paul)
wanted to replace the shelves in the bedroom closet with ones that smelled less. We went to Home Depot and Lenco to check out different wood sizes and prices. But first they had to pas his smell test.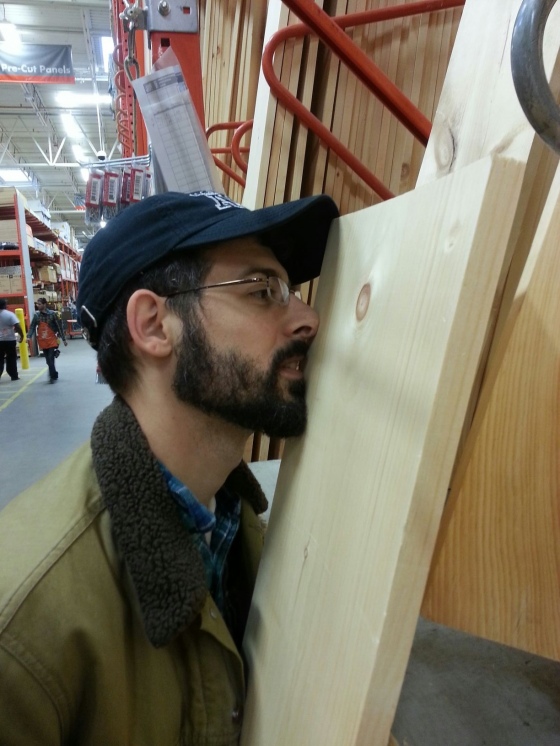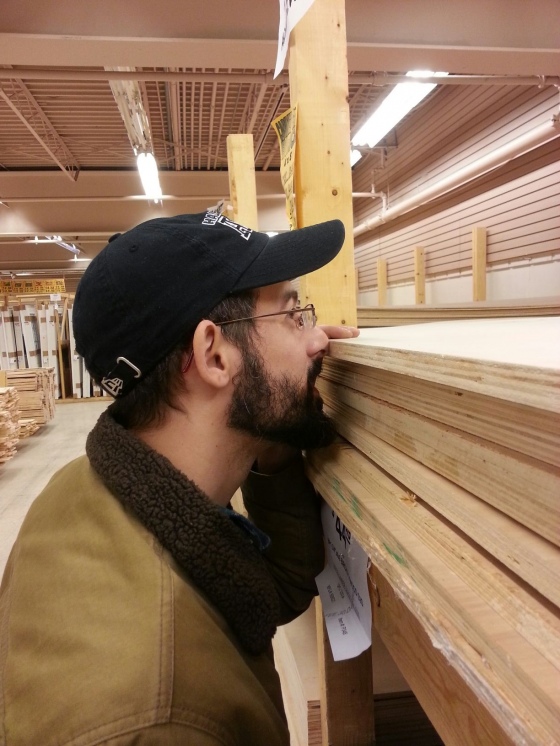 Permalink: Make_sure_your_wood_smells_good.html
Words: 43
Location: Buffalo, NY
Last Modified: 05/04/14 12:47
Category: shopping
05/02/14 12:29 - ID#58950
Wipe your paws
(e:Paul)
found this at target and wanted it - it was so cute - but it was made of shredded PVC and smelled absolutely toxic. We discovered if you strategically cover the bone it works perfectly for pride too.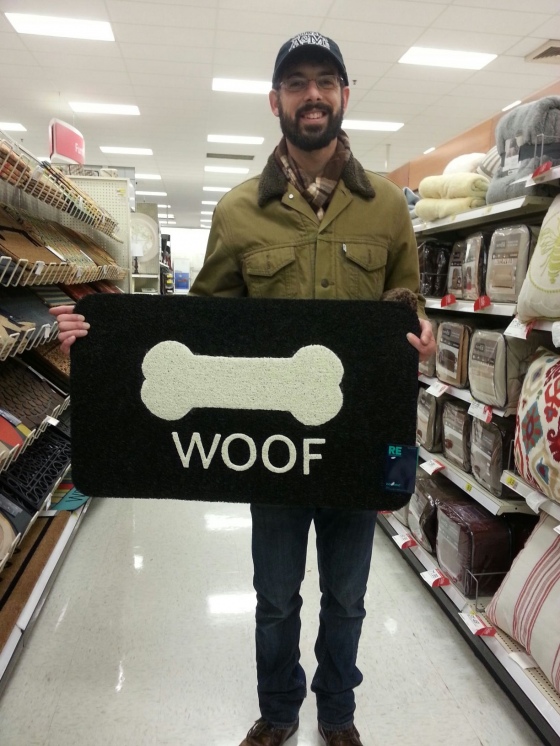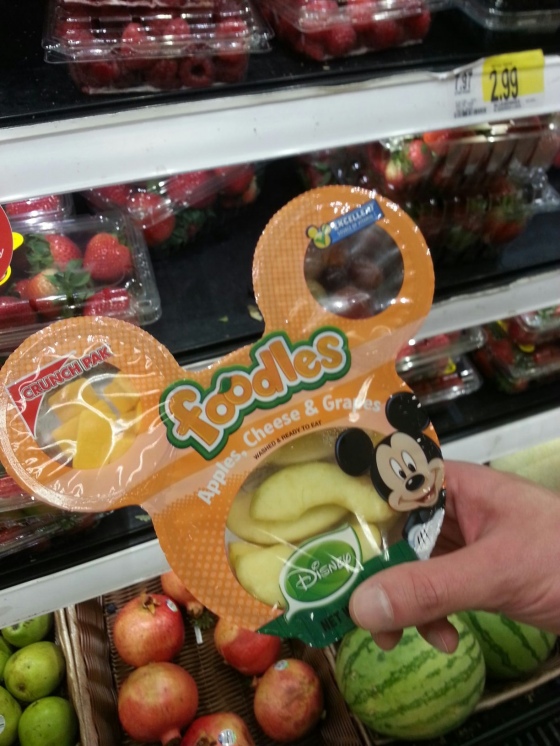 Who is so bouge they need to buy their kids precut apples, cheese and grapes separately packaged in Disney branded plastic?


Permalink: Wipe_your_paws.html
Words: 63
Location: Buffalo, NY
Last Modified: 05/02/14 12:44
Category: food
05/02/14 12:27 - ID#58949
Kuni's
(e:terry)
finally got sick yesterday :( Poor guy. I thought he dodged it through beer disinfection but I guess it caught up.
(e:Paul)
finally felt better, so we went out to Kuni's for dinner. I got the vegetarian combo again, Paul the sashimi, and we split the Japanese slaw and fried tofu. Everything was so good.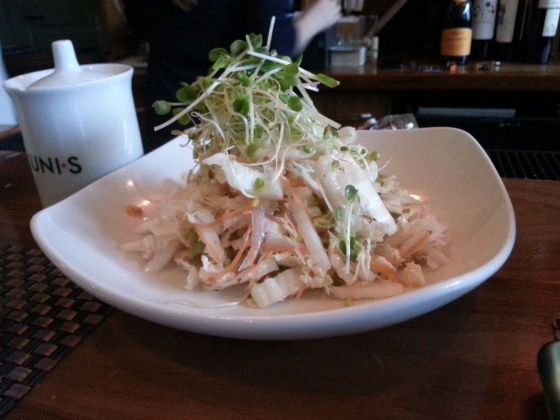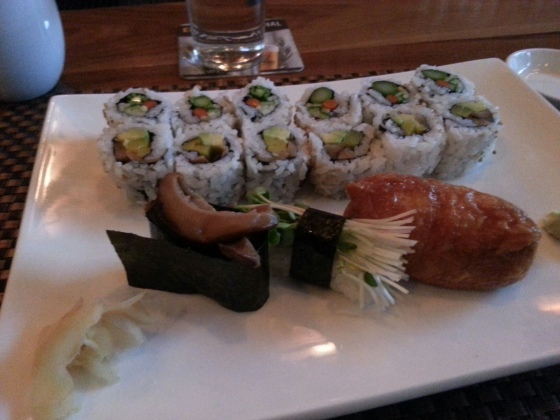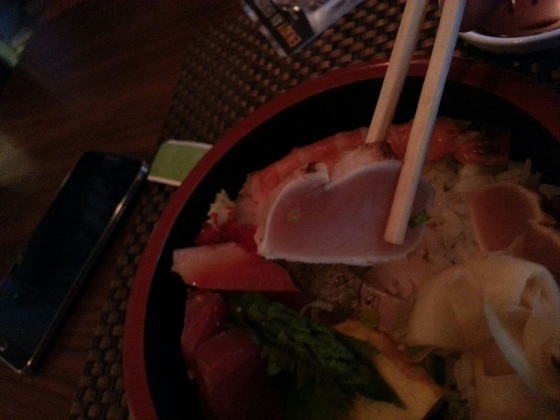 Paul's fish was cut into the shape of a rabbit


Permalink: Kuni_s.html
Words: 71
Location: Buffalo, NY
Last Modified: 05/02/14 12:47
<-- Earlier Entries