06/24/07 10:34 - 76ºF - ID#39798
hey guess what
hey guess what just listen to my usersound
ESPN Classic has been playing American Gladiator lately.
HOLYSHIT this is the best show. Why did I not understand this 17 years ago?
The goddamn amazingness of it all flips my lid.
The concept of the show is that people, wearing spandex and teeth guards, are pitted against a stable of professional Gladiators.
The professional Gladiators' job is to lift weights and shoot nerf guns and water hoses and run around in giant steel cages.
If I had a Tivo it would be set to record Jeopardy and American Gladiators and thats the only TV I would watch.
In closing, this this is a partial list of American Gladiator names

Zap
Nitro
Blaze
Laser
Diamond
Ice
Thunder
Turbo
Storm


Permalink: hey_guess_what.html
Words: 128
<-- Earlier Entries
Author Info
kookcity2000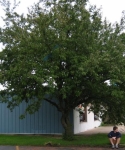 Date Cloud
Category Cloud
User must have at least 3 blogs in one category for categories list to show.
More Entries
My Fav Posts
This user has zero favorite blogs selected ;(