08/09/10 01:00 - 71.ºF - ID#52402
fast
fast post to say it was super fun seeing everyone on thursday
everyone incuded:
(e:paul)
,
(e:terry)
,
(e:matthew)
,
(e:mike)
,
(e:libertad)
;
(e:heidi)
,
(e:keitht)
,
(e:et)
cetera
also the (piz)Za @ the 24 afterwards was super HeavenSent and I prob owe somebody big-time for it.
I miss you all & buffalo not like pining away from here but when I'm there I love it so much. It was good stuff


Permalink: fast.html
Words: 72
Last Modified: 08/09/10 01:02
<-- Earlier Entries
Author Info
kookcity2000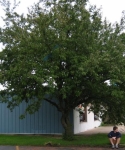 Date Cloud
Category Cloud
User must have at least 3 blogs in one category for categories list to show.
More Entries
My Fav Posts
This user has zero favorite blogs selected ;(