07/04/07 11:16 - 64ºF - ID#39910
4th
I was going to write something about "America," maybe political or cultural but I just realized how feeble that would be.
Instead: Speak Softly and Carry a Big Stick.


Permalink: 4th.html
Words: 31
<-- Earlier Entries
Author Info
kookcity2000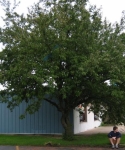 Date Cloud
Category Cloud
User must have at least 3 blogs in one category for categories list to show.
More Entries
My Fav Posts
This user has zero favorite blogs selected ;(