Category: fantastic
03/27/06 11:05 - 33ºF - ID#25098
Hi, I'm new
Hi, I'm new: let me explain why I'm here.

After I lost a job in Novemeber, I got a really easy temp assignment at the 'Factory'. It was so easy that I was done (2) months ahead of schedule. Of course I didn't tell them that, and I alwasy looked busy. I spent my remaining days on the internet.

So I had ~40 hours a week to look at the internet, which led me to this fine establishment. The one-way nature of not having an account, and reading all the stuff here, made me feel like a creep. Too voyeuristic.

So here it is! An account!. I pledge to reduce my creep co-efficient by positing! Stuff! About me!

Oh yeah, the 'Factory' hired me. I guess they didn't know about all internet business.



Permalink: Hi_I_m_new.html
Words: 131
<-- Earlier Entries
Author Info
kookcity2000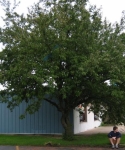 Date Cloud
Category Cloud
User must have at least 3 blogs in one category for categories list to show.
More Entries
My Fav Posts
This user has zero favorite blogs selected ;(