03/21/08 12:03 - 30ºF - ID#43742
IOU
IOU: I owe estrip (1) post

this is just to get to 100



Permalink: IOU.html
Words: 11
03/21/08 12:00 - 30ºF - ID#43741
99
Four day weekends are awesome because they beget (2) four day weeks.

I've had blog stage fright lately. I've been avoiding writing anything thats too dorky or complainy. I still like reading the other blogs though.



Permalink: 99.html
Words: 35
<-- Earlier Entries
Author Info
kookcity2000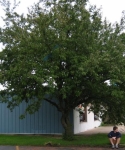 Date Cloud
Category Cloud
User must have at least 3 blogs in one category for categories list to show.
More Entries
My Fav Posts
This user has zero favorite blogs selected ;(