11/11/06 11:32 - 52ºF - ID#25154
machine
I got an email the other day. I guess I found some time-capsule email deal last year and put something in to get sent this year. this is what it said:

[box]Here is the text of your message:

This note was written 9:30AM on 7 November 2005. You lost your job 4 November.



Its time to get another job.

It seems as though you can only go up.





It takes ten-thousand mosquito bites to kill an elephant.[/box]

Later that day (7 November 2005) I got a call from a dude I knew about the place I'm at now.

I used to have an insult that things were "too dumb to die" but that changed from an insult to my motto after last year.



Permalink: machine.html
Words: 120
<-- Earlier Entries
Author Info
kookcity2000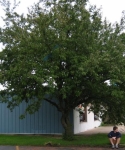 Date Cloud
Category Cloud
User must have at least 3 blogs in one category for categories list to show.
More Entries
My Fav Posts
This user has zero favorite blogs selected ;(