10/29/08 09:40 - 36ºF - ID#46410
NOODLES
OH MAN its been so long since I've last posted!

It just kind of got away from me there. Plus a portion of the gap between posts was from not having internet access while I moved into a different apartment.


Anways how is everybody? I've been pretty faithful in reading back posts several months and you all seem just as amazing as you've ever been.

I'm trying to avoid talking about work and/or overly dorky pursuits. Seriously though I'll think of something else to talk about eventually



I'm really thinking about a Buffalo Halloween visit.








Permalink: NOODLES.html
Words: 96
<-- Earlier Entries
Author Info
kookcity2000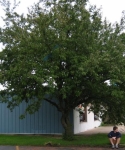 Date Cloud
Category Cloud
User must have at least 3 blogs in one category for categories list to show.
More Entries
My Fav Posts
This user has zero favorite blogs selected ;(