07/10/08 09:46 - 74ºF - ID#44924
excursions
It struck me the other day that it was a really good idea to buy an old diesel truck and drive the old Route 66.
Since then I've been trying to talk myself out of it, but have been pretty unpersuasive.
In August I'm going down to Biloxi MS with my cousin. We are visiting a friend who had been in Japan in the Air Force until recently.
(e:Fellyconnelly)
&
(e:lauren)
, he used to live in the front apartment of your complex. We had a lot of fun times playing cards and going there after the bars closed and cooking potatoes and other junk.
One time I sat on the step and watched the ants while my cousin exchanged life stories & philosophy with a street-dude for maybe an hour.
Anyways we will be in New Orleans too and it will be good to get some real damn food down there.
(e:drew)
is there going to be a rematch this Jan again?


Permalink: excursions.html
Words: 164
<-- Earlier Entries
Author Info
kookcity2000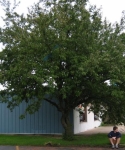 Date Cloud
Category Cloud
User must have at least 3 blogs in one category for categories list to show.
More Entries
My Fav Posts
This user has zero favorite blogs selected ;(